I'm a sucker for a homemade pizza, but making pepperoni stromboli never crossed my mind until recently. And when it did, I couldn't stop thinking about it, so we made and shared it one evening with friends. It was a big hit, and we've already been asked when we're making this again.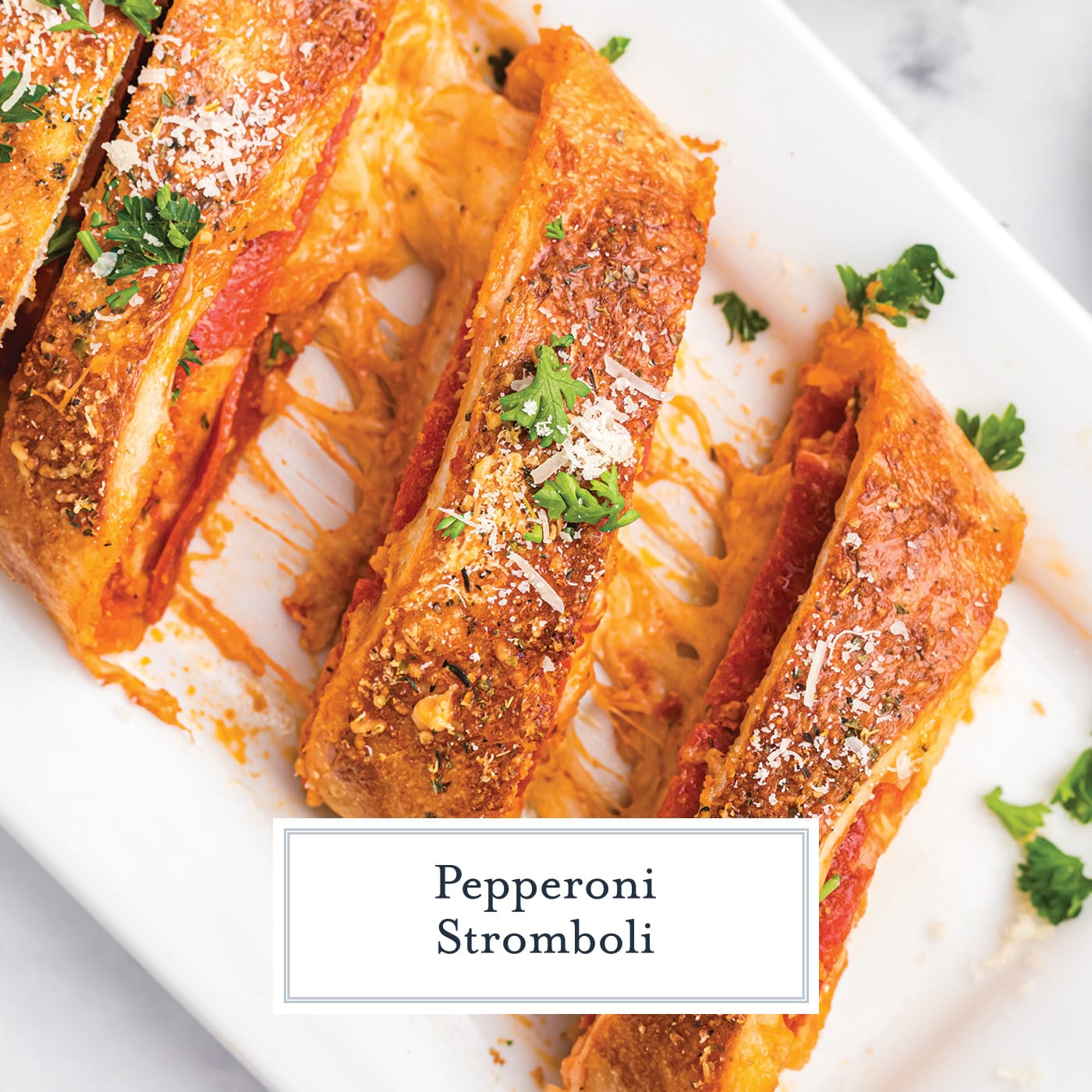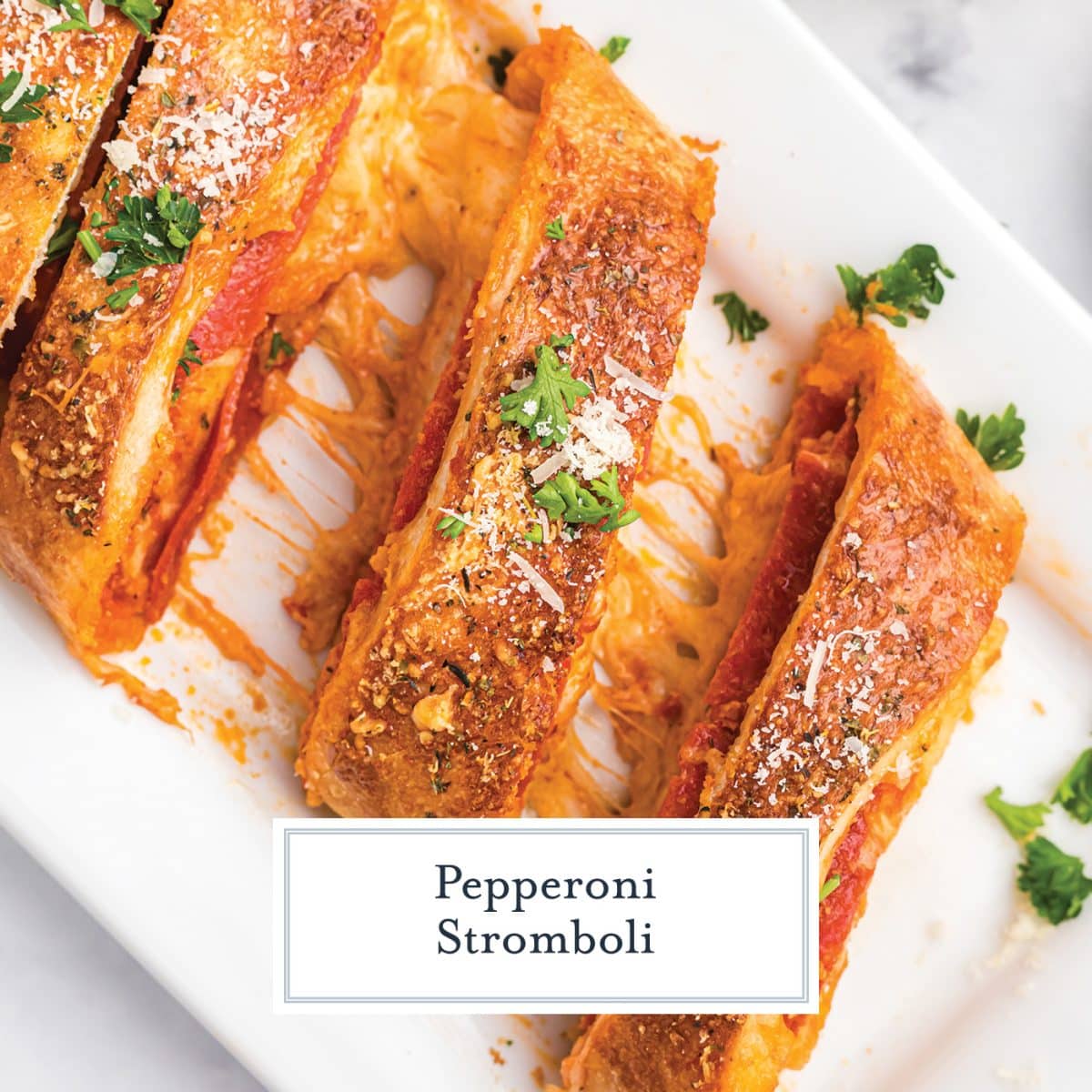 This homemade Stromboli recipe is incredibly simple, but incredibly flavorful. The pizza dough bakes up beautifully and creates a crunchy exterior, and the interior is gooey, meaty and utterly delicious.
Also, you can add whatever fillings float your boat, even though I'm just sharing a traditional Pepperoni Stromboli recipe here.
How could we not love that?
Just be sure to let your Stromboli cool off before slicing because otherwise, the ingredients could run out. (Lessons learned.)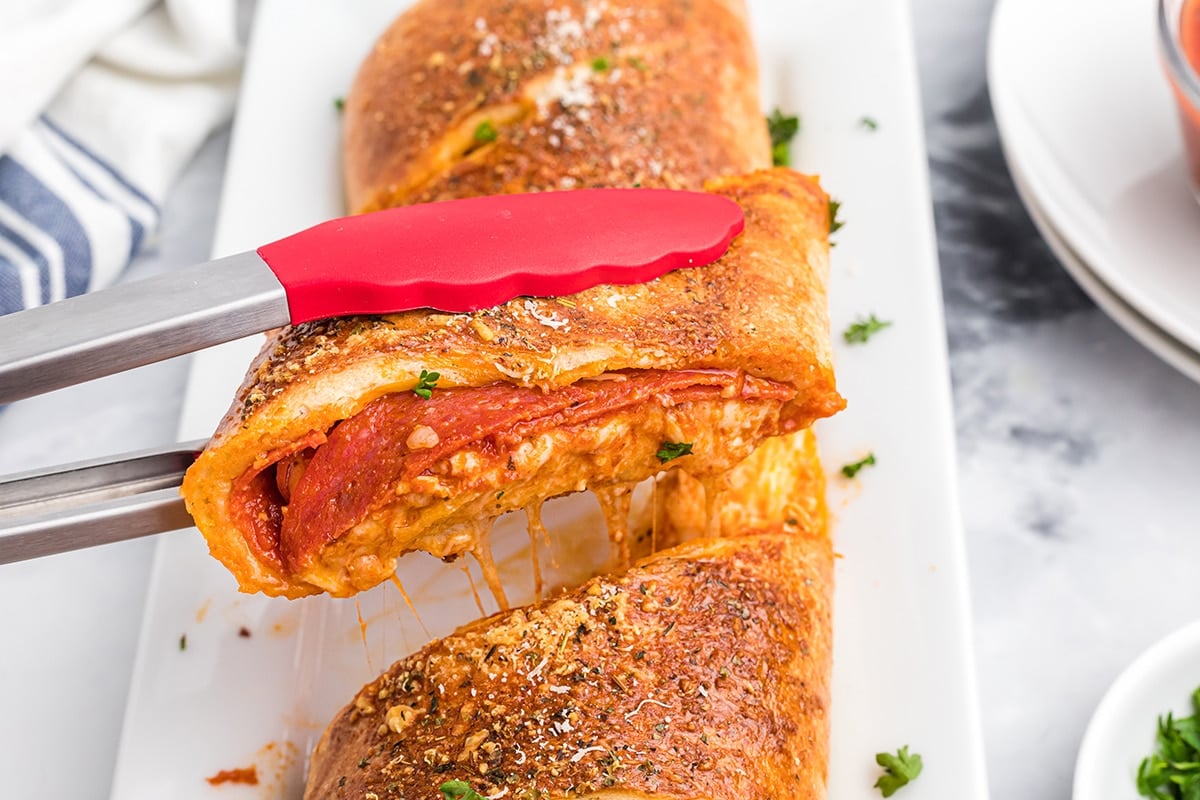 Stromboli vs. Calzone
The major difference is in how they're prepared and sealed, but both are a family favorite. A Stromboli is rolled, like a cinnamon roll, but left in a log shape before baking. You slice it after it bakes. Whereas a calzone comes from a round of pizza dough that is filled, then folded in half to look like a half moon before baking.
Their fillings can also differ, though that's less important. You'll oftentimes see a calzone with ricotta filling, but that's not always the case.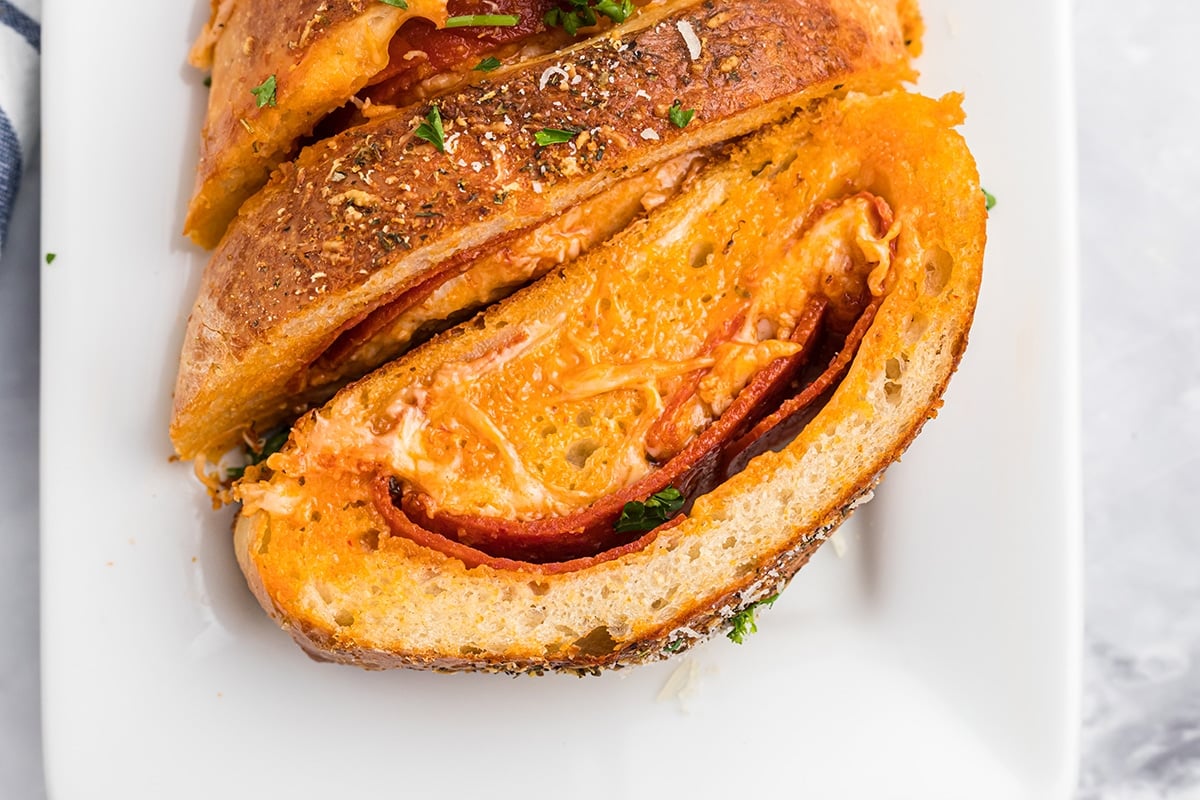 Pepperoni Stromboli Ingredients
You only need just seven main ingredients to make this easy stromboli recipe—but you can use less if you want! I'm detailing what's a must-have here, as well as talking about other add-ins that you could throw into your Stromboli before baking below:
Pizza dough – I used a store-bought pizza dough to make my life easier, but if you want to use homemade pizza dough, feel free! Some stores will even have a dough labeled specifically "pizza dough or pizza crust". You'll need about a pound, and it needs to be relatively easy to stretch out before it's rolled into a log.
Pepperoni – grab the large kind because they're easier to work with and cover more space. Also, smaller pepperoni will make rolling more complicated.
Pizza sauce – technically, you don't have to include this inside the stromboli, but I really like a little sauce to create some gooeyness. You can also serve it for dipping. You might just use a plain tomato sauce or a thick marinara sauce if you can't find something labeled "pizza sauce" specifically. Or make your own homemade pizza sauce.
Cheese – we're using shredded mozzarella cheese and sliced provolone inside the Stromboli and sprinkling grated parmesan on top.
Egg – to create an easy egg wash for the top, as well as help seal the dough. It will help hold the dough together, as well as make the outside of the dough crisp up and brown beautifully.
Herbs and spices – I added a sprinkling of dried Italian herbs on top of my pepperoni stromboli, as well as some chopped fresh parsley. Hubby loves a dash of red pepper flakes too.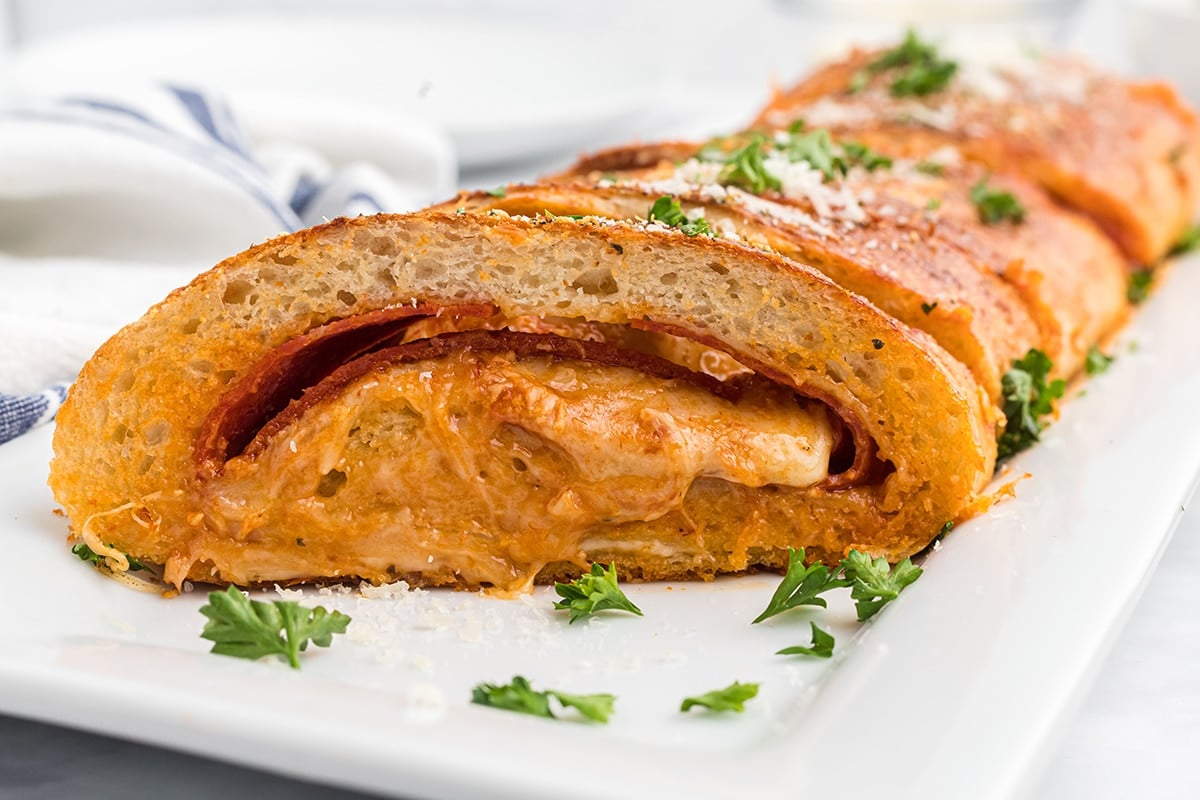 Variations
Much like your favorite pizza toppings, the world is your oyster when it comes to stromboli fillings. If you're swapping out these for the ingredients above, I suggest using the same amounts because you do not want to overfill your dough.
Here are some ideas of other ingredients you can use in yours:
Meats, like ground Italian sausage, ground beef, salami or even sliced chicken breast or thighs, would be excellent. Traditional Italian meats (mostly cold cuts) are considered classic ingredients for this. I like to use the meat as my base, so whatever you choose, make sure you've got enough to cover the majority of the pizza dough.
Veggies, like onions, broccoli, green peppers, black olives, red onion, fresh mushrooms, spinach, sun-dried tomatoes, etc. Think of your favorite veggies to add to pizzas and those would be delicious here, too!
Additional hard shredded cheeses would work, too, though I caution not to add extra cheese for the heck of it. This Stromboli is jam-packed as is, and additional cheese will spill out as it bakes. I do not recommend using wetter cheeses, like ricotta cheese or a fresh mozzarella, for fear of them weighing down the dough. Pecorino romano
Olive Oil– In the old country, some folks like to drizzle their fresh stromboli with a good quality olive oil and sprinkle of Italian seasoning before serving
Sauces – Try mixing it up a little with a different type of sauce. BBQ sauce would be great with chicken for a bbq chicken stromboli, and so would alfredo sauce. If you like a lot of sauce, serve with extra pizza sauce for dipping.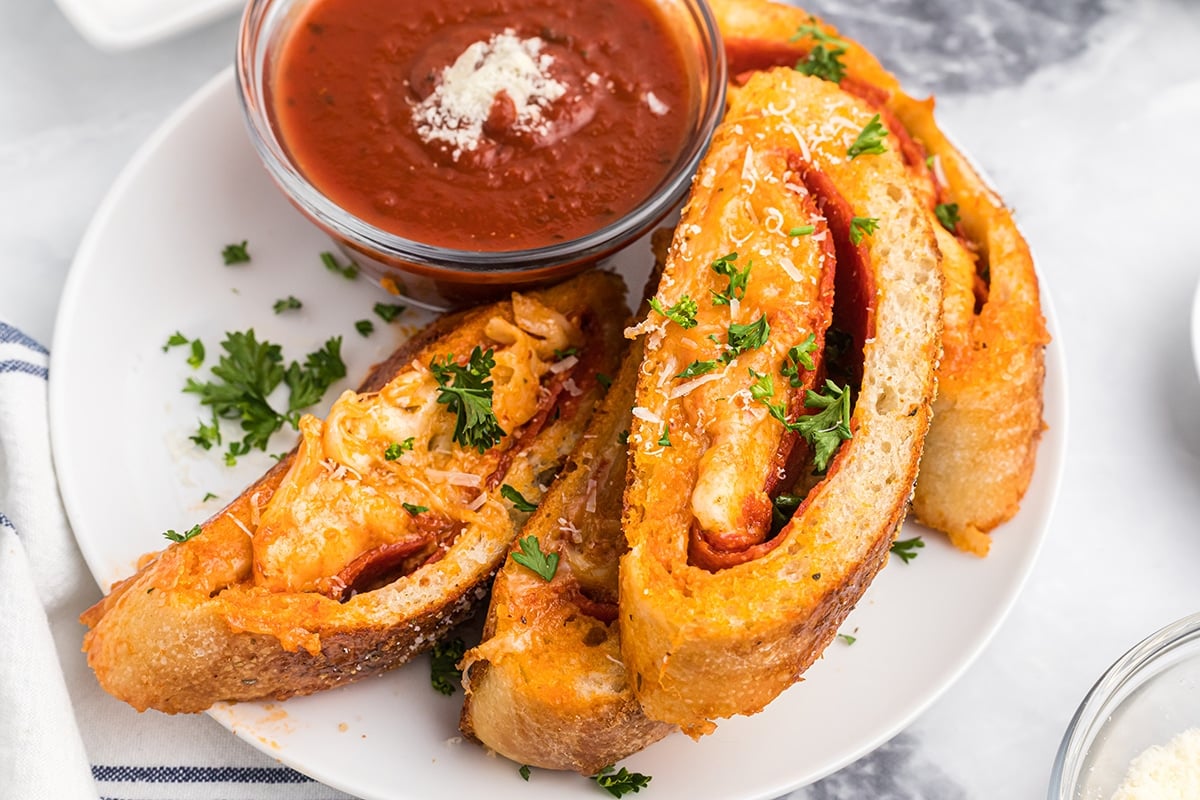 How to Make Pepperoni Stromboli
Prepare. Move the top rack to the center of the oven, and preheat. Line a large baking sheet with parchment paper, and spray with nonstick baking spray. This will help you roll out your pizza dough, as well as roll the Stromboli.
Spread the pizza dough. Spread the pizza dough out into a rectangle on the baking sheet, using your hands to form it into a 14" x 10" rectangle. It'll be about ½" thick. If you need to roll out the homemade dough, do so on a lightly floured surface.
Pro tip: You don't want the pizza dough to be too thin, or you'll run the risk of it tearing as you roll it up.
Make the Stromboli. Line the dough with a layer of pepperoni (or whatever meat you're using.) Top that with a slather of pizza sauce, then sprinkle on the mozzarella. Add the provolone. I like to leave a little room at the far end of the dough to give my fillings a little movement room as I roll the dough. This way, they won't be spilling out of the bottom of the Stromboli.
Add egg wash. To make the egg wash, all you have to do is break the egg in a bowl. Use a pastry brush or your finger to run a layer of the egg along the edges of the pizza dough. This will help it seal.
Roll it up like a cinnamon roll. Start on a long side and roll it into a log, curling your hands around the dough to keep it all together. Fold in the short sides so the dough will seal, then continue rolling until you have a log. Seal the dough by pinching it together. Flip the Stromboli over.
Finish by brushing egg wash on top. Sprinkle on parmesan and some Italian herbs. Cut 4-6 small slits in the top to help vent for steam, too.
Bake on prepared baking sheet, or until pepperoni stromboli is crispy and golden brown.
Cool until it's not piping hot. We do this because if you slice it too early, the hot cheese and fillings can spill out.
Slice into rounds with a sharp knife, and enjoy with additional pizza sauce.

Make Ahead & Storage
Make ahead tip: Make the Stromboli on a baking sheet ahead of time, and pop in the fridge. Keep it cold until it's time to bake, then bake it off in the preheated oven!
How to store: Take cooled leftover stromboli and place them in an airtight food storage container. Store in the fridge for 2-3 days. If you are liked my husband, he actually enjoys his cold or room temperature, just like leftovers from pizza night.
A whole stromboli can also be frozen either before or after baking. Wrap well in plastic wrap or aluminum foil and seal tightly. Freeze for up to 6 months. When baking, bake straight from frozen in a 350°F oven for 30-40 minutes, or until browned and cooked thoroughly.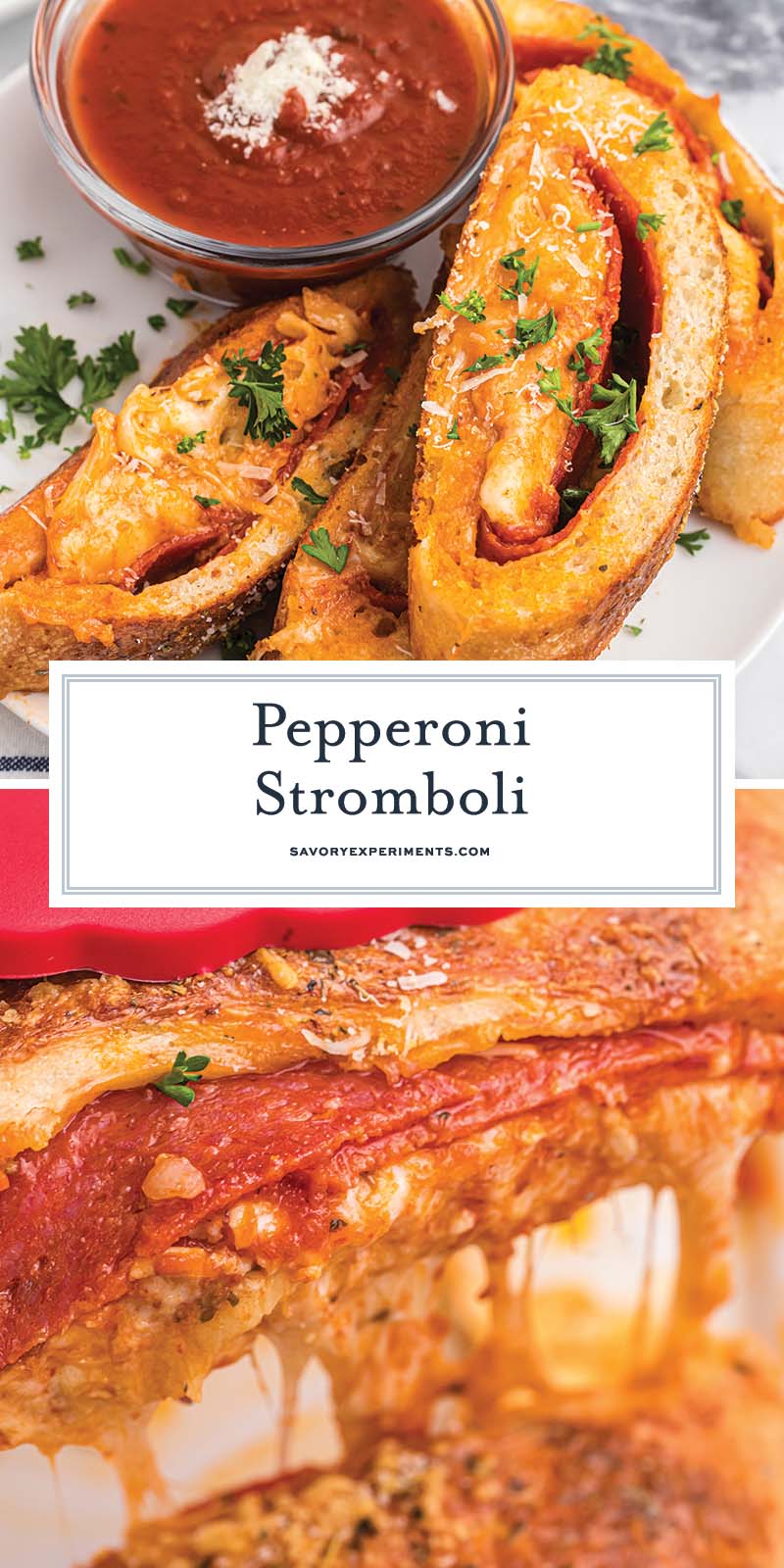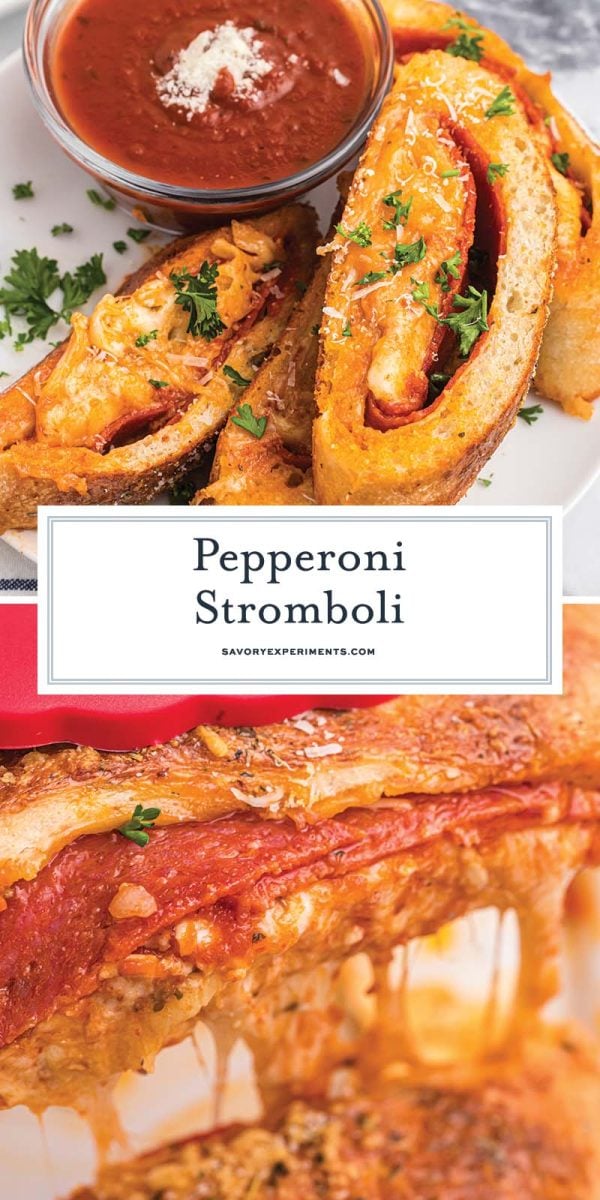 More Italian Dinner Options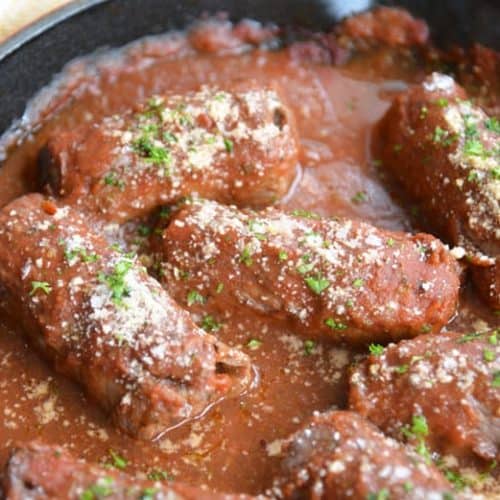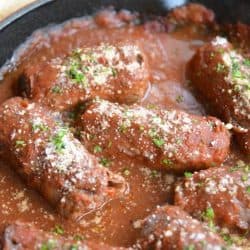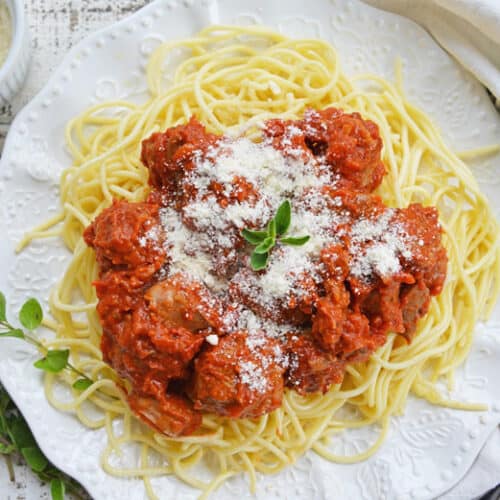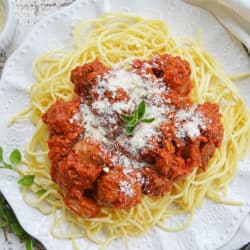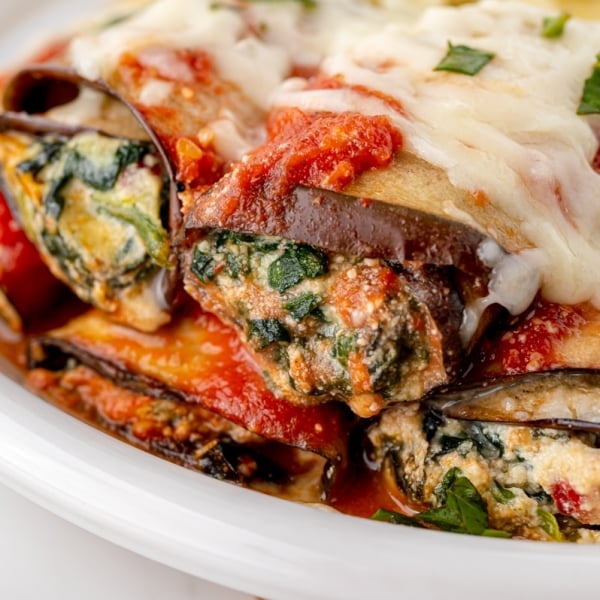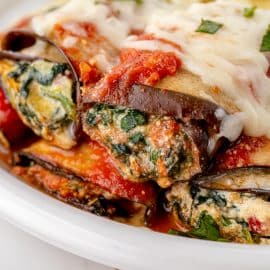 Eggplant Rollatini
If you're looking for a vegetarian meal for Meatless Monday, look no further than this Eggplant Rollatini recipe! It's EASY to make and full of flavor!
See The Recipe!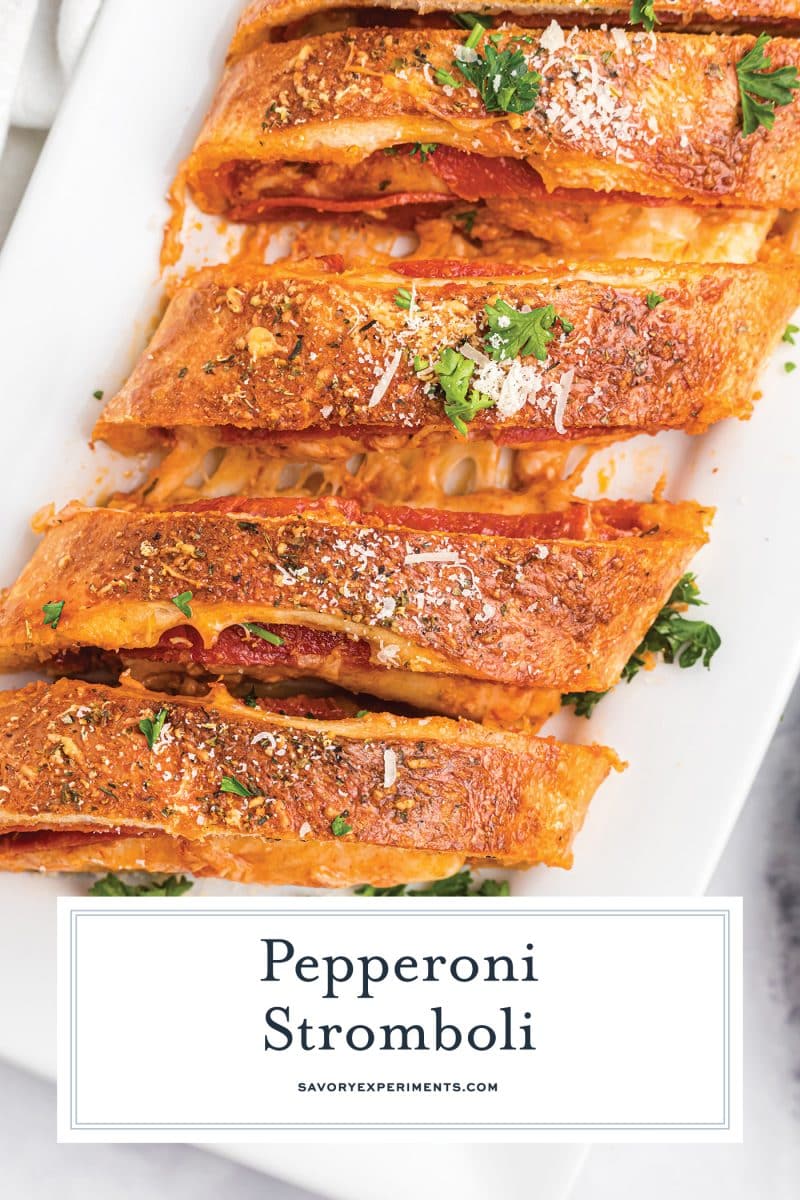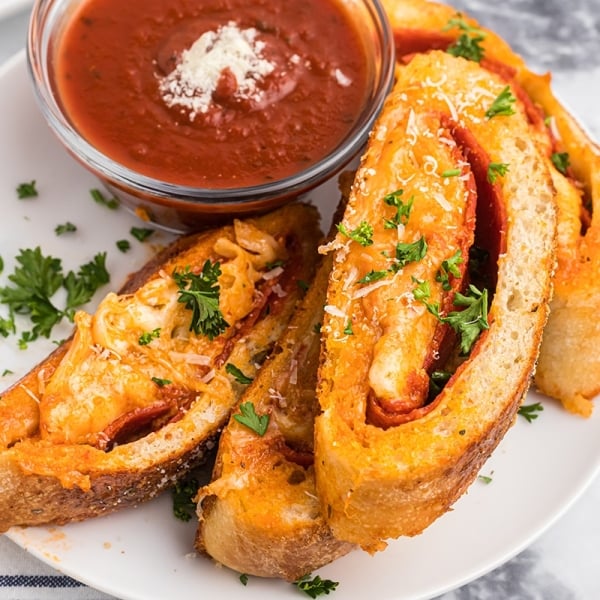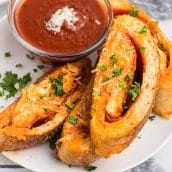 Pepperoni Stromboli
This crunchy, cheesy and meaty Pepperoni Stromboli could not be easier to make at home! All you need are 7 ingredients to make this delicious homemade Stromboli recipe. Perfect for weeknights, pizza parties and any time!
Instructions
Preheat the oven to 400°F.

Line a baking sheet with parchment paper and spritz with nonstick cooking spray.

Spread the pizza dough onto the lined baking sheet, and stretch or roll into a 14" x 10" rectangle.

Line the dough with pepperoni, leaving 1-2" along the edges. Slather the pizza sauce over the pepperoni. Sprinkle with the mozzarella and finish with the provolone.

Brush the exposed edges with the egg wash, set aside.

Roll up lengthwise, starting on a long side and roll it into a log, curling your hands around the dough to keep it all together. Fold in the short sides so the dough will seal, then continue rolling until you have a log. Seal the dough by pinching it together.

Flip the stromboli over so it is seam side down on the baking sheet.

Brush the top with remaining egg wash and sprinkle with the Italian seasoning and parmesan cheese.

Cut 4-5 slices in the top as vents and then bake for 20-35 minutes or until top is golden brown and it sounds hollow when tapped with a wooden spoon.

Allow it to cool for 15 or until the Stromboli isn't piping hot. Slice into rounds, and enjoy with additional pizza sauce or fresh grated parmesan.

If you've tried this recipe, come back and let us know how it was in the comments or ratings.
Nutrition
Calories:
519
kcal
,
Carbohydrates:
49
g
,
Protein:
26
g
,
Fat:
24
g
,
Saturated Fat:
12
g
,
Polyunsaturated Fat:
2
g
,
Monounsaturated Fat:
7
g
,
Trans Fat:
1
g
,
Cholesterol:
98
mg
,
Sodium:
1497
mg
,
Potassium:
169
mg
,
Fiber:
2
g
,
Sugar:
7
g
,
Vitamin A:
578
IU
,
Vitamin C:
1
mg
,
Calcium:
385
mg
,
Iron:
4
mg