Peanut butter lovers rejoice! This Peanut Butter Cake with Marshmallow Frosting is the dessert recipe of your dreams. A moist cake that's full of peanut butter flavor- everyone needs a good sheet cake recipe box.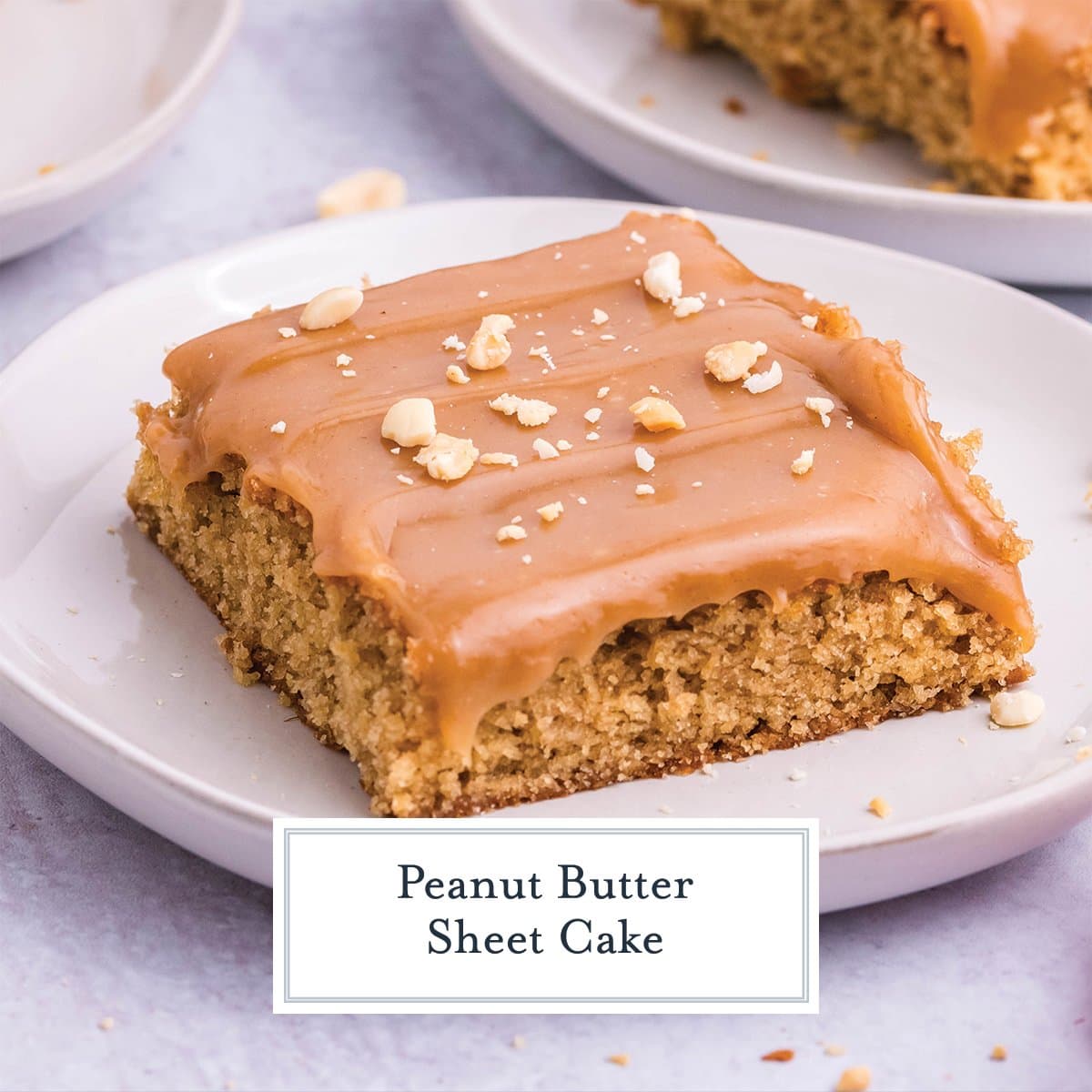 This Peanut Butter Cake is a great cake all on its own. Moist and full of peanut buttery (is that a word?) flavor, it will be sure to please everyone at your party or gathering. Unless, of course, they have a peanut allergy, then keep this bad boy far away from them!
It is also super easy to make, as it is a sheet cake versus a traditional peanut butter layer cake. We all know I am far from a great baker. LOL.
Peanut Butter Cake Ingredients
The cake itself is made from peanut butter and your usual cake mix ingredients. Most of them I'm sure you'll be able to find right in your pantry.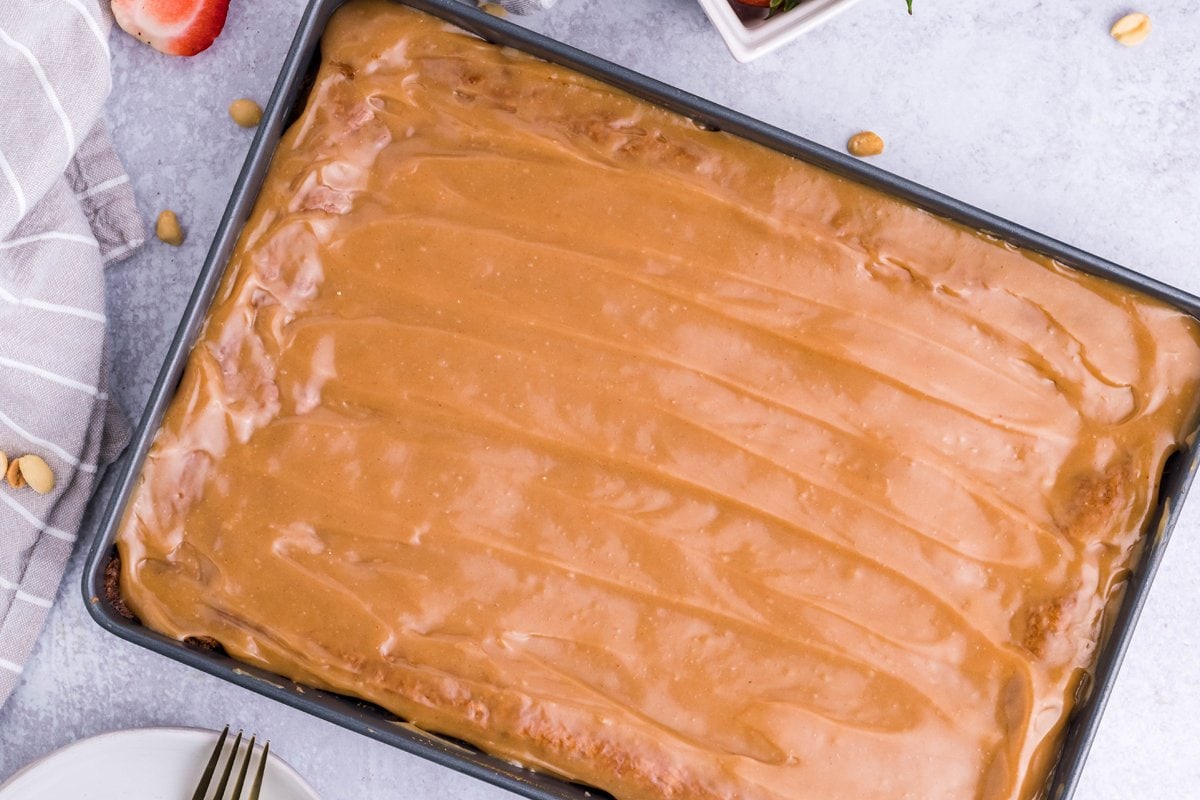 Dry ingredients:
all-purpose flour
white sugar
brown sugar
baking soda
baking powder
fine sea salt
Wet ingredients:
creamy peanut butter – I do not recommend using chunky peanut butter if you like a smooth cake. Of course, if you'd like a bit of added crunch, feel free to use it. Also I'm not a fan of using natural peanut butter for this cake. It's generally not as sweet as say Jif or Skippy.
milk
eggs
vegetable oil
Peanut Butter Frosting Recipe
For my Peanut Butter Cake, I opted for an equally as delicious frosting: easy marshmallow frosting! I can see the peanut butter fans out there swooning while reading this cause yes, you are totally allowed to make just the frosting and eat it with a spoon. We won't judge.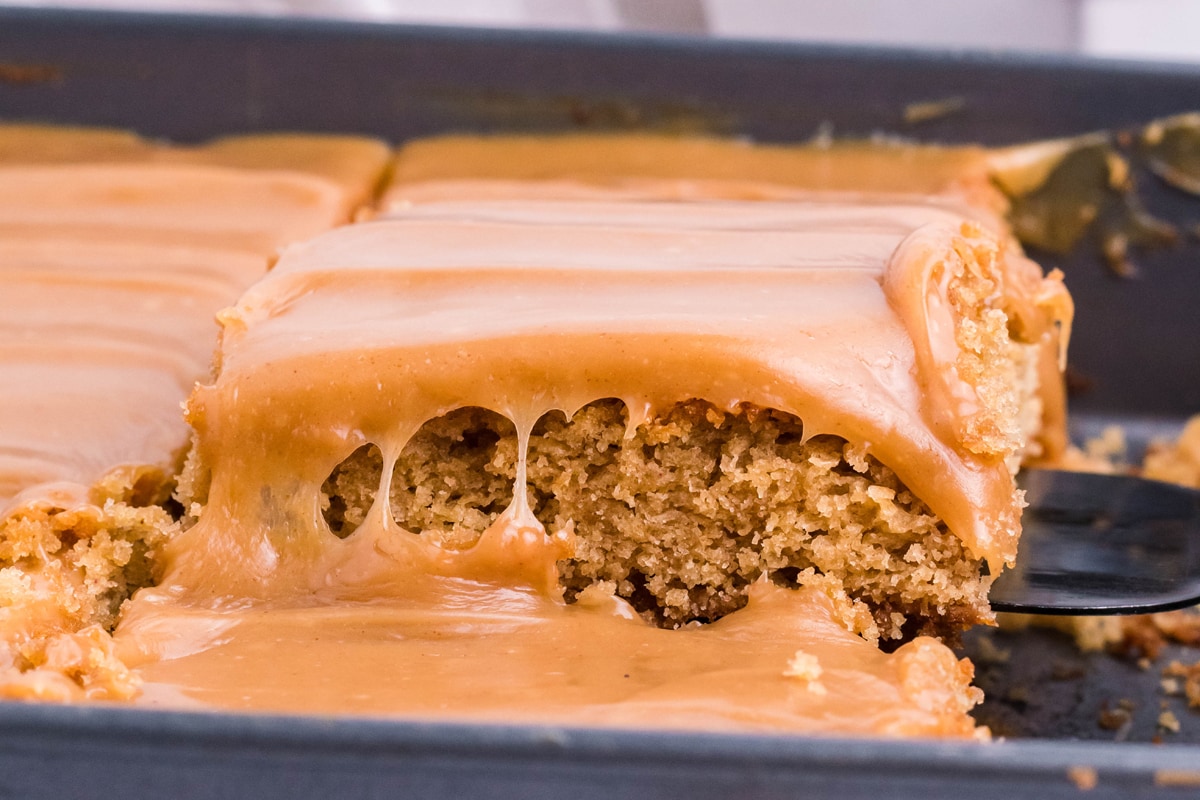 But hey, this is a lot of work, albeit pretty simple, for frosting, so if you don't want to mess with it, sub in a tub of chocolate frosting, Chocolate Buttercream or even cream cheese frosting.
But I do have to tell you, the combination of peanut butter and marshmallow is out of this world and totally worth the extra time and effort. Plus, this frosting would also taste great on a chocolate cake too!
Marshmallow frosting ingredients:
white sugar
evaporated milk
butter
creamy peanut butter
mini marshmallows
vanilla extract
Peanut Butter Cake Recipe
Are you ready to start making the best peanut butter cake ever?
Preheat your oven and prep a 9×13 inch pan with cooking spray, set aside.
In a large mixing bowl, cream peanut butter and sugar until light and fluffy- this does take a while, some folks skip this step and it is super important. Make sure to scrape the sides and bottom of the bowl and then add in the wet ingredients.
Sift the dry ingredients before adding to the peanut butter mixture, this ensures they are well mixed without having to overmix the batter and potentially land a dry cake. Mix until there are just no dry spots remaining.
Pour batter into the prepared pan and bake until it passes the toothpick test.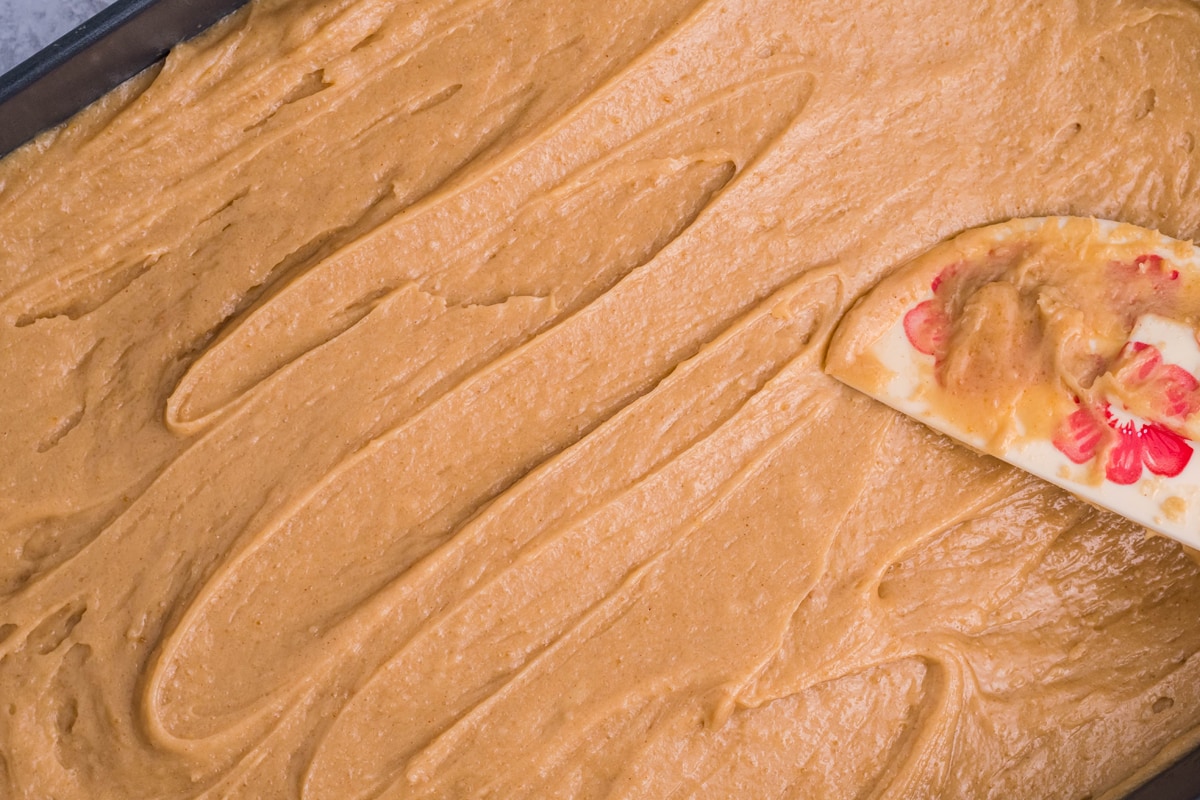 Top It
Usually you would wait until a cake is cooled to room temperature before you frost it. However with this ultimate peanut butter cake you do just the opposite. I've found that the best thing to do is to pour the hot frosting right on top of the hot cake and gets all gooey.
No fancy offset spatula or disposable piping bag needed for this delicious cake, just simply pour over the frosting and dress is up with whichever toppings you'd like.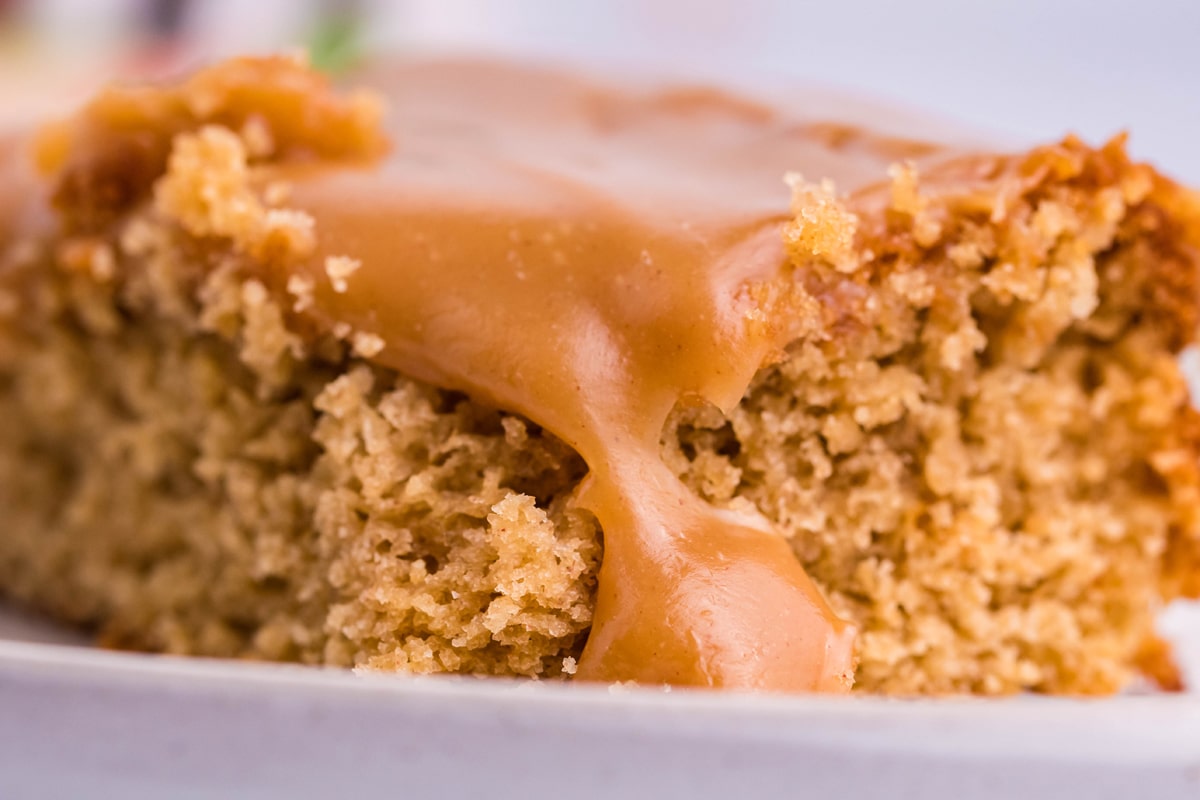 No matter which way you dress it up, or don't, grab a cold glass of milk and enjoy your sweet treat!
Our favorites include:
Honey roasted peanuts
Chopped Reeses Peanut Butter Cups
Melted chocolate
Chocolate chips or peanut butter chips
Chocolate ganache
Plain- the cake and the frosting are that good that you don't need much more!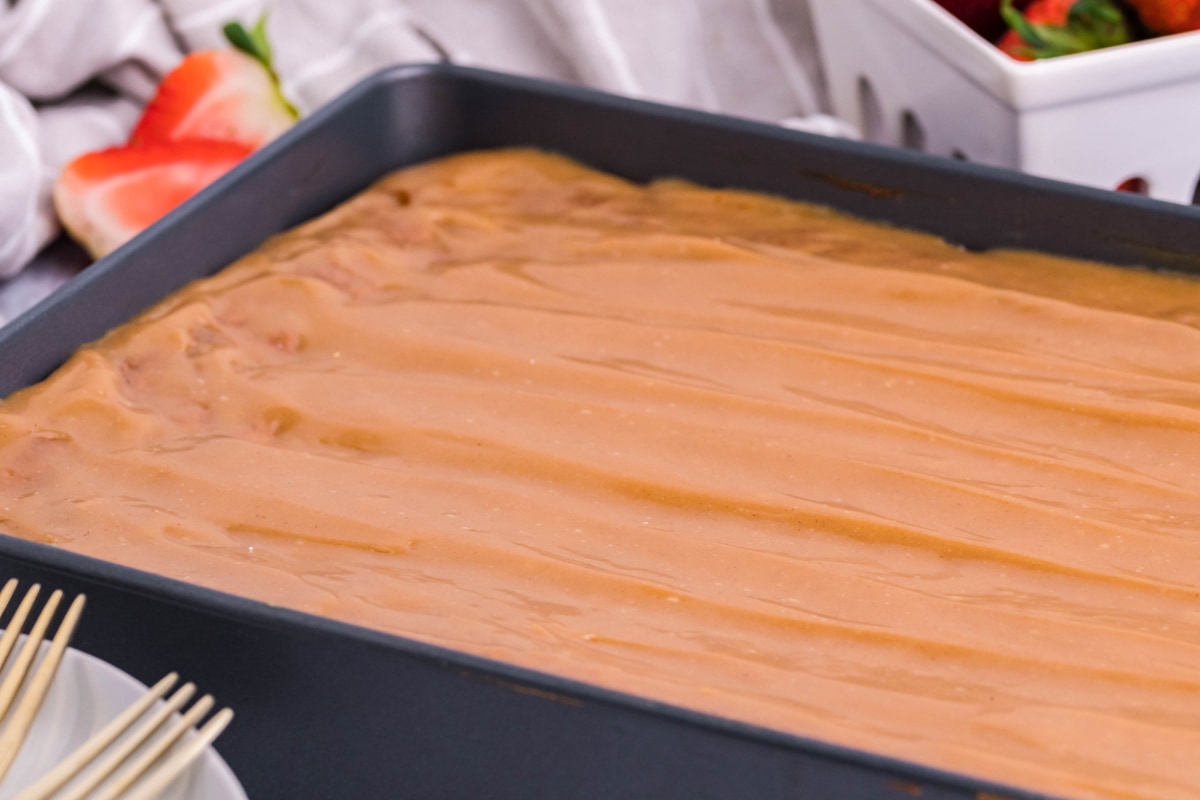 Tips for the Perfect Cake
ONE. Do not overmix the batter. The most commonly made mistake in making cake is overworking the batter. This is actually made easier when you are using a stand mixer because we overestimate how long the batter has been beaten.
Pay attention! Also, use a sifter. Sifting out the clumps before mixing will reduce mixing time.
TWO. Eggs. Eggs make a cake moist and yolks make them even more moist. Try adding one or two extra yolks to your favorite cake recipe (even a boxed cake mix, don't limit yourself to from scratch cakes) and watch the moist crumb get even crumblier. Yes, I made that word up!
THREE. Don't over bake your peanut butter cake! This might seem like it is super apparent, but many folks wait too long before taking the cake out of the oven and presto, dry cake. Whomp, whomp.
FOUR. Measure your flour. You might think you measure your flour, but are you doing it correct? Scoop flour into the measuring cup and level it off with a flat spatula or butter knife.
Don't pack it down, just let is sit how it did when you scooped it. Additional flour makes cake dry and even have a slight heap on your measuring cup could be the culprit.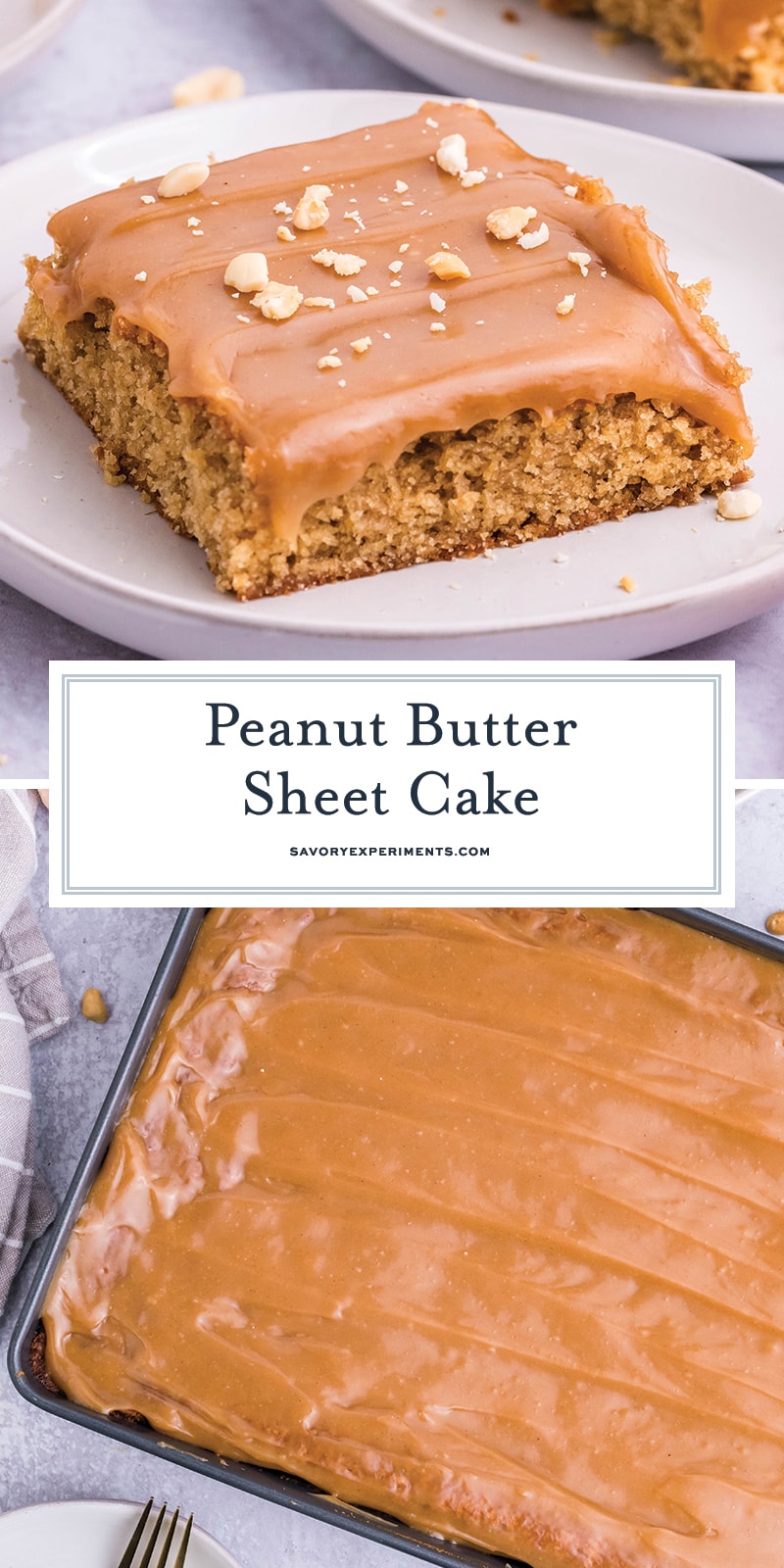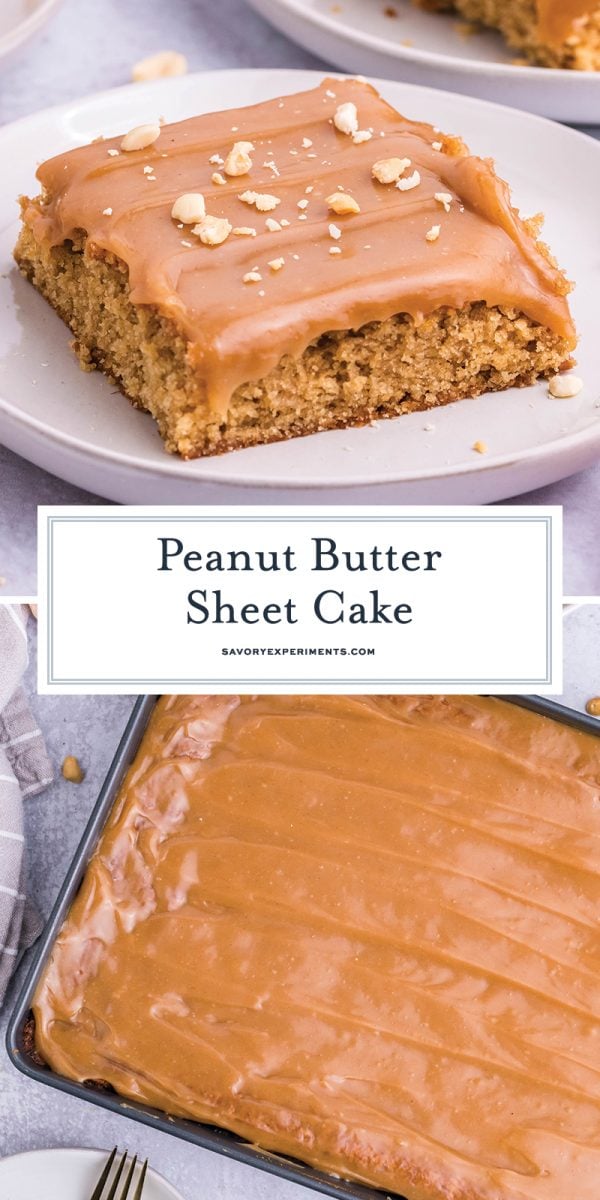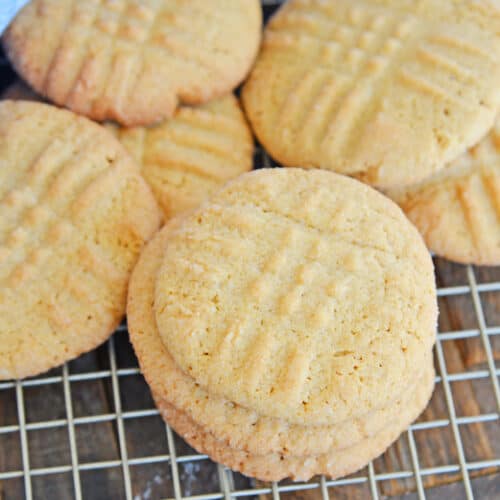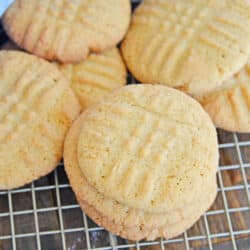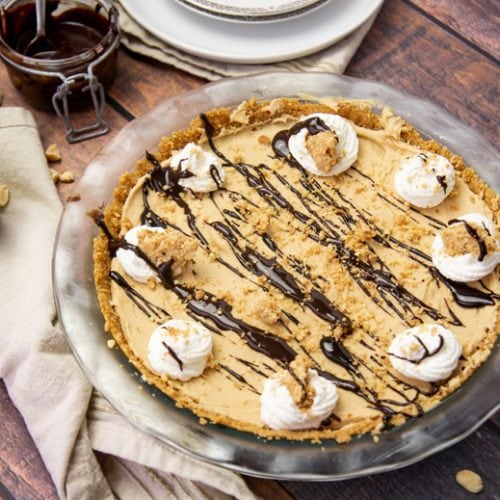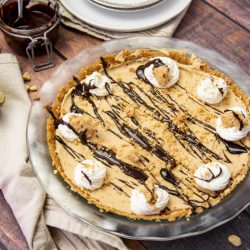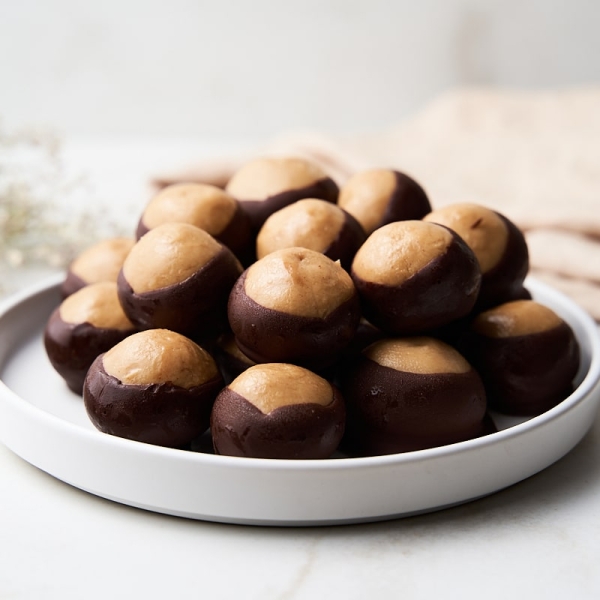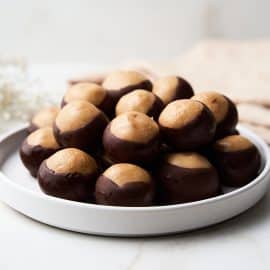 Buckeye Candy
If you love a dessert with peanut butter and chocolate you will adore this Classic Buckeye Candy recipe. Perfect for the holidays!
See The Recipe!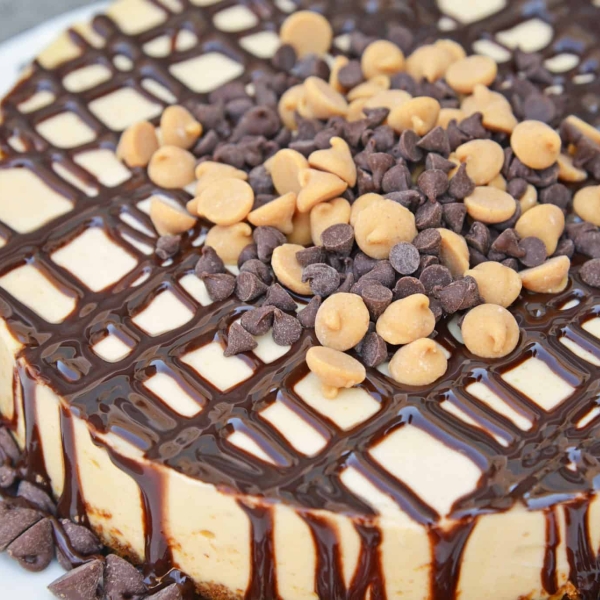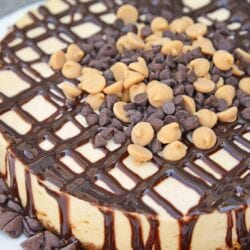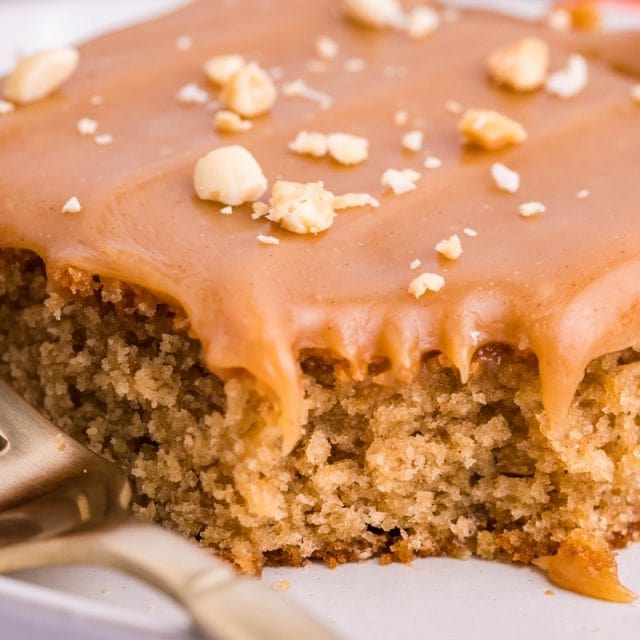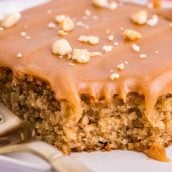 Peanut Butter Cake with Marshmallow Frosting
Peanut Butter Cake with Peanut Butter Marshmallow Frosting and honey roasted peanuts is an easy cake recipe that is moist and perfect for any occasion.
Ingredients
Topping:
1/4

cup

honey roasted peanuts coarsely chopped
Instructions
Preheat your oven to 350°F. and prepare a 9×13 baking pan by spraying generously with non-stick spray and set aside.

In the bowl of a stand mixer equipped with a paddle attachment, cream the peanut butter and both sugars until light and fluffy.

Scrape the sides and bottom of the bowl and ad in the milk, vanilla, eggs, and oil, and mix until well combined.

Sift in the flour, baking soda, baking powder, and salt and mix until there are no dry spots remaining.
MARSHMALLOW FROSTING:
About 5 minutes before the cake is scheduled to be removed from the oven start to make the frosting.

In a medium saucepan, combine the sugar, evaporated milk and butter and heat over medium-high, stirring continuously.

When sugar is dissolved, add the peanut butter, marshmallows and vanilla. Stir until smooth and fully incorporated over very low heat.

Pour warm frosting mixture over the hot Peanut Butter Cake and spread around to cover fully. Sprinkle with honey roasted peanuts immediately while frosting is still tacky.

Allow to cool completely before serving.

If you've tried this recipe, come back and let us know how it was in the comments or ratings.
Nutrition
Calories:
435
kcal
,
Carbohydrates:
59
g
,
Protein:
11
g
,
Fat:
19
g
,
Saturated Fat:
6
g
,
Polyunsaturated Fat:
4
g
,
Monounsaturated Fat:
7
g
,
Trans Fat:
1
g
,
Cholesterol:
26
mg
,
Sodium:
291
mg
,
Potassium:
317
mg
,
Fiber:
2
g
,
Sugar:
39
g
,
Vitamin A:
95
IU
,
Vitamin C:
1
mg
,
Calcium:
77
mg
,
Iron:
2
mg