When it comes to dessert I'm certainly not picky, but if I had to choose a dessert to put at the top of my list of favorites, it would be nearly anything that has a combination of peanut butter and chocolate. So it is no surprise that I've loved buckeye candy since I was a little kid.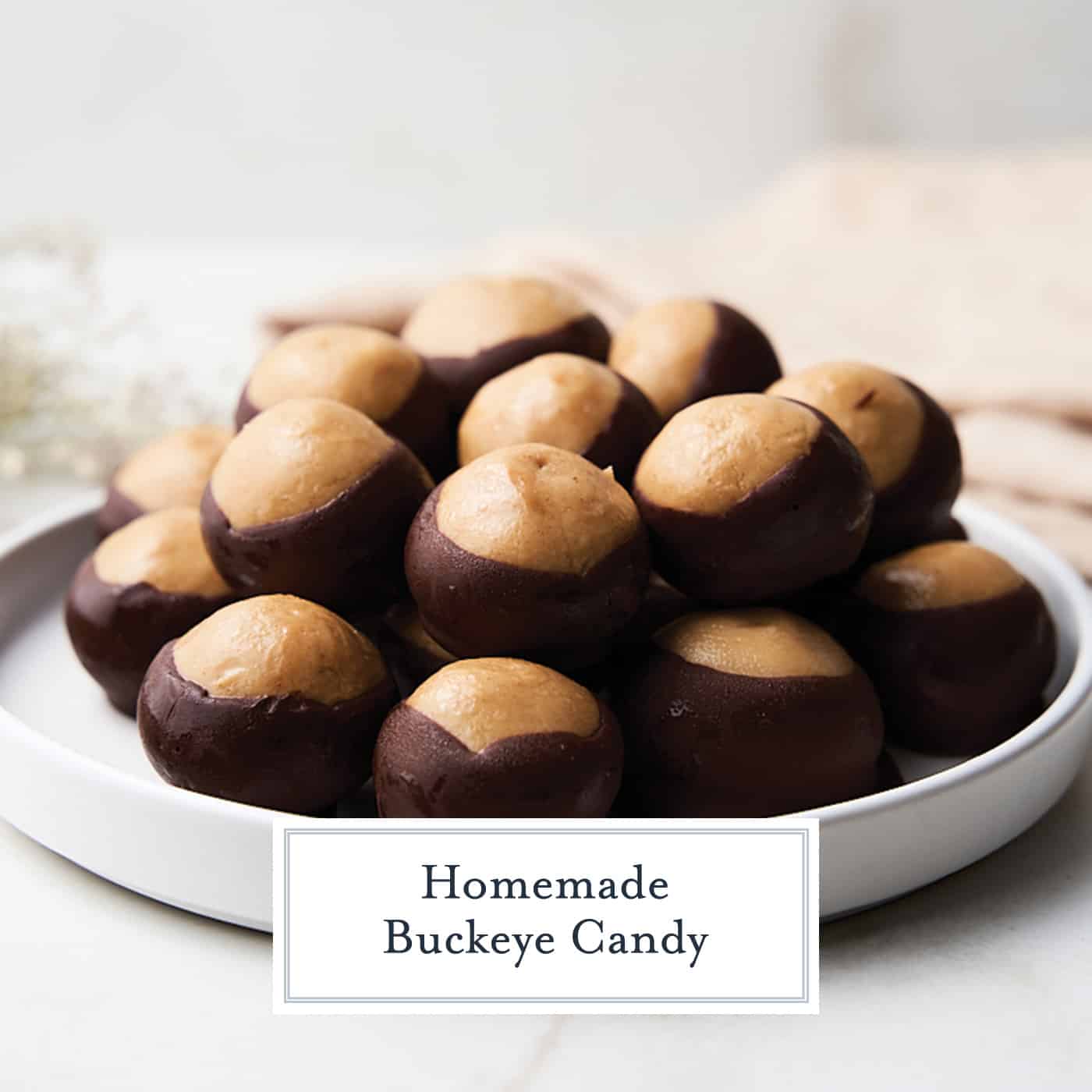 What is a Buckeye Candy?
Buckeyes got their name from their resemblance to the nut that grows on the Ohio buckeye tree which is the state tree of Ohio. That's where the similarity between the two ends though — buckeye nuts are poisonous while these candies are just addictive (in the best way possible)!
Buckeye candies originated in Ohio where more than 6 million of them are eaten each year (many at Ohio State University games, for sure) but they're popular throughout the midwestern states in the US.
Some liken buckeye candies to chocolate-dipped peanut butter balls while other bakers say they are more like Reese's peanut butter cups. Essentially, they have a smooth, sweet peanut butter filling that's partially coated with chocolate (leaving some of the peanut butter exposed).
Outside of their flavor, what I really love about these candies is that they're so incredibly easy to make as well as to transport if you want to take them to a party.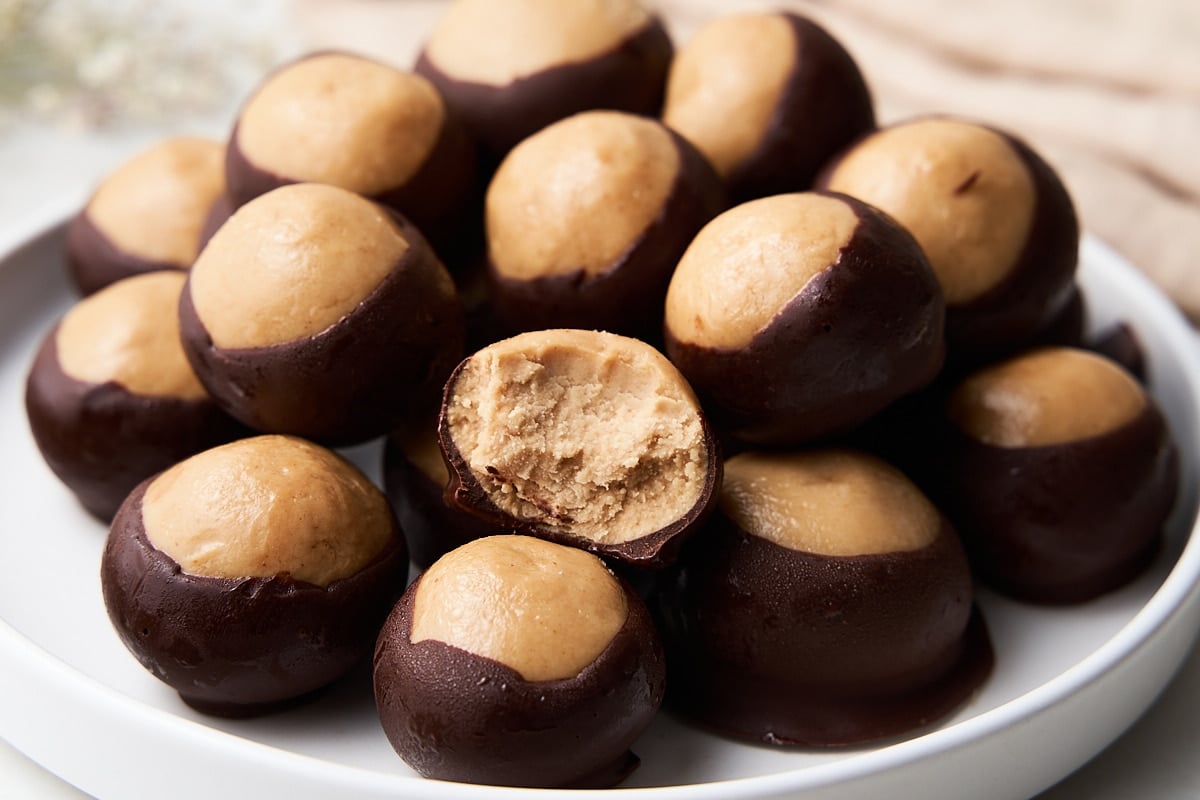 Why you'll love this Buckeyes Recipe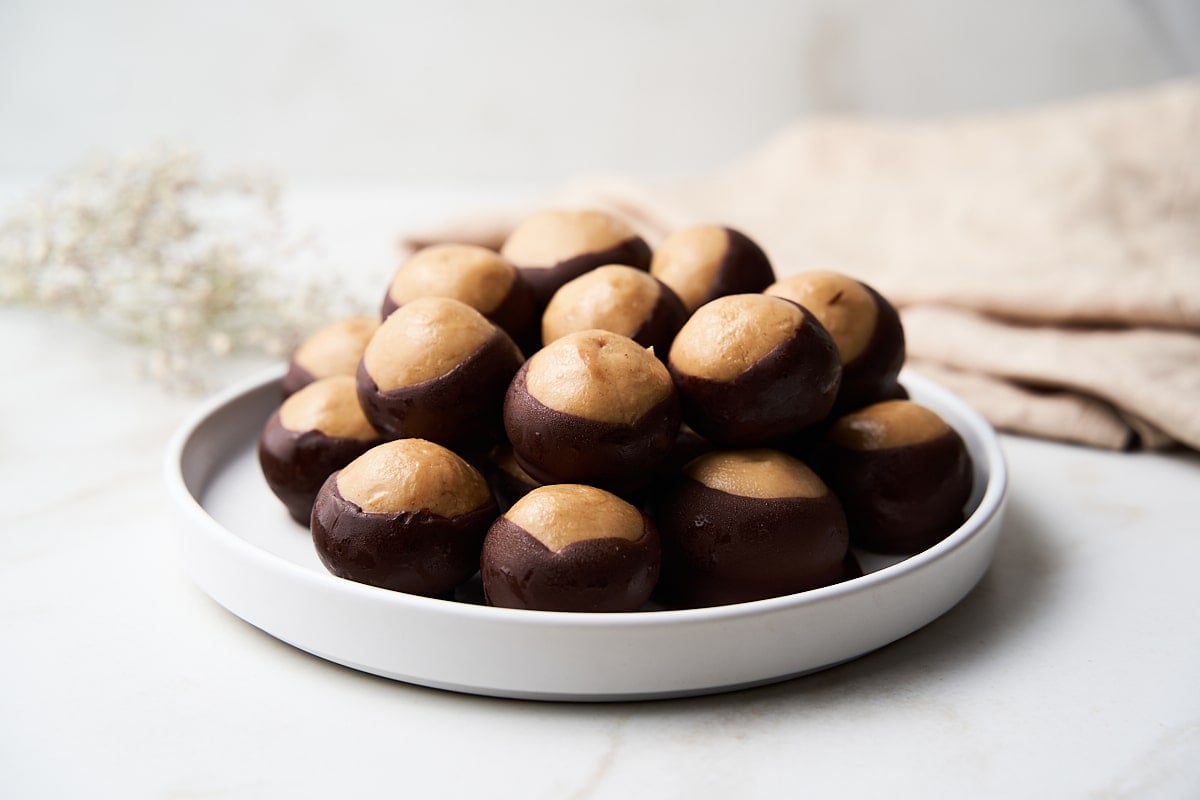 Buckeye Recipe ingredients
The ingredient list is simple, which is probably why these tasty holiday classics are such a winner in so many homes!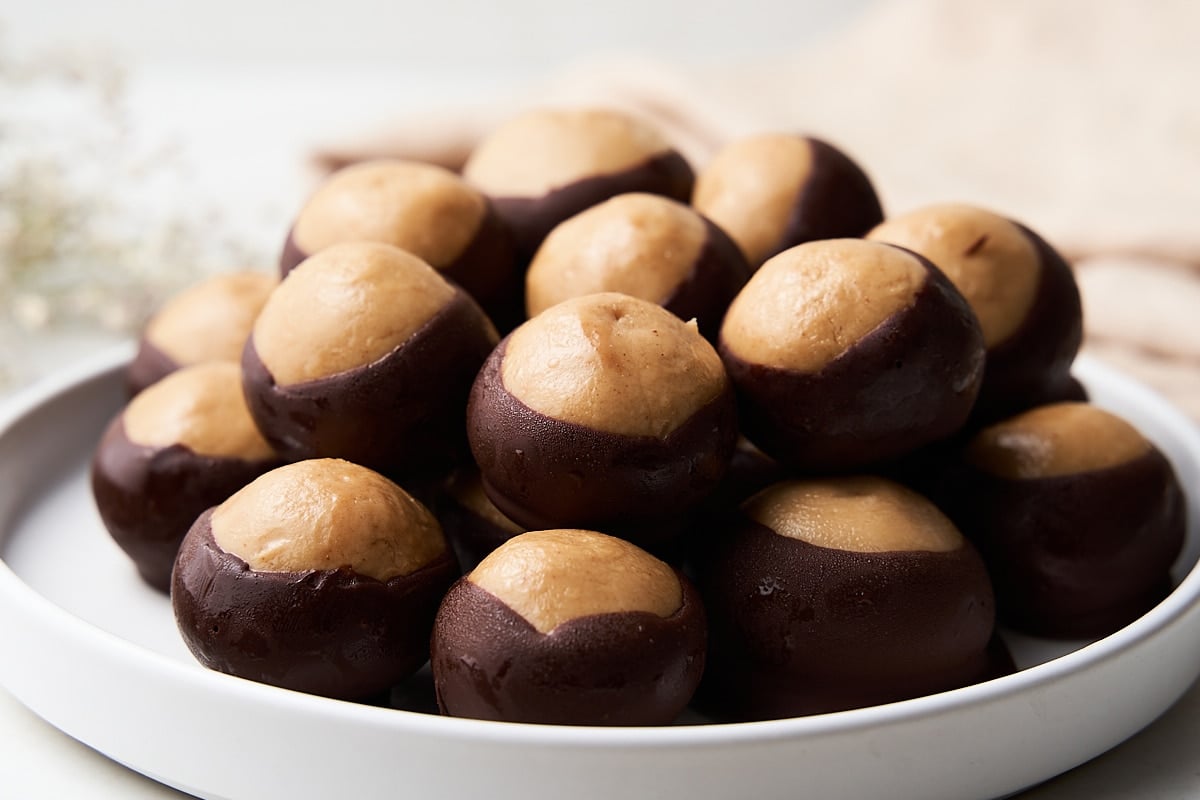 How to make Buckeyes
In a large bowl of a stand mixer with a paddle attachment (or use an electric mixer), combine peanut butter, butter, and salt.
Mix together on high speed until all ingredients are incorporated. The mixture should be smooth and creamy.
Turn the mixer to low and slowly add the powdered sugar in intervals until all of the sugar is combined.
Using a measuring spoon, small cookie scoop, or melon baller, portion out the mixture.
Shape the peanut butter dough into small balls and smooth it by rolling it with your hands. Using cooking spray or a light oil (like coconut oil) on your hands will help to make the balls smooth.
Place the balls on the baking sheet prepared with parchment paper or wax paper.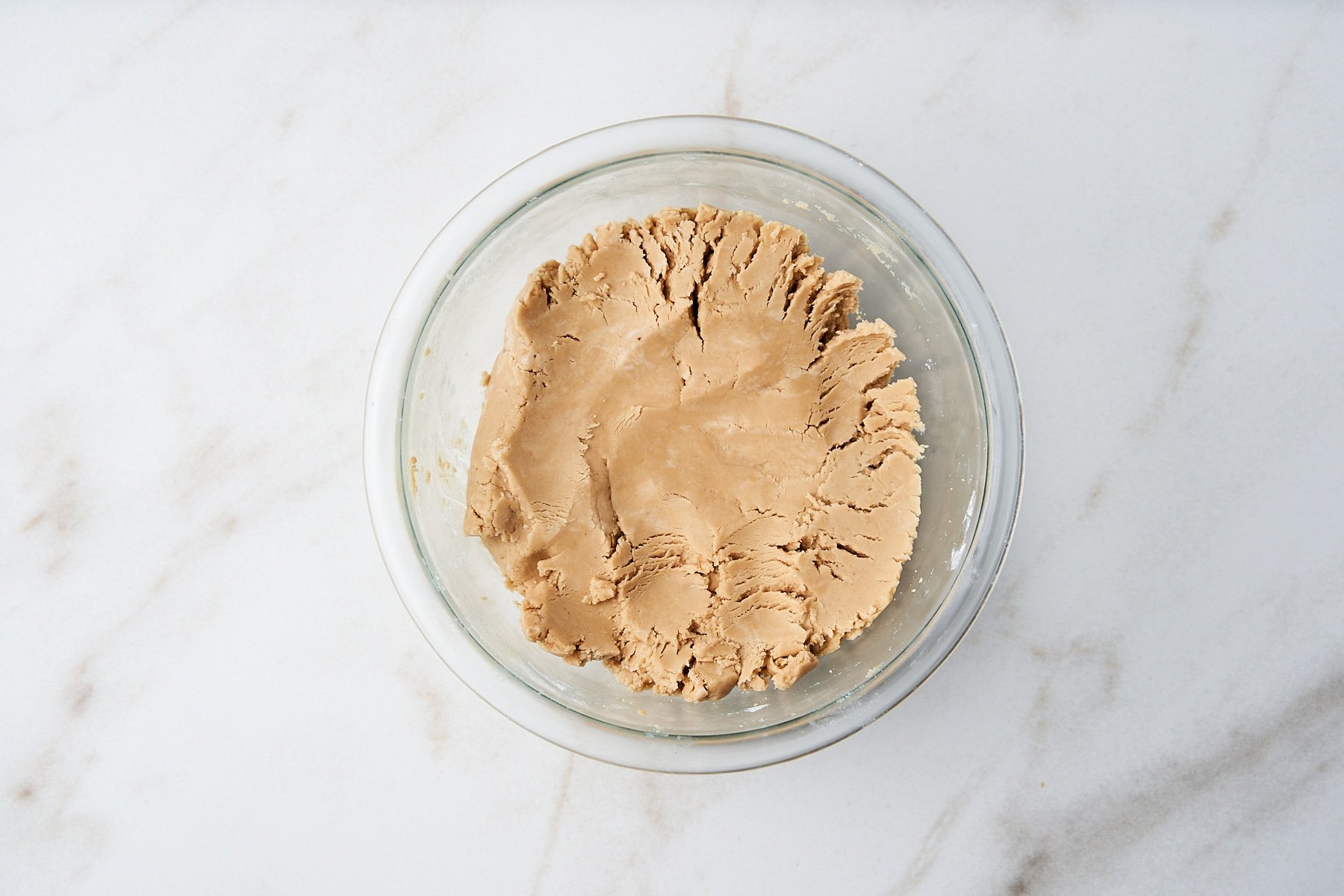 While the balls are chilling in the freezer, melt the chocolate chips with the butter. Use a double boiler on low heat.
You can also microwave them in intervals, stirring each time until they are completely melted. Be sure to use a microwave-safe bowl
Pour the chocolate into a medium bowl suitable for dipping the balls in.
Use a skewer or a toothpick to pierce each ball.
Next, dip each into the bowl of melted chocolate, covering about half of the peanut butter ball. There should be a circle of peanut butter still exposed at the top of each ball.
Tap any excess chocolate into the bowl.
Set each ball back on the parchment-lined cookie sheet. Ensure that the chocolate side is down.
Allow the candies to set in the refrigerator.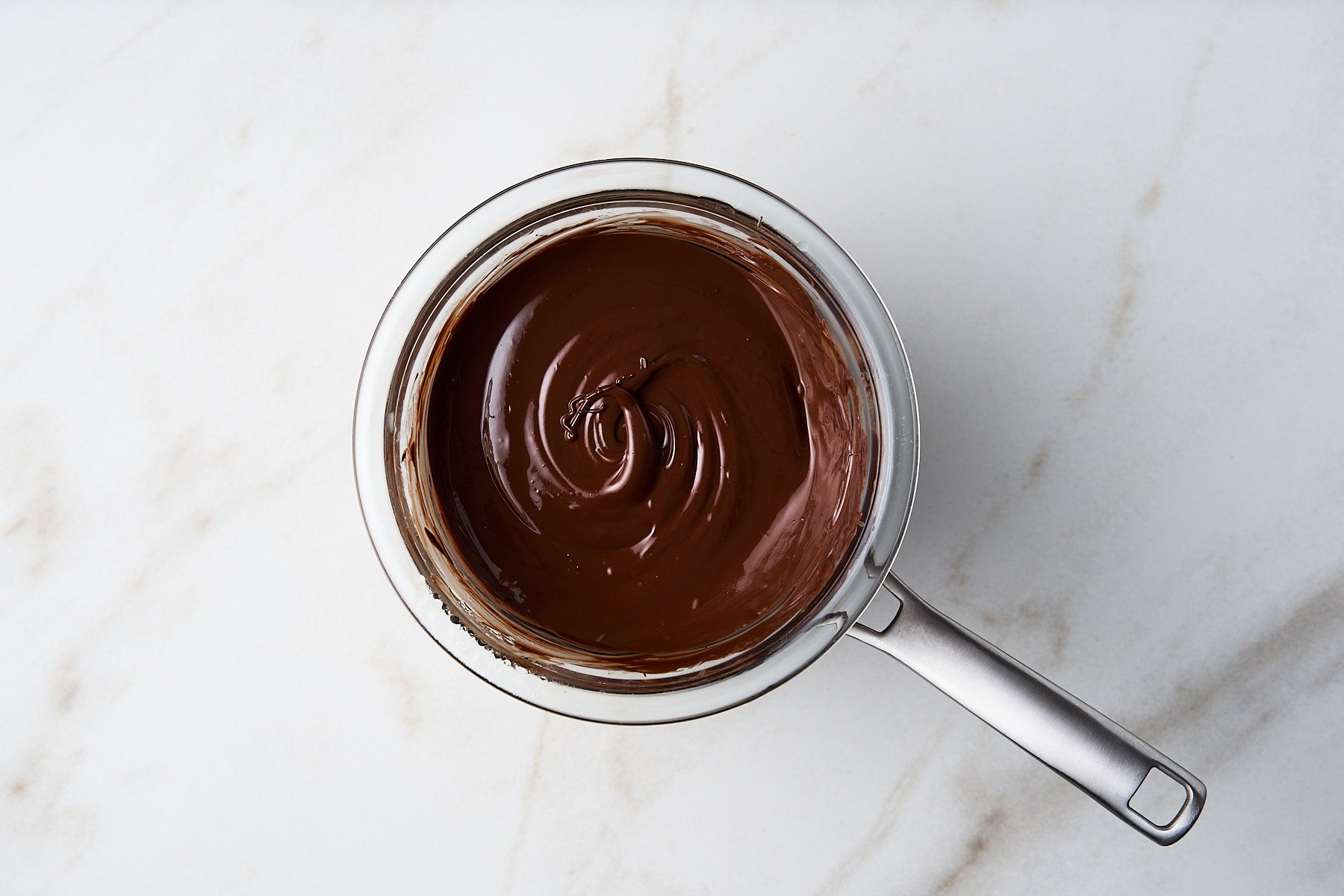 Peanut Butter Buckeyes variations
You'll love these decadent buckeyes as is, but you'll love them even more when you make them your own.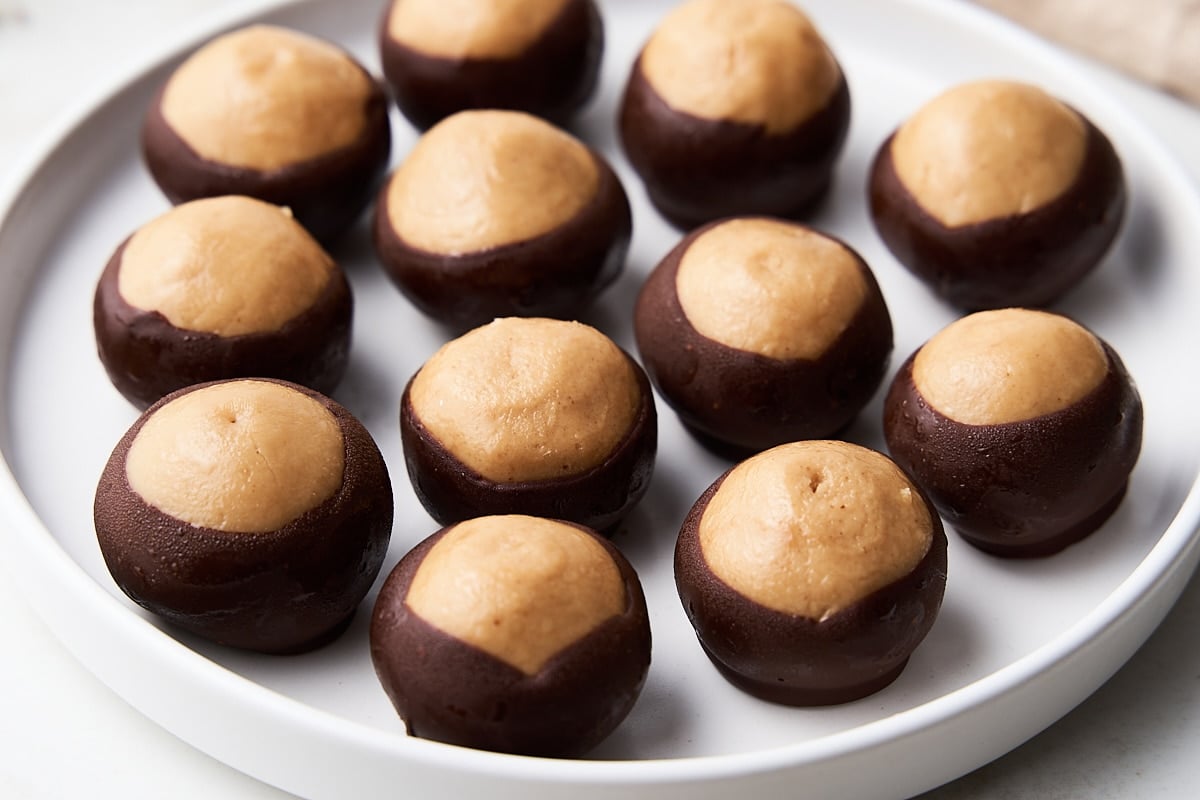 Buckeyes Candy storage & make ahead instructions
Buckeye candy in the fridge in an airtight container for up to 1 month; Freezer for up to 2-3 months; Not recommended to keep them at room temperature.
Make-Ahead: You can make the peanut butter filling ahead of time and leave it in the freezer until you are ready to dip it in chocolate.
Refrigerator: Store buckeyes in the refrigerator in an airtight container for up to 1 month.
Freezer: Buckeye candies will remain fresh in the freezer for 2-3 months when properly stored in a freezer-safe container or wrapped well in freezer bags.
How long are Buckeyes good for in the fridge?
Buckeyes can typically be stored in the refrigerator for about 2 weeks, but are best and most moist if eaten within the first week of making.
The specific shelf life may vary depending on the ingredients used and the storage conditions. To ensure the best quality and taste, it's recommended to store them in an airtight container or wrapped tightly in plastic wrap to prevent moisture and air exposure. If you plan to keep them for an extended period, you can also freeze Buckeyes for up to 2 to 3 months.
Do Buckeyes have to be refrigerated?
Buckeyes do not need to be refrigerated if you plan to eat them within a few hours of preparing, but if you are making them ahead of time, they will stay freshest in the fridge.
If storing at room temperature, place them in an airtight container in a cool place out of direct sunlight.
Can I freeze Buckeyes?
Yes, if you plan to keep them for an extended period, you can also freeze Buckeyes for up to 2 to 3 months.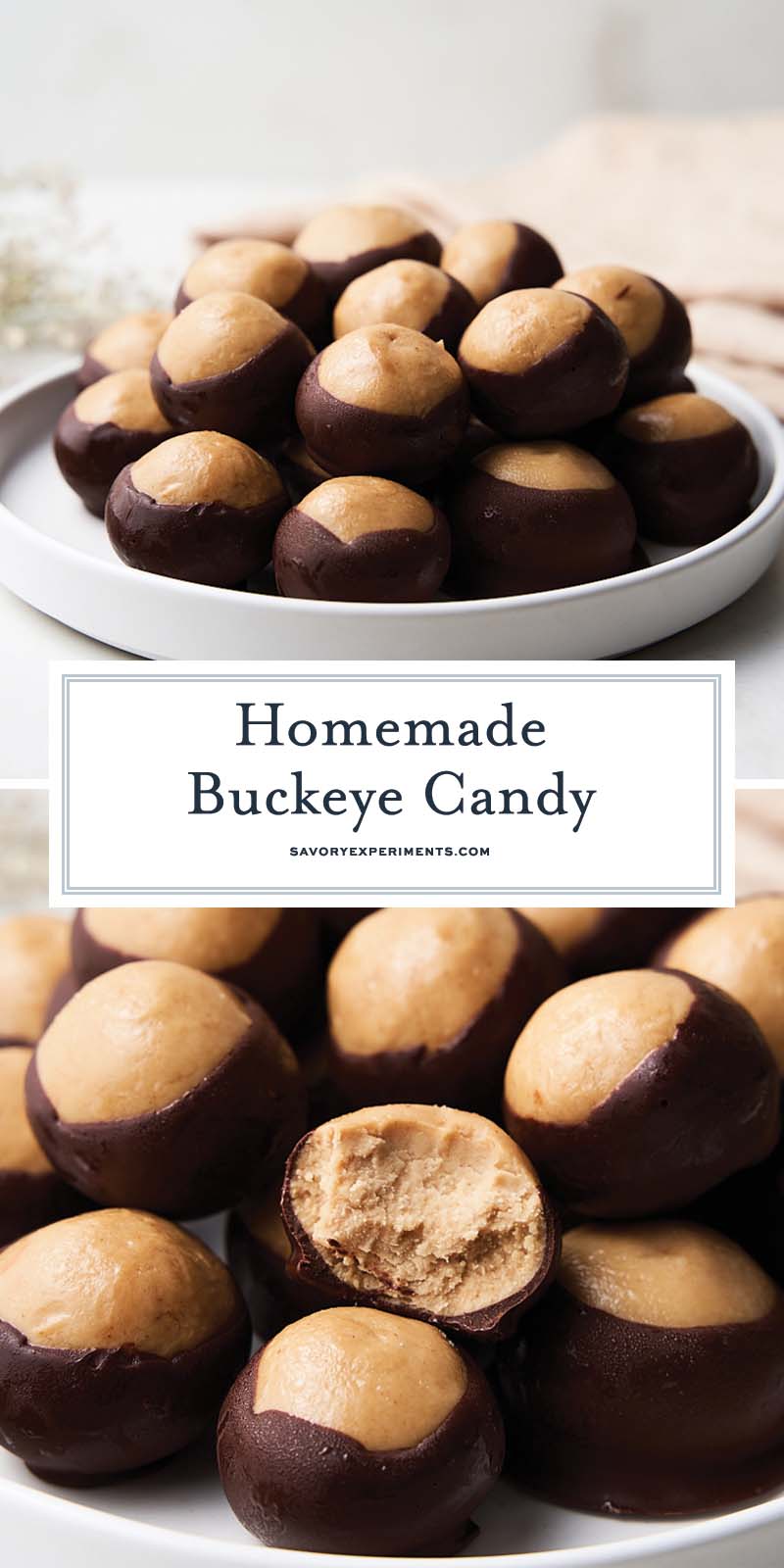 More Peanut Butter Desserts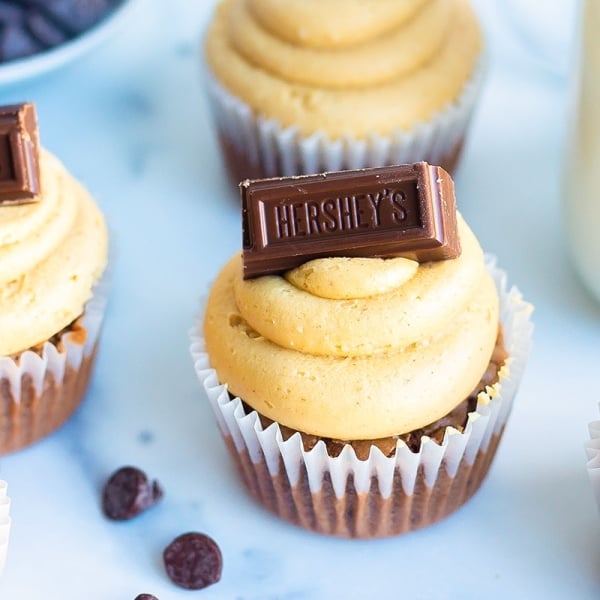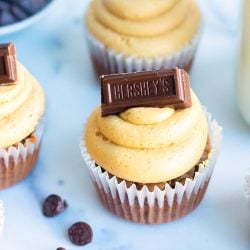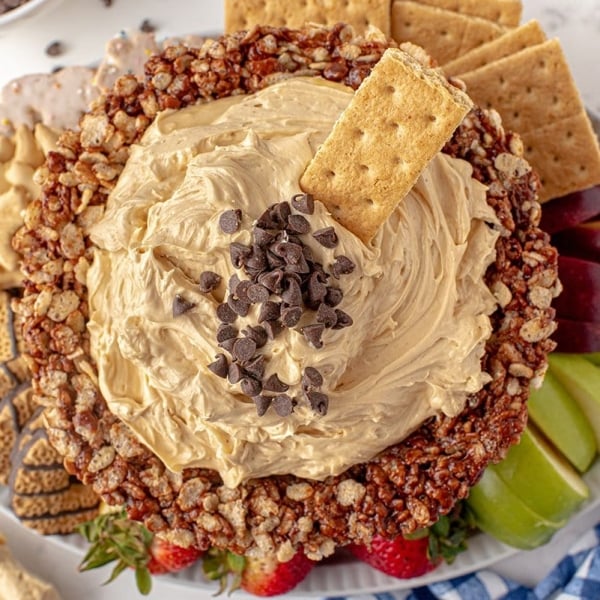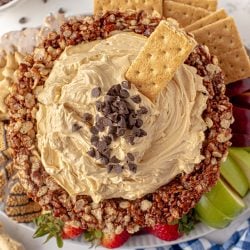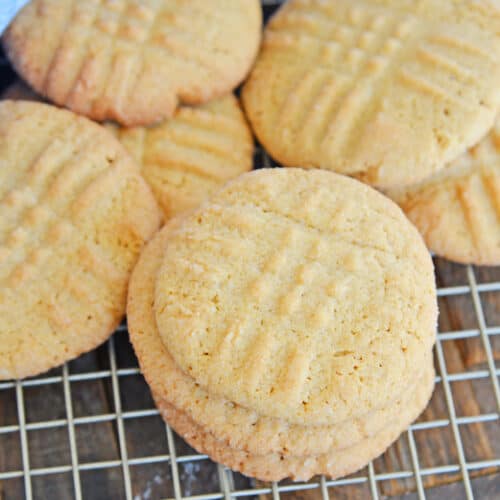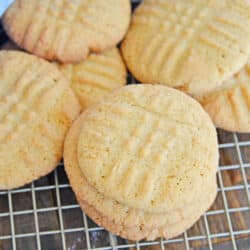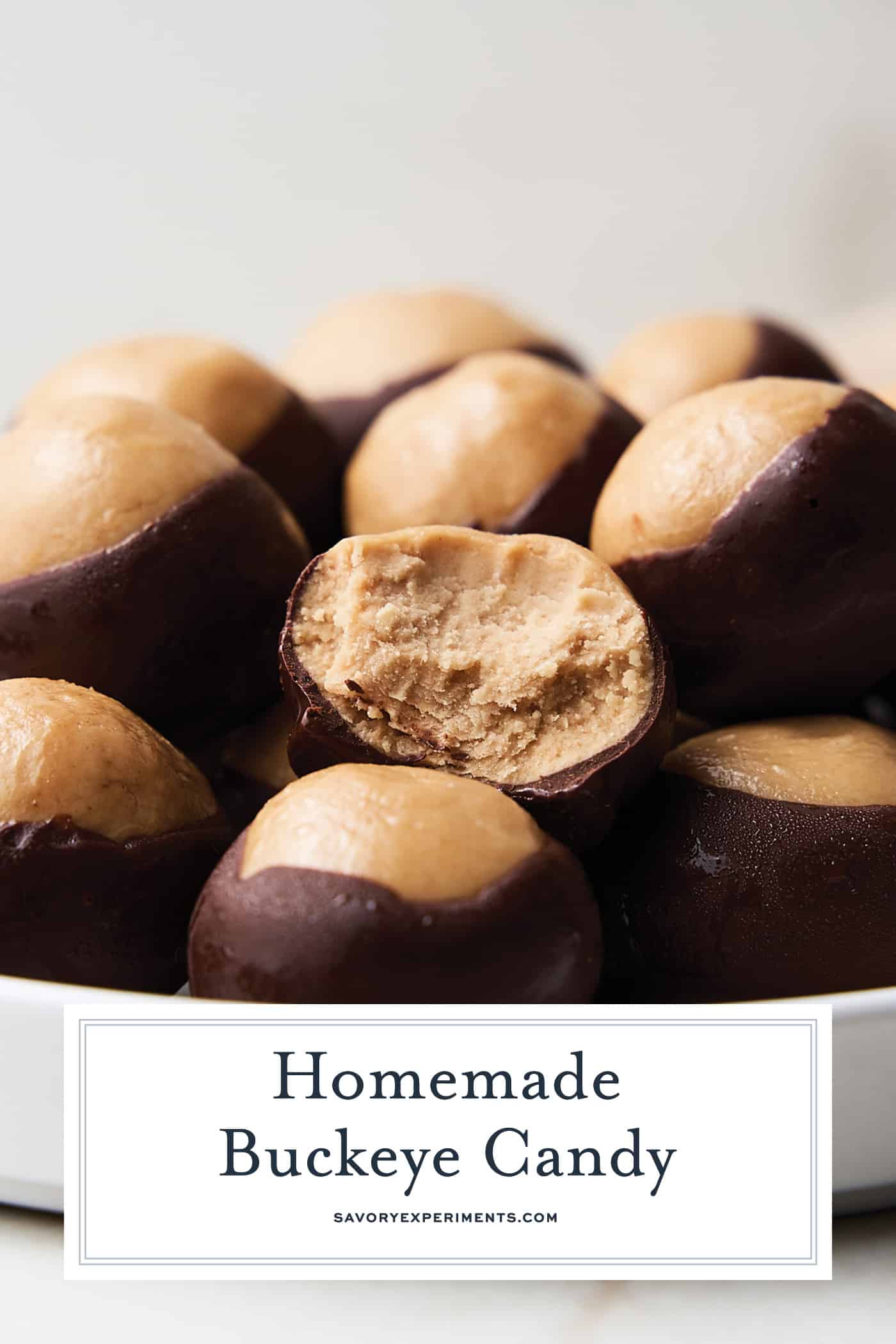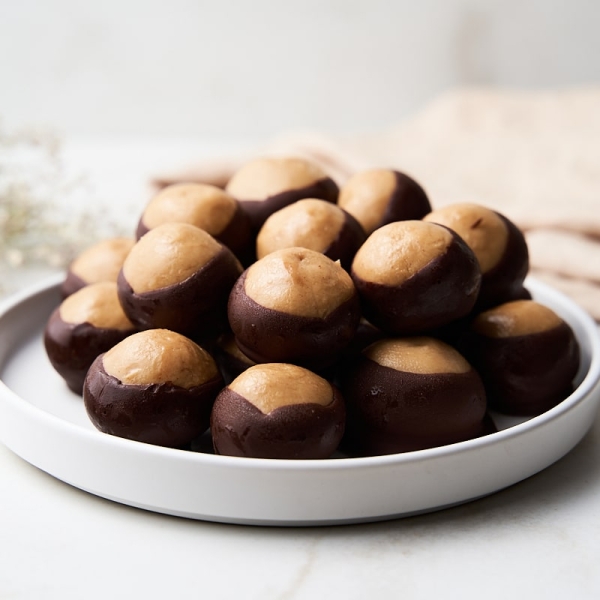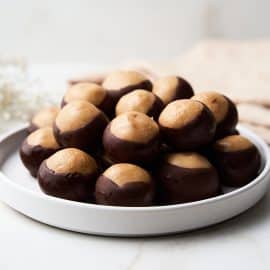 Buckeye Candy
If you love a dessert with peanut butter and chocolate you will adore this Classic Buckeye Candy recipe. Perfect for the holidays!
Instructions
Add the peanut butter, butter, vanilla, and salt to a medium mixing bowl. Using an electric mixer, mix on high until creamed. Slowly add the powdered sugar while continuing to mix until all powdered sugar is gone.

Using a measuring spoon or cookie scoop, shape 1-tablespoon balls with your hands. Once rolled, place them on a parchment-lined baking sheet and chill in the freezer for 20-30 minutes.

In the meantime, melt the chocolate chips and butter in a double boiler over low heat. Transfer to a small bowl for dipping.

Insert a toothpick into each ball, then dip them into the chocolate mixture to coat about half of the ball. Transfer each ball back to the cookie sheet, chocolate side down, and to the fridge to set. Repeat until all of the peanut butter balls are gone.

Chill in the fridge for 60-90 minutes, or until the chocolate sets.

If you've tried this recipe, come back and let us know how it was in the comments or star ratings!
Nutrition
Calories:
161
kcal
,
Carbohydrates:
18
g
,
Protein:
3
g
,
Fat:
10
g
,
Saturated Fat:
4
g
,
Polyunsaturated Fat:
1
g
,
Monounsaturated Fat:
4
g
,
Trans Fat:
0.1
g
,
Cholesterol:
5
mg
,
Sodium:
70
mg
,
Potassium:
96
mg
,
Fiber:
1
g
,
Sugar:
15
g
,
Vitamin A:
56
IU
,
Calcium:
10
mg
,
Iron:
1
mg