This easy no bake peanut butter cheesecake recipe brings together a crunchy Oreo crust with a silky smooth peanut butter cheesecake filling all topped with decadent melted chocolate. If you're a fan of peanut butter and chocolate, you'll fall in love with this no bake cheesecake recipe that requires absolutely no baking.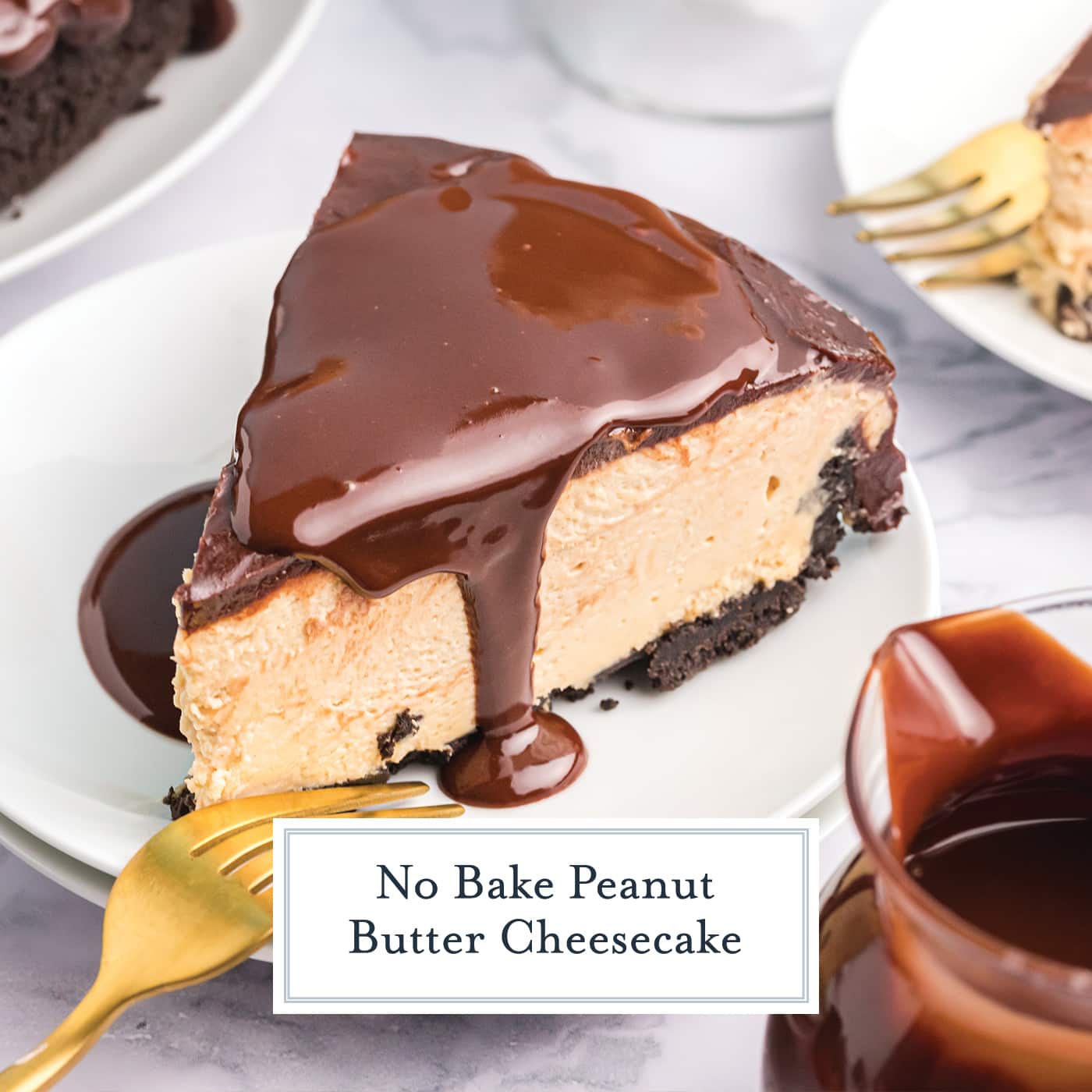 One of the best parts of this cheesecake (besides not having to bake it) is that you only need a short list of simple ingredients. The chocolate cookie crust is simply made by combining crushed Oreo cookies with butter, the filling couldn't be easier with only a handful of ingredients you can mix together in one bowl, and the topping only requires two ingredients!
The next time you're looking for a simple dessert that's creamy and delicious, try this no bake peanut butter cheesecake recipe. You may want to double it so you are sure to have some for yourself!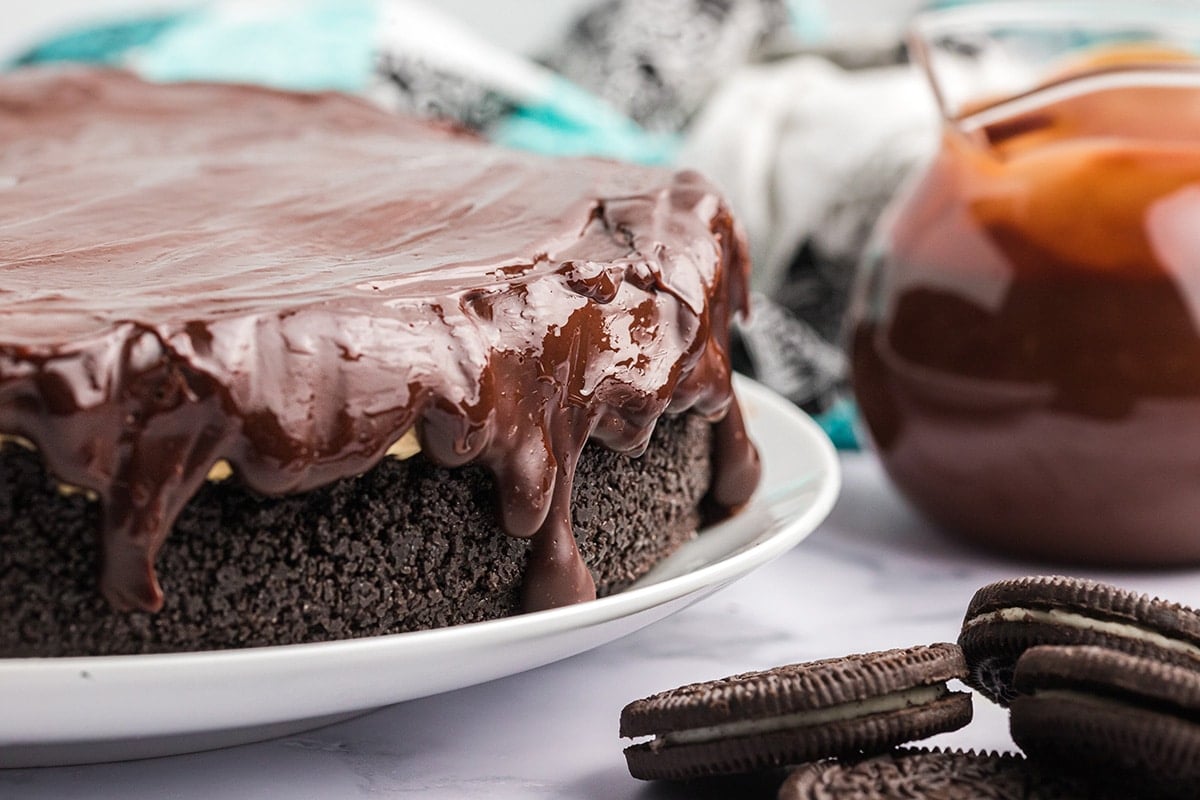 Why You'll Love No Bake Peanut Butter Cheesecake
If you're a peanut butter lover you will definitely love this cheesecake.
Easy – No turning the oven on, and no worries about your cheesecake cracking.
Delicious – Peanut butter and cheesecake (with a chocolate topping) is a winning combination.
Versatile – This cheesecake is great for special occasions like birthdays or holidays but it works well for casual gatherings like cookouts, too. It's a crowd pleaser no matter where you serve it.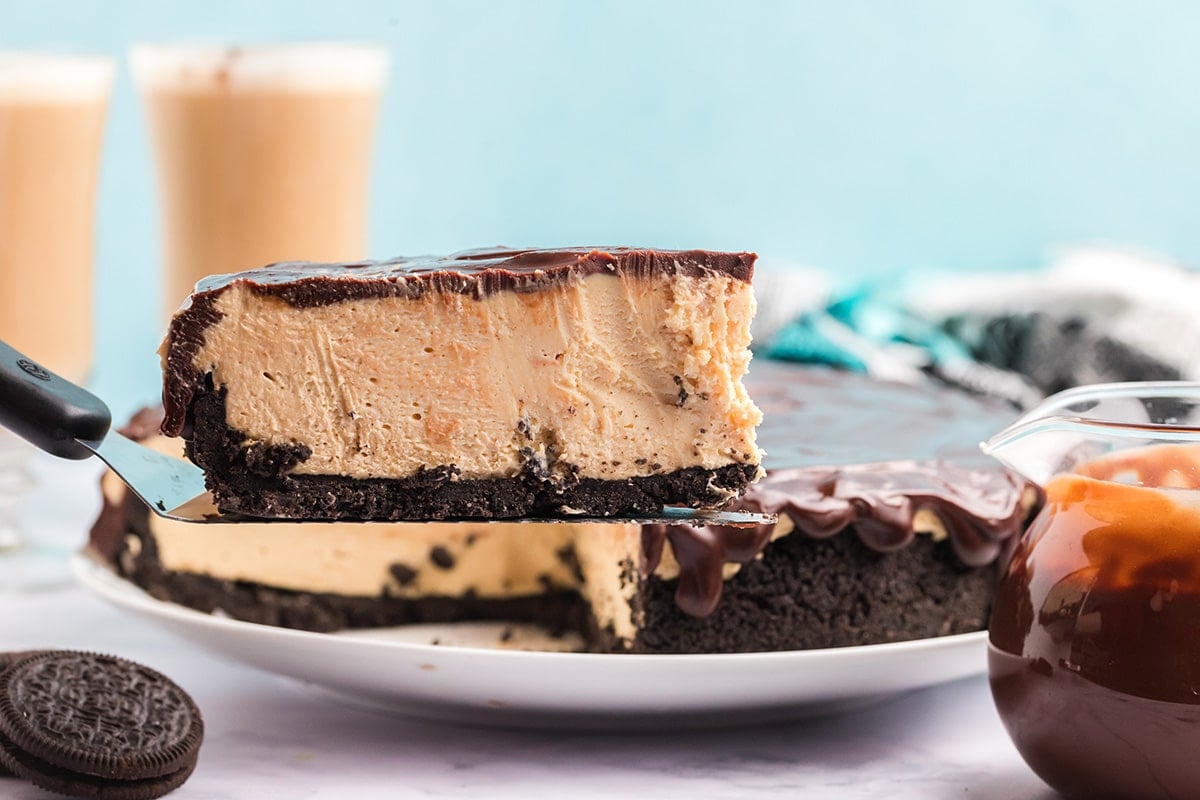 Ingredients
Make sure to allow all ingredients to come to room temperature before beginning.
Crust:
Chocolate sandwich cookies – If you don't have a food processor, you can crush these by placing them in a resealable bag then using a rolling pin or meat mallet.
Unsalted butter – As with most pies and cakes, you'll want to avoid using salted butter. For this, make sure to melt it and then allow it to cool slightly.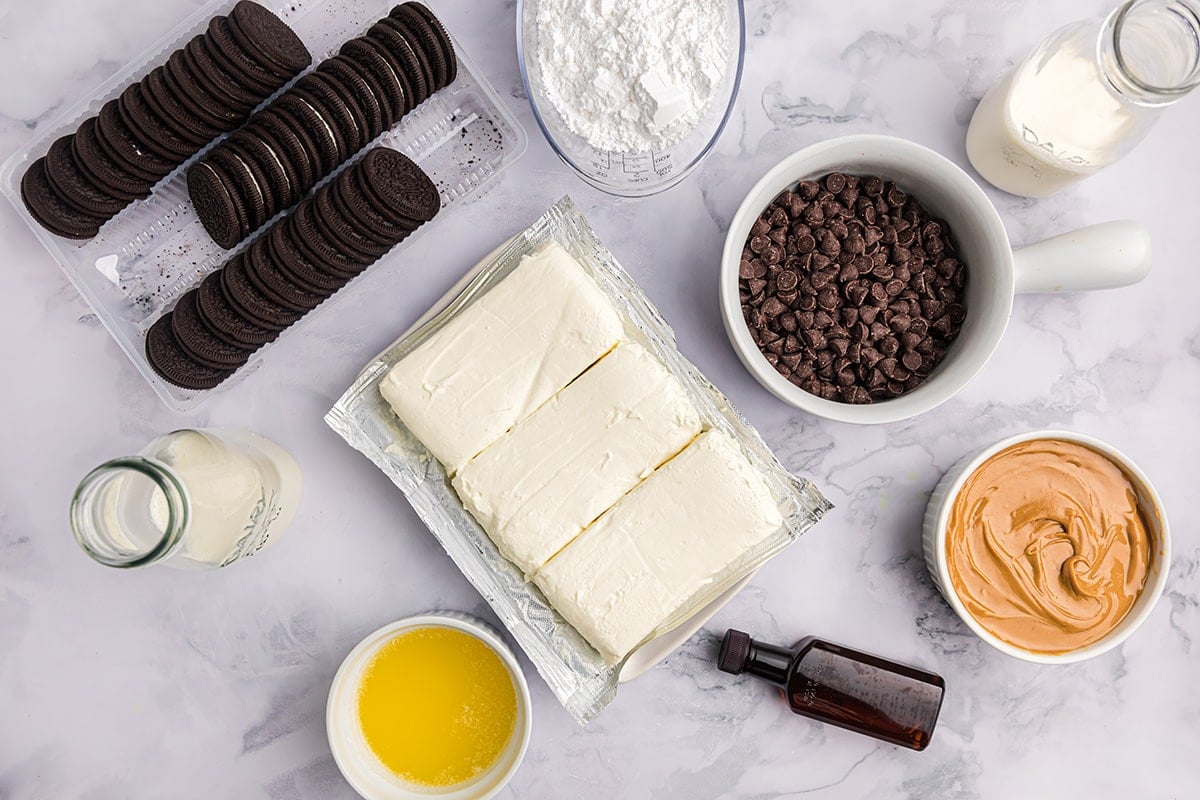 Peanut Butter Cheesecake:
Full fat cream cheese – To make sure the cheesecake is creamy, stick with a full fat version.
Creamy peanut butter – You can use any brand you like, but make sure it's not chunky.
Powdered sugar – Confectioner's sugar helps make the cheesecake silky smooth.
Vanilla extract – This rounds out the flavors and helps to bring out the tang of the cream cheese and sweetness of the sugar.
Heavy cream – Full fat is also key for the cream so make sure not to swap in a lighter variety.
Chocolate Ganache:
Heavy cream – This makes the ganache super creamy and thick.
Semi sweet chocolate chips – Since there are so few ingredients in the ganache, make sure to get a high quality brand for the best flavor.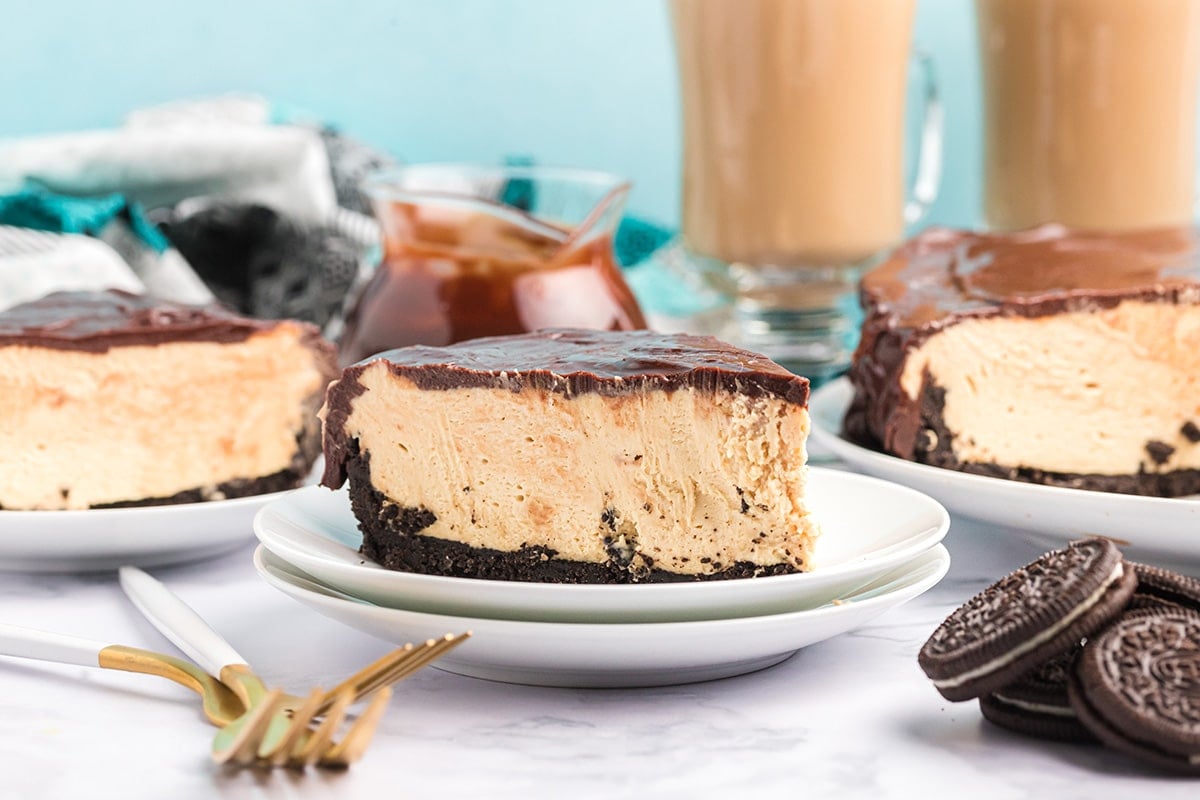 How to Make Chocolate Peanut Butter Cheesecake
This easy cheesecake comes together so quickly since you don't have to bake it.
Crust:
Combine the cookies and melted butter in the food processor and crush until you have fine crumbs that are the texture of sand.
Firmly press the cookie mixture into the springform pan along the bottom and sides.
Allow the crust to chill in the refrigerator while preparing the cheesecake.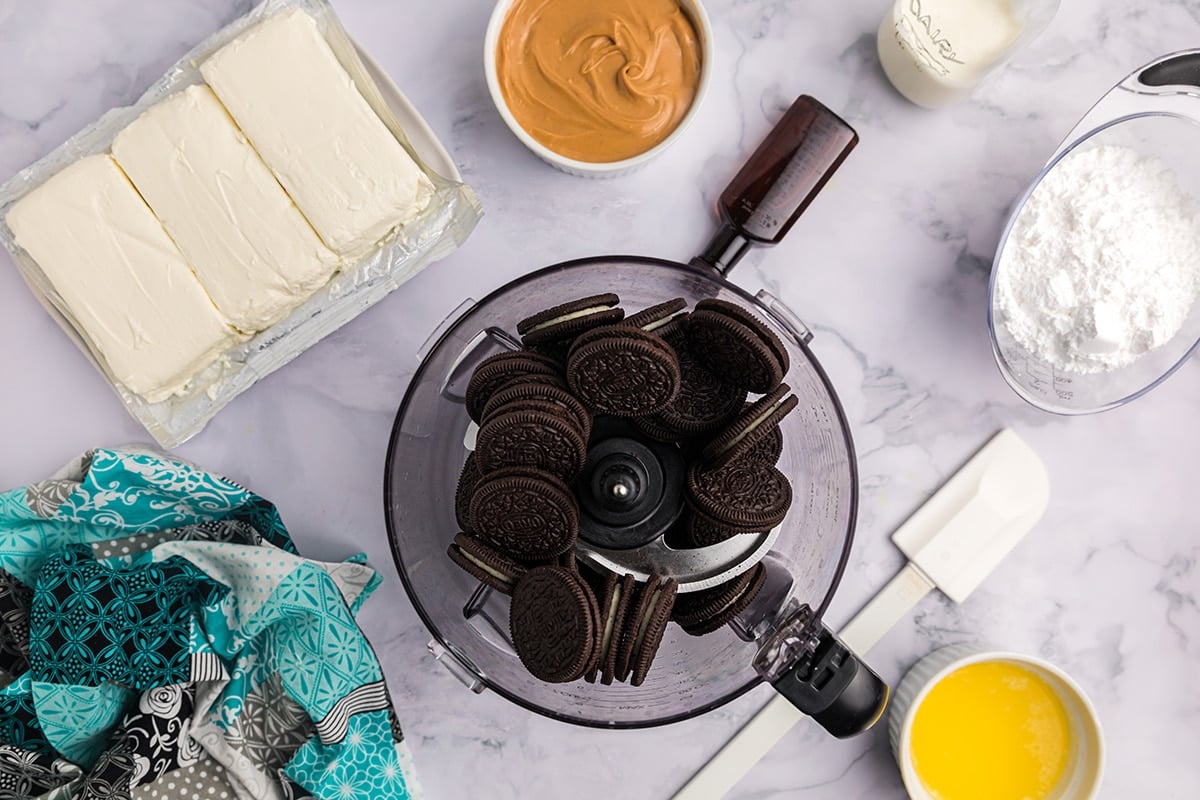 Cheesecake:
Add the cream cheese and peanut butter to a large bowl of a stand mixer (or use an electric hand mixer). Beat until the cream cheese mixture is fluffy and all ingredients are incorporated.
Lower the speed of the mixture and gradually add the powdered sugar. Use a rubber spatula to scrape the sides so that all of the sugar is mixed in.
Then, pour in the vanilla extract and mix until it is entirely incorporated.
Next, slowly pour in the heavy cream and continue to mix.
Once the cheesecake mixture forms stiff peaks, spoon it into the prepared crust. Spread it evenly and smooth the top.
Use plastic wrap to cover the pan and allow it to chill in the refrigerator.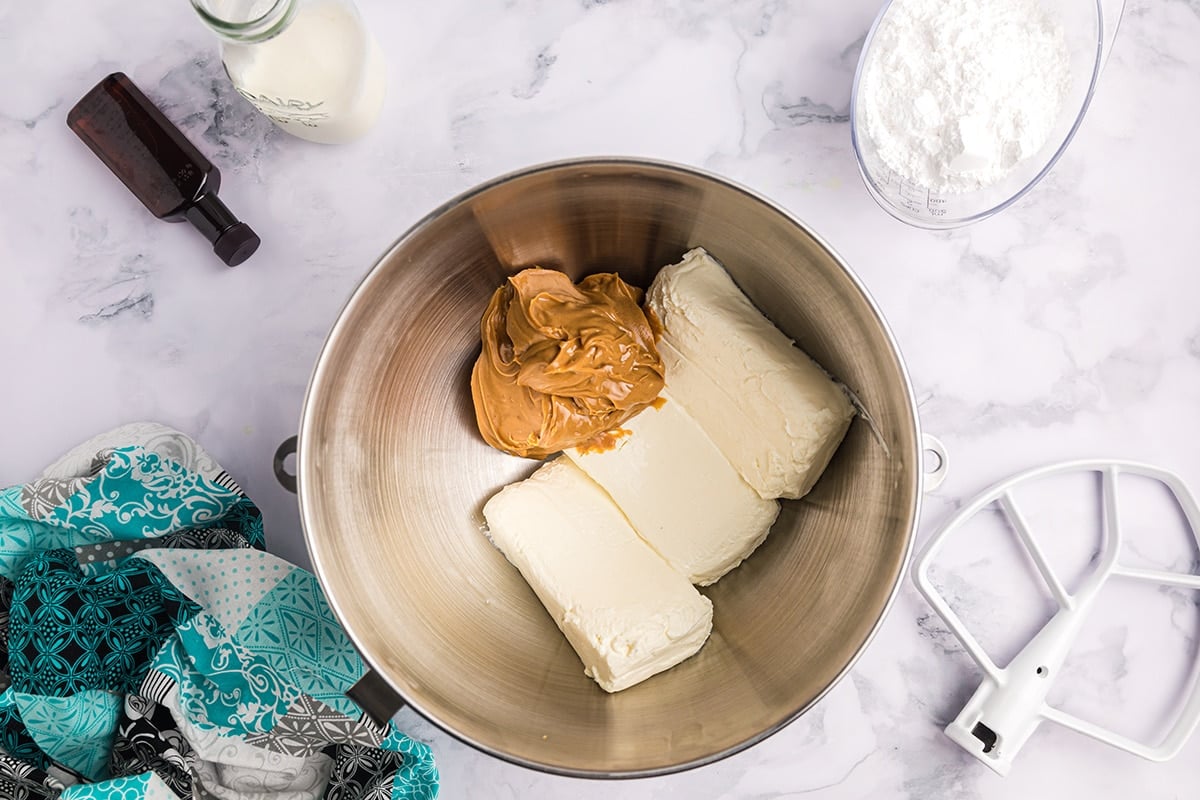 Chocolate Ganache:
Add the heavy whipping cream to a small saucepan and bring to a simmer, being careful not to boil.
Then, after removing the pan of hot cream from the heat, pour in the chocolate chips.
Using a whisk, mix the chocolate chips into the hot cream until they've completely melted and the mixture is silky smooth.
Briefly let the mixture cool. Then pour mixture over top of the cheesecake.
Chill the cheesecake until ready to serve.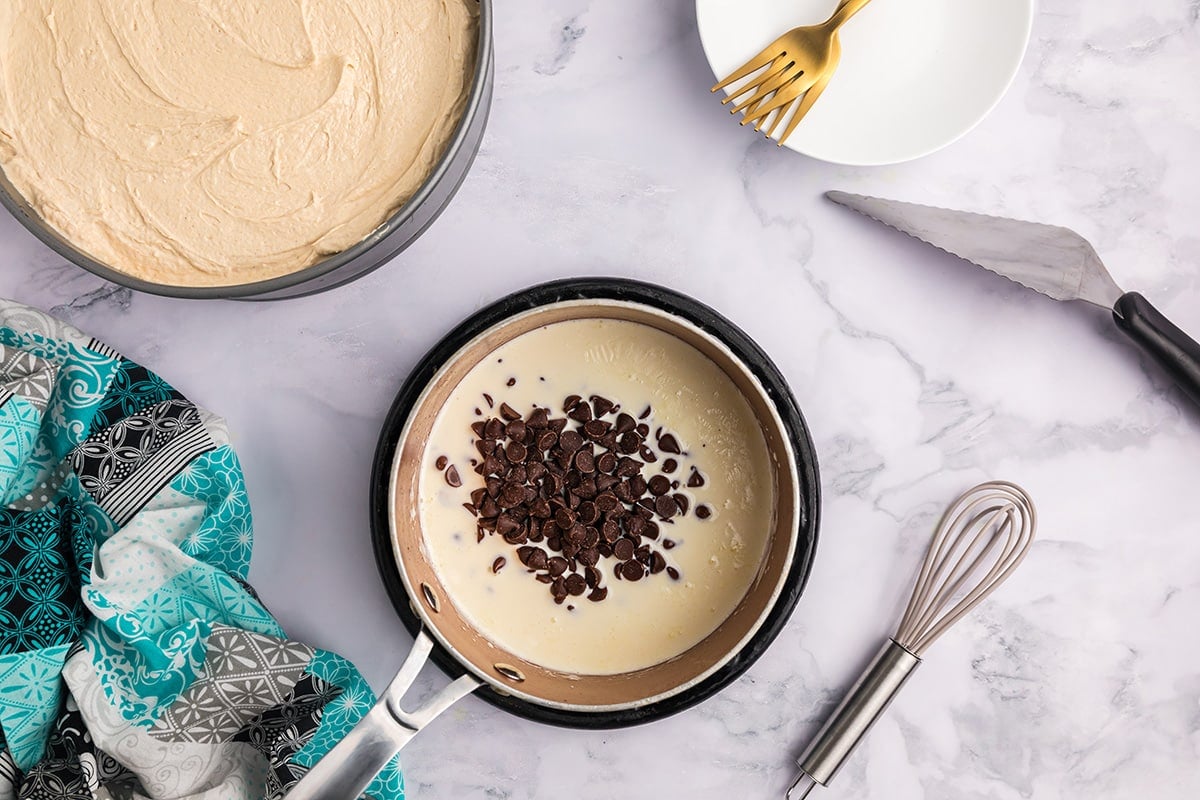 What to Serve with Peanut Butter Cheesecake
We love having coffee (especially with Bailey's Irish Cream) with any cheesecake, but it's particularly good with this one. You can also serve it with almond hot chocolate (to keep with the nutty chocolate theme), or white hot chocolate.
As for toppings, I like to spoon some homemade whipped cream on top or serve it with a big scoop of vanilla ice cream.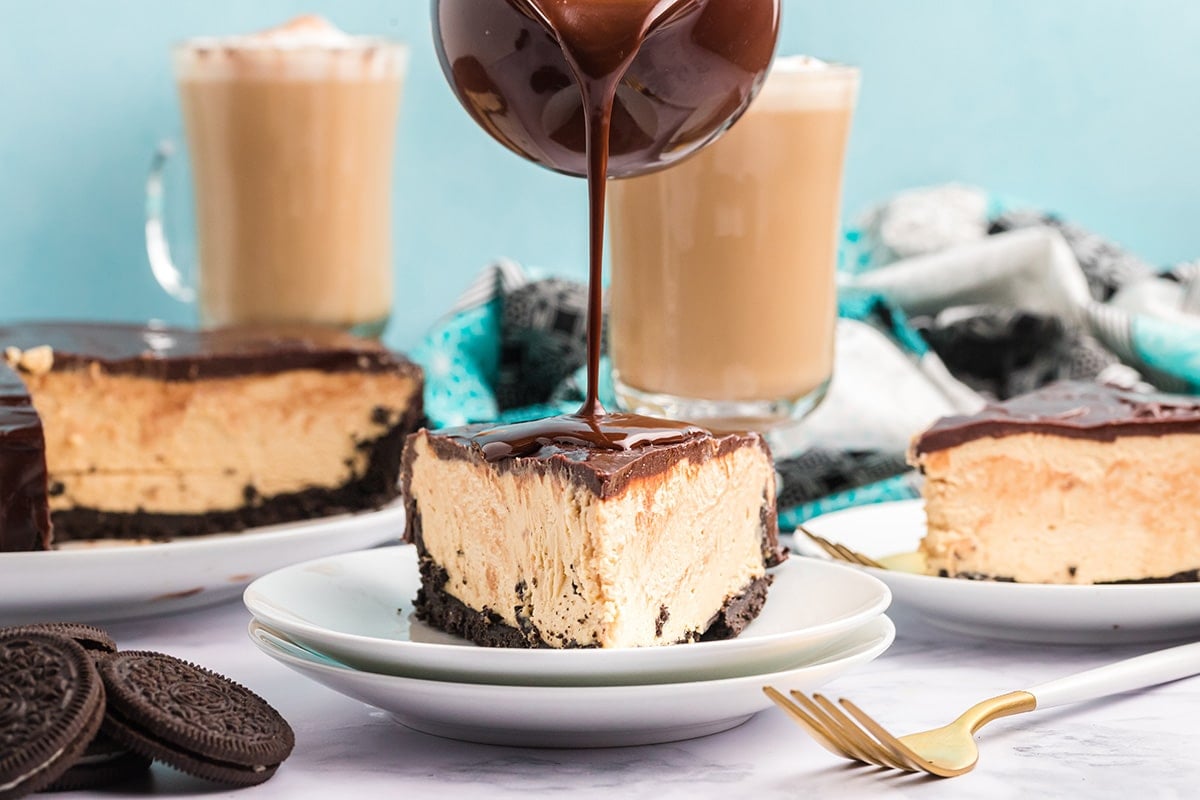 Variations
While this cheesecake is amazing as-is, you can dress it up, or make some swaps, too.
Nuts – Sprinkle the top with crushed peanuts or your favorite nuts.
Caramel – Drizzle caramel sauce over the top.
Sprinkles – Make it festive with colorful sprinkles.
Sugar – Use a sugar alternative to lower the amount of sugar and overall net carbs in the recipe.
Chocolate chips – Fold mini chocolate chips into the filling before spooning it into the pie crust.
Candy – Garnish with chocolate or peanut butter candies like miniature (or crushed) Reese's peanut butter cups or Reese's pieces.
Topping – If you're short on time or don't have ingredients to make the ganache you can substitute hot fudge instead.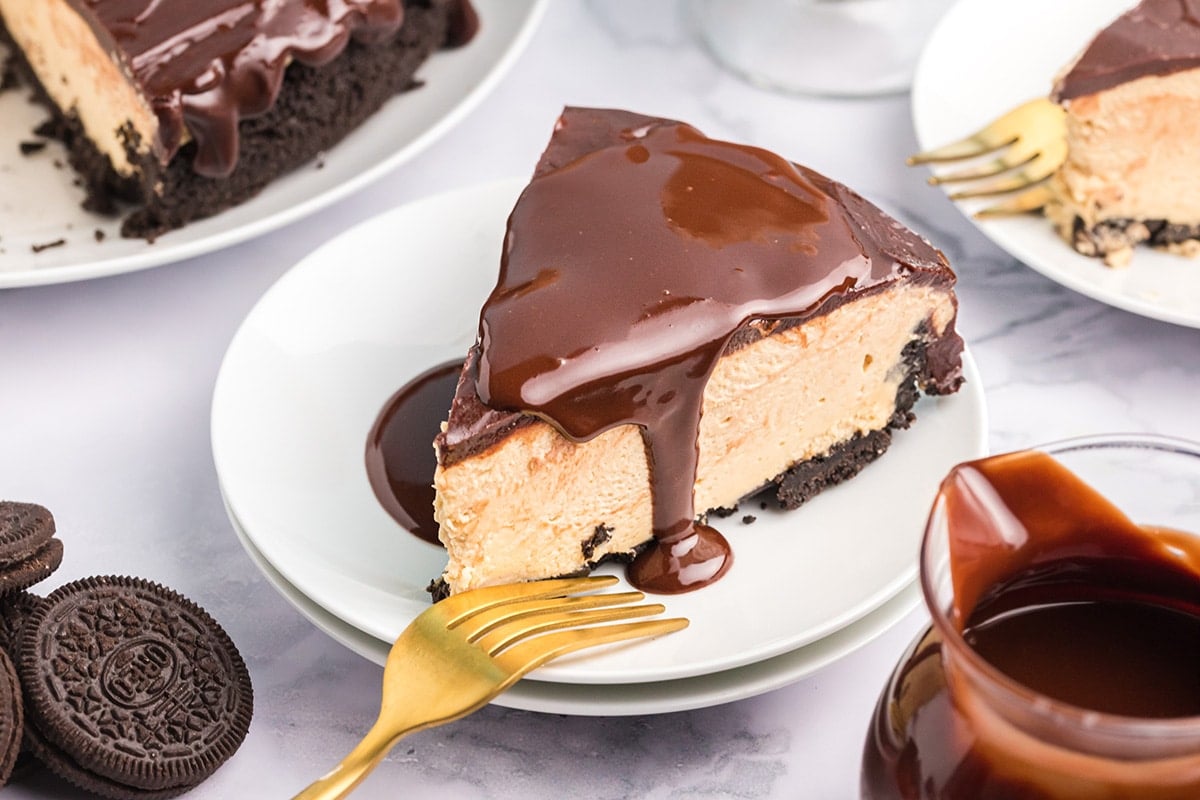 Storage, Make Ahead and Freezing
Make-Ahead: You can make the crust and the filling ahead of time and combine when ready to add the ganache.
Refrigerator: Refrigerate the cheesecake for up to 5 days. Cover it in plastic wrap or seal slices in an airtight container.
Freezer: Freeze slices in a freezer-safe container or a freezer bag for up to 3 months.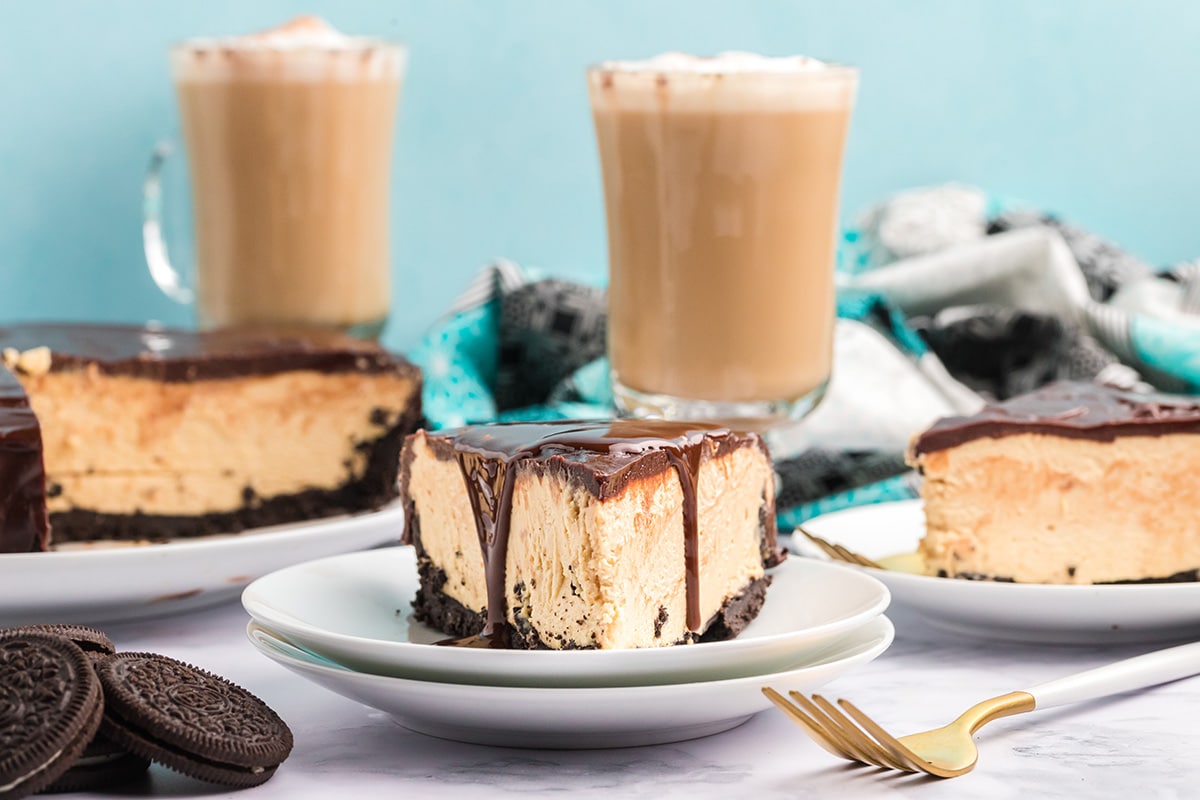 Common Questions About No Bake Peanut Butter Cheesecake
Which is better no-bake cheesecake or baked?
While I enjoy cheesecake in any form, if you're a connoisseur of cheesecake you'll probably lean towards a greater appreciate for a baked cheesecake with it's lighter, fluffier, texture. However, if you enjoy a more dense and creamy cheesecake, you'll like a no bake version.
Why is my no bake cheesecake not firm?
If you try to slice it before it has fully set it may not be as firm as you'd like. We recommend letting it sit for at least an hour, but if you can hold off the temptation to dig in, it's best left for at least 6 hours.
Do I need to bake the crust of my no bake cheesecake?
You definitely don't want to bake the crust — that will make it soggy. Should I bake the crust of a no bake dessert?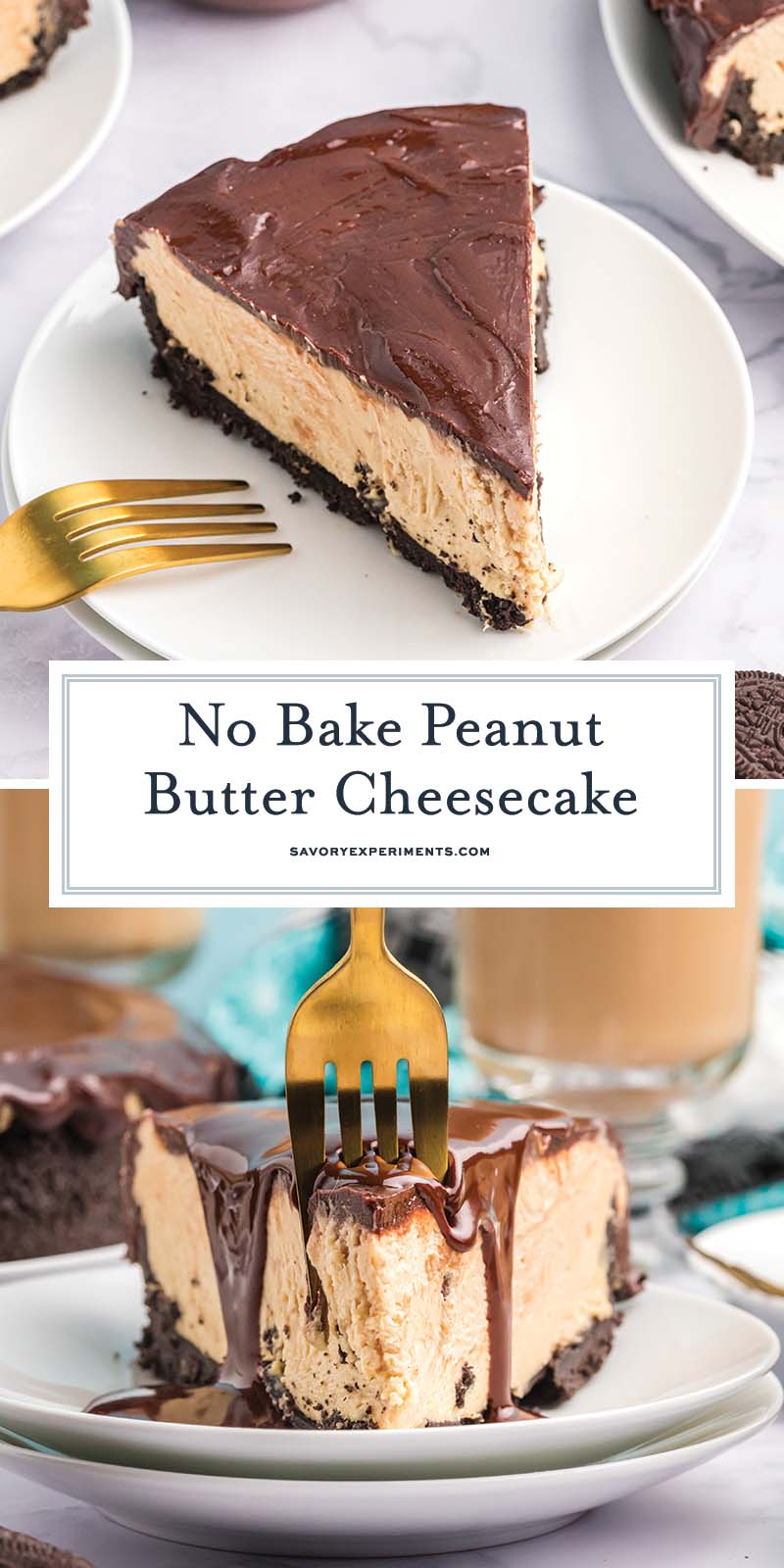 Other No Bake Recipes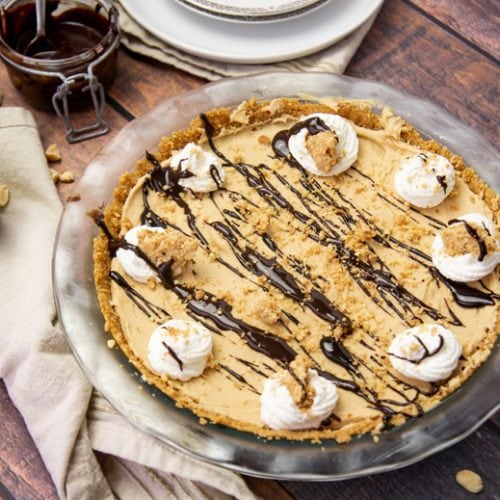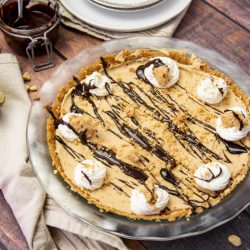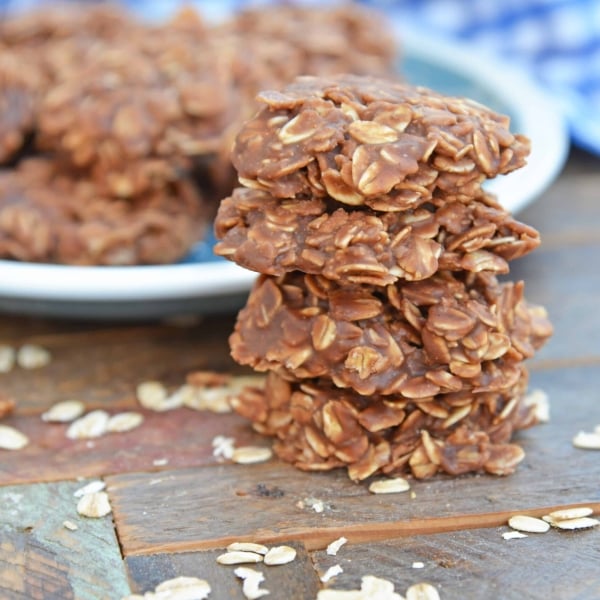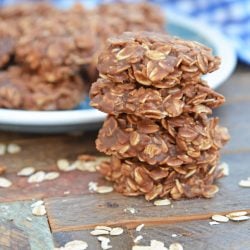 Classic No Bake Cookies
If you've always thought oatmeal no bake cookies were difficult, this classic no bake cookie recipe will change your mind. With these tips, you'll end up with the perfect peanut butter no bake cookies every time!
See The Recipe!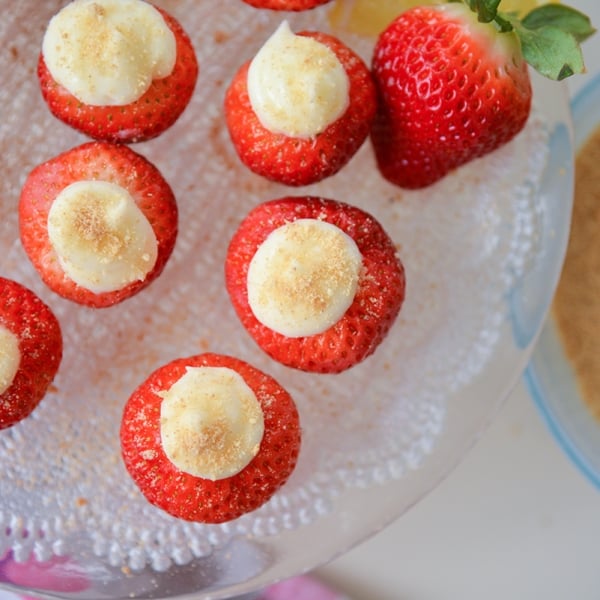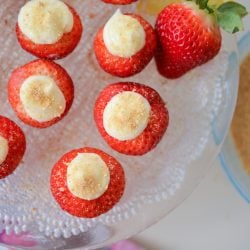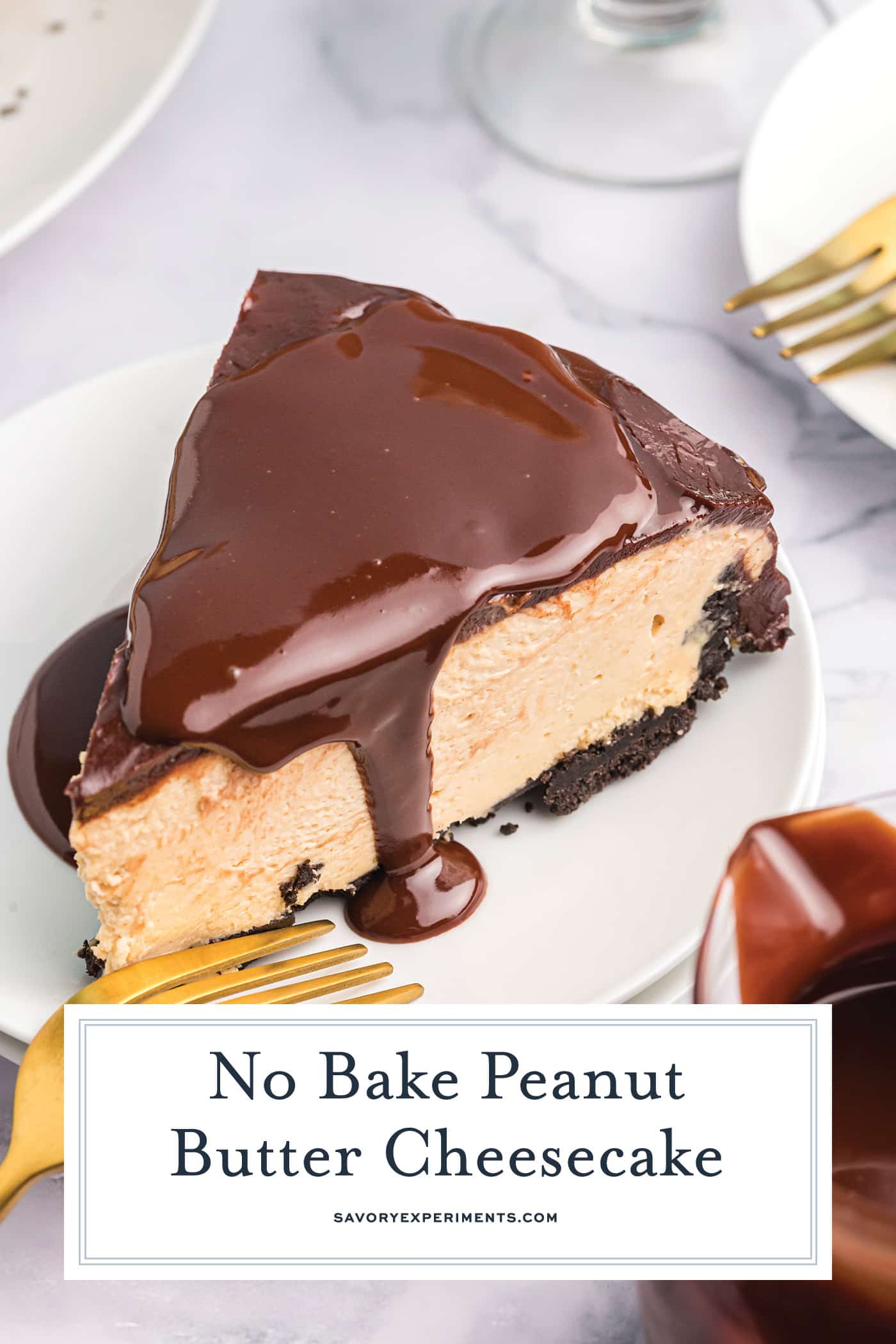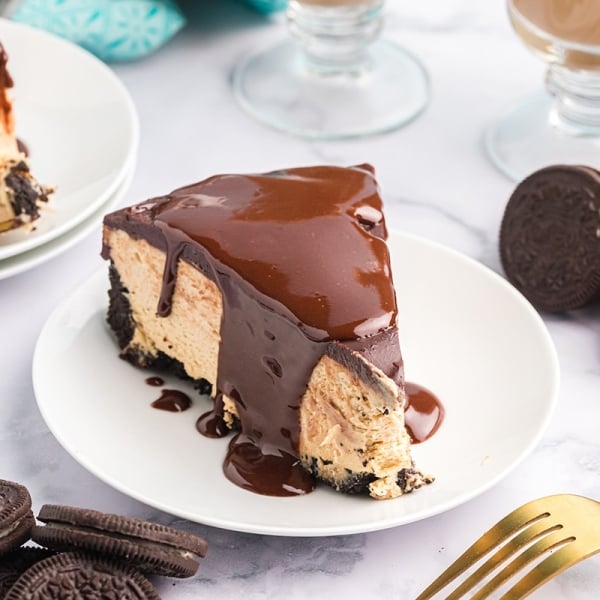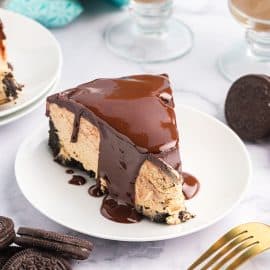 No Bake Peanut Butter Cheesecake
EASY no-bake Peanut Butter Cheesecake has a chocolate crust, creamy peanut butter filling, and a chocolate ganache topping. Utterly dreamy!
Ingredients
Crust:
1

package of chocolate sandwich cookies 30 cookies.

6

tablespoons

unsalted butter melted and cooled
Peanut Butter Cheesecake:
Instructions
Crust:
In a food processor, combine together the cookies and the melted cooled butter. Process until the cookies are evenly crushed and the mixture resembles chocolate sand.

Press into a 9" springform pan, evenly along the bottom and up the sides. Use a flat bottomed glass to help you.

Chill in the fridge while you prepare the filling.
Cheesecake:
In the bowl of an electric mixer, combine the cream cheese and peanut butter until smooth and fluffy.

Add in the powdered sugar, mixing until smooth and scraping down the sides of the bowl.

Add in the vanilla extract and mix until combined.

Slowly add in the heavy cream and mix until you get stiff peaks.

Add the mixture to the prepared pan and evenly spread over the crust. Make sure the top is even and smooth so you have a nice surface to pour the ganache on later.

Cover with plastic wrap and place in the fridge to chill for 1 hour.
Chocolate Ganache:
In a small saucepan, bring the heavy cream to a simmer.

Remove the pan from the heat and add in the chocolate chips.

Whisk until the chocolate has melted and the mixture is smooth.

Allow to cool to room for 5-10 minutes, and then pour over the peanut butter cheesecake.

Chill for at least 1 hour (or overnight), or until the chocolate ganache is set.
Notes
Once the cheesecake has fully set, you will want to keep it covered in plastic wrap in the refrigerator. It will keep well for up to 5 days.
Nutrition
Calories:
566
kcal
,
Carbohydrates:
29
g
,
Protein:
10
g
,
Fat:
47
g
,
Saturated Fat:
24
g
,
Polyunsaturated Fat:
4
g
,
Monounsaturated Fat:
15
g
,
Trans Fat:
0.2
g
,
Cholesterol:
95
mg
,
Sodium:
282
mg
,
Potassium:
276
mg
,
Fiber:
2
g
,
Sugar:
24
g
,
Vitamin A:
1233
IU
,
Vitamin C:
0.1
mg
,
Calcium:
87
mg
,
Iron:
1
mg