This cookie recipe will have all you peanut butter and chocolate lovers falling head over heels. Chocolate Peanut Butter Cookie Sandwiches are earth-shatteringly good.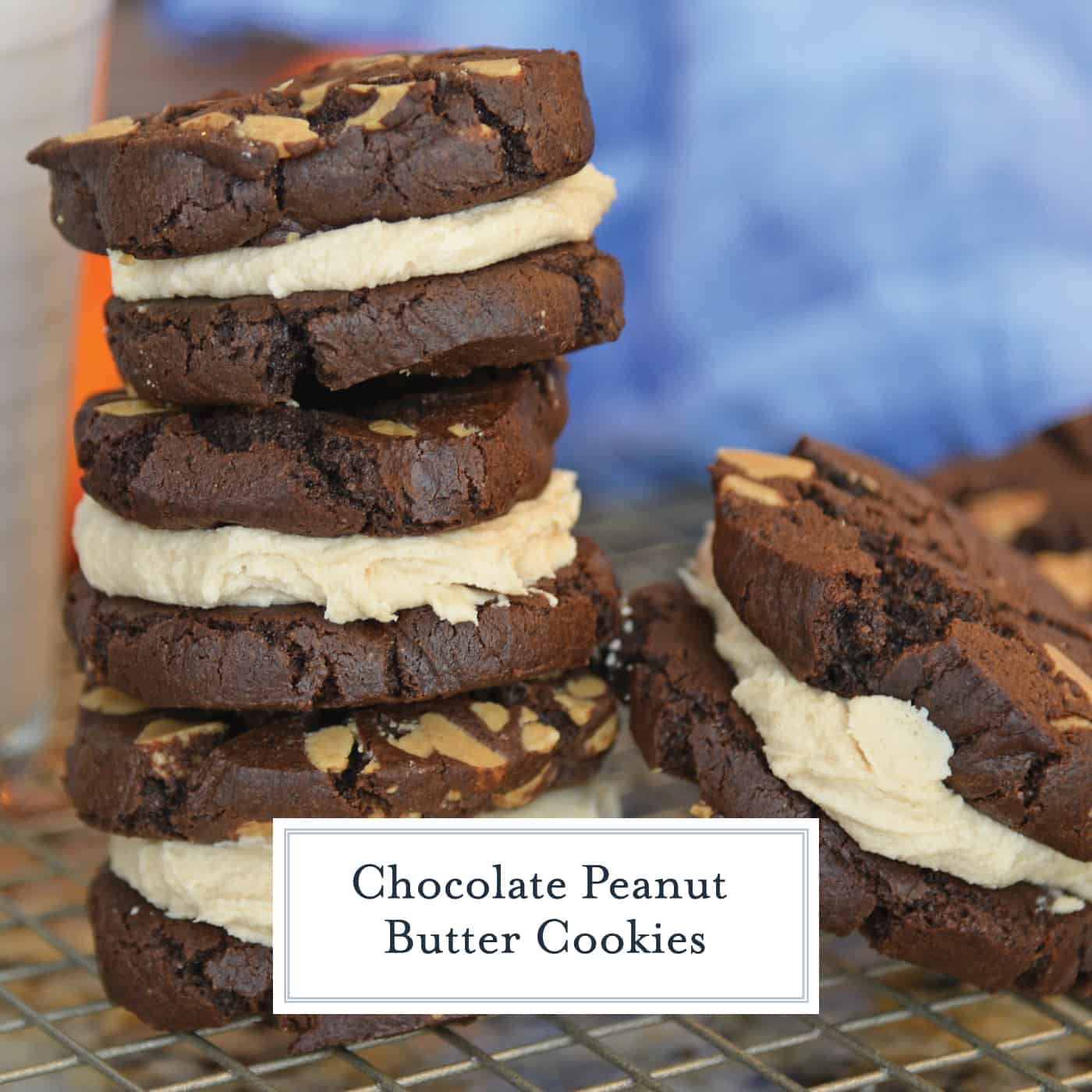 These Chocolate Peanut Butter Cookie Sandwiches are quite possibly the best cookie sandwich you will ever eat. Highly addictive: bake with caution!
Who doesn't love cookies? Better yet, two cookies with whipped frosting in between? That would be approximately no one.
Dessert is hard to turn down, but it has happened in the past. Not so with these cookies my friend. You won't be able to walk away.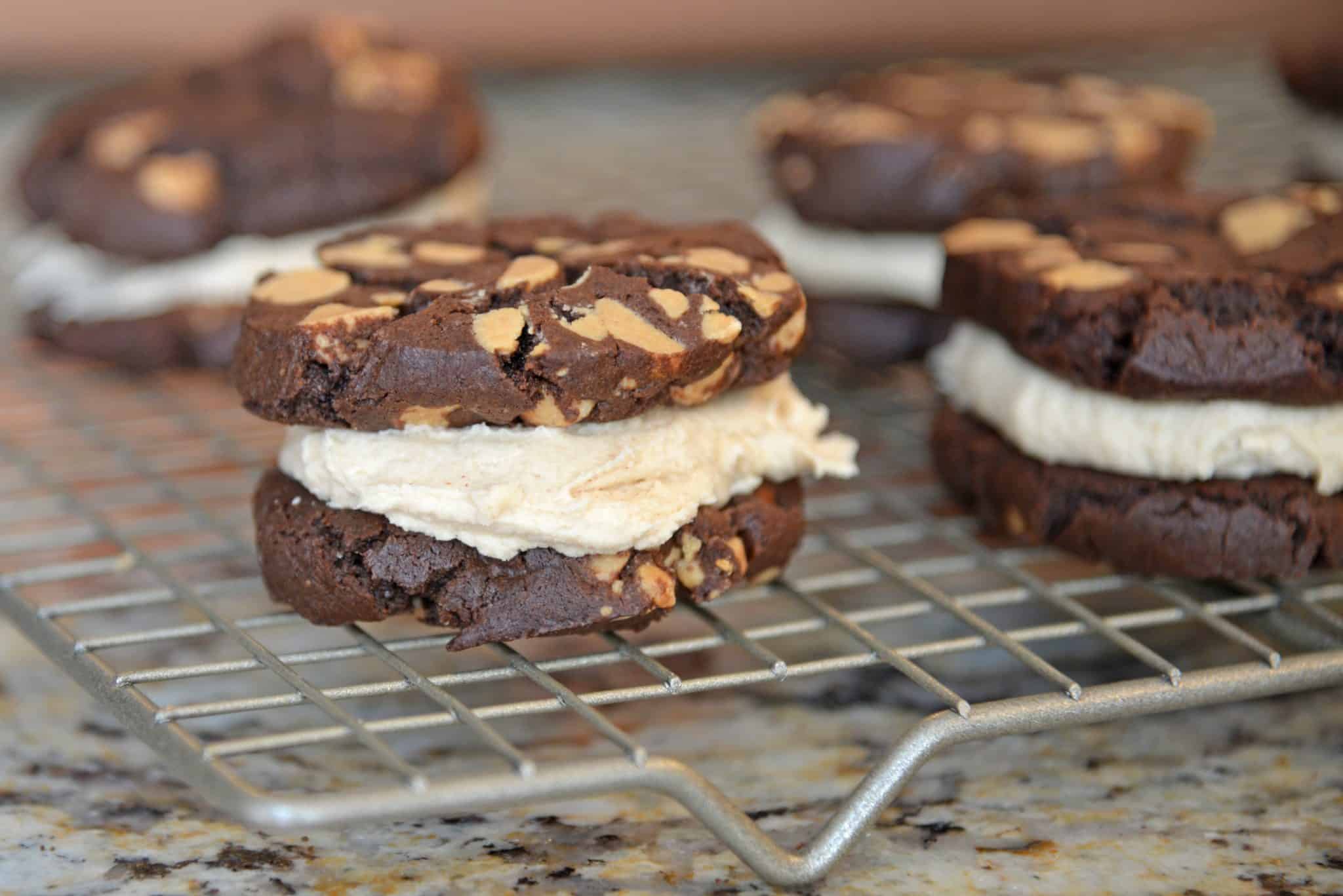 We're talking two fudgy chocolate cookies, dotted with peanut butter morsels sandwiched around, smooth and silk whipped peanut butter filling.
If you want to make this recipe even better, use a natural peanut butter which should just have 2 ingredients – peanuts and salt. It really gives you that strong, peanutty flavor.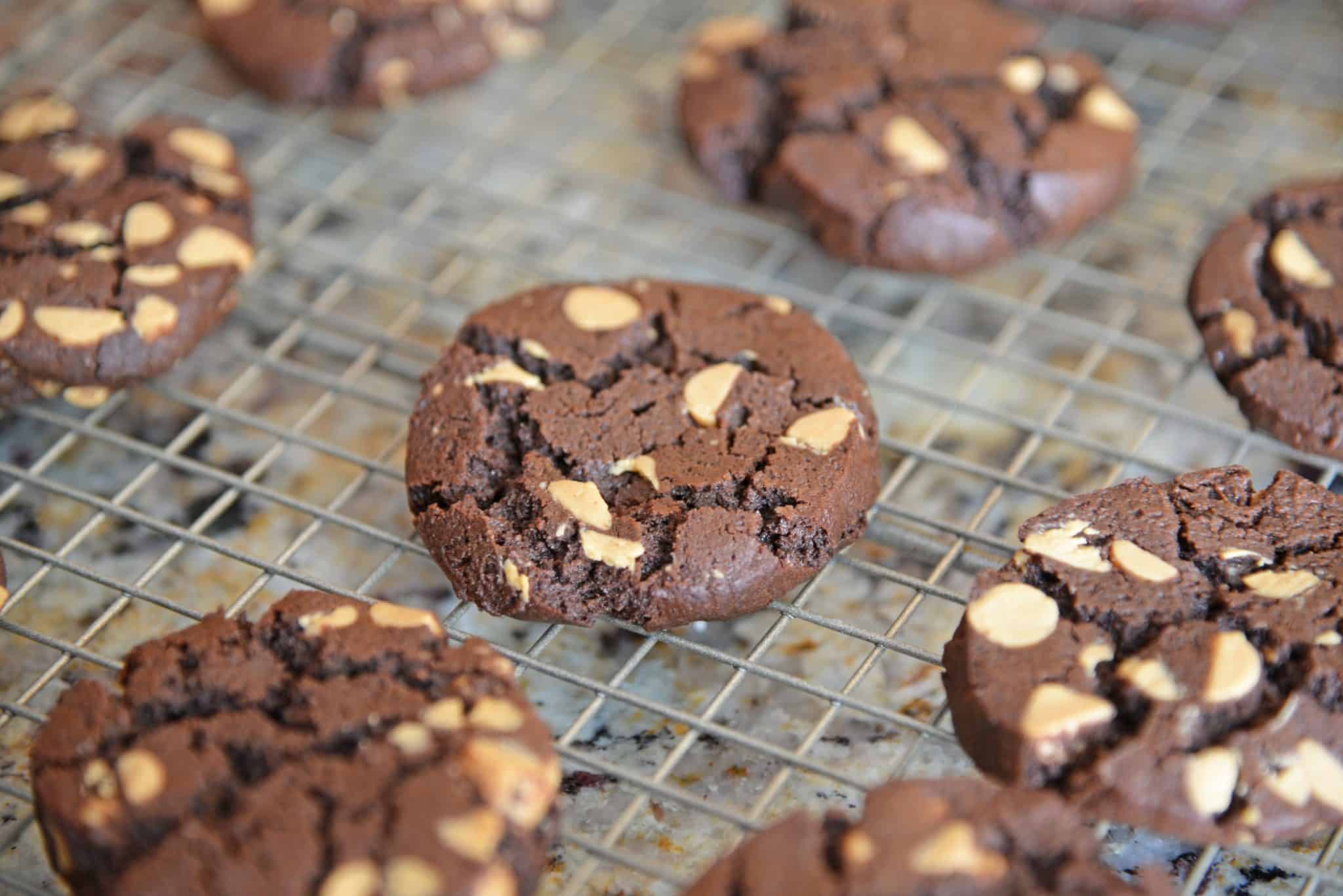 The easiest way to check is to read the label. A good peanut butter should be packed full of protein and monounsaturated fats, rich in fiber and potassium. Translation: good for your heart and healthy!
Here are some tips to follow to make the perfect cookie:
When the recipe calls for room temperature butter, make sure it is actually room temperature.
Take your butter out an hour or more before you're ready to start baking.
Always use the full amount of salt it calls for in your recipe. The salt balances out the sweetness and brings out the chocolate and peanut butter flavors even more.
Baking soda helps with how much your cookie will rise while baking.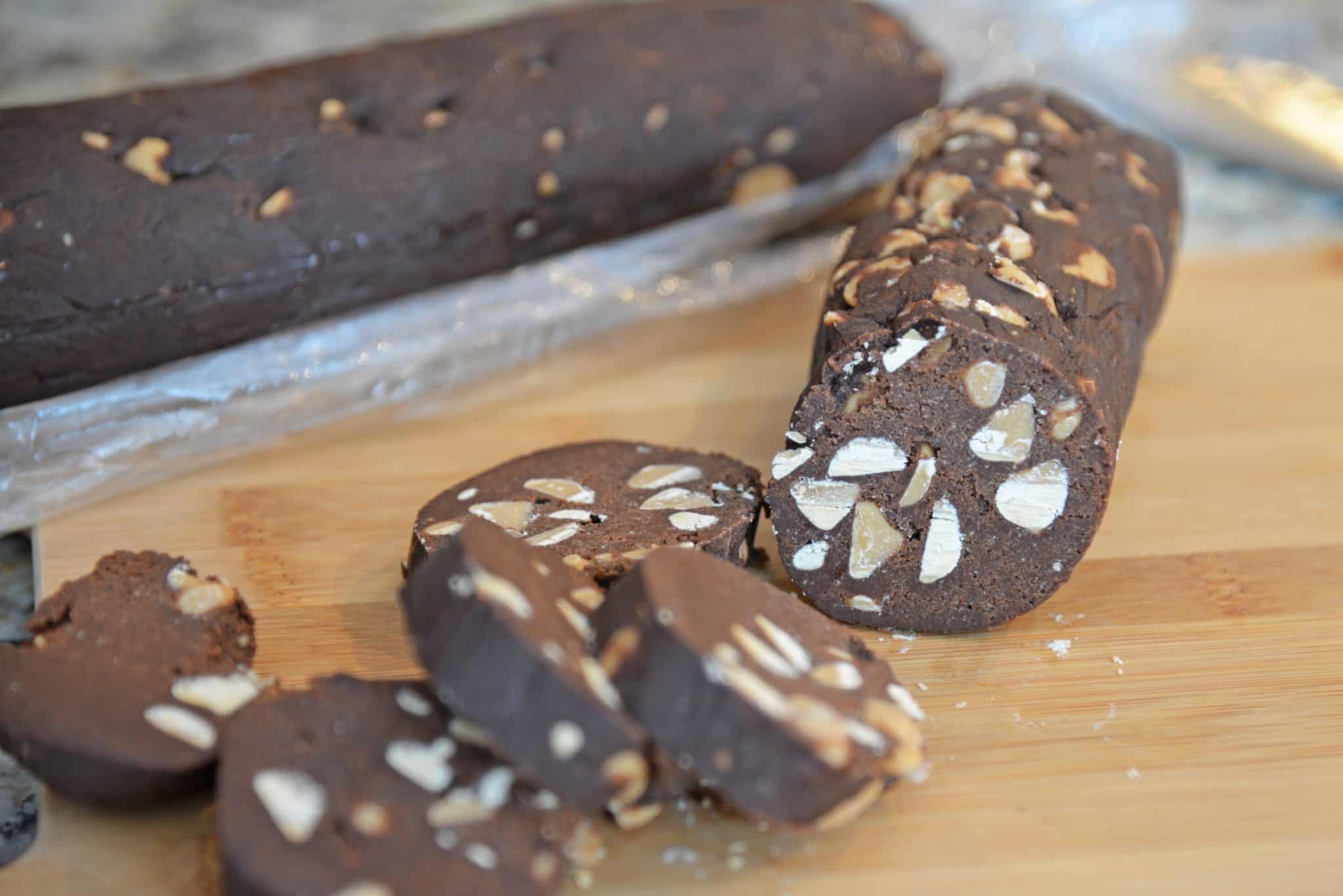 Use parchment paper so your cookies don't stick to the baking sheet.
Space your cookies out so they have enough space to bake.
Follow the times in the instructions, they're there for a reason!
Even if your cookie doesn't feel fully baked, it will harden as it cools.
Be sure to let them cool completely so they don't melt the filling!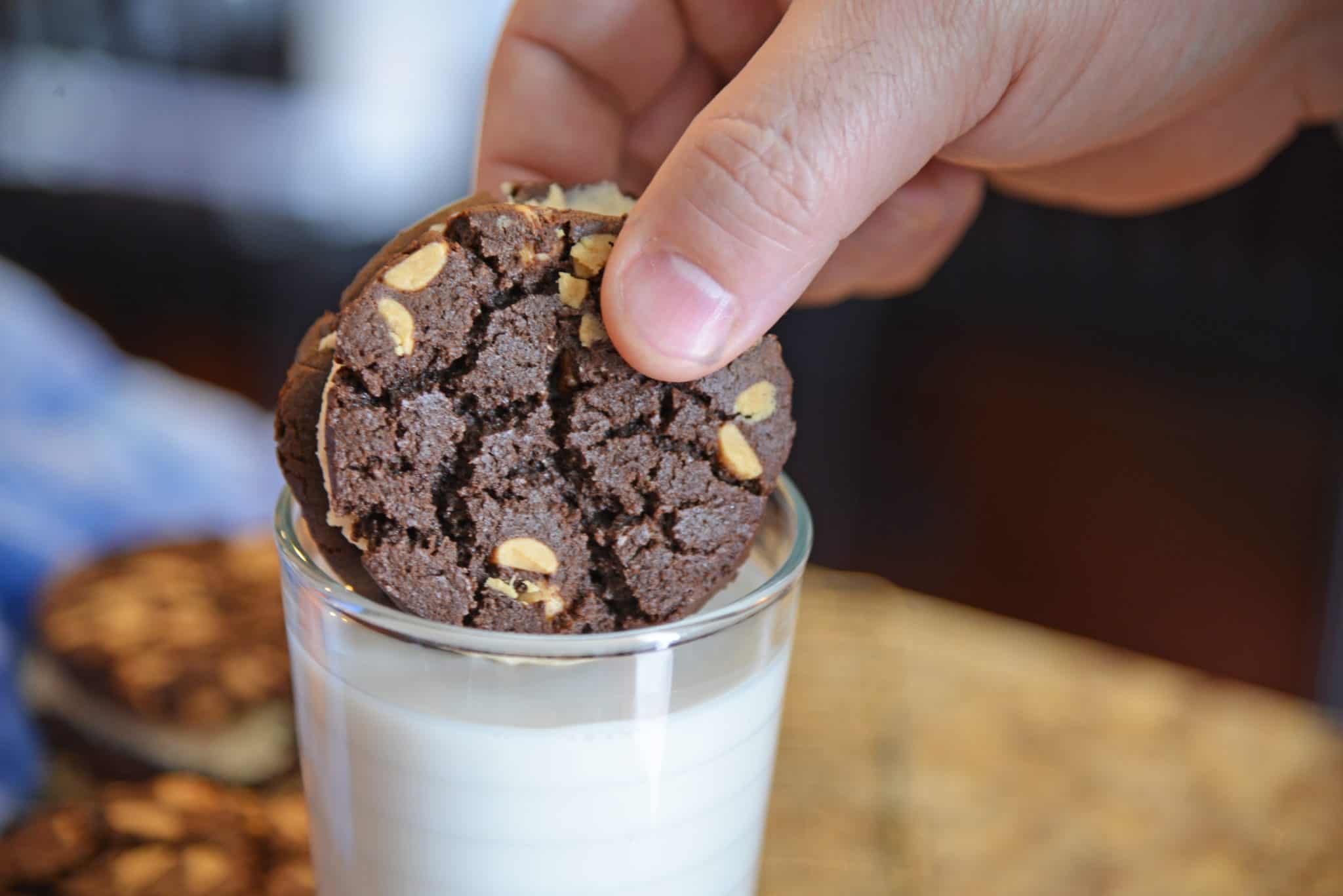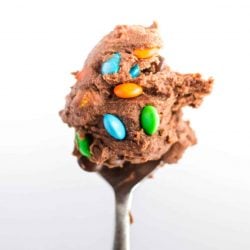 Nutella Brownies
Homemade Nutella brownies are made in one bowl. With 7 simple ingredients and in less than 1 hour you can enjoy a piece of this delicious brownie recipe!
See The Recipe!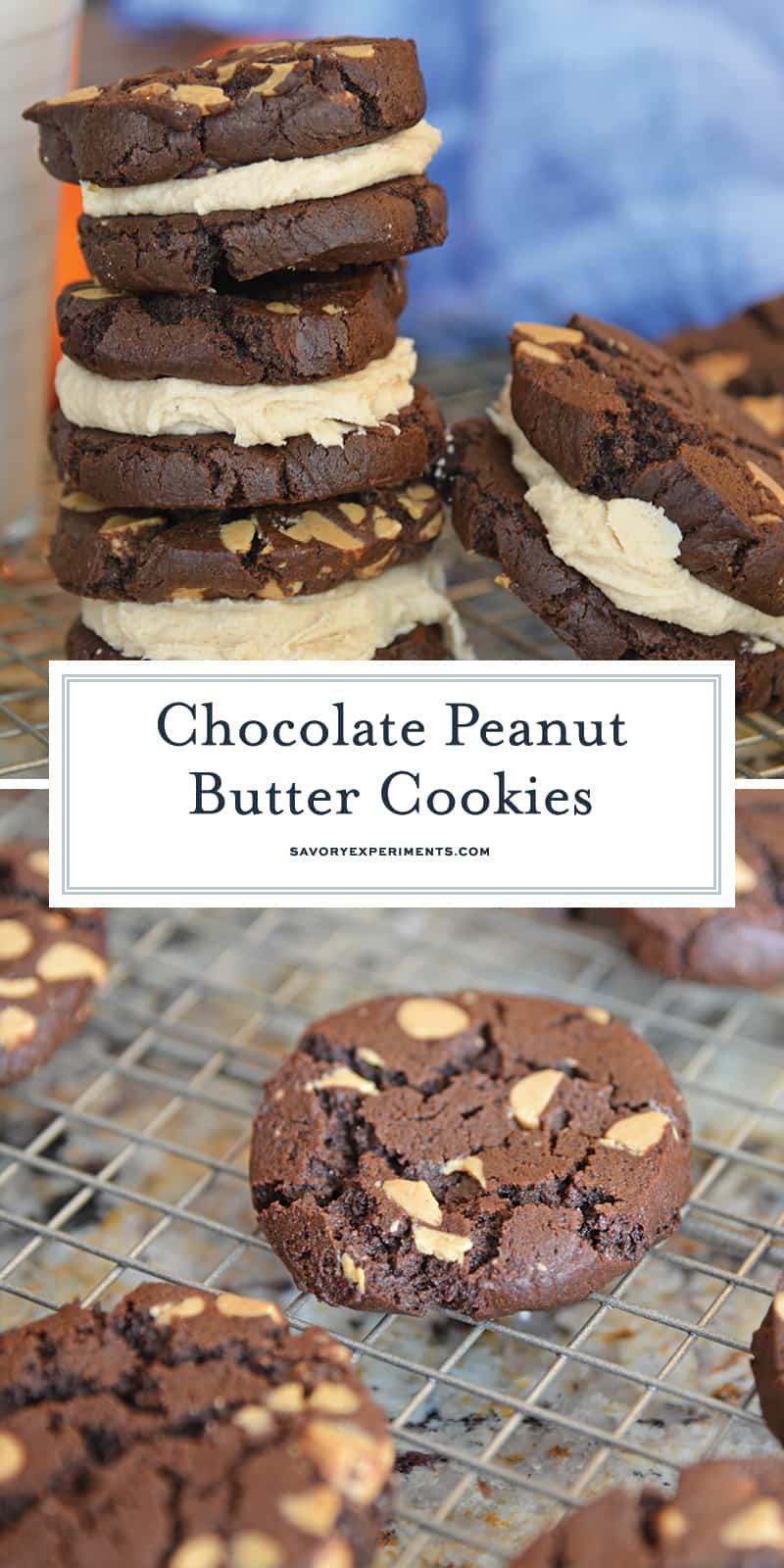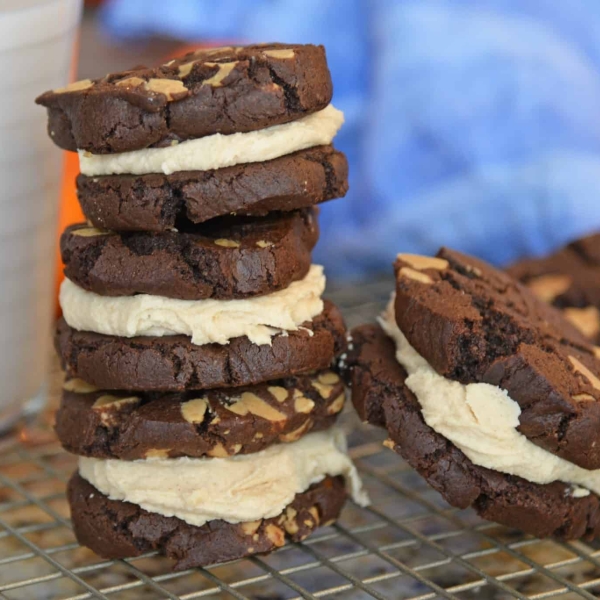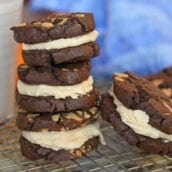 Chocolate Peanut Butter Cookie Sandwiches
Who doesn't love peanut butter and chocolate? The best cookie sandwiches you'll ever eat!
Ingredients
Creamy Peanut Butter Frosting:
Instructions
Sift together flour, cocoa powder, baking soda and salt. Set aside.

In a stand mixer fitted with a paddle attachment or a large mixing bowl with electric hand mixer, cream butter with sugars. Add egg and vanilla. Blend until smooth.

Slowly add dry mixture to wet mixture. , will be dark and thick.

By hand, fold in peanut butter chips. If you do this with the electric mixer, the chips with break into smaller pieces because the dough is so dense.

Divide dough in half. Form each half into a log about 1 1/2 inches in diameter. Roll in plastic wrap and refrigerate for at least an hour.

Preheat oven to 350 degrees. Remove cookie dough from plastic wrap and slice into 1/2 inch thick medallions. Place on am insulted cookie sheet lined with parchment paper.

Bake for 10 minutes. They might look slightly undercooked, but will harden up while cooling.

Allow to cool for 5 minutes before removing to a cooling rack. Repeat with remaining dough.

Allow cookies to fully cool.

For Creamy Peanut Butter Frosting:

In a stand mixer fitted with a paddle attachment or a large mixing bowl with electric hand mixer whip butter until pale and fluffy. Add peanut butter, incorporating fully.


Add powdered sugar. Mixture will be dry and grainy.

Add milk and vanilla, beating until smooth.

Place heaping tablespoons of creamy peanut butter frosting on the inside of one cookie and top with another to form a cookie sandwich.

If you've tried this recipe, come back and let us know how it was!
Nutrition
Calories:
362
kcal
,
Carbohydrates:
45
g
,
Protein:
6
g
,
Fat:
19
g
,
Saturated Fat:
10
g
,
Cholesterol:
41
mg
,
Sodium:
221
mg
,
Potassium:
139
mg
,
Fiber:
2
g
,
Sugar:
33
g
,
Vitamin A:
345
IU
,
Calcium:
19
mg
,
Iron:
1.5
mg