This post is sponsored by CHI-CHI'S® Salsa, however all thoughts and opinions are my own.
Looking for a quick and easy, one-dish meal? My Shrimp Paella is your answer… with a secret time-saving ingredient.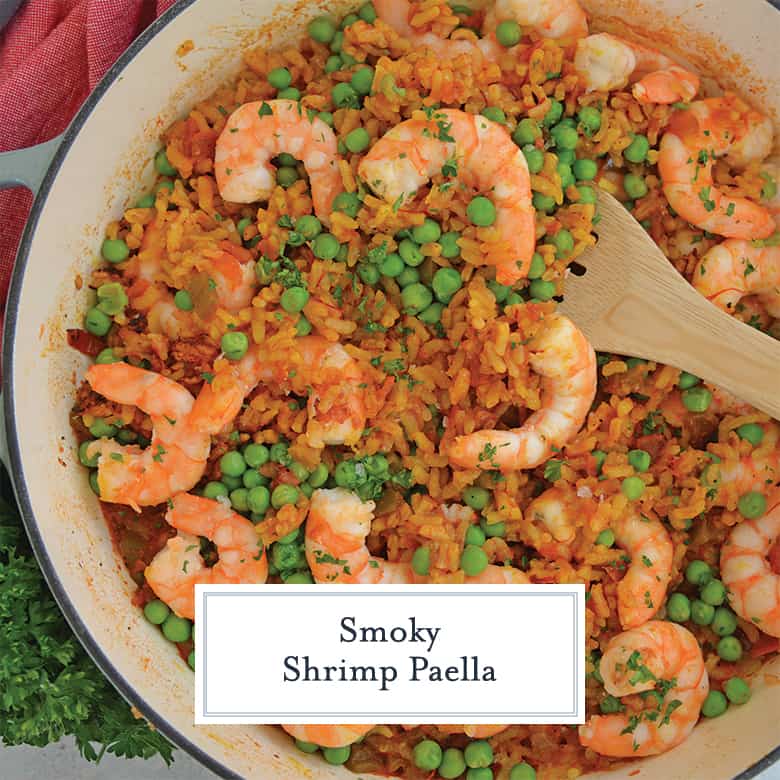 Shrimp Paella is an easy, weeknight meal requiring less than 10 ingredients, one pan and 30 minutes—all due to one secret pantry staple!
I'm not going to keep you waiting. The secret ingredient is SALSA! And CHI-CHI'S® Fiesta Style Roasted Tomato Salsa, to be more specific!
I have fond memories of salsa as a child. Chips and salsa were a staple snack (and sometimes meal) at my home. It still is! Now CHI CHI'S is helping create new "salsabrations" for snack time, dinner time and everything in between by adding some zest to your favorite meals!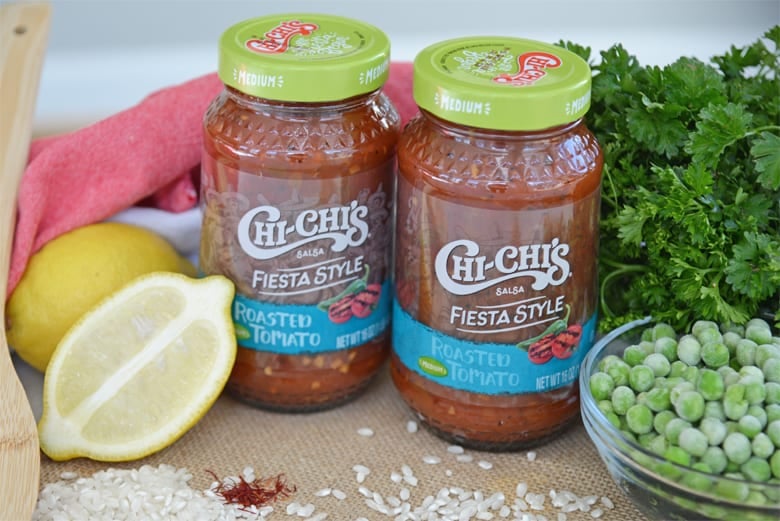 For Shrimp Paella, a medium-heat salsa functions as a makeshift sofrito. With quality ingredients including real tomatoes, vegetables and flavorful seasonings, it saves oodles of time chopping and sautéing vegetables.
I prefer CHI-CHI'S® Fiesta Style Roasted Tomato Salsa, because it adds even more flavor with smoky tomatoes. You can even see the char marks! It also has jalapenos, fire-roasted garlic and smoked chipotle chili powder. With a medium-heat level, it is perfect for the whole family.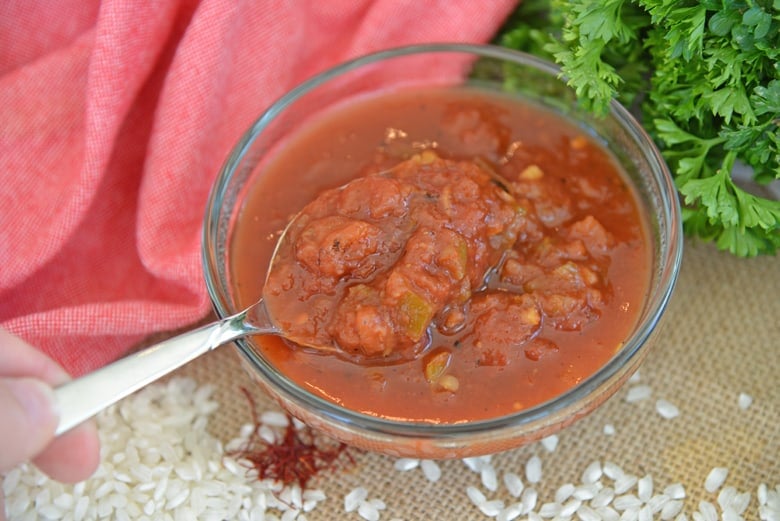 The consistency of the salsa is thick and chunky with roughly chopped vegetables and just the right about of liquid that cooks perfectly into the paella rice for even more added deliciousness and color.
PRO TIP: Using seafood, vegetable or chicken broth for any rice adds even more flavor to any dish!
Next question… what is paella? Paella is a Spanish rice dish, typically served in a large pan and topped with chicken or seafood.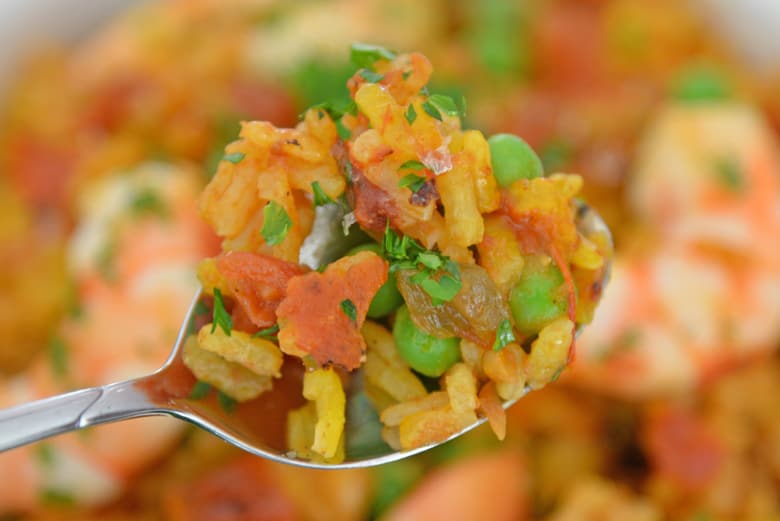 Seafood Paella, or shrimp paella, in this case, isn't actually all that classic. Paella was first cooked over wood fires in the fields of Spain and made with rabbit, chicken and snails.
It is iconic for using large, shallow dishes so the rice has more surface space against the fire, allowing it to cook faster than in a typical saucepan.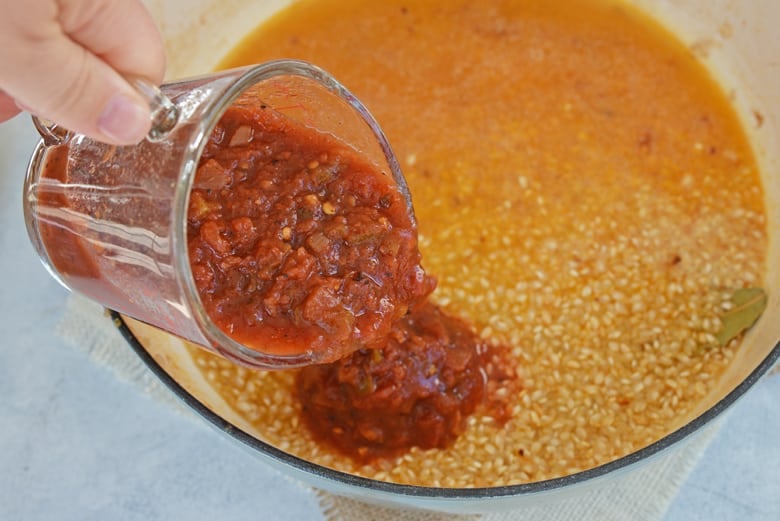 This also allows for socarrat, the crispy layer of rice that builds on the bottom. Paella is often judged by this crust that caramelizes and gets a little chewy.
PRO TIP: Rinse your rice thoroughly to remove any sediment and prevent it from being clumpy and overly starchy.
In the U.S., the most commonly used proteins for paella are clams and mussels, as well as chicken thighs. For a quick meal, you can't beat shrimp.
Shrimp cooks fast and require little preparation, especially if you buy them peeled and deveined. I look for bags of frozen shrimp to go on sale at the store and then buy a few.
FACT: Saffron is expensive, so in some cultures, the hue of your rice symbolizes your stature in society. The more you use, the wealthier your family!
I used small amounts of saffron for fragrance and color, but not necessarily for flavor. For this recipe, salsa helps add the iconic color. Since CHI-CHI'S® Fiesta Style Roasted Tomato Salsa packs a punch, saffron doesn't play as large of a role.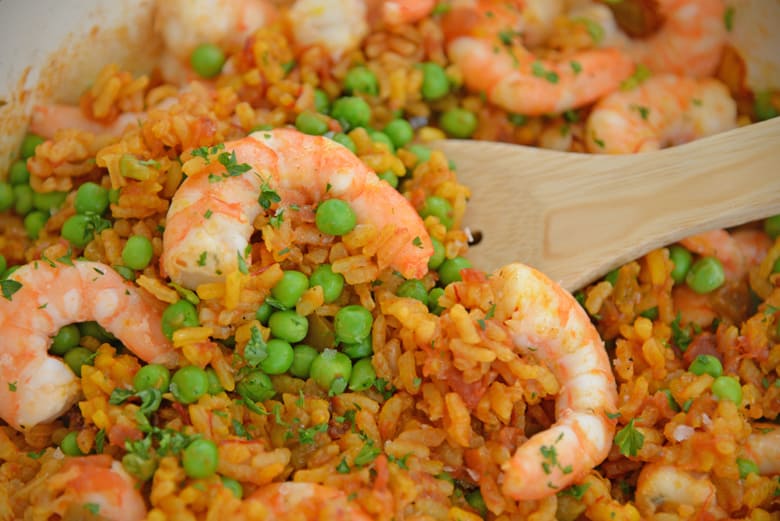 Bomba rice is the traditional rice for paella, but you can use any short-grained rice. Arborio, which is typically used for risotto, is my top choice.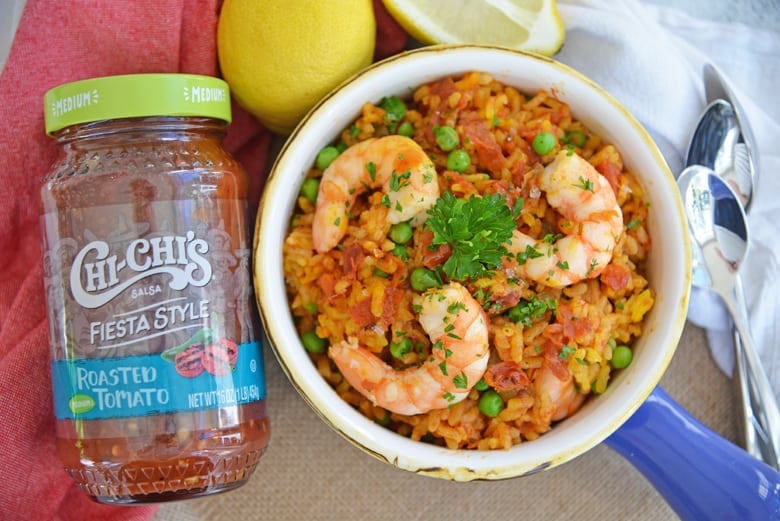 Questions you might have about how to make paella:
Can I make paella ahead of time? You sure can, but with such a quick and straightforward recipe, you might not need to. Also, shrimp tend to get rubbery when reheated. If you do reheat, I suggest doing it on the stovetop, or even oven, as opposed to the microwave.
Can I freeze shrimp paella? Sure! Follow my tips for the best freezing practices. Freeze in individual airtight containers for your own healthy TV dinners. See my notes above about reheating.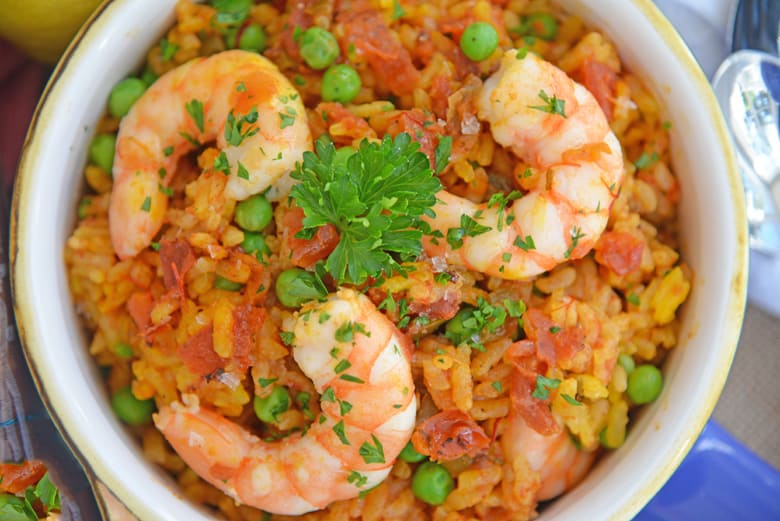 Do I have to use shrimp? Use whatever type of protein you like or a combination! Some people like to add squid, mussels, clams, oysters or chicken. Cook all proteins before adding.
What does saffron taste like? It is a hard taste to describe, but the best description is that it is floral.
Can I make paella spicy? Traditional paella isn't actually spicy at all, but I like a little bit of heat. CHI-CHI'S® Fiesta Style Roasted Tomato Salsa Medium provides a mild kick of jalapeño heat, but if you want more, feel free to add a teaspoon crushed red pepper flakes and a few dabs of hot sauce to the rice before cooking.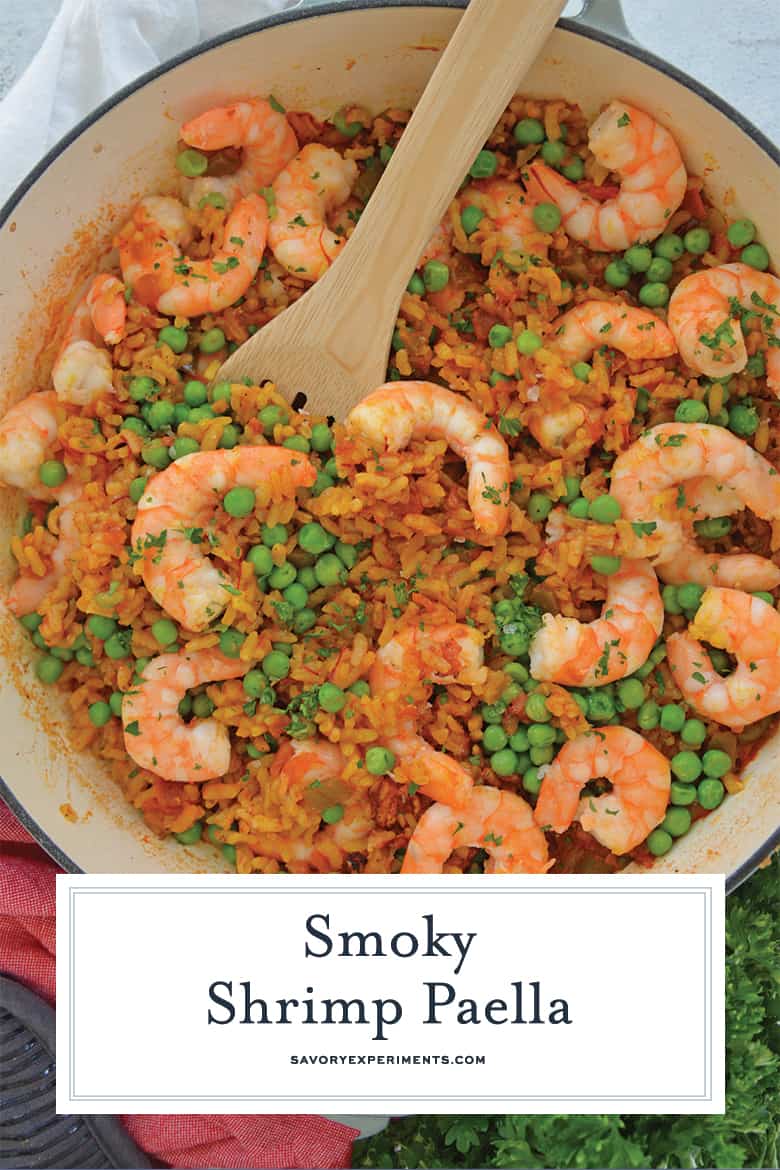 Here are a few other recipes that beg for you to use salsa: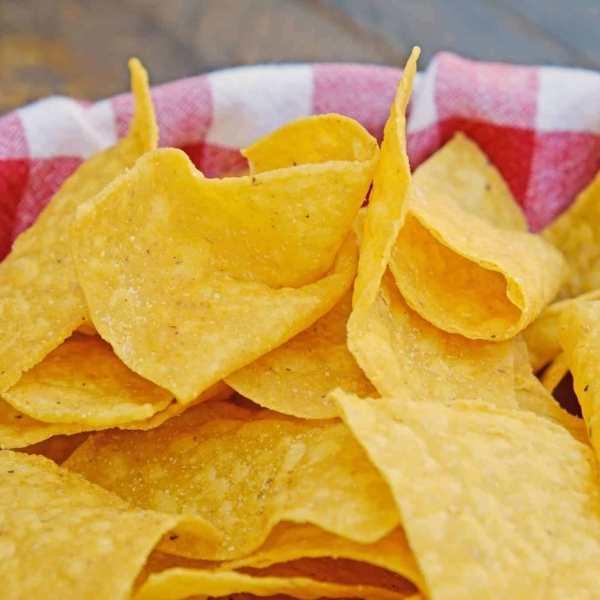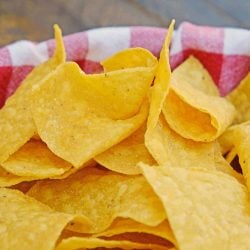 Tater Tot Nachos (Totchos)
Loaded Tater Tot Nachos, also known as Totchos, are the ultimate game day snack. Smothered with cheese, chicken, pico and green chiles, they are sure to make your guests happy!
See The Recipe!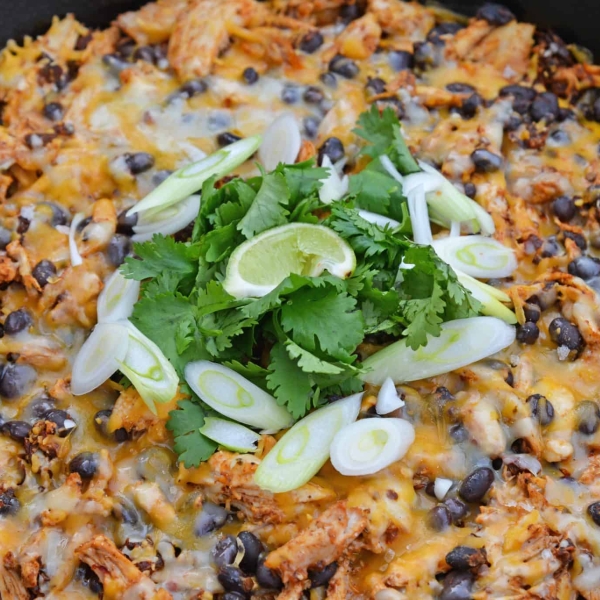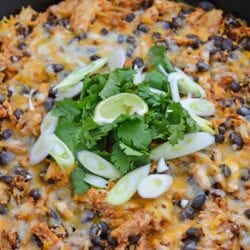 Check out CHI-CHI'S® full line of salsas in varying flavors and heat levels, available nationwide at your favorite grocers, including Target and Ralph's. Click here for even more recipe ideas and CHI-CHI'S products!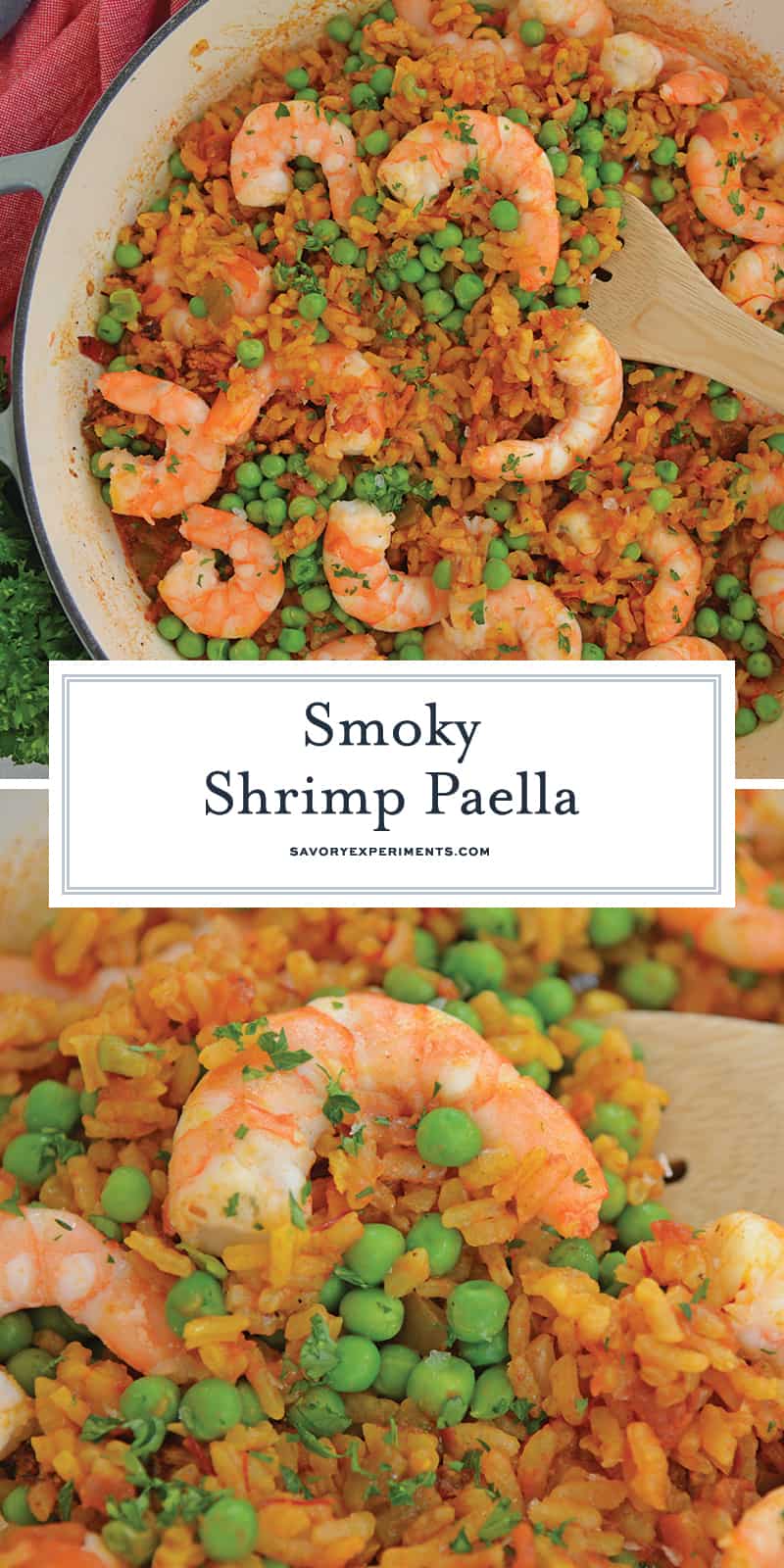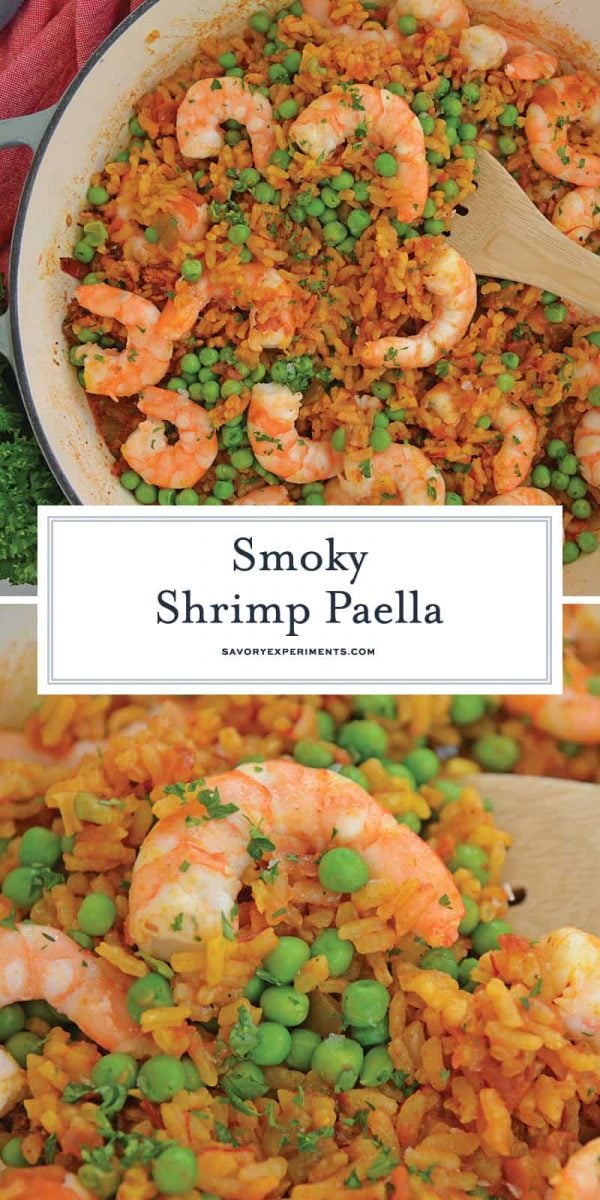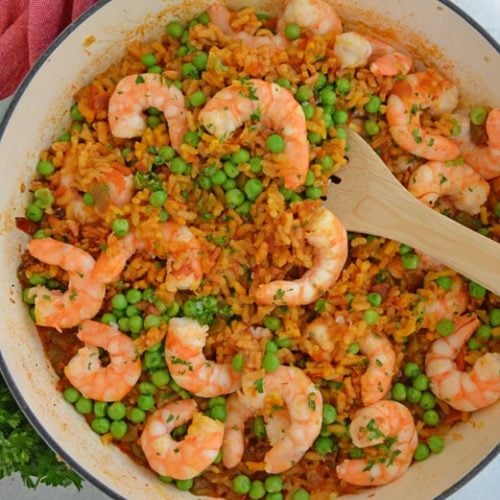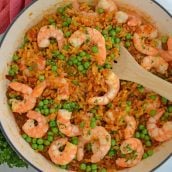 Easy Shrimp Paella
Shrimp Paella is an easy, weeknight meal requiring less than 10 ingredients, one pan and 30 minutes—all due to one secret pantry staple!
Instructions
Heat a large, shallow skillet with olive oil over medium heat.

Add shrimp, sautéing until they are pink and slightly curled.

Transfer shrimp to a plate and set aside, leaving seasoned oil in the skillet.

Add arborio rice, saffron, fine sea salt, smoked paprika, ground black pepper. Brown rice for 2-3 minutes.

Stir in CHI-CHI'S® Fiesta Style Roasted Tomato Salsa Medium

and chicken broth.

Cover and reduce heat to low. Cook for approximately 20 minutes.

Uncover and using a fork, fluff rice with frozen peas and cooked shrimp.

Recover and continue to cook for 3-4 minutes, or until peas thaw and shrimp is reheated.

Fluff again before serving. Spritz with fresh lemon wedges and chopped parsley.

If you try this recipe, please come back and let us know how it was!
Nutrition
Calories:
286
kcal
,
Carbohydrates:
30
g
,
Protein:
26
g
,
Fat:
8
g
,
Saturated Fat:
1
g
,
Cholesterol:
286
mg
,
Sodium:
1702
mg
,
Potassium:
411
mg
,
Fiber:
3
g
,
Sugar:
5
g
,
Vitamin A:
712
IU
,
Vitamin C:
24
mg
,
Calcium:
197
mg
,
Iron:
3
mg