This Crispy Baked Chicken is not your typical Southern fried chicken done in the oven but a recipe packed with unexpected, finger-licking flavor.
Crispy Baked Chicken is the best oven fried chicken you'll ever eat. It tastes just like juicy, fried chicken without ever being cooked in grease!
This recipe was one from my recipe roulette game. I am a hoarder of cookbooks – I have an entire shelf full of them in the kitchen, plus stacks throughout the house – but I always seem to forget to actually use them.
After all, sometimes it just seems much easier to quickly Google something than search through a book for that perfect recipe.
And let's all be honest… is there really such a thing as baked fried chicken? It's either baked chicken or fried chicken, not both.
I'm trying to make it a habit to follow the recipes in the books, though, and this Crispy Baked Chicken was one of them. I just grabbed a cookbook from the shelf, flipped through a few recipes until one caught my eye and ended up with the best oven fried chicken I've ever tasted.
Unlike most oven baked chicken recipes, this isn't your typical Southern fried chicken modified for the oven. It isn't even a buttermilk fried chicken.
PRO TIP: Most chicken recipes will give you a bake time, but depending on the size, different pieces of chicken, even if the same cut will require different cooking times. To be extra sure, use a meat thermometer to check for in internal temperture of 165 degrees.
Instead, this baked chicken recipe marinates the chicken in a vinegar based sauce to plump up the chicken pieces with tongue-tingling flavor. Almost like brining.
One thing to note is that this Crispy Baked Chicken does require a fair amount of time to marinate. The minimum is six hours but you can leave it marinating for up to 24 hours. You'll be grateful for the foresight to marinate, it adds a lot of poppy flavor.
PRO TIP: I like using drumsticks for my crispy baked chicken, but you can use chicken thighs (I recommend bone-in thighs, not filets), chicken breasts or any other cuts you prefer, even fill chicken wings.
You can throw the marinade together in the morning before work or even the night before and come home to chicken that just needs one more step before being tossed in the oven.
I prefer to use a variety of chicken pieces for this recipe, especially wings and thighs as I think they have the best flavor using this oven fried chicken recipe. Chicken breasts get boring, but if you prefer boneless skinless breasts, go ahead and use them!
FACT: My husband puts hot sauce on everything and it drives me nuts. This baked chicken recipe packed enough flavor that he didn't even put hot sauce on it! That is saying something!
Instead of using a flour mixture, this recipe uses only cheese and bread crumbs. Cooking it on a raised baking sheet or broiler pan lets any moisture drip off and prevents the breading from becoming soggy.
PRO TIP: Do not bake this chicken in a baking dish, the sides can create stem and prevent the breading from getting a nice crunch.
Choosing this oven baked chicken recipe at random, I honestly wasn't sure how it would turn out but I have to say this is the some of the best and juicy chicken I've ever tasted. I bet it would even pass in the South as some delicious oven fried chicken!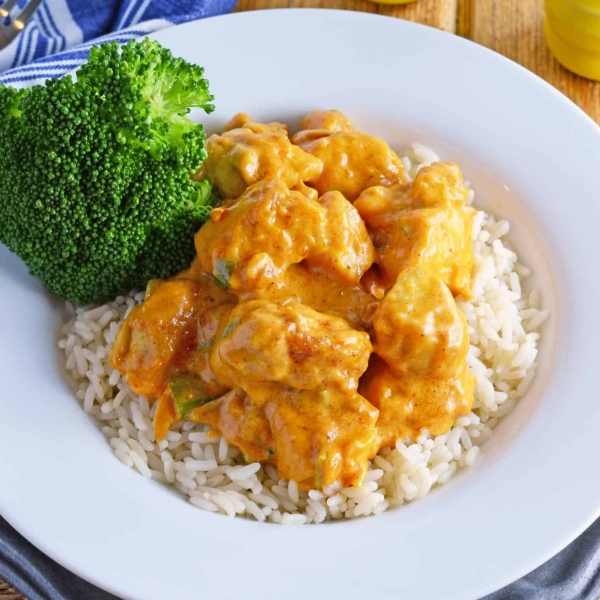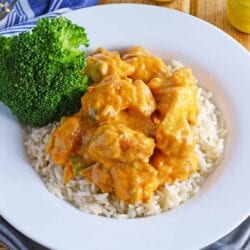 Creamy Paprika Chicken Recipe
Creamy Paprika Chicken is a flavorful and easy family dinner. Crispy chicken in a creamy paprika sauce with garlic and scallions.
View this recipe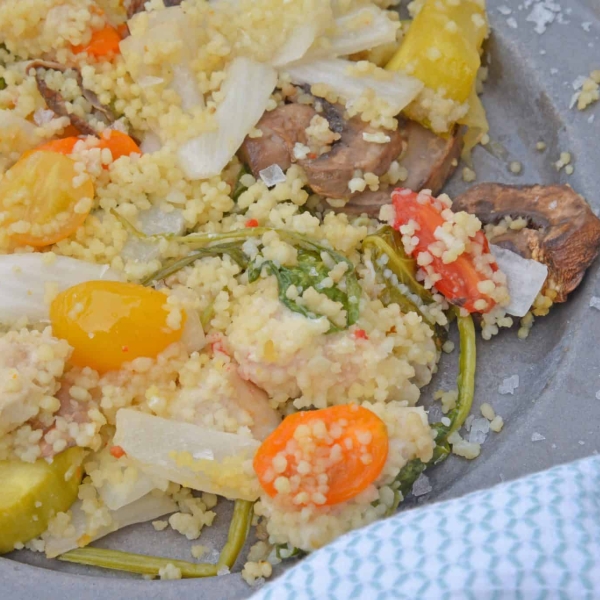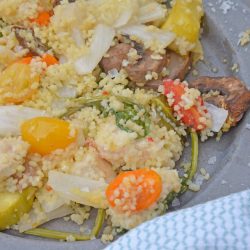 One Pot Italian Chicken Recipe
One Pot Italian Chicken is a favorite simple chicken recipe using only one dish and simple ingredients. Ready in just 45 minutes!
View this recipe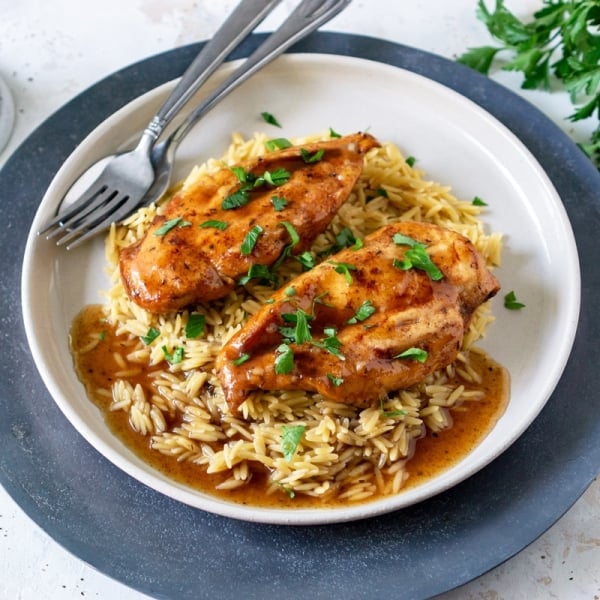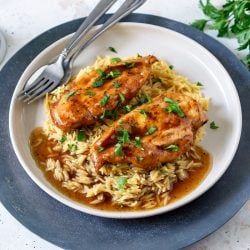 Crock Pot Apple Balsamic Chicken recipe
Fork tender chicken breasts in a rich sweet sauce with less than 10 minutes of prep! Serve over noodles, rice or mashed potatoes.
View this recipe
Tools for making Crispy Baked Chicken:
Pie Plates– I think every kitchen should have at least three shallow dishes or pie plates for the process of breading or marinating. You can also bake pies in them! Hehe.
Broiler Pan– A broiler pan is the easiest way to bake this oven fried chicken, but if you don't have one, use a rimmed baking sheet with a cooling rack on top.
Rimmed Baking Sheet– Another kitchen staple! You'll use this for prep work, roasting and much more. I have 7 at my house. For this recipe, you want the rims so the juices and liquid don't drip off into the oven.
Cooling Rack– You can put this on top of your baking sheet to create a drip zone so the breading gets nice and crunchy! Also use them to cool baked goods.
Cheese Grater– Another item I didn't think I needed, but love. Parmesan cheese lasts longer and tastes better when freshly grated.
Questions you might have about how to make crispy baked chicken:
Do I have to use chicken drumsticks? I like using drumsticks for my crispy baked chicken, but you can use chicken thighs (I recommend bone-in thighs, not filets), chicken breasts or any other cuts you prefer, even fill chicken wings.
Can I freeze this baked chicken? Just baked chicken freezes well, however since this is a breaded baked chicken, it doesn't. The breading will get a little gross and soggy when thawed.
Can I make this recipe ahead of time? You can, but it really tastes best freshly baked. This way, the breading stays nice and crunchy.
What is the best way to reheat crispy baked chicken? Hands on, in the oven. Place chicken pieces in the oven at 350 degrees for about 10 minutes and you should be good to go. Reheating in the microwave will make the breading soggy too.
Is crispy baked chicken healthy? It really depends on your definition of healthy. This is not a gluten free baked chicken recipe or a keto friendly baked chicken recipe.
However, it is lighter than traditional fried chicken. Scroll on down to take a look at the nutritional information and make your own judgements.
Do you have an olive oil your prefer? A good olive oil will taste like, well, olives, while a poorly made one will taste like vegetable oil. Gross. While people tend to favor Italian and Greek olive oils, I prefer to buy mine domestically.
There are some great ones out there from all over the world, but the reporting of ingredients isn't always the same and you could find that your super expensive olive oil was actually cut with vegetable oil.
Is it mandatory to let the chicken rest? It isn't mandatory, but it allows the juices to redistribute themselves back through the meat. Even 4-5 minutes will do it good.
Crispy Baked Chicken
Crispy Baked Chicken is not your typical modified version of Southern fried chicken. Instead, it uses a vinegar-based marinade for a tongue-tingling flavor to create the best oven fried chicken you'll ever taste.
Instructions
In a large bowl, combine extra virgin olive oil, red wine vinegar, Kosher salt, crushed red pepper, dried oregano and garlic powder.

Add chicken pieces, tossing to coat. Cover and marinate in the refrigerator for 6-24 hours.

Remove from the refrigerator and pat dry.

Preheat oven to 400 degrees. Line a rimmed baking sheet with cooling racks for dripping or a broiler pan.

In a shallow dish, combine Italian bread crumbs, Parmesan cheese and black pepper. Dredge each piece of chicken in bread crumbs, pressing into the chicken. Place on rimmed baking sheet.

Bake for 30-40 minutes or until chicken internal temperture reaches 165 degrees. Since the chicken pieces are different sizes and shapes, check them all. Thin pieces of chicken breast may not need as long to cook.

Remove, let chicken rest and garnish with minced parsley and serve hot.

If you've tried this recipe, come back and let us know how it was!
Notes
*You can use drums, wings, thighs or breasts. Cooking times will vary based on size and thickness. Recipe adapted from Martha Stewart.
Nutrition
Calories:
514
kcal
,
Carbohydrates:
40
g
,
Protein:
12
g
,
Fat:
33
g
,
Saturated Fat:
6
g
,
Cholesterol:
10
mg
,
Sodium:
1185
mg
,
Potassium:
137
mg
,
Fiber:
2
g
,
Sugar:
3
g
,
Vitamin A:
170
IU
,
Calcium:
247
mg
,
Iron:
3
mg