This Mexican Stuffed Peppers recipe combines colorful bell peppers with a seasoned ground beef mixture full of Mexican flavors, all topped with melty cheese.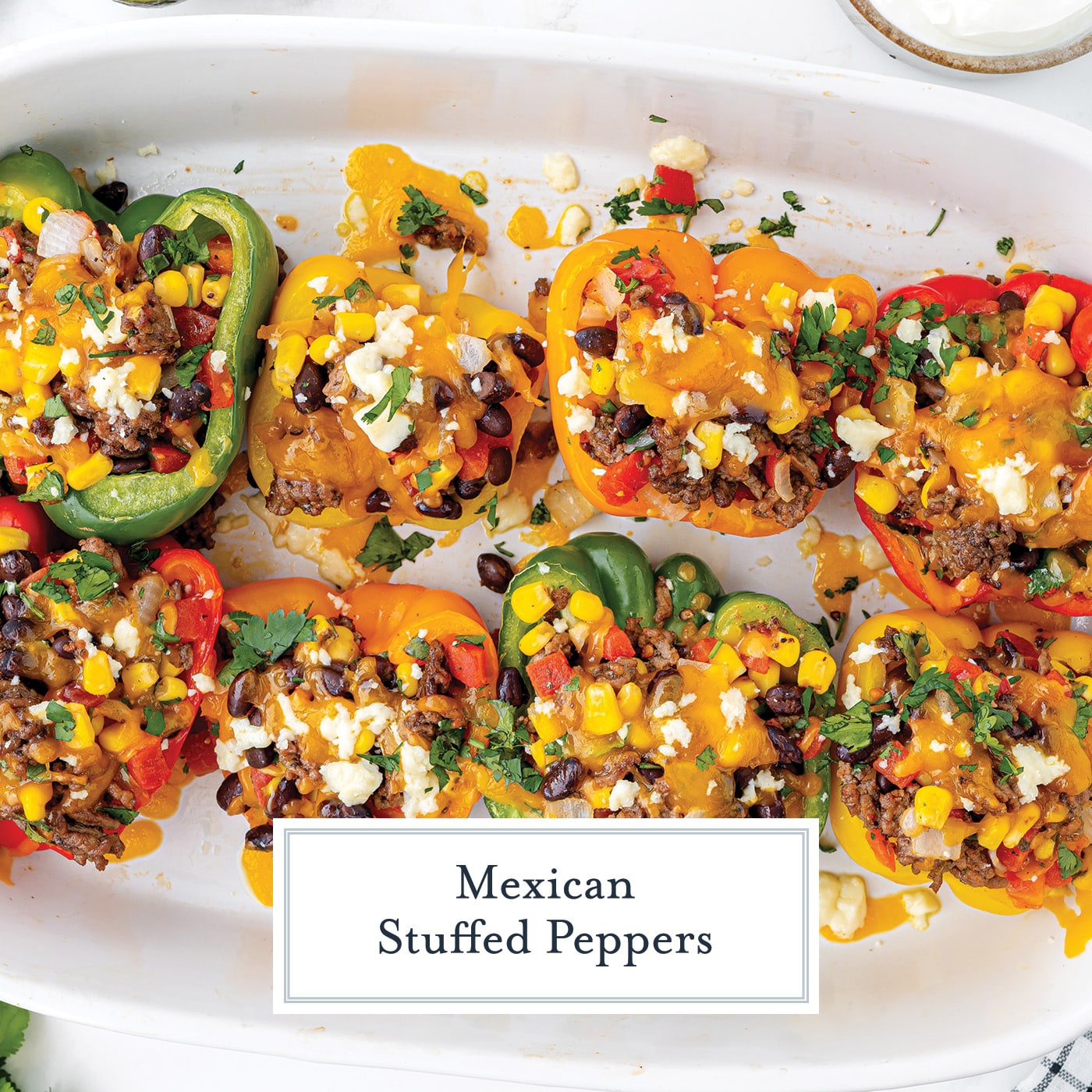 You can use red bell peppers, green bell peppers, yellow bell peppers, or an assortment, depending on what you prefer. You can even use miniature bell peppers if you want to make these even more kid-friendly, or to serve them as appetizers.
The next time you're looking for a healthy, easy dish that's full of flavor, give this easy Mexican stuffed bell pepper recipe a try.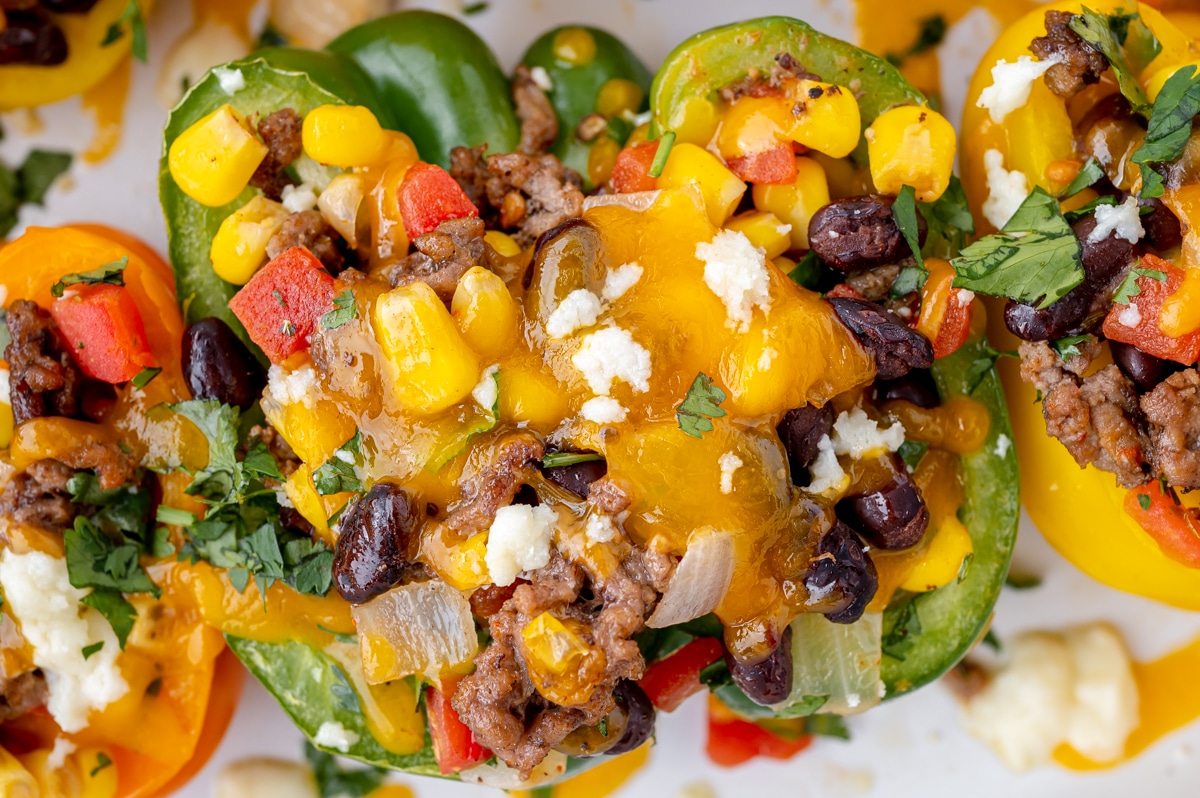 Why You'll Love Mexican Stuffed Peppers
What's not to love?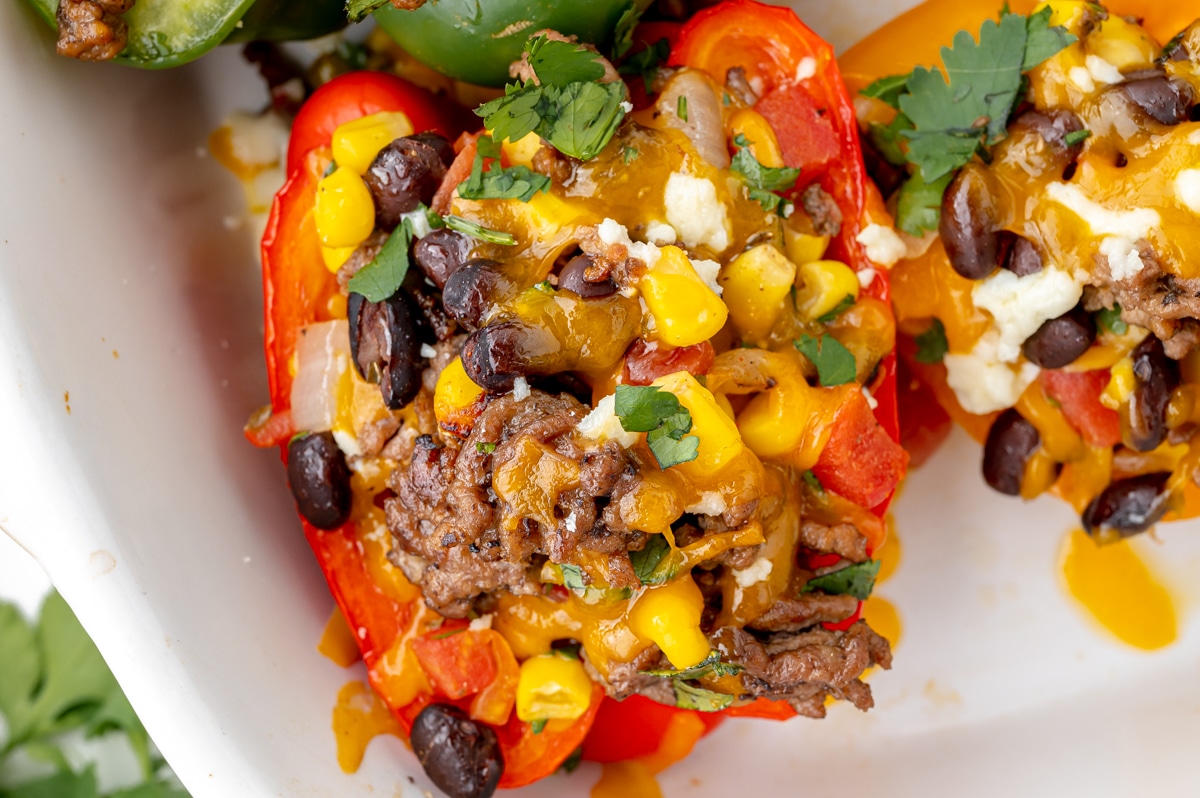 Ingredients
This list may seem a little long, but rest assured these are all simple ingredients that you can easily find at the grocery store.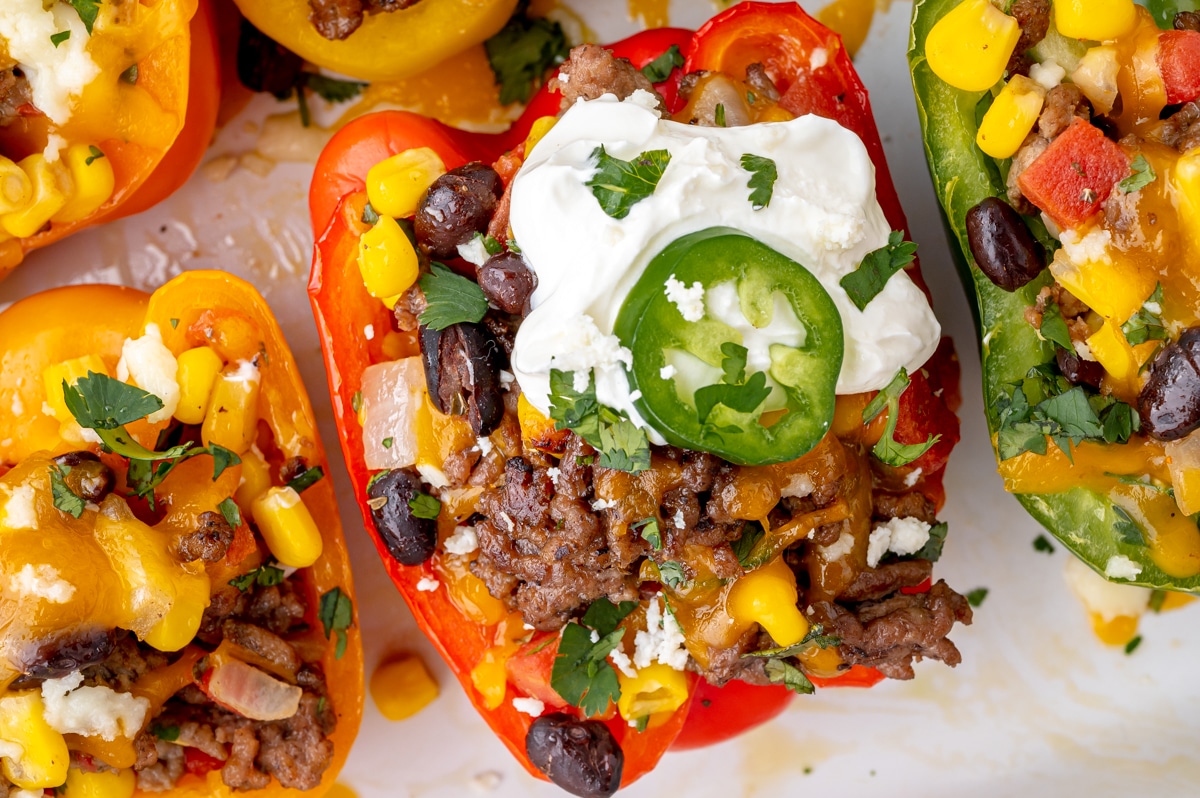 How to Make Mexican-Style Stuffed Peppers
These easy stuffed peppers are a cinch to make.
Bake peppers. Bake deseeded and halved peppers for recommended time in the prepared baking dish. After removing the baked peppers from the oven, blot them with a paper towel.
Brown beef. Add the ground beef to a large skillet that has been heated and drizzled with oil. Brown ground beef until completely cooked through.
Add rest of ingredients. Add the onion and cook briefly before adding the beats, tomatoes, corn, cumin, chile powder, dried oregano, and salt. Heat briefly before removing from heat.
Add cilantro and cheese. Then, fold in the cilantro and cheddar cheese.
Add to peppers, bake. Divide the meat mixture evenly between aloof the pepper halves. Top with remaining cheddar and queso fresco. Place the pan back in the oven and bake the peppers briefly.
Enjoy! Once the cheese has melted, remove the peppers from the oven and allow to rest. Garnish and serve.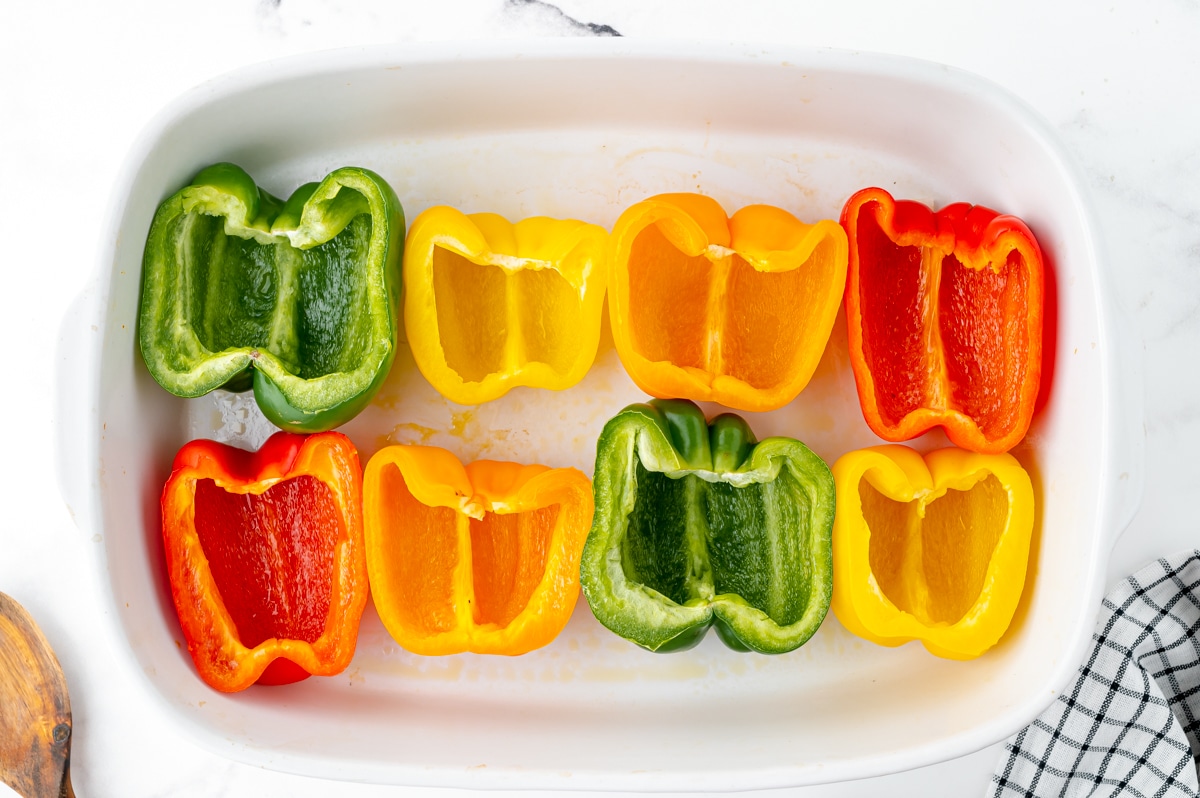 What to Serve with Mexican-Inspired Stuffed Peppers
There are so many sides that pair well with Mexican stuffed peppers. Try serving a big bowl of Mexican rice, Mexican street corn salad, refried beans, or cheesy chili cornbread casserole.
You can also top it with a variety of sauces from enchilada sauce, homemade Mexican crema, or ranchero sauce to quesadilla sauce, cilantro sauce, or avocado crema. Or, try topping them with a seasoned tomato sauce.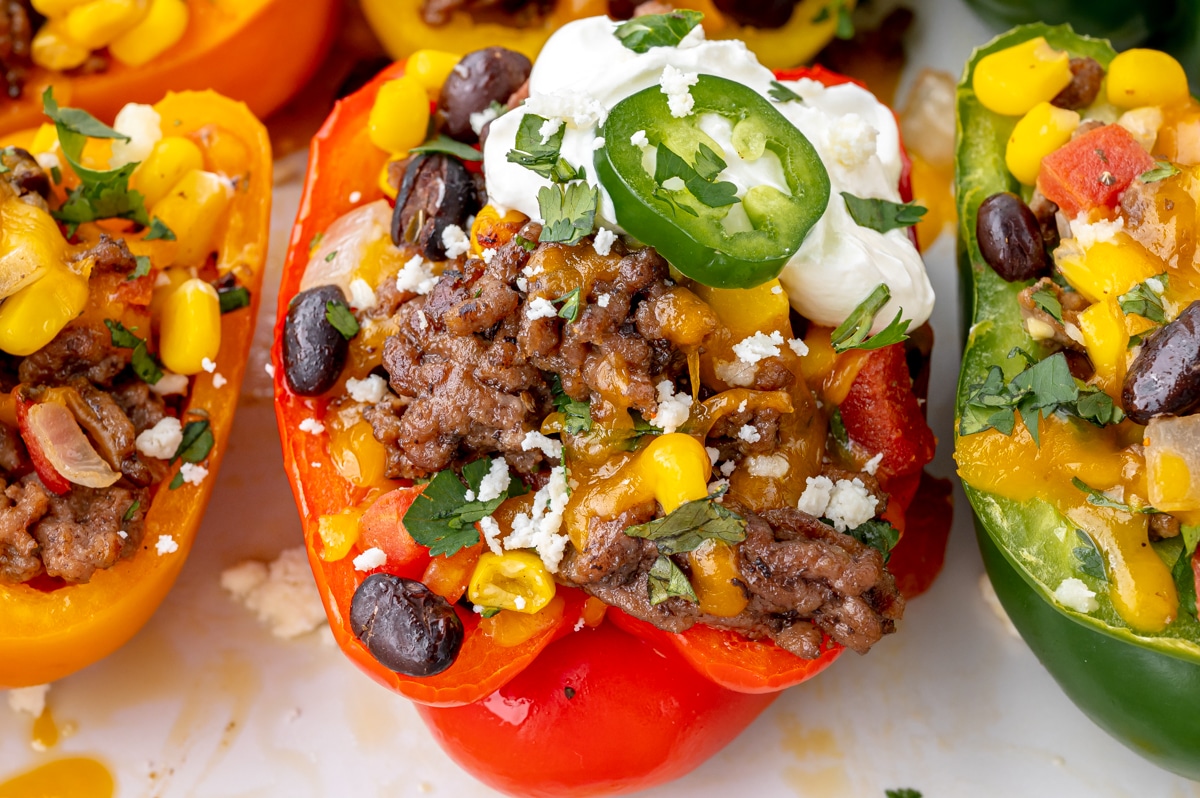 Variations
There are lots of ways to customize these Mexican stuffed bell peppers.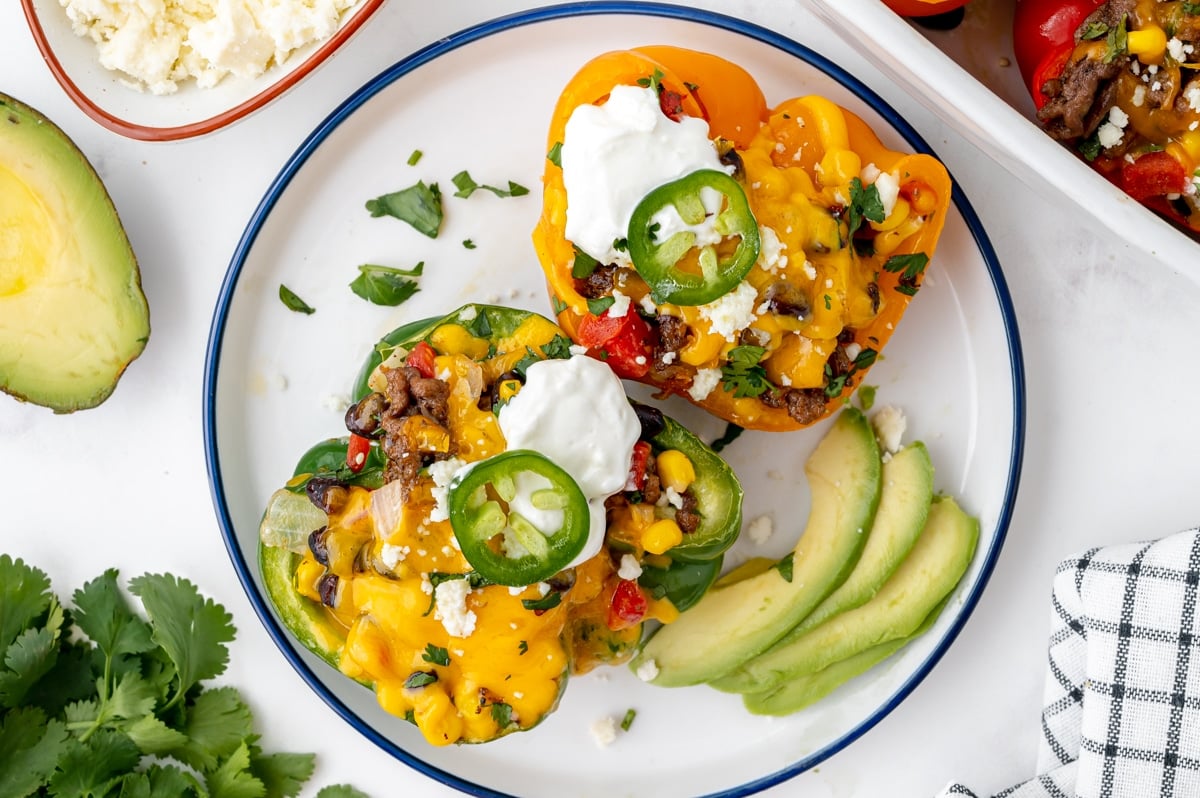 Storage, Make Ahead and Freezing
These tasty stuffed peppers are perfect for meal prep since they're so easy to store and reheat.
Make-Ahead: You can make the filling ahead of time and store in the refrigerator for up to 24 hours.
Refrigerator: Store these peppers in their original casserole dish, in an airtight container, or wrap them individually with aluminum foil. They can be stored for up to 4 days.
Freezer: Wrap the peppers with foil and place in freezer bags. Then, freeze for up to 3 months.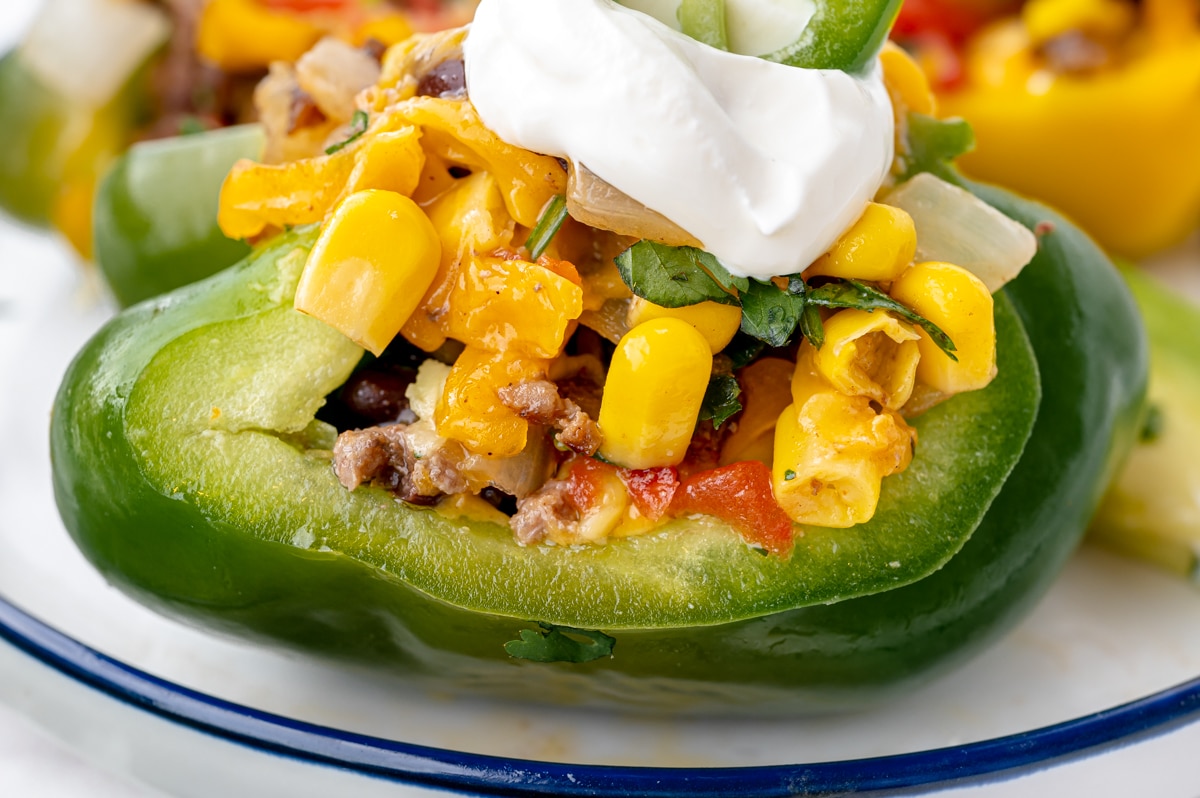 Common Questions About Mexican Stuffed Peppers
How do you freeze stuffed peppers?
After the peppers cool to room temperature, you can either wrap them in aluminum foil individually and place in freezer bags, or you can wrap the entire pan with aluminum foil, then plastic wrap.
Is it better to freeze stuffed peppers cooked or uncooked?
While you can freeze stuffed peppers before doing the final baking, it will be easiest to reheat them if you complete the entire cooking process before freezing.
How do you keep stuffed peppers from getting soggy?
The first tip is to blot them after you bake them initially. Then, avoid making a filling that contains too much liquid (drain if necessary), and bake only as long as necessary once filled.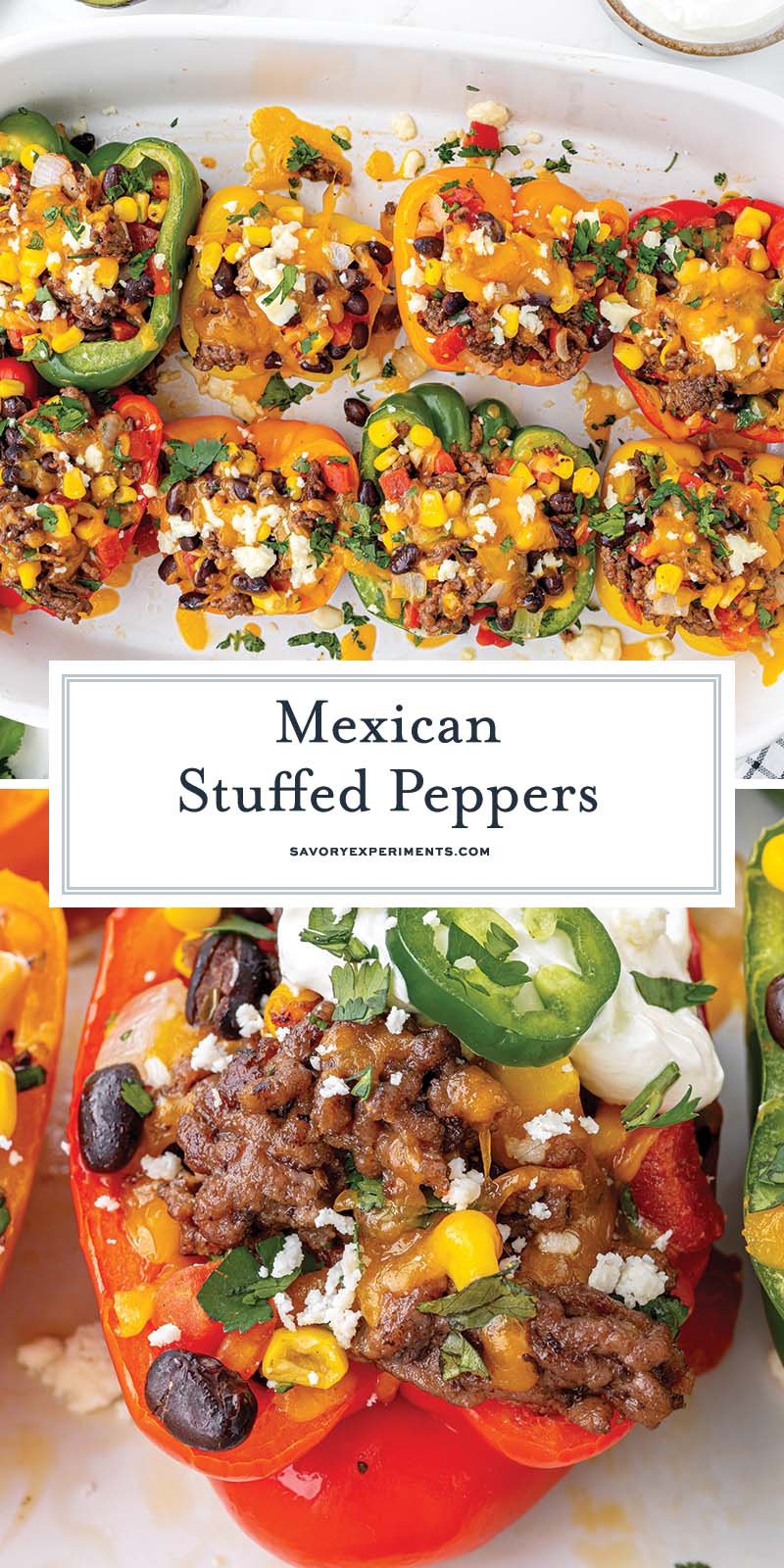 More Mexican-Inspired Meals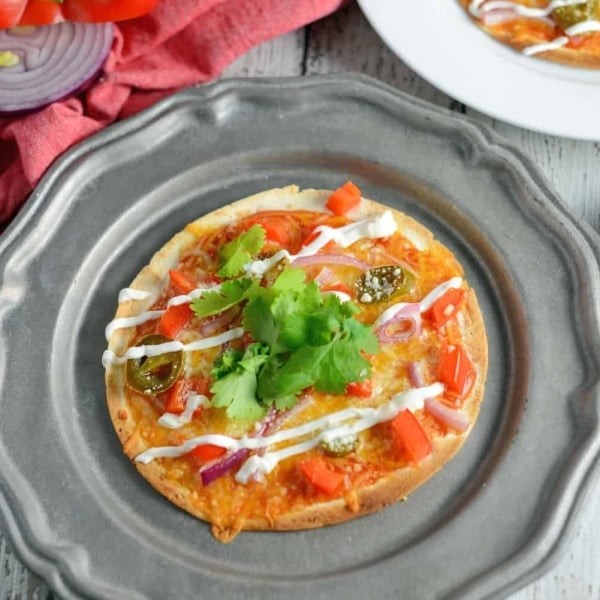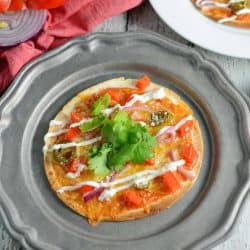 Mexican Pizza Recipe
Homemade Mexican Pizza is one of our favorite game day recipes! Set up a pizza bar and allow guests to create their own! Cheese, bright veggies and zesty flavors, you can't go wrong!
See The Recipe!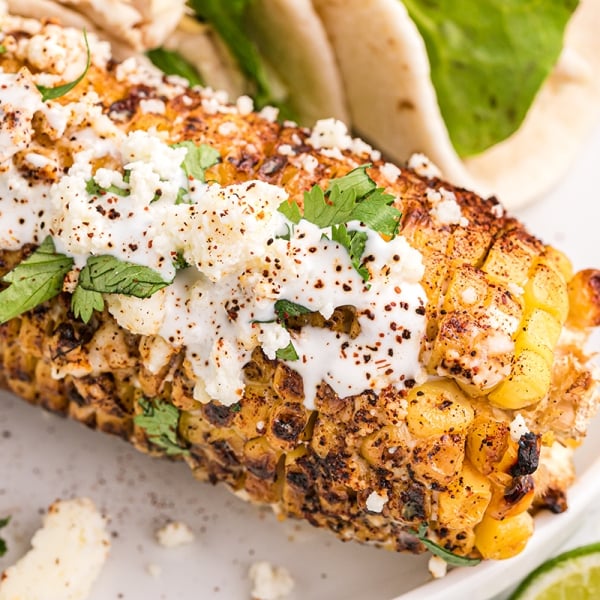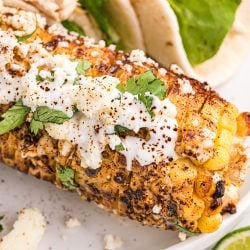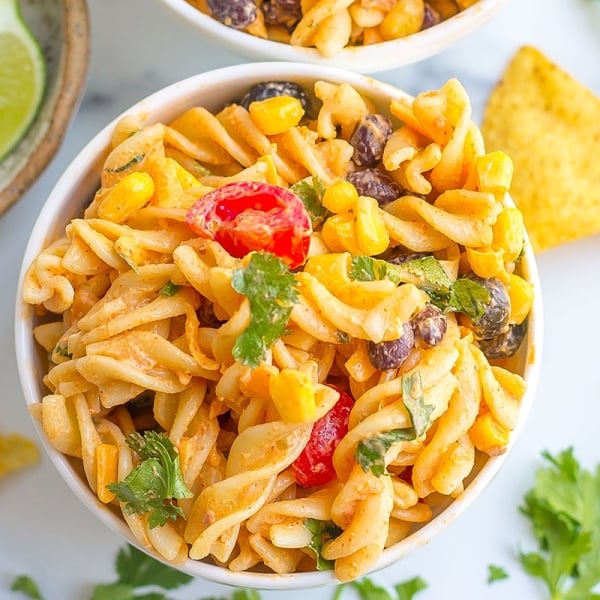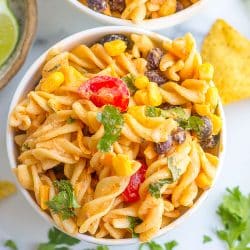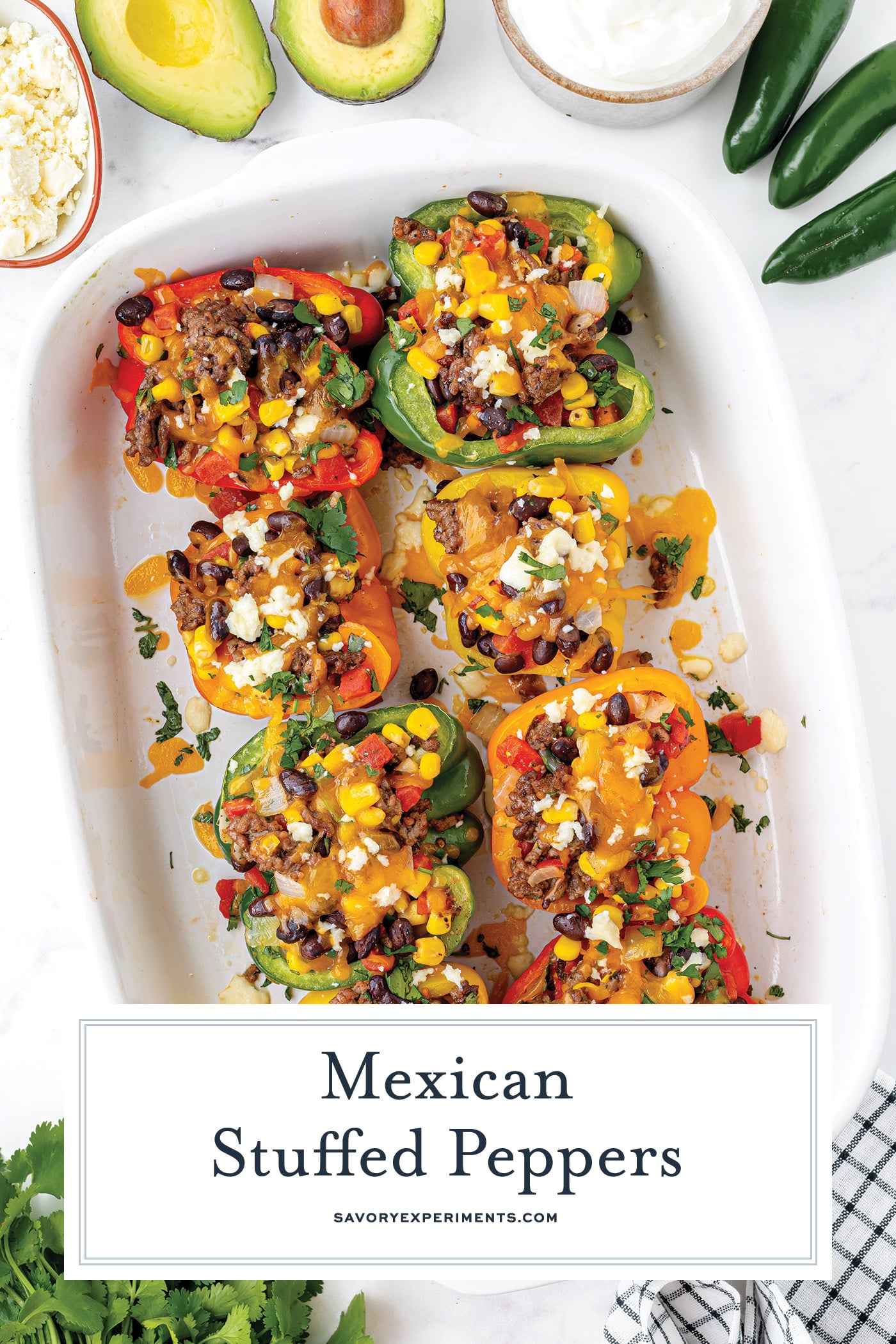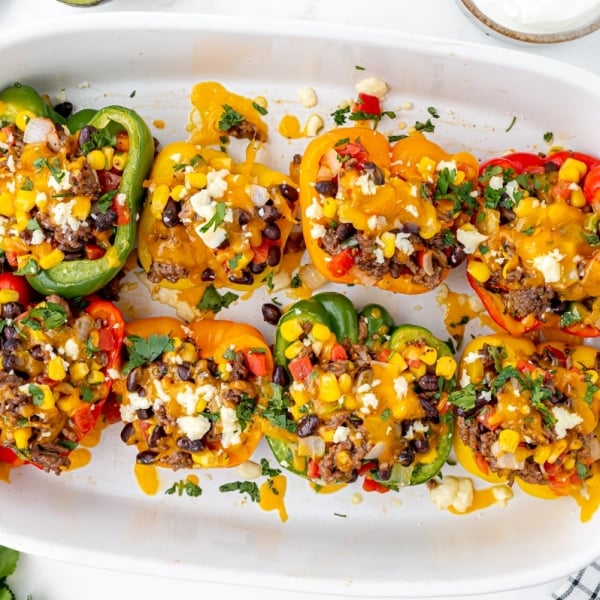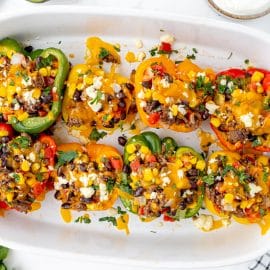 Mexican Stuffed Peppers
This Mexican Stuffed Peppers recipe combines colorful peppers with a seasoned filling full of Mexican flavors, all topped with melty cheese!
Instructions
Preheat the oven to 350°F and coat a large baking dish with cooking spray.

Cut the bell peppers in half, removing the membranes and seeds. Bake for 15 minutes. Remove and blot the insides dry with a paper towel and leave the oven on.

Meanwhile, in a large skillet, heat the oil over medium-high heat.

Add the ground beef, searing well and browning. Do not push it around, just let it get nicely browned, then flip.

When the beef is cooked, add the onion, cooking for 3 minutes. Add the beans, tomatoes, corn, cumin, chile powder, dried oregano and salt. Heat for 2-3 minutes.

Remove from the heat and fold in the cilantro and 1 cup of the cheddar cheese.

Spoon the ground beef mixture into the pepper halves. Top with additional cheddar cheese the queso fresco. Return the baking dish to the oven for 5 minutes or until the cheese melts.

Remove and set aside for 5 minutes. Garnish with your desired toppings.

If you've tried this recipe, come back and let us know how it was in the comments or star ratings.
Nutrition
Calories:
347
kcal
,
Carbohydrates:
33
g
,
Protein:
26
g
,
Fat:
14
g
,
Saturated Fat:
6
g
,
Polyunsaturated Fat:
2
g
,
Monounsaturated Fat:
4
g
,
Trans Fat:
0.2
g
,
Cholesterol:
59
mg
,
Sodium:
579
mg
,
Potassium:
844
mg
,
Fiber:
9
g
,
Sugar:
8
g
,
Vitamin A:
2594
IU
,
Vitamin C:
85
mg
,
Calcium:
231
mg
,
Iron:
4
mg