Need a quick, cute but super simple treat to tote along to backyard BBQ's and spring work potlucks? Check out my Pink Lemonade Cupcakes!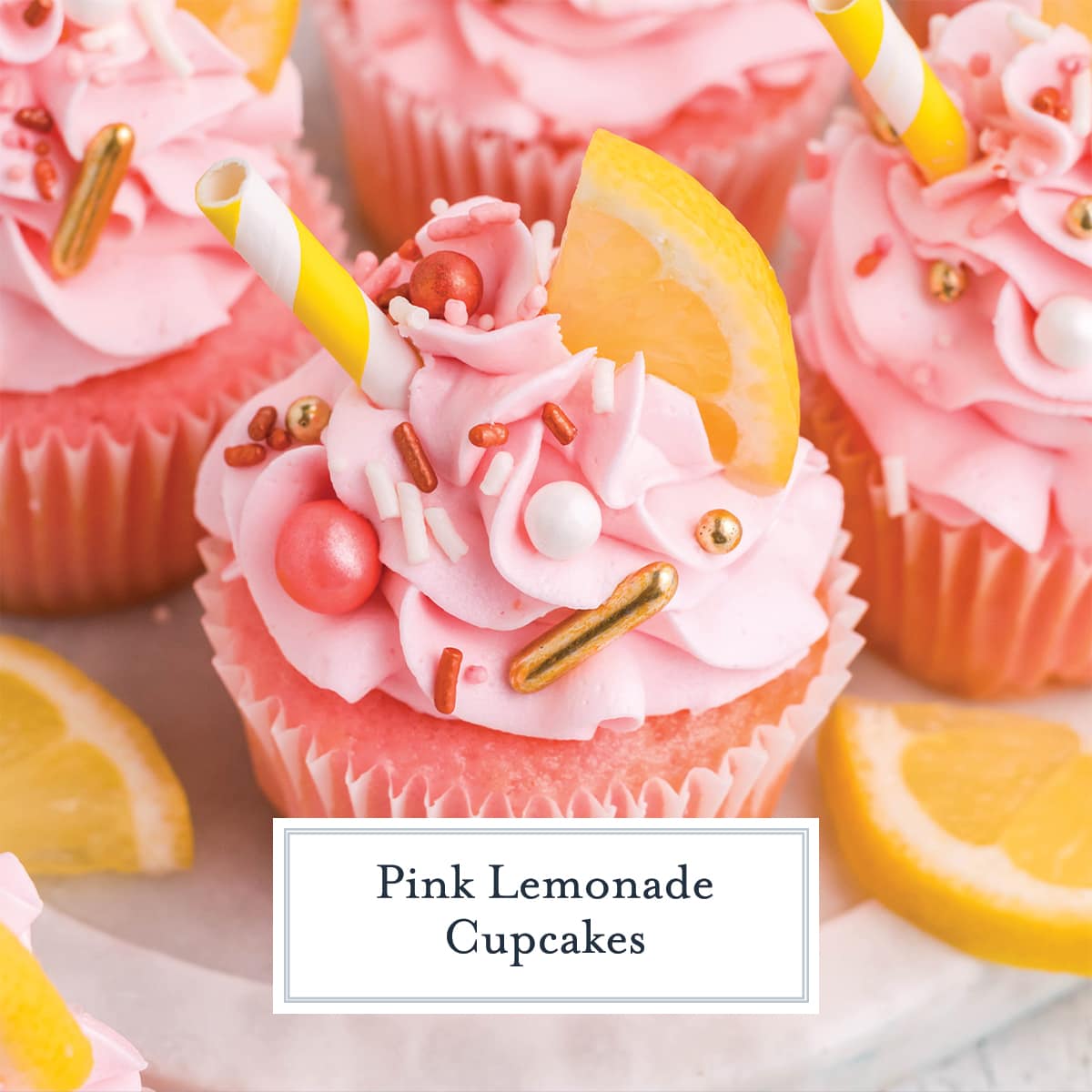 Pink Lemonade Cupcakes are an easy cupcake recipe using boxed cake mix with lemon flavoring and pretty pink food coloring. Perfect for any spring event!
What Flavor is Pink Lemonade?
Pink lemonade is still lemon flavored, but with a pink tint to it. Originally the pink color came from muddled strawberries, but through the years, red food dye has taken over.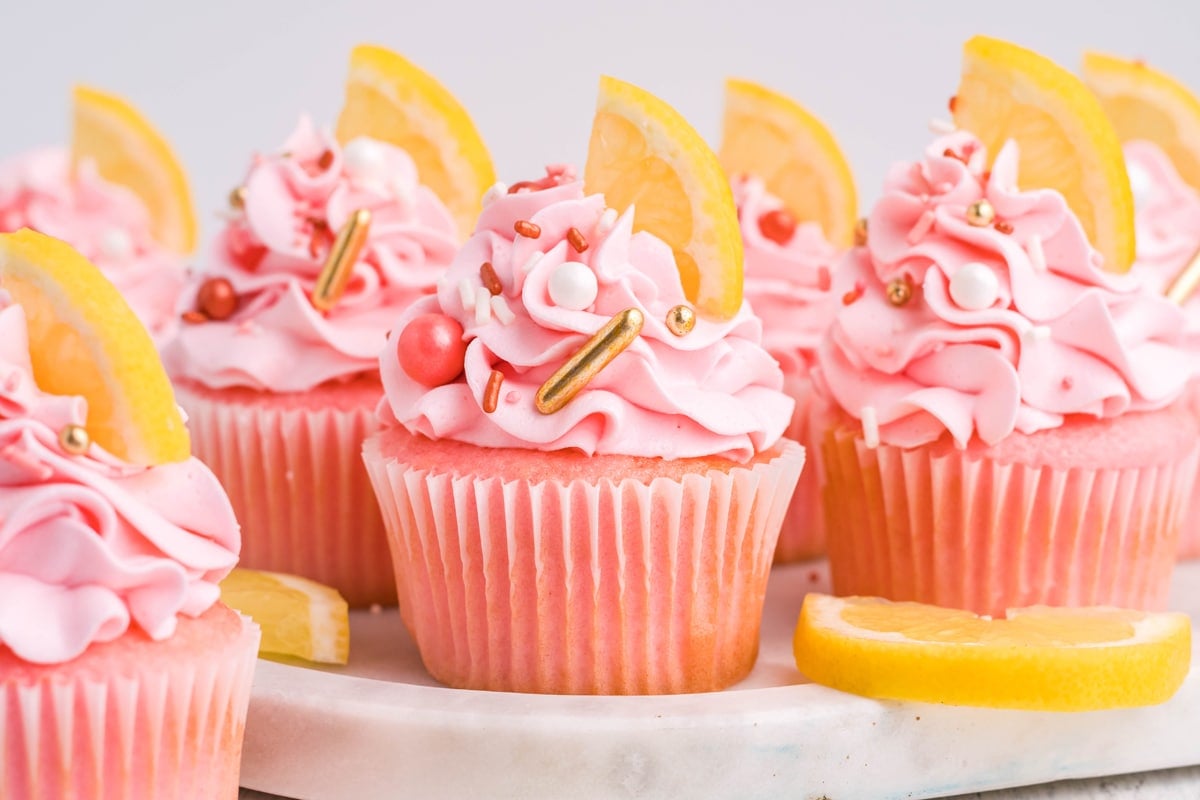 Lemon flavor for these cupcakes comes from lemon extract added to white box mix. The vibrant pink hue certainly comes from food dye, but you can use more or less depending on personal preference.
How to Make Pink Lemonade Cupcakes
This recipe uses an easy doctored up box mix, but homemade frosting. Feel free to use a tub of store bought. Really, the wow factor comes in decorating and homemade will always pipe better than a tub.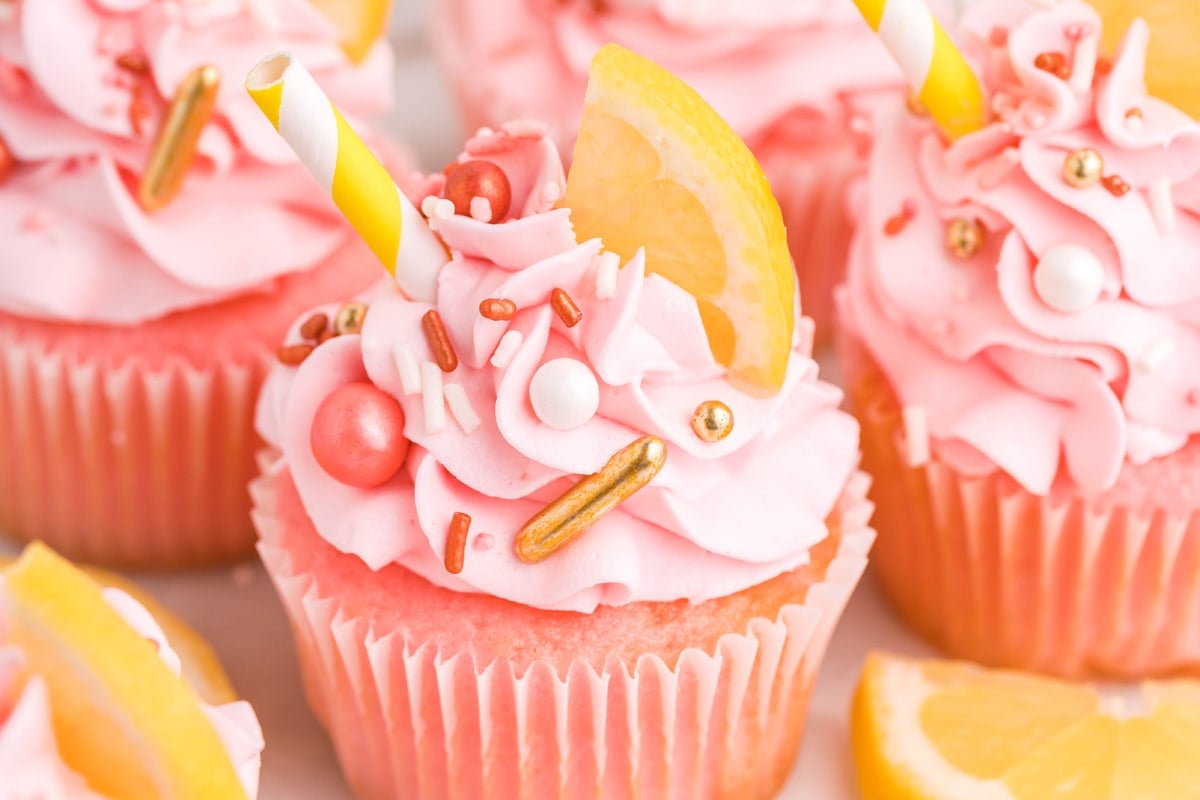 What You'll Need:
White Cake Mix– Do not use yellow, adding red to yellow makes green, not pink.
Ingredients according box directions (use egg white only instructions)
Lemon Extract
Red or pink food coloring- gel works best, but liquid will be fine
Unsalted butter
Heavy whipping cream
Make them!
Make the cake mix according to package directions using the egg whites only instructions. This is very important because if you use white cake mix or introduce yellow egg yolks into the mix, the red food coloring will be green.
To bump up the lemonade flavor, use lemon extract. If you'd like, swap that out for fresh lemon juice and a few grates of lemon zest, but the goal here is easy so I opted for just extract.
Pour cake batter into muffin pans.

Bake them according to package directions and when a toothpick is inserted, it comes out clean. Cool fully.
Make the frosting from scratch or grab a tub at the store and add 1-2 teaspoons of lemon extract.
To make the buttercream from scratch, beat butter until light and fluffy in a large bowl. Add powdered sugar, then extract and heavy whipping cream. I like using lemon to really emphasis the lemon flavors, but vanilla works too if you want a more subtle lemon essence from just the cupcakes.
Frost onto cooled cupcakes.
How to Decorate Them
We used a 1M star tip, but you can also slather them with an offset spatula.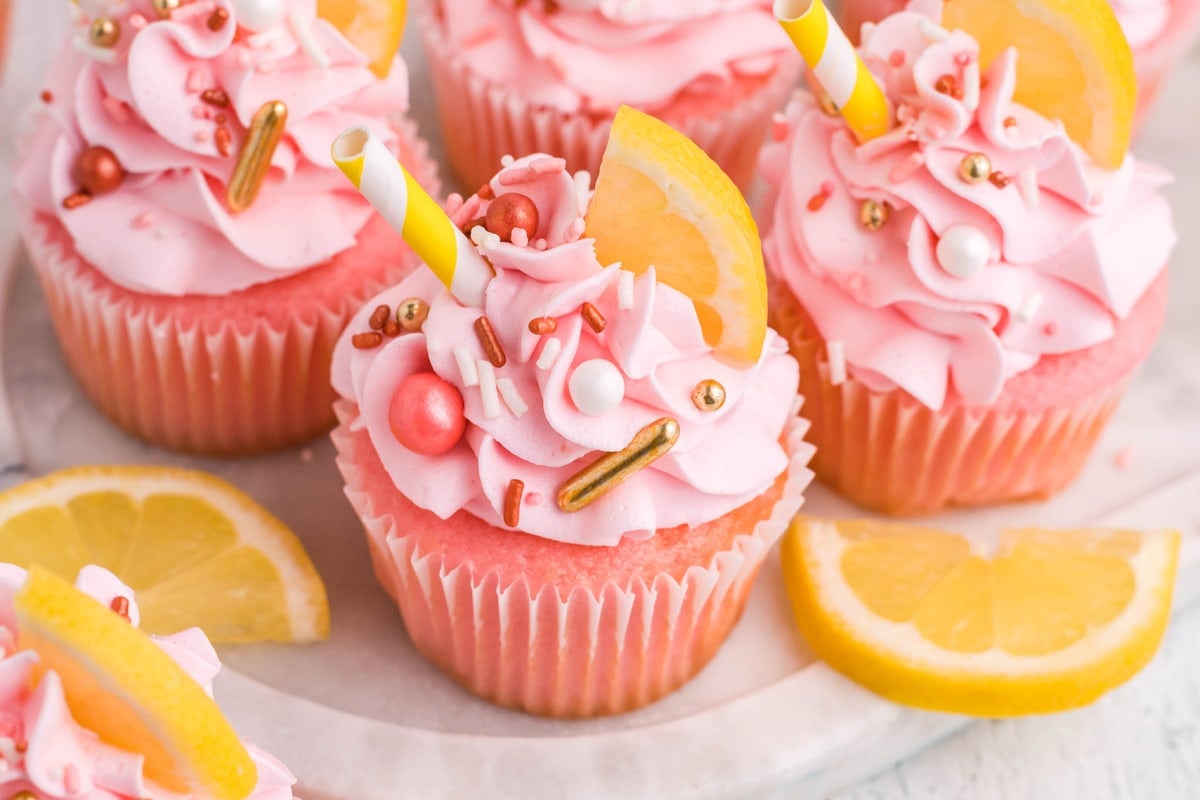 We all know I am a terrible cupcake decorator, but making these pretty swirls of frosting isn't so hard with a little practice. Here is how you do it:
Hold a filled pastry bag with 1M star tip straight up about 1/2 inch from the top of a cupcake right in the center.
Apply continuous pressure and start writing the letter "C" until it connects with the start, repeat.
Continue spiraling until you reach the desired height. Stop squeezing before you pull the tip away.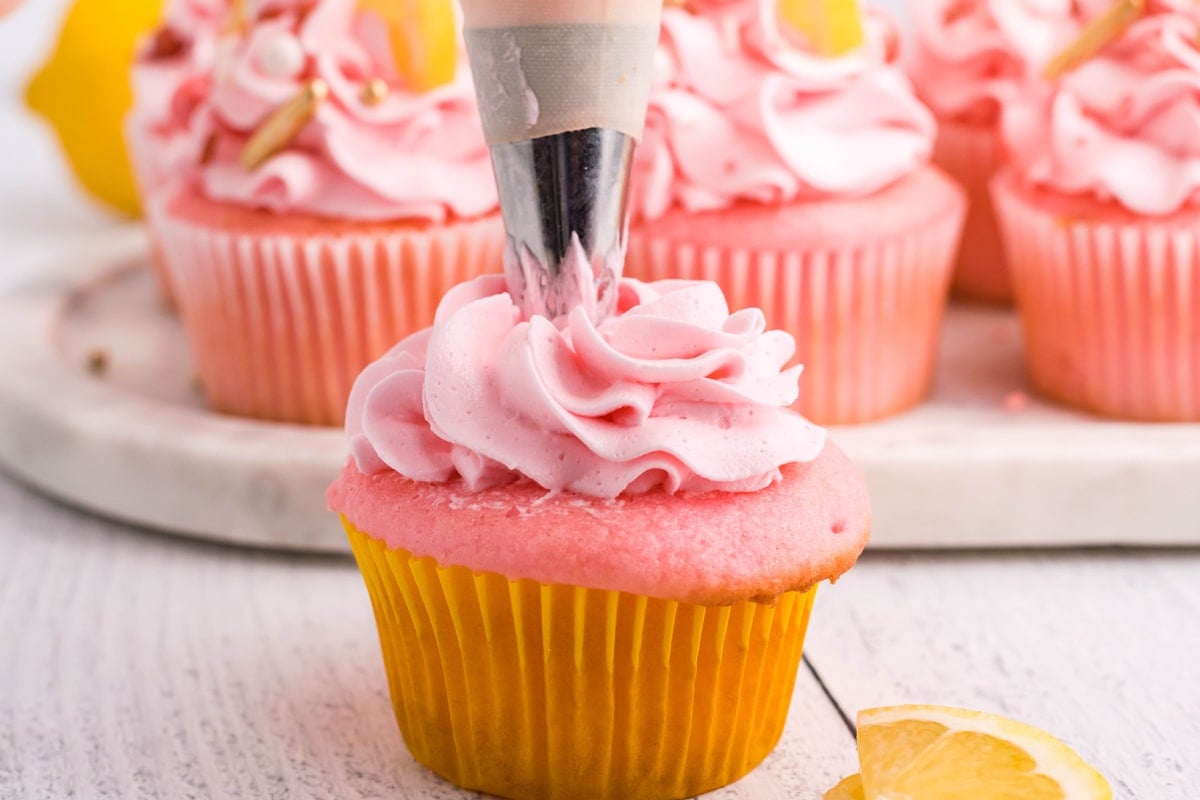 Best Cupcake Tips:
ONE. Do not overmix the batter. The most commonly made mistake in making cupcakes is overworking the batter. This is actually made easier when you are using a stand mixer because we overestimate how long the batter has been beaten. Pay attention!
TWO. Don't over bake your cupcakes! This might seem like it is super apparent, but many folks wait too long before taking the cake out of the oven and presto, dry cake. Whomp, whomp. They shouldn't jiggle in the middle, but spring back when lightly touched.
THREE. Don't overfill the cupcake liners- these need to be about 2/3 full. You can use an cookie dough scoop to make sure each is even.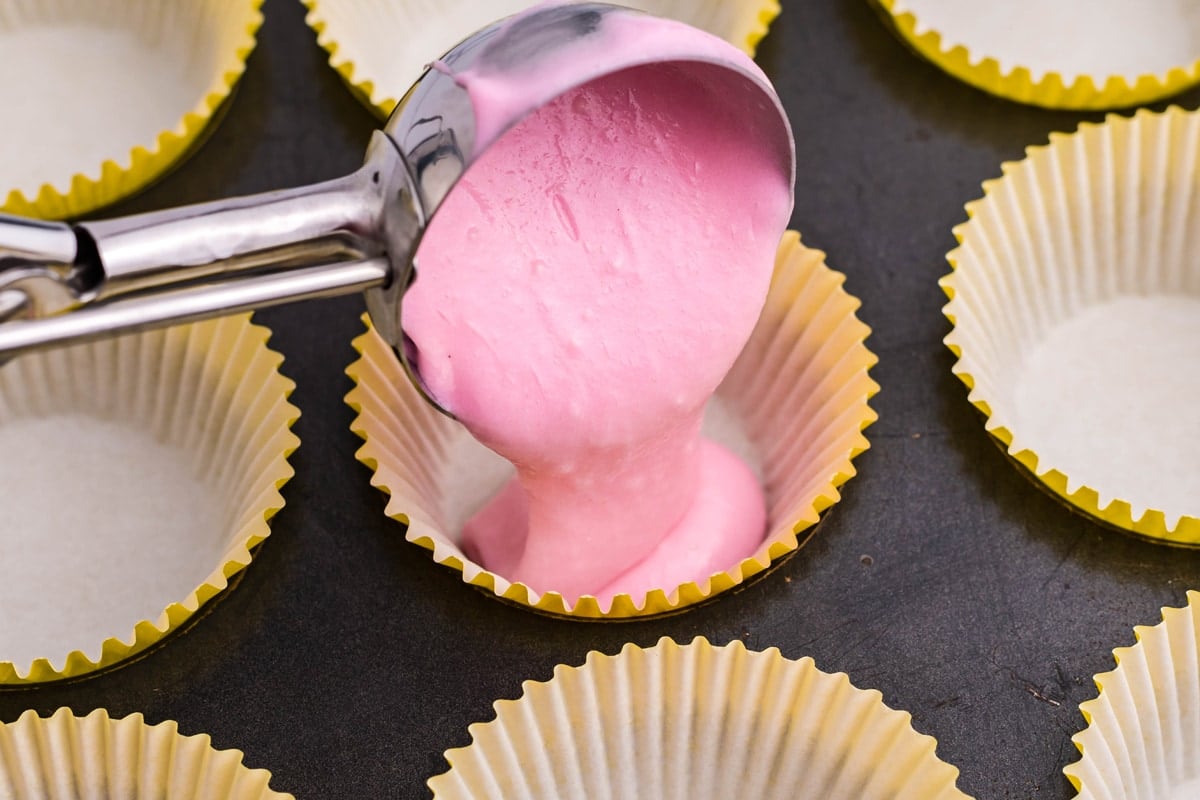 FOUR. Cool completely before frosting. Placing them on a wire rack allows air to circulate around the muffin tin cooling them faster and more thoroughly.
Storage & Make Ahead
Store cupcakes covered at room temperature. If freezing, freeze cupcakes, thaw at room temperature and then make buttercream, frost and add decorations.
Cupcakes stay good for up to a week, but start to lose their moisture immediately.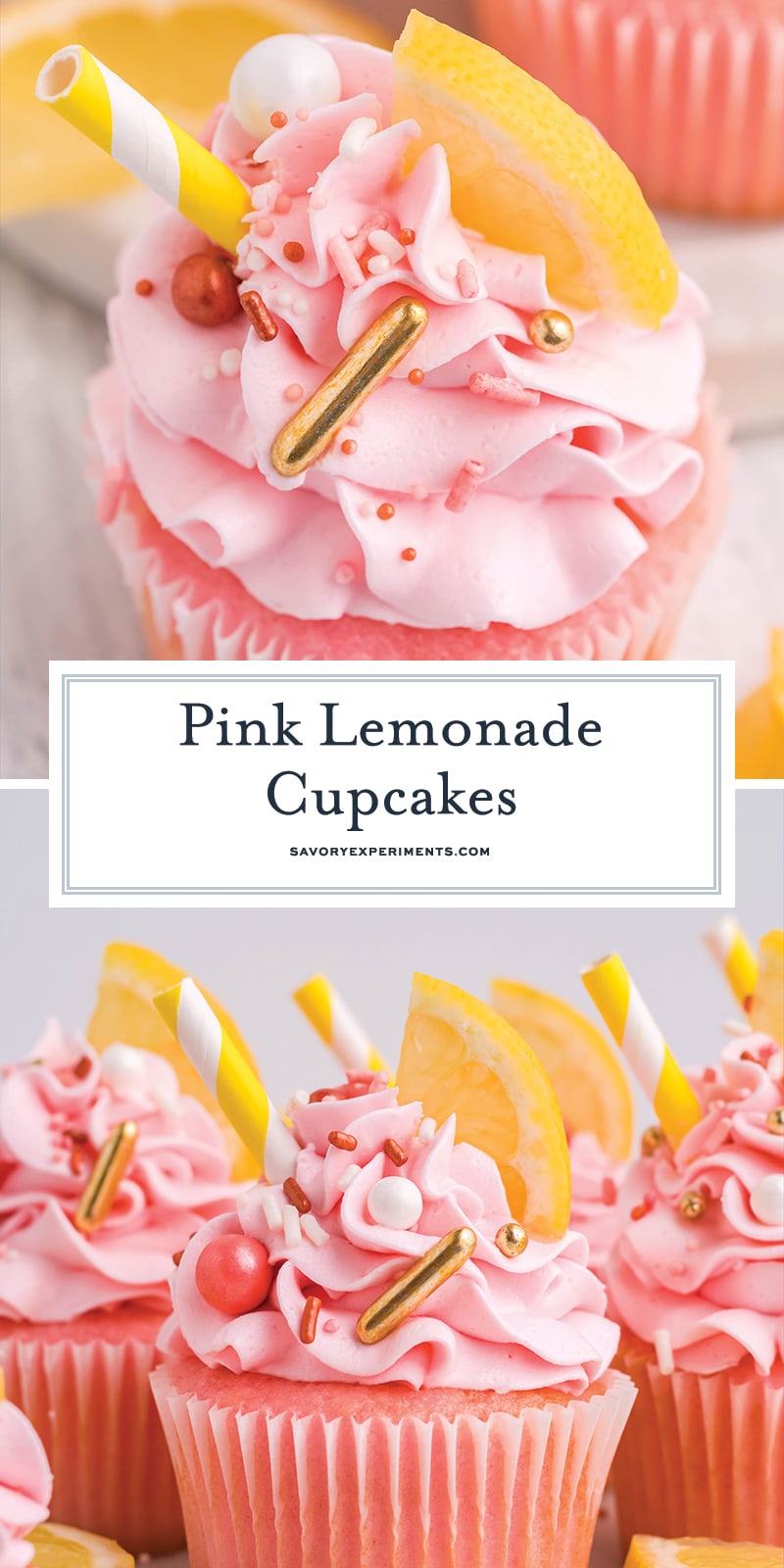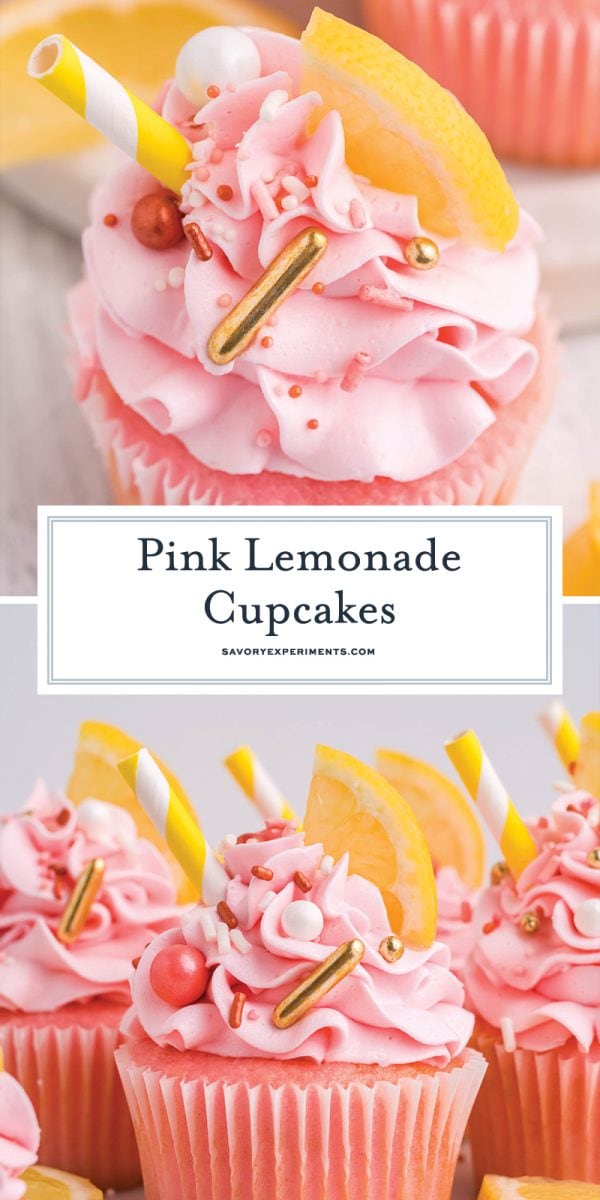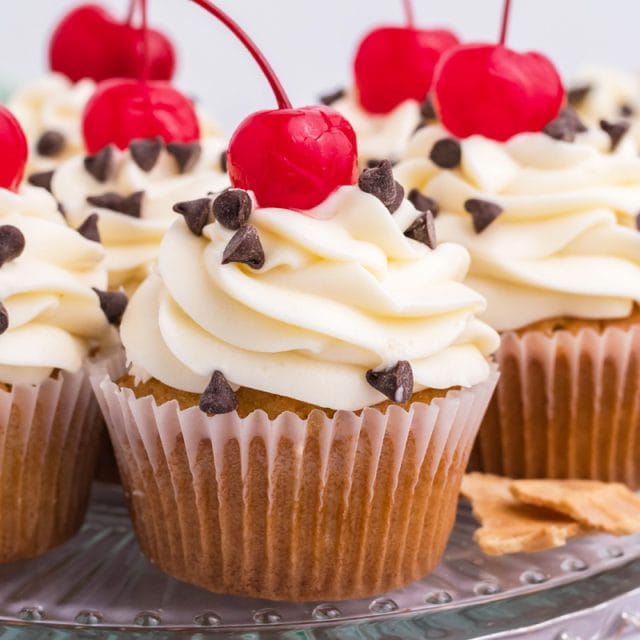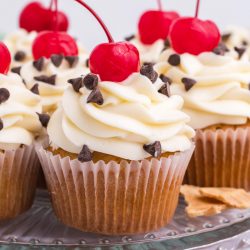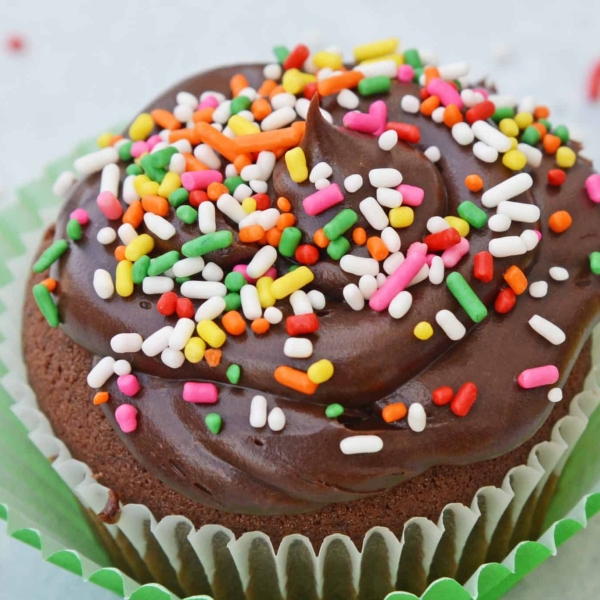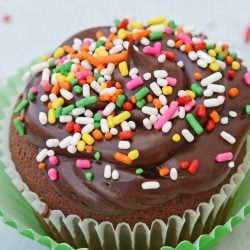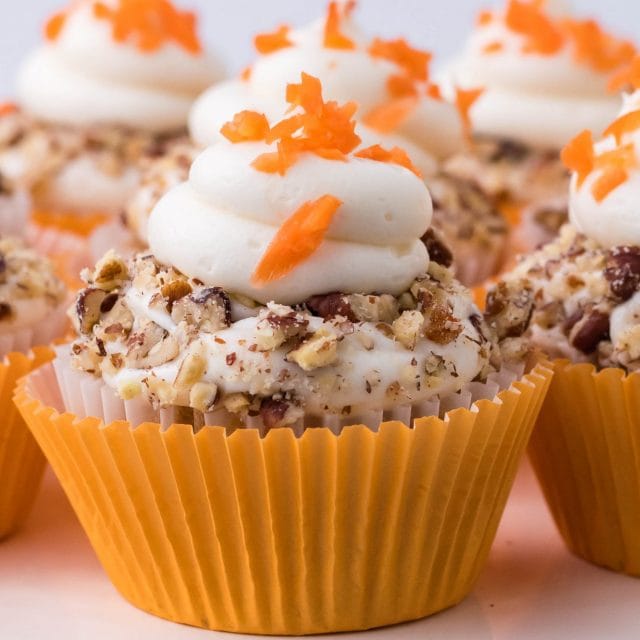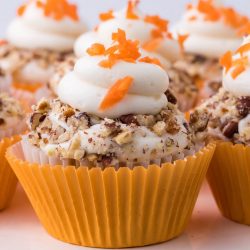 Carrot Cake Cupcakes
Carrot Cake Cupcakes are moist, flavorful and packed with freshly grated carrot and spices. With a cream cheese frosting, they are the BEST!
See The Recipe!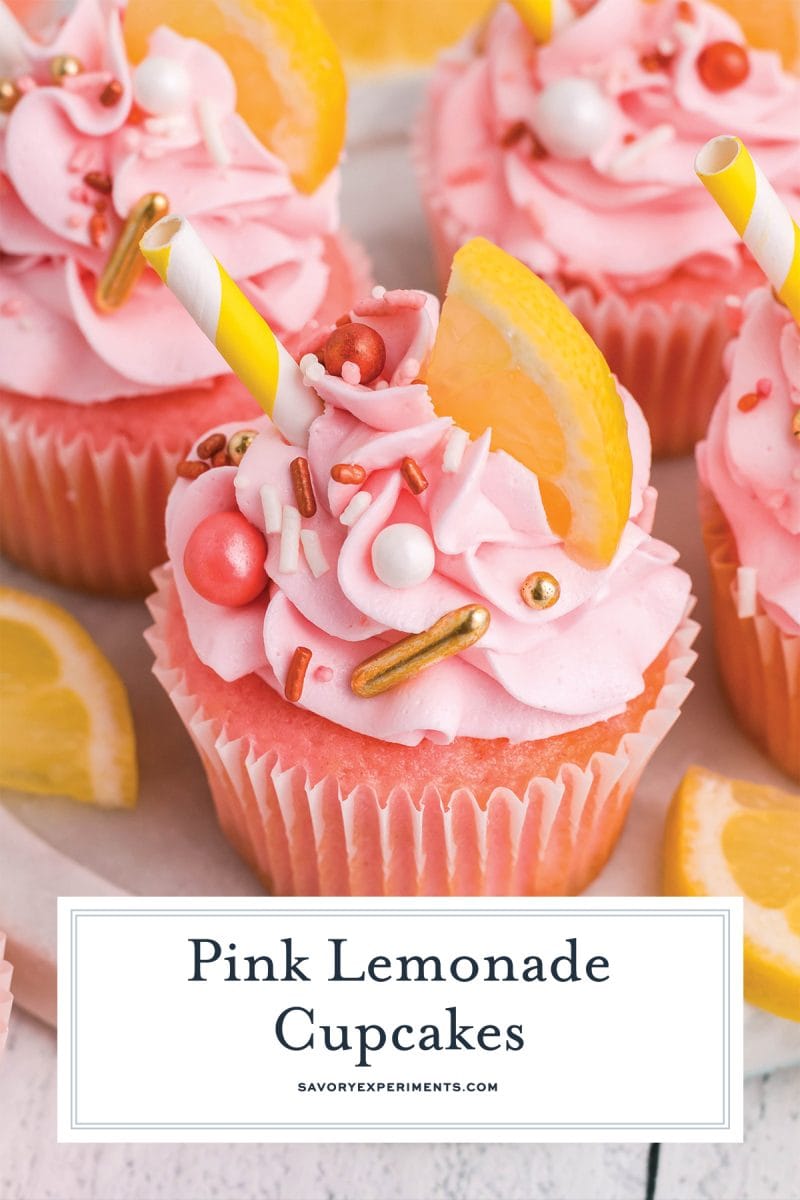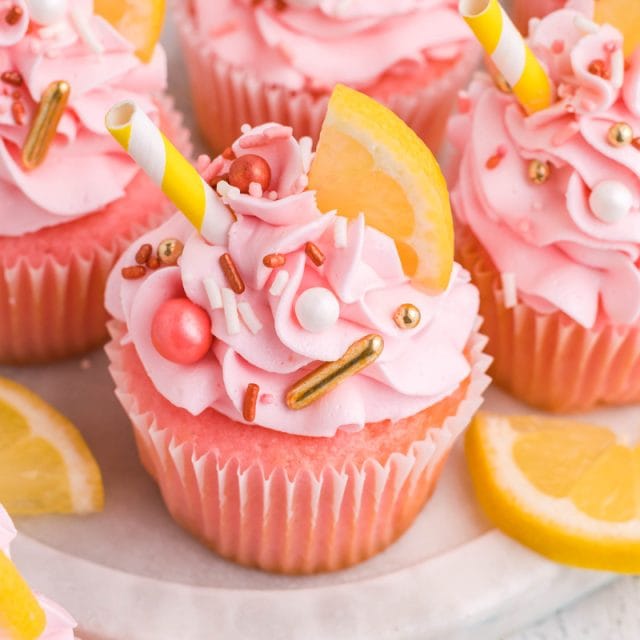 Pink Lemonade Cupcake Recipe
Pink Lemonade Cupcakes are an easy cupcake recipe using boxed cake mix with lemon flavoring and pretty pink food coloring. Perfect for any spring event!
Instructions
Cupcakes:
Pink Lemonade Frosting:
In the bowl of a stand mixer fitted with a paddle attachment, cream the butter for 3-4 minutes until smooth.

With the mixer on low speed, add the powdered sugar one cup at a time and mix until there are no dry spots remaining.

Add the heavy cream and vanilla extract and start mixing on low speed. Slowly Increase to high for 1-2 minutes.

Add the food color last and mix until the color is distributed evenly.

If you've tried this recipe, come back and let me know how it was in the comments or ratings!
Nutrition
Calories:
247
kcal
,
Carbohydrates:
33
g
,
Protein:
1
g
,
Fat:
13
g
,
Saturated Fat:
8
g
,
Polyunsaturated Fat:
1
g
,
Monounsaturated Fat:
3
g
,
Trans Fat:
1
g
,
Cholesterol:
33
mg
,
Sodium:
152
mg
,
Potassium:
18
mg
,
Fiber:
1
g
,
Sugar:
24
g
,
Vitamin A:
382
IU
,
Vitamin C:
1
mg
,
Calcium:
52
mg
,
Iron:
1
mg