Airy, light, fluffy… I'm trying to come up with the perfect word to describe this lemon poppy seed muffins recipe, but I just can't put my finger on it.
Think about all the bubbles that burst on your tongue when drinking a carbonated beverage. Adding that to a muffin recipe, it's a game-changer.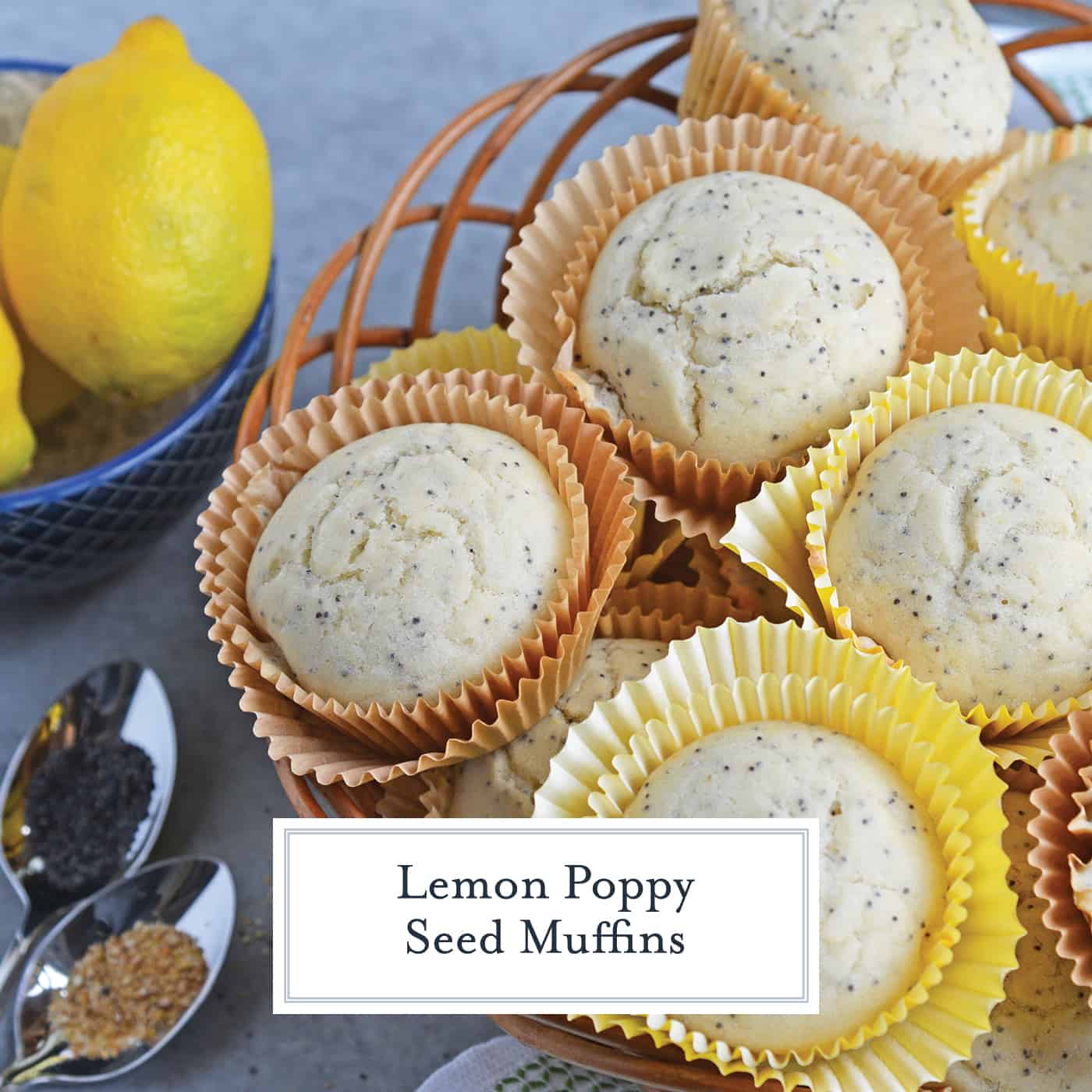 Lemon Poppy Seed Muffins are a quick and easy muffin recipe that can be made in 30 minutes. Carbonated lemon water is the secret ingredient to make them super fluffy!
Last summer I attended the Texas Pete Rib Festival in Greensboro, North Carolina. As a parting gift, they gave us all 5-pound bags of Self-Rising Flour.
After my hubby, my mother, and my father all gave me their bags, I ended up with 20 pounds of flour.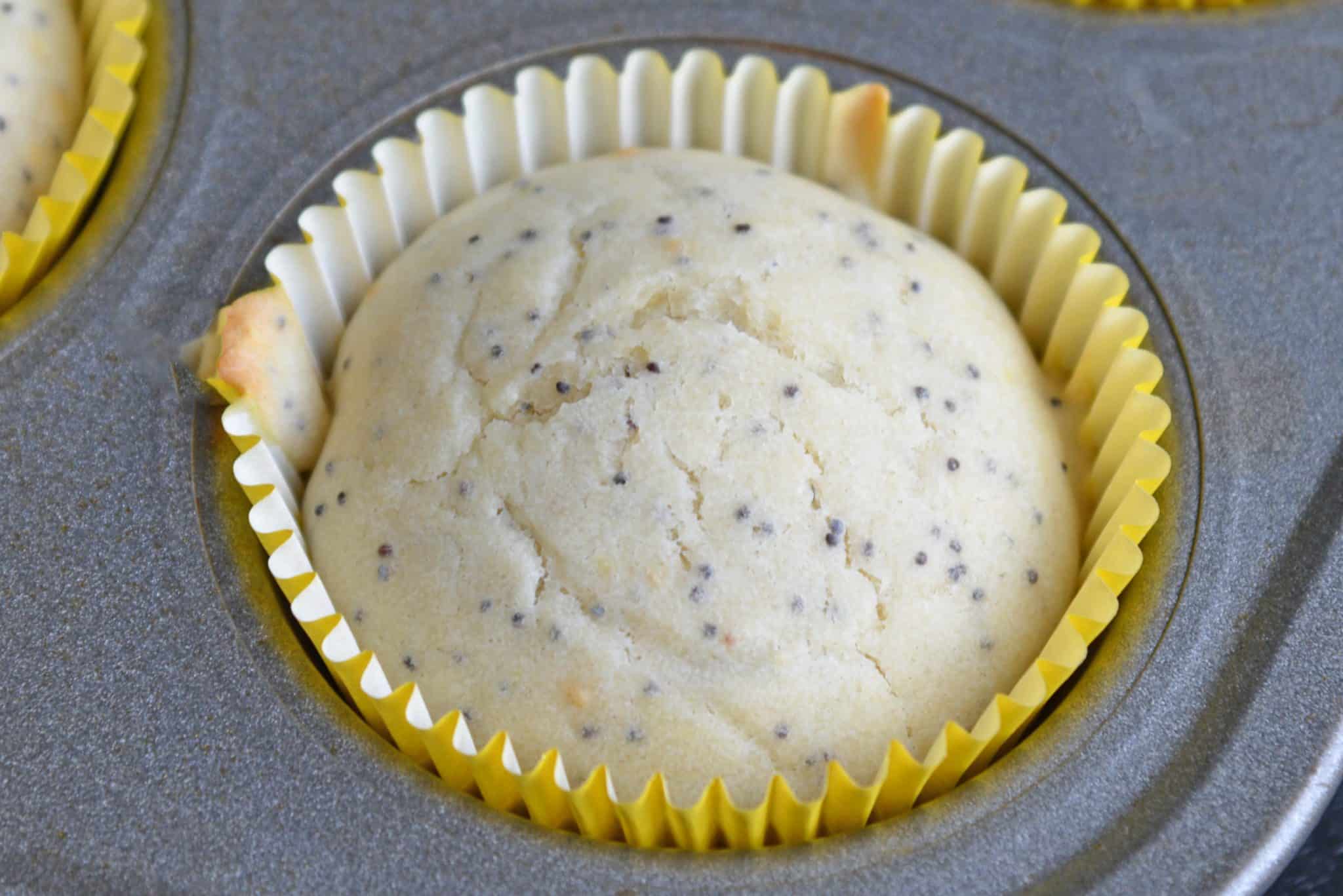 Generally, I work with all-purpose, bread, or whole wheat flours, so I had to do a little research on it as an ingredient and how to use it in recipes. After all that research was done, I had to figure out what to bake.
This recipe is a variation on a recipe I had read about on the King Arthur Flour website for basic muffins.
It called for unbleached, self-rising flour which I obviously had plenty of.
Should you not knee-deep in self-rising flour, you can easily modify some all-purpose flour by whisking in the same amount of flour called for below with 3 tablespoons of baking powder and 3 teaspoons of salt.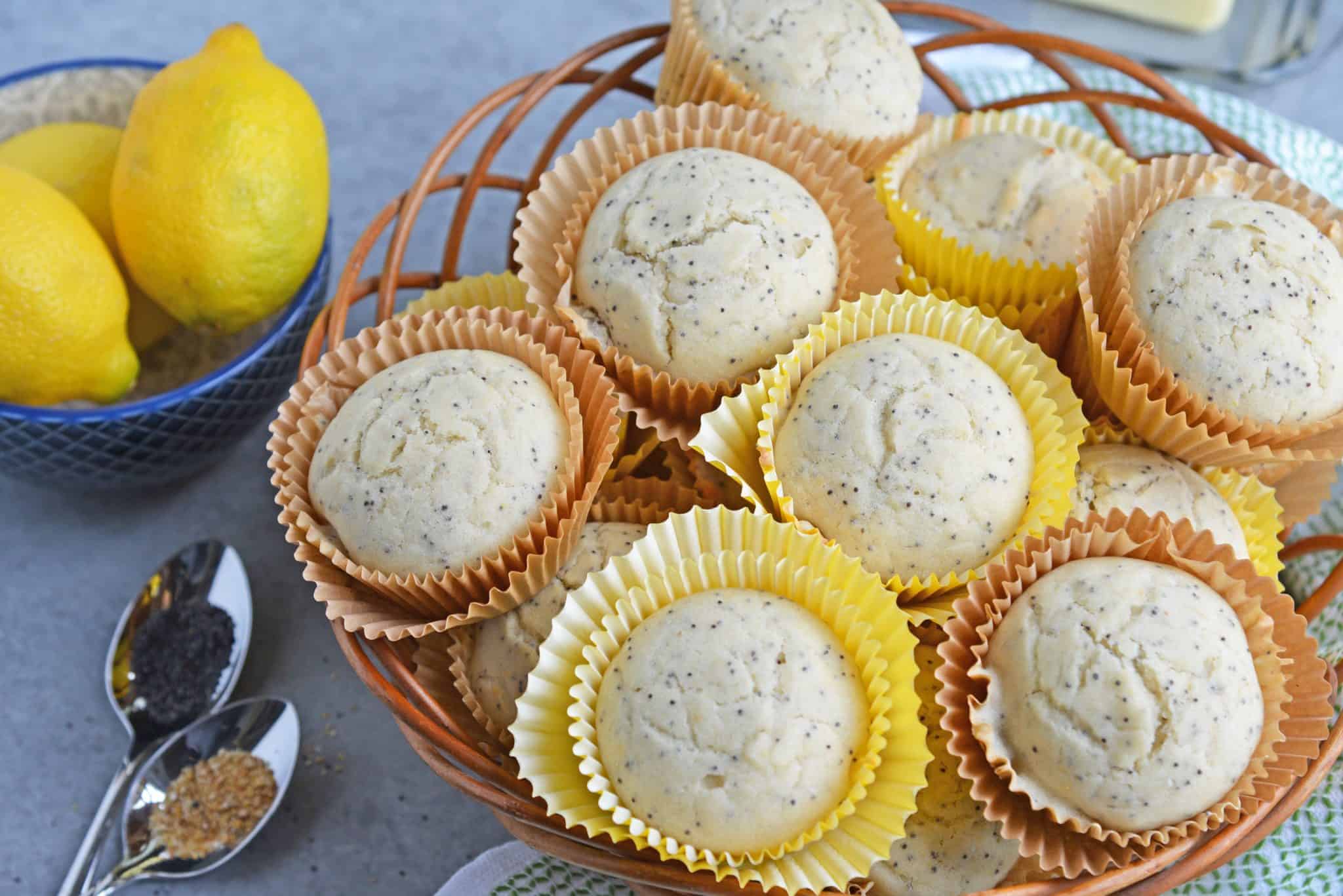 If you are curious about the carbonated water, it is acting in two different ways. First and foremost, it is what makes these muffins so irresistible.
As the muffins are baking, the bubbles in the water expand creating little pockets of air. Translation: fluffier than fluffy muffins. Fluff-o-licious!
For the record, it is also providing a touch of flavor, but it is mostly about those air pockets. As with any muffin recipe, don't over mix your batter or you will end up with flat tops instead of beautifully rounded ones.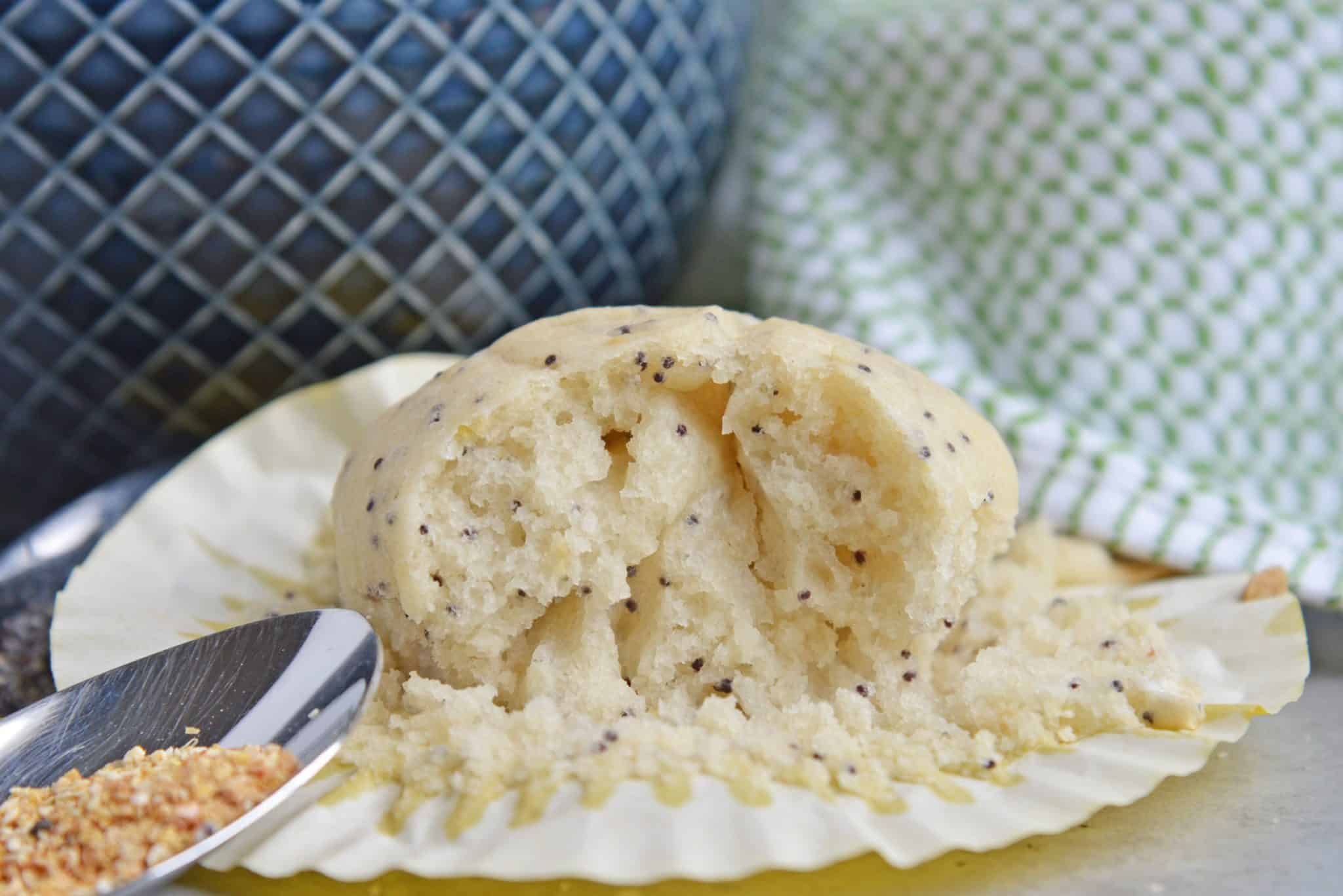 Lastly, people freak out about poppy seeds and possibly failing a drug test. Let me ask you, how many drug tests are you really taking?
As the former director of a substance abuse program (yes, I was a psychotherapist prior to blogging), I can assure you it takes A LOT of poppy seeds eaten on a regular basis to test positive for opiates.
I had patients tell me all the time they just ate a poppy seed bagel. Yep… sure it was…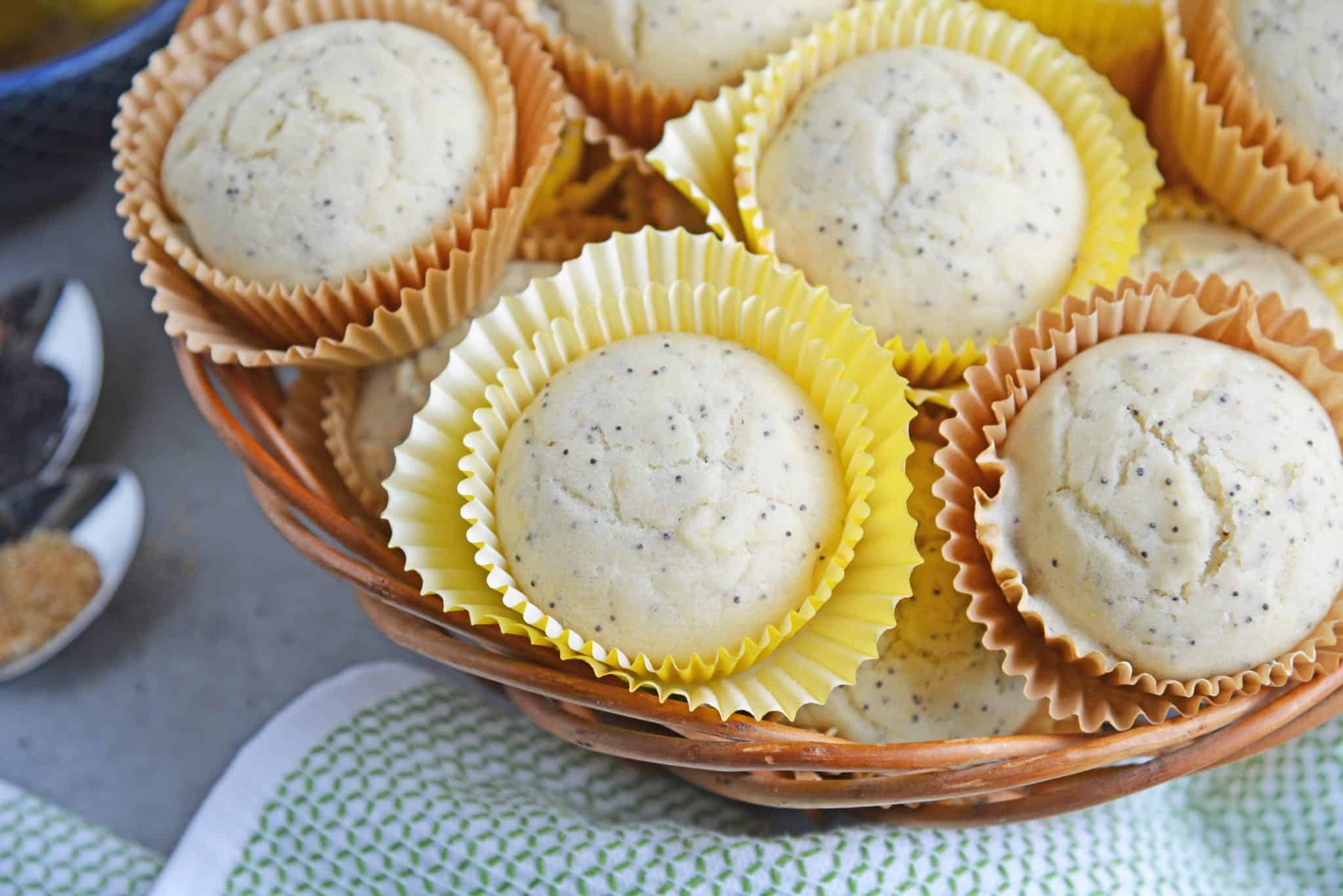 I'm calling shenanigans! In fact, several co-workers and I did just that. We ate a poppy seed bagel every day for breakfast and only 50% of us tested positive after 8 straight days of eating those things.
Long story short, rest assured that indulging in a few Lemon Poppy Seed Muffins will not get you high on opium nor make you test positive on a drug test (or serve as an excuse for an otherwise positive test).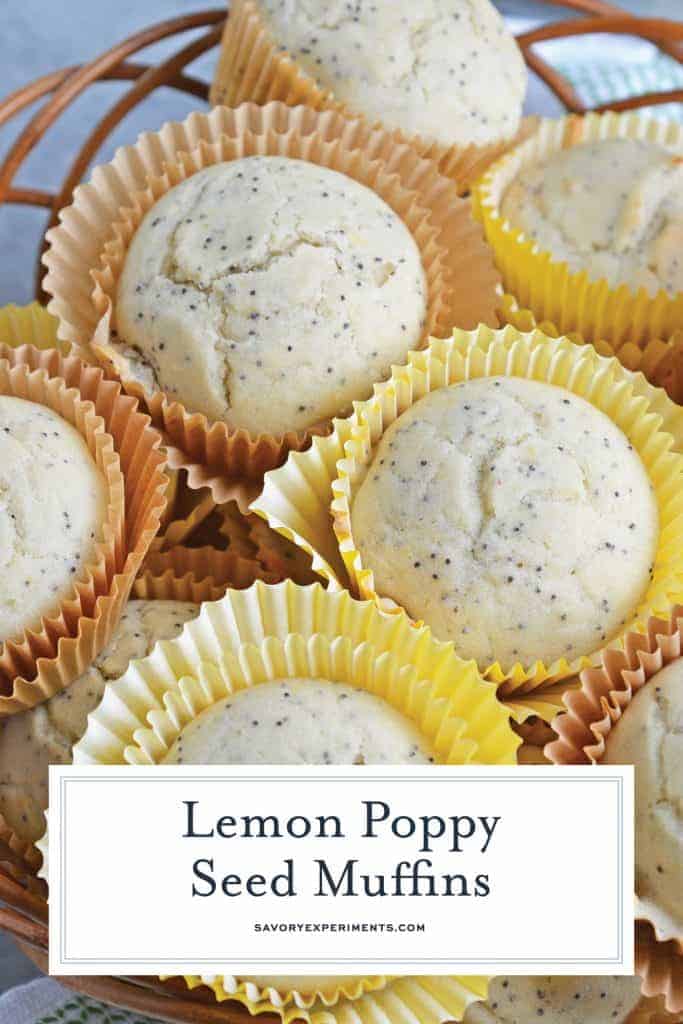 More muffin recipes:
And lastly, before you go.. here are a few tips for the BEST muffins!
ONE. Do not overmix the batter. The most commonly made mistake in making muffins is overworking the batter.
This is actually made easier when you are using a stand mixer because we overestimate how long the batter has been beaten. Pay attention!
TWO. Don't over bake your muffins! This might seem like it is super apparent, but many folks wait too long before taking the muffins out of the oven and presto, dry muffins and cracked tops.
Whomp, whomp. They shouldn't jiggle in the middle, but spring back when lightly touched.
THREE. Measure your flour. You might think you measure your flour, but are you doing it correct? Scoop flour into the measuring cup and level it off with a flat spatula or butter knife.
Don't pack it down, just let is sit how it did when you scooped it. Additional flour makes cake dry and even have a slight heap on your measuring cup could be the culprit.
FOUR. Don't overfill the muffin tins. Only fill them half to two thirds full.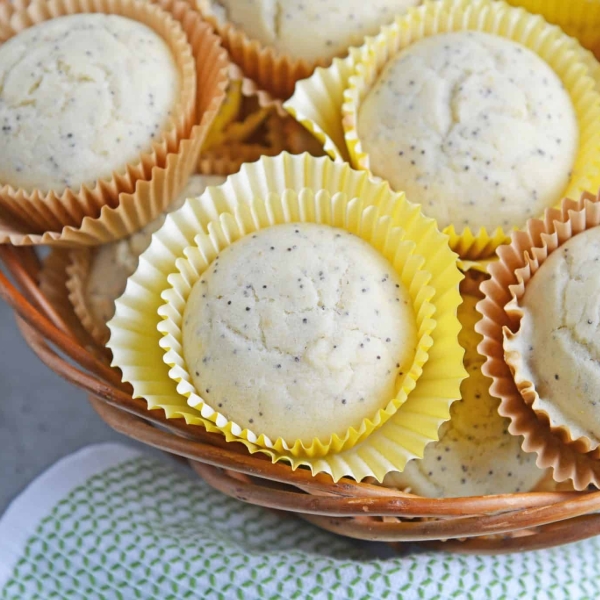 Lemon Poppy Seed Muffin Recipe
Lemon Poppy Seed Muffins are a quick and easy muffin recipe that can be made in 30 minutes. Carbonated lemon water is the secret ingredient to make them super fluffy!
Instructions
Preheat oven to 375 degrees. Line muffins tins with liners and then lightly coat each liner with cooking spray.

Combine all ingredients in a stand mixer fitted with the paddle attachment or large mixing bowl. Mix until just blended. Do NOT over mix. Mixture will be slightly lumpy.

Fill the muffin cups 3/4 full. B for 14-18 minutes or until tops spring back when lightly touched. Muffins will NOT brown. Remove before this happens.

If you've tried this recipe, come back and let us know how it was!
Notes
*If you don't have self-rising, add 2 1/4 tablespoons baking powder and 1 tablespoon table salt
Nutrition
Calories:
153
kcal
,
Carbohydrates:
28
g
,
Protein:
3
g
,
Fat:
2
g
,
Saturated Fat:
1
g
,
Potassium:
38
mg
,
Sugar:
4
g
,
Calcium:
15
mg
,
Iron:
1.5
mg