Risotto is an Italian dish made from a special type of rice called arborio. This short-grained rice is also used in rice pudding. These grains have a higher starch content, resulting in a firm grain (al dente) when cooked.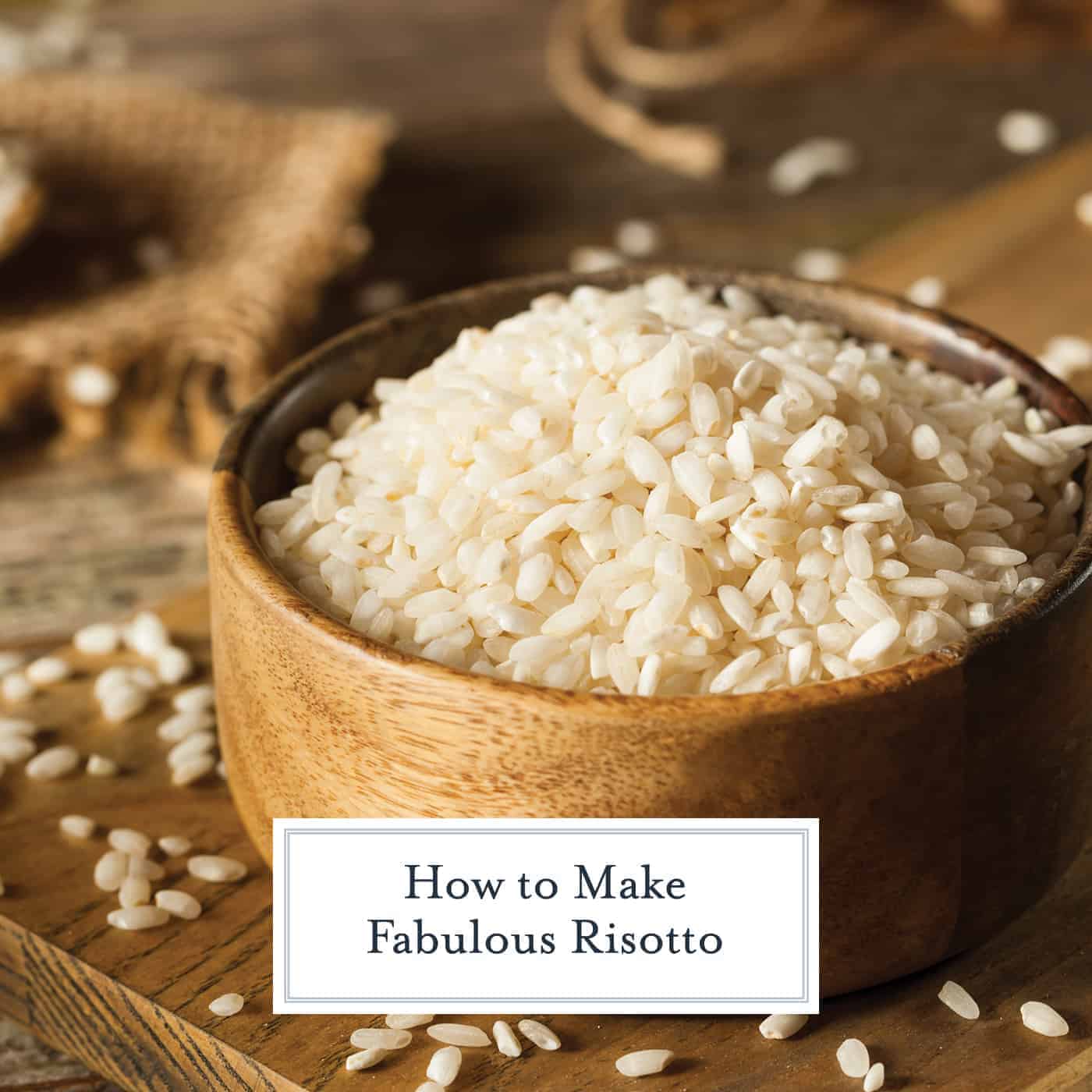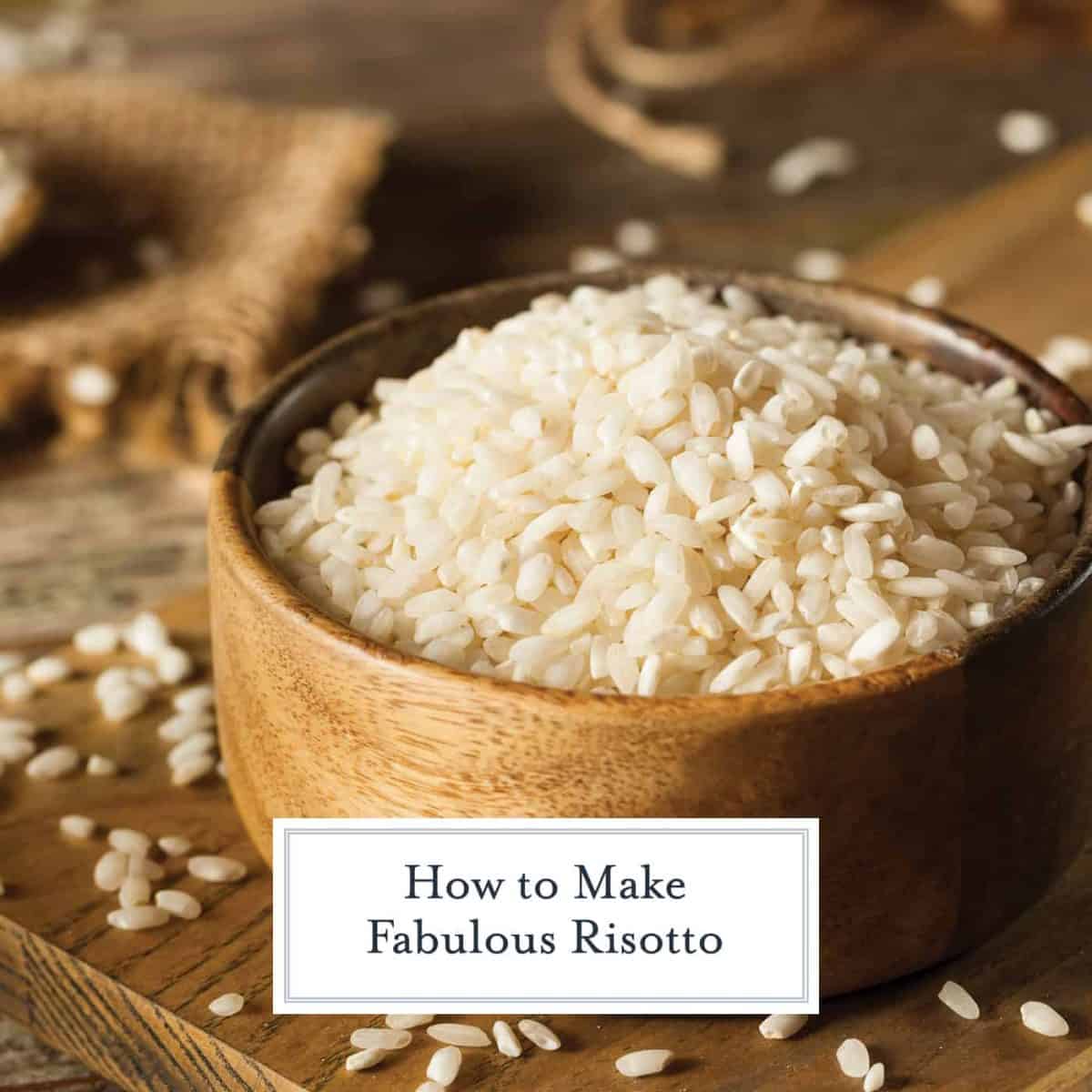 Risotto isn't just a restaurant dish. You can make any risotto recipe at home using these easy tips and tricks! After you've mastered the basics for classic risotto, you can make virtually any combination.
The add-ins for risotto are endless and include everything from fruits and veggies to meats and seafood. It can be served as a side dish or an entree. Its versatility makes it perfect for any meal and the skill is something every home cook should possess.
While risotto seems like a challenging dish, it is actually fairly easy, just more hands-on. Follow these basic tips to make the perfect risotto every time with any recipe, although I've listed a few of my favorites at the end. It can be served as a side dish or even a main dish.
It can also absorb a lot more liquid than average rice and therefore a lot more flavor. It is also unique in the starches that cook off result in a creamy, gravy-like sauce without using any cream or cheese.
Tips for Making Best Risotto
Toast the Grains. Toasting the pearly grains before cooking breaks down the starchy outside layer, allowing grains to absorb liquid (and flavor) more readily. It will also bring out a nutty flavor in the grain. Add a small amount of fat and use medium heat to lubricate the grains and prevent burning. Olive oil, butter (even better if it is clarified butter or ghee), bacon fat or duck fat provide great flavors.
Add hot liquid. Always heat the liquid you are adding to the risotto. Adding cold liquid can result in soggy grains because it reduces the temperture drastically when added, allowing the moisture to sit longer before being absorbed.
Add liquid slowly. These tiny grains get easily overwhelmed and only like to tackle about a ladle full to a cup at a time. Adding too much warm stock at once will also result in a mushy mess. You know it is time to add more when the bottom of the pan starts to get dry. Sure, you can use water, but try using chicken broth, seafood stock or swap out a portion of the liquid for white wine for creamy risotto bursting with flavor. Sauvignon blanc and pinot grigio are always a good picks for the the wine.
Stir Often, but Not Constantly. Many recipes tell you to stir constantly and while you do need to stir way more than a usual rice recipe, stirring too much takes you past creamy and more towards gluey. Add the liquid, stir and then let it sit until the next addition. Stirring release the gluten making a creamy sauce. I do add cheese to mine, but you'll have a creamy sauce even without it.
Taste for Texture. Depending on heat, some risotto can require more or less than the original recipe calls for. Taste test along the way to achieve the perfect texture. If you run out of warm liquid (wine, broth, stock, etc) you can add warm water. Cooking time will vary based on your exact temperature, size of the pan, temperature of the hot stock and volume.
Customize. Add-ins should be fully cooked and added last. Any remaining moisture from these can change the texture of the rice. Overcooking (while waiting for add-ins to cook) can mush the rice.
Cooking Vessel. Lastly, use a large skillet versus a saucepan. This provides a larger cooking surface that will distribute heat evenly to a larger quantity of rice grains over a shorter period of time. Avoid using cast iron for these dishes, as the cast iron itself will absorb some of the liquid.
While this sounds like a lot of rules, this is fairly simple and easy to master, I promise. Now give some of my favorites a try!
What is Arborio Rice?
With more than 40,000 varieties of rice that are cultivated around the world, Arborio rice just happens to be one that is super special.
This short-grain rice is grown in Italy and hails from a town of the same name. Arborio is situated in the Piedmont region of Italy which is in the northwestern part of the country. Nowadays, however, this type of rice is also grown in the US in Arkansas, California, and Missouri. It is sometimes just called risotto rice.
It is called a "superfino rice" and the largest of the Italian short-grain Italian varieties. These grains are oval in shape and about ¼" of an inch long on average. Most often the rice is white in color but the unrefined, brown version is also sold.
What makes arborio rice so special? Something called amylopectin. This is a starch that is present in the rice. When cooked and agitated, this starch releases into the liquid that you are cooking the rice in.
What is Arborio rice used for?
Because of the starchy nature of Arborio rice, it makes it ideal for using in things like risotto. However, it isn't just relegated to that single dish. It is also wonderful in things that need a creamy texture like pudding, porridge, and other starchy desserts like rice pudding.
What can I use instead of Arborio rice?
If you are fresh out of this variety or can't find it at the store, fear not! There are a few other choices you can use that will give you a similar texture. Carnaroli rice is another Italian variety with the same high levels of starch. Vialone Nano, another Italian variety, works wonderfully. Sushi rice works well as does pearled barley. Lots of options to choose from.
Just don't use a long grain rice, like jasmine rice or general white rice.
Do you wash Arborio rice before cooking risotto?
If you are making something that is meant to be creamy and rich, for example, risotto, you would not want to rinse the rice. Rinsing it would rid it of all the starch which gives you that amazing creamy texture.
Should you want to use the Arborio for a more traditional rice dish that didn't need that velvety texture, you could rinse it in cold water until the water coming off runs clear and cook it like you would other short-grain varieties.
Why Use a Wooden Spoon For Risotto?
Wooden spoons are soft, so they won't scrape your pot. They're insulated and not going to heat up if rested on the edge of the pan during the long cooking process. And lastly, food doesn't tend to stick to them as easily.
Best Pan for Cooking Risotto
A heavy-bottomed, straight-sided skillet with a minimum of 12-inches is ideal for cooking risotto. Saucepans make for uneven cooking and soupy risotto. Using something is heavy bottomed, like an insulated stainless steel pan or even cast iron, results in even distribution of heat.
Many people also use an instant pot, but then you lose breaking up the gluten that happens when you stir. You'll have cooked rice, but it won't be as creamy.
Risotto Add-Ins
The trick is to cook, sweat, saute or brown your add-ins before cooking the rice and then add them in at the end. This prevents them from overcooking and loses distinct flavors while making sure the grains are cooked to perfection and also giving them a different flavor.
Dried fruits
Mushrooms
Infused olive oil
Make Ahead & Leftovers
Make Ahead: Making risotto is time intensive and laborious, but you can do what many restaurants do and par cook it. Cook until that last addition, then remove it from the heat and wait until you are ready to serve to add the last bit of liquid to revive it. Be mindful that waiting too long can result in it being sticky, so only do this if you plan to serve it within 2-3 hours.
Leftovers: Leftover risotto should be stored in an airtight container in the refrigerator and it good for up to 5 days, less if the protein is seafood, then I suggest no more than 2 days.
Reheating: For the best results, heat 1/4 cup of a liquid (water, broth or white wine) and add to the cold risotto. Heat in a saucepan or in the microwave and stir well. You can also toss it with a small amount of olive oil.
More Risotto Recipes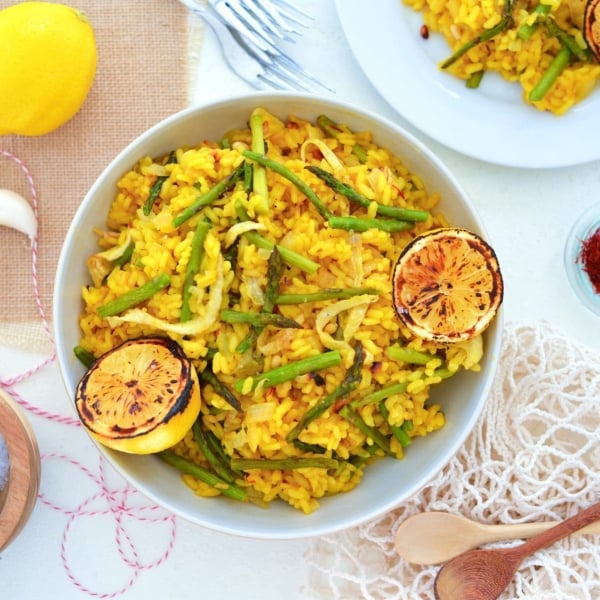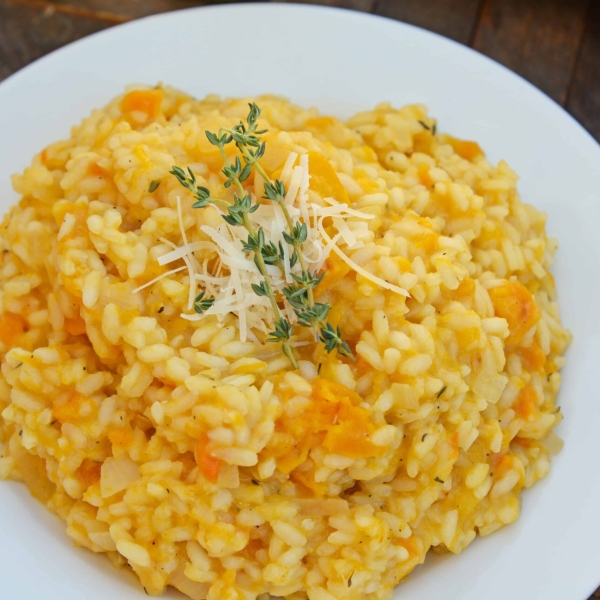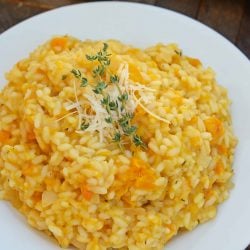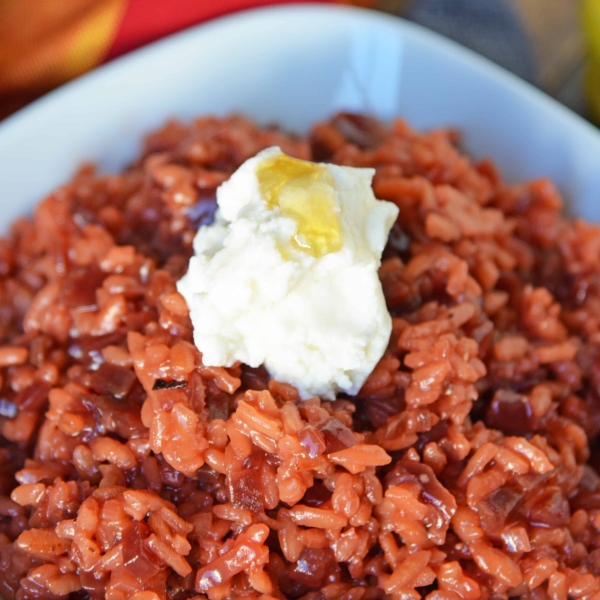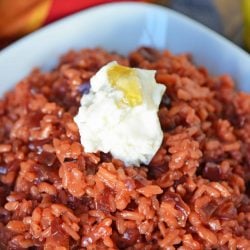 Beet Risotto
Beet Risotto is an easy risotto recipe that uses beets, shallots and garlic for a vibrant dish. Top with cool ricotta and honey.
See The Recipe!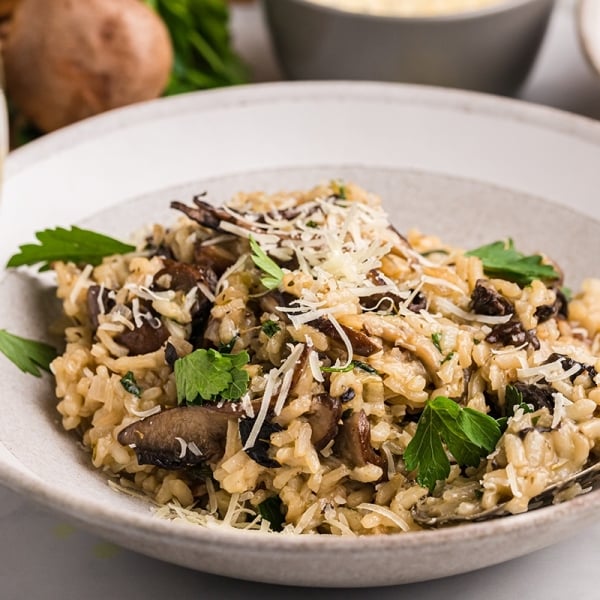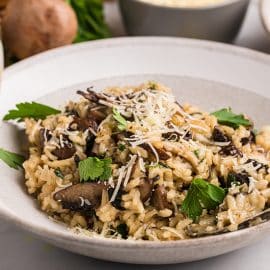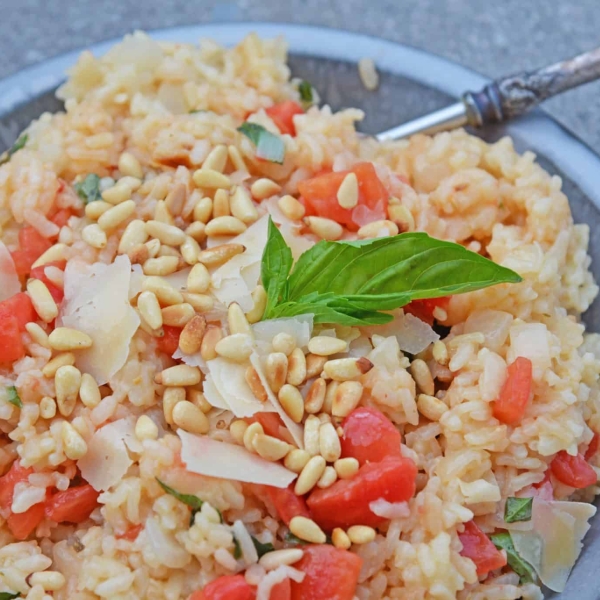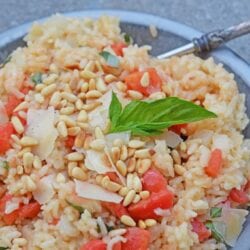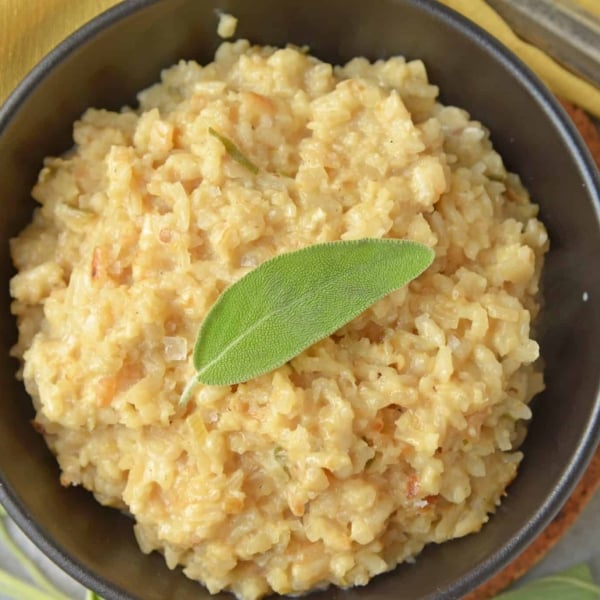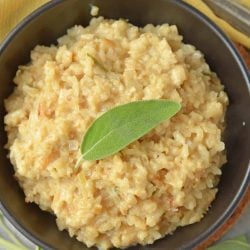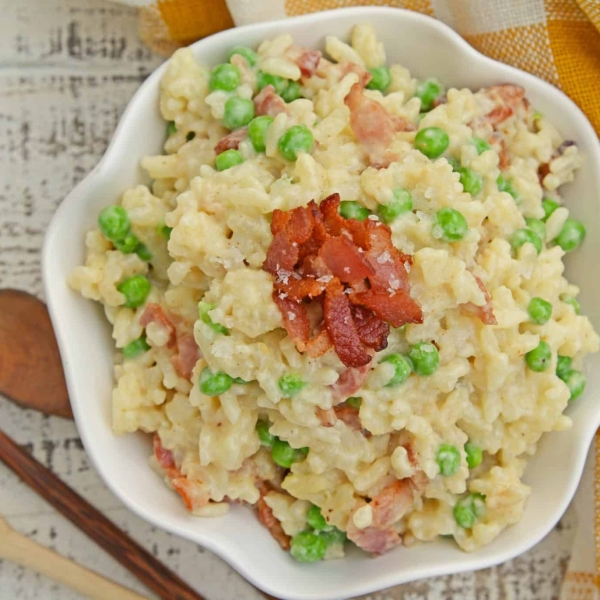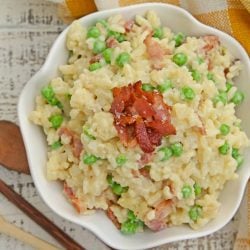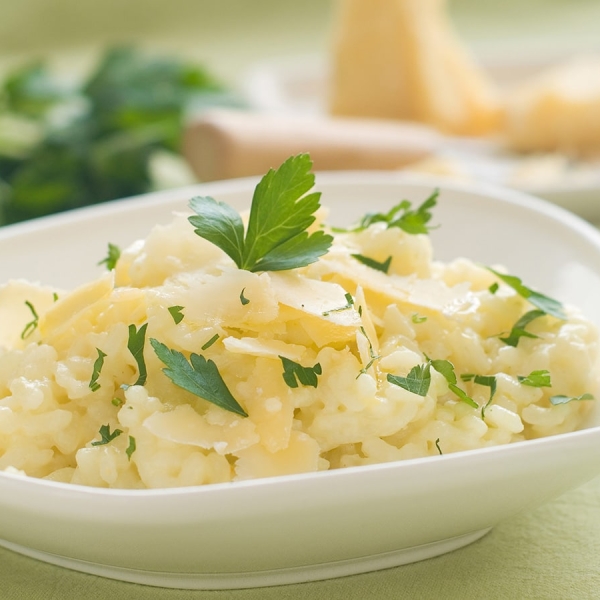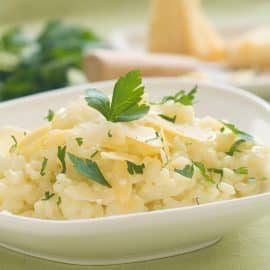 Classic Risotto Recipe
This is a base recipe for classic risotto. Try one of our add-ins or speciality recipes for more flavor!
Instructions
In a medium saucepan, heat the chicken broth to a low simmer.

In a separate, large, heavy bottom skillet, heat the olive oil and butter over medium heat.

Add the shallot and dry rice. Stir using a wooden spoon to brown evenly, approximately 3-4 minutes.

Add the white wine, stirring until fully soaked up.

Add a ladle of the chicken broth to the rice and stir every once in a while until the liquid is fully absorbed. When the rice appears almost dry, add another ladle of stock and repeat the process until all liquid is absorbed. Grains should be tender, but not crunchy and not mushy.

Stir in the parmesan cheese and season to taste with salt and pepper and serve while hot.

Top with parsley, if desired.

If you've tried this recipe, come back and let us know how it was in the comments or star ratings.
Notes
Favorite Risotto Toppings:
Lobster
Shrimp
Cooked vegetables
Parmesan cheese
Shaved truffles
Chicken
Dried fruit
Mushrooms
Infused olive oil
Nutrition
Calories:
466
kcal
,
Carbohydrates:
64
g
,
Protein:
12
g
,
Fat:
15
g
,
Saturated Fat:
7
g
,
Polyunsaturated Fat:
1
g
,
Monounsaturated Fat:
6
g
,
Trans Fat:
0.3
g
,
Cholesterol:
27
mg
,
Sodium:
175
mg
,
Potassium:
310
mg
,
Fiber:
2
g
,
Sugar:
1
g
,
Vitamin A:
311
IU
,
Vitamin C:
1
mg
,
Calcium:
93
mg
,
Iron:
4
mg