This post is sponsored by BlueStar® Cooking, all thoughts and opinions are my own.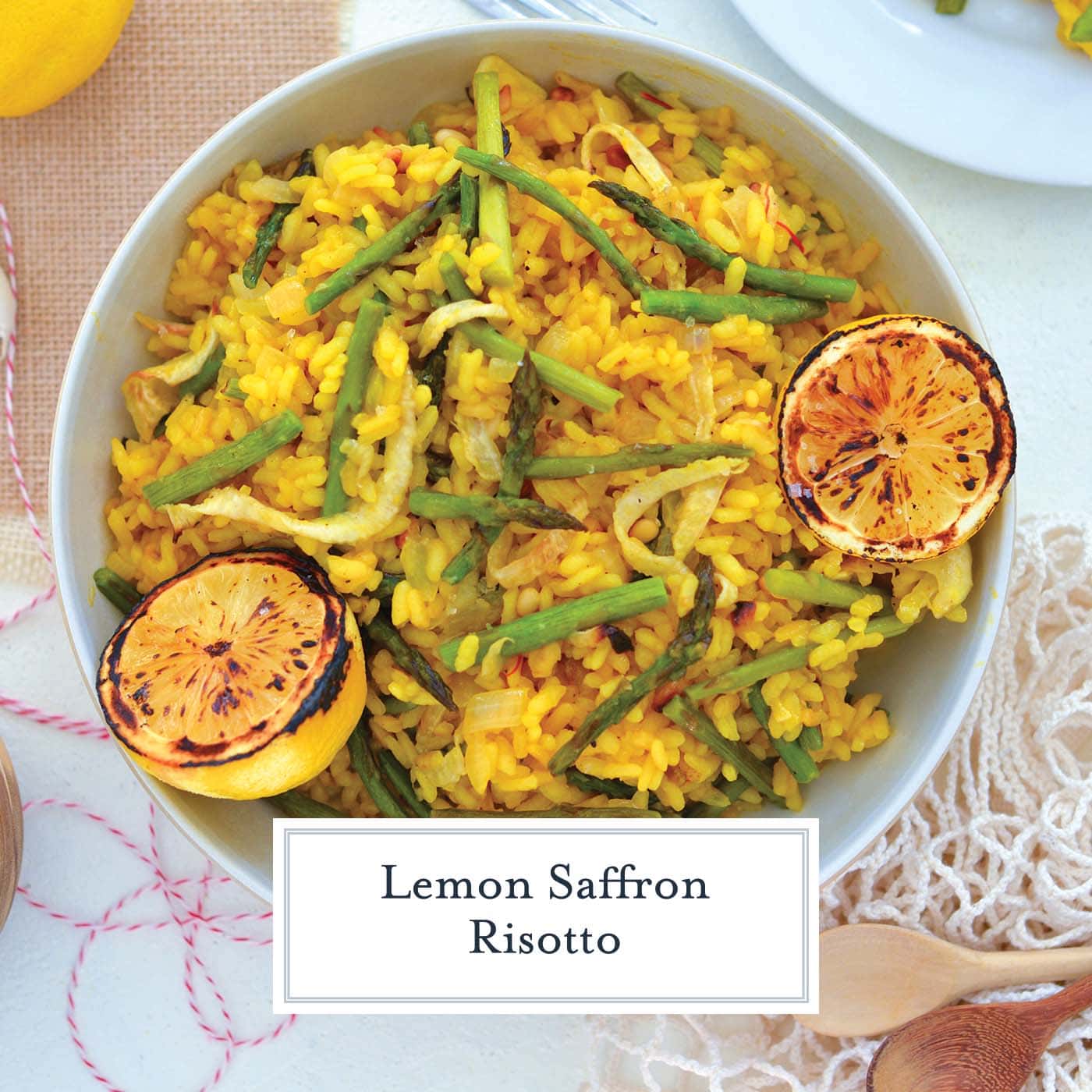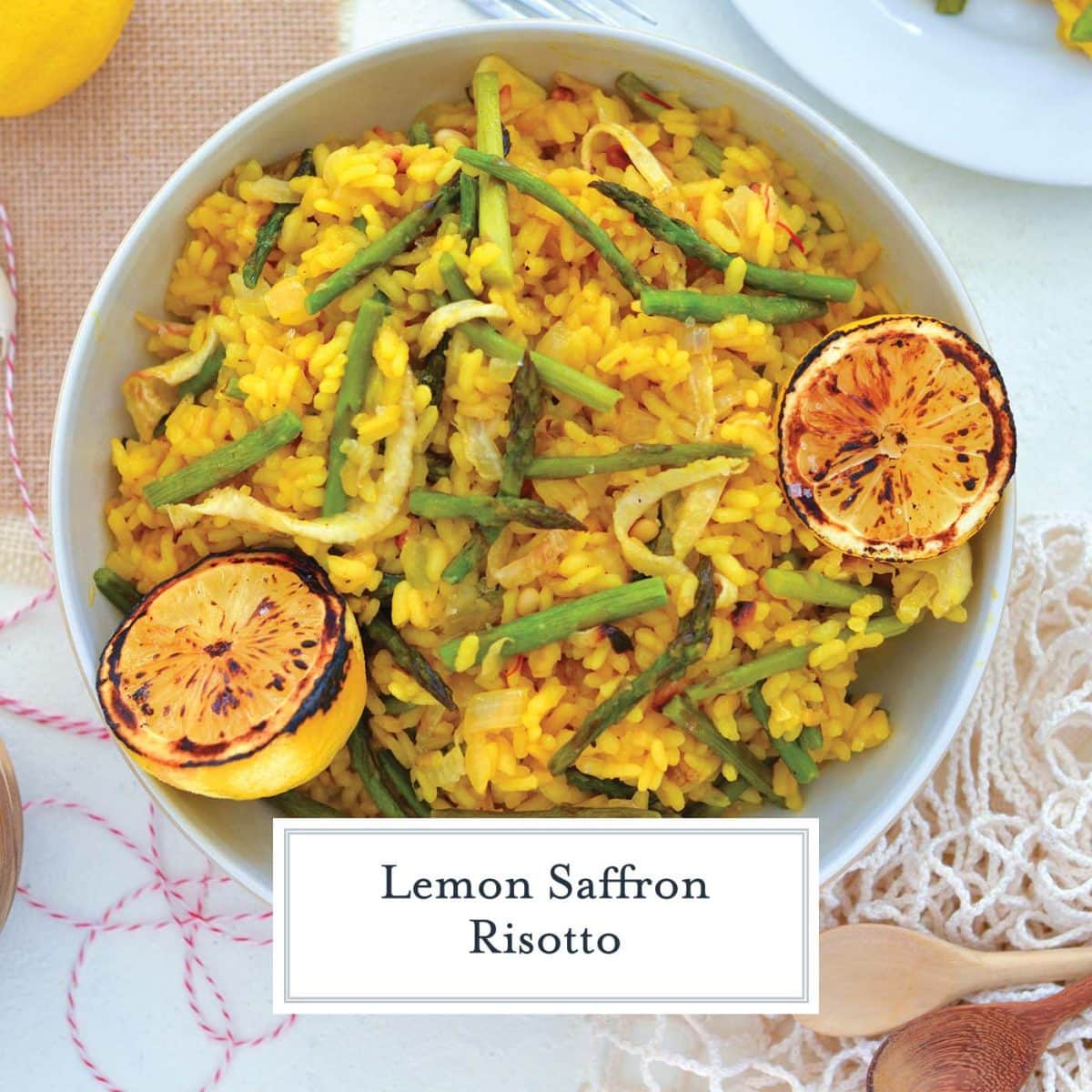 A lovely blend of saffron-laced and lemon zested arborio rice with shaved fennel, cut asparagus and fresh lemon. It is hearty enough to be served as a main course, but also perfect as a side dish.
Risotto is a dish that might be intimidating to a novice cook. And while it seems like there are a lot of moving parts, I assure you that at the core, risotto is easy to make and even simpler when you understand the technique. All of this is made easier with my new BlueStar® Range.
Vegan & Gluten-Free
I love to entertain and as a conscious host, I also try to cater to several different lifestyles and diets. Sometimes it gets tricky to please everyone, but I have a few dishes up my sleeve that appeal to the masses. One of them is Lemon Saffron Risotto, also known as risotto alla milanese.
Al dente cooked rice in a flavorful and colorful broth with a creamy texture.
What is Risotto?
Risotto Rice is technically called arborio, which is how it will be labeled in the grocery store. Arborio rice is Italian short-grain rice named after the town it hails from, Arborio, in the Po Valley. However, present-day, it is grown all over, including in the United States.
However, there is another type called carnaroli rice, but it can be challenging to find in the states. It is less resistant to overcooking and used over arborio in many regions of Italy.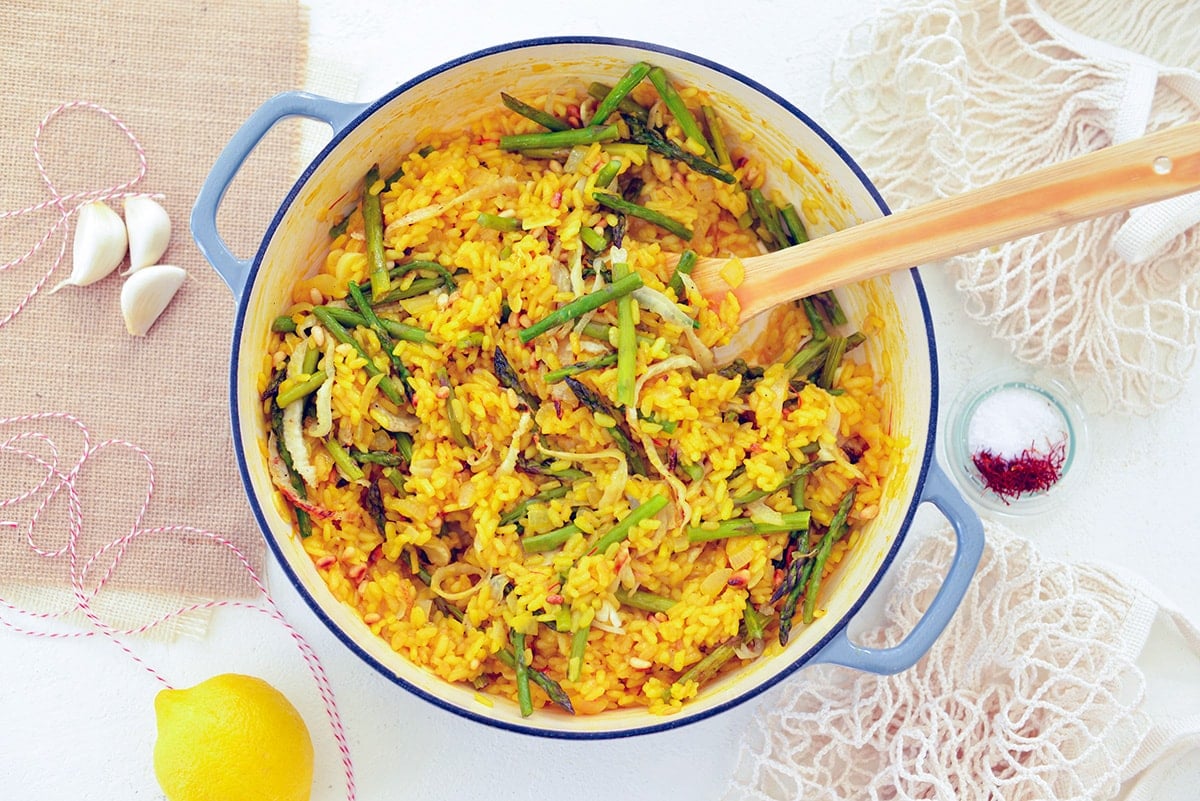 The plump, short body with a higher starch content makes it unique in its ability to soak up loads of liquid and release starches that result in the creaminess that so many people associate with risotto. In fact, while many risotto recipes do contain cream or cheese, many do not and people are often baffled by the creaminess, like this one.
Ingredients
The ingredient list for this saffron risotto recipe looks long, but is actually quite easy.
Olive oil – Any neutral oil will work.
Fennel bulb– Fennel is underused in American cuisine. While raw, it has the essence of mild licorice. I use a mandoline slicer to get ultra-thin and uniform cuts, but this can also be done using a super sharp knife and a steady hand.
Asparagus– Trim off the ends until you have a consistent green stalk. Many are tempted to cut them together as a bunch, but you will risk wasting some and getting some white in others. Do them 2-3 stalks at a time; it really doesn't take too much more time.
Coarse sea salt & fresh ground pepper – For seasoning. If using fine salt, reduce it to half the amount.
Vegetable stock– Whenever possible, opt for low-sodium broths so you can have full control of the saltiness in the dish.
Vegan butter- Vegan or regular butter can be used. Opt for unsalted or omit additional salt seasoning.
White onion- Yellow or shallots can also be used.
Garlic- I like to thinly slice garlic as opposed to pressing or mincing, it cooks for so long that it gets soft and disappears into the risotto.
Arborio rice – A short, fat grain of rice, no other rice will cook the same. Do not swap.
Saffron threads– Beautiful and fragrant, they are the star of the dish and come from the crocus flower. Soak the threads in hot water before adding to release the flavor. They will not fully dissolve leaving brilliant strands throughout the dish. It is an expensive spice, but a little goes a long way and only a spunch of saffron is needed.
White wine– Either sauvignon blanc or Pino Grigio are safe bets for white cooking wines. If you choose to not cook with alcohol, swap out for additional vegetable broth. The alcohol content will cook off, so need to worry about guests who do not imbibe.
Fresh lemon zest & juice– Zest provides the purest lemon flavor without any tart citrus. I like adding fresh lemon juice right before serving to brighten overall.
Pine nuts- Sometimes marketed as pignolias, these tree nuts are very popular in the Mediterranean. Toasting them enhances the natural flavor and releases oils that complement the rest of the dish.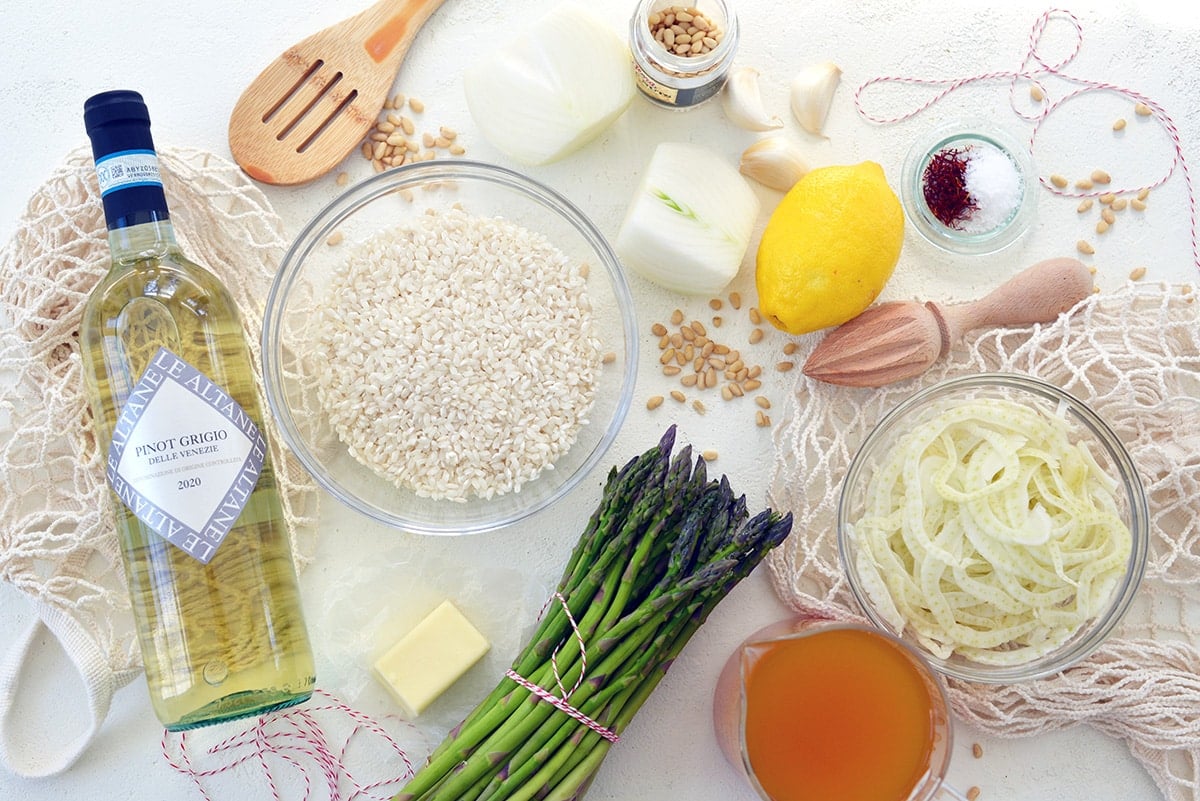 Other additions can include roasted red peppers or red pepper strips, sun dried tomatoes, spinach and mushrooms. You can also top it with parmigiano reggiano cheese or parmesan cheese, if desired.
How to Make Risotto
Here we have come to the methodology behind making creamy risotto. If you don't read anything else, read this.
Risotto is different from other preparations of rice. For others the goal is to prevent starch from releasing, resulting in plump little grains. For risotto, our goal is to do the opposite, we want to release as much starch as possible. This is what makes it creamy.
To do this, the liquid needs to be added in stages and the rice needs to be agitated (stirred). Adding all the liquid at once will overwhelm the grains, but adding it slowly and allowing it to fully absorb between additions results in creamy perfection. Check by pulling your spoon down through the center of the skillet. If the rice flows back to the center, it is not ready for the next addition, but if the line holds, it is ready for more liquid.
Perhaps more important than adding the liquid in stages is even heating. I've had a few risotto catastrophes because of uneven burners- gas and electric. My BlueStar® Range is revered for its even flame that is distributed in a unique star shape instead of a circle. Make sure you keep it on low heat.
Another trick is to heat the broth. If you add cold, or even room temperature broth, it will also reduce the temperature of the whole pan each time it is incorporated, taking even more time to cook and making steam. By adding already heated broth, it reduces liquid loss from steam and doesn't have as great of an impact on the overall temperature and cooking time.
For many risottos, this one included, the add-ins are incorporated last. Since the rice cooks for so long and is being stirred constantly, many of the items would start to deteriorate during the process. This also gives you the opportunity to season elements differently resulting in building layers of flavors instead of something that is single note.
The detailed instructions are below, we didn't want to be redundant. But here are the step-by-step images.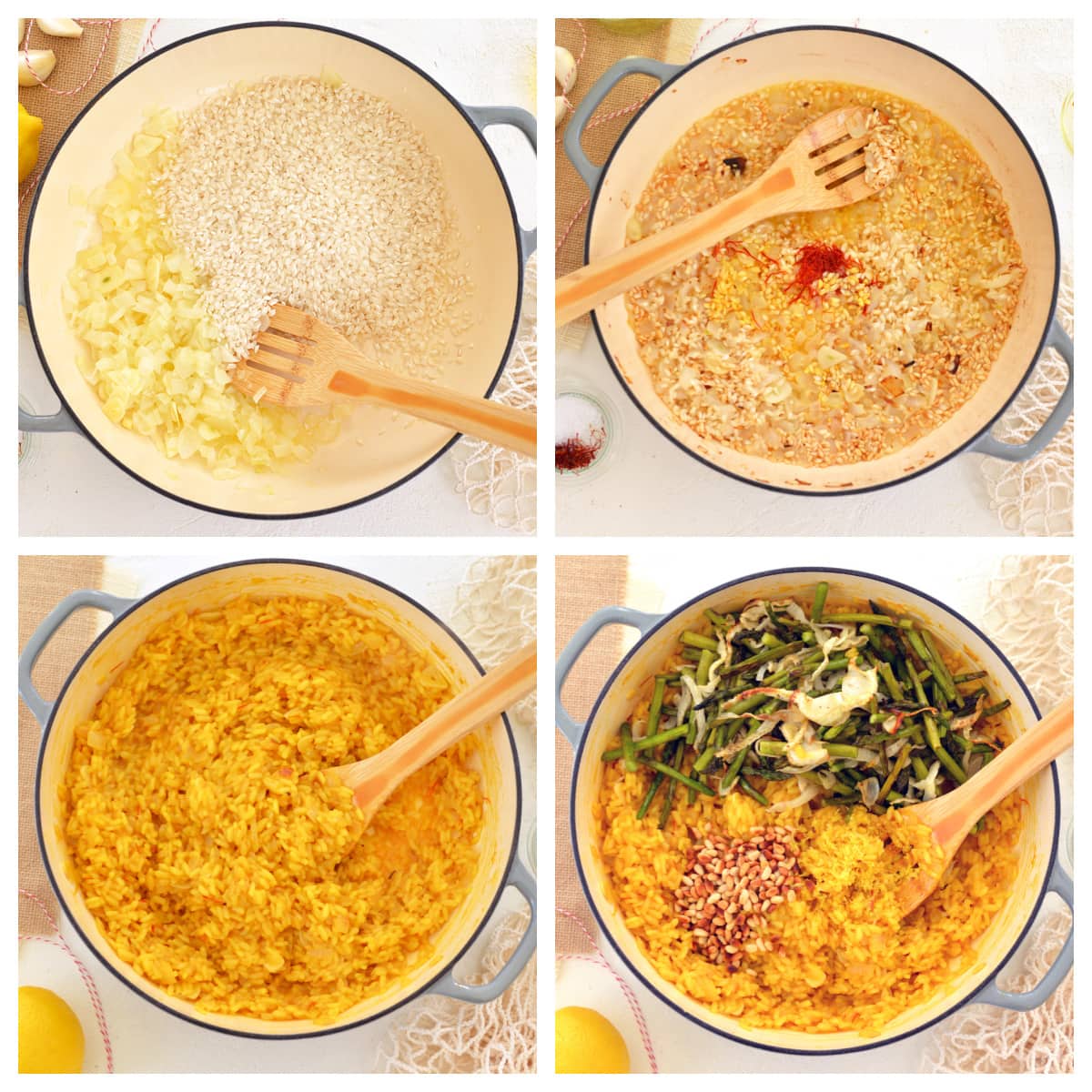 Variations
Skip the asparagus and fennel, the rice with just saffron and lemon is still delightful.
Add peas! I love the pop of color and texture that peas provide. Add ¾ cup frozen peas five minutes before serving. The residual heat is enough to thaw them.
Crumbled bacon, meat-free or regular, tossed into the mix adds another level of sophistication and texture.
While we discussed that cheese or cream is not necessary to achieve a creamy risotto, feel free to add ¼-1/2 cup of grated vegan or regular parmesan cheese.
If anyone has a tree nut allergy, of course, omit the pine nuts.
Use the feathery leaves from fennel as a garnish or stir 2 tablespoons of leaves into the risotto.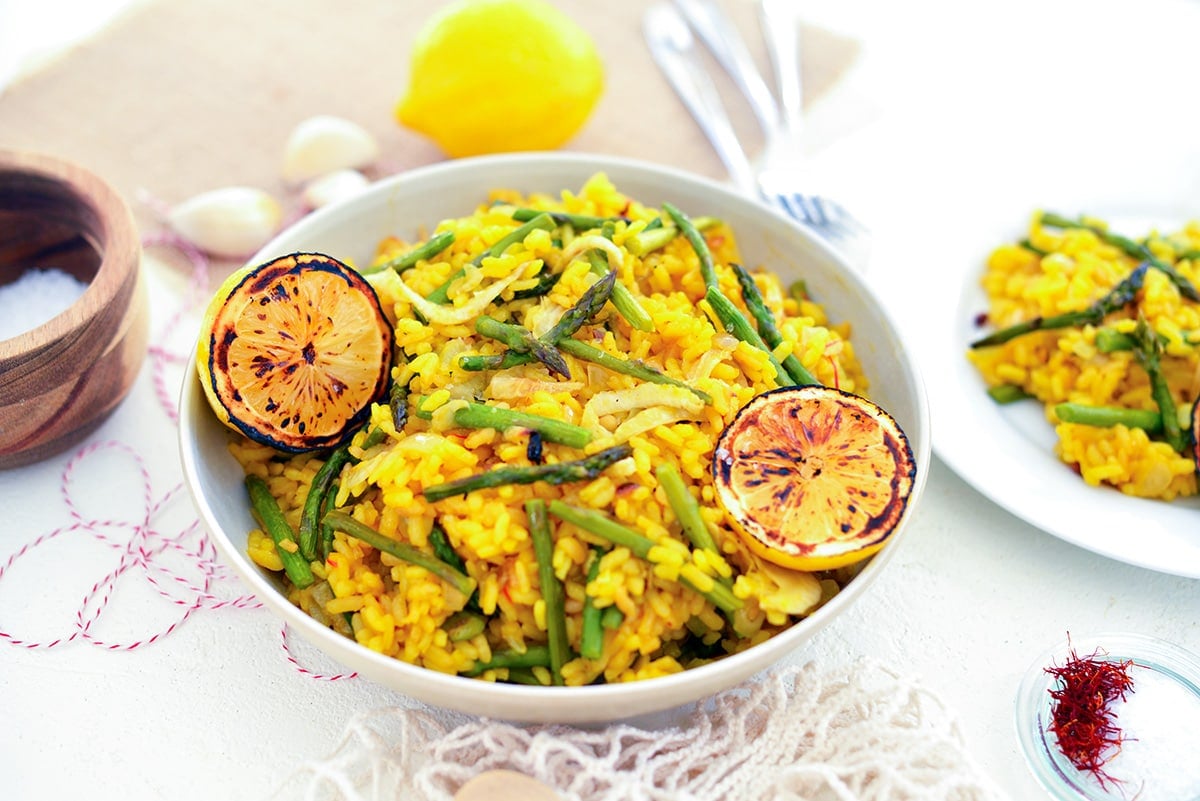 Charred Lemons
Every day I am finding new uses for my BlueStar Range. Today I charred lemons without having to turn on my grill! Heating lemons makes it easier to get the juice out, looks pretty and caramelizes natural sugars giving you a sweet and tart citrus flavor.
Simply cut the lemon in half and then balance them on the cast iron grates over the star burner. Using metal-tipped tongs, rotate 2-3 times until equally charred.
Try these other Risotto Recipes: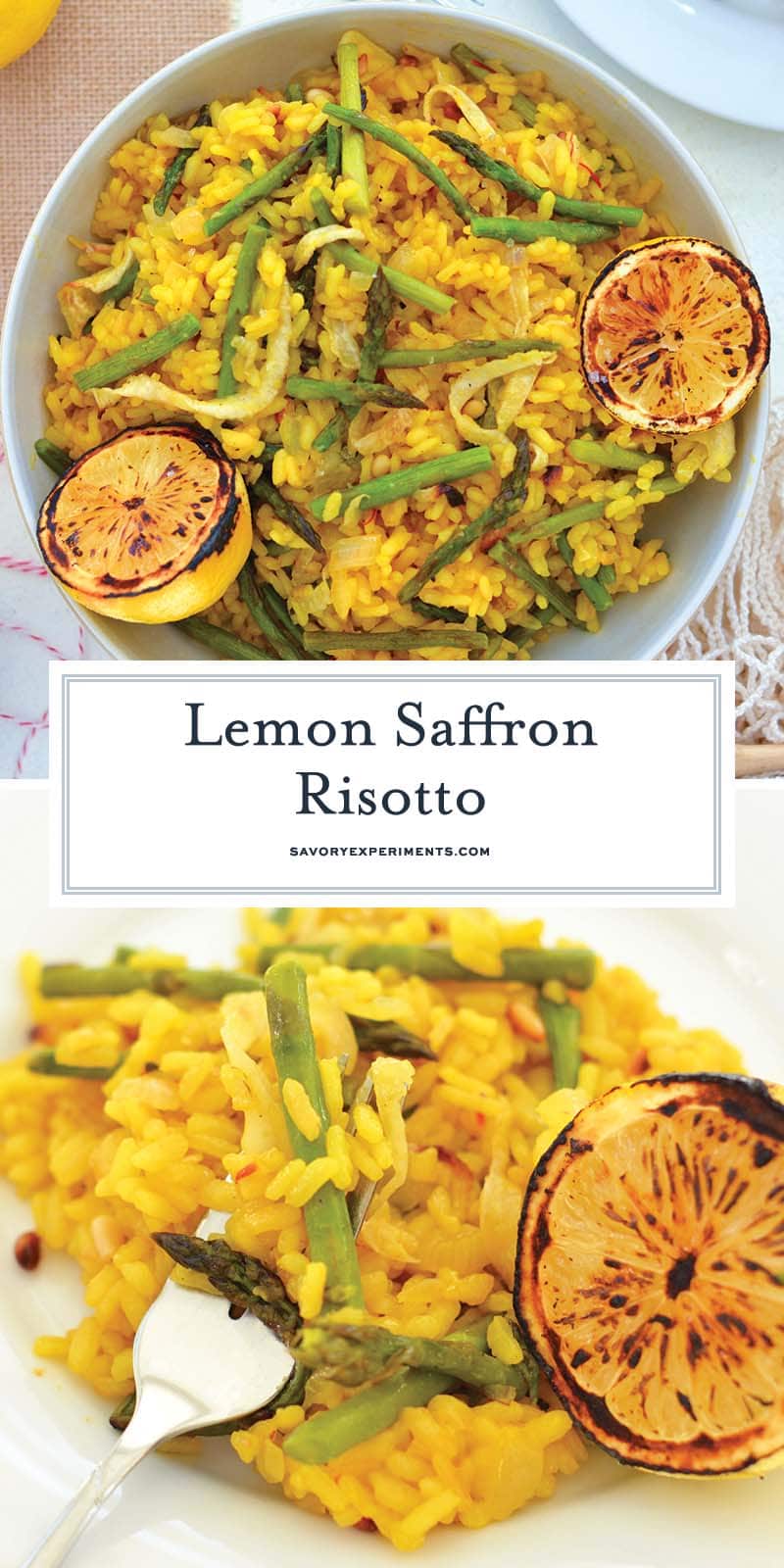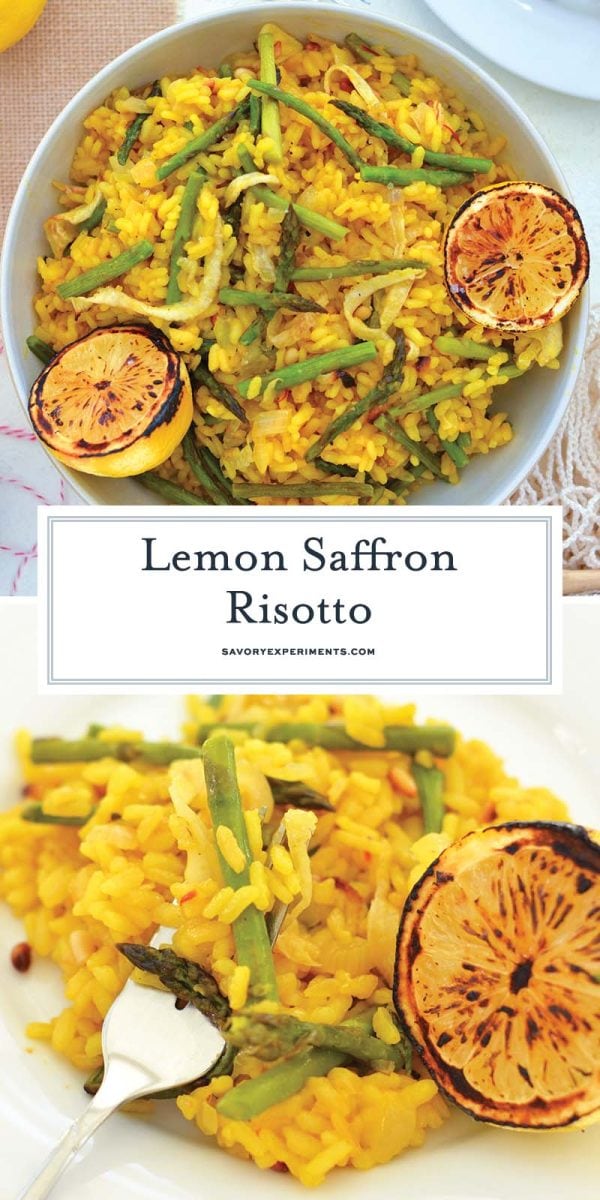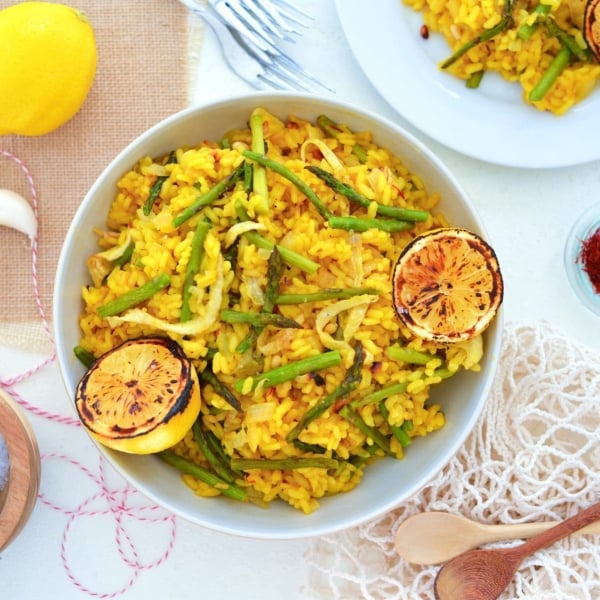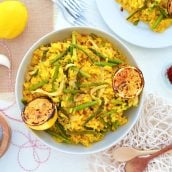 Lemon Saffron Risotto
Lemon, saffron, fennel and asparagus flavor this risotto recipe sometimes called Milanese, but sans the parmesan making it vegan.
Ingredients
Roasted Vegetables:
2

teaspoons

extra-virgin olive oil

1

fennel bulb

, thinly sliced

1

bunch asparagus

, cut into 2-inch pieces

Coarse sea salt & fresh ground pepper
Instructions
Preheat oven to 400°F.

In a medium bowl, toss together the olive oil, fennel and asparagus. After fully coated, season liberally with coarse sea salt and ground black pepper.

Remove mixture from the bowl to a rimmed baking sheet, leaving excess oil in the mixing bowl.

Roast for 12-14 minutes or until vegetables are soft and even a little crispy. Remove and set aside.

In a small saucepan, heat the vegetable stock over low heat, keep on low heat.

In a large skillet, melt the butter and add the onion over medium-low heat. Sauté until soft and fragrant, approximately 4 minutes.

Add the garlic, sauté another 2 minutes before adding the risotto rice. Toast rice grains to coat in butter and toast until lightly brown, approximately 3-4 minutes.

Add the soaked saffron threads and white wine, stirring well. Continue to cook on medium-low heat.

When liquid is gone and rice is dry, add 1 cup of the vegetable broth. Stir continuously until all is absorbed. Continue to add broth in 1 cup increments until gone and risotto is creamy and plump.

Stir in the lemon zest, salt, roasted vegetables, and toasted pine nuts. Right before serving, squeeze fresh lemon juice over risotto.

If you've tried this recipe, come back and let us know how it was in the comments or ratings.
Nutrition
Calories:
334
kcal
,
Carbohydrates:
49
g
,
Protein:
5
g
,
Fat:
11
g
,
Saturated Fat:
1
g
,
Polyunsaturated Fat:
2
g
,
Monounsaturated Fat:
7
g
,
Sodium:
1038
mg
,
Potassium:
296
mg
,
Fiber:
3
g
,
Sugar:
3
g
,
Vitamin A:
408
IU
,
Vitamin C:
9
mg
,
Calcium:
34
mg
,
Iron:
3
mg