Light and fluffy, these hearty cakes are perfect for anything from a nibble to the base of a main meal. They are sometimes simply called griddle cakes, but this can also refer to pancakes so I don't want to confuse anyone.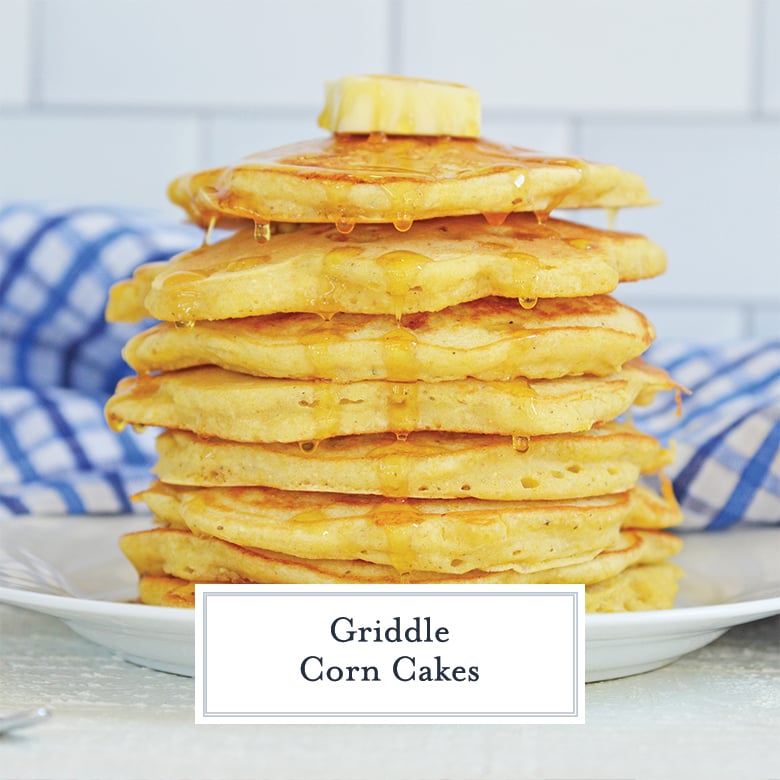 What are Corn Cakes?
Simpy put, they are a Southern traditional and fall someplace between corn bread and pancakes. Kind of like a cornbread pancake, acutally.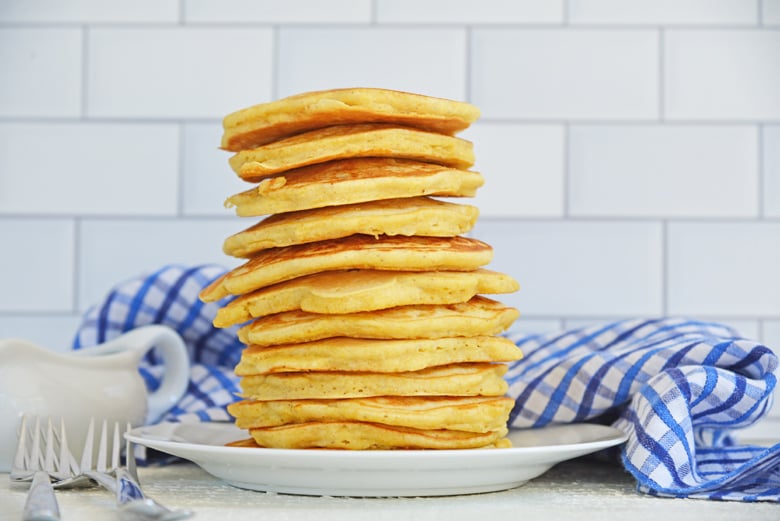 They are fried on a griddle so they get the crunchy exterior and airy middle of hush puppies, only flat.
Ingredients
The ingredients are pantry essentials and fridge basics, so you should be able to whip up a batch whenever you'd like!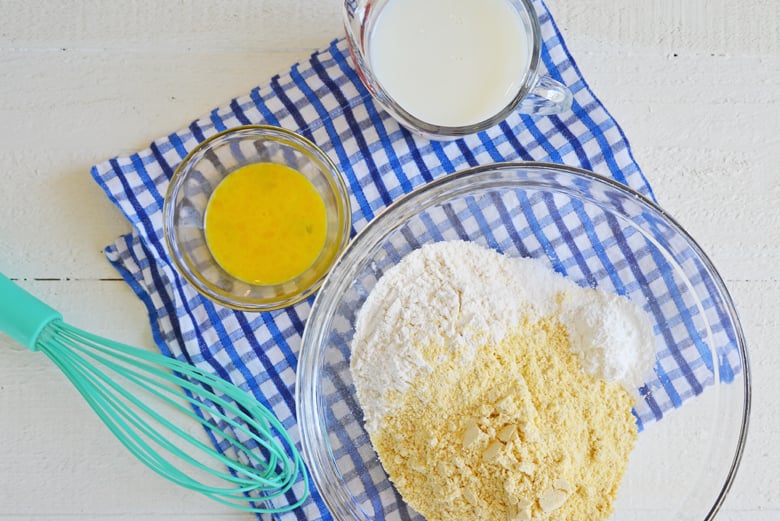 Yellow Cornmeal– I like using yellow, but you can use white too. This provides structure and texture. They are a corn cake, afterall.
Flour– Helps to provide structure and gluten to hold it all together.
Baking Powder– a leavening agent to make things light and fluffy (this is what makes these stand tall instead of flat like a crepe).
Salt– Salt helps brighten all of the other flavors.
Egg- Binding agent- for best results, beat the egg before adding to batter so you don't overmix.
Milk– Keeps things moist. Use 2% or whole milk for best results.
Whole corn– Adds texture and depth. My daughter says she likes the "polka dot pancakes".
Vegetable or Canola Oil– You want an oil with a high smoke point. Butter will burn.
Corn
Corn is the essential element in corn cakes. Some only use cornmeal and that is fine. Corn meal is dried corn that has been ground down to a fine grain. It can be somewhat large grained and gritty or super fine. This depends on the brand you purchase.
I used a fine cornmeal for this recipe. It gives a little texture, but isn't gritty.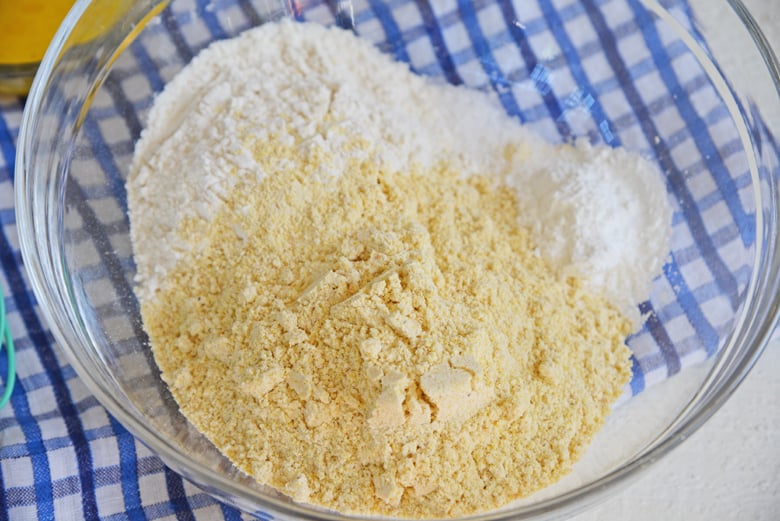 The next piece is whole corn kernels. They add a little pop and juiciness to each bite, much like adding corn to cornbread.
Fresh, canned or frozen kernels are all acceptable. If you using frozen make sure they are thawed. Canned or frozen need to be well drained and fairly dry so they don't add more moisture to the batter.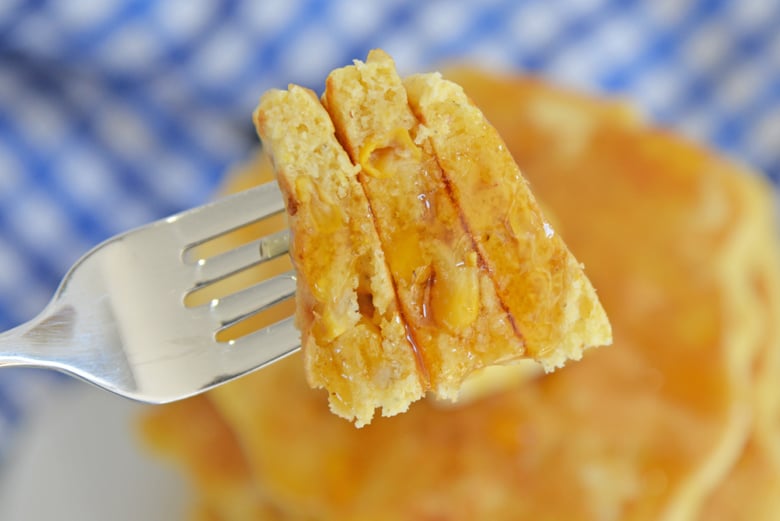 Blackstone Griddle – Flat Top Grill
The first way to make corn cakes (and the most authentic) is using a griddle. The most popular one these days, and yes I am using the name, is the Blackstone griddle. It is an outdoor flat top grill.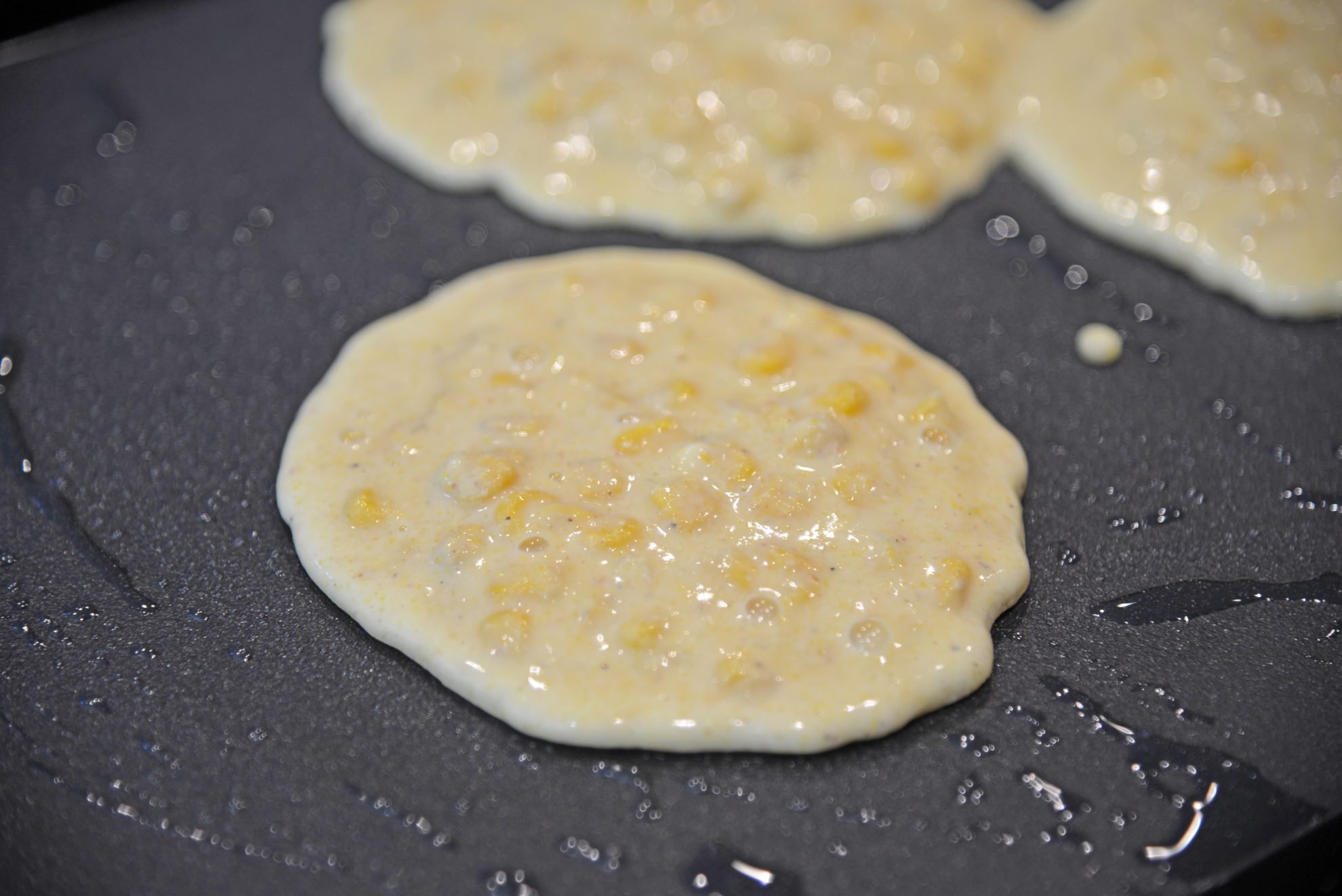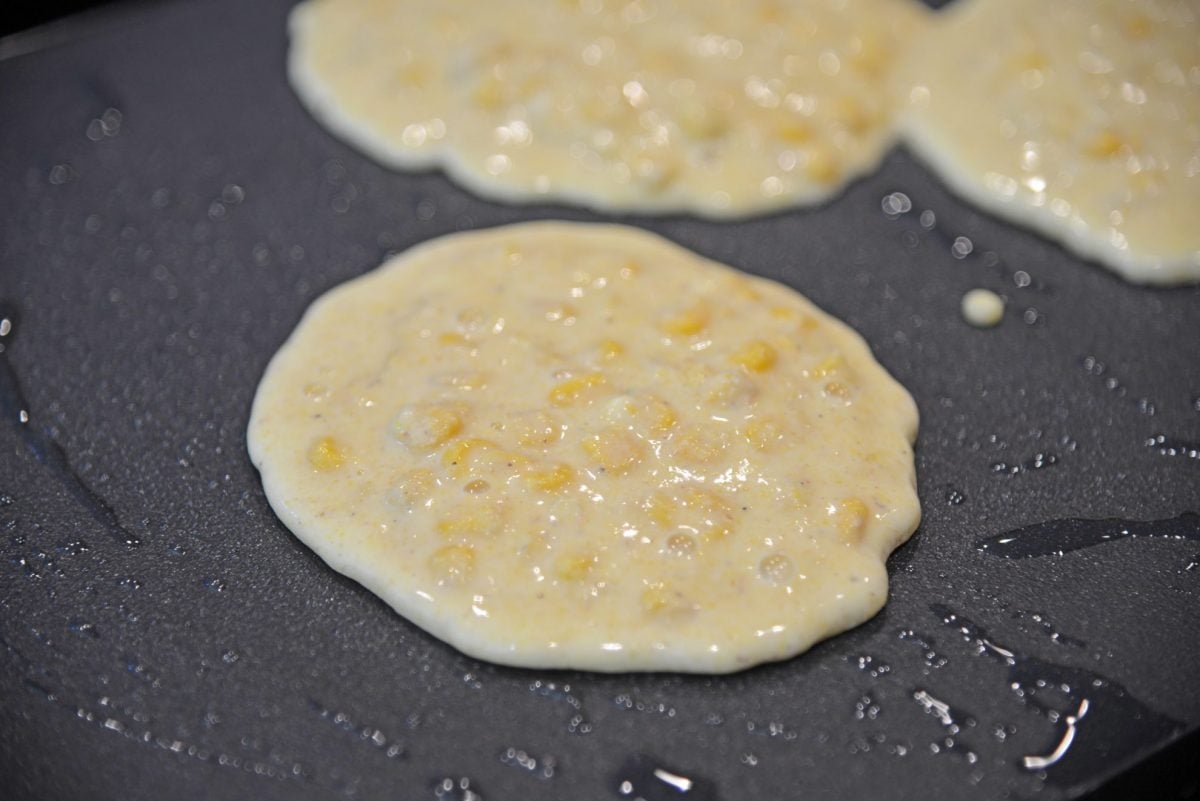 They seem to be all the rage this summer with everyone and their brother posting a pic of breakfast, lunch and dinner on the deck with a blackstone in the background. They are amazing for smash burgers and at home hibachi… just sayin'.
While they are trendy right now, smaller, foldable griddles have been used for a long time for camping and other portable cooking experiences.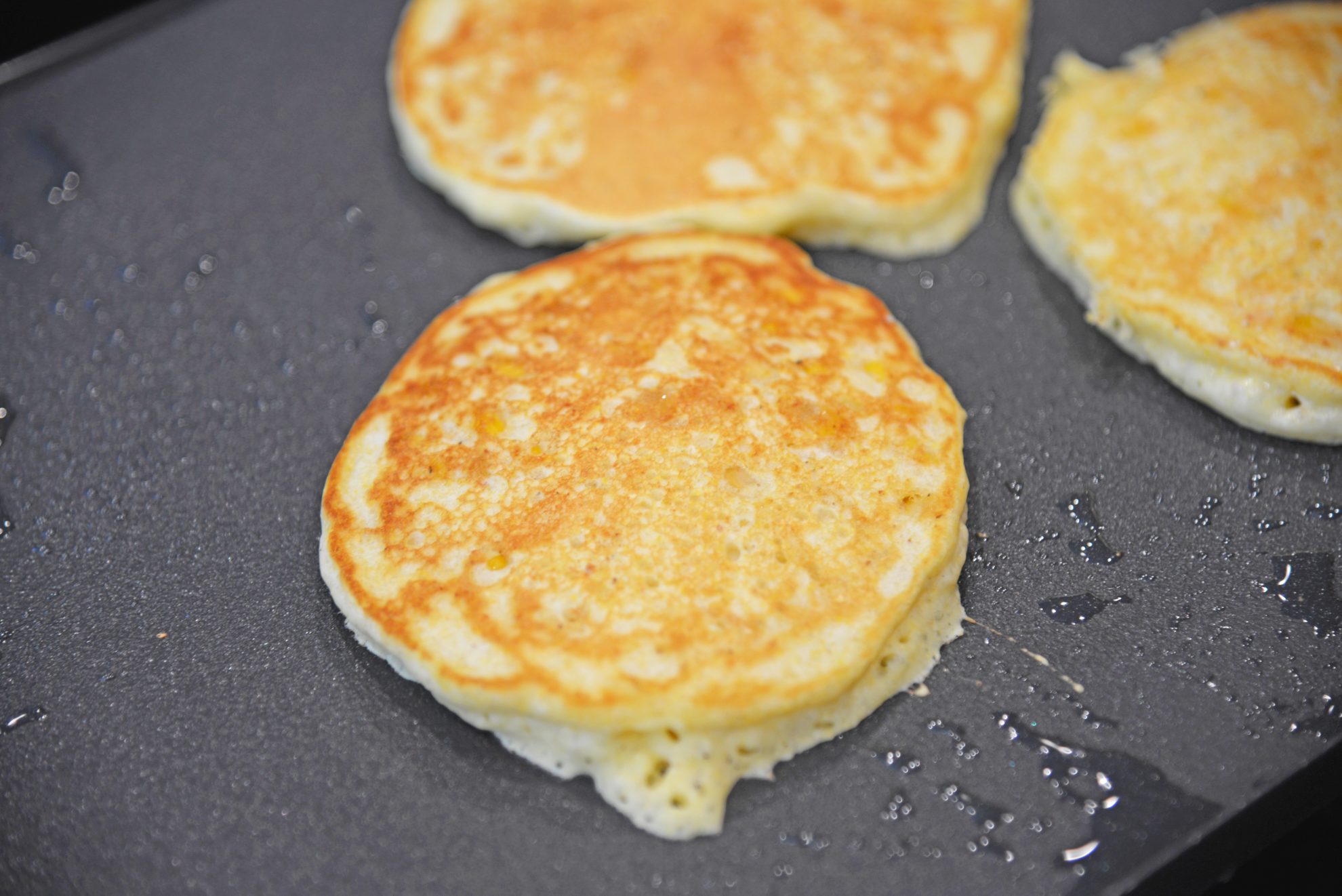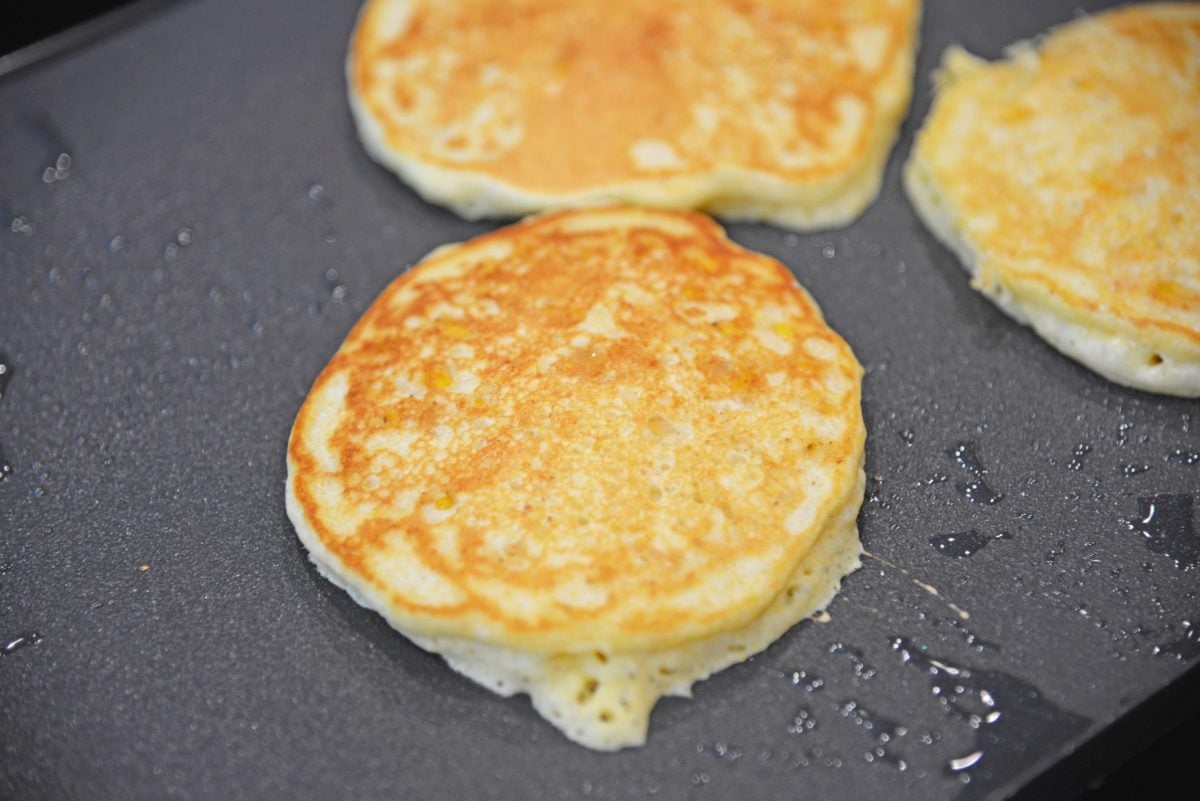 You can also use:
Electric Griddle– like the one your mom lugged out to make pancakes on Sunday morning.
Gas Griddle– usually an option on high end ranges and stoves and heated by propane or natural gas.
Cast Iron Pan
The next way, and just as respectable, is a cast iron pan. Well seasoned, this will have plenty of heat as well as flavor for your corn cakes.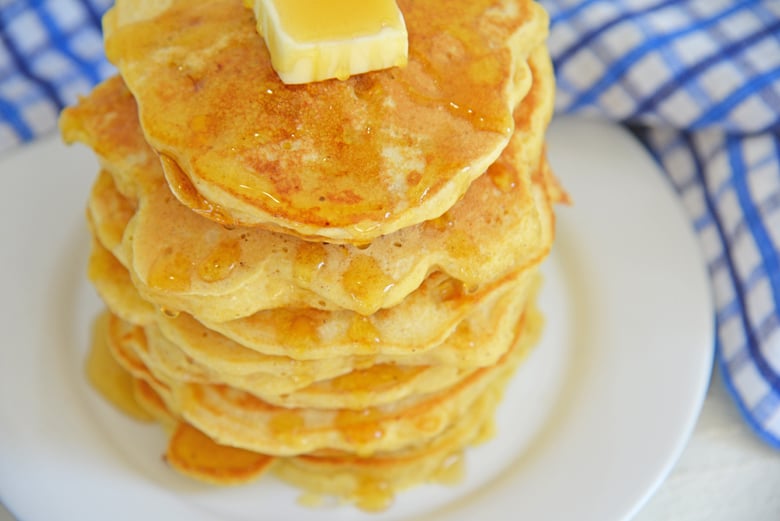 The biggest downfall here will be that you can't cook as many at one time. You'll have to work in batches and then place the cooked ones in the oven to stay warm while you finish up.
Mix-Ins & Toppings
I add corn to my batter, but you can add other elements too. Try these variations.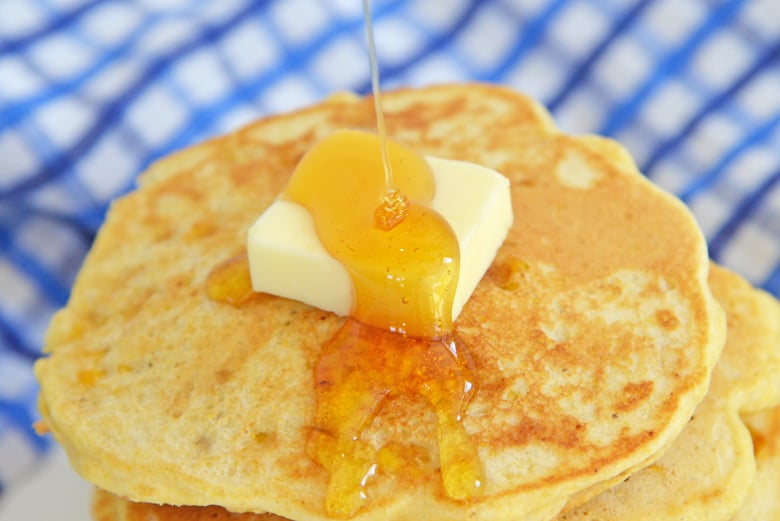 1 tablespoon minced jalapeno
1 tablespoon minced bell pepper
1 tablespoon chopped okra
1/2 cup wilted (cooked) kale, twisted dry
Drizzle with honey
Top with honey butter
Top with sour cream or plain yogurt
Shredded cheese
Crumbled bacon or bulk sausage
Drizzle with maple syrup
Storage & Freezing
Corn cakes are best fresh off the griddle, but if you need to make them ahead of time, the best way to reheat is throwing them back on the griddle or in cast iron.
You can also warm them in the microwave by wrapping them individually in a damp paper towel and heating on 50% power for 20 seconds. This should prevent them from getting rubbery.
Place in an airtight plastic bag for up to 3 months in the freezer.