Traditional comfort foods are sometimes too hot and heavy for hot summer months, but I still crave dishes that make me feel warm and fuzzy. Everyone does a classic red gazpacho, but I recently tried a garlicky green gazpacho that I fell in love with.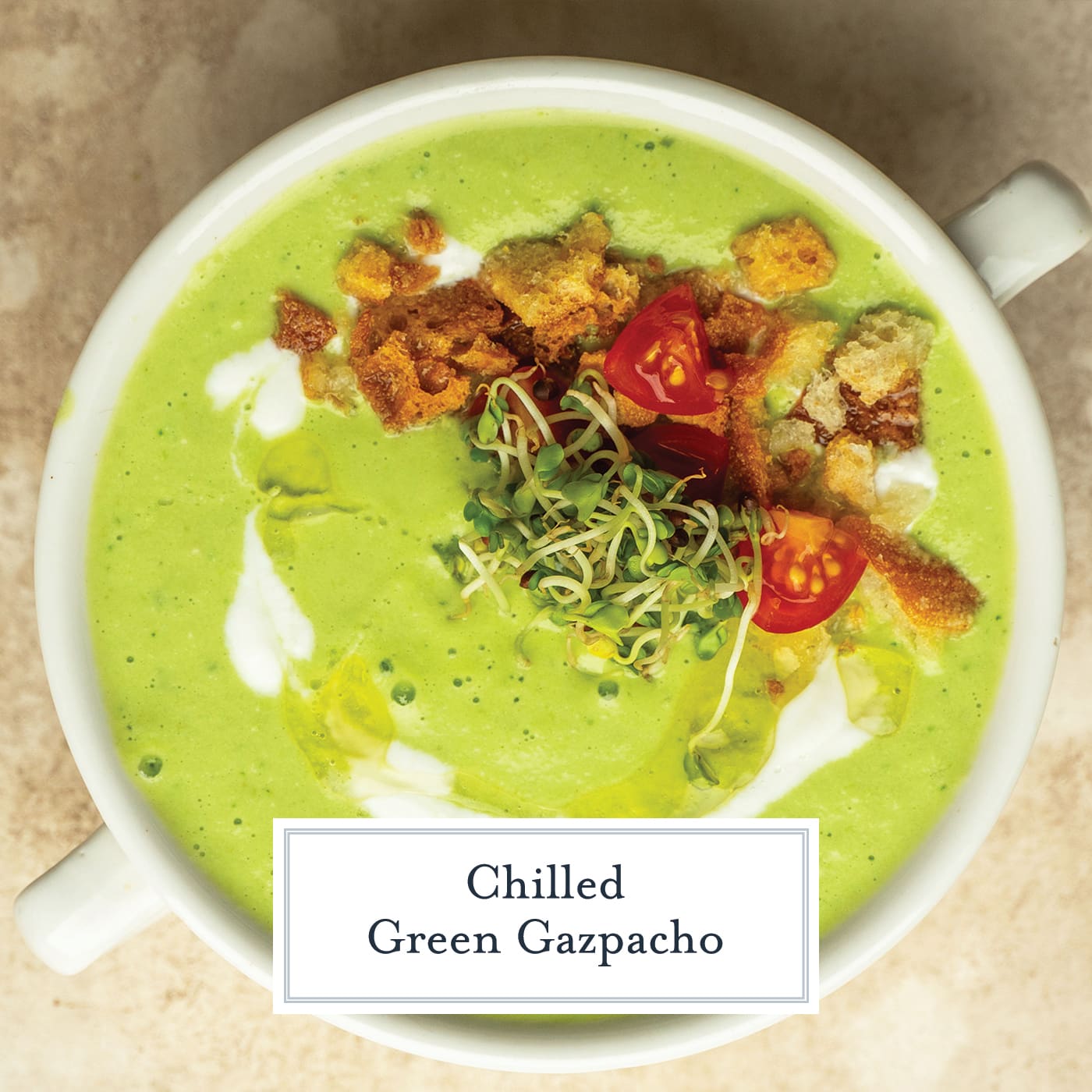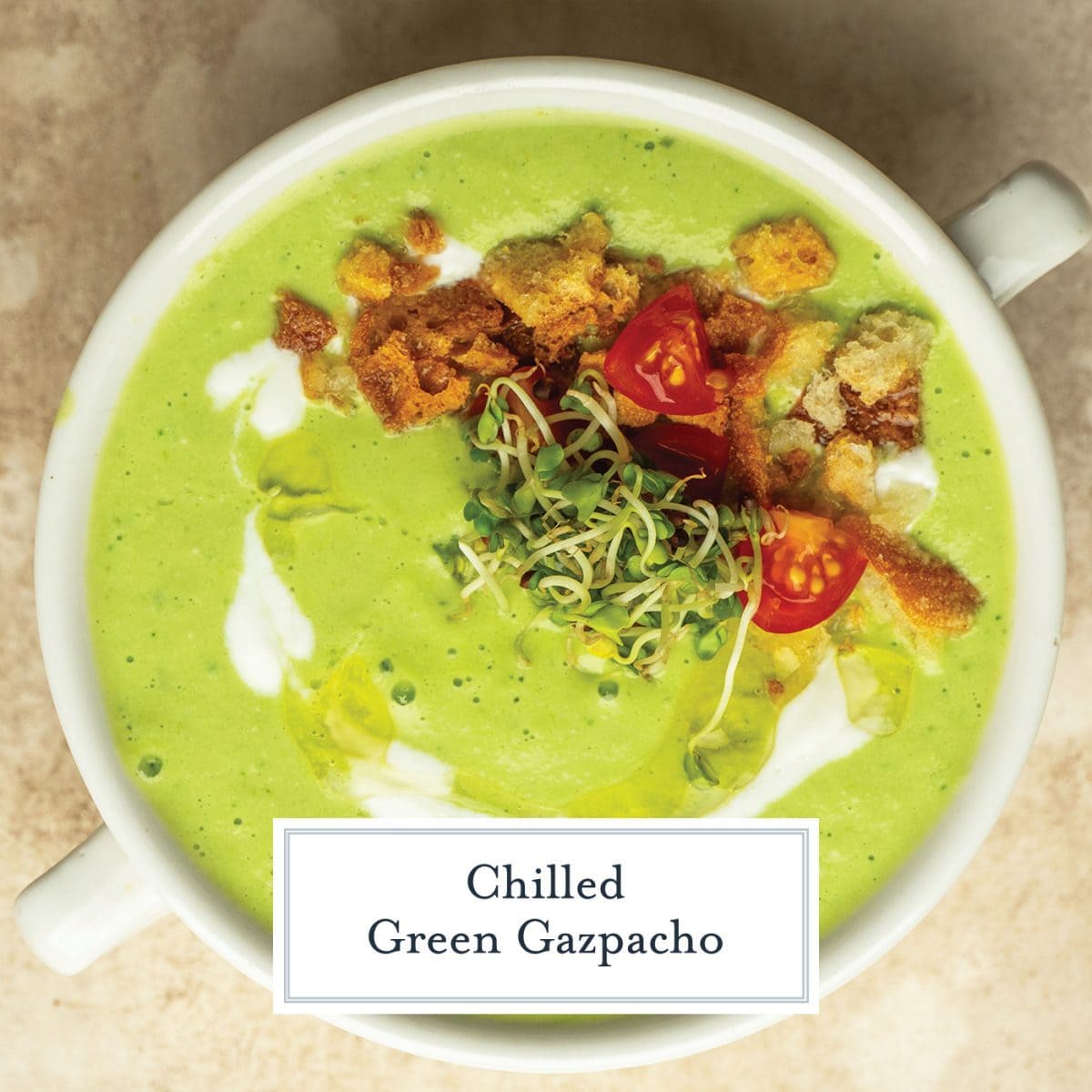 What is Gazpacho?
Most people would agree that a hot bowl of soup does not sound good on a hot summer day. However, that does not mean you have to go without it. Chilled soups are absolutely perfect on those days when the temperatures are high.
Gazpacho, sometimes called Gaspacho, is a cold soup made blended vegetables, usually raw, and a creamy base. It is widely eaten on the Iberian peninsula, mainly Spain and Portugal.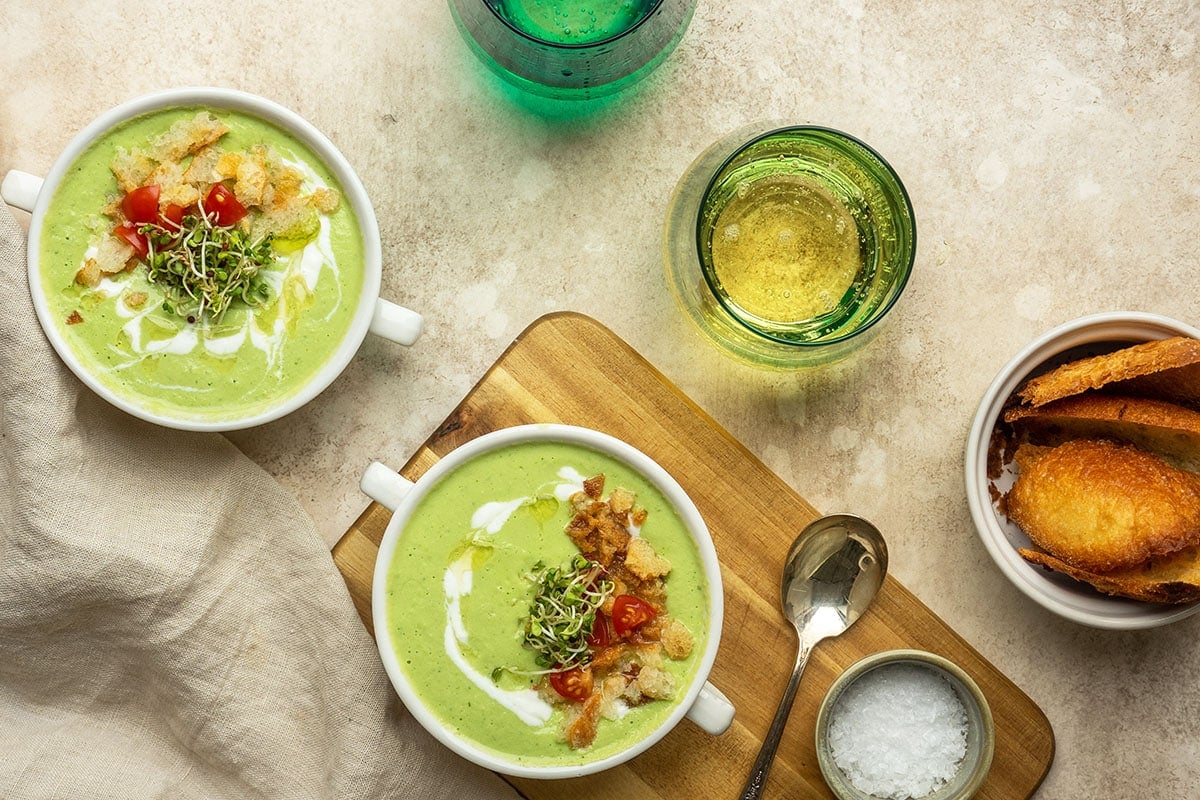 Although this isn't the first time it has grazed history books, this soup is written about all the way back to Greek and Roman times.
Ingredients
In addition to the other aspects that make this an excellent choice to get your veggies in, the ingredient list may look lengthy, but is super flexible. Measurements can be increased or decreased based on personal preference.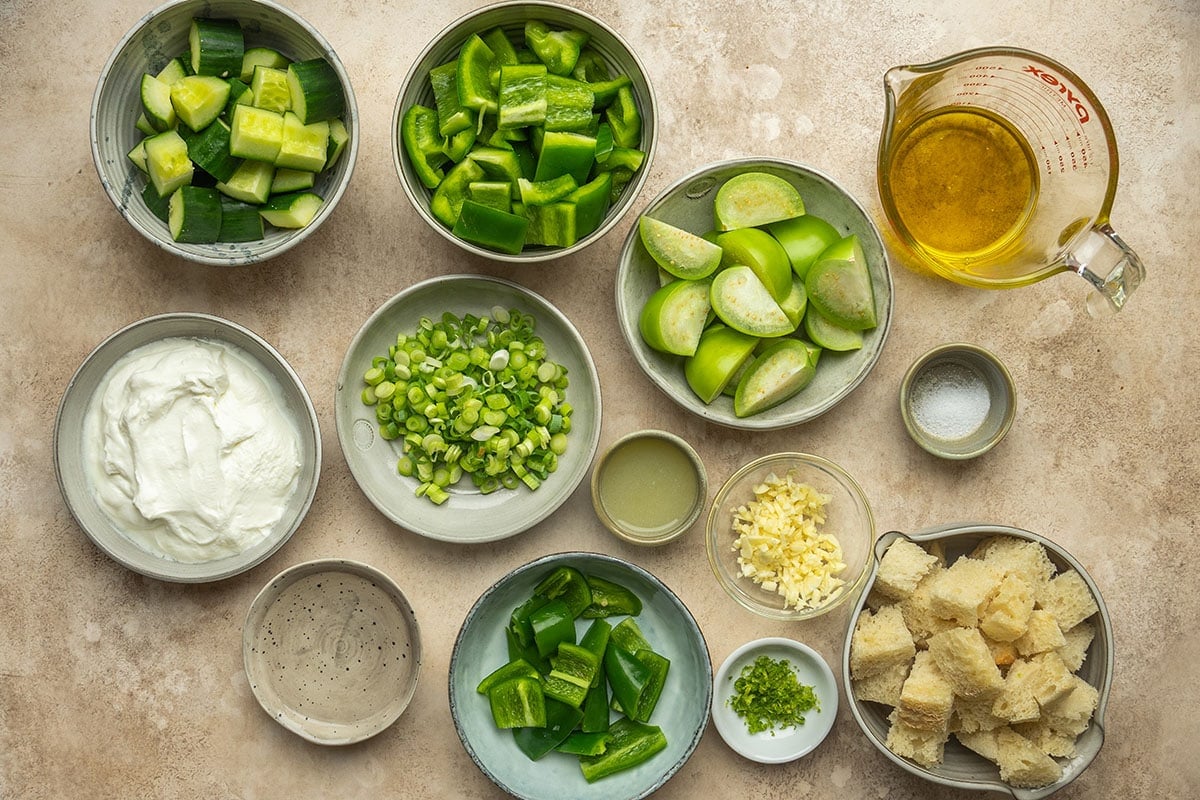 White Wine Vinegar- Vinegar adds the acidity to the base and is also known for cleansing properties. Use any flavor of clear or light vinegar you prefer, I find that a wine vinegar is a little sweet.
Lime- You'll be using both lime juice and lime zest. Juice gives you acidity and a slightly sour taste, while zest provides a robust lime kick.
Coarse Kosher Salt- the least salty of salts, if you are using a fine salt, cut the volume in half.
Olive Oil- Again, best for the base is a neutral oil. It seems like a lot, but you'll need it to even out the soup.
Bread- This is always the shocker- many soups are thickened using bread! In order to keep the veggie flavors we are going for, opt for a fairly bland bread like white, Italian or French. Whole wheat can also be used.
Cucumber- We used a hot house because the skin is thinner and easier to blend. English can also be used, but if it has thick skin, you might want to peel it.
Green Bell Pepper- I'd tell you that you can use any color, but you can't. To keep it green, you'll need a green pepper.
Tomatillos- Not really a tomato, these look like green tomatoes, but come in husks. They are mainly grown in Mexican. See below for tips on picking them.
Scallions- I love the flavor of onion, but I want it mild in a soup, so scallions or leeks are a good choice.
Jalapenos- Three might sounds like a lot, but I assure you that with all of the other cooling elements, acidity and citrus, it is just enough to give it flavor without being hot.
Garlic- The recipe calls for 3 cloves, but if we are being honest, I generally use 3 super large cloves or 6-7 small ones. I really like garlic.
How to Make
Whisk together all of the wet ingredients.
Chop all of the vegetables and bread.
Evenly toss together the chopped vegetables, bread and whisked wet ingredients.
You'll need to work in batches, but transfer mixture to a blender or food processor. Use a good quality small appliance, failure to do so will give you lumpy soup.
After all is blended, stir well together. It should be evenly divided, but this makes sure.
Chill until ready to serve, but if it is more than a few hours, it will need to be stirred well and seasoned with salt and citrus.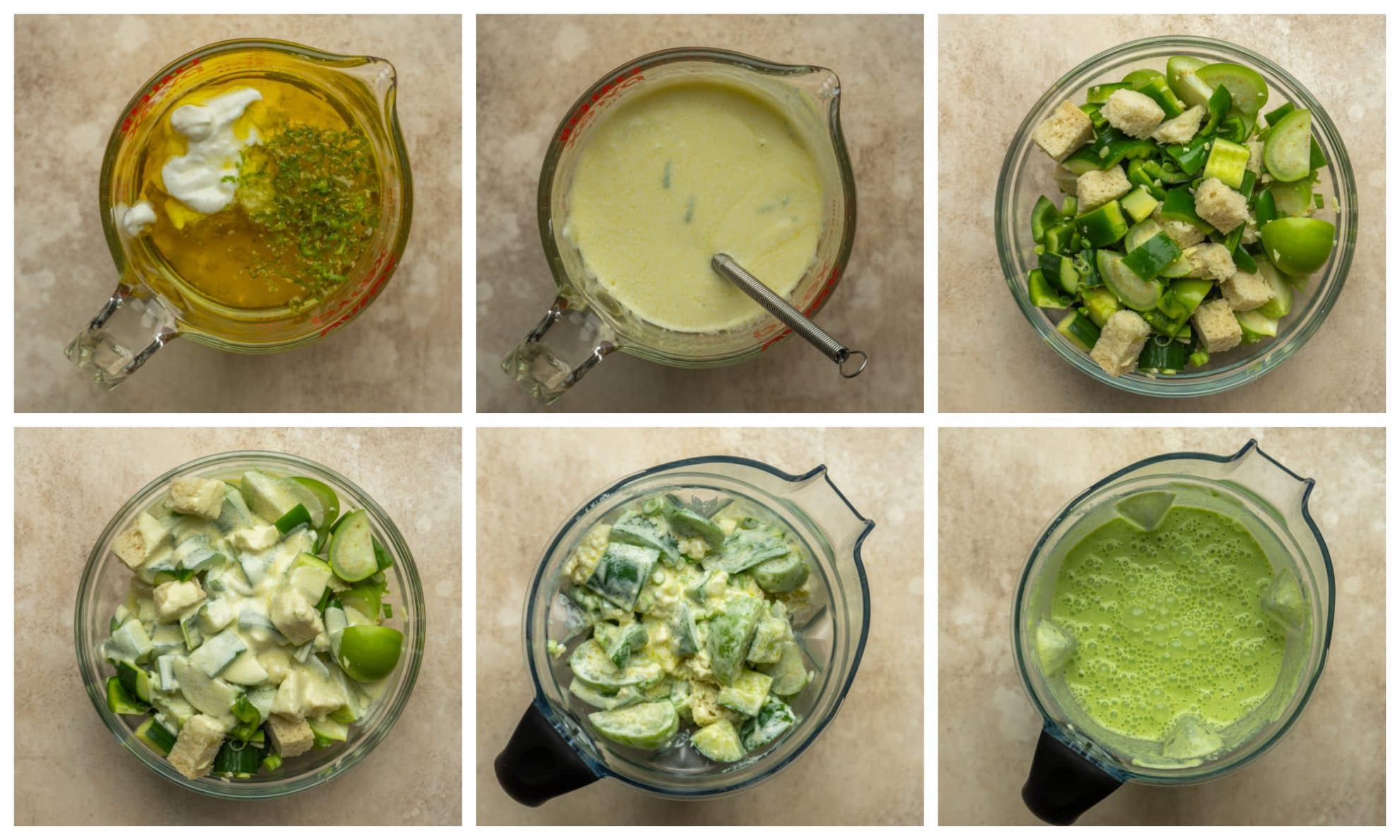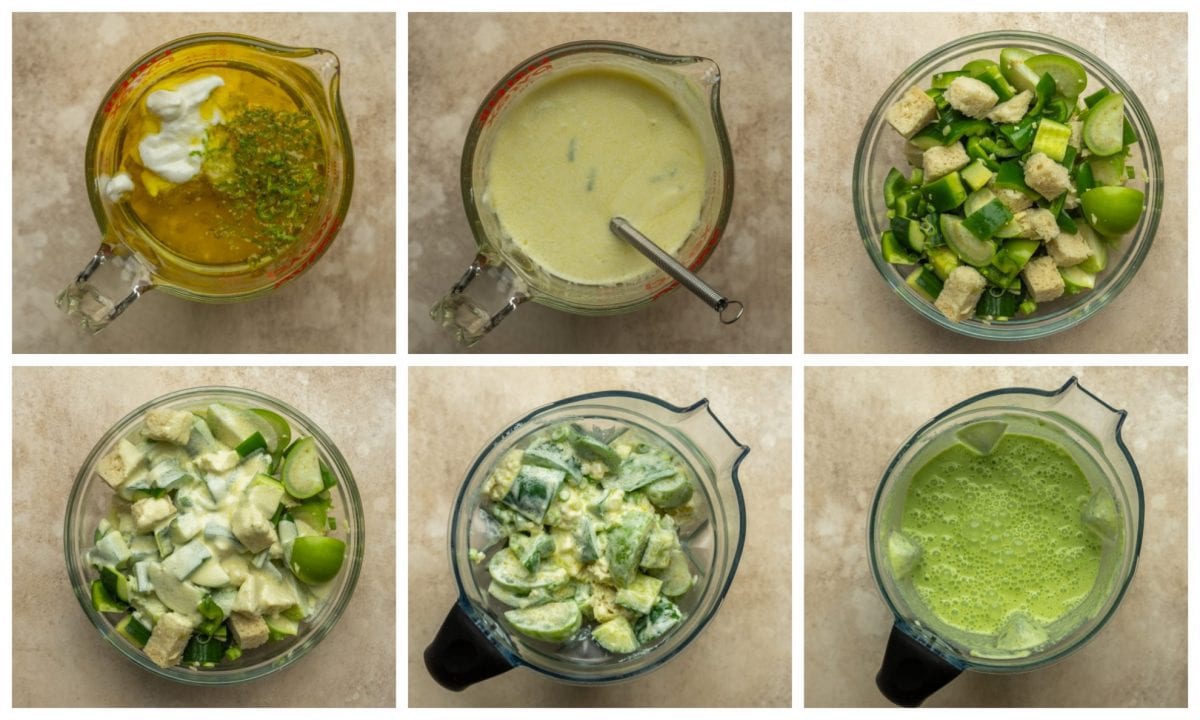 How to Pick Tomatillos
When looking for tomatillos at the store, check that the outer husk is still attached and that the fruit (yes, it is a fruit just like a tomato) is a vibrant green. This means that it is ripe which means bright, acidic, and a bit tangy. Perfect for soup.
If you don't see any that match that description, not to worry. The ones there might be a pale yellow or a lighter green which means the fruit is overripe. These still taste great but will be a little sweeter and pack less zing.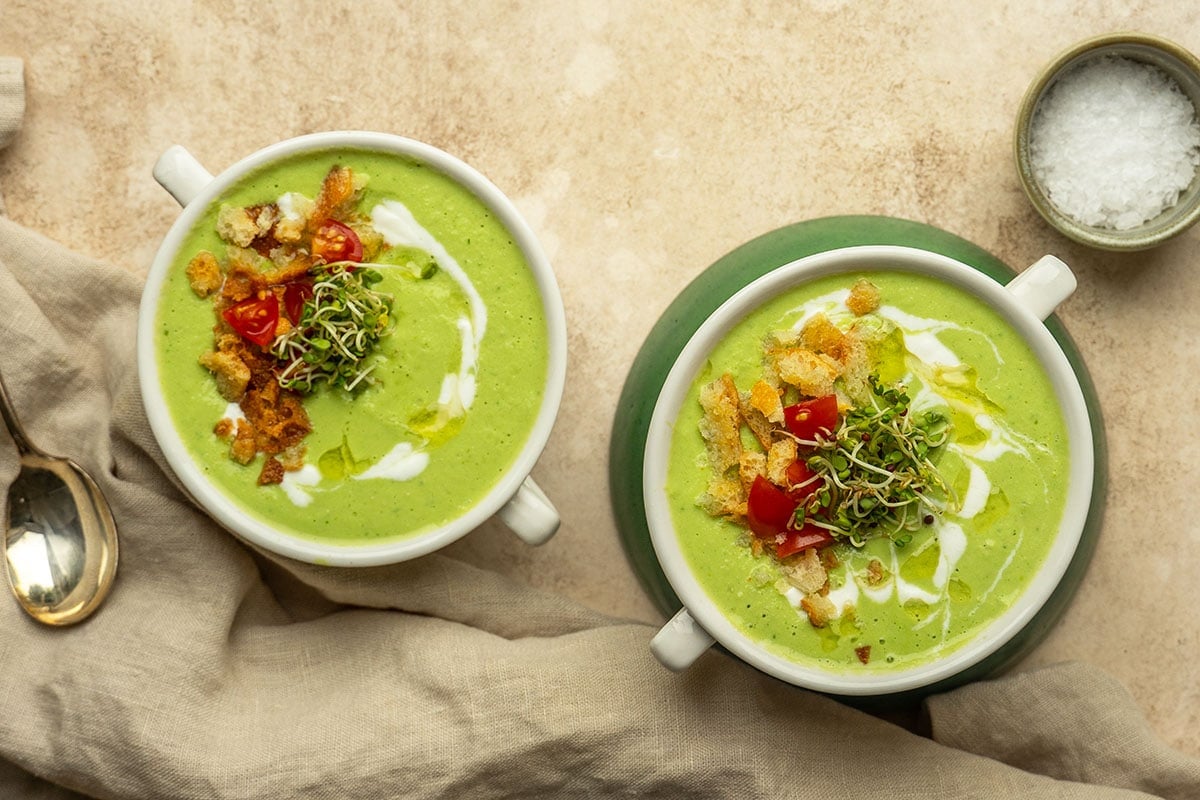 Variations
Like I stated above, feel free to change any of the measurements. The only things I recommend not omitting are the tomatillos. Here are some other ideas to spruce it up and garnish.
Add protein, grilled shrimp or seared scallops are a wonderful addition.
Cream drizzle, whisk 2 teaspoons of water with 2 tablespoons of yogurt.
Sprinkle with smoked paprika.
Lemon infused olive oil drizzled on top right before serving.
Microgreen mountain right on top!
Grilled or fried corn.
Fresh grape tomatoes.
Make Ahead & Storage
The added bonus of this dish is how easy it is to make. A little bit of prep and a blender and you are ready to serve. But if you want to make it ahead of time, this also works. Make up to 2 days ahead of when you plan to serve.
Chilled soups can become muted in flavor, especially with salt and citrus. Stir it very well to reblend (it tends to seperate) and then correct seasoning.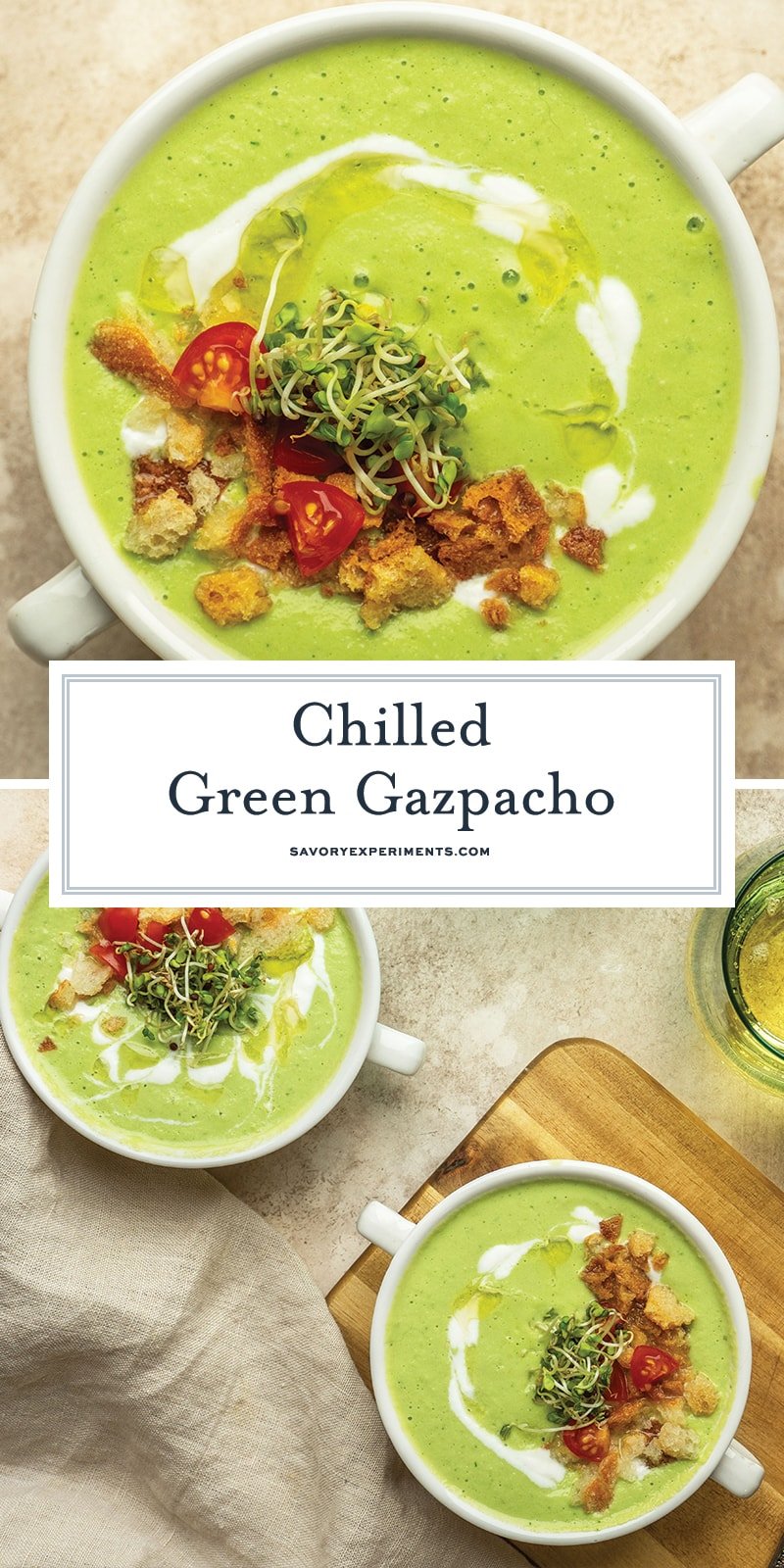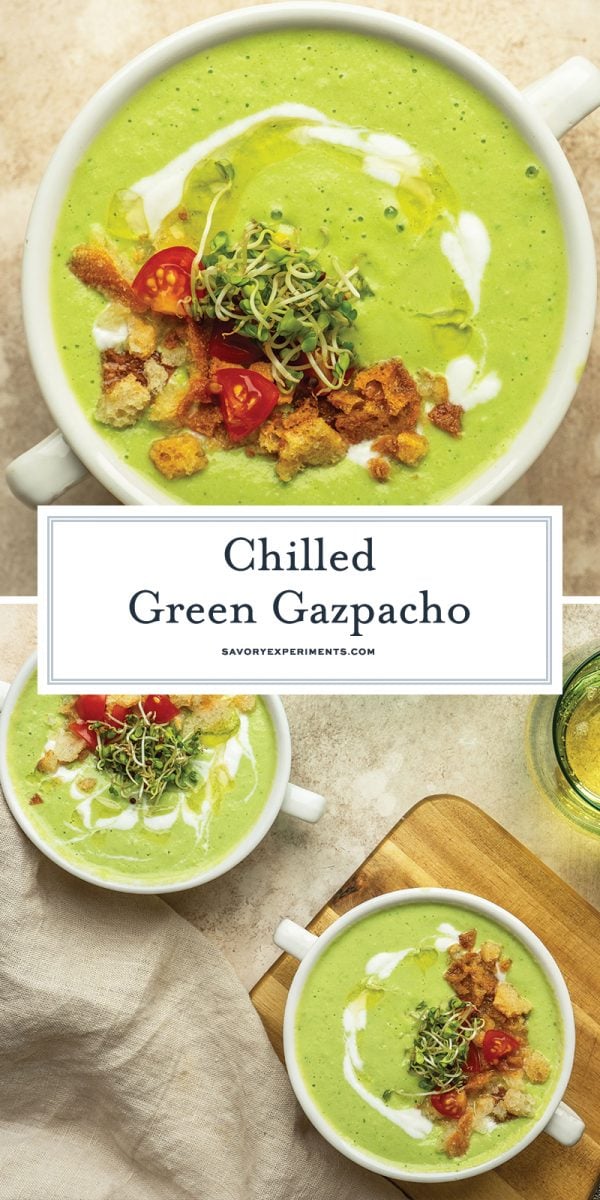 If you are looking for ever more soup recipes, check these out: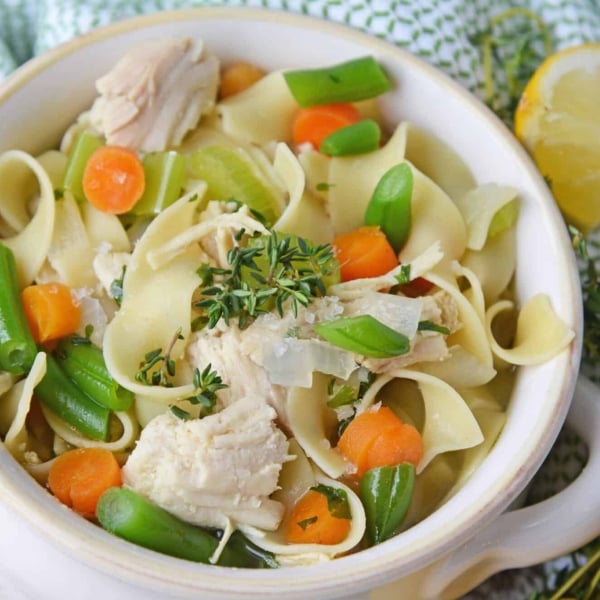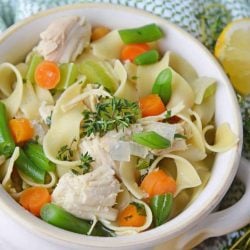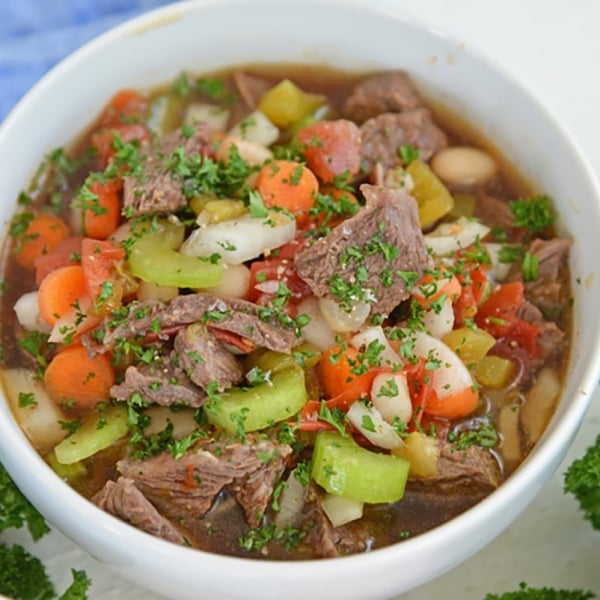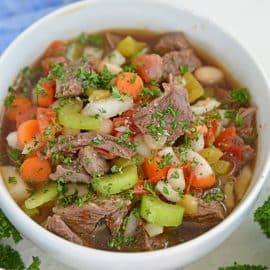 Short Rib Soup
Mildly hot short rib soup is sure to warm your soul and your belly. Tender pieces of beef with veggies and southwest flavors.
See The Recipe!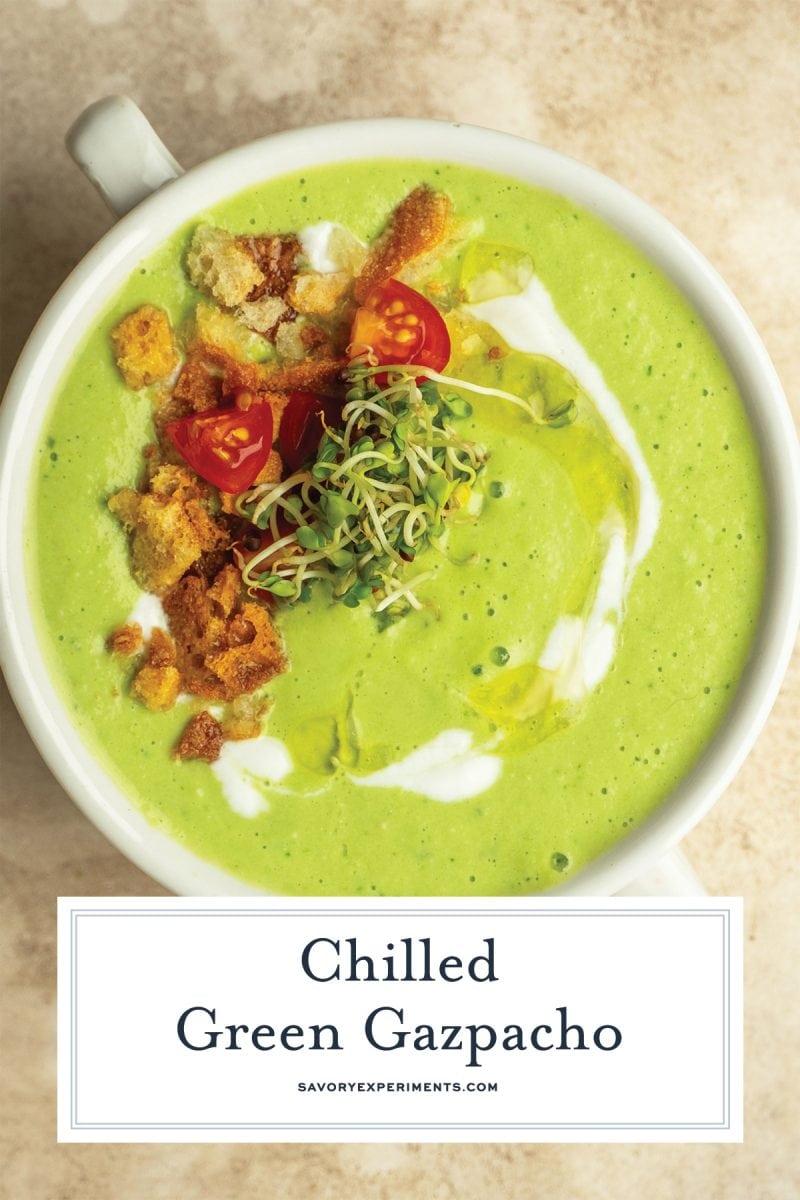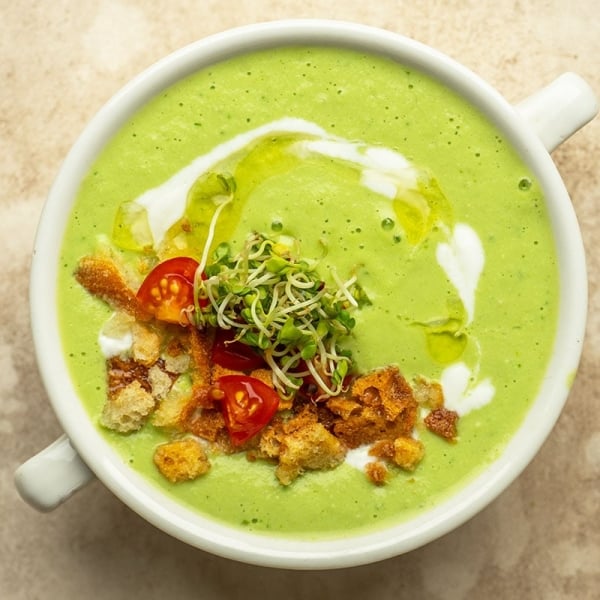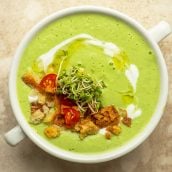 Green Gazpacho Recipe
Green Gazpacho is a chilled soup made from cucumber, tomatillos and jalapenos with a yogurt base. A perfect make ahead soup to serve on a hot summer day!
Instructions
In a small mixing bowl, whisk together the white wine vinegar, lime juice, lime zest, yogurt, salt and olive oil. Set aside.

In a large mixing bowl, toss the bread, cucumber, bell pepper, tomatillos, scallions, jalapenos and garlic. Pour the wet mixture over the chopped vegetables and stir to coat.

Working in batches, transfer all items to food processor or heavy duty blender. Blend until smooth, repeat with remaining mix. Stir well to combine batches Refrigerate until ready to serve.

Before serving, stir well and taste. Green Gazpacho may need additional salt to brighten flavor profile.

Ladle into serving bowls and top with desired garnish.

If you've tried this recipe, come back and let us know how it was in the comments or rating.
Nutrition
Calories:
328
kcal
,
Carbohydrates:
13
g
,
Protein:
3
g
,
Fat:
29
g
,
Saturated Fat:
4
g
,
Cholesterol:
6
mg
,
Sodium:
183
mg
,
Potassium:
297
mg
,
Fiber:
1
g
,
Sugar:
5
g
,
Vitamin A:
305
IU
,
Vitamin C:
29.4
mg
,
Calcium:
91
mg
,
Iron:
1
mg