Traditional comfort foods are sometimes too hot and heavy for summer, but I still crave dishes that make me feel warm and fuzzy. Well, warm emotionally, because, during the summer, I like my soup chilled.
Which is why Green Gazpacho falls onto my comfort food list.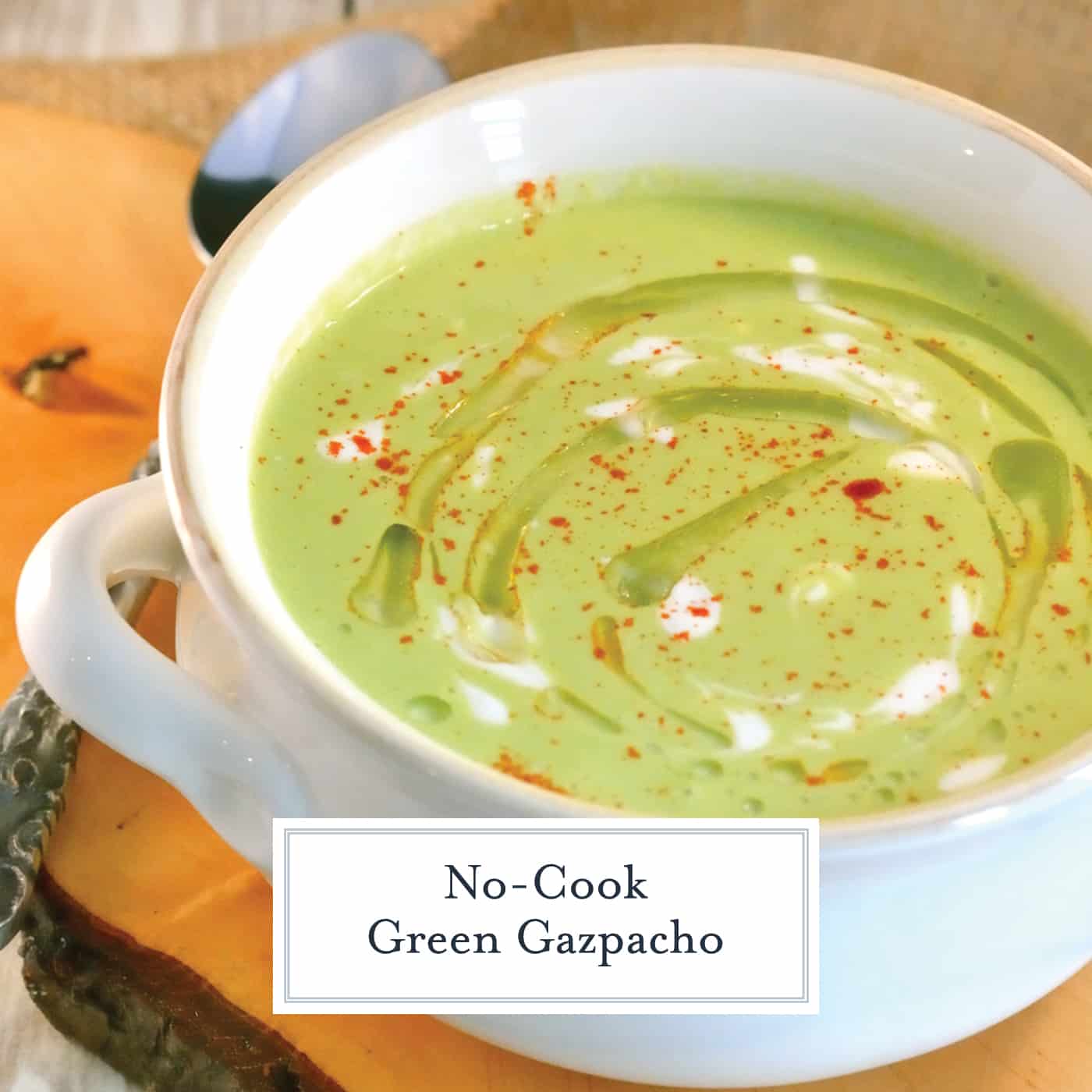 Green Gazpacho is a chilled soup made from cucumber, tomatillos, and jalapenos with a yogurt base. A perfect make-ahead soup to serve on a hot summer day!
Most people would agree that a hot bowl of soup does not sound good on a hot summer day. However, that does not mean you have to go without it. Chilled soups are absolutely perfect on those days when the temperatures are high.
This green gazpacho soup uses a handful of green produce such as tomatillos, limes, cucumbers, bell peppers, and jalapenos for the perfect blend of spicy, sweet, and most importantly, cool.
When looking for tomatillos at the store, check that the outer husk is still attached and that the fruit (yes, it is a fruit just like a tomato) is a vibrant green. This means that it is ripe which means bright, acidic, and a bit tangy. Perfect for soup.
If you don't see any that match that description, not to worry. The ones there might be a pale yellow or a lighter green which means the fruit is overripe. These still taste great but will be a little sweeter and pack less zing.
The Spaniards are to thank for gazpacho. While it is typically red, this chilled soup is eaten all over Spain and Portugal in the summer months as a way to cool down in the heat AND to make use of the bounty of summer produce.
And this is no new thing for them. This soup is written about in history books all the way back to Greek and Roman times.
The added bonus of this dish is how easy it is to make. A little bit of prep and a blender and you are ready to serve. Fresh, bright, and alive with color and flavor.
I am sure you have had some gazpachos that leave a little bit to be desired in the texture department. Well, have you ever wondered what gives blended soups volume and body?
The answer might surprise you. It's bread. Well, in this case it is actually bread and Greek yogurt, but you get the point.
Torn bread blended well with other ingredients will make any soup more substantial and eliminate the worry of watery porridge. Gluten-free bread can be substituted for those with allergies or guests that might have dietary restrictions.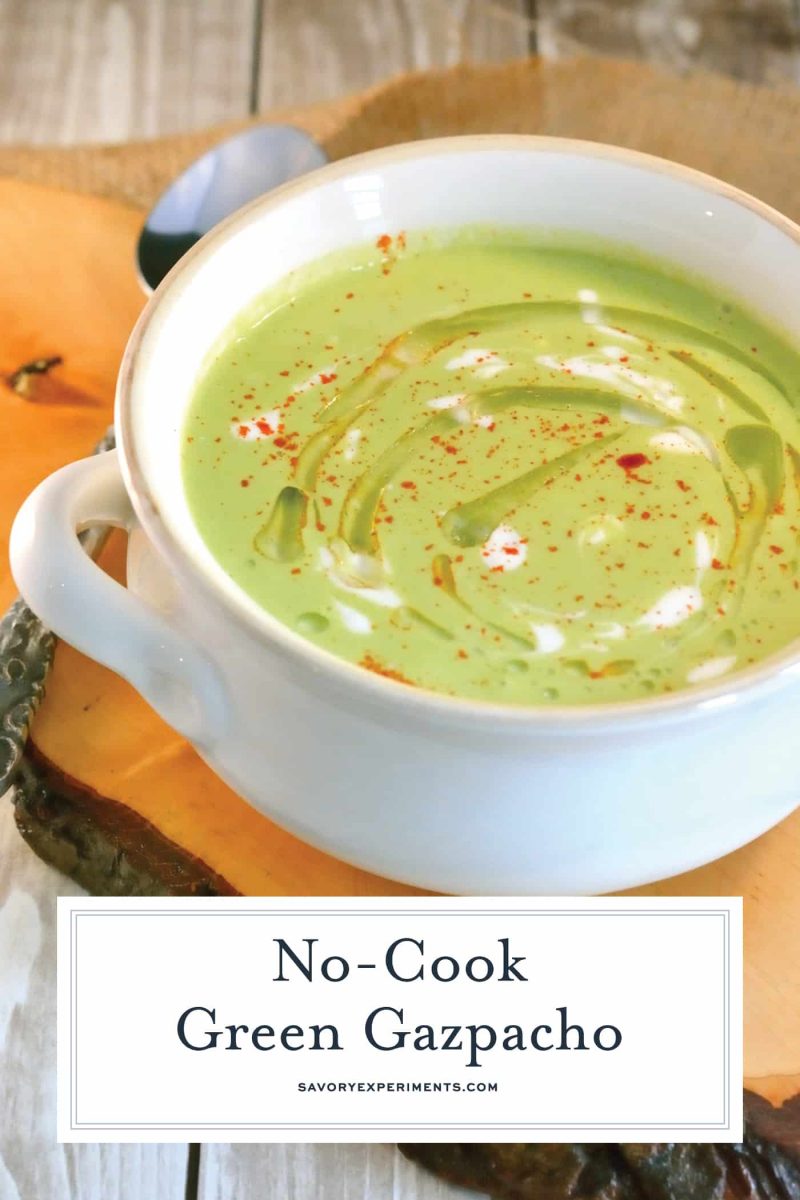 Also of note, chilled soups can become muted in flavor, especially if they sit for a bit before serving. While Green Gazpacho is an excellent make-ahead, no-bake, no-cook option, make sure you stir well and correct the salt before serving to your guests.
To make Green Gazpacho into an entree, add grilled shrimp, scallops or corn. Garnish with beautiful microgreens.
If you are looking for ever more soup recipes, check these out:
Instant Pot Chicken Noodle Soup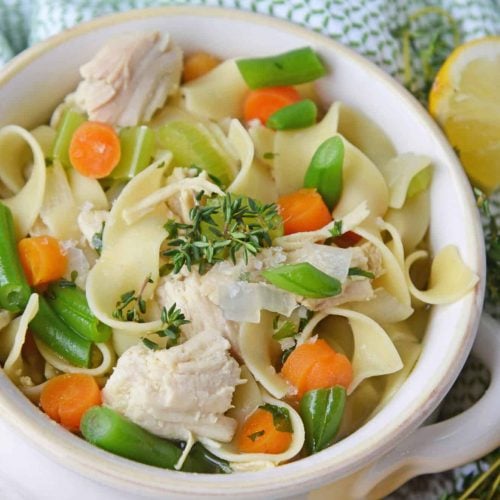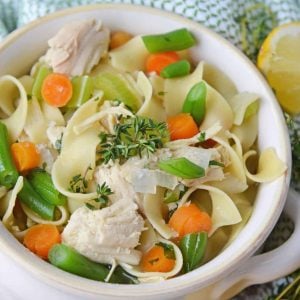 Looking for a homemade chicken noodle soup recipe that you can enjoy all year round? This Instant Pot Chicken Noodle Soup is flavorful and SO easy to make!
Short Rib Soup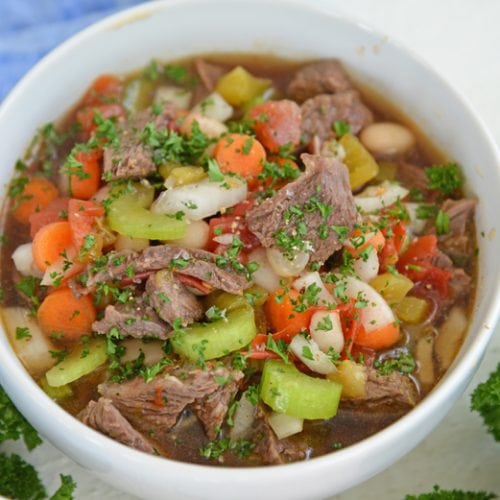 Mildly hot short rib soup is sure to warm your soul and your belly. Tender pieces of beef with veggies and southwest flavors.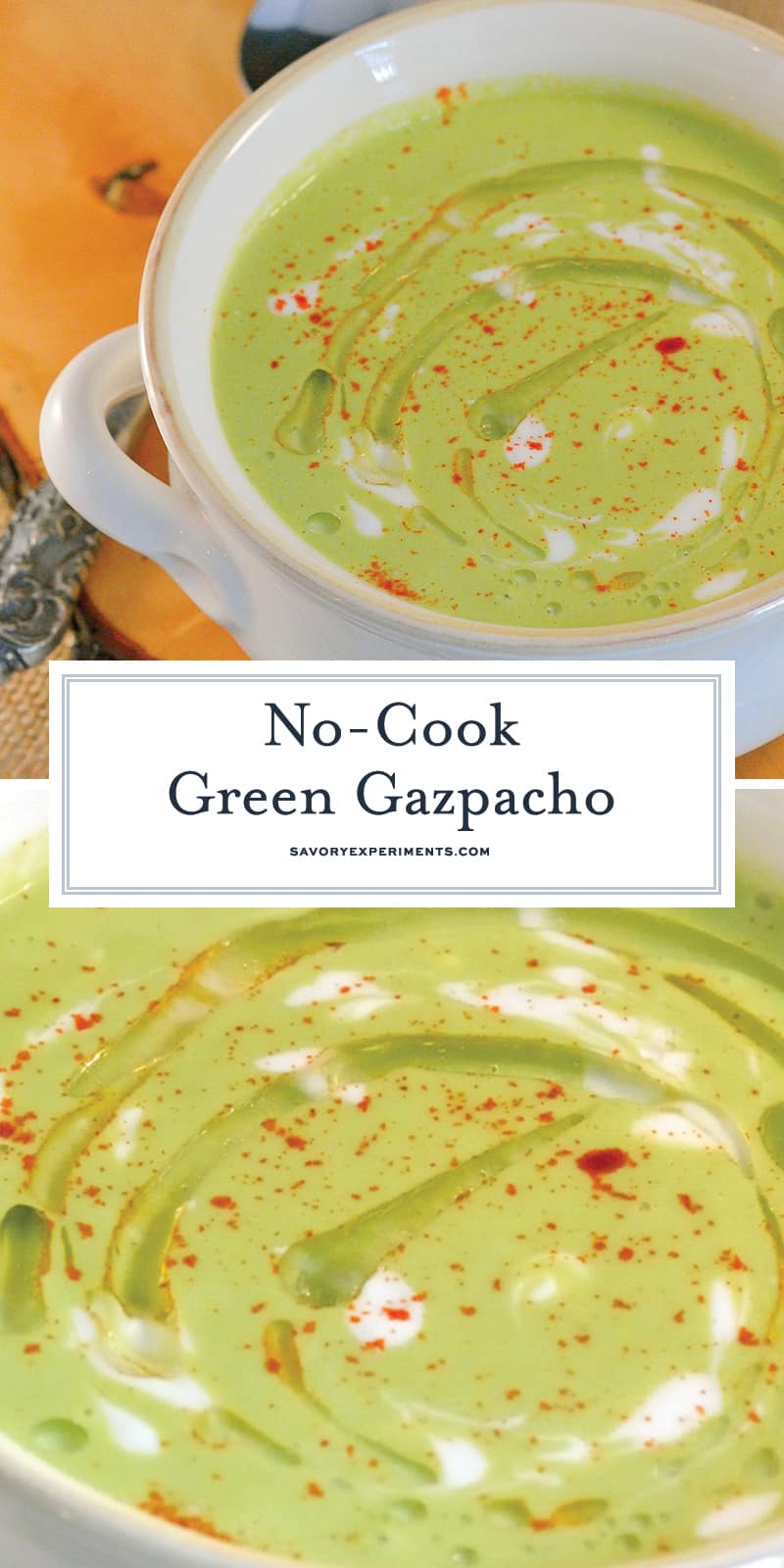 Green Gazpacho
Green Gazpacho is a chilled soup made from cucumber, tomatillos and jalapenos with a yogurt base. A perfect make ahead soup to serve on a hot summer day!
Instructions
In a small mixing bowl, whisk together white wine vinegar, lime juice, lime zest, plain Greek yogurt, Kosher salt and olive oil. Set aside.

In a large mixing bowl, toss combine diced bread, cucumber, bell pepper, tomatillos, scallions, jalapenos and garlic. Pour yogurt mixture over and stir to coat.

Working in batches, transfer all items to food processor or heavy duty blender. Blend until smooth, repeat with remaining mix. Stir well to combine batches Refrigerate until ready to serve.

Before serving, stir well and taste. Green Gazpacho may need additional salt to brighten flavor profile.

Ladle into serving bowls and top with thinned yogurt, smoked paprika and lemon infused olive oil.

If you've tried this recipe, come back and let us know how it was in the comments or rating.
Nutrition
Calories:
328
kcal
|
Carbohydrates:
13
g
|
Protein:
3
g
|
Fat:
29
g
|
Saturated Fat:
4
g
|
Cholesterol:
6
mg
|
Sodium:
183
mg
|
Potassium:
297
mg
|
Fiber:
1
g
|
Sugar:
5
g
|
Vitamin A:
305
IU
|
Vitamin C:
29.4
mg
|
Calcium:
91
mg
|
Iron:
1
mg