Tired of plain old white rice as a side dish? This Ginger Rice is full of flavor and makes a delicious side for many dishes.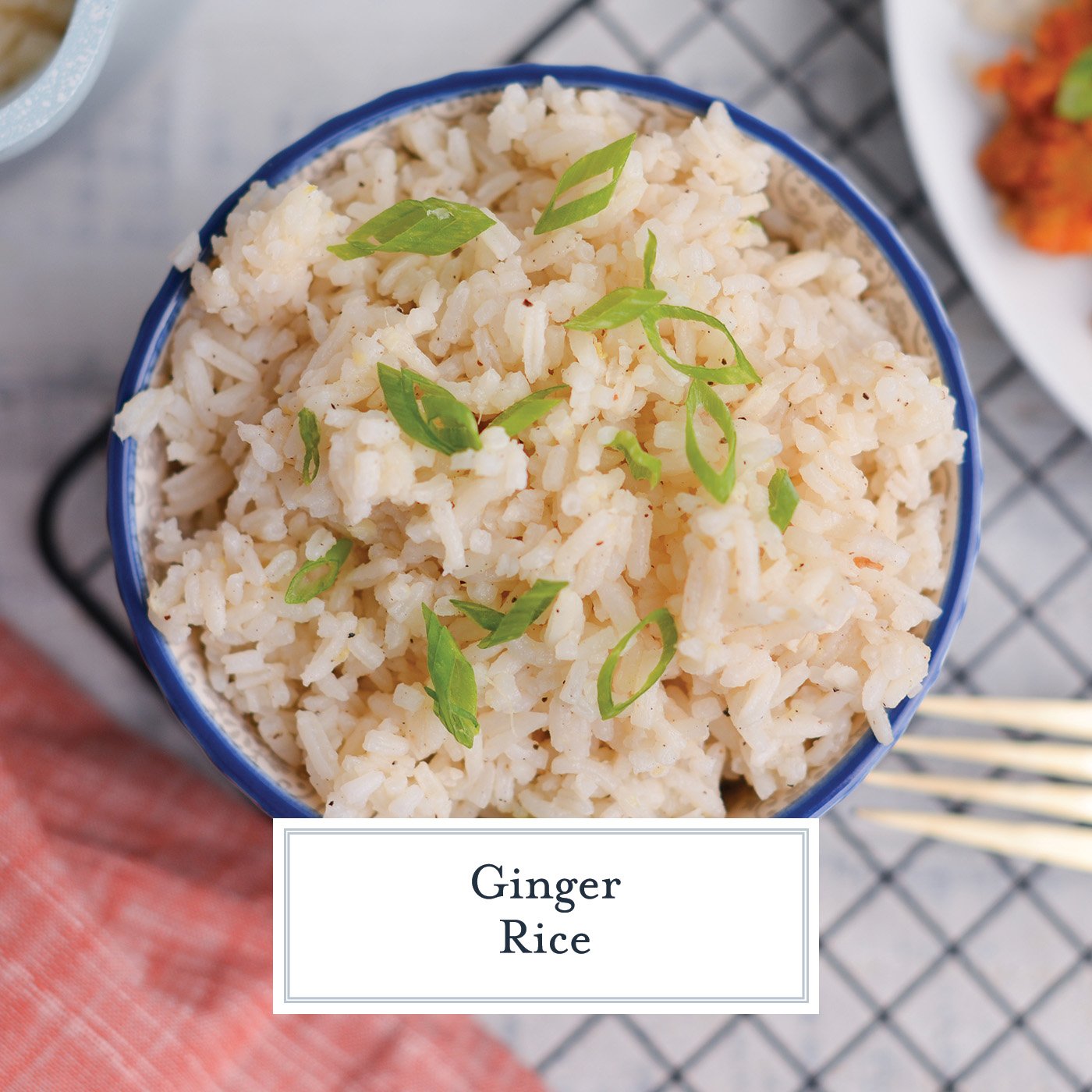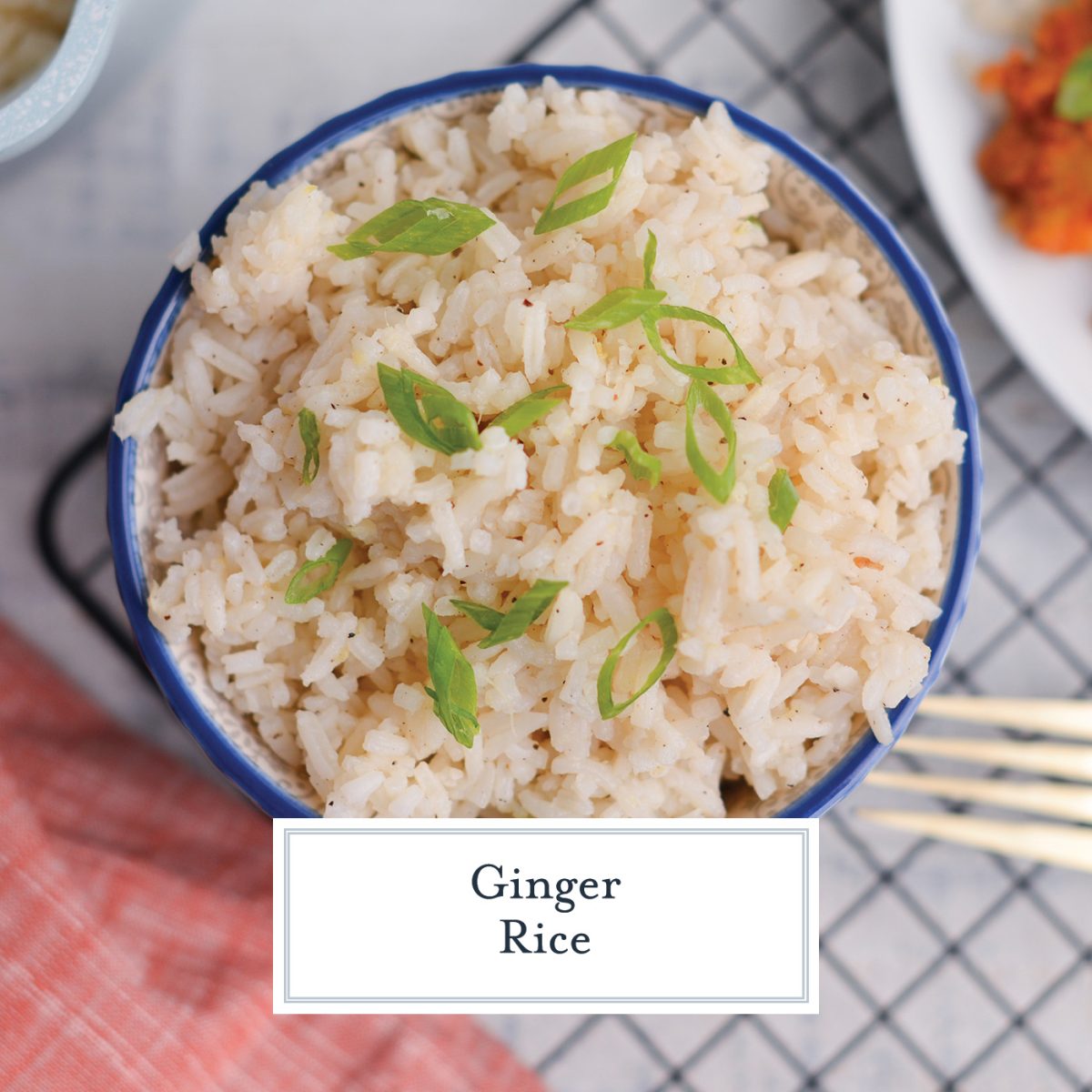 Ginger Rice is one of my favorite jasmine rice recipes. It pairs perfectly with many Asian dishes and adds much more flavor to meals than traditional white rice.
Rice is a side dish that I find myself making frequently, as it tends to go with everything. However, white rice can be pretty bland and flavorless, which is great in some recipes.
But lately, I've found myself experimenting with other jasmine rice recipes to add to my rotating collection of rice dishes. This Ginger Rice is one of my new favorite sides for Asian cuisine.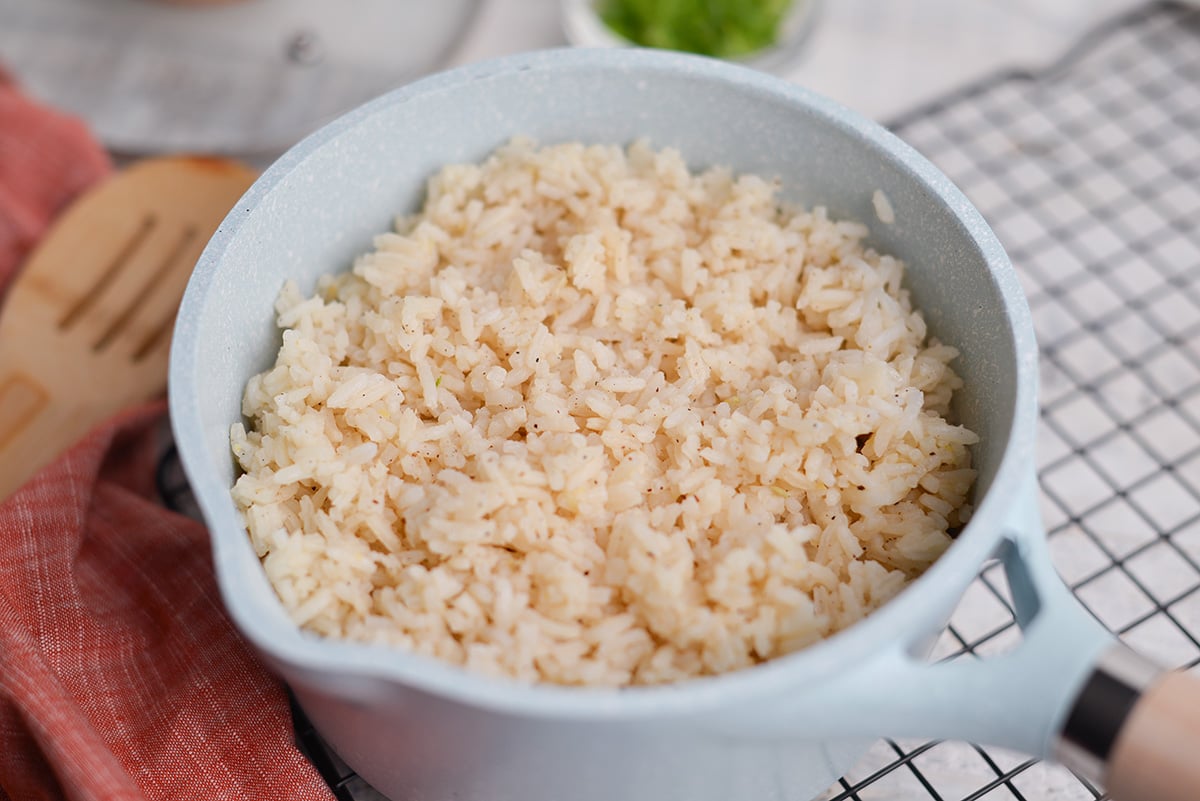 What is jasmine rice?
Jasmine rice is a type of long-grain aromatic white rice, primarily from Thailand. It's my preferred type of rice to cook with so most of my favorite rice dishes are jasmine rice recipes.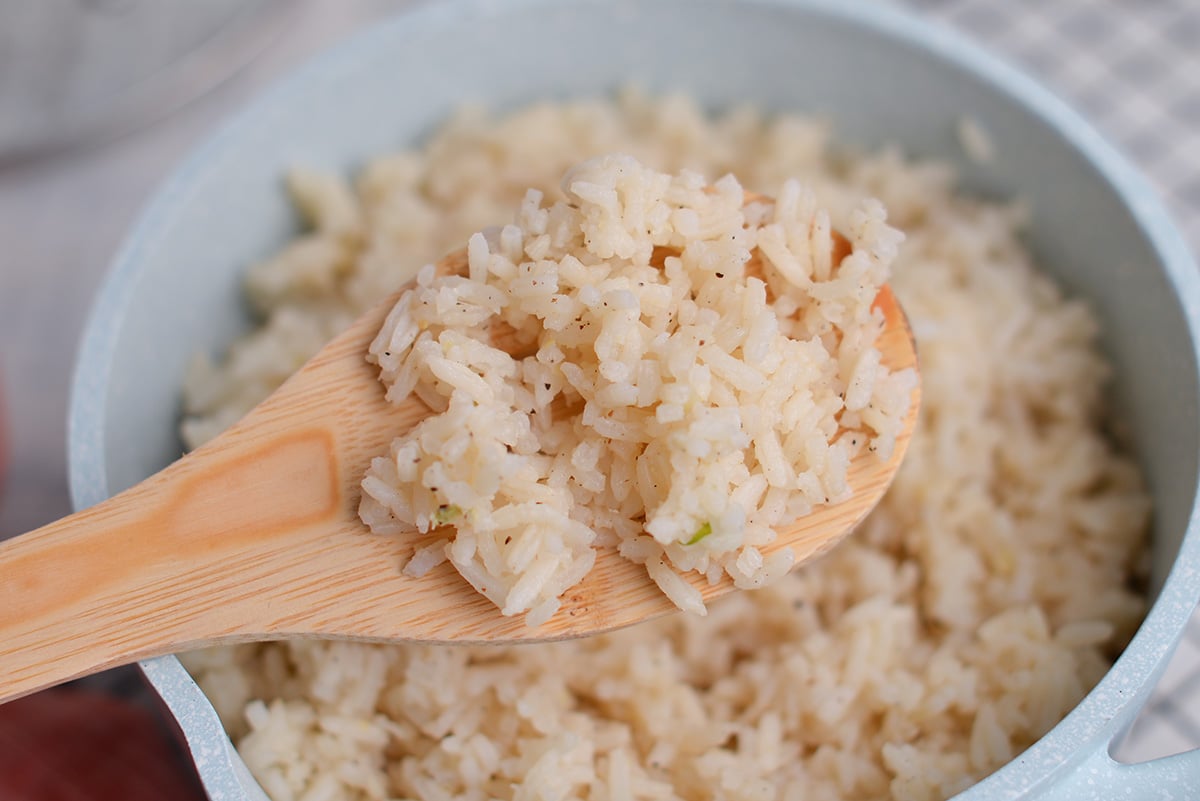 Ginger Rice makes a simple and easy rice side dish. With just a few extra ingredients, it's almost as easy as making plain rice but with so much added flavor.
I love ginger rice because it's tasty enough to stand alone as a side dish for nearly any meal but also pairs perfectly with other Asian dishes.
Top it with scallions to serve as a side dish or even add in some veggies like carrots or peas. I also love using ginger rice in stir fry recipes.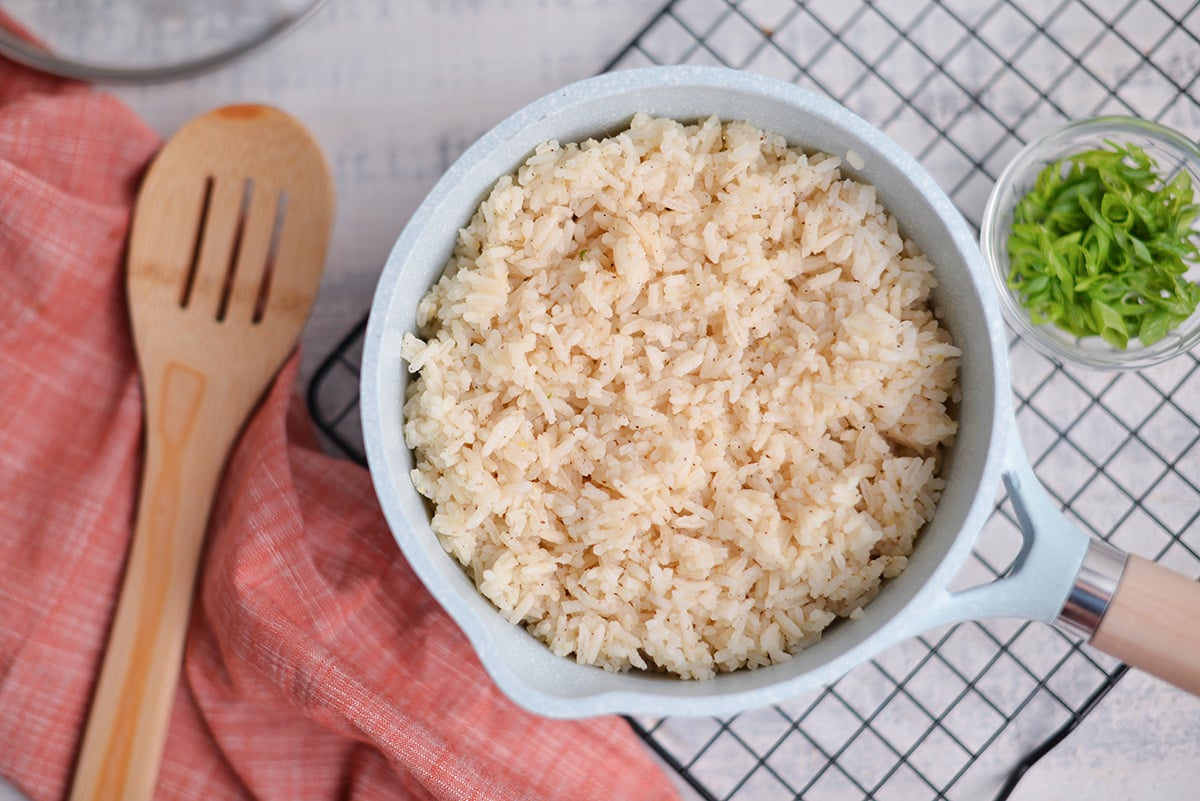 I included rinsing the rice as the first step of this recipe as I've found that it's a very important step in cooking the perfect rice. C
heck out my post on how to make perfect rice every time. No more sticky, overcooked rice! Here is a small sneak peek into what you'd find there…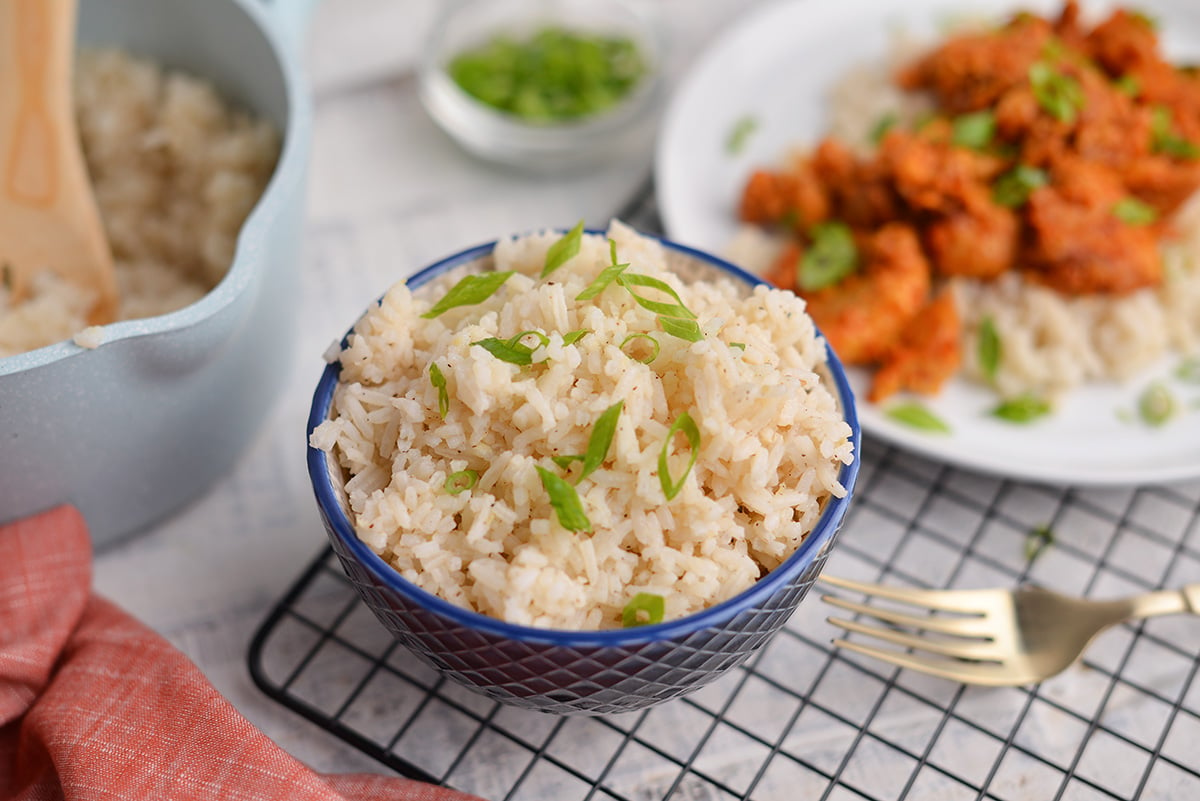 Rinse your rice before cooking. This removes all of the debris and surface starches and will prevent rice from getting mushy.
Soak your rice in water to give the grains a head start and helps it cook more evenly.
Never trust the package directions, experiments with different brands of rice and find one you really like.
Give your rice a quick stir to prevent clumping after adding to liquid, but do not continue to stir through the cooking process. Stirring releases more starch and will leave you with mushy rice. Yuck! This isn't risotto!
Make sure you bring the rice and the

liquid to a bowl before lowering the temperature and covering.

Don't peek! It releases steam and lowers the temperature, slowing down the cooking process.
When you do check your rice at the end, press a grain between two of your fingers. It should be firm enough that the exterior holds together, but soft enough to mash with slight pressure.
Always fluff your rice with a fork. Stirring with a spoon naturally mashes it.
Allow rice to sit, off heat, for at least 5 minutes after it is done.
Whether you're making it as a side dish on it's own or to accompany your favorite Asian dish, this Ginger Rice will become your new favorite jasmine rice recipe.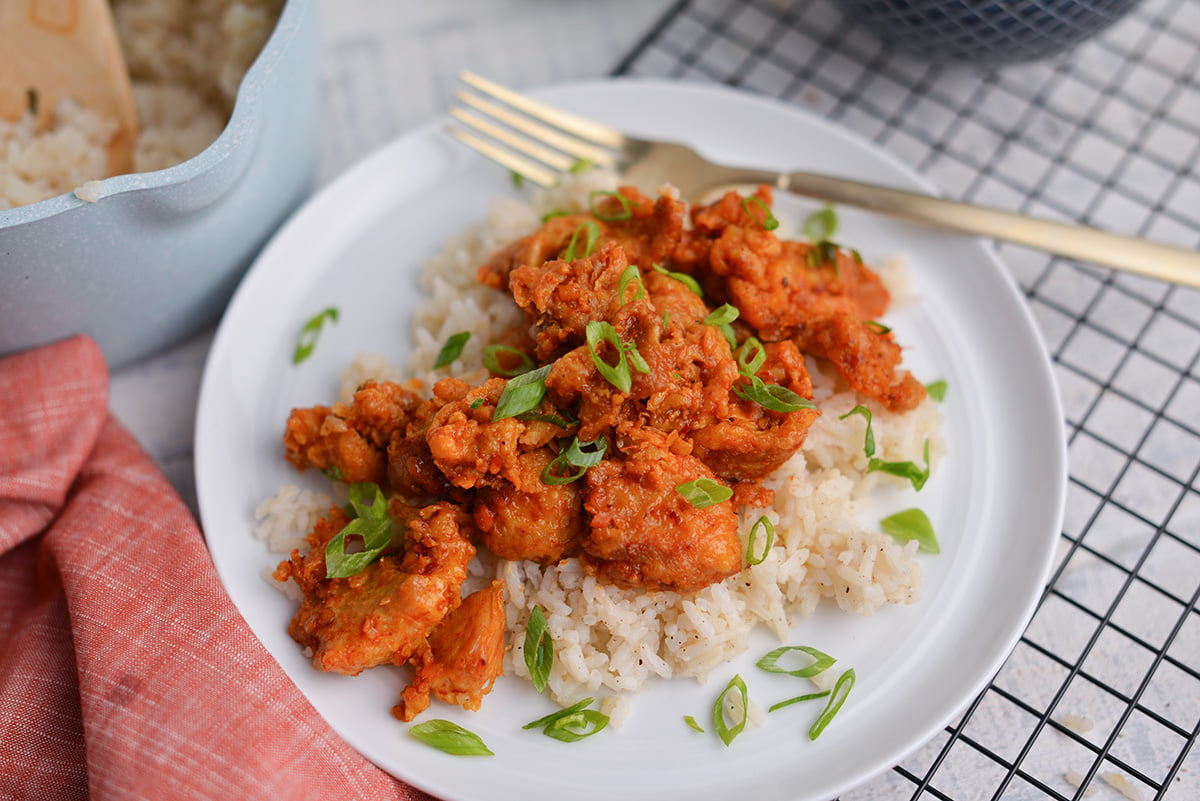 What to Serve with Ginger Rice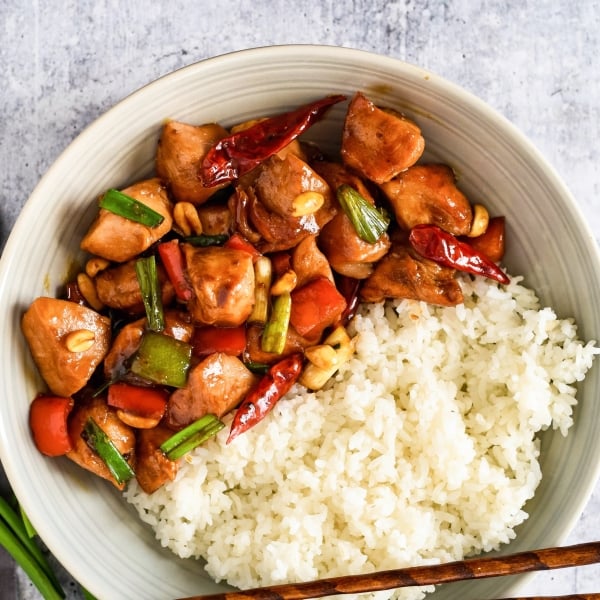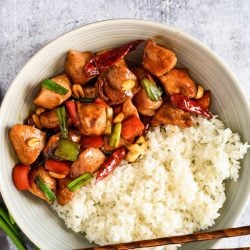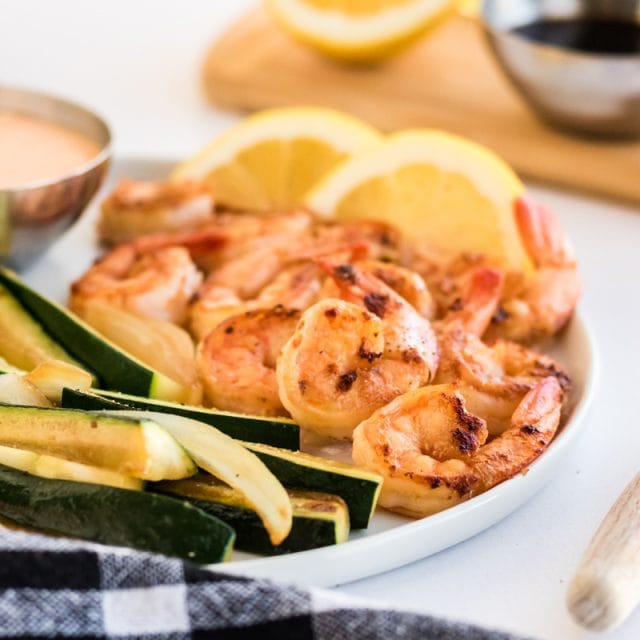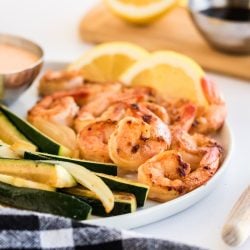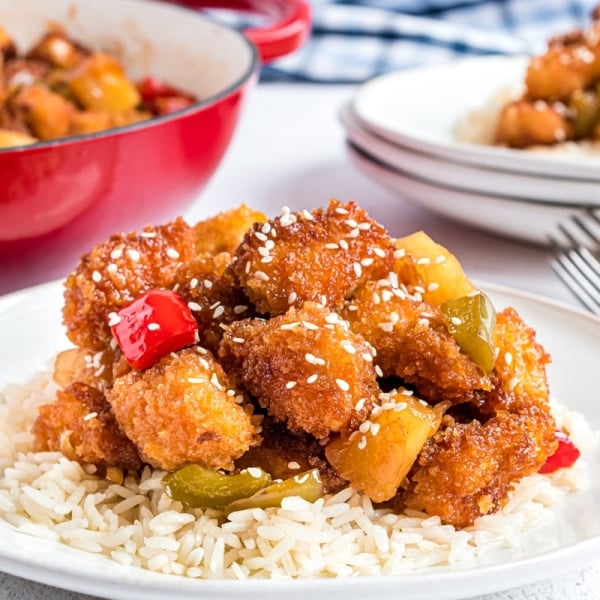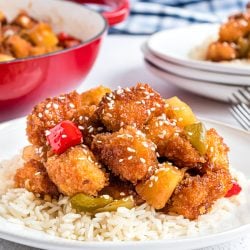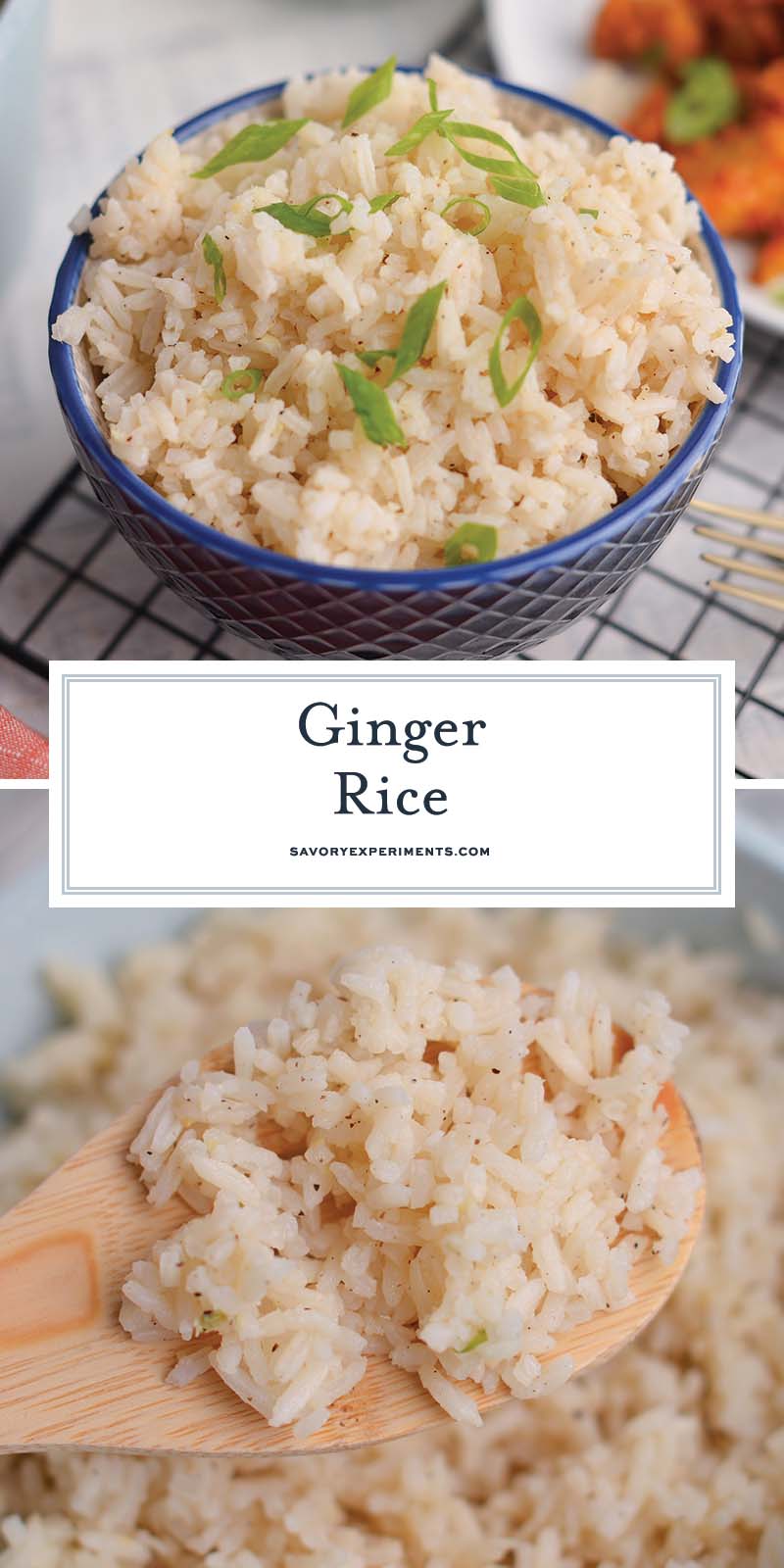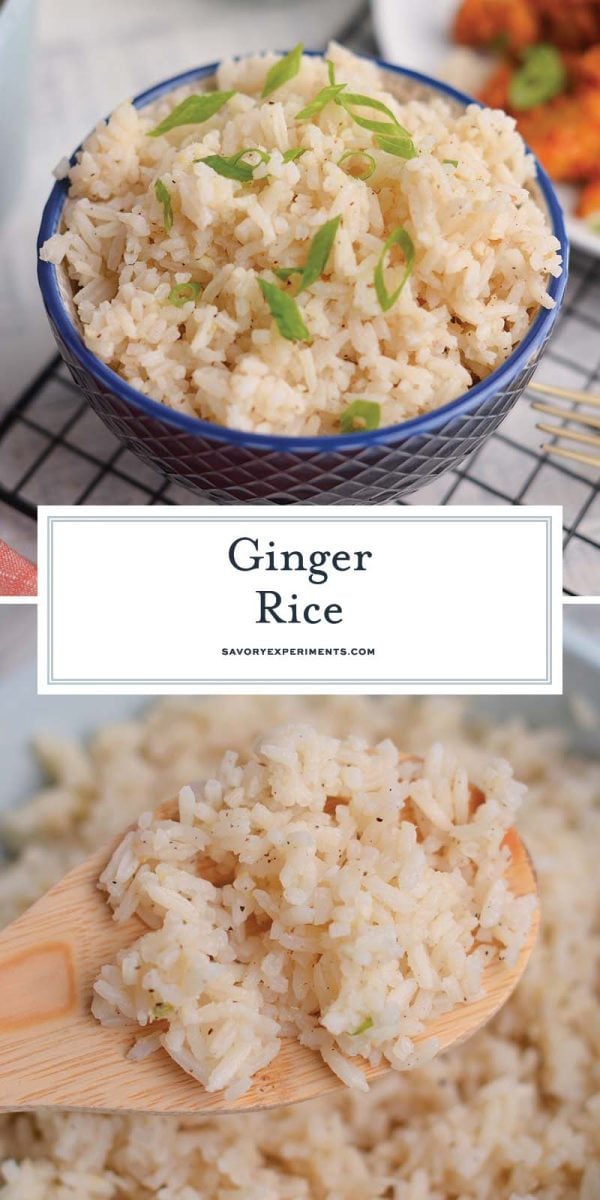 Tools for making Ginger Rice:
Heavy Bottom Sauce Pan– this will be one of your most used kitchen tools. Having something that is heavy bottom will distribute heat better and prevent burning whether you are using an electric or gas range.
Micrograter– A small kitchen utensil you find you use a lot more than you expected! Perfect for both garlic and ginger.
Questions you might have about making Ginger Rice:
Can I use wild rice? You can use wild rice or any other type of rice, however I cannot attest to the same amount of liquid being correct and it is not considered to be an Asian rice recipe. Consult the package directions and still add the other ingredients. Same goes for brown rice.
Can I use chicken broth instead of water? YES! One of my simplest tricks for amplifying food is using chicken or vegetable broth when water is called for.
Is this the same as coconut rice? Unfortunately not. However, I do have a recipe for coconut rice as well as other rice favorites like ranch rice, almond rice pilaf and cheesy rice and Spanish rice.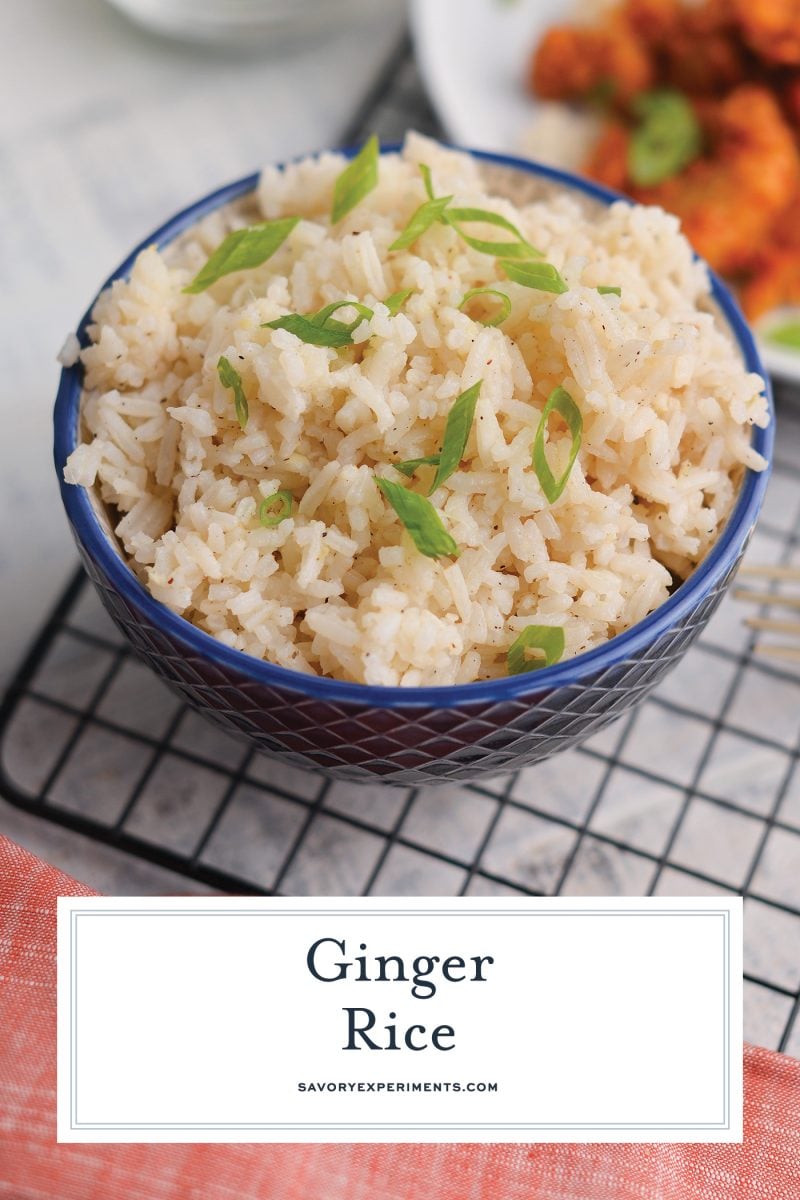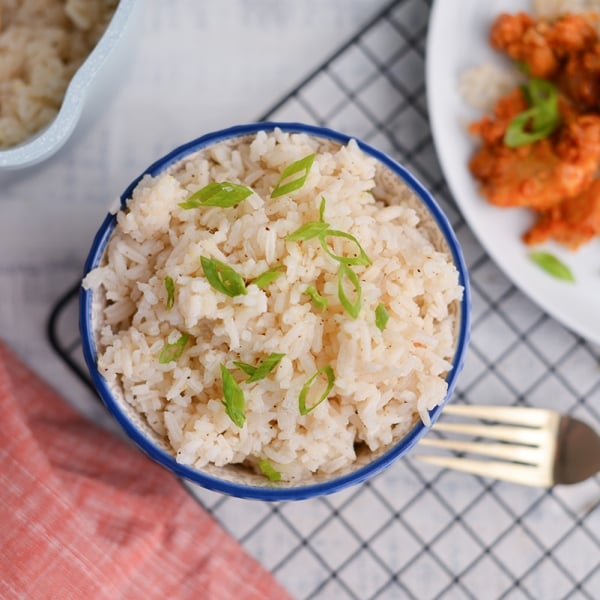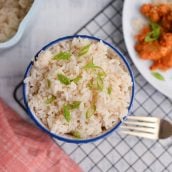 Ginger Rice Recipe
Ginger Rice is one of my favorite jasmine rice recipes. It pairs perfectly with many Asian dishes and adds much more flavor to meals than traditional white rice.
Instructions
In a colander, rinse rice well, shaking off excess water.

Combine water, rinsed rice, fresh ginger, garlic, butter, kosher salt and pepper in a medium sauce pan.

Bring to a boil and then lower heat to a low simmer.

Cover and allow to cook for 20-25 minutes.

Fluff with a fork and serve.

Top with scallions or serve with your favorite meal.

If you've tried this recipe, please come back to leave us a comment and rate it!
Notes
*Brown rice can be substituted for jasmine rice, but may require more cooking time.
Nutrition
Calories:
198
kcal
,
Carbohydrates:
37
g
,
Protein:
3
g
,
Fat:
3
g
,
Saturated Fat:
1
g
,
Cholesterol:
7
mg
,
Sodium:
325
mg
,
Potassium:
53
mg
,
Vitamin A:
115
IU
,
Vitamin C:
0.8
mg
,
Calcium:
17
mg
,
Iron:
0.4
mg