On those nights when you just need a big scoop of comfort, look no further than this Cheesy Bacon Rice! It's a quick and simple side dish full of flavors the whole family will enjoy.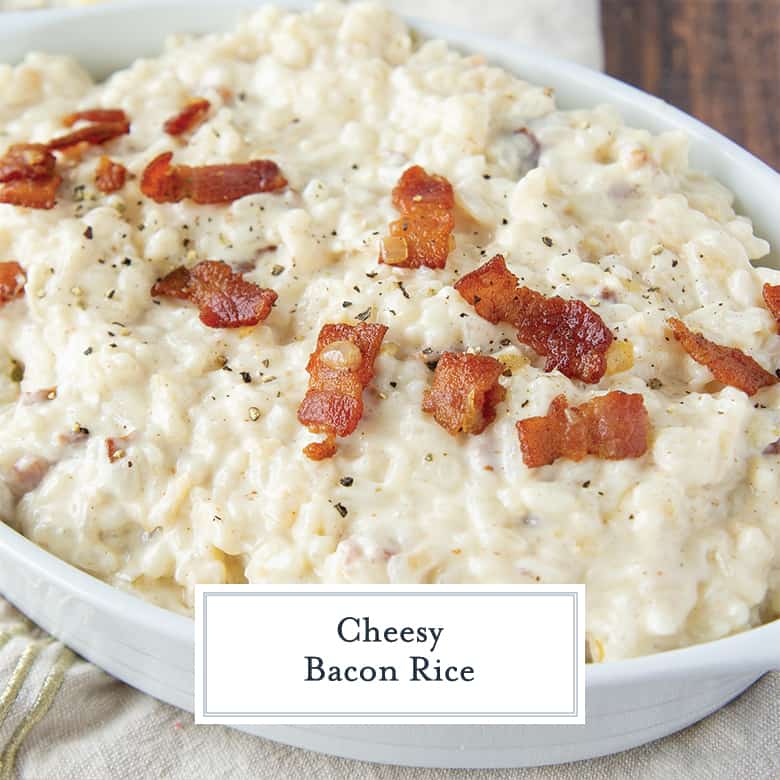 Yes, we all know that we should eat salads, but let's get real, there are just nights when all you need is a helping of something warm, gooey, and full of carbs. There's a reason grilled cheese is still a classic after all!
This easy rice recipe ticks all those boxes. It's impossible not to love creamy melty mozzarella and parmesan especially when it's studded with perfectly crispy bacon.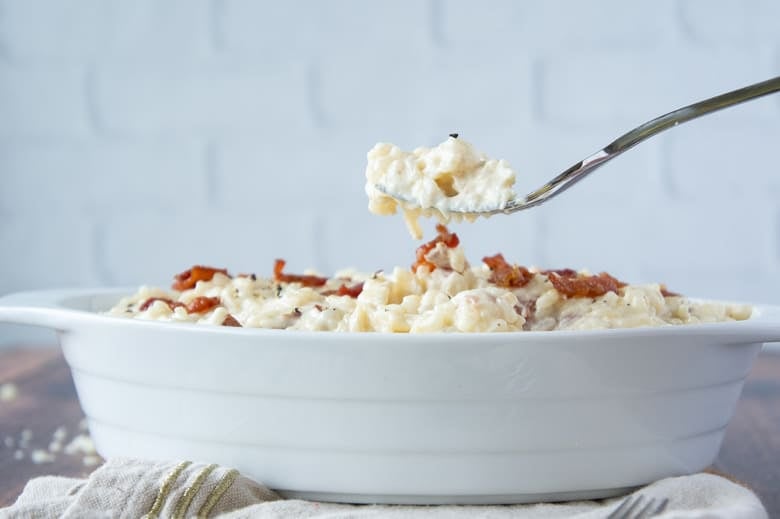 You'll be sneaking little spoonfuls of this easy Cheesy Bacon Rice straight out of the pan even as the cheese melts. Go ahead, it'll be our little secret.
Cheesy Bacon Rice Ingredients
Cooked Rice, I use white medium grain, but you can use your favorite!
Bacon, about half a pound
Onion, about half of one
Garlic, two to three cloves
Half and Half
Cream Cheese
Parmesan
Mozzarella
Pepper and salt to taste
Pro Tip: Missing one of these cheeses? No worries! Romano or Asiago can easily be subbed for Parmesan, and any good melty cheese you enjoy can be subbed for the mozzarella. Swiss, jack, or even pepper jack would be good choices!
The combination of these cheeses creates a seriously luscious, rich rice side dish that feels like an indulgent spoonful with every bite. It reminds me most of risotto, without all the stirring and watching. Who doesn't love a shortcut!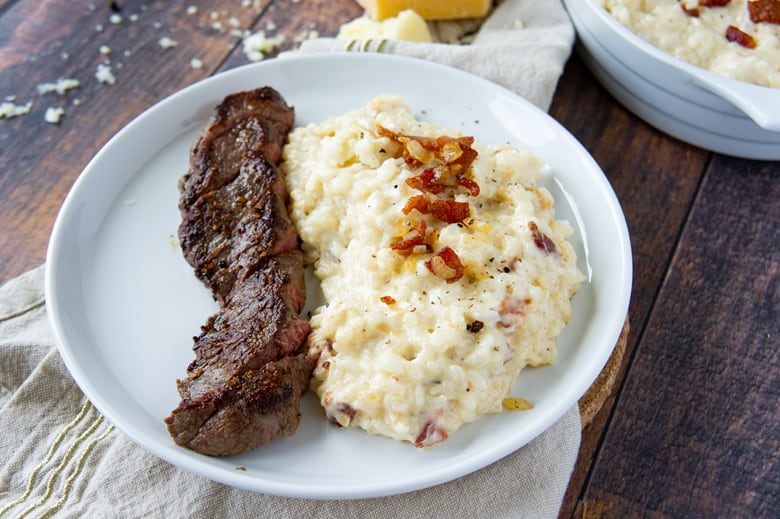 One of the big advantages of this recipe is that you can really use any rice you like. Leftover rice, fresh cooked, instant, go for it. You can even use other grains if you like!
Grain options for this cheesy bacon rice recipe include:
Any white rice– I like medium or long grain, they're fluffier and have a great texture with the cheese.
Brown rice – adds a delicious nutty flavor!
Farro – a nice, chewy thick grain that holds up well to the cheese.
Quinoa – using quinoa will create an almost creamy grit like dish.
Barley – Similar to the texture to farro, it's a nice substitute.
Pro Tip: Cooking your rice especially for this? Start step 1 of this recipe when your rice has 10 minutes left of cook time!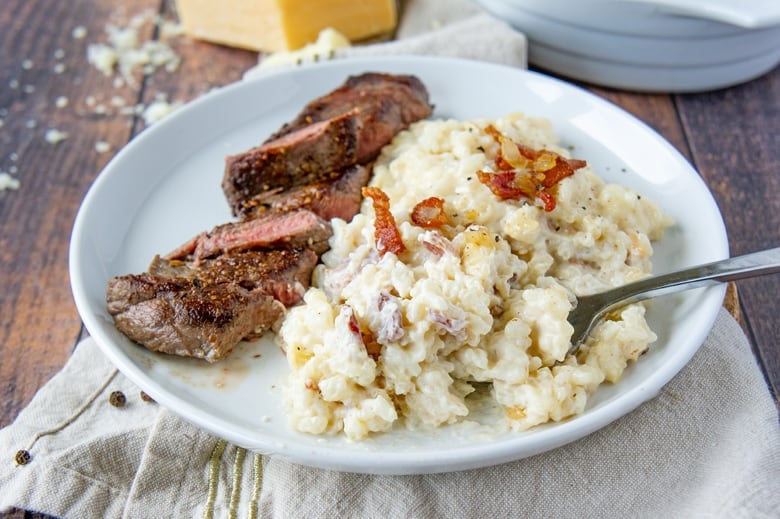 How to Make Cheesy Bacon Rice
Making this is as easy as eating it I promise. It's very simple, made all in one pan, and consists of just three basic steps.
Crisp the bacon with the onions and garlic.
Add in the half and half and cheeses, then stir until smooth and gooey.
Then fold in cooked rice until coated, creamy, and perfect!
What to Serve with Cheesy Rice
When it comes to a side dish like this simple Cheesy Bacon Rice, the question changes from what do I serve this with to how many things can I serve this with.
It goes with everything! A nice seared chicken breast or steak, any roast, or even simply a side salad would take this from a simple side to complete meal. I think it'd be especially good with shrimp!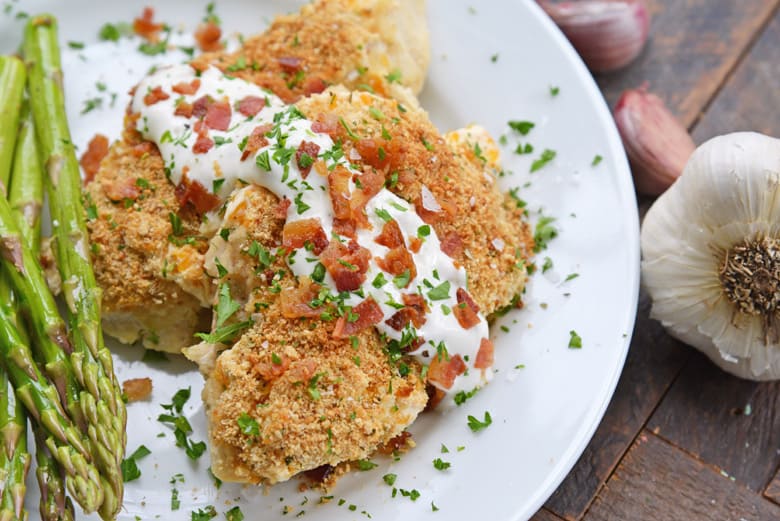 Something as rich and hearty as this will easily serve a big family, so it's also a great option to serve at family gatherings or dinner parties. Share the cheesy bacon love!
How Long Does Cheesy Bacon Ranch Last?
I won't lie, something this packed full of cheese never gets better than straight off the stove. It's when the cheese is at it's meltiest!
But you can make it ahead. Simply transfer to a casserole dish and pop it back in a 350°F oven 20 minutes before you intend to serve.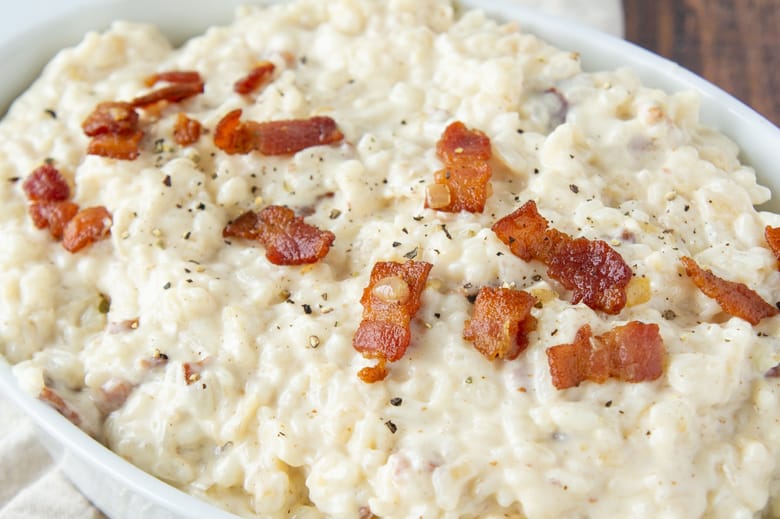 I do recommend eating this within 3 days for best flavor and texture. When you're ready to reheat it, simply place it in the oven at 350°F for 20 minutes or so until hot. Or microwave a single portion.
This will, however, become less creamy over time, so if needed, add a little milk to loosen it up when reheating. I find by day two I usually need the extra milk.
Just like mac and cheese or any other cheesy casserole you can freeze this and reheat it. Just place the frozen cheesy bacon rice in the oven at 350°F for an hour to an hour and a half, or until hot all the way through.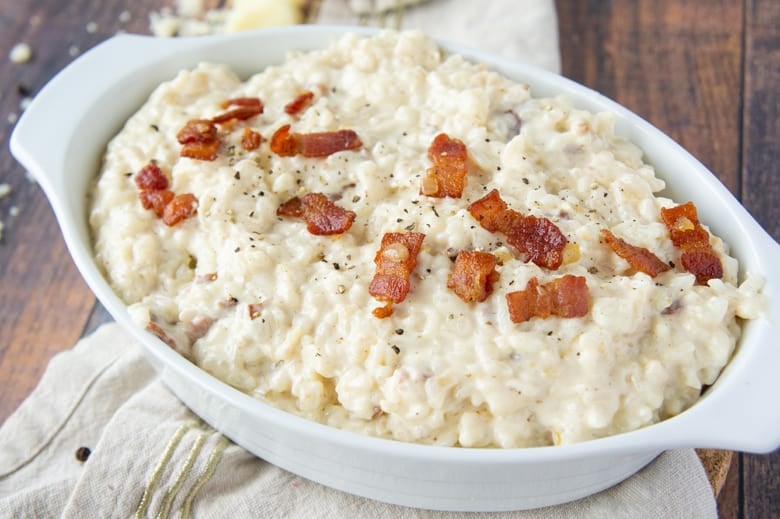 Milk Substitutions
If you don't have half and half on hand, you can use regular milk instead.
Milk is a little more prone to breaking when applied to heat, so simply remove the pan temporarily from the heat, add in the cream cheese and whisk as you pour the milk in slowly. Then return to the heat and proceed with the recipe! This will create a little looser of a sauce.
The Best Bacon to Use
I always, always recommend using a thick cut bacon whenever possible. In a dish like this one, a thicker cut will stand up to the creaminess of the cheese while thinner bacon may crumble more.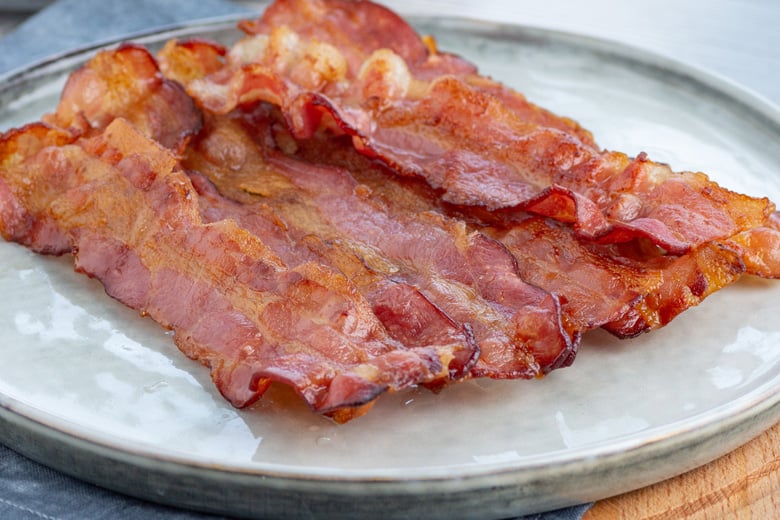 I found half a pound to be just right but feel free to use a full pound! I wouldn't exceed that or you run the risk of it being too salty
Cheesy Bacon Rice is the perfect rice side dish to satisfy all your indulgent dinner cravings, without the fuss! Three creamy cheeses, crisp bacon, and big flavor, all easily made in one pan.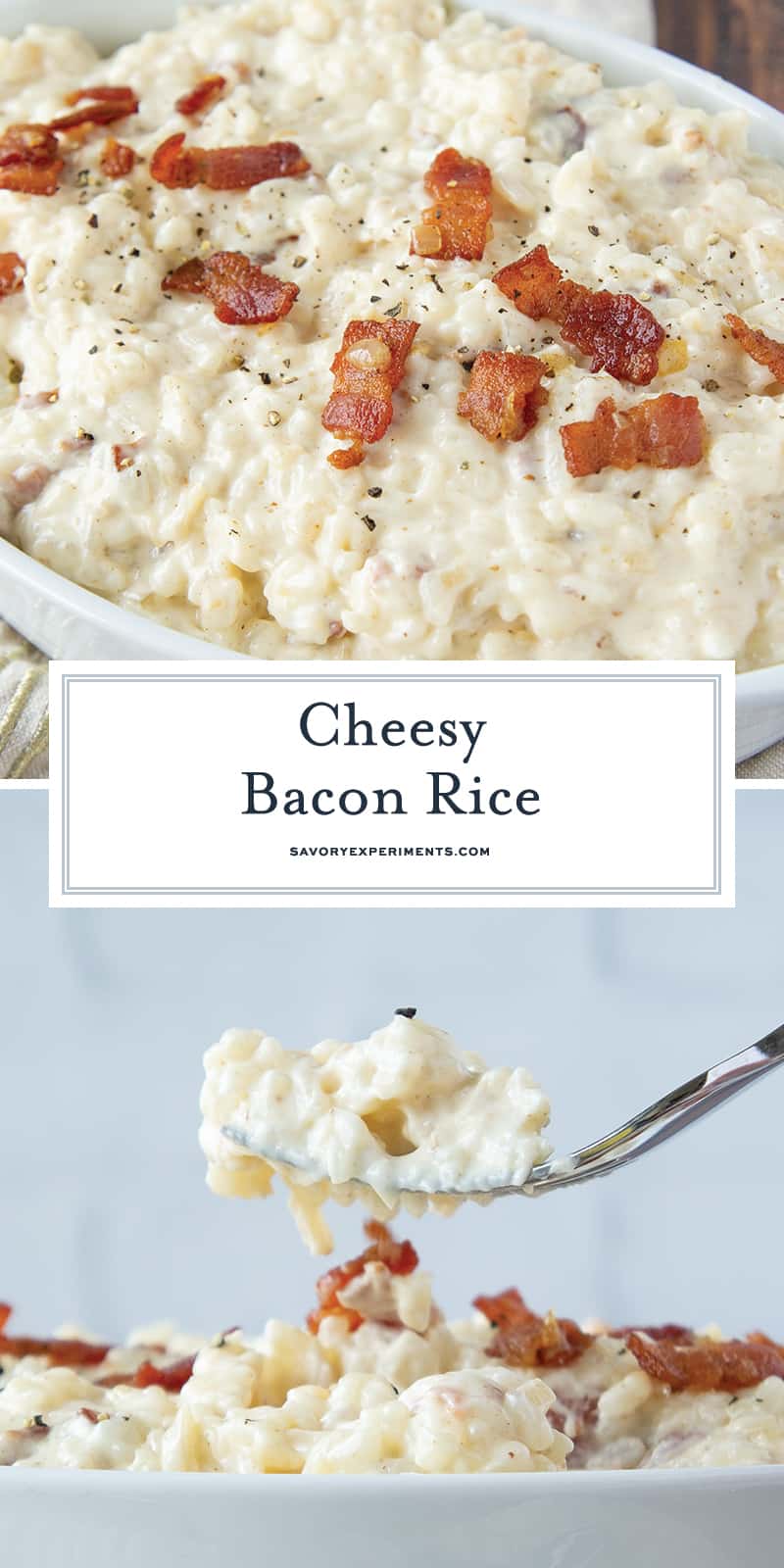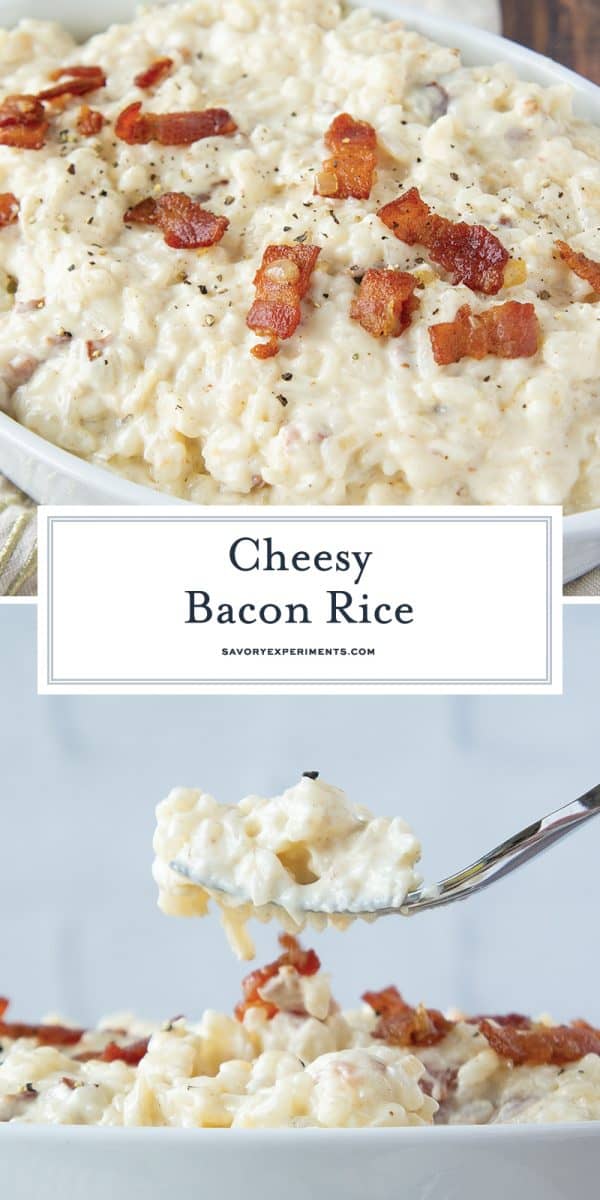 More side dishes you will love: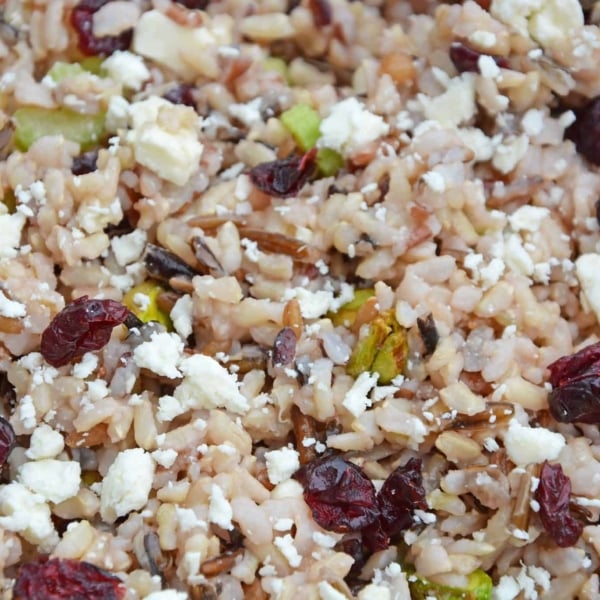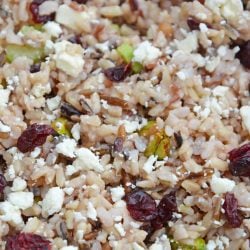 Wild Rice Pilaf
This Wild Rice Pilaf recipe is an easy side dish for your next potluck, picnic or dinner. Quick and easy to make in advance it's the best rice pilaf recipe!
See The Recipe!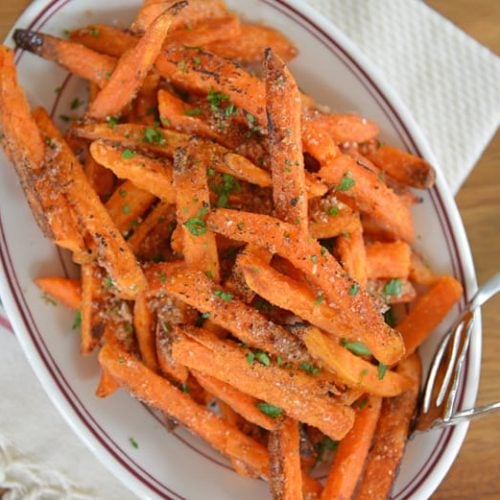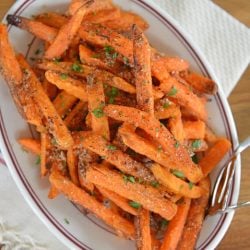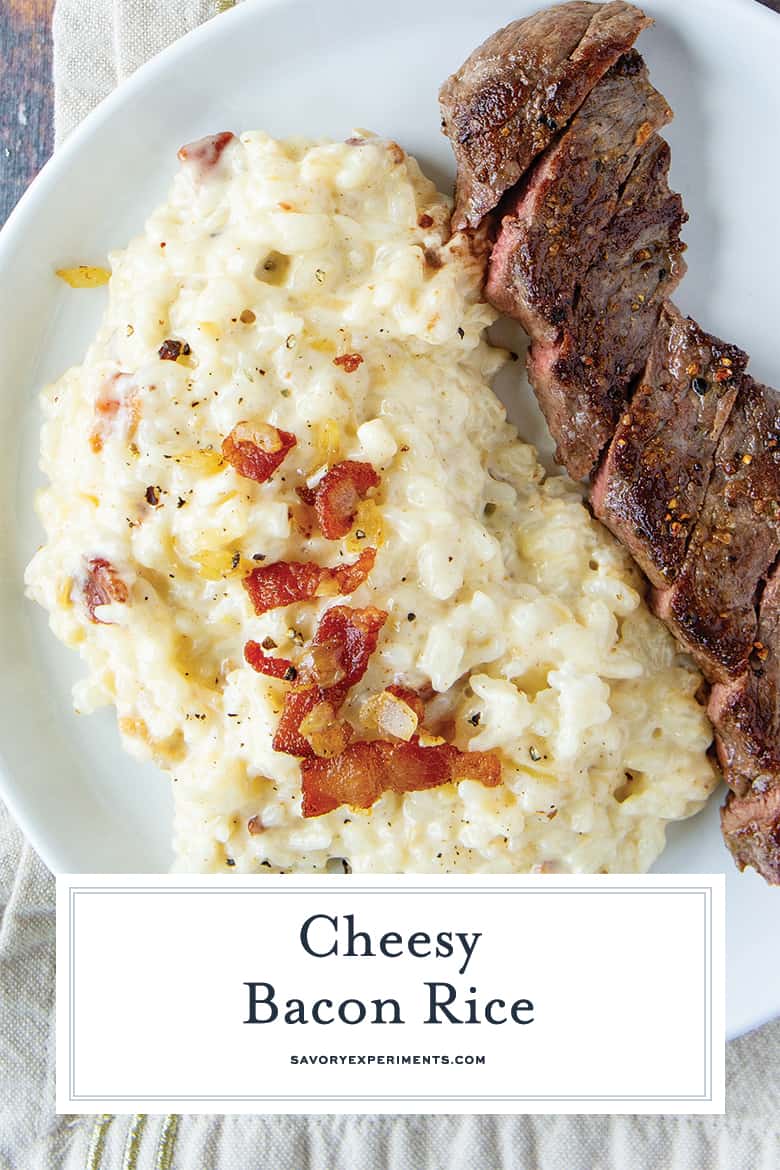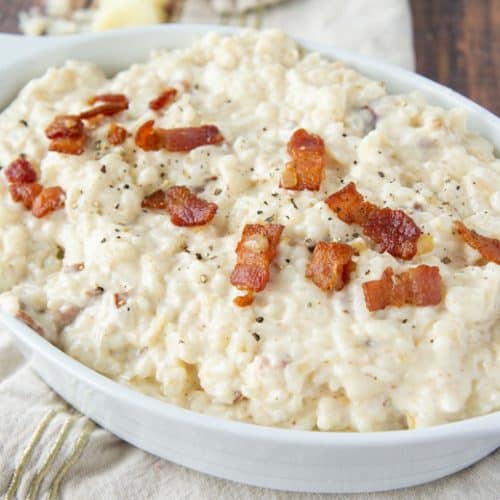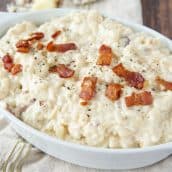 Cheesy Bacon Rice
On those nights when you just need a big scoop of comfort, look no further than this cheesy bacon rice. It's a quick and simple side dish full of flavors the whole family will enjoy!
Instructions
Dice bacon and to a hot pan set over medium heat. Stir occasionally until nearly crisp.

Drain off all but 1 tsp of bacon grease from the pan and reduce heat to medium low.

Add in the diced onion. Saute until beginning to soften and caramelize, 2 to 3 minutes.

Add in minced garlic and saute until fragrant, just 30 seconds to a minute.

Pour in half and half and cream cheese, stirring constantly until melted.

Begin adding the parmesan and mozzarella in handfuls, stirring to melt between additions.

Fold in rice, taste and add salt if needed. Serve with fresh cracked black pepper.

If you've tried this recipe, come back and let us know how it was!
Nutrition
Calories:
587
kcal
,
Carbohydrates:
37
g
,
Protein:
23
g
,
Fat:
38
g
,
Saturated Fat:
19
g
,
Cholesterol:
99
mg
,
Sodium:
758
mg
,
Potassium:
286
mg
,
Fiber:
1
g
,
Sugar:
1
g
,
Vitamin A:
746
IU
,
Vitamin C:
2
mg
,
Calcium:
448
mg
,
Iron:
1
mg