Garlic Tzatziki Sauce, sometimes called cucumber sauce, is a mouth watering dip made up of yummy, fresh ingredients! It's the perfect combination between tangy, and tart.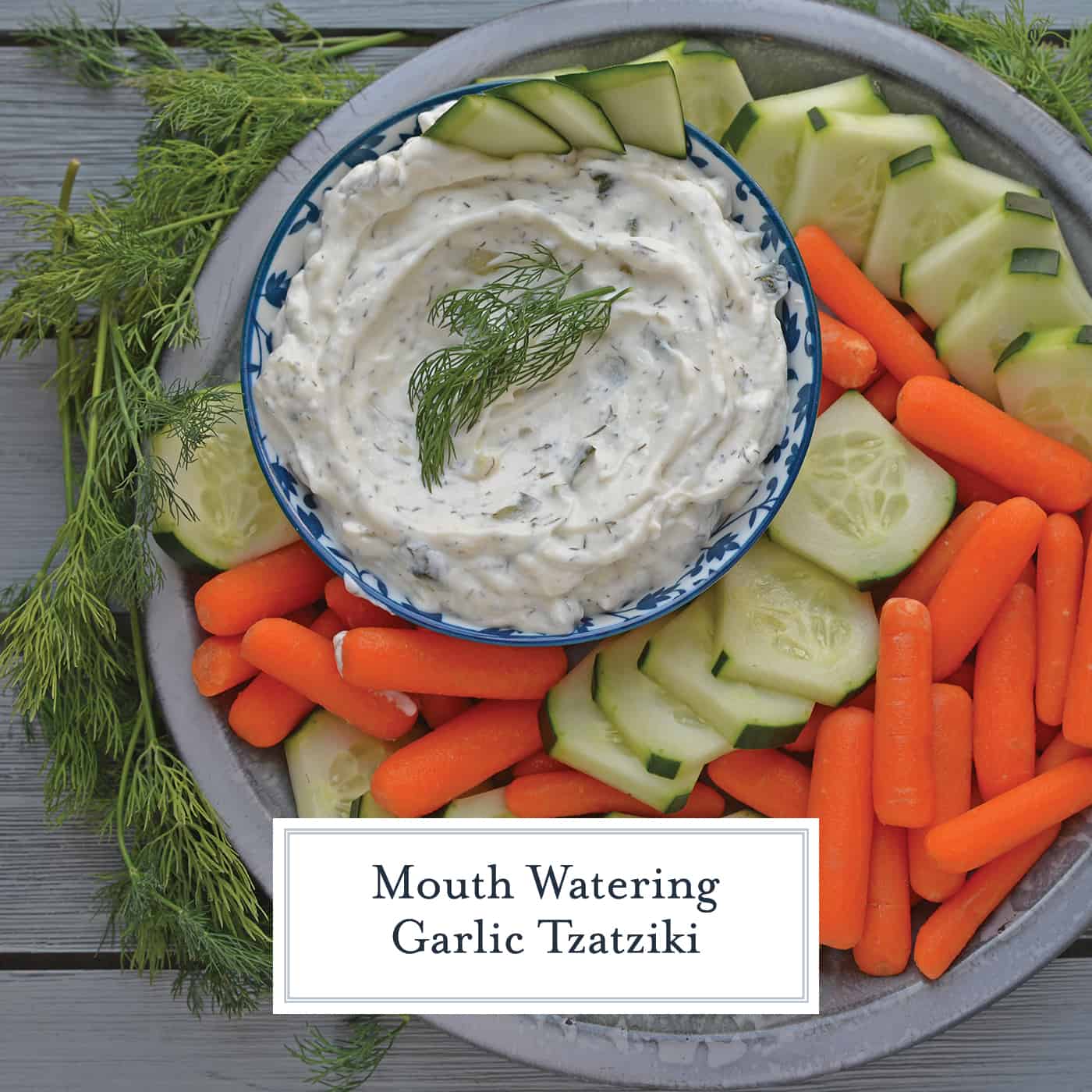 Paired with veggies or pita bread, this tzatziki dip makes one good party appetizer! You can also serve it on a Greek lamb burger, which is heavenly.
What is Tzatziki Sauce?
Garlic Tzatziki Sauce is a refreshingly delicious tzatziki dip made from simple ingredients like greek yogurt, cucumber, fresh dill, lemon juice, and garlic. Use it as a sauce for meat, dip for chips or veggies, or even as a dressing for salad.
While it can be used on nearly any food, it most well known for Greek food! This tzatziki dip is a super, simple, no-cook condiment used in Greek and Turkish cuisine but is a great compliment to many other dishes, such as Egyptian Red Lentil Soup , Spanakopita or even gyros.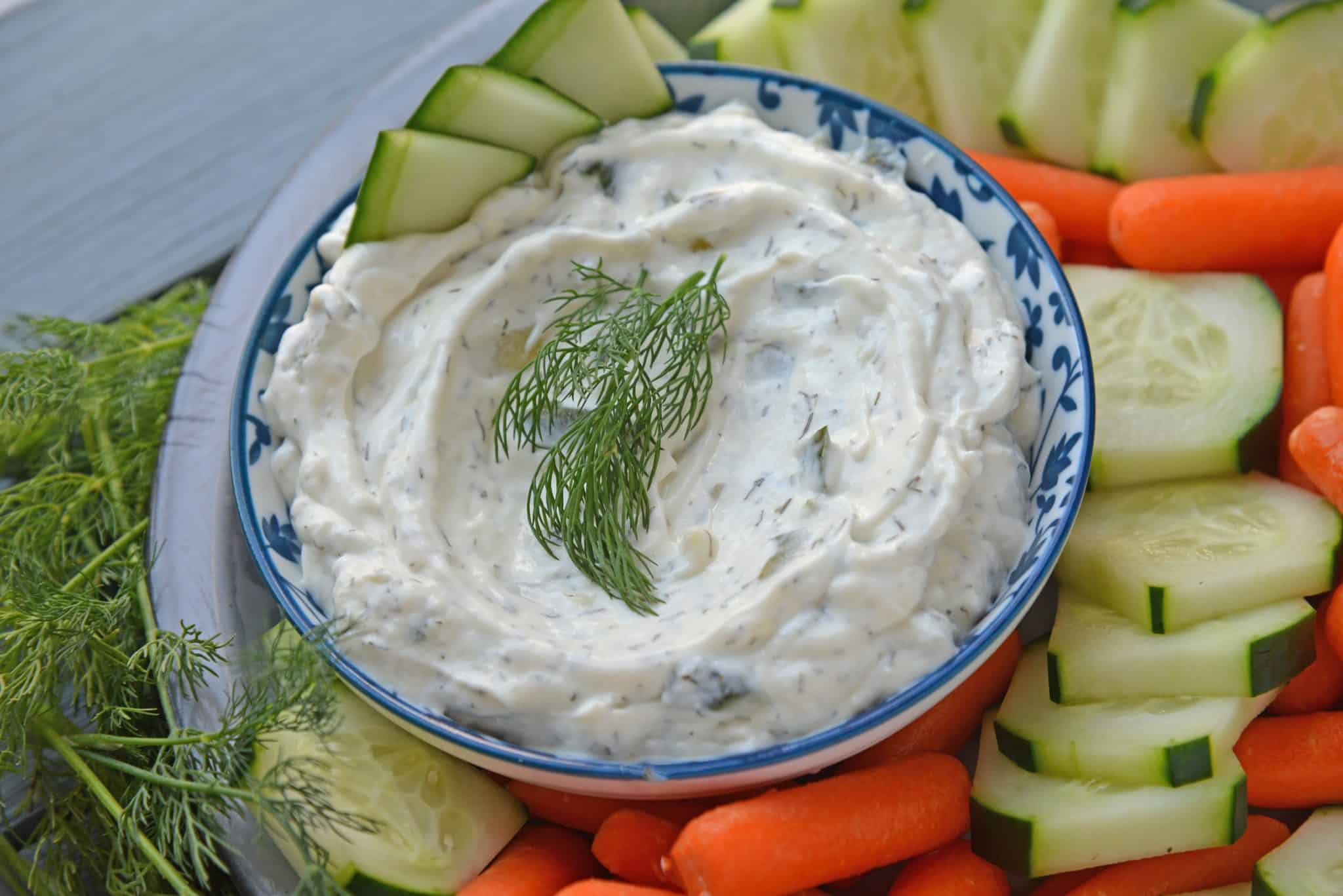 What's In Tzatziki Sauce?
All you need is a handful of ingredients to make this easy homemade sauce.
Plain Greek yogurt – Using full-fat Greek yogurt is ideal for the best results, but you can substitute a low-fat variety with fewer calories or even use sour cream, but it isn't the same as thick yogurt.
Lemon juice – This adds brightness to the dip. You can use fresh lemon juice or a store-bought variety.
Dill – You'll want to use fresh dill for the best flavor. Make sure to chop it coarsely. Some folks also like fresh mint.
Cucumber – You can either finely chop or use grated cucumber (grate using a box grater). Be sure to have a coffee filter or paper towels handy to strain and avoid having excess water — you don't want to introduce too much water to the yogurt. Also, you can use any number of different cucumbers, but my preference is to use English cucumber.
Kosher salt – Just a bit of Kosher salt adds the bit of kick necessary to round out this sauce.
Fresh Garlic cloves – Be sure to mince the raw garlic cloves finely to avoid any large chunks.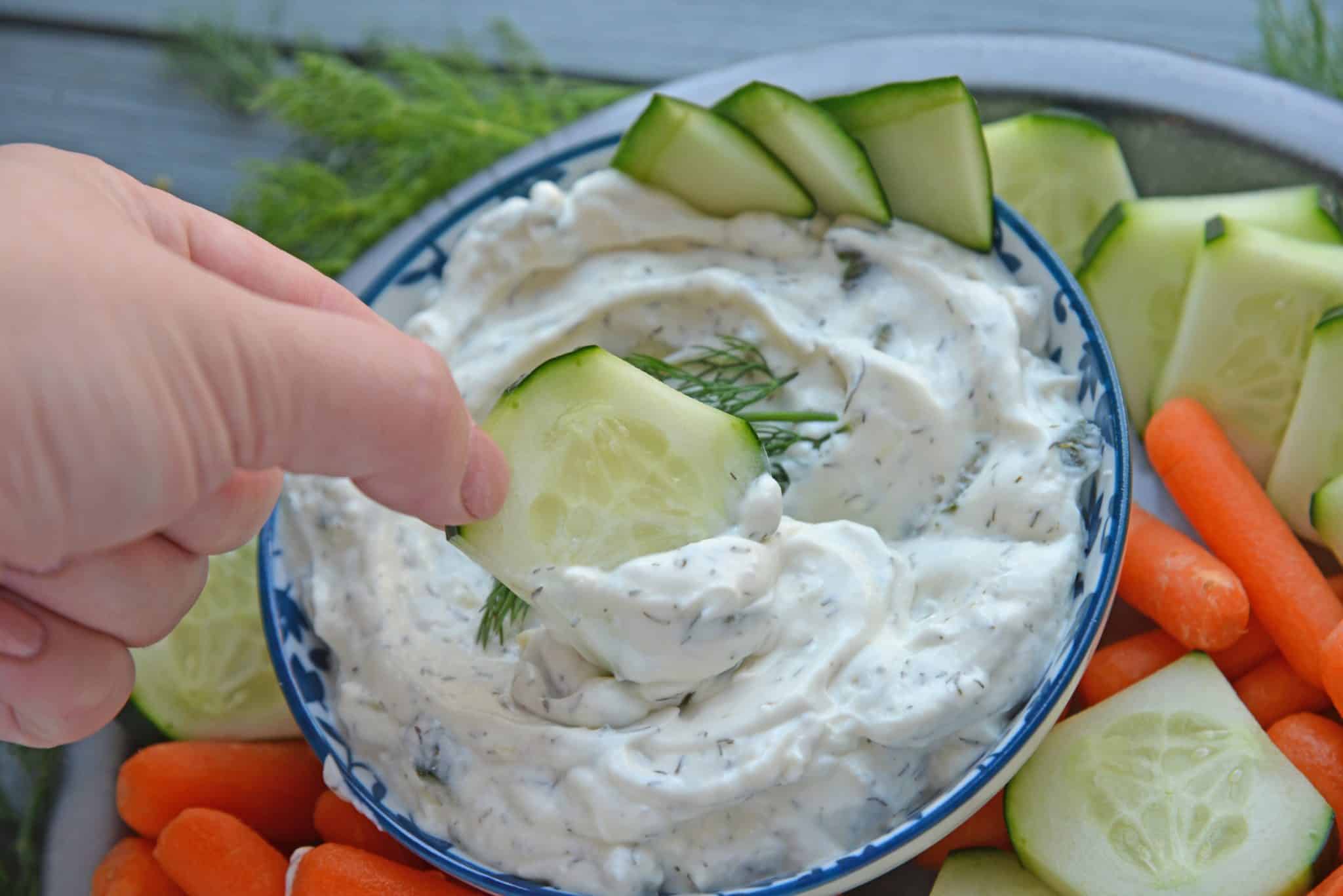 How To Make Greek Tzatziki
The steps are easy to making this homemade tzatziki sauce recipe.
Gather Ingredients. Add the Greek yogurt, lemon juice, fresh dill, grated cucumber, kosher salt, and garlic to a small bowl.
Combine. Stir the ingredients until completely combined.
Allow Flavors to Marry. Refrigerate in an airtight container or serve immediately alongside pita bread (or pita chips), veggies, or your favorite dippers. Garnish with feta cheese or fresh herbs.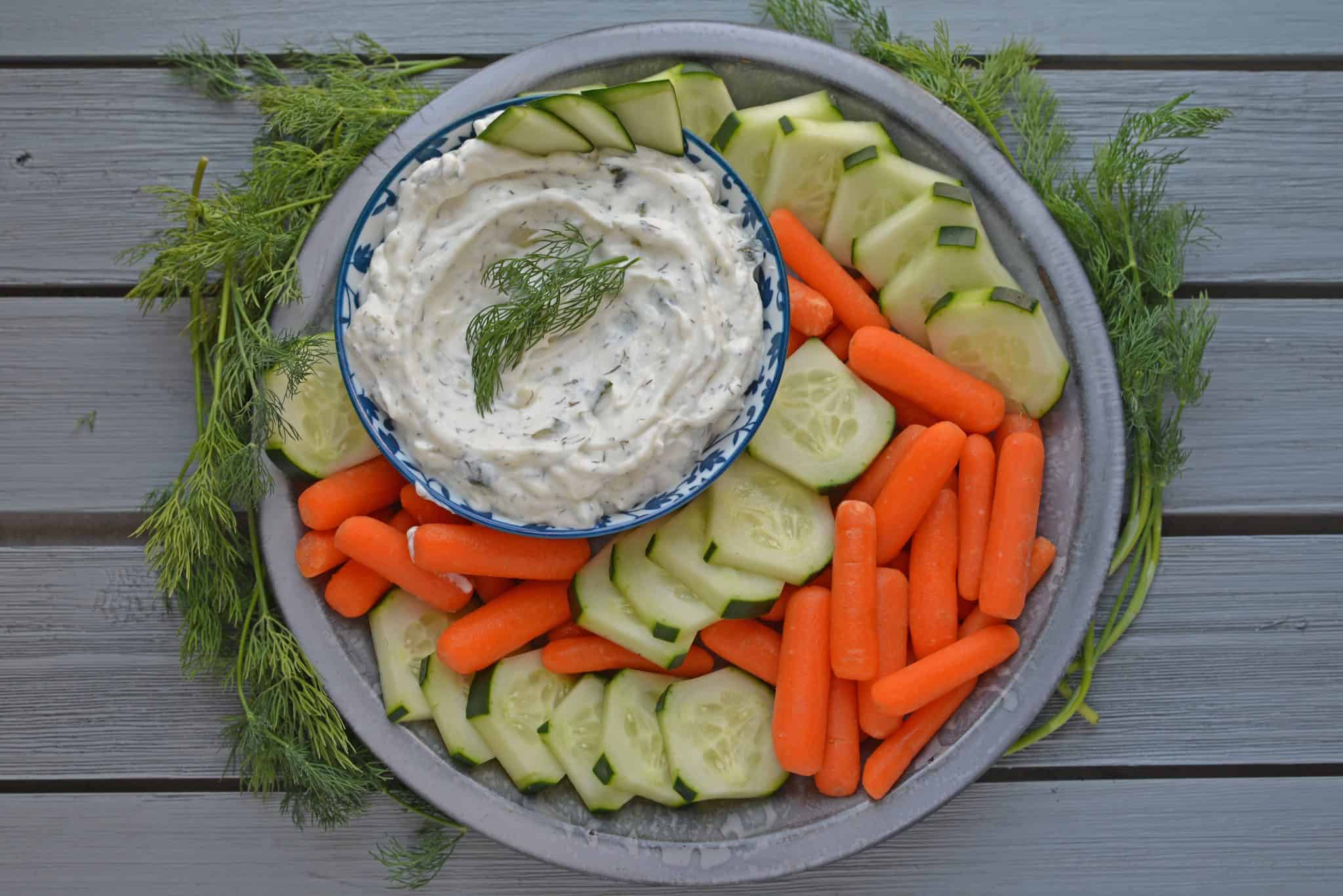 Some folks like to put it in the food processor and give it a few pulses, but I like the texture of just chopping and mixing.
Greek Yogurt vs Regular Yogurt
Greek yogurt and regular yogurt have some key differences in terms of taste, texture, and nutritional content.
Greek yogurt is known for its thicker and creamier texture compared to regular yogurt. This is because Greek is strained to remove much of the liquid whey, resulting in a higher concentration of solids, including protein. As a result, it typically contains more protein per serving than regular yogurt, making it a popular choice for those looking to increase their protein intake. Additionally, Greek yogurt tends to have a tangier flavor due to the straining process.
Regular yogurt is not strained to the same extent as Greek yogurt, so it has a thinner consistency and contains more liquid whey. This gives regular yogurt a milder taste and a smoother texture. While it has less protein per serving compared to Greek yogurt, regular yogurt still provides essential nutrients like calcium, probiotics, and vitamins. It can be a good choice for those who prefer a less tangy taste.

How to Serve Tzatziki
Here are some popular ways to serve tzatziki sauce:
As a Dip: Tzatziki is often served as a dip with pita bread, pita chips, or vegetable sticks. It's a great appetizer or party snack.
With Gyros: Tzatziki is a classic accompaniment to gyros, a Greek sandwich typically made with sliced or shredded meat (often lamb, chicken, or beef) wrapped in pita bread. Drizzle tzatziki inside the pita along with the meat and vegetables for a creamy and cooling contrast to the savory meat.
As a Sauce: Tzatziki can be used as a sauce for grilled meats such as chicken, lamb, or kebabs. It adds a refreshing flavor and helps balance out the richness of the meat.
With Falafel: Tzatziki pairs wonderfully with falafel, a deep-fried ball or patty made from ground chickpeas or fava beans. You can use it as a drizzle or spread it inside a pita sandwich with falafel.
On Souvlaki: Souvlaki is a Greek dish consisting of skewered and grilled pieces of meat, usually served with pita bread and toppings. Tzatziki is a fantastic topping for souvlaki, adding a creamy and tangy element to the dish.
As a Salad Dressing: Tzatziki can be thinned with a bit of water or lemon juice to make it into a Greek salad dressing. It works particularly well on Greek salads, cucumber salads, or as a dressing for a simple lettuce and tomato salad.
With Grilled Vegetables: Drizzle tzatziki over grilled vegetables like zucchini, eggplant, or bell peppers. It adds a burst of flavor and a cool contrast to the smokiness of the vegetables.
With Baked Potatoes: Instead of sour cream or butter, serve tzatziki as a topping for baked potatoes. It's a healthier and more flavorful alternative.
As a Condiment: Tzatziki can be used as a condiment for sandwiches, wraps, and burgers. It adds a creamy, tangy kick to your favorite sandwiches.
With Seafood: Tzatziki can be a refreshing accompaniment to grilled or baked seafood like salmon or shrimp.
When serving tzatziki, you can garnish it with a drizzle of olive oil and a sprinkle of fresh herbs, such as dill or mint, to enhance its flavor and presentation.
Questions About Tzatziki
Can tzatziki be made in advance?
Yes! Make your sauce in advance, cover and chill until ready to serve. Some moisture might accumulate on top, simply give a quick stir to recombine and you'll be good to go.
How long does tzatziki last?
Homemade tzatziki is for good for up to 5 days if stored properly. Give it a good stir before serving.
Can I freeze tzatziki?
I do not suggest freezing this recipe. It will be muted and watery when it thaws. Many would debate this since yogurt is frozen all the time, however actual frozen yogurt goes through a series of steps and is combined with other ingredients before it is frozen.
Can use dried dill instead of fresh dill?
I highly encourage you to use fresh dill for this great recipe. While dried herbs are a perfectly fine substitute for many recipes, something like this really craves fresh herbs. dill?
What type of cucumber is in tzatziki?
I use English cucumbers or hot house cucumbers. I would shy away from using pickling cucumbers.
If you want the fancy effect mine have when sliced, simply use a vegetable peeler to peel lines down the side before slicing. You can also go ahead and slice them, then stack and make small cuts around the edges to achieve the same effect.
More Easy Sauce Recipes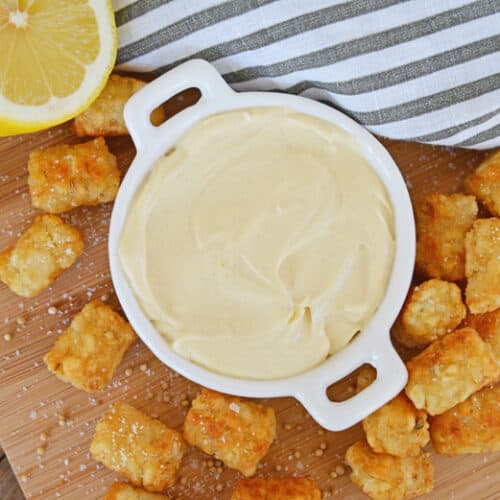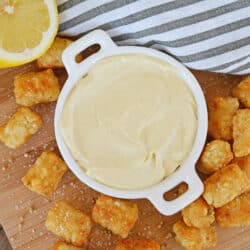 Mustard Aioli Sauce
This zesty Mustard Aioli comes together in less than 5 minutes and is the perfect dipping sauce and sandwich topper for any meal or BBQ.
See The Recipe!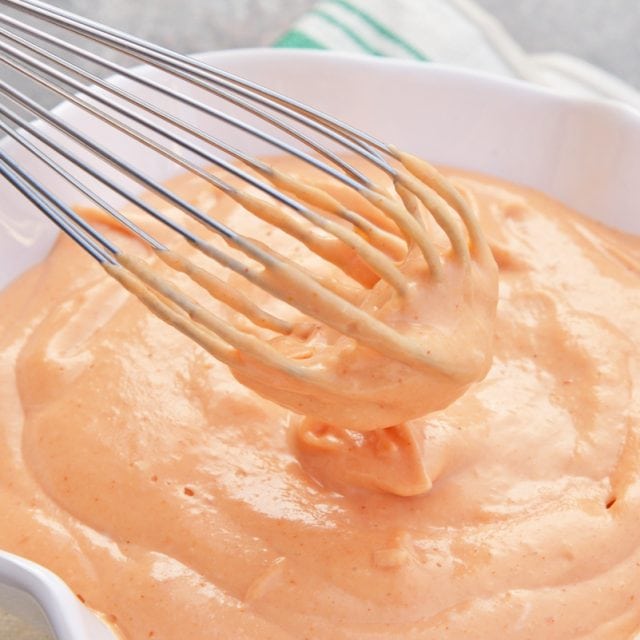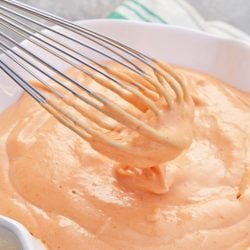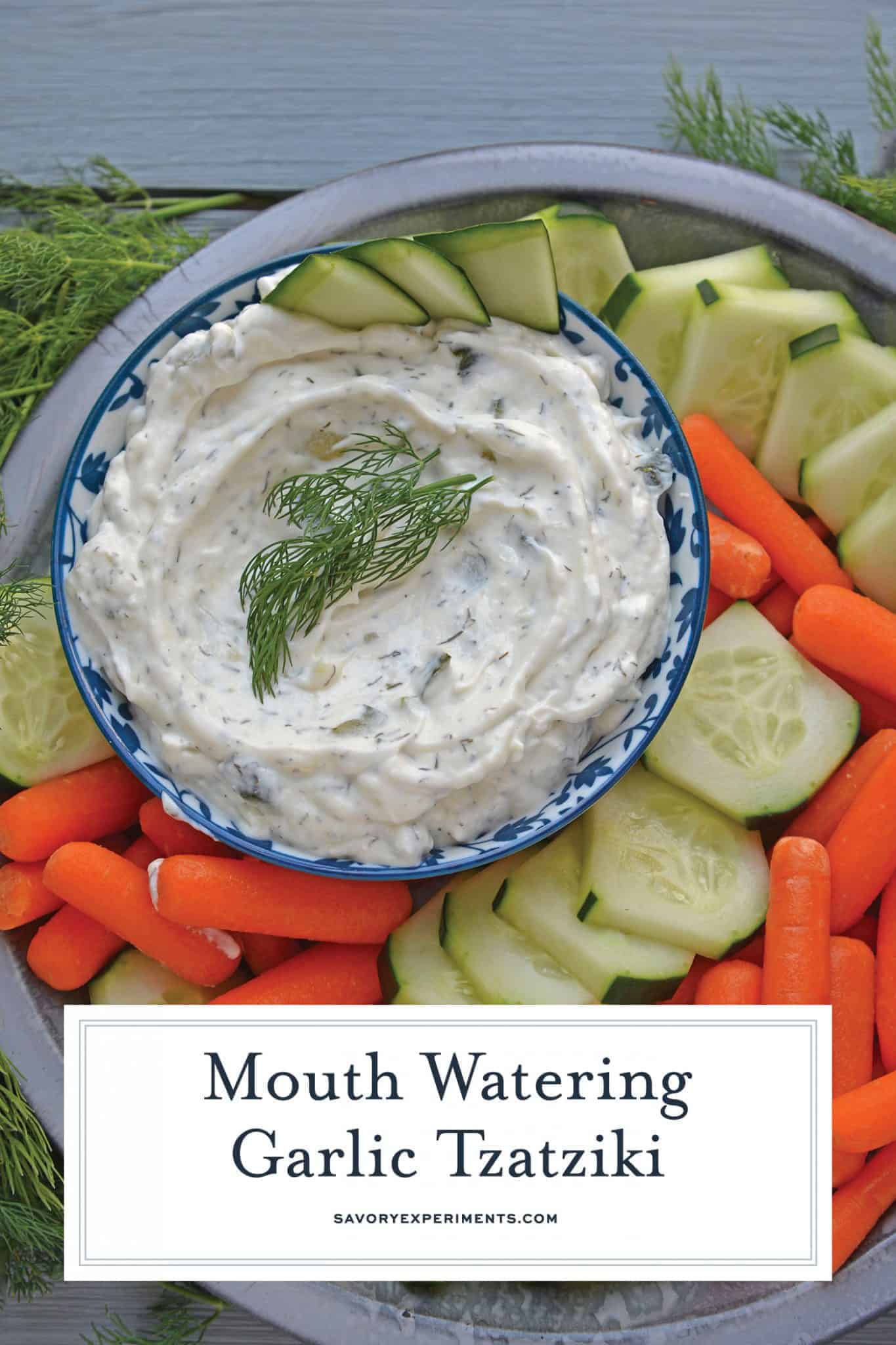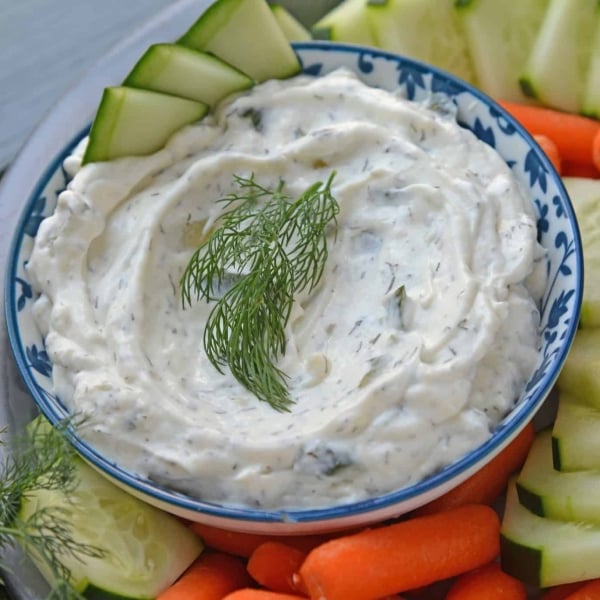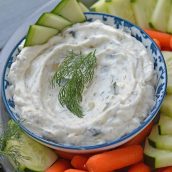 Garlic Tzatziki Recipe
Garlic Tzatziki Sauce is a refreshingly delicious tzatziki dip made from greek yogurt, cucumber, fresh dill, lemon juice, and garlic!
Instructions
Combine plain Greek yogurt, lemon juice, fresh dill, cucumber, Kosher salt and garlic in a small bowl, stir until combined.

If you've tried this recipe, come back and let us know how it goes!
Notes
Tzatziki can be stored in an airtight container in the refrigerator for up to one week.
Nutrition
Calories:
25
kcal
,
Carbohydrates:
2
g
,
Protein:
3
g
,
Cholesterol:
1
mg
,
Sodium:
159
mg
,
Potassium:
64
mg
,
Sugar:
1
g
,
Vitamin A:
10
IU
,
Vitamin C:
2.1
mg
,
Calcium:
43
mg