Garlic Tzatziki Sauce is a mouth watering dip made up of yummy, fresh ingredients! It's the perfect combination between tangy, and tart.
Paired with veggies or pita bread, this tzatziki dip makes one good party appetizer! You can also serve it on a Greek lamb burger, which is heavenly.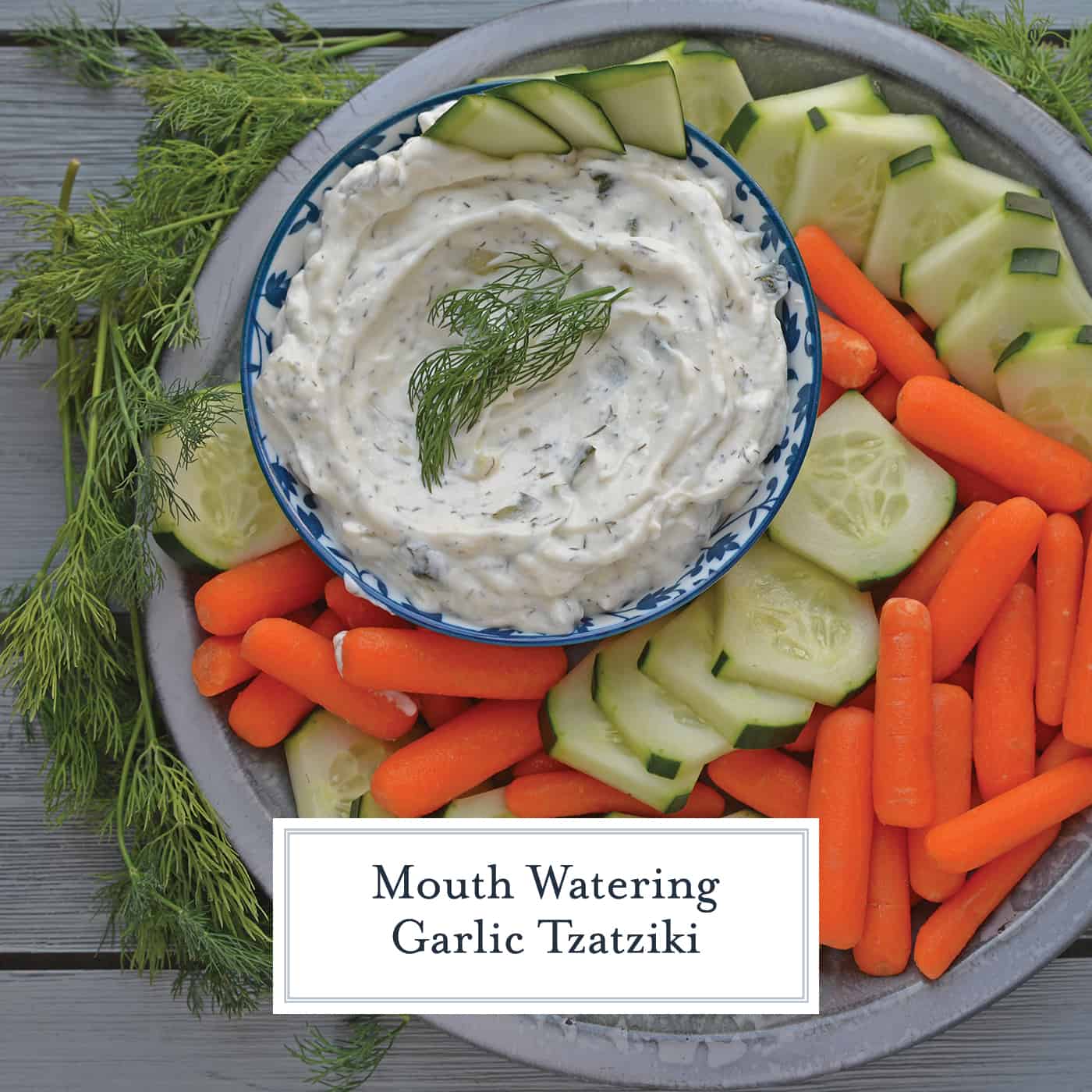 Garlic Tzatziki Sauce is a refreshingly delicious tzatziki dip made from greek yogurt, cucumber, fresh dill, lemon juice, and garlic. Use it as a sauce for meat, dip for chips or veggies, or even as a dressing for salad!
I don't know about you but I love Greek food, especially homemade Greek food! This tzatziki dip is a super, simple, no-cook condiment used in Greek and Turkish cuisine but is a great compliment to many other dishes, such as Egyptian Red Lentil Soup , Spanakopita or even gyros.
What is tzatziki?
Tzatziki is a dip made from greek yogurt with cucumbers and garlic, and sometimes other ingredients.
It's typically served with grilled meats or pita bread. It originates from the ottoman empire and there are multiple different versions of how to make it.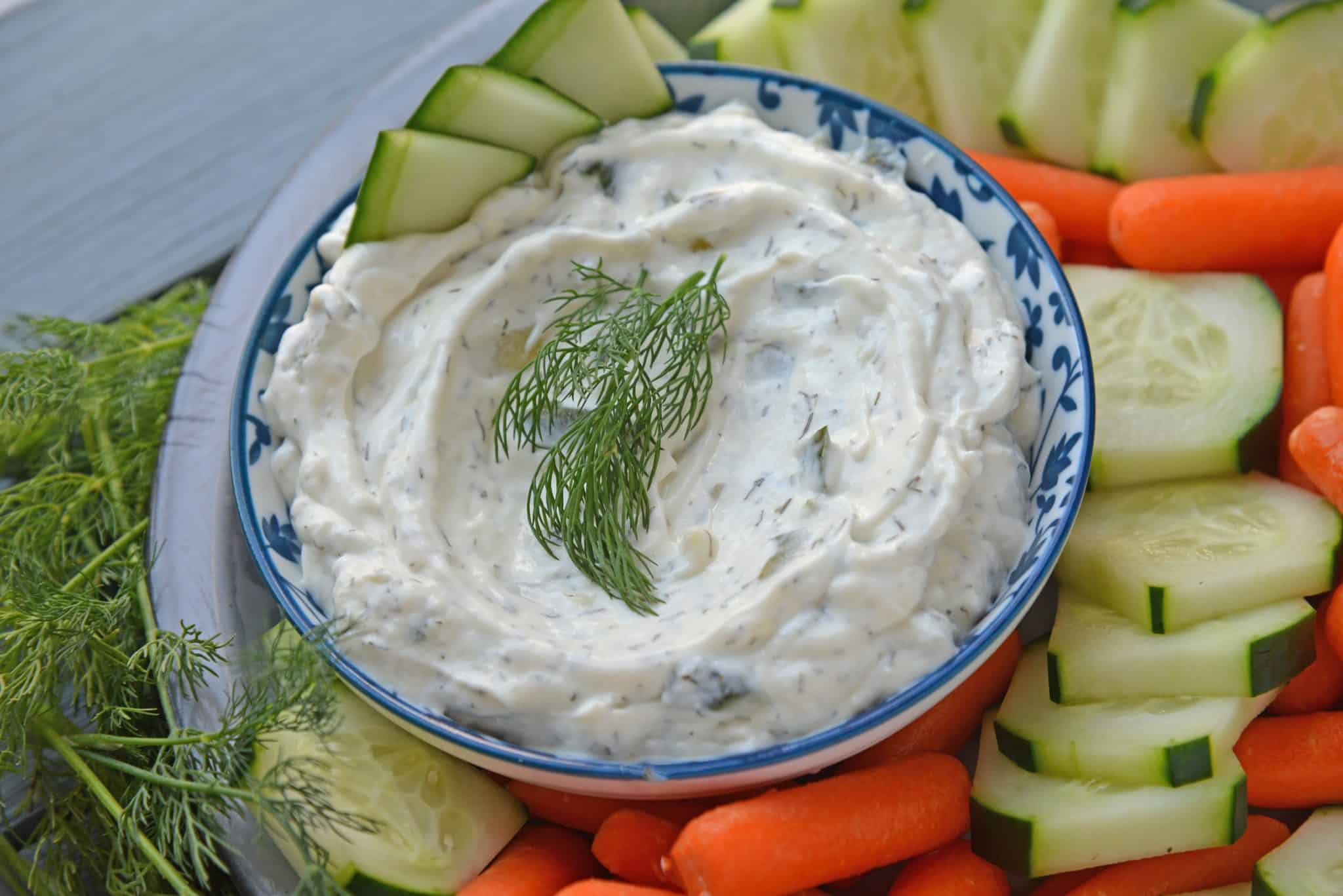 Now the real question is how to make tzatziki sauce. You only need a handful of ingredients, and everything gets combined in a dish and mixed together. It is just that easy!
You'll see some recipes call for the use of a food processor, but I really don't think it is necessary. Cucumber, garlic and dill can be roughly chopped and simply stirred into the yogurt.
PRO TIP: Use fresh lemon juice. Bottled citrus juices are muted in flavor. If you really like lemon in your homemade tzatziki, you can even add a few grates of lemon zest!
If you don't want large chunks, you also have the option of grating the cucumber. Same with garlic cloves.
Other recipes will also use sour cream, but both sour cream and yogurt are acidic, tangy and creamy, so I don't see the point in using both. Every Greek restaurant I've ever been to only uses a full fat yogurt.
Feel free to top your dip with a good olive oil for presentation and extra flavor.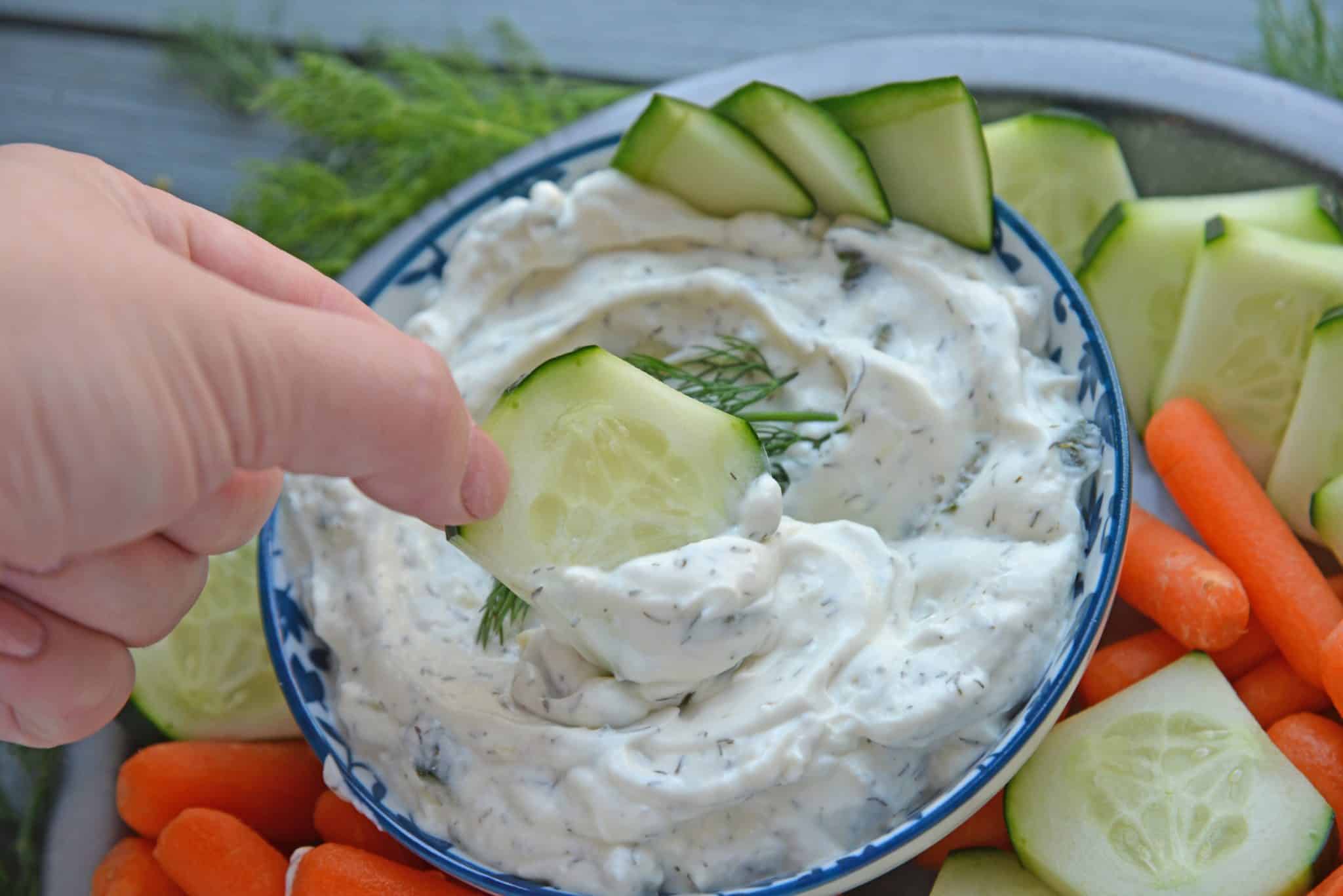 The traditional way is by adding cucumber and garlic to strained yogurt, and then adding in your dill, lemon juice, and salt, but you can skip some of the cumbersome steps and buy premade Greek yogurt.
While yogurt might seem nice a thick in the container, there is always some moisture. Straining yogurt is the same as draining. Simply place your yogurt in a fine sieve lined with with cheesecloth and allow it to sit for an hour or two in the refrigerator.
PRO TIP: Make sure to use plain Greek yogurt and not regular yogurt. It is much thicker.
You can also just make the dip with yogurt straight out of the tub. I promise not to judge.
Make sure to get the full fat version so it has a lot of body and volume. You want it to hug to your food, not slime right off.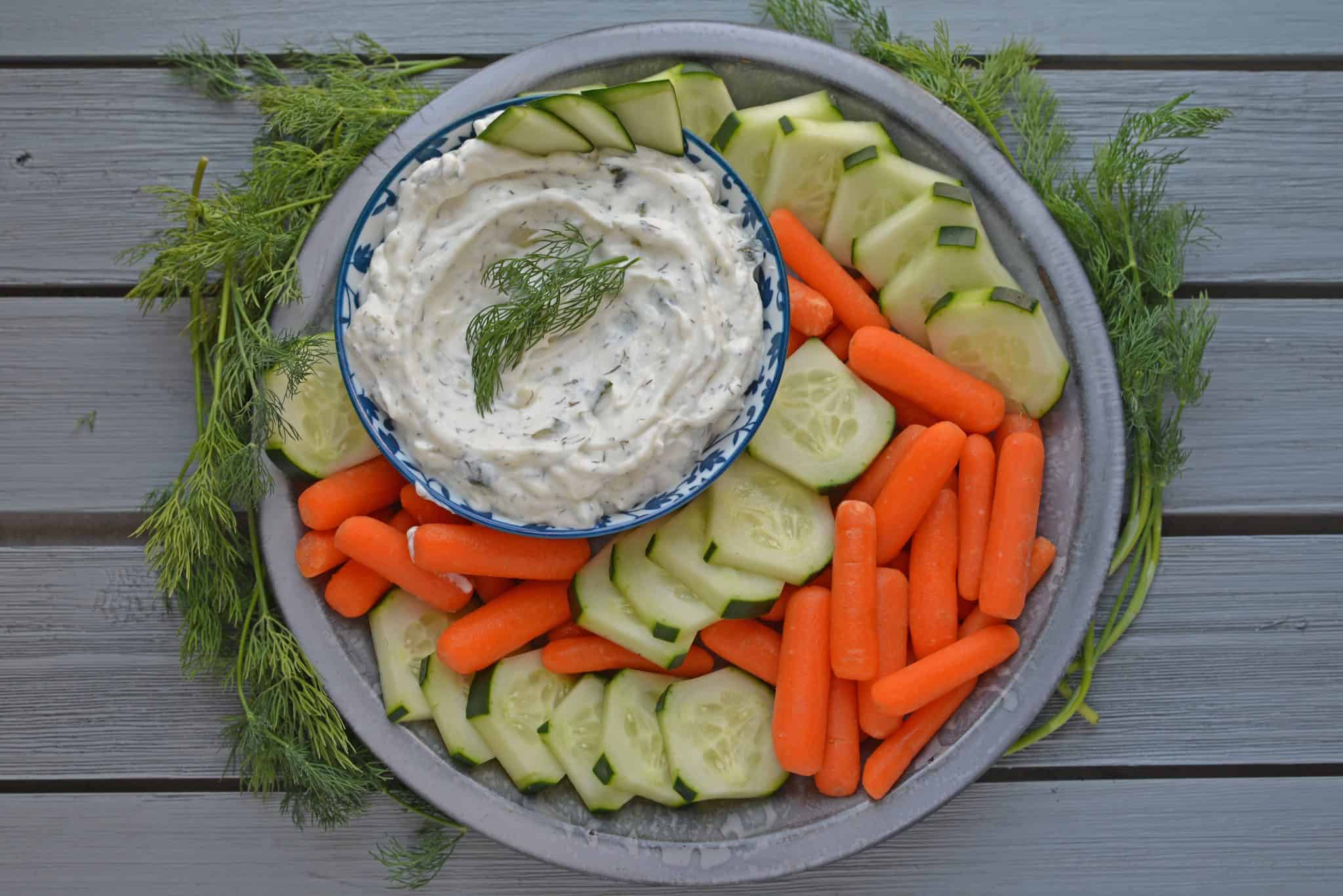 Check out these other easy sauce recipes: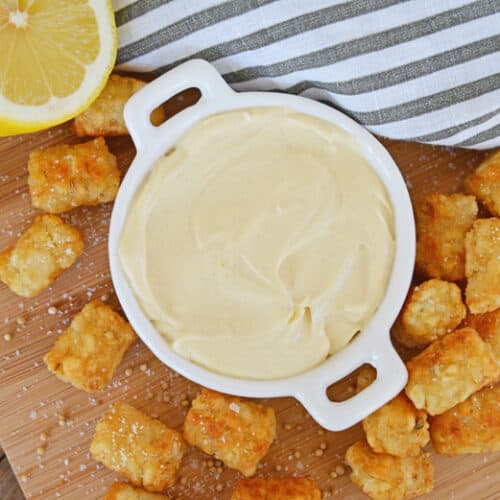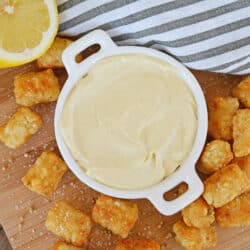 Mustard Aioli Sauce
This zesty Mustard Aioli comes together in less than 5 minutes and is the perfect dipping sauce and sandwich topper for any meal or BBQ.
View this recipe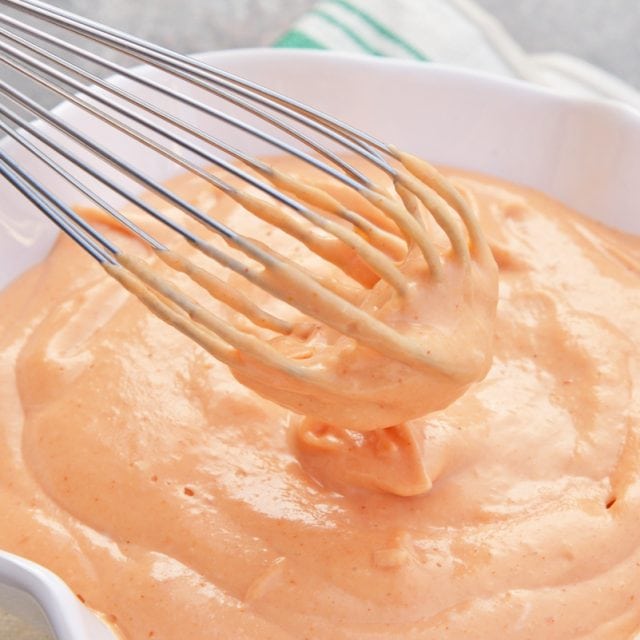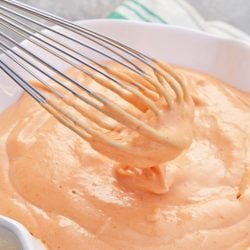 Yum Yum Sauce Recipe
Yum Yum Sauce is an easy sauce for seafood and vegetables. Now you can make your favorite pink sauce at home!
View this recipe
Tools for making Homemade Tzatziki:
Wood cutting board – wood won't dull your knives like plastic and if treated properly, has natural antimicrobial properties.
Good knife – Global is my favorite! They are worth the price, I promise. I am kind of obsessed with them and store them tucked away so no one else can use them. Including hubby. Hands off my good stuff!
Mixing Bowls– make sure to check out my article on Using the Right Mixing Bowl, you'd be surprised how many people aren't!
Cheesecloth– You don't have to strain your yogurt, but you do, you'll need cheesecloth! If the weave is fairly open and loose, layer is a few times to create a fine weave.
Fine Sieve– You can use a regular colander as well, but make sure it is lined well with cheesecloth. You don't want to loose the precious yogurt, only the excess moisture.
Questions you might have about how to make tzatziki sauce:
Can tzatziki be made in advance? Yes! Make your sauce in advance, cover and chill until ready to serve. Some moisture might accumulate on top, simply give a quick stir to recombine and you'll be good to go.
How long does tzatziki last? Homemade tzatziki is for good for up to 5 days if stored properly.
Can I freeze tzatziki? I do not suggest freezing this recipe. It will be muted and watery when it thaws. Many would debate this since yogurt is frozen all the time, however actual frozen yogurt goes through a series of steps and is combined with other ingredients before it is frozen.
We are talking apples and oranges here, foodie friends.
Can use dried dill instead of fresh dill? I highly encourage you to use fresh dill for this great recipe. While dried herbs are a perfectly fine substitute for many recipes, something like this really craves fresh herbs.
Is tzatziki healthy? Healthy is a relative term… even more so these days. You can scroll on down to see the nutritional information and make your own judgement call.
What type of cucumber do you use? I use English cucumbers or hot house cucumbers. I would shy away from using pickling cucumbers.
If you want the fancy effect mine have when sliced, simply use a vegetable peeler to peel lines down the side before slicing. You can also go ahead and slice them, then stack and make small cuts around the edges to acheive the same effect.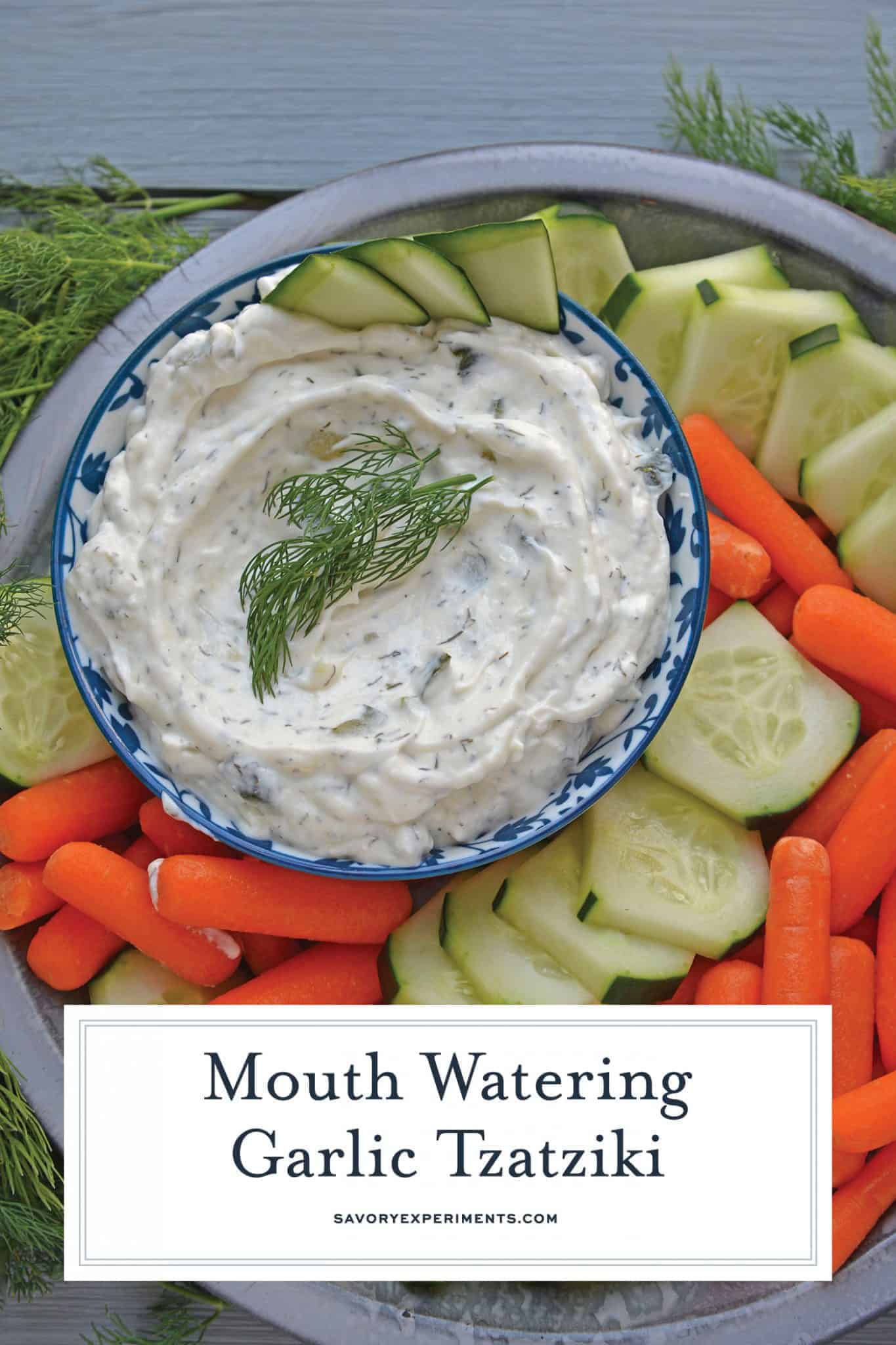 Garlic Tzatziki Sauce is a refreshingly delicious tzatziki dip made from greek yogurt, cucumber, fresh dill, lemon juice, and garlic!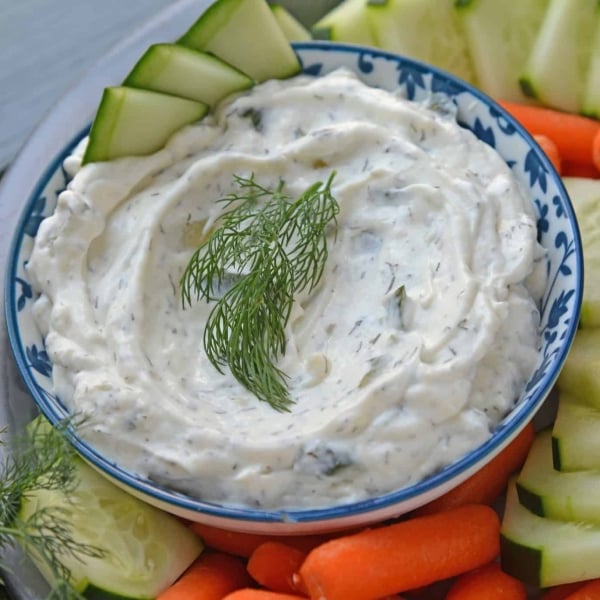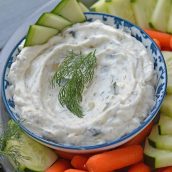 Garlic Tzatziki Recipe
Garlic Tzatziki Sauce is a refreshingly delicious tzatziki dip made from greek yogurt, cucumber, fresh dill, lemon juice, and garlic!
Instructions
Combine plain Greek yogurt, lemon juice, fresh dill, cucumber, Kosher salt and garlic in a small bowl, stir until combined.

If you've tried this recipe, come back and let us know how it goes!
Notes
Tzatziki can be stored in an airtight container in the refrigerator for up to one week.
Nutrition
Calories:
25
kcal
,
Carbohydrates:
2
g
,
Protein:
3
g
,
Cholesterol:
1
mg
,
Sodium:
159
mg
,
Potassium:
64
mg
,
Sugar:
1
g
,
Vitamin A:
10
IU
,
Vitamin C:
2.1
mg
,
Calcium:
43
mg