With only 4 ingredients, this Mixed Berry Pie is going to be your new go-to summer dessert! It has a perfect, golden brown crust and a deliciously sweet filling. Top with a dollop of whipped cream and you're all set!

This Mixed Berry Pie is the best summer pie recipe! It uses frozen berries and a pre-made pie crust making it an easy pie recipe that tastes delicious.
You are going to laugh at me. I just know it.
I am currently preparing for baby #2. He is scheduled for arrival in about 3 1/2 weeks. With that, I am also prepping my house for the chaos that will soon descend between trying to find a new routine, visiting family and managing our 20 month old daughter.
Part of this includes food. Because while all of these people will be staying with us to help, I just need to feed them. So my task this weekend is to assess and clean out the freezer.
I had a frozen pre-made pie shell and a bag of frozen berries.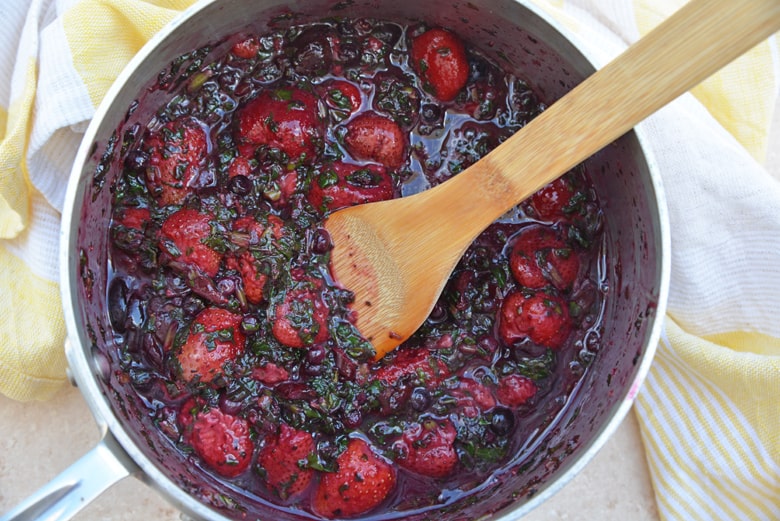 The frozen berries had been in the freezer, unopened, since before I was pregnant. See in those days, I had a nice, healthy shake every morning. With kale.
Well, as soon as I got pregnant, all I wanted was a GIANT bowl of Cheerios. So the bag of frozen berries (with kale) has been sitting since.
PRO TIP: To prevent bubbling in your pastry pie crust when pre-baking, pierce the bottom with a fork several time or use pie weights.
Mixed Berry Pie sounds fabulous… why not hide those kale bits in there and get a little leafy green with my dessert? We hide beets and black beans in brownies, well this pie is made with kale.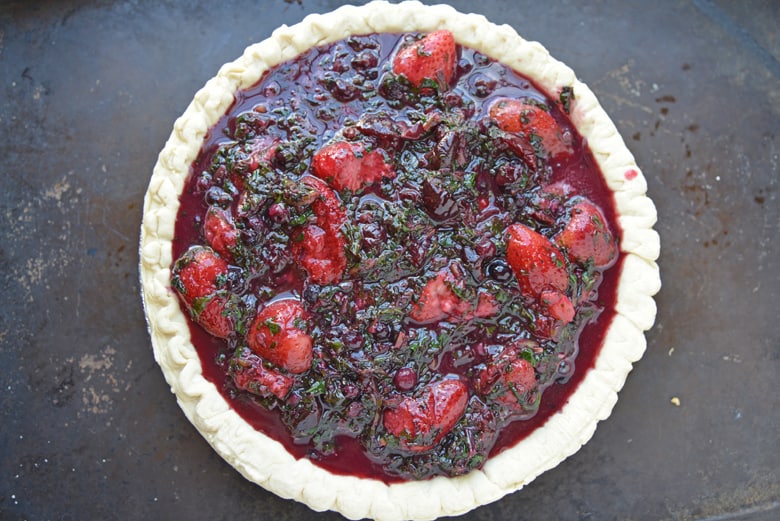 Homemade pie crust is one of my arch nemesis, so I typically buy pre-made dough or in this case, dough already in an aluminum pan. With a fluted crust already done and accounted for, the "I'll mess this up factor" is gone.
For this recipe, I prefer to use an all butter pie crust. Because the berries themselves are already pretty sweet (along with the half cup of sugar,) a graham cracker crust might just be a little too sweet.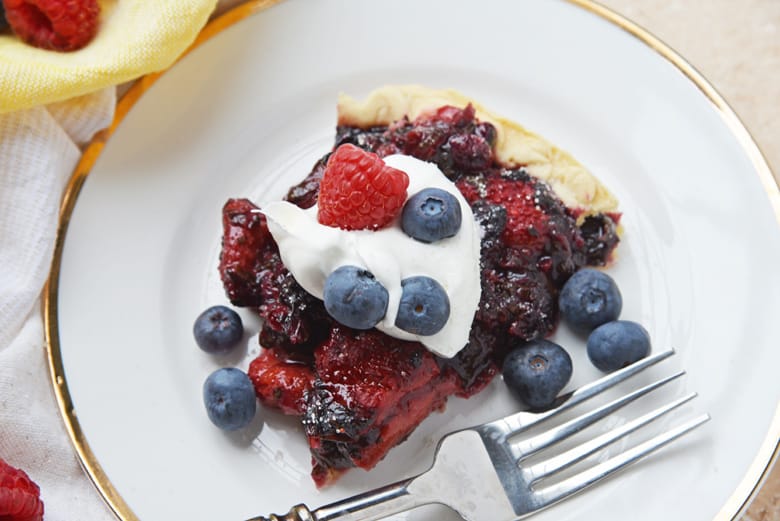 If you do try to make your own pie crust, I would suggest using ice water instead of hot or lukewarm. This keeps the butter cold and intact before baking.
PRO TIP: Bake pies on a rimmed baking sheet. If they overflow, it will land on the baking sheet and not burn in your oven.
And while we are on the topic of crust, I chose to forgo the top crust and just do a bottom crust only. It makes for a much prettier looking pie in my opinion, especially when you don't have time to make a fancy pattern in the crust!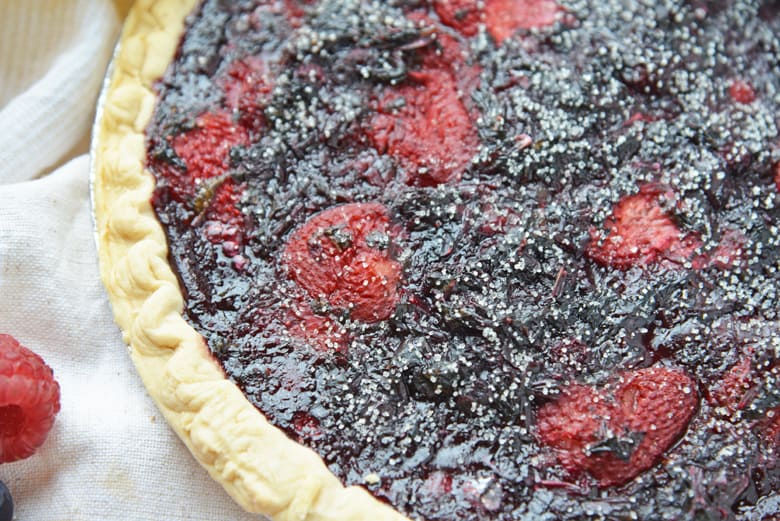 So here ya go, the easiest pie you will ever make (other than a fully baked frozen pie) is a pie from frozen fruit. With kale… (shhhh… you don't have to tell and they will never know).
Only 15 minutes of prep and you are well on your way to a delicious Mixed Berry Pie!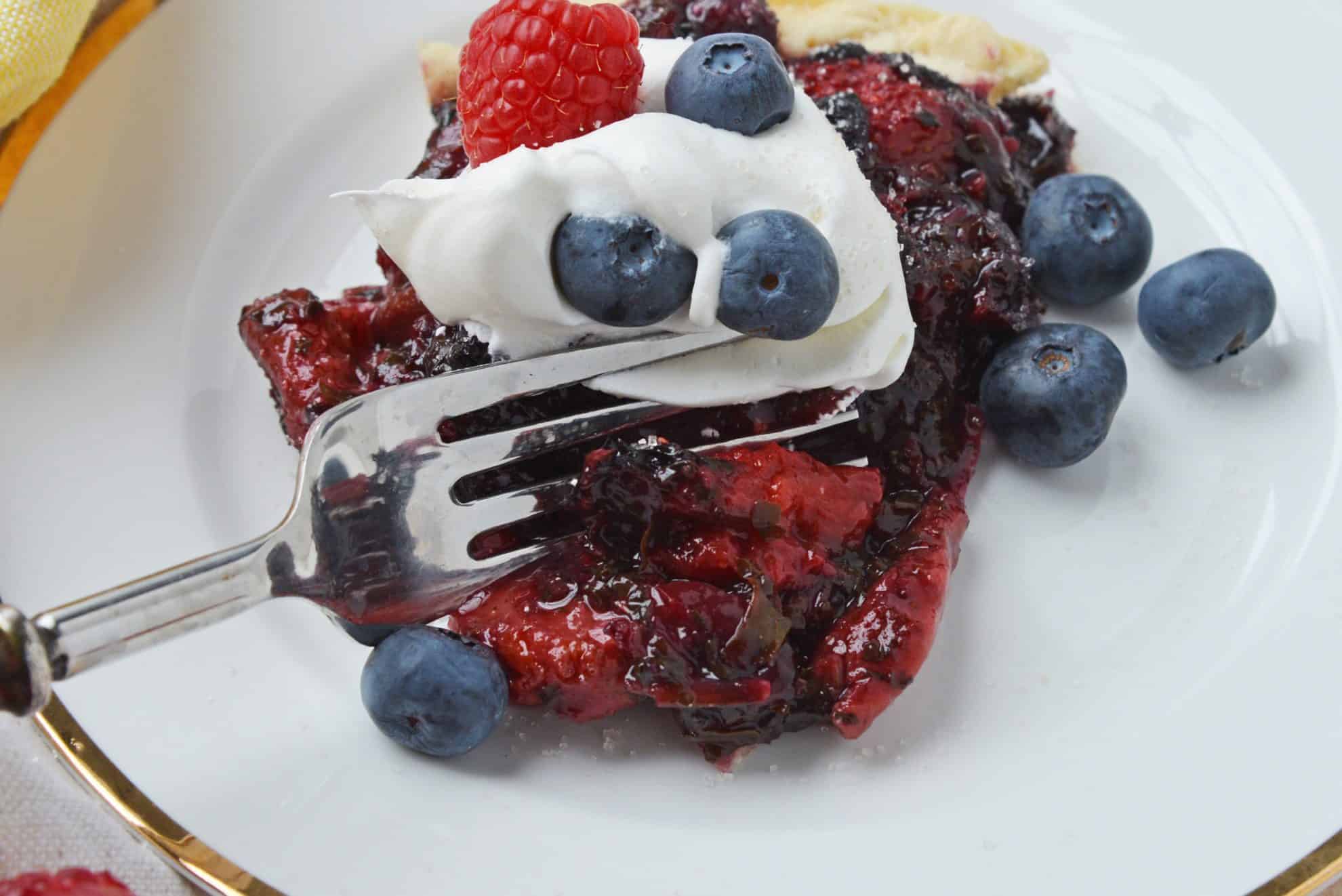 Questions you might have about how to make mixed berry pie:
How much filling fits into a 9-inch pie crust? I am answering this because I had to look it up and I had a hard time finding the answer. A typical premade pie crust is about 9 inches and 1 1/2 inches deep. It can handle anywhere from 2 1/2 -3 cups of filling.
This depends on how thick the pie crust is. If you are planning on heaping your filling (like apple slices) then you can go for 4 cups, but for a more liquid filling like a custard, curd or berries, aim for less.
For this pie made from frozen fruit, the fruit will take up much more space frozen than thawed, so the recipe calls for about five cups, which will cook down to around three.
What berries can I use? Use any mix of berries you'd like as long as it equals 5 cups of frozen berries. Blueberries, raspberries, strawberries, blackberries, even gooseberries!
Can I freeze mixed berry pie? You can freeze this pie after it has been baked, but since it isn't very dense, it tends to thaw being even more liquidy.
Should I serve mixed berry pie chilled or warm? You can serve it either way you'd like. If you do serve it warm, the berry filling won't be coagulated, so it will be a little more runny. Still delicious, but not a solid piece of pie.
What is turbinado sugar? It is a light brown cane sugar with larger crystals. Some may call it "sugar in the raw" or unrefined sugar. Basically, it is a larger granule and gives a nice crunch without being too overly sweet. You can omit it if you'd like.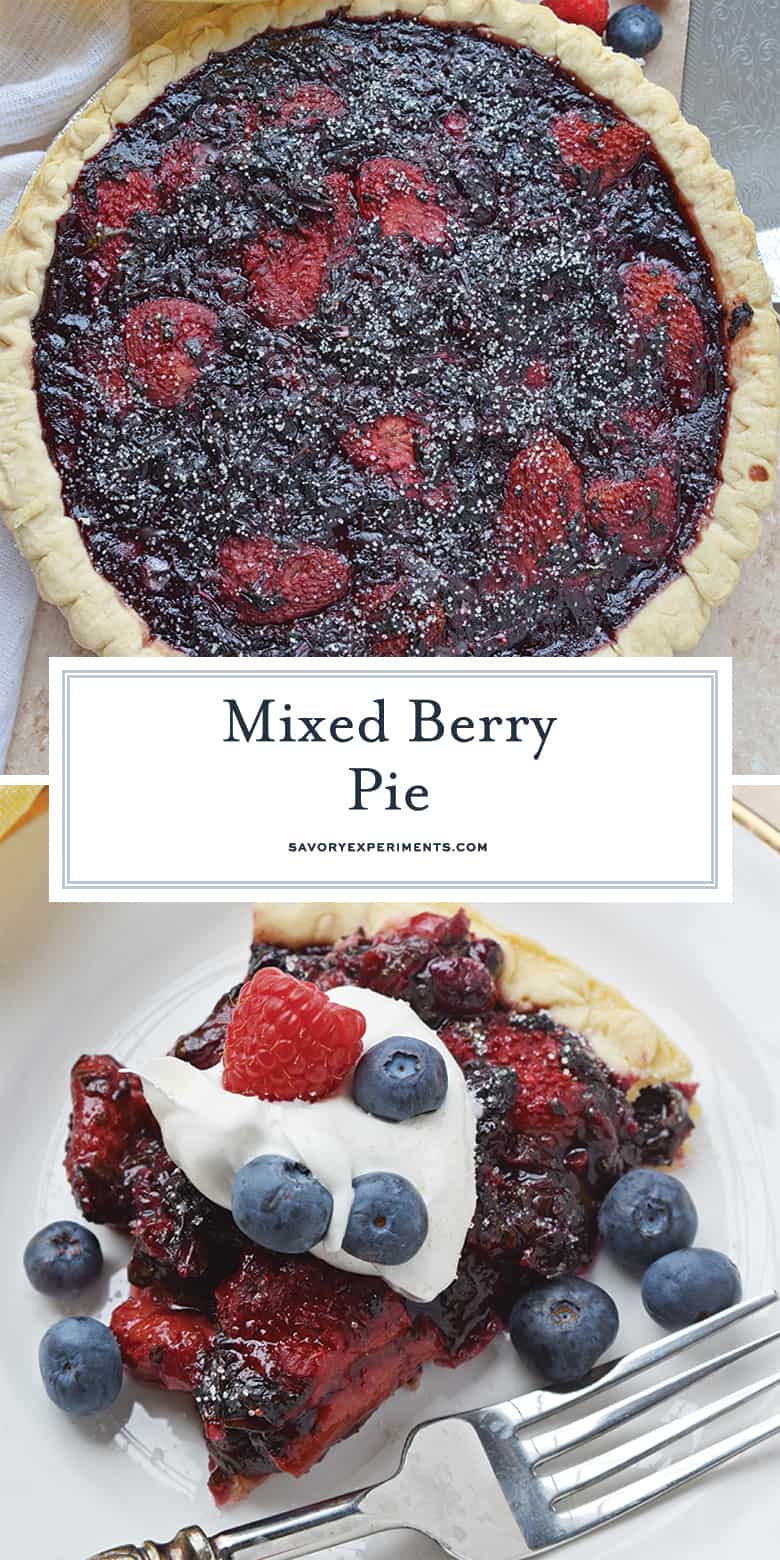 Tools for making this homemade berry pie:
Crust Saver– For years I made my own crust saver from aluminum foil every time I made a pie or quiche. Then I finally bought a silicon one that fits on all sizes of pie dishes. So much easier and guaranteed to fit and super cheap.
Heavy Bottom Sauce Pan– this will be one of your most used kitchen tools. Having something that is heavy bottom will distribute heat better and prevent burning whether you are using an electric or gas range.
Rimmed Baking Sheet– another kitchen staple! You'll use this for prep work, roasting and much more. I have 7 at my house.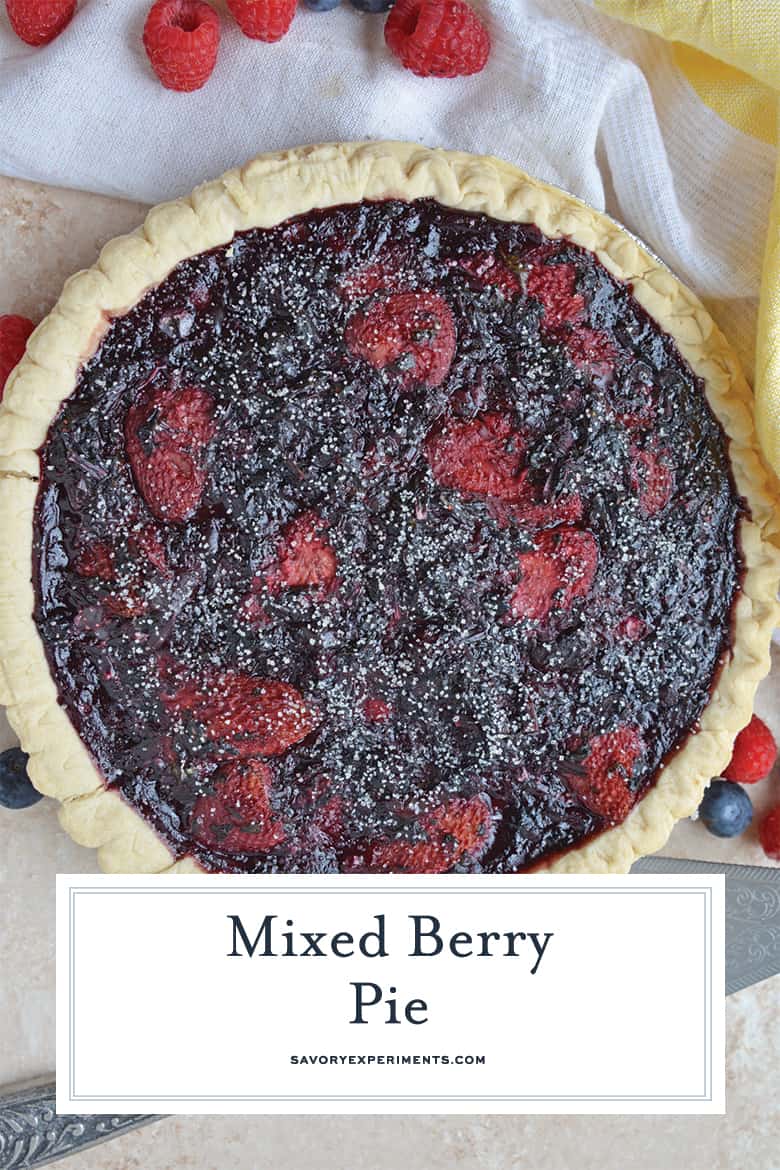 If you liked this summer pie recipe, check out these other homemade pies: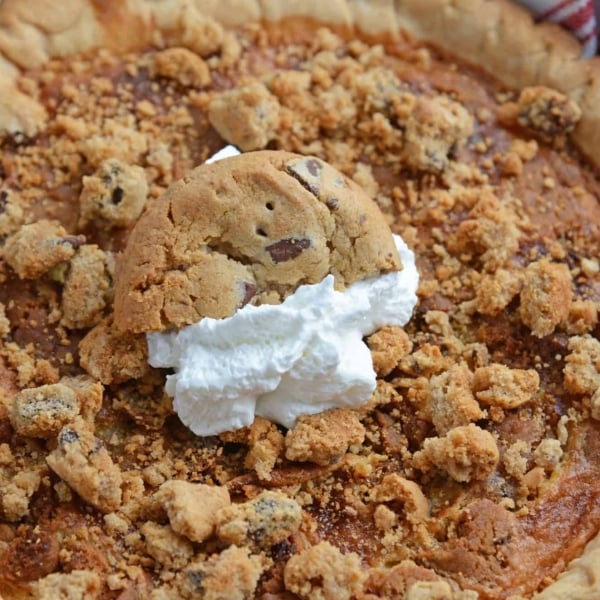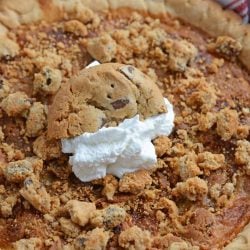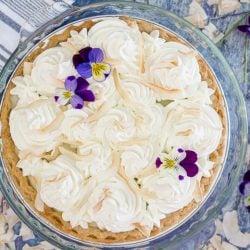 Coconut Cream Pie
Topped with a homemade whipped cream and toasted coconut, this deliciously creamy Coconut Cream Pie is made with a rich custard and sweet coconut flavor!
See The Recipe!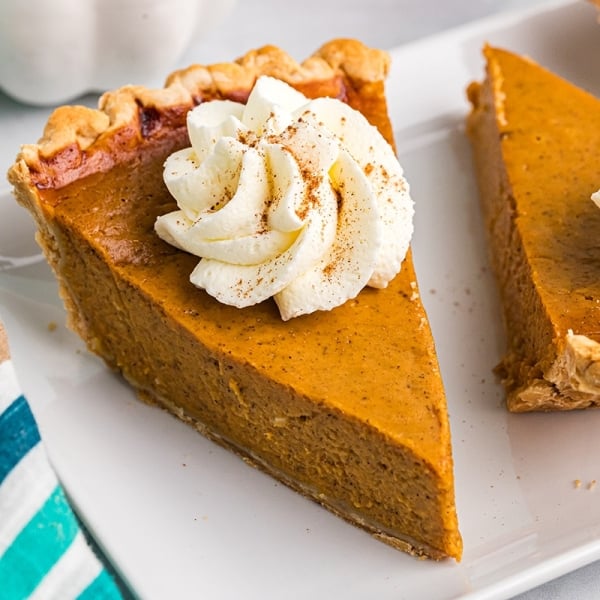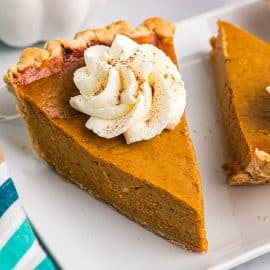 Easy Pumpkin Pie
This Easy Pumpkin Pie is just perfect for Thanksgiving! Perfectly creamy and delicious, this pumpkin pie recipe is perfection!
See The Recipe!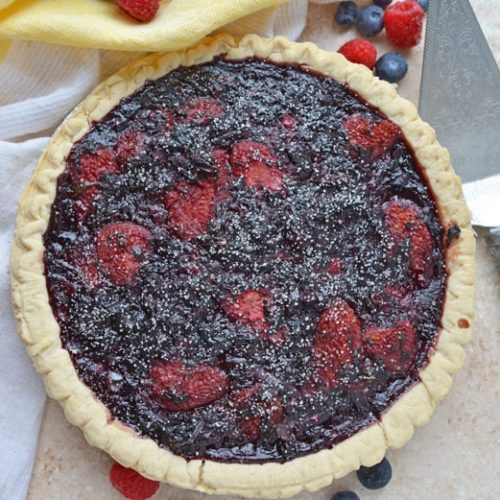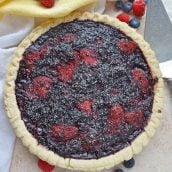 Mixed Berry Pie
This Mixed Berry Pie is the best summer pie recipe! It uses frozen berries and a pre-made pie crust making it an easy pie recipe that tastes delicious.
Ingredients
1

all butter pie crust

5

cups

frozen berries

1/2

cup

sugar

2

tablespoons

cornstarch
For serving:
1

tablespoon

turbinado sugar

fresh berries
Instructions
Preheat oven to 350 degrees. Place your pie crust on a rimmed baking sheet. Pierce several times with a fork.

Prebake crust for 8=9 minutes.

Meanwhile, in a heavy bottom saucepan, combine frozen berries, sugar and cornstarch over medium heat. Mix until berries are thawed and mixture is thick.

Transfer berry mixture to pie crust. Return to the oven for 45 minutes.

Remove and allow to cool fully.

Refrigerate until ready to serve.

Serve with whipped cream and vanilla ice cream!
Nutrition
Calories:
125
kcal
,
Carbohydrates:
22
g
,
Protein:
1
g
,
Fat:
4
g
,
Saturated Fat:
1
g
,
Sodium:
59
mg
,
Potassium:
106
mg
,
Fiber:
2
g
,
Sugar:
12
g
,
Vitamin A:
5
IU
,
Vitamin C:
35.3
mg
,
Calcium:
12
mg
,
Iron:
0.6
mg