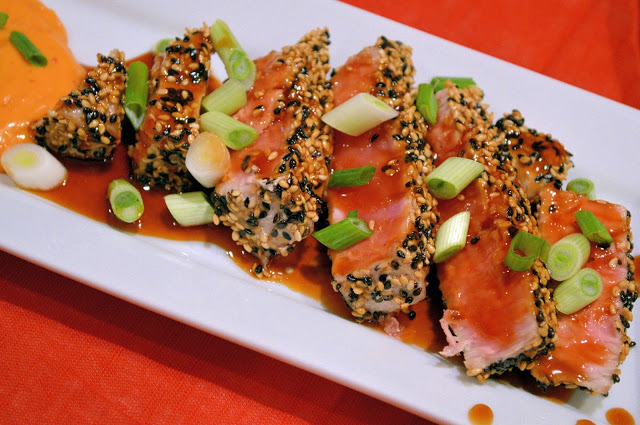 My husband and I love tuna steaks and often struggle with new ways to prepare them. My go-to is Chunky Avocado Cilantro Chutney, but he is not as big of an avocado fan as I am. For this creation I wanted to combine sweet with spicy. I used a teriyaki glaze I have traditionally used for salmon paired with a creamy volcano sauce inspired by spicy tuna sushi. Sesame seeds offer a crunchy contrast in texture and additional flavor.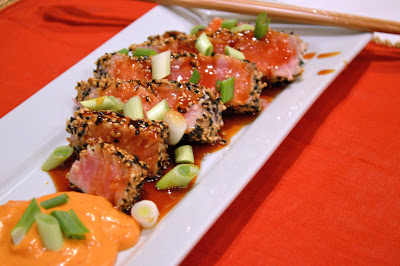 Time: 30 minutes
Serves: 4
Ingredients for Teriyaki Tuna with Volcano Sauce
1/2 cup low sodium soy sauce
1/2 cup light brown sugar, packed
1/2 teaspoon ground ginger
1/2 teaspoon granulated garlic
3 tablespoons honey
3 tablespoons corn starch
1/4 cup water
3/4 cup mayonnaise
2 tablespoons chili garlic sauce
2 tablespoons sweetened condensed milk
1 teaspoon sugar (or 1 packet sugar substitute)
4 tuna steaks
3 tablespoons white sesame seeds
3 tablespoons black sesame seeds
3 tablespoons vegetable oil
1 bunch scallions, sliced diagonally

1. Start by combining low sodium soy sauce through honey in a medium sauce pan. Set aside.
2. Whisk together corn starch and water in a small bowl, set aside.
3. Using a small food processor or an immersion/stick blender, combine mayonnaise, chili garlic sauce, sweetened condensed milk and sugar. Depending on your tastes for walking on the spicy side, add chili garlic sauce slowly until you reached your desired heat. Set aside.
4. Combine white and black sesame seeds in a shallow bowl or pie plate. Dredge both sides of the tuna steaks in sesame seeds. Set aside.
5. Start to heat soy sauce mixture over medium heat, stirring every few minutes.
6. When the spy sauce comes to a slow simmer, heat vegetable oil in a large cast iron skillet or large frying pan. Heat over high heat.
7. The name of the game is to sear, which means high heat, spitting oil and in my house, the smoke detector going off, so prepare your work space accordingly.
8. When vegetable oil is hot, place tuna steaks in the pan, cover. Cook on each side for 2-3 minutes depending on desired temperature. 2-3 minutes will be a medium rare for a 1 1/2 inch tuna steak.
9. While tuna is cooking, whisk set aside corn starch mixture to the simmering soy sauce. Bring to a low boil, still stirring. Sauce should thicken and become sticky, almost like a syrup. When it achieves this consistency take off heat and set aside.
10. After cooking, remove tuna steaks from frying pan/cast iron skillet. Plate and top with teriyaki glaze.
11. You have two choices for the volcano sauce. You can put a dollop on the side, allowing individuals to dip according to their tastes OR you can put the volcano sauce into an airtight plastic bag and cut a small hole on one bottom corner and then pipe the sauce onto teriyaki tuna steaks.
12. Garnish with sliced scallions and enjoy your Teriyaki Tuna with Volcano Sauce!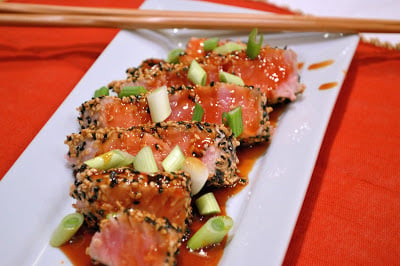 Now you want more, don't ya? Join me on Facebook for daily recipes and discussion, follow me on Twitter or see where I get some of my inspiration on Pinterest!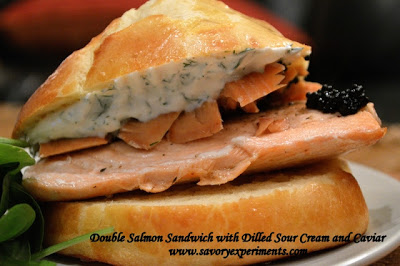 If you like this recipe, make sure to follow me on Pinterest for even more!