There are multiple tuna recipes out there, but this one will give you spice, crunch and the delicious flavor of teriyaki! What more can you ask for?!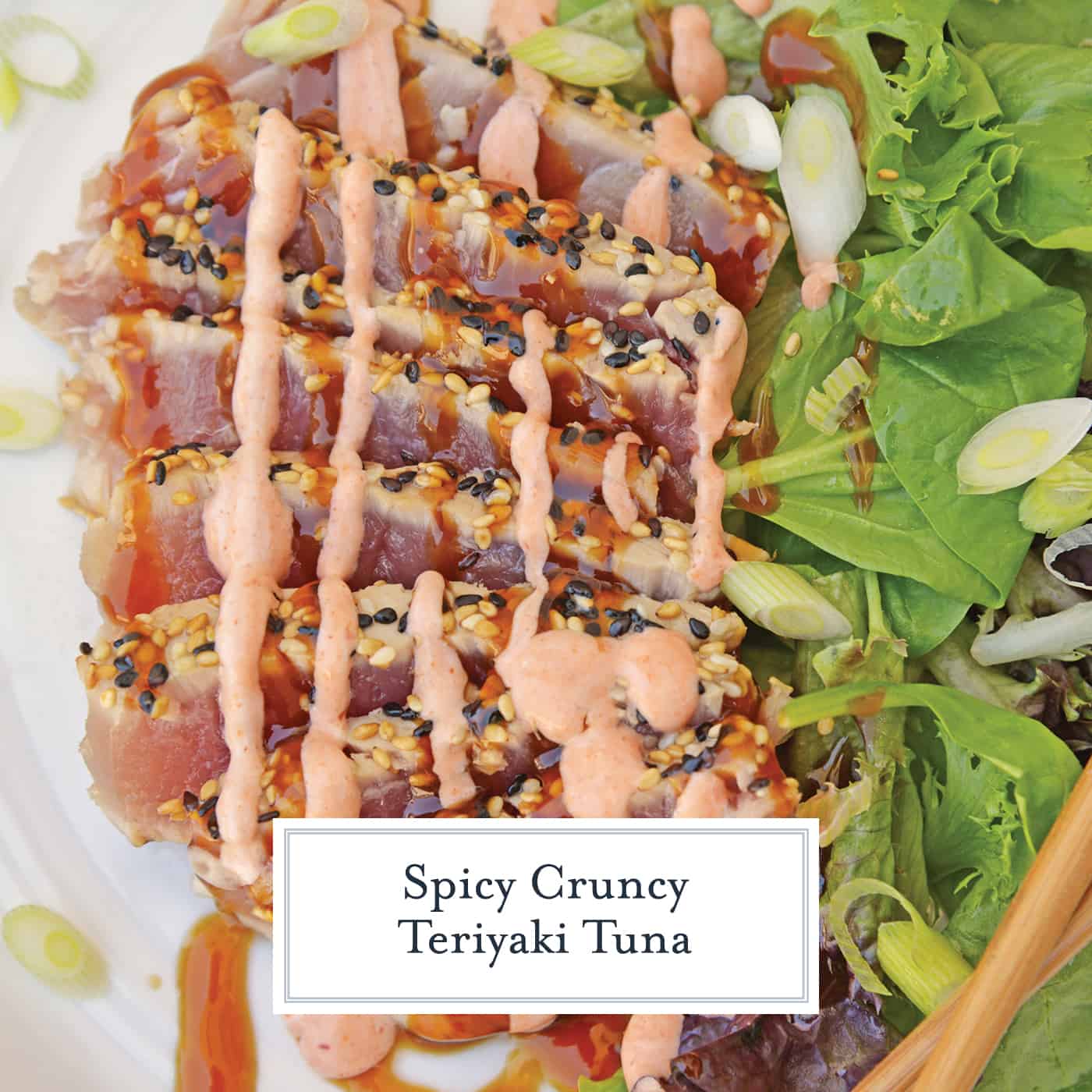 This Teriyaki Tuna recipe brings a delicious and healthy meal to the table in just over 20 minutes!
As a quick and easy meal this sesame crusted tuna can be made any day of the week! Your whole family will enjoy this tasty dish with crunchy contrast!
My husband and I love tuna steaks and often struggle with new ways to prepare them. Now teriyaki tuna is one of the most frequent tuna recipes in my house hold. It is just too easy to make and is accompanied with so flavor!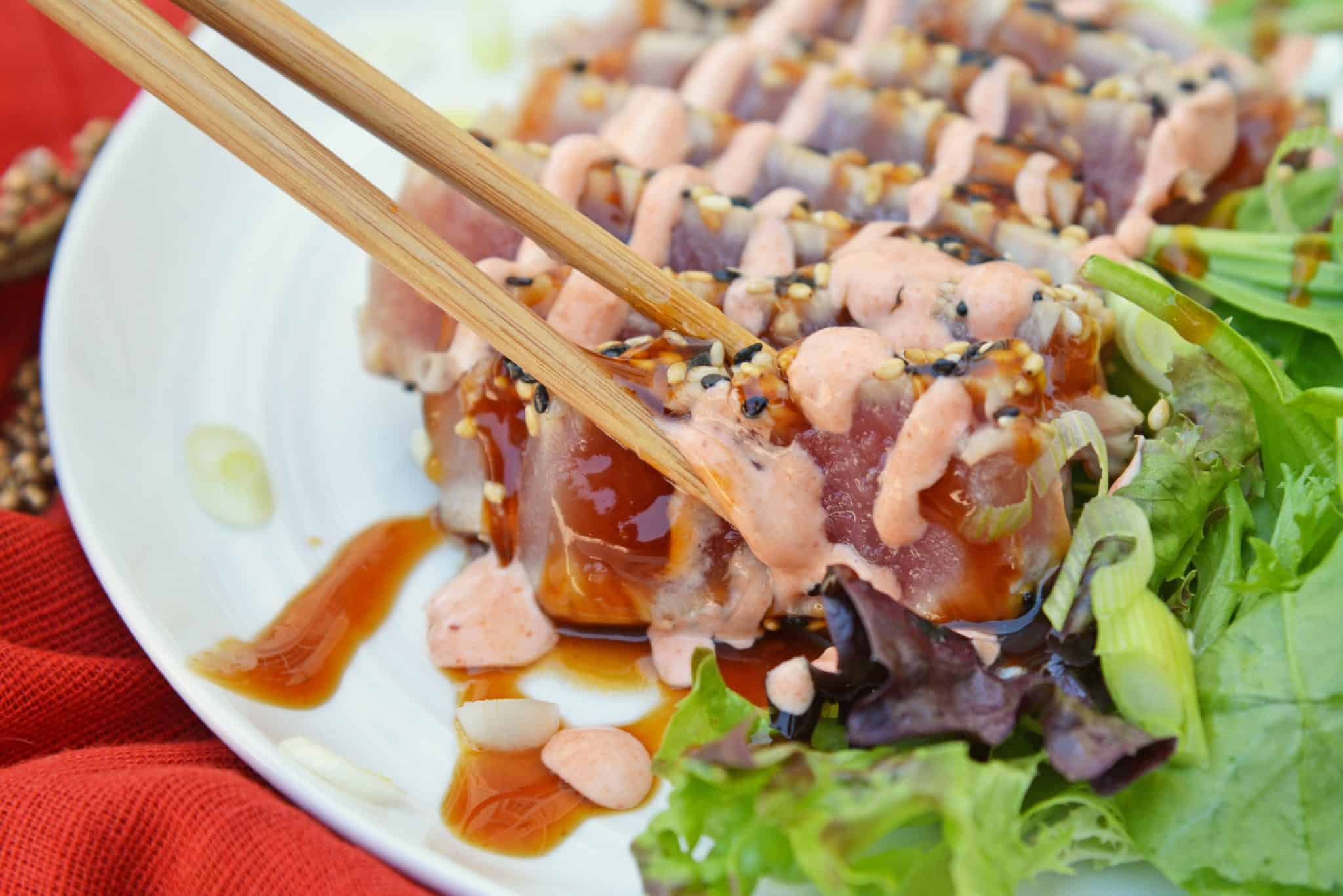 For this creation I wanted to combine sweet with spicy. I used a teriyaki glaze I have traditionally used for salmon paired with a creamy volcano sauce inspired by spicy tuna sushi. Sesame seeds offer a crunchy contrast in texture and additional flavor.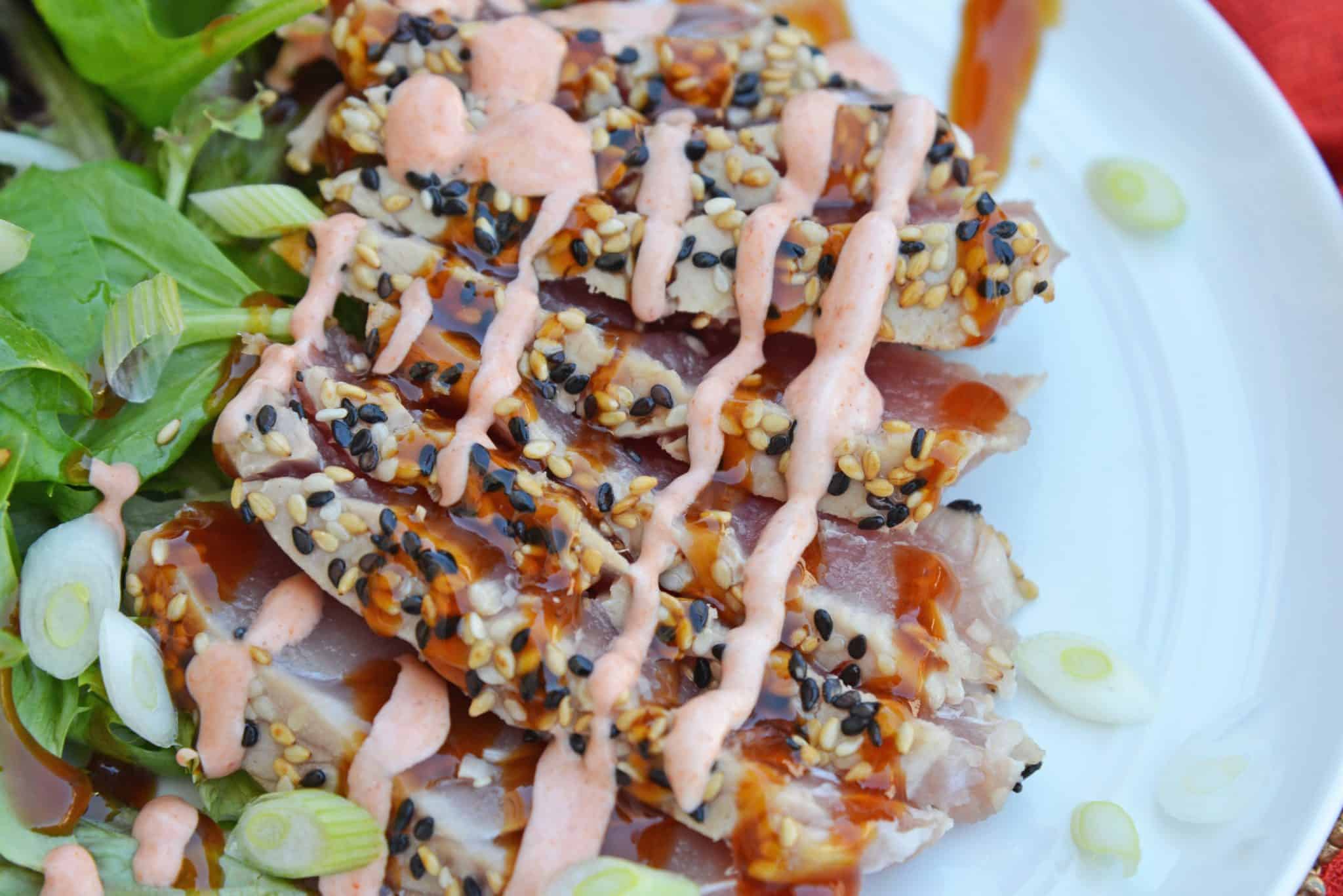 Fish is good for you and ahi tuna is great for certain thing. It's high in protein, vitamin D, potassium, omega-3 fatty acids, and minerals. Ahi tuna has some great health benefits but like everything else you should limit how much you consume it. It has a higher mercury level than other kinds of tuna so limiting how much you eat in a month is a good idea.
Here are some tips to remember when it comes to cooking ahi tuna steaks:
Wash your tuna steaks before you start with clean water to get off all the scales and dirt.
Use a paper towel to soak up all the water from the tuna before cooking.
If your tuna is fresh then it can be eaten rare or medium rare with a little pink in the middle.
Cook for 1-2 minutes for rare and 2-3 minutes for medium rare.
Sear for the same amount of time on both sides for even cooking.
Using a marinade helps add flavor and extra moisture to your tuna.
If you're using frozen tuna steaks, cook all the way through to the middle with no pink to avoid getting sick from food poisoning.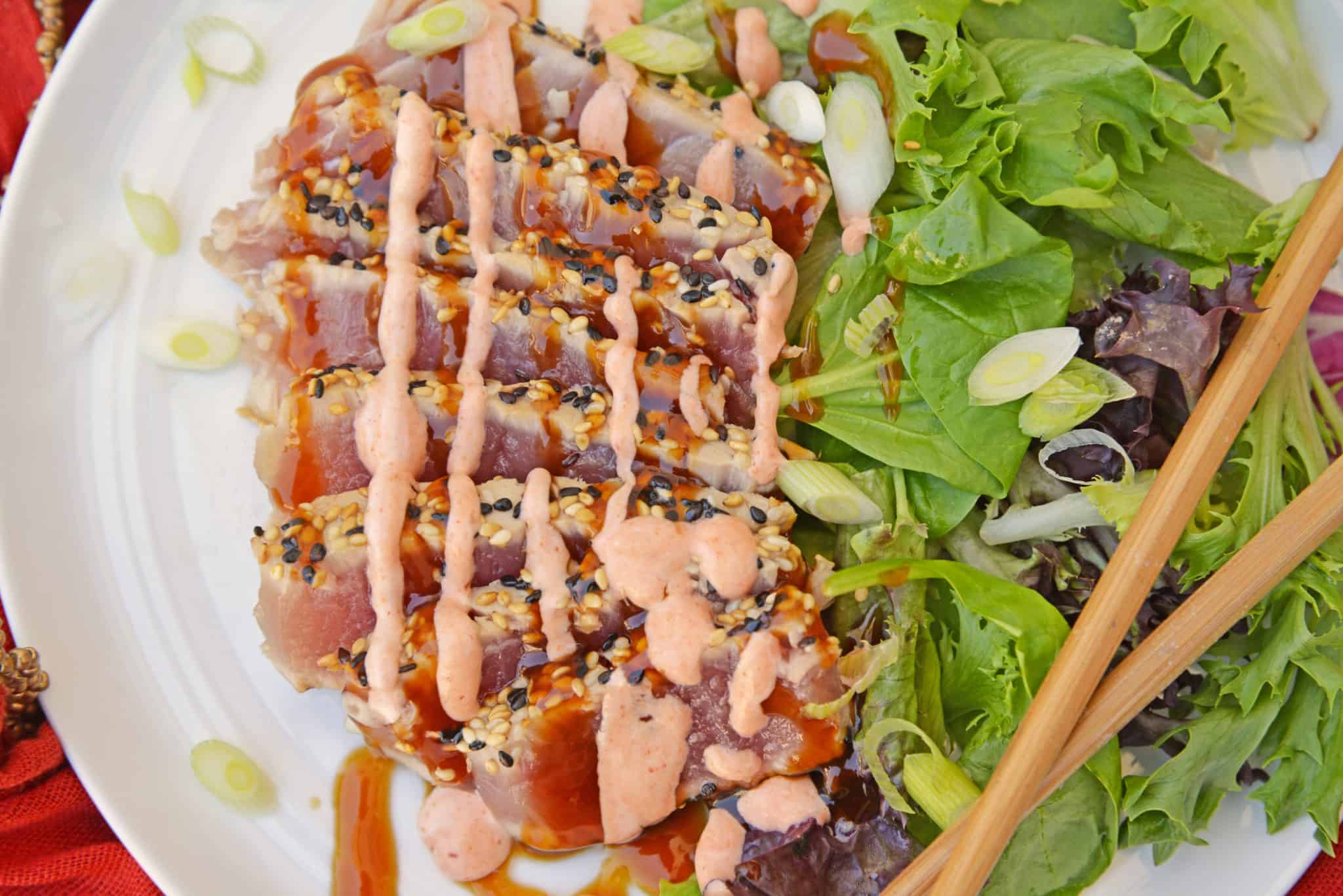 If you enjoyed this 
ahi tuna recipe, make sure you check out these other easy tuna recipes: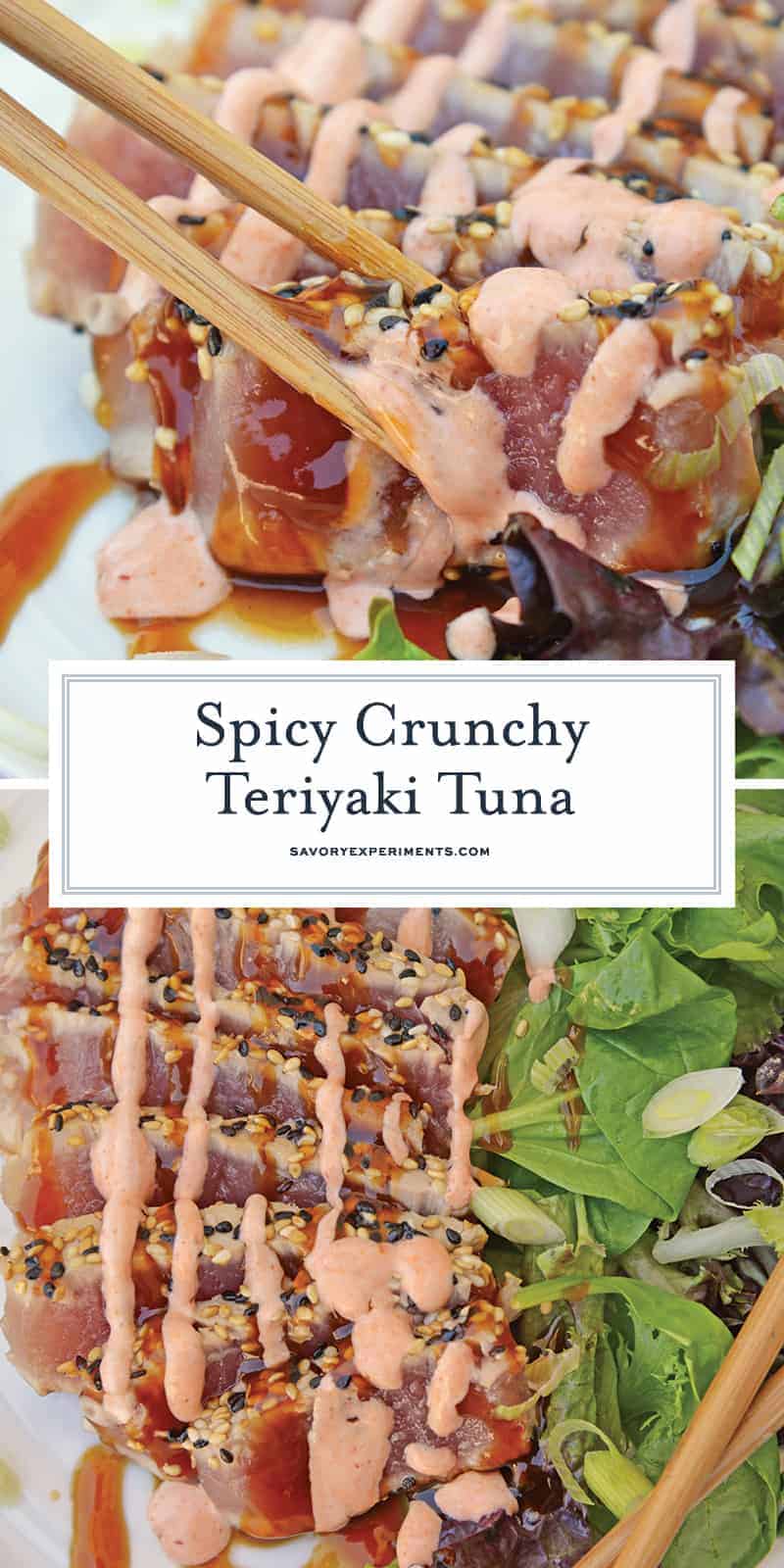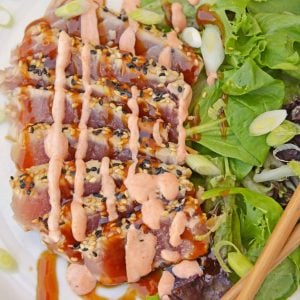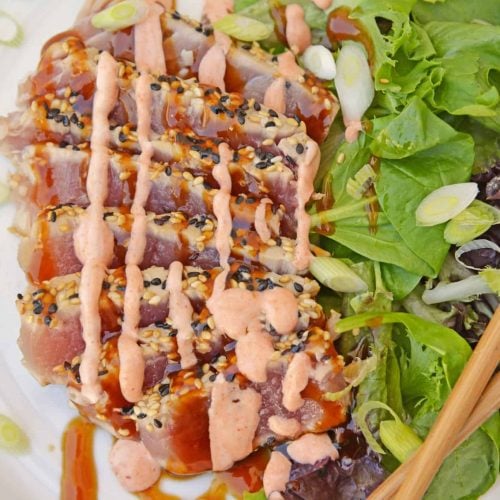 Teriyaki Tuna
This Teriyaki Tuna recipe brings a delicious and healthy meal to the table in just over 20 minutes! This ahi tuna recipe is a quick and easy meal!
Ingredients
Teriyaki Tuna:
1/2

cup

teriyaki sauce

4

ahi tuna steaks

3

tablespoons

white sesame seeds

3

tablespoons

black sesame seeds

3

tablespoons 

vegetable oil
Volcano Sauce:
3/4

cup

mayonnaise

2

tablespoons

chili garlic sauce

2

tablespoons

sweetened condensed milk

1

teaspoon

sugar
Garnish:
1

bunch scallions

, sliced diagonally
Instructions
For volcano sauce:
Using a small food processor or an immersion/stick blender, combine mayonnaise, chili garlic sauce, sweetened condensed milk and sugar. Depending on your tastes for walking on the spicy side, add chili garlic sauce slowly until you reached your desired heat. Set aside.

Combine white and black sesame seeds in a shallow bowl or pie plate. Dredge both sides of the tuna steaks in sesame seeds. Set aside.

Heat vegetable oil in a large cast iron skillet or large frying pan over high heat.

The name of the game is to sear, which means high heat, spitting oil and in my house, the smoke detector going off, so prepare your work space accordingly.

When vegetable oil is hot, place tuna steaks in the pan, cover. Cook on each side for 2-3 minutes depending on desired temperature. Two to three minutes will be a medium rare for a 1 1/2 inch tuna steak. I like mine rare, so I go for 1-2 minutes on each side. It all depends on the thickness of your tuna steak.

Remove tuna steaks from frying pan/cast iron skillet. Plate and top with teriyaki glaze.

There are two choices for the volcano sauce. You can put a dollop on the side, allowing individuals to dip according to their tastes OR you can put the volcano sauce into an airtight plastic bag and cut a small hole on one bottom corner and then pipe the sauce onto teriyaki tuna steaks.

Garnish with scallions.

If you've tried this recipe, come back and let us know how it was!
Nutrition Facts
Teriyaki Tuna
Amount Per Serving
Calories 772
Calories from Fat 513
% Daily Value*
Total Fat 57g 88%
Cholesterol 85mg 28%
Sodium 2144mg 89%
Potassium 602mg 17%
Total Carbohydrates 17g 6%
Protein 45g 90%
* Percent Daily Values are based on a 2000 calorie diet.