During the week a nice sirloin or flank steak is a go-to recipe. It is super easy to combine all ingredients the night before and then throw on the grill while prepping a fresh green salad. This Asian Steak Marinade has become one of our favorites!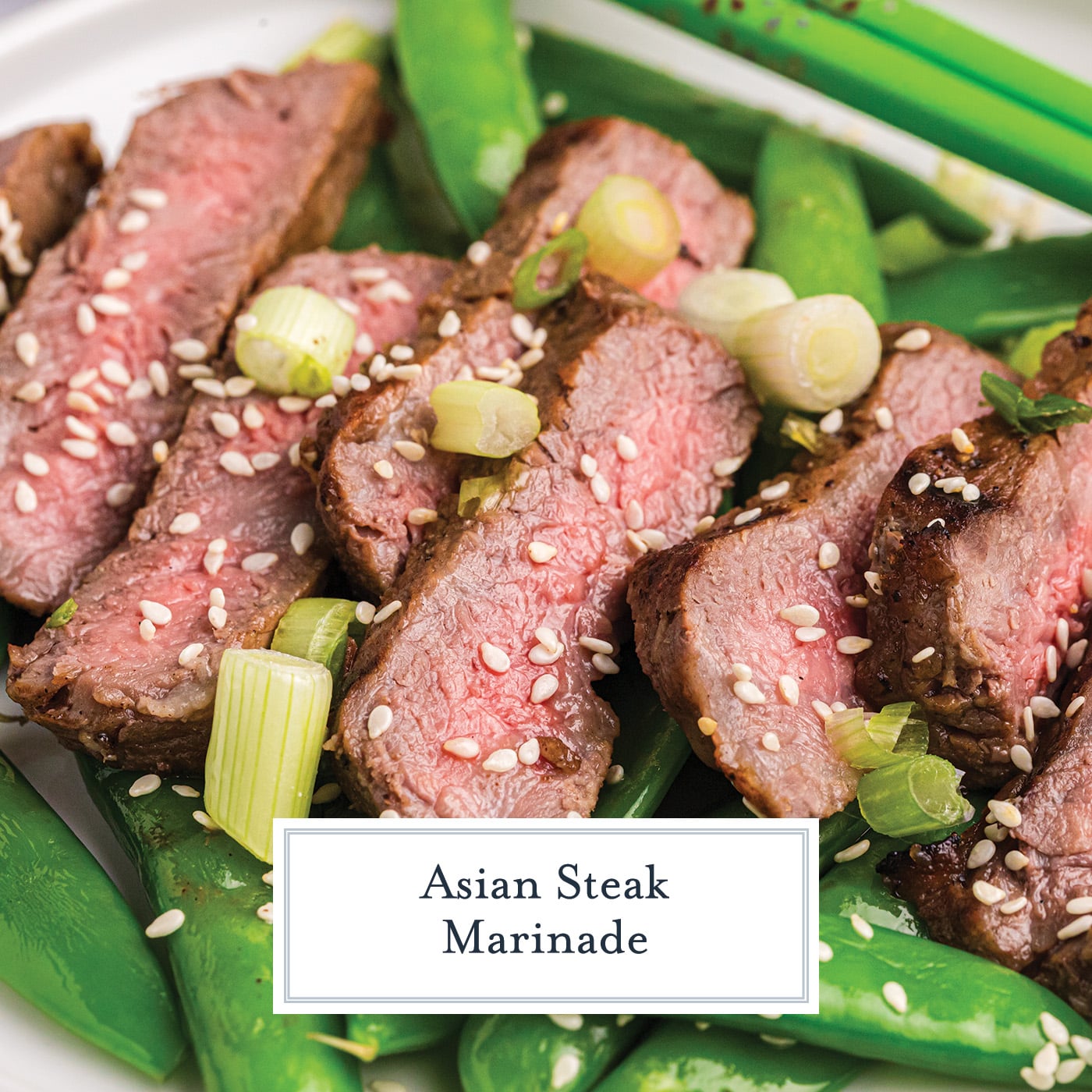 Asian BBQ Steak is the perfect combination of fat, acid and salt to penetrate and amplify delicious cuts of beef, only accentuating their flavor. While you can get away with only marinating for 1 hour, it is best to be marinated overnight.
If you don't have the chance for 12 hours marination time, you can make extra marinade, setting a small amount aside before adding the beef.
Boil it to reduce and marry the flavors and serve it on the side for dipping. It can also be tossed on grilled vegetables!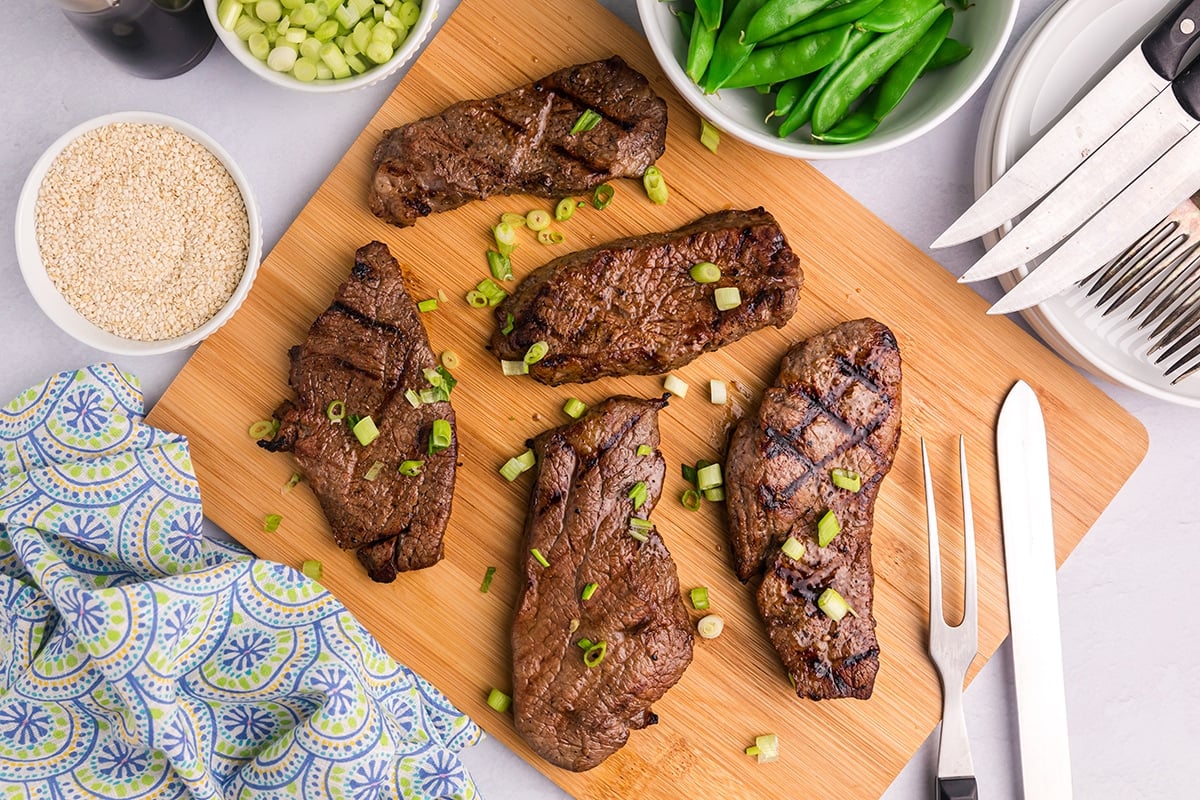 Why You'll Love This Asian Steak Marinade
Juicy, tender steak marinated with the flavors of soy sauce, honey, ginger, sesame and garlic- what's not to love?
Simple marinade ingredients – Like my Honey Steak recipe, if you don't already have these ingredients on hand, you can easily find them at the grocery store. No fancy secret ingredient here!
Juicy steak bites – The best part of this recipe, besides the flavor, is how divinely juicy the steak turns out.
Quick cook time – This steak only takes about 10 minutes to grill (depending how well you like yours cooked) so there's not a long length of time to be standing near the hot grill. Perfect for a hot summer night.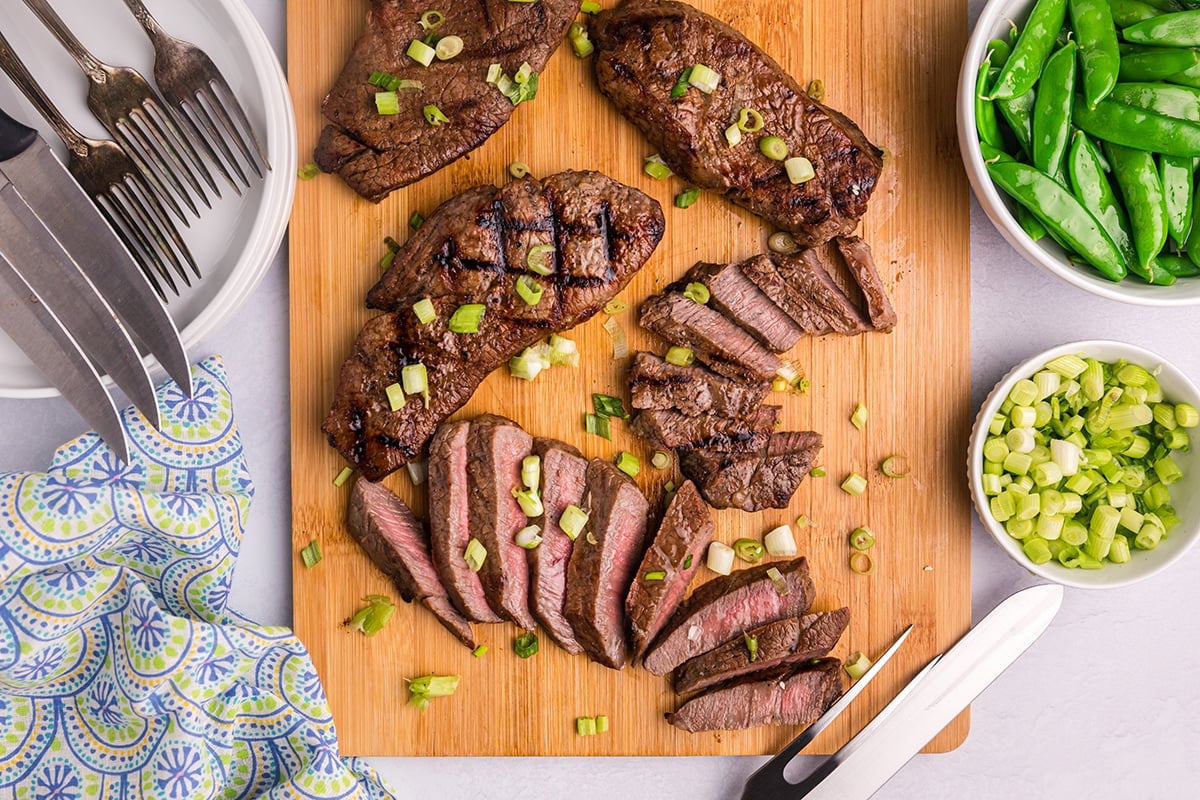 Ingredients
The ingredients for this Asian flank steak marinade are really quite simple, and easily found at your local grocery stores.
Beef steaks – First decide if you want to serve individual steaks or want to slice up a roast. I either like to use a skirt steak, top sirloin steak or flank steak for slicing, but a strip or t-bone for individual cuts.
Sherry – Sherry always adds a nice flavor to whatever you cook with it. But don't worry- the alcohol cooks right out of it.
Soy sauce – I always cook with low sodium soy sauce; you can always add more salt to a recipe if you need to, but it's much harder to take it out!
Honey – An element of sweet is always one of the key ingredients to a good marinade. We use honey to do that here. It balances the acidity. These sugars also create those nice sear marks from the grill.
White vinegar – I like the sharpness of white vinegar, and I always have some in the kitchen. But you can use rice vinegar to stick with the asian theme.
Ginger – You could use ground ginger, but fresh grated ginger brings so much more flavor to this delicious marinade.
Oil – I like to use both sesame oil and vegetable oil, but you could certainly use one or the other if you'd like to.
Garlic cloves – Mincing your own garlic is preferable here for the same reason we grate our own ginger. More flavor for sure.
Fine sea salt and freshly ground pepper – You can add these to taste. If you used full sodium soy sauce, you may not need more salt.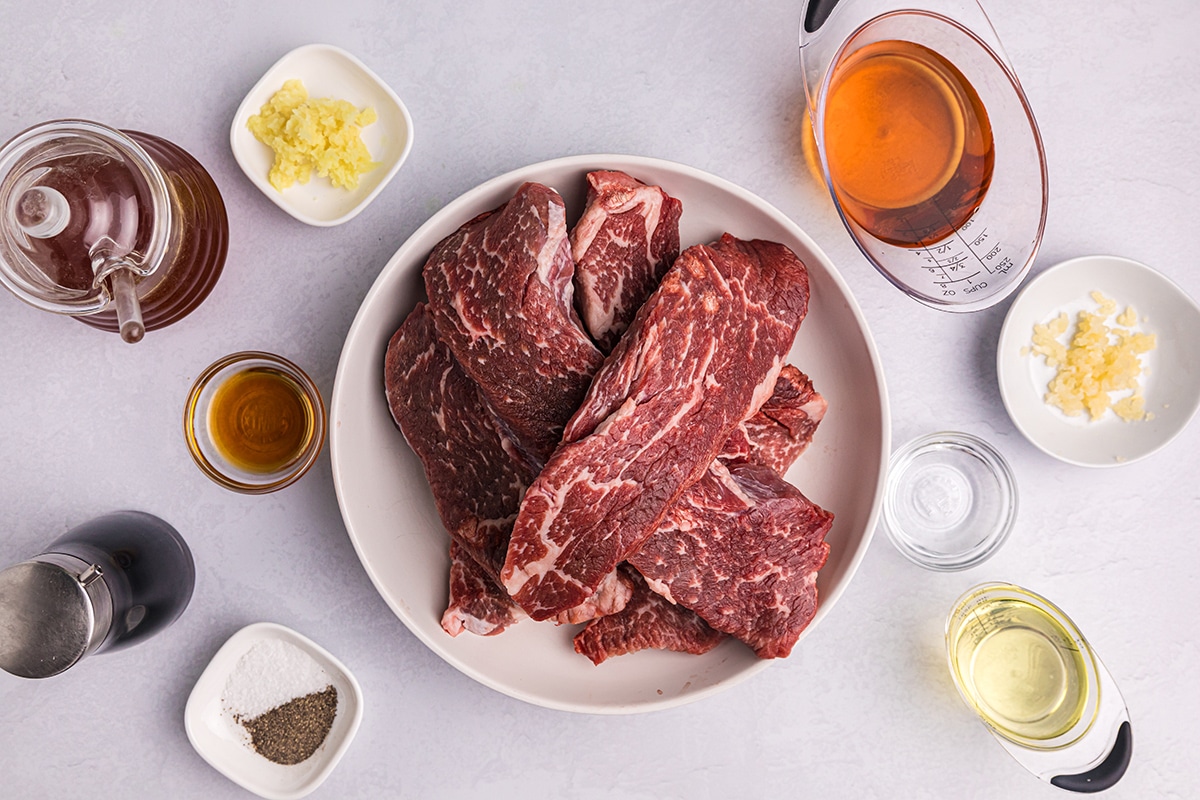 How to Make Asian Steak Marinade
You are going to love how easy it is to make these Asian steak bites.
Marinate steak. Combine all ingredients in a large airtight plastic bag. Marinate in the refrigerator for 1-12 hours. Do not go too much longer or the steak will turn tough.
Allow to come to room temperature. Remove sirloin from the refrigerator and allow to come to room temperature. Meanwhile, heat the grill.
Season. Remove sirloin from the marinade and place onto a plate. Season the top with fine sea salt and freshly ground pepper to taste.
Grill or broil. Place steak on the grill with high heat. If you are using a gas grill, cover the grill. If you do not have a grill, you can follow the same instructions using the broiler of your oven on the second to top rack. Make sure to keep the door cracked and properly ventilate.
Rest and slice. Remove and allow to rest. Slice against the grain and serve.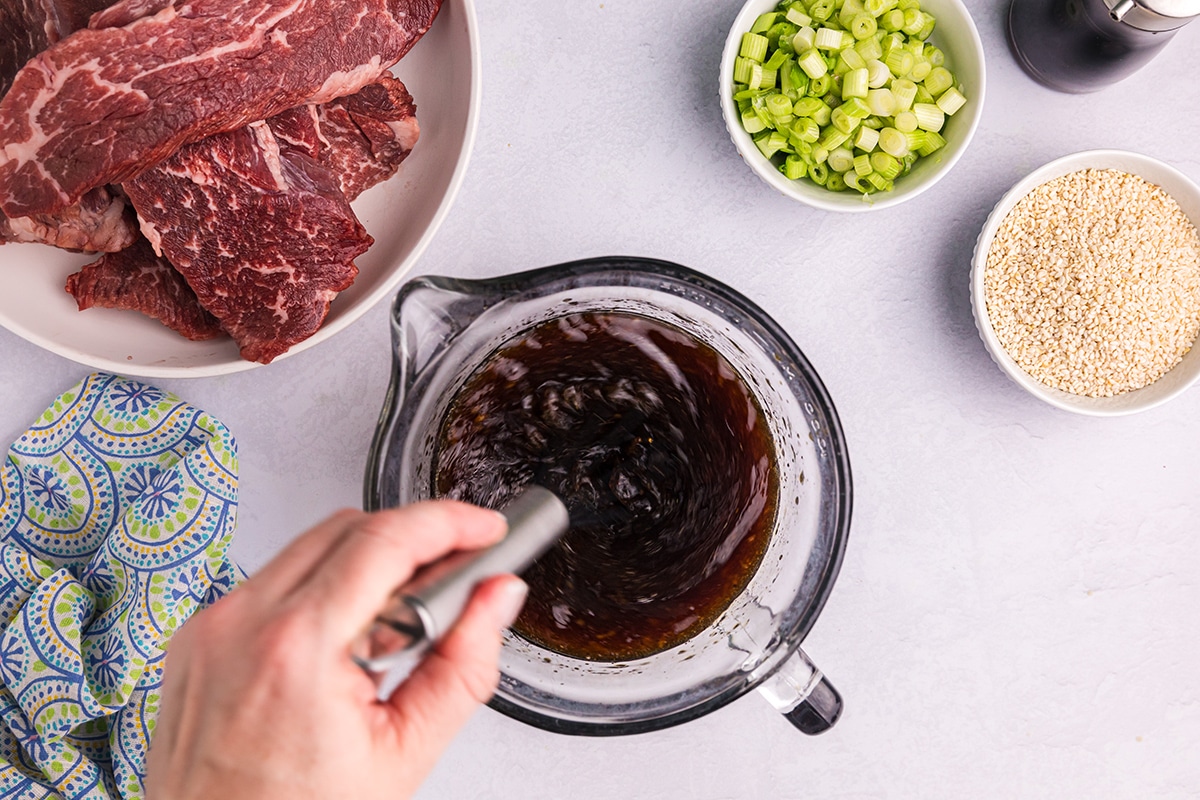 Variations
While we love this flavorful steak marinade recipe exactly as written, there are plenty of ways to make it your own.
Different cuts of beef – I mentioned that I like to use either skirt steak, flank, top sirloin or strip. But a filet mignon or a ribeye steak would also be great. The kind of steak is really up to you.
Spicy Asian marinade – If you like your steak with a little more heat, try adding some chili pepper flakes, Sriracha or chili garlic sauce to the marinade. Red pepper flakes or extra black pepper will take this simple marinade up a notch.You can also drizzle the sweet version with Chinese chili oil.
Other meats – You can also try using the same marinade on things like chicken thighs or pork chops- not just steak dinners.
Brown sugar – If you'd like to add a little more flavor, try swapping out the honey for brown sugar or even maple syrup.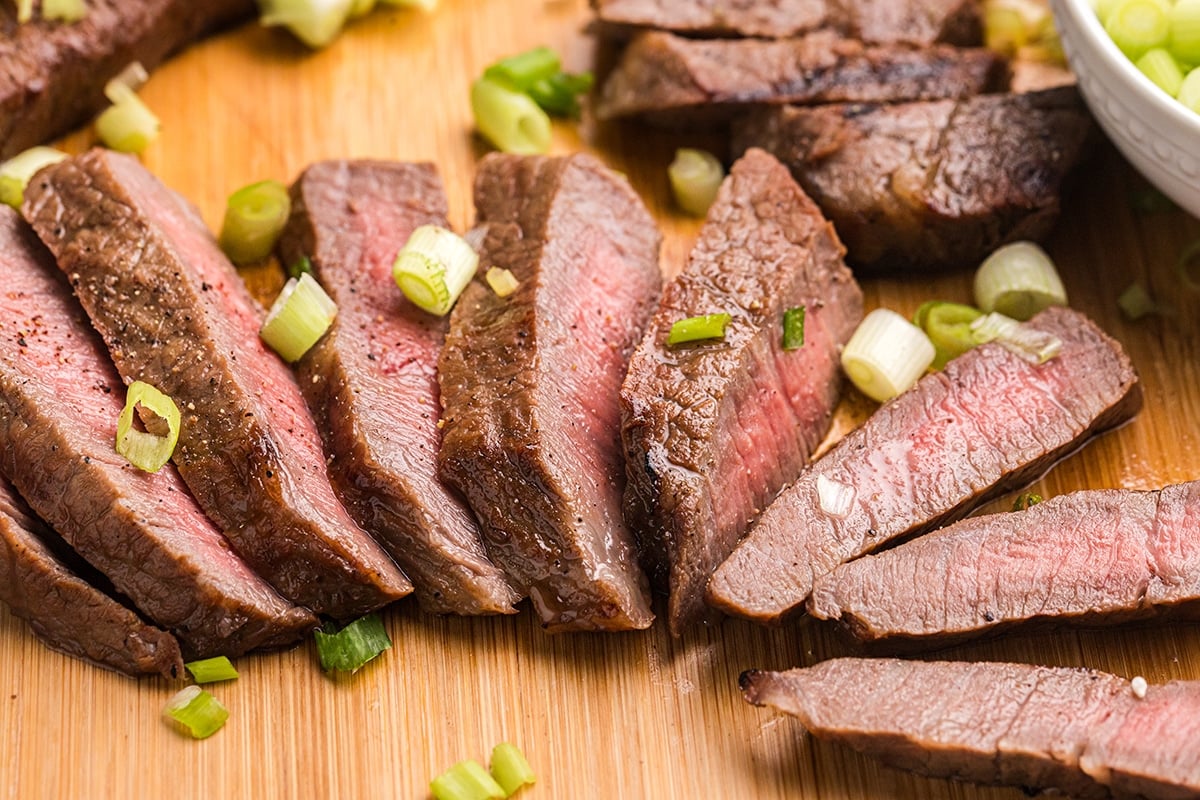 What Are The Best Cuts of Beef for Grilling
When it comes to grilling beef, there are several cuts that are well-suited for this cooking method. Here's a numbered list of the best cuts of beef for grilling, along with the reasons why they are favored:
Ribeye: The ribeye is a popular choice for grilling due to its rich marbling and intense flavor. The marbling melts during grilling, resulting in a juicy and tender steak.
T-bone: The T-bone steak offers the best of both worlds with a combination of tenderloin and strip loin sections. The tenderloin portion is exceptionally tender, while the strip loin provides robust beefy flavor.
Porterhouse: Similar to the T-bone, the porterhouse steak includes a tenderloin and a larger strip loin section. The difference lies in the size of the tenderloin, which is more significant in a porterhouse. This cut is ideal for those who enjoy a larger portion of tenderloin.
New York Strip: Also known as the strip steak, the New York strip is a favorite for grilling. It is flavorful, tender, and well-marbled, making it a great choice for those seeking a balance of tenderness and beefy taste.
Filet Mignon: Renowned for its tenderness, the filet mignon is a highly desirable cut. Although it may not have as much fat marbling as other cuts, its buttery texture and delicate flavor make it a prime option for grilling.
Flat Iron: The flat iron steak is gaining popularity for grilling due to its tenderness and excellent flavor. It is cut from the shoulder area and benefits from being cooked to medium-rare or medium doneness for optimal results.
Skirt Steak: Skirt steak is a thin, long cut with rich beef flavor. It is best when marinated before grilling to enhance its tenderness and taste. Due to its shape and texture, it is commonly used in fajitas and other grilled beef dishes.
Flank Steak: Flank steak is a lean and flavorful cut that is ideal for grilling. It benefits from marinating to tenderize the meat and infuse additional flavors. When cooked and sliced against the grain, it yields a satisfyingly tender result.
Tri-Tip: Popular on the West Coast of the United States, the tri-tip is a triangular-shaped cut that offers robust flavor. It is best cooked to medium-rare or medium doneness, sliced thinly against the grain for maximum tenderness.
Rib Steak: Rib steak, also known as a bone-in ribeye or cowboy steak, is a thick, juicy cut with ample marbling. The bone imparts additional flavor during grilling, and the meat remains tender and succulent.
These cuts of beef are well-suited for grilling due to their tenderness, marbling, flavor profiles, and ability to cook well on high heat. Remember to adjust cooking times based on thickness and desired level of doneness to achieve the best results.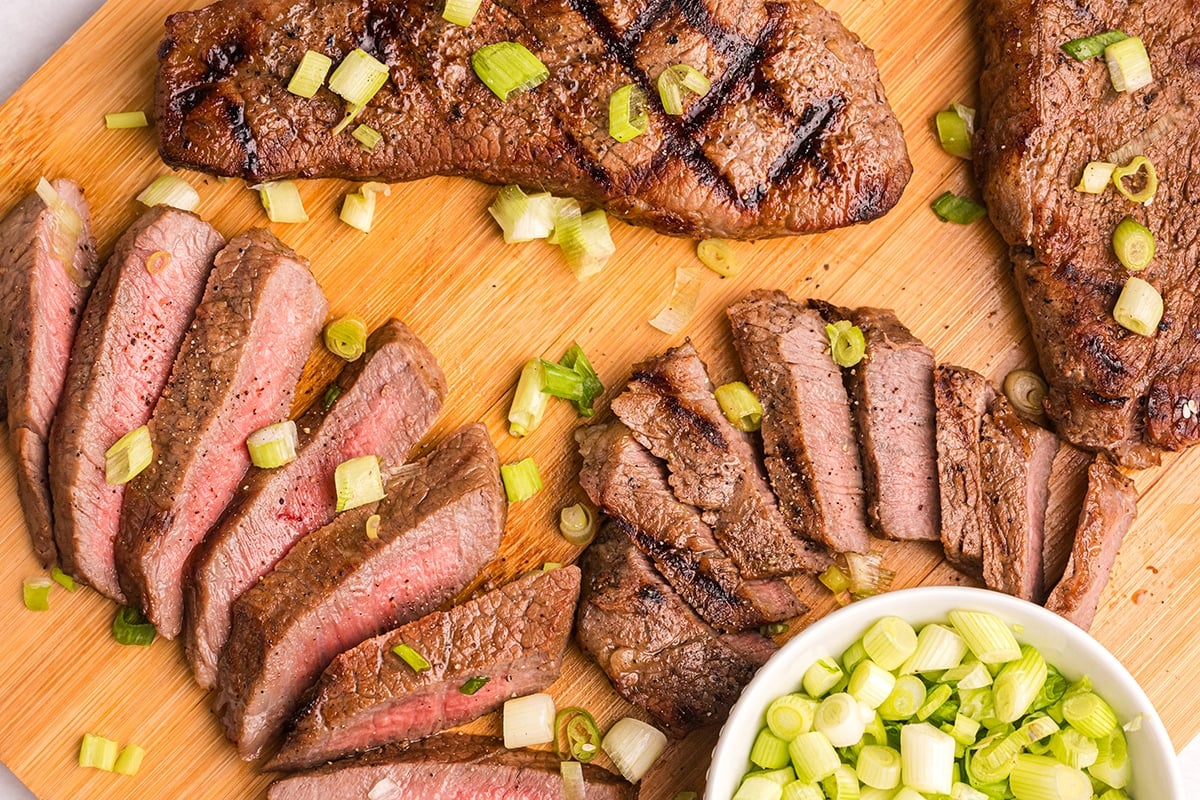 What Goes Best with Grilled Steak
We like to top our individual steaks with some sliced green onions to add just a little bit of color and flavor. You can also top with a sprinkle of sesame seeds. You could also try a dipping sauce like this chili garlic sauce.
This steak tastes great with just about anything you would normally serve with Asian food or a steak on the grill. Some fresh ginger rice, jasmine rice or even a nice simple side salad would be perfect. I also love steak and potatoes, so grilled potatoes or twice baked potatoes are always a good pick.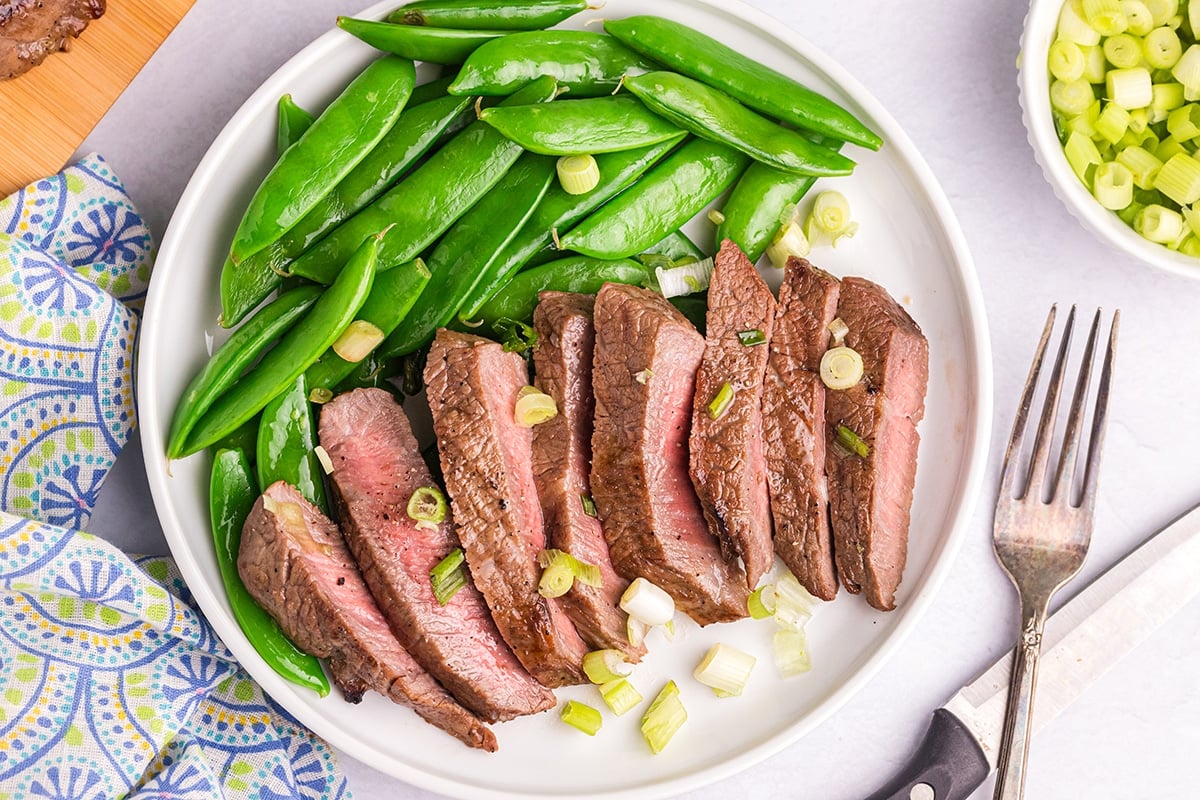 Storage and Freezing
Storage: You can store this asian steak marinade in an airtight container in the refrigerator for up to three days. You can store already cooked steak the same way. However, you do want to discard any remaining marinade after grilling the steaks.
Freezing: I would not recommend freezing the marinade itself. However, you can freeze the cooked steak. It will last for up to 6 months, but keep in mind it will dry out slightly.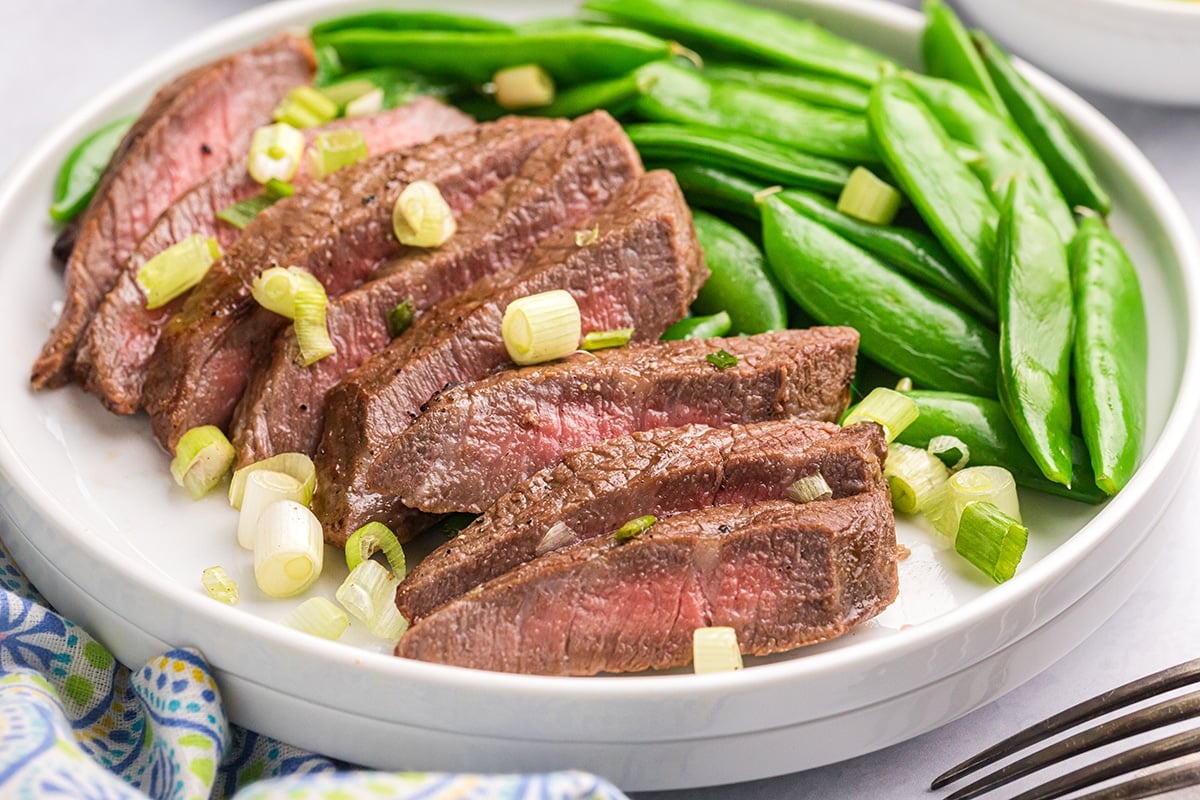 Frequently Asked Questions
Why marinate steak?
Besides adding a ton of flavor to your piece of meat, steak marinades help to break down the muscle fibers, allowing for a more tender steak.
Why let meat rest?
If you don't let steak rest a few minutes after cooking, the juices will run out and you will be left with a dry piece of steak. Resting allows the juices to reabsorb into the meat.
How long should you mariante steak?
Marinate steak for at least 1-2 hours in the refrigerator. However, for best results, use a steak marinade overnight. The extra time allows the steak fibers to break down and tenderize before cooking, really infuses it all with flavor.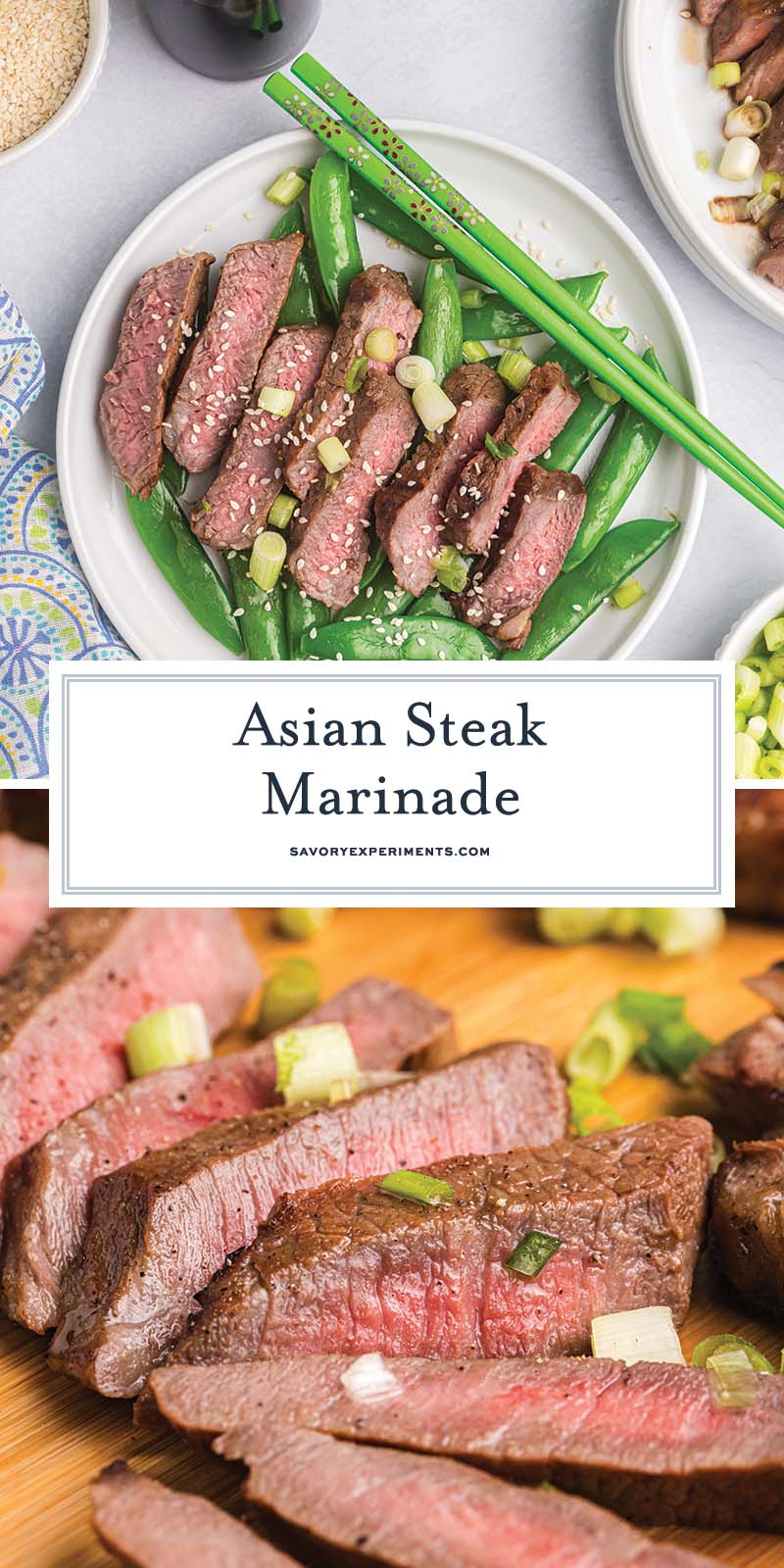 More Flavorful Beef Recipes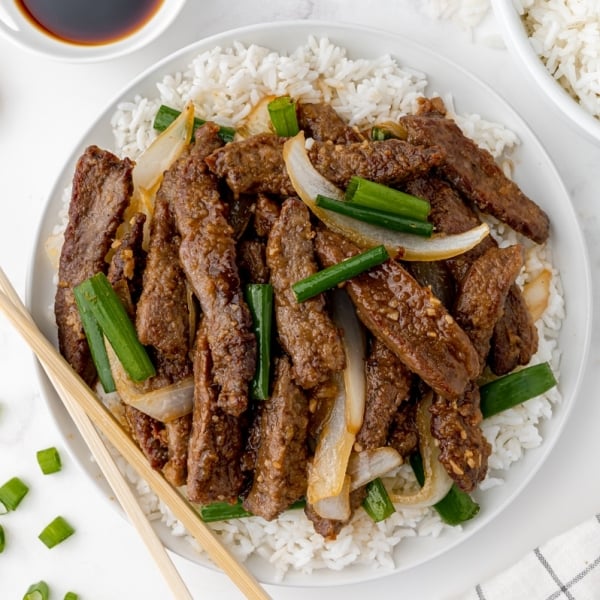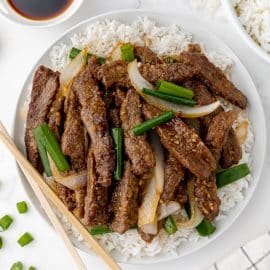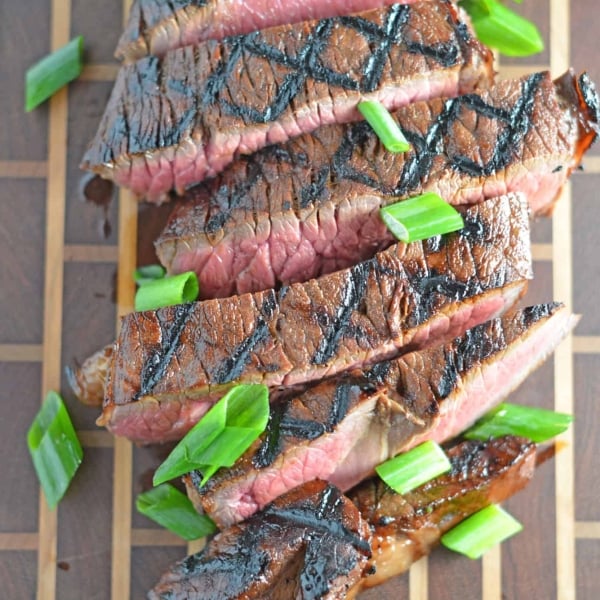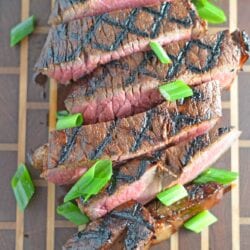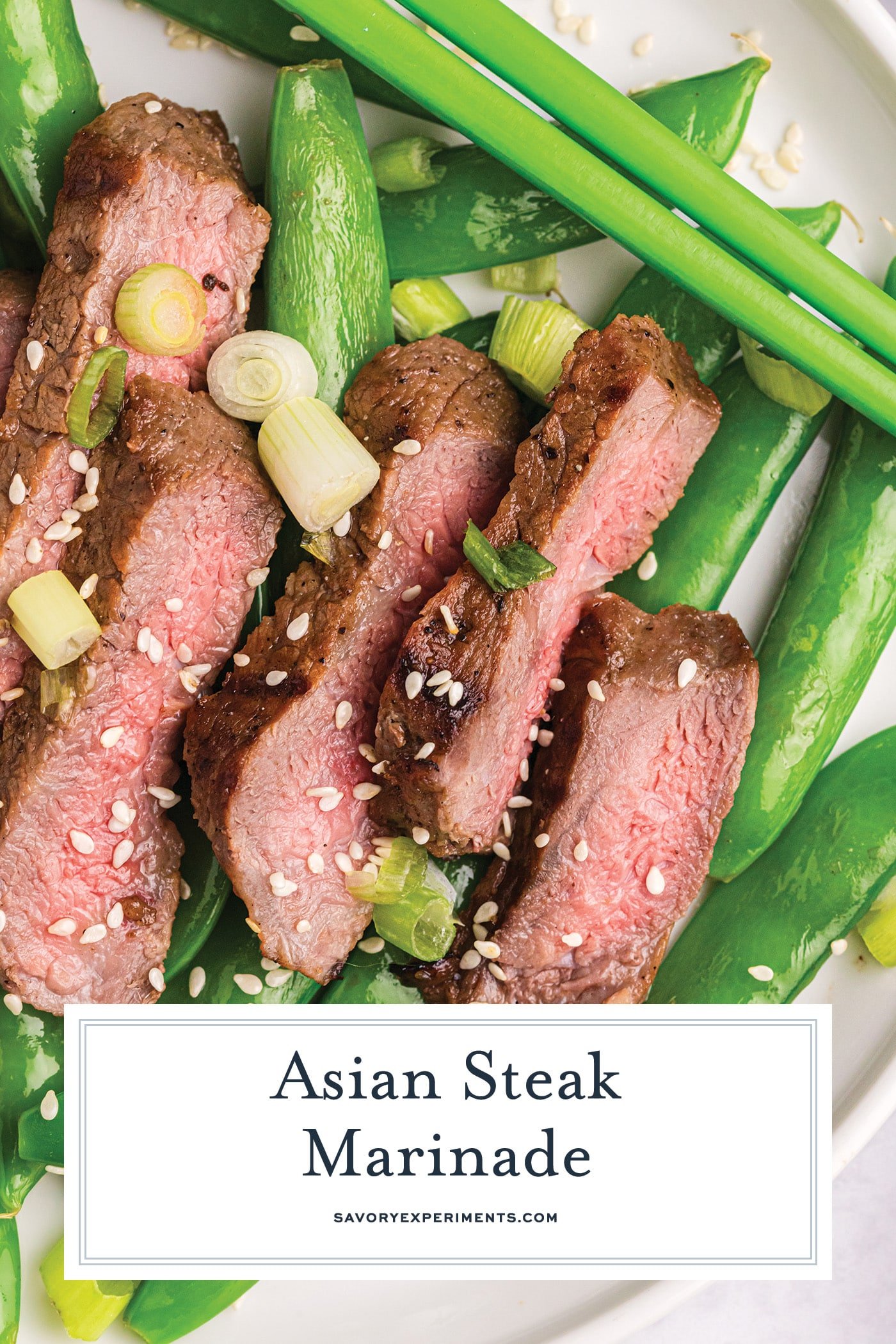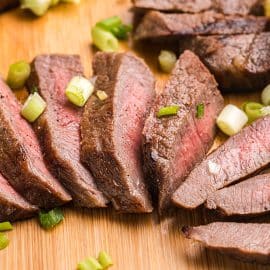 Asian Steak Marinade
Asian BBQ Steak marinade can be used on any cut of beef, combining traditional Asian flavors like soy sauce, honey, ginger, sesame and garlic.
Instructions
Combine the garlic, sherry, soy sauce, honey, vegetable oil, vinegar, ginger and sesame oil in an airtight bag or a shallow marinating vessel.

Add the beef and marinate in the refrigerator for 1-12 hours (overnight or all day).

Remove the beef from the marinade and place onto a plate. Season with the salt and ground pepper.

Preheat the grill to a high heat (350°F). Place the beef over indirect heat. For cuts 1-inch and above, grill for 4-6 minutes on each side, flipping until desired degree of doneness using an instant read thermometer. For thinner cuts, like a skirt steak, grill for 3 minutes on each side until desired degree of doneness.

Remove the beef and allow to rest for 5-10 minutes. Slice against the grain (if slicing a roast) and serve.

If you've tried this recipe, come back and let us know how it was in the comments or star ratings.
Notes
Best Cuts of Beef for Grilling: ribeye, t-bone, porterhouse, NY stip (strip steak), filet mignon, flat iron, skirt steak, flank steak, tri-tip, rib steak.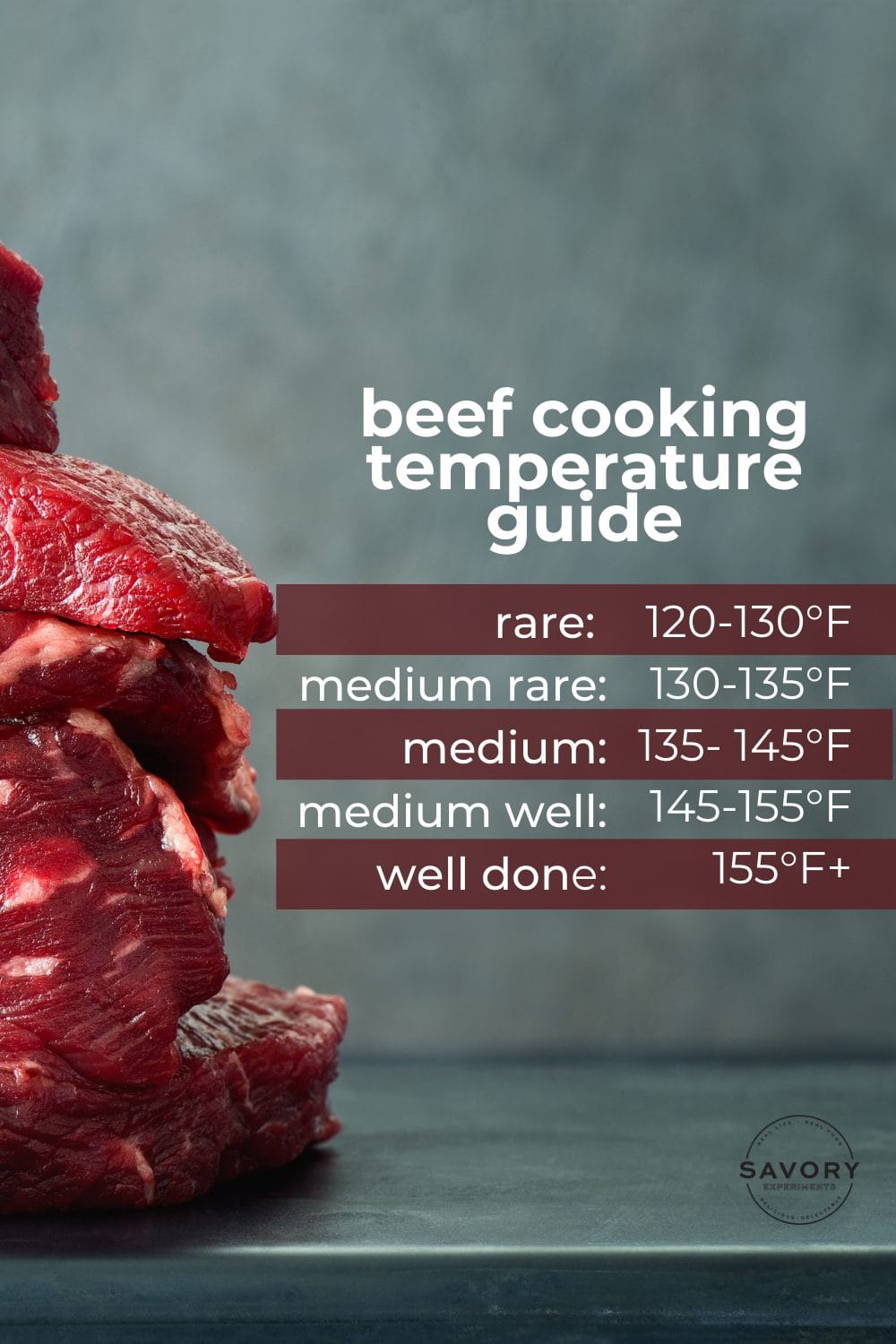 Nutrition
Calories:
581
kcal
,
Carbohydrates:
21
g
,
Protein:
51
g
,
Fat:
29
g
,
Saturated Fat:
16
g
,
Cholesterol:
145
mg
,
Sodium:
1190
mg
,
Potassium:
892
mg
,
Sugar:
18
g
,
Vitamin C:
0.5
mg
,
Calcium:
61
mg
,
Iron:
4.4
mg