During the week a nice sirloin or flank steak is a go-to recipe. It is super easy to combine all ingredients the night before and then throw on the grill while prepping a fresh green salad. Asian BBQ Steak has become one of our favorites!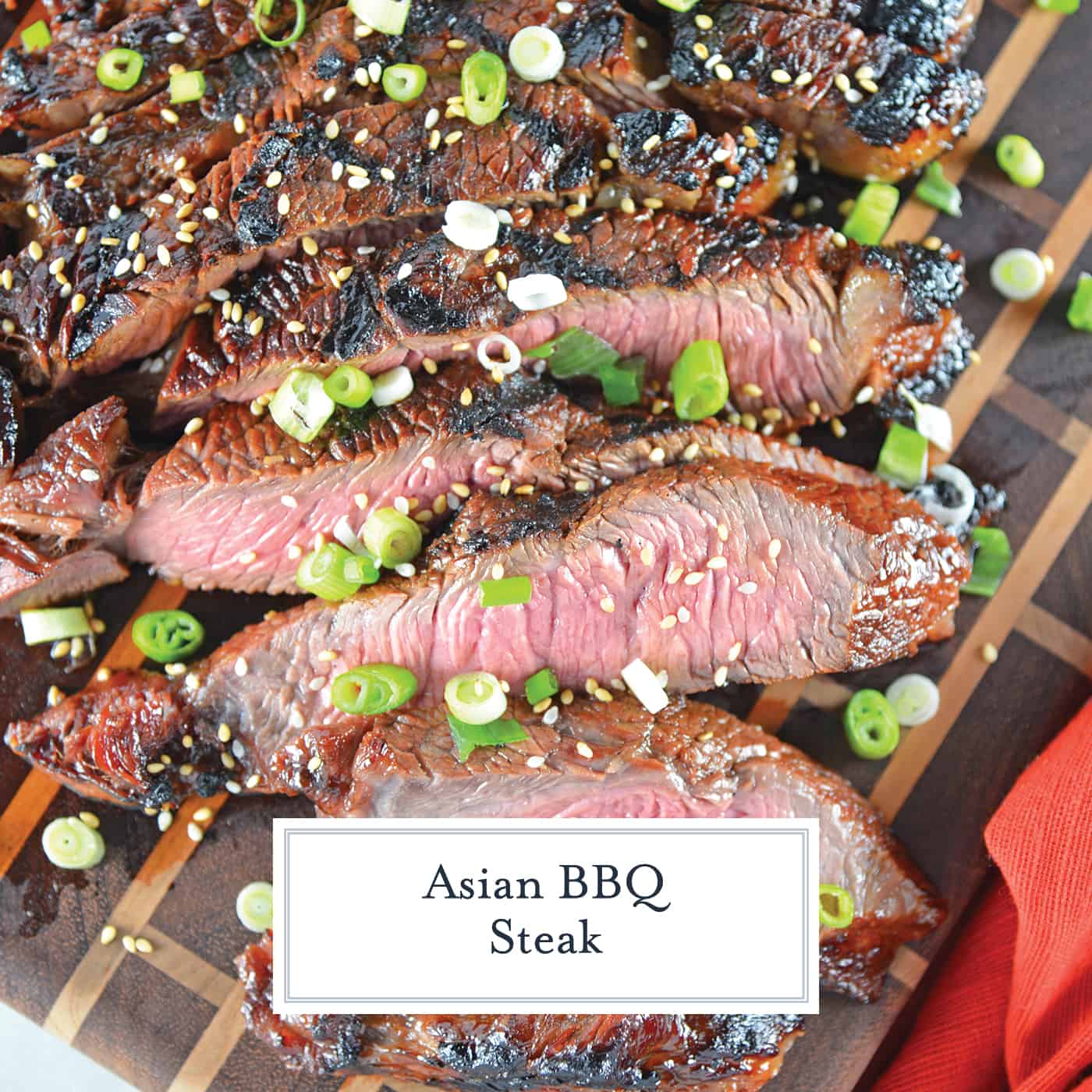 Asian BBQ Steak marinade can be used on any cut of beef, combining traditional Asian flavors like soy sauce, honey, ginger, sesame and garlic.
I sometimes get asked why I allow meats to sit at room temperture before cooking, as seen in this recipe. Fears of bacteria and food poisoning come to mind.
Well, leaving raw meat out for a short time will not be nearly enough time to grow food poisoning unless the meat had it before you even started. In that case, you'll be sick no matter what prep, cleaning or cooking you do.
Most people have never had this happen and quite frankly, never will. The theory behind bringing meat to room temperature is that it will cook evenly and thoroughly.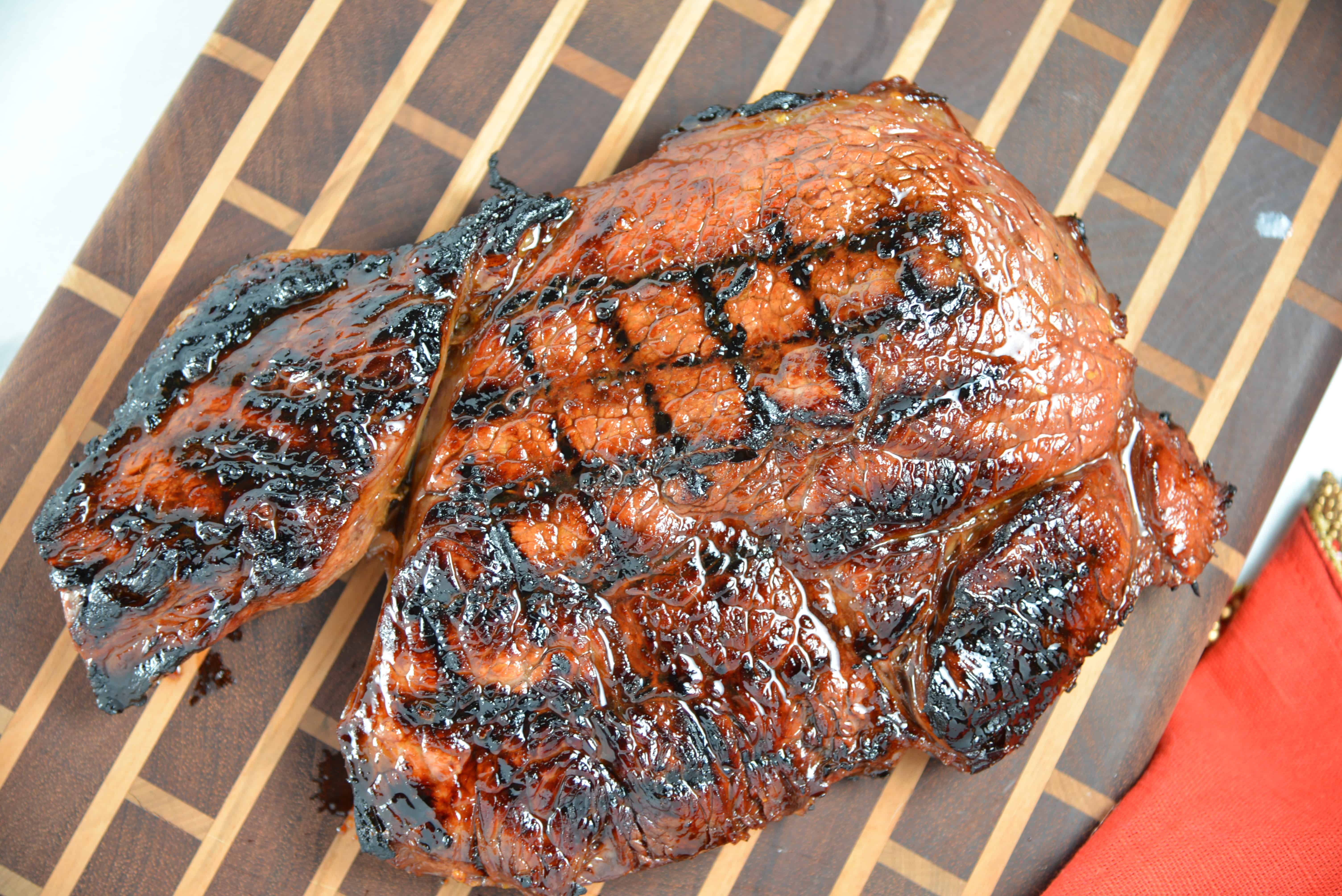 Think about it logically, the meat is "refrigerator cold" in and out (anywhere from 36-44 degrees) and your throw it in the oven or on the grill, the outside will heat and cook far faster than the inside, leaving the inside a much lower temperature. If you start at a higher temperature, closer to room temperature, then you won't have as much of this problem.
Also, sticking a cold dense hunk of meat in too cook runs the risk of the exterior drying out before the interior can cook. If you don't have time, you can start the heat lower and bring it up to full temperature with the meat already cooking.
Some people swear by this, some people think it is bogus. For me, it doesn't hurt either way. Leave it up to personal preference.This technique can be used on any cut of meat and cooking preparation, not just my Asian BBQ Steak marinade.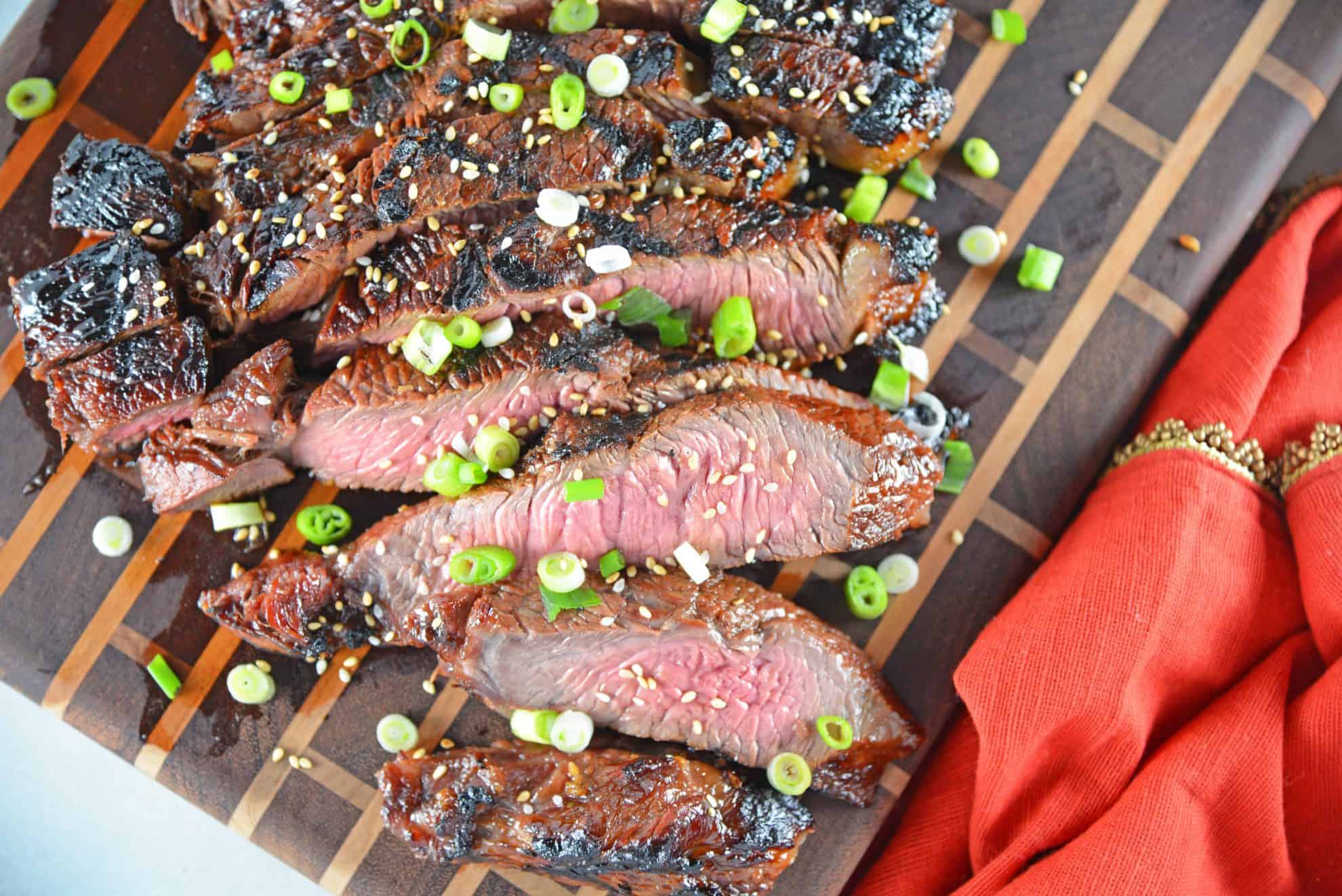 Asian BBQ Steak is the perfect combination of fat, acid and salt to penetrate and amplify delicious cuts of beef, only accentuating their flavor. While you can get away with only marinating for 1 hour, it is best to be marinated overnight.
If you don't have the chance for 12 hours marination time, you can make extra marinade, setting a small amount aside before adding the beef. Boil it to reduce and marry the flavors and serve it on the side for dipping. It can also be tossed on grilled vegetables!
I like to make these Vietnamese Fresh Spring Rolls to kick off dinner!
If you like our Asian BBQ Steak recipe, then check these out: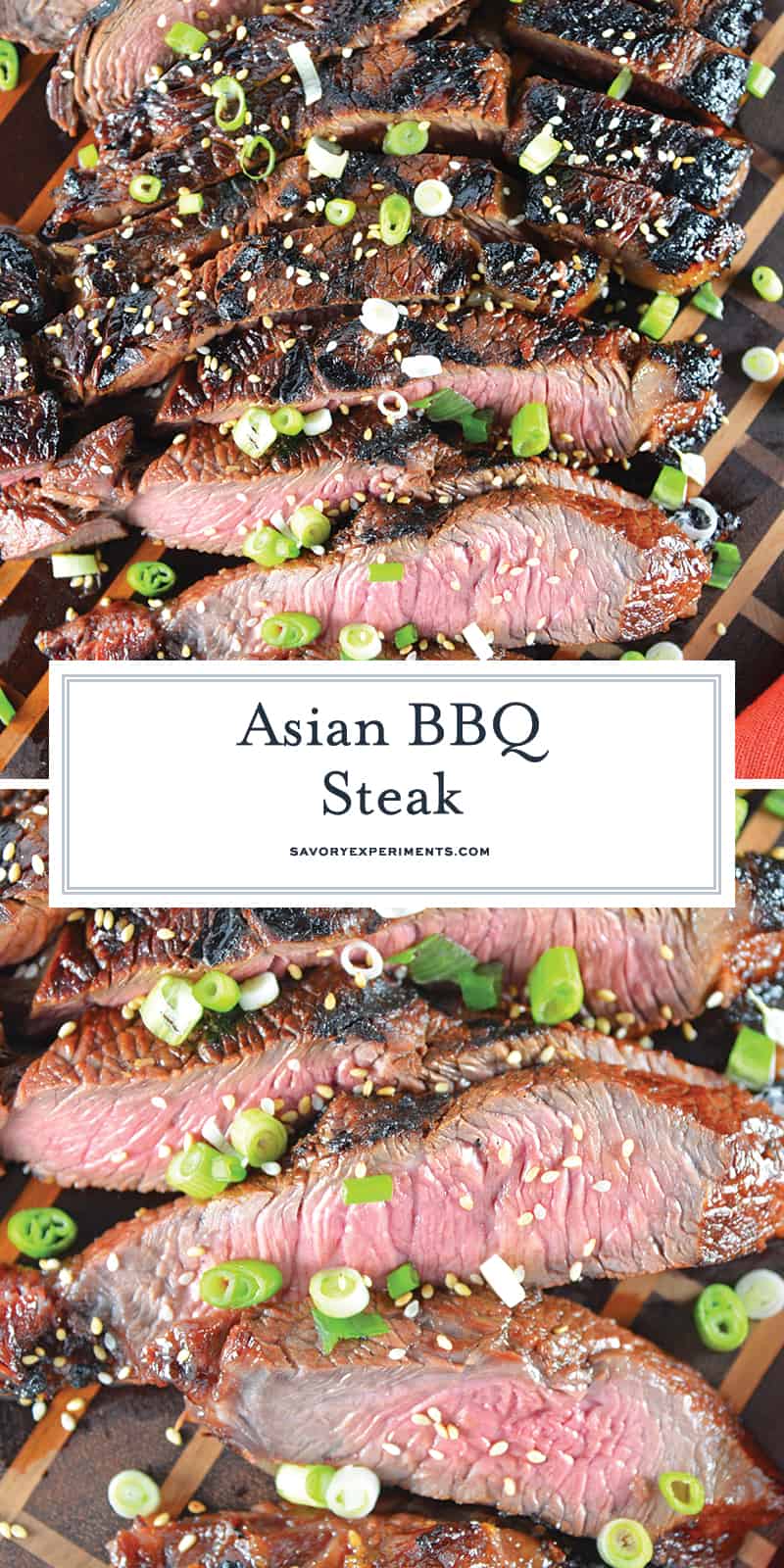 If you are looking for even more great beef recipes, snag a copy of my Easy Beef Recipes Mini-Cookbook. Available here for only $0.99, here is a small collection of delicious and easy beef recipes that will soon become your new family favorites, from Instant Pot recipes to quick one-dish casseroles!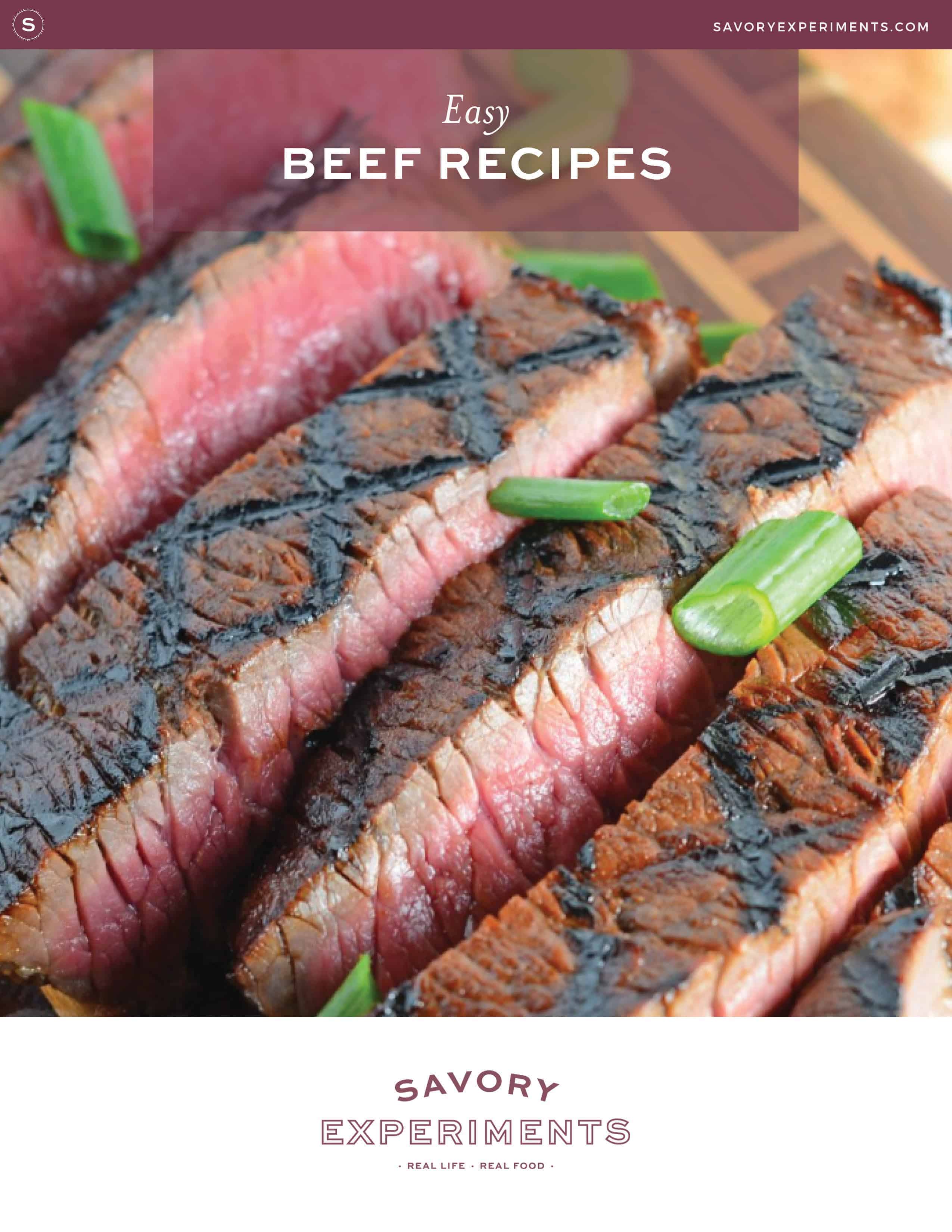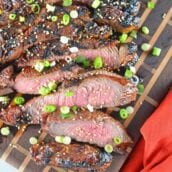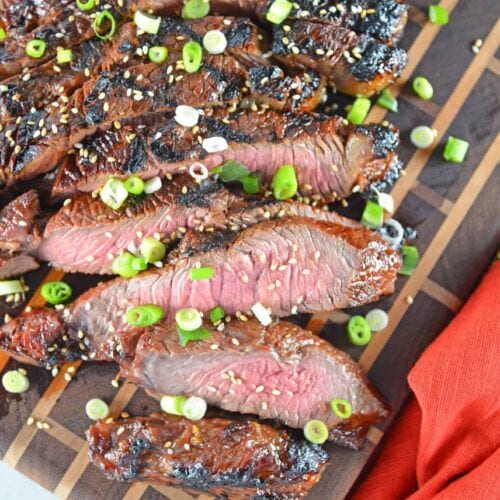 Print Recipe
Asian BBQ Steak
Asian BBQ Steak marinade can be used on any cut of beef, combining traditional Asian flavors like soy sauce, honey, ginger, sesame and garlic.
Ingredients
2

pounds

beef steaks

1/2

cup

sherry

1/2

cup

low sodium soy sauce

1/4

cup

honey

2

tablespoons

white vinegar

1

tablespoon

grated ginger

2

teaspoons

sesame oil

1/4

cup

vegetable oil

2

garlic cloves

, crushed/minced

Fine sea salt and freshly ground pepper
Instructions
Combine all ingredients in a large airtight plastic bag. Marinate in the refrigerator overnight.

Remove sirloin from the refrigerator and allow to come to room temperature for 30 minutes. Meanwhile, heat the grill.

Remove sirloin from the marinade and place onto a plate. Season the top with fine sea salt and freshly ground pepper to taste.

Preheat the grill to a high heat. Place steak on the hot grill. If you are using a gas grill, cover the grill. Grill for 4-6 minutes on each side for medium rare. If you do not have a grill, you can follow the same instructions using the broiler of your oven on the second to top rack. Make sure to keep the door cracked and properly ventilate to not set off your smoke detectors.

Remove and allow to rest for 5-10 minutes. Slice against the grain and serve. Enjoy your BBQ Asian Sirloin.

If you've tried this recipe, come back and let us know how it was!
Nutrition
Calories:
581
kcal
|
Carbohydrates:
21
g
|
Protein:
51
g
|
Fat:
29
g
|
Saturated Fat:
16
g
|
Cholesterol:
145
mg
|
Sodium:
1190
mg
|
Potassium:
892
mg
|
Sugar:
18
g
|
Vitamin C:
0.5
mg
|
Calcium:
61
mg
|
Iron:
4.4
mg