Teriyaki Shrimp Stir Fry is an easy weeknight meal that the whole family will love. Next time, skip the takeout – this stir fry recipe is ready in just 30 minutes!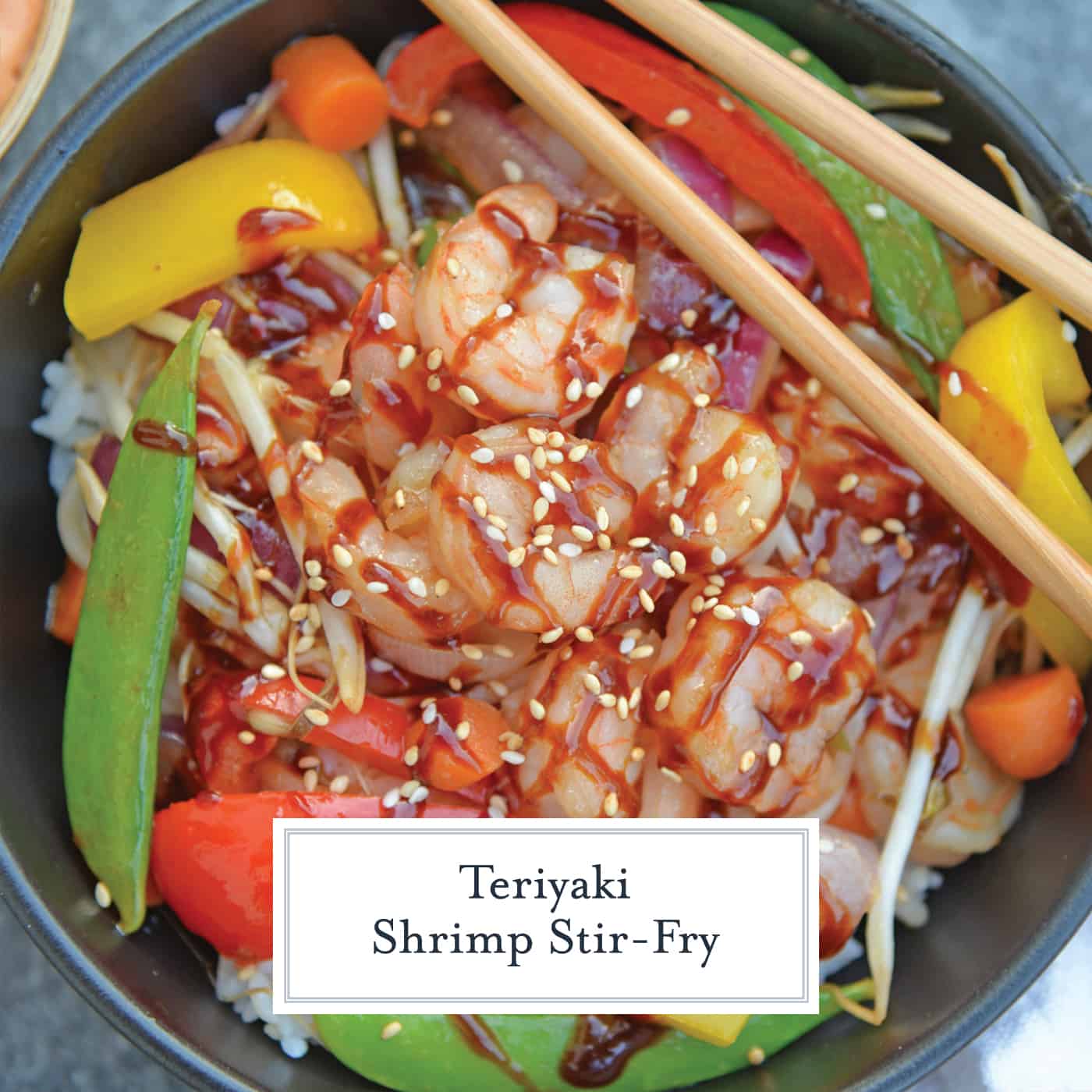 Teriyaki Shrimp Stir Fry is a quick dinner recipe using my easy teriyaki stir fry sauce. So much better than take-out!
Do you have a go-to takeout order? There are so many delicious options from Orange Chicken to Crab Rangoon, but mine usually involves something that includes teriyaki sauce.
I realize the two I mentioned are considered to be Chinese food, however the carry-out joints near us feature Chinese, Japanese and Thai food. Don't worry, I know the difference.
There is just something I love about fresh veggies, either shrimp or chicken, and rice tossed in a good, sticky teriyaki sauce. Not only do I gravitate towards teriyaki for takeout, but also at restaurants! Traditional Japanese and Hibachi restaurants are my jam!
As easy as ordering takeout is, it will no longer be your go-to easy dinner after you learn how to make this easy Teriyaki Shrimp Stir Fry! You just can't beat having dinner ready in 30 minutes.
After visiting Japan I started to realize that my version of stir fry (and teriyaki for that matter) were so very American. Teriyaki is typically served on skewers of chicken cooked over hot coals while stir fry has its own simple stir fry sauce. Both brown, but very different flavors.
I admit to liking the American version of shrimp stir fry even though I know it isn't the most authentic. Sometime you like what you like and sometimes it is purely nostalgia driving it.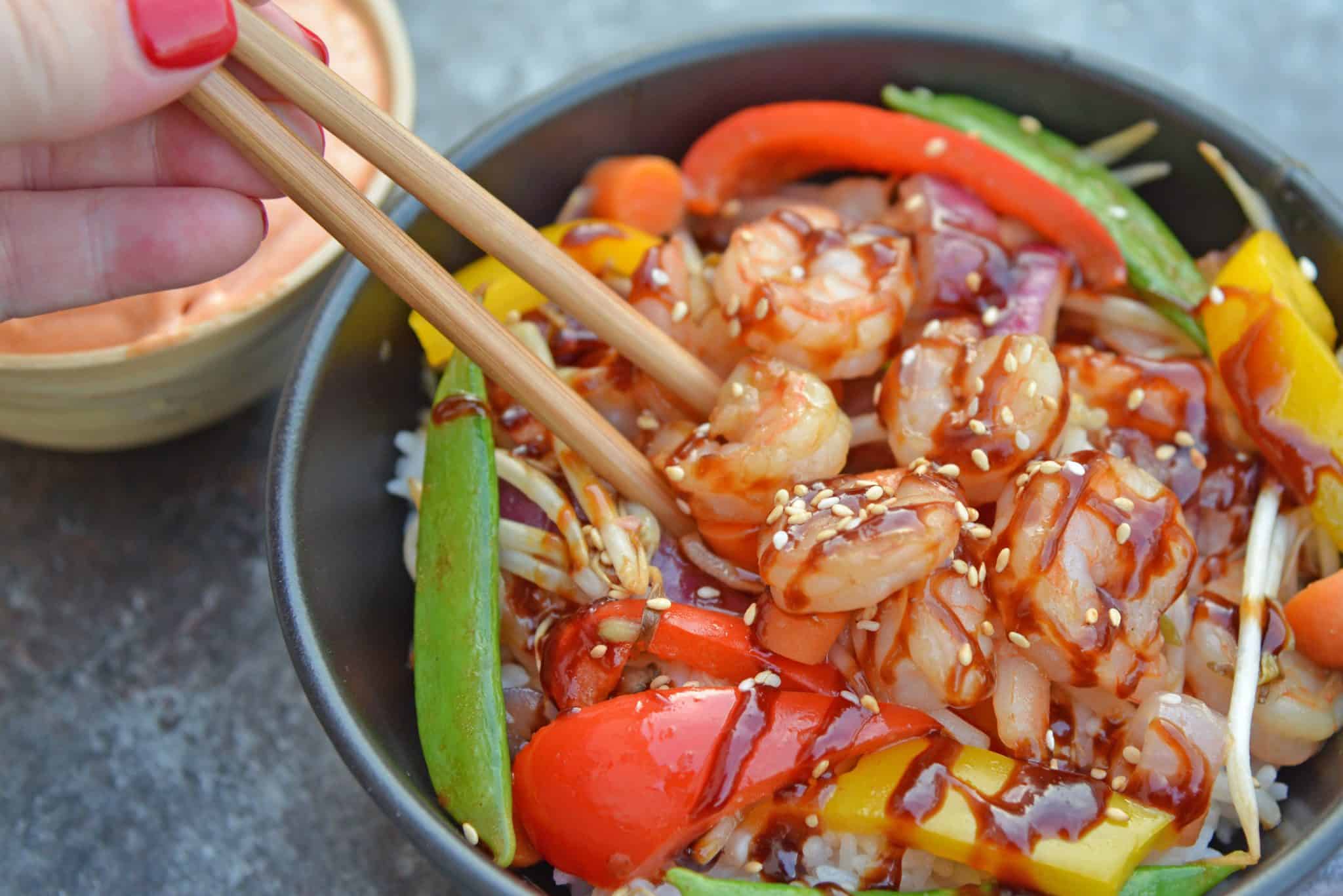 For my stir fry vegetables, I use bell pepper (yellow, red or green, your choice!) carrots, onions, snap peas and bean sprouts. Feel free to use any vegetables that you prefer!
Broccoli, cauliflower, asparagus, bok choy, eggplant, mushrooms and green beans are also great additions.
Garlic and ginger are also common in stir fry recipes, but since my teriyaki sauce has both, I don't add more. If you really like these flavors, feel free to add 1 tablespoons of each to the vegetable mixture.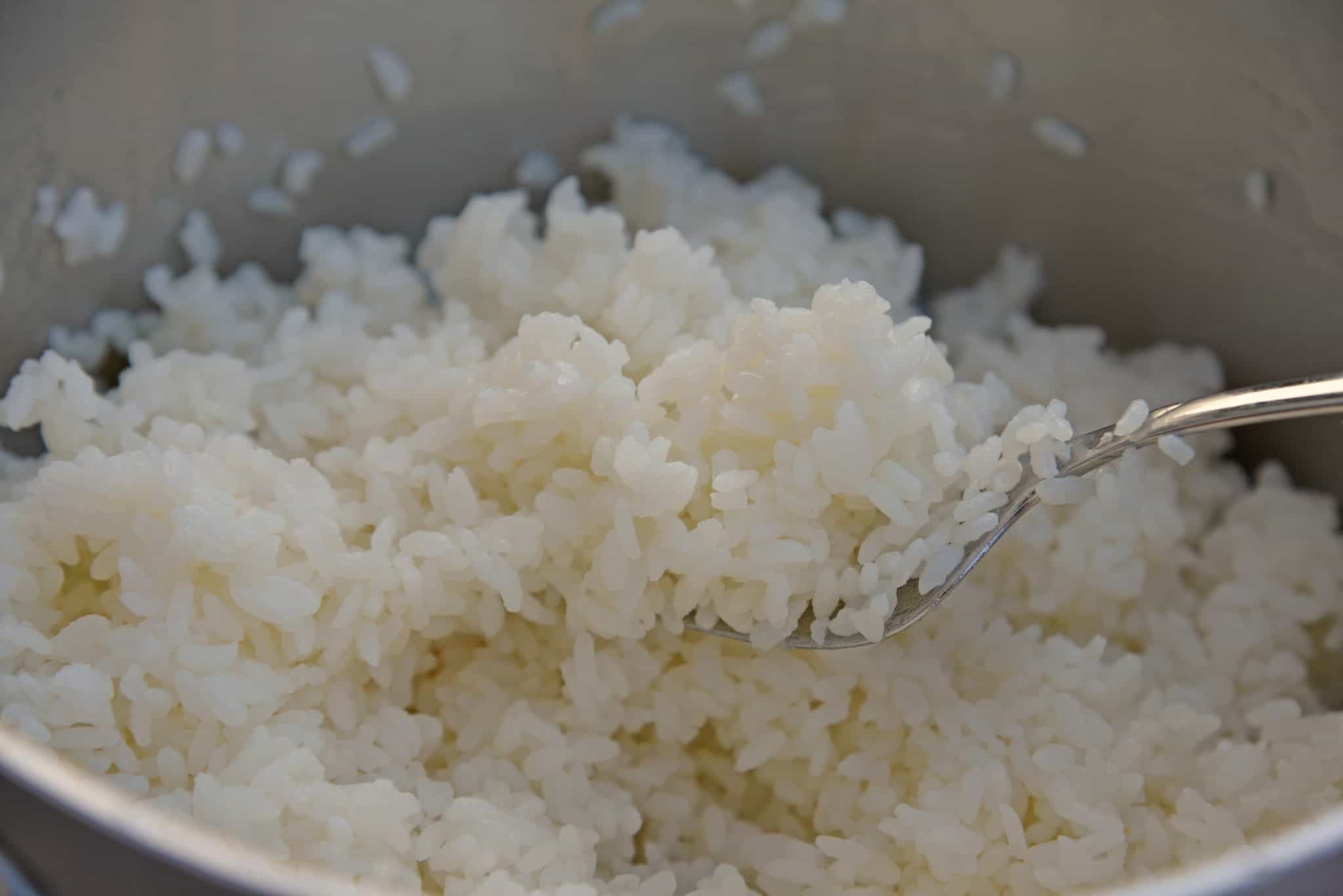 I made my own Homemade Teriyaki Sauce. Bottled teriyaki sauces are very liquidy and salty while true teriyaki sauce is more of a sticky glaze with a sweet flavor.
I still haven't found a bottled sauce I like, so until I do, I'll stick with my own teriyaki sauce recipe. Mine is made with a base of soy sauce and mirin, a Japanese sweet rice wine. A substitute can be white wine vinegar with 1 tablespoons white sugar.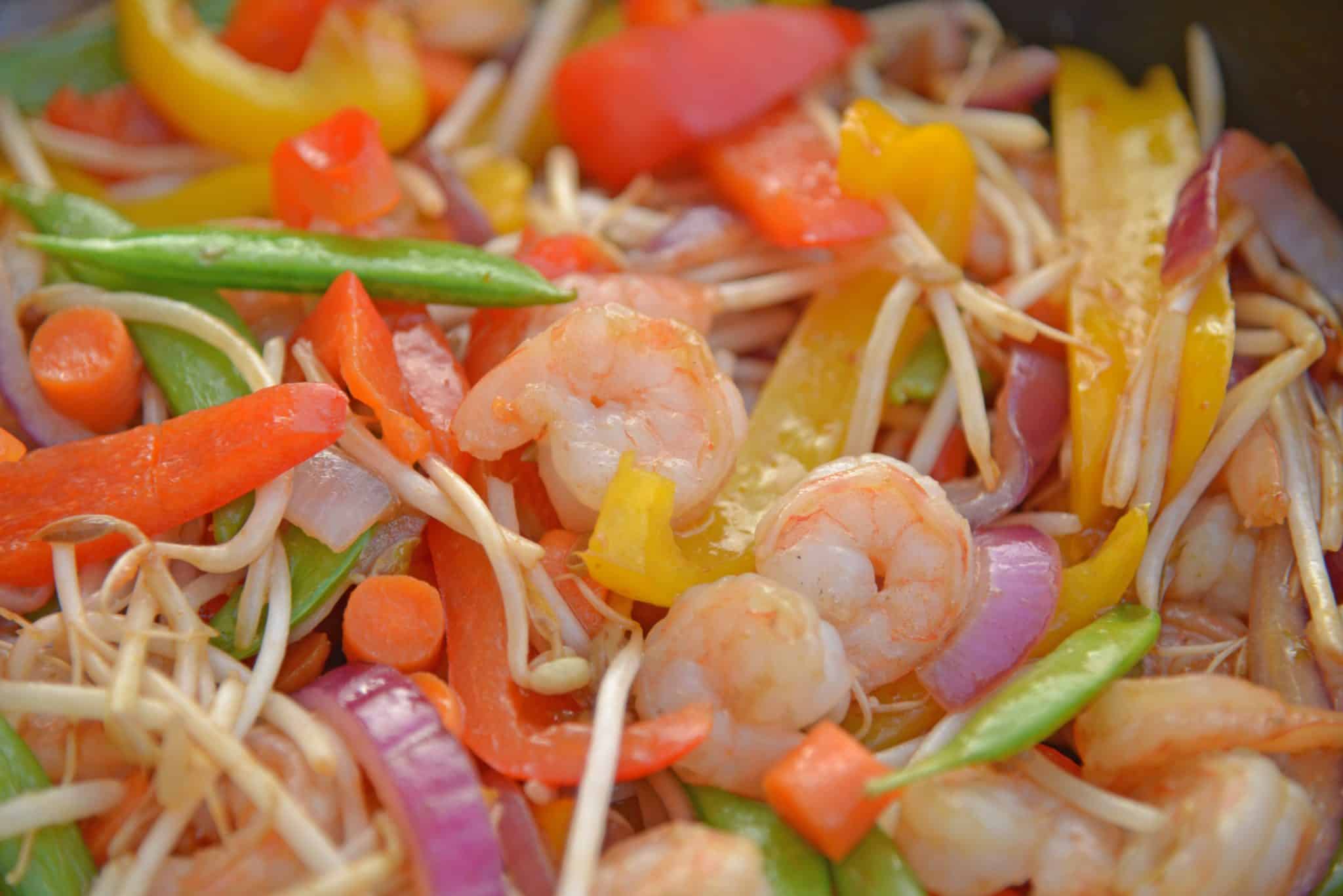 I love serving this shrimp stir fry over white sticky rice, but you could also serve it with fried rice or even lo mein noodles. And if you're not a seafood lover, you could easily swap out the shrimp for chicken, beef or even tofu.
Stir Fry noodles are also known as chow mein noodles. Some are come parcooked so you can just throw them into the pan along with the sauce, others are dry and need to be boiled first. Both are good options.
I also like using sesame seeds for garnish and texture. Using a combination of yellow and black sesame seeds adds an extra jenesequa.
Stir fry recipes are so super verstile and adaptable. As long as you have a good mix of protein and vegetables with a hearty sauce, you are good to go.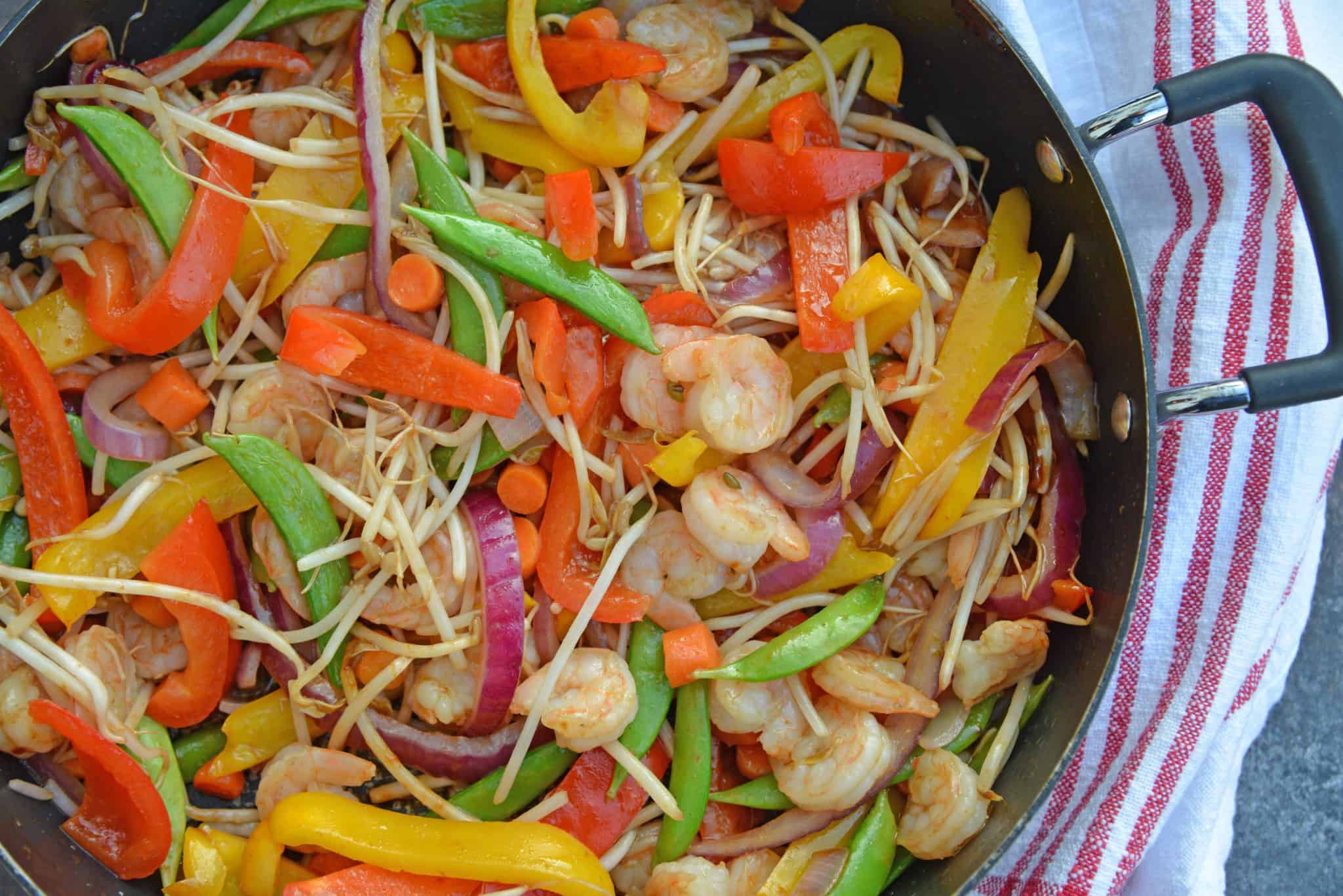 So the next time you're considering takeout, try this quick and easy recipe instead. It's sure to be a hit with the entire family!
Recipes that use teriyaki sauce:
Tools for making Teriyaki Stir Fry:
Heavy Bottom Frying Pan– A large skillet will be one of your most used kitchen tools. Having something that is heavy bottom will distribute heat better and prevent burning whether you are using an electric or gas range.
Wood cutting board – wood won't dull your knives like plastic and if treated properly, has natural antimicrobial properties.
Good knife – Global is my favorite! They are worth the price, I promise. I am kind of obsessed with them and store them tucked away so no one else can use them. Including hubby. Hands off my good stuff!
Wok
– you can use a wok if you want to be authentic, but I do suggest only using on over a gas range and if you have a good hood.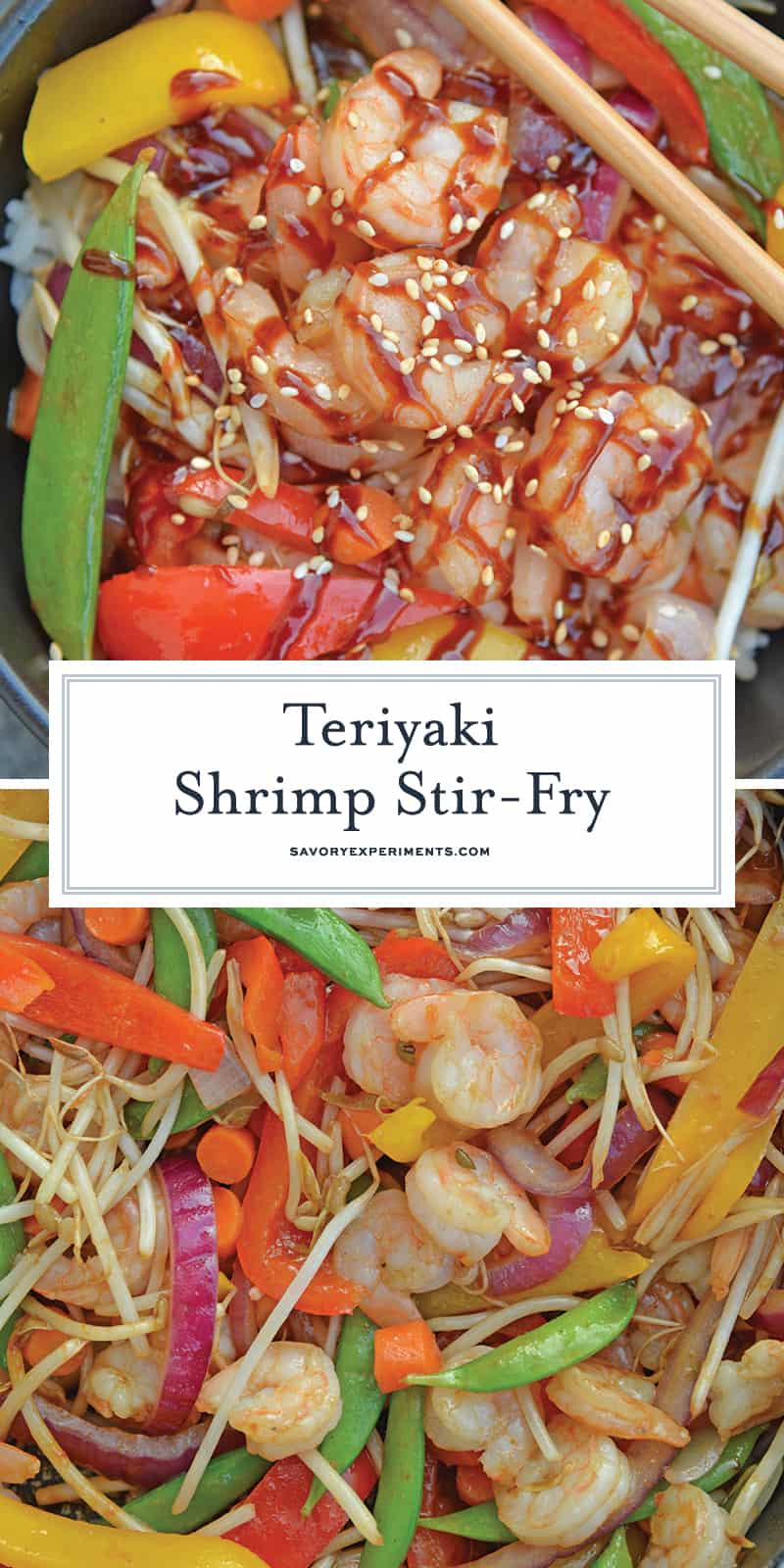 Questions you might have about how to make stir fry:
Is stir fry keto friendly? I am not a keto expert, but I do not beleive that this stir fry recipe, even without a rice or pasta base, is keto friendly. Teriyaki sauce itself has a good amount of sugar. Stir fry, without sauce or a base, is probably keto approved.
Is stir fry healthy? It really depends on your definition of healthy and your specific lifestyle diet. This recipe can come in at about 800 calories per serving with rice or noodles. While that still sounds like a lot, it is way less than if you ordered it at a restaurant.
Can I use frozen vegetables? You can certainly use frozen vegetables and add them in still frozen. They will heat through and defrost fairly fast, or at least as fast as it would take raw vegetables to cook.
PRO TIP: Frozen vegetables are an excellent substitute for fresh produce. Many are frozen immediately after harvest and the flash freezing process allows them to retain nutrients. A bag of mixed vegetables or even ones labeled stir fry vegetables are perfect for this recipe.
What is stir fry? Stir fry simply means to cook hot and briskly over high heat. The goal is to have vibrant vegetables that are cooked, but still have a little snap. Stir fry doesn't have a specific sauce or protein, leaving much of it open for your interpretation.
Why stir fry in a wok? A wok is a great conductor of heat, but it needs to be used over a gas range. The unique shape helps to cook fast which makes vegetables cook but keep their nutrients and crunch.
Can I make teriyaki shrimp stir fry ahead of time? You can certianly make all of the elements ahead of time and reheat them when you are ready to serve, but the classic toothiness of the vegetables will be lost upon reheating.
Stir fry is such an easy and quick recipe that it is best eaten when cooked. I would recommend prepping all the stir fry ingredients ahead of time and then cooking quick when ready.
Do I have to use sesame oil? No, you can use sesame oil or peanut oil. You can also use vegetable oil.
Can I omit sesame seeds? Omit the sesame seeds if you prefer.
Do I have to use shrimp? I like using shrimp because they cook so fast. You can use any type of seafood or protein you prefer. If you use chicken, reverse the order in which you cook starting with the chicken first, then adding vegetables. You don't want the vegetables to be overcooked. Also, try our Rice Noodle Stir Fry with chicken!
I like my stir fry spicy, is this recipe spicy? No, it is much more sweet. But if you like a spicy stir fry, add a teaspoon of crushed red pepper flakes.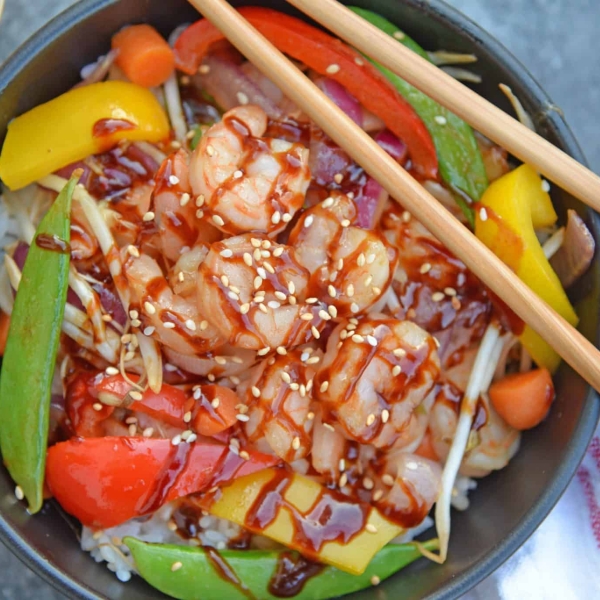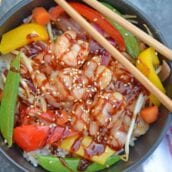 Teriyaki Shrimp Stir Fry
Skip the takeout and make this easy Teriyaki Shrimp Stir Fry in only 30 minutes! This Shrimp Stir Fry is an easy weeknight meal that the whole family will love!
Instructions
Heat sesame oil in a large skillet or wok over medium high heat.

Add red and yellow bell pepper, red onion, carrots, seasoned rice vinegar and fine sea salt. Toss and cook for 2-3 minutes.

Add shrimp and sugar snap peas, continue to cook for 4-5 minutes or until shrimp are opaque and curled. Add bean sprouts and 1 cup teriyaki sauce, cook for an additional minute.

Divide cooked sticky rice into 4 bowls. Equally divide teriyaki shrimp stir fry over the rice. Top with remaining 1/2 cup teriyaki sauce and sesame seeds.

If you've tried this recipe, make sure to come back and let us know how it was!
Nutrition
Calories:
449
kcal
,
Carbohydrates:
62
g
,
Protein:
35
g
,
Fat:
5
g
,
Cholesterol:
285
mg
,
Sodium:
5325
mg
,
Potassium:
594
mg
,
Fiber:
4
g
,
Sugar:
19
g
,
Vitamin A:
1255
IU
,
Vitamin C:
116.4
mg
,
Calcium:
235
mg
,
Iron:
5.8
mg