Who knew the hardest part about being an adult would be planning dinner every night? But when you have this Korean Beef Barbecue in your recipe box, it makes dinner time that much easier.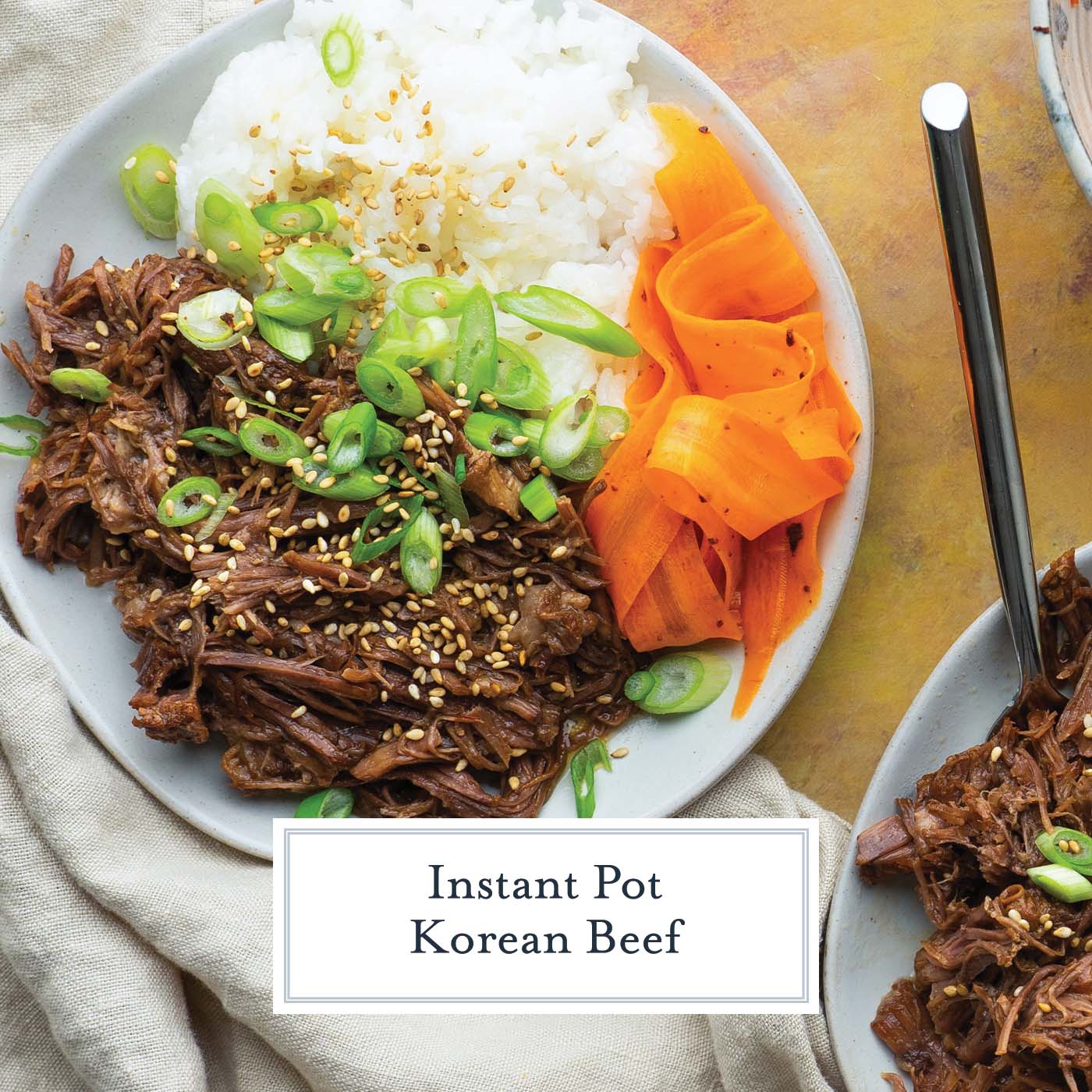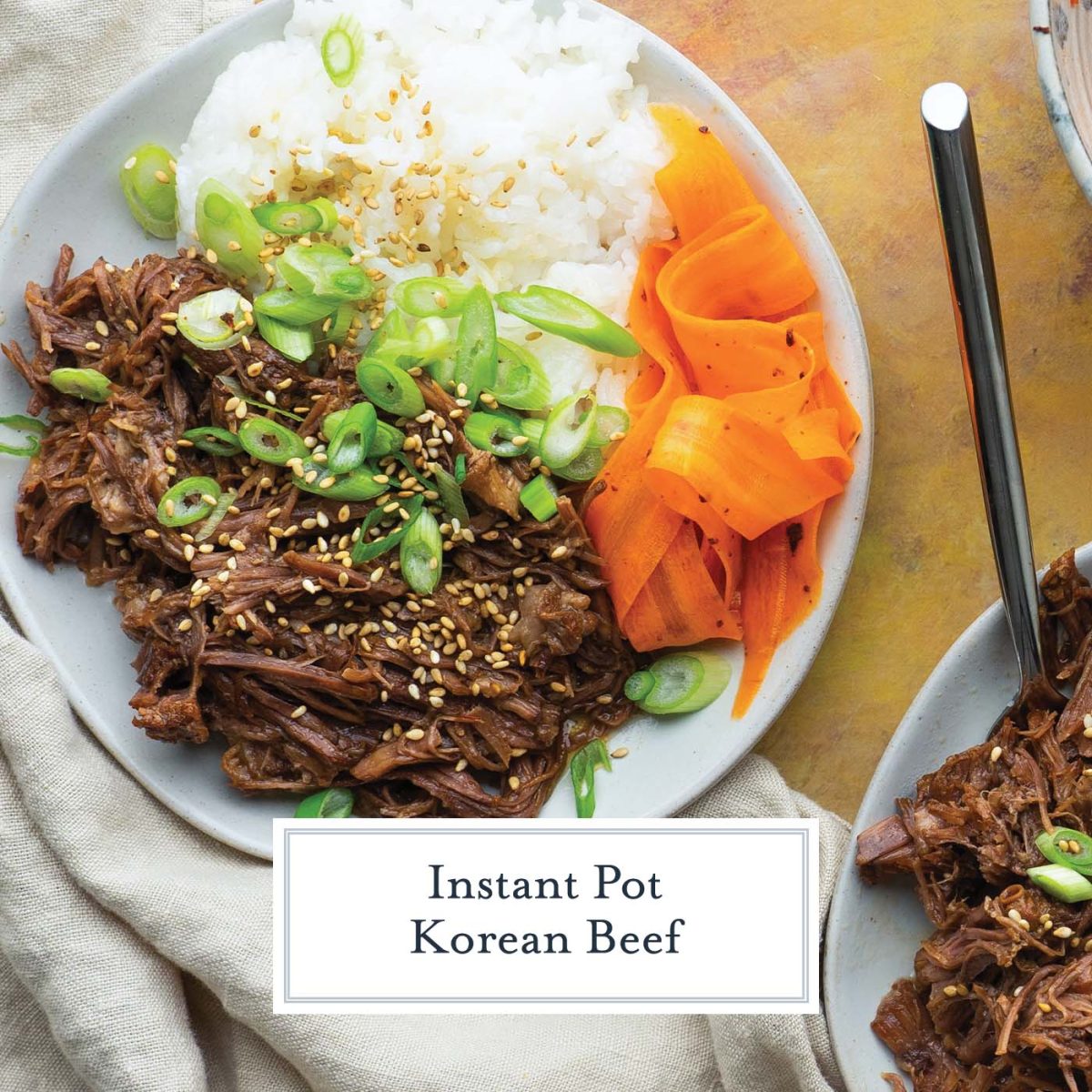 What is Bulgogi?
Another name for this Korean beef is bulgogi. Bulgogi literally translates to "fire meat" and is traditionally made by sauteing thin strips of beef in a work or skillet over an open flame.
This recipe is inspired by bulgogi, but is made with a large chuck roast in an Instant Pot. Cut the large roast into smaller pieces and then cook it in a super flavorful sauce. Same flavors, but different preparation.
Cooking the roast under pressure leaves it super tender and easy to shred. You can then serve the shredded beef over rice with all kinds of different toppings. It is perfect for making ahead and also meal prep.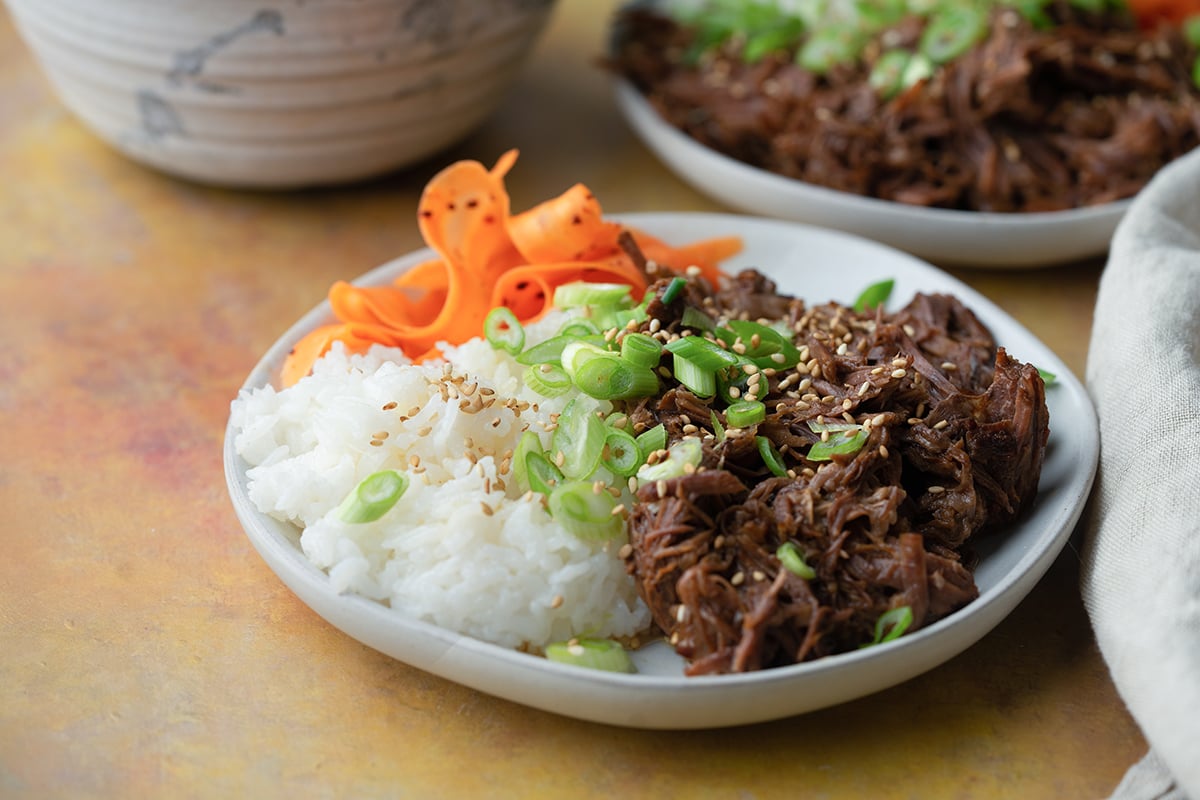 Ingredients
Tender chuck roast – traditionally this Korean beef is made with top sirloin or beef tenderloin, but the chuck roast is much better for preparing this dish in the instant pot. It might be labeled as a pot roast or just chuck roast.
Coarse kosher salt and black pepper – season the chuck roast with a mix of kosher salt and black pepper prior to searing.
Canned pears – I used half pears in juice. Drain the juice and chop into small pieces for the sauce.
Light brown sugar – add brown sugar to the sauce for necessary sweetness.
Light soy sauce – the soy sauce is the base flavor of the sauce that makes it savory and tangy. And if you are making this gluten free, here are a few substitutes for soy sauce.
White onion- slice half a white thinly to add flavor to the sauce.
Chili sauce – use a chile sauce like sambal olek or cock sauce to add the perfect spice to the dish.
Cornstarch – thicken the bulgogi sauce with a bit of starch after cooking the beef
Fresh grated ginger – add a fresh and bright flavor to the sauce with a bit of fresh ginger.
Scallions and sesame seeds – garnish the cooked beef with freshly sliced scallions and toasted sesame seeds.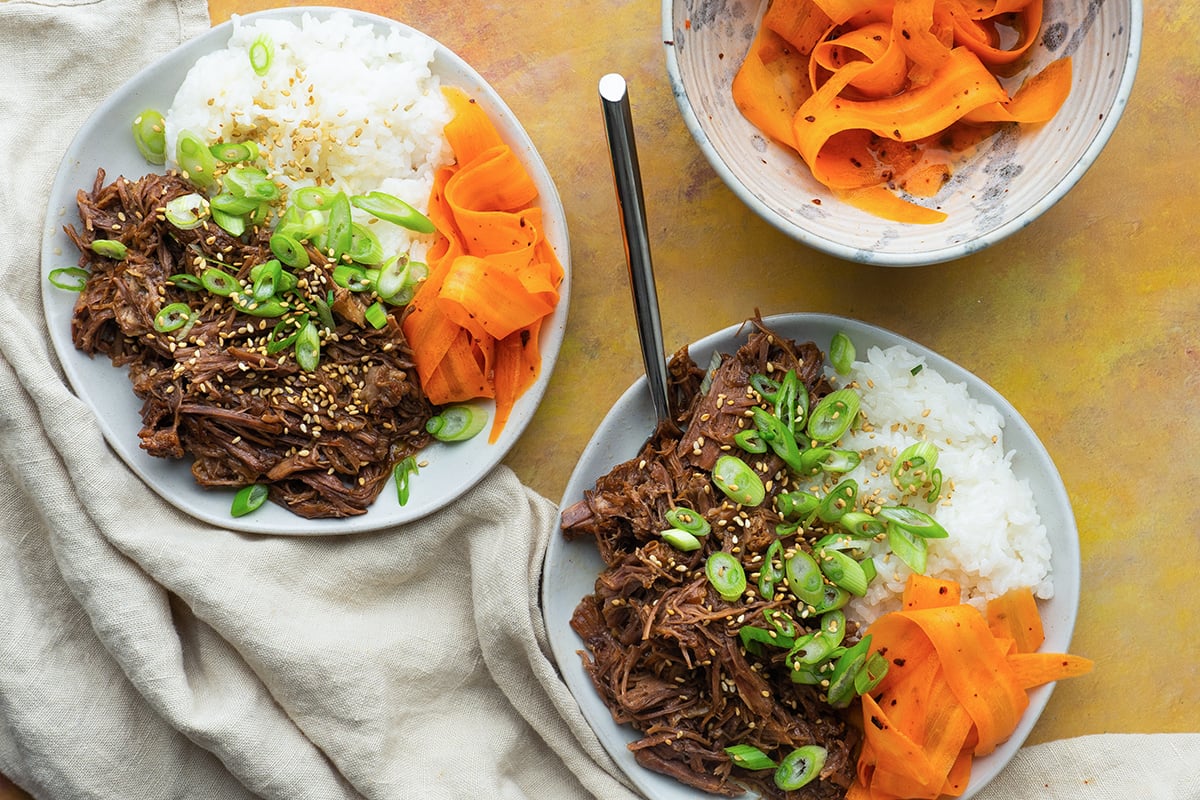 How to Make Korean Beef Barbecue
Season and sear beef. Cut a large chuck roast in four pieces and season with salt and pepper. Heat oil in the instant pot on saute and sear the beef. You may need to sear the beef in batches to ensure that it gets golden brown on the outside. While you sear the beef, prepare the sauce and slice the white onion.
Cook in the Instant Pot. Add the savory, spicy and sweet sauce to the instant pot along with the seared beef. Set the vent to sealing and close the lid. Cook on manual high pressure for 1 hour. Then, when the hour is up, allow the pressure to naturally release for 15 minutes. Manually release the pressure and remove the lid.
Shred Beef and Serve. Remove the Korean beef barbecue from the pot and place on a large plate. The beef should be super tender and easy to shred. Shred the beef with 2 forks. Then, drain the solids from the sauce and thicken with corn starch. Stir the beef back into the sauce and serve.

Make a Beef Bulgogi Bowl
My favorite way to serve this shredded beef is over a bowl of white rice. Then, I add a sunny side up fried egg, some sort of pickled veggie or kimchi, thinly sliced scallions and toasted sesame seeds.
I like to break the yolk of the egg and mix all of the ingredients together so I get a little bit of everything in each bite. You can also add some extra chili sauce at this point if you like it spicy.
Korean Beef Barbecue Variations
There are so many delicious ways to serve this shredded Korean beef. Make a quesadilla with the beef, sauteed veggies and shredded cheddar cheese.
Dip corn tortillas in the warm sauce and make a twist on birria tacos with the beef and melty cheese. Grill the tacos on a griddle until crispy. Then,heat up some of the extra sauce and use it like a dip
Use it as a topping on pizzas or in wraps! There are so many fun ways to enjoy this delicious beef.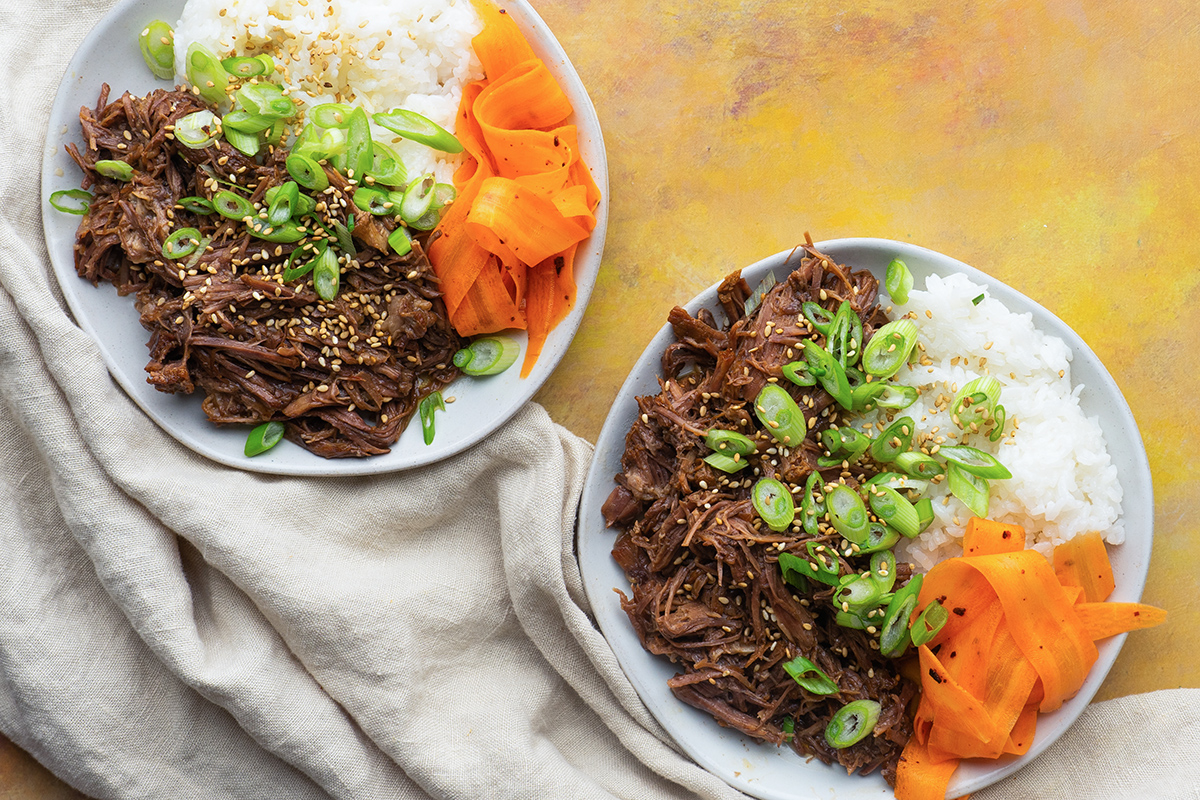 Storage, Reheating and Freezing
Allow the shredded beef to cool completely. Then, place in an airtight container with the sauce and place in the fridge. Store in the refrigerator for up to 4 days.
Reheat beef with some of the sauce on the stovetop or in the microwave. Serve warm with rice and kimchi! I also like to serve leftovers with sauteed veggies for a healthier option.
You can freeze the cooked and shredded beef for up to 3 months. Defrost in the fridge and then reheat on the stovetop.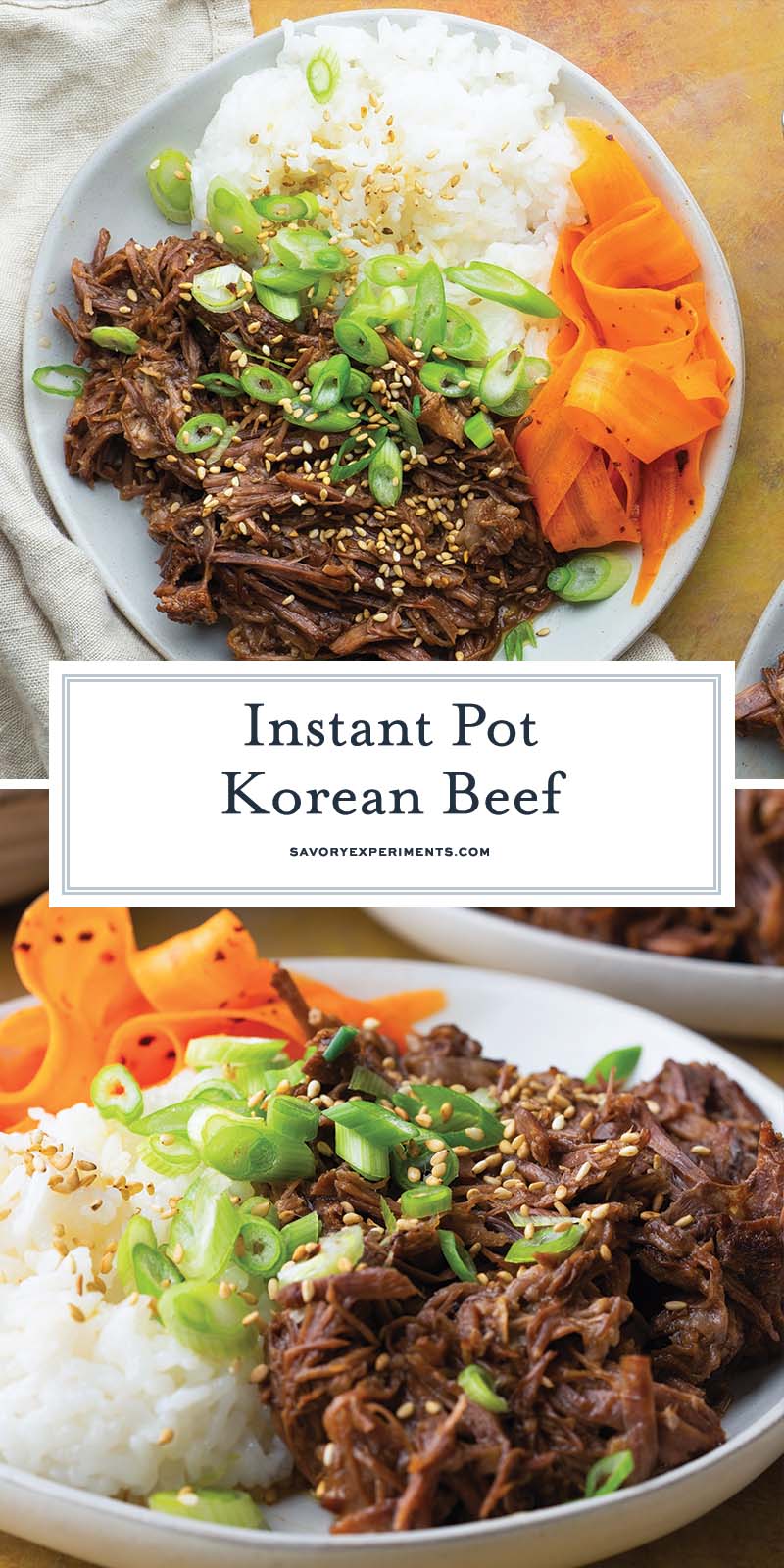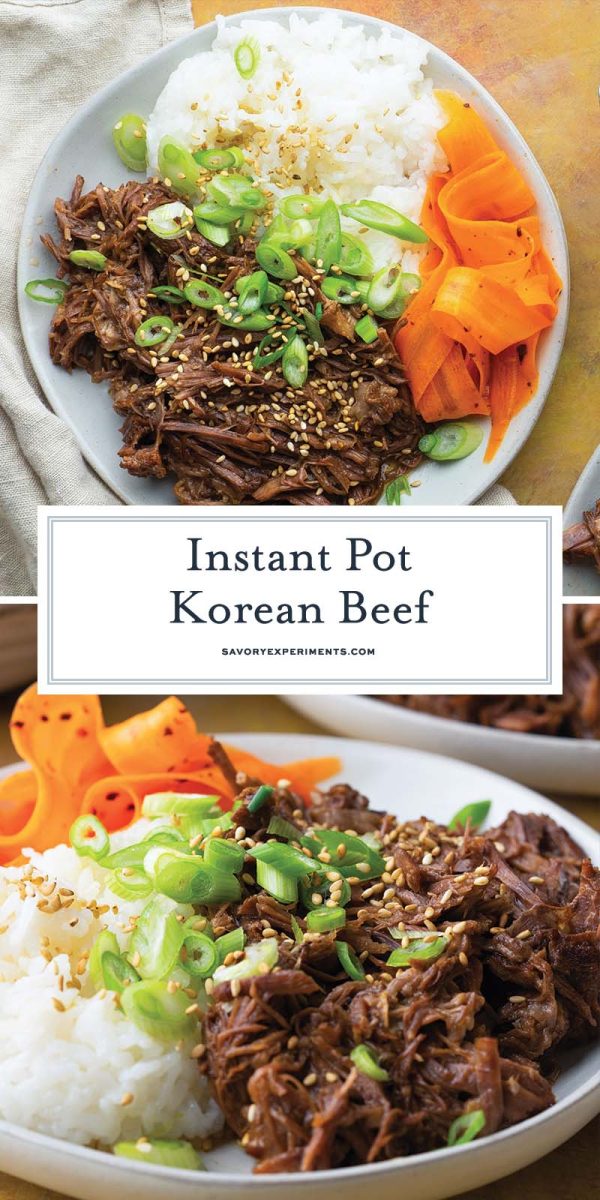 More delicious beef recipes: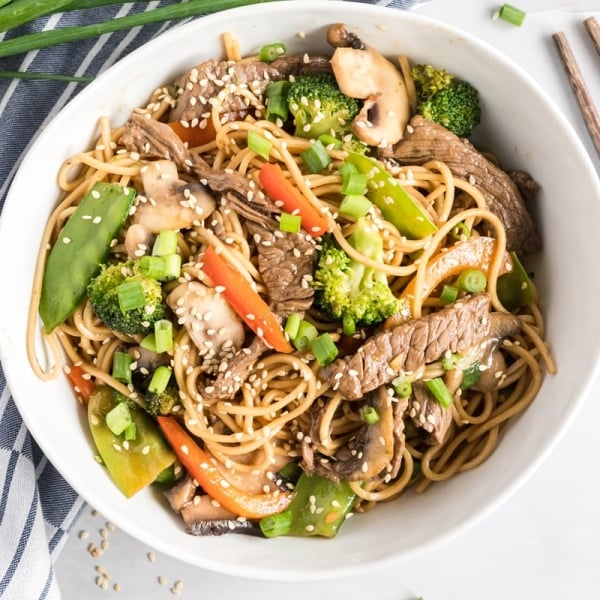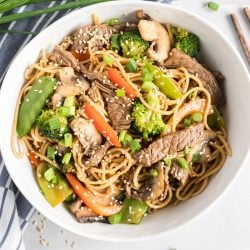 Beef Lo Mein Recipe
Noodles, vegetables & tender beef are tossed in a slightly sweet and spicy sesame sauce to make this easy Beef Lo Mein! Ready in 30 minutes!
View this recipe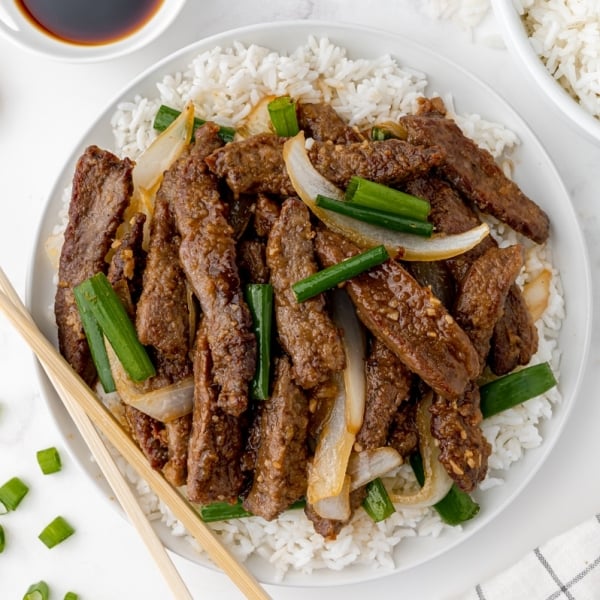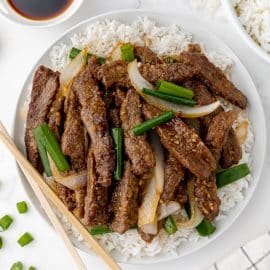 30-Minute Mongolian Beef
Skip the takeout and make this homemade Mongolian Beef recipe instead! It tastes even better than the PF Chang's recipe!
View this recipe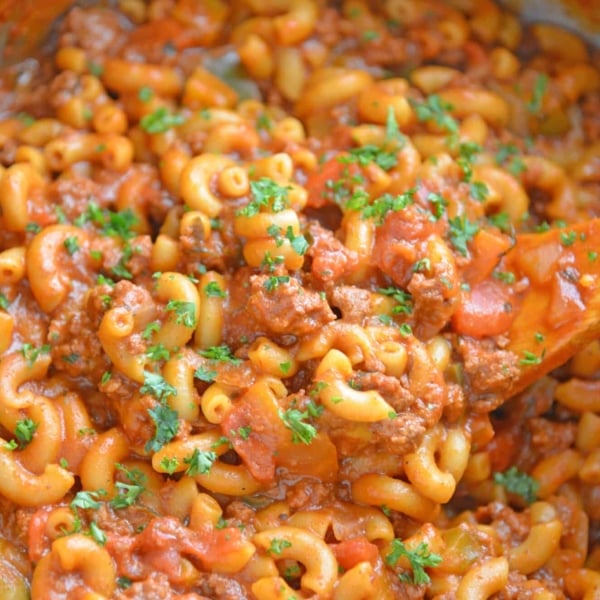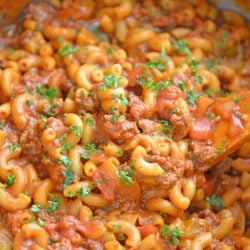 Beef Goulash
Classic goulash doesn't get any better than this Beef Goulash recipe! The perfect comforting meal for any weeknight!
View this recipe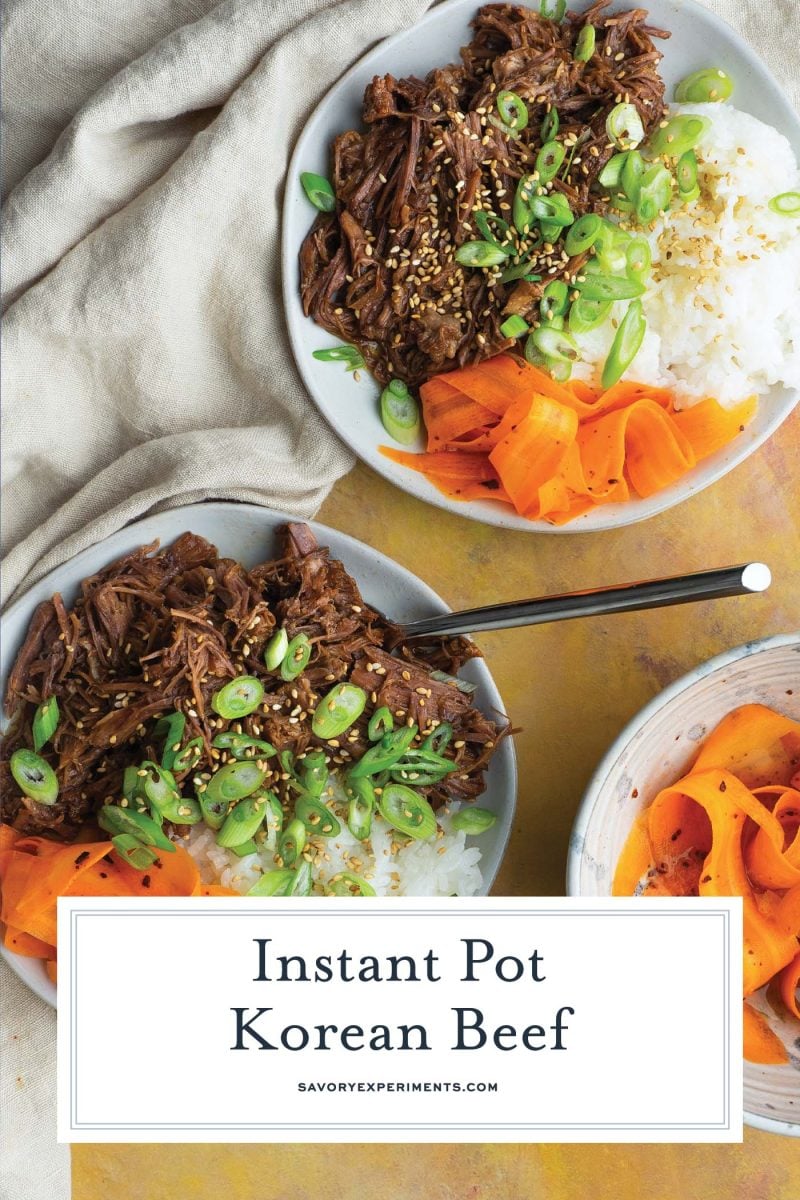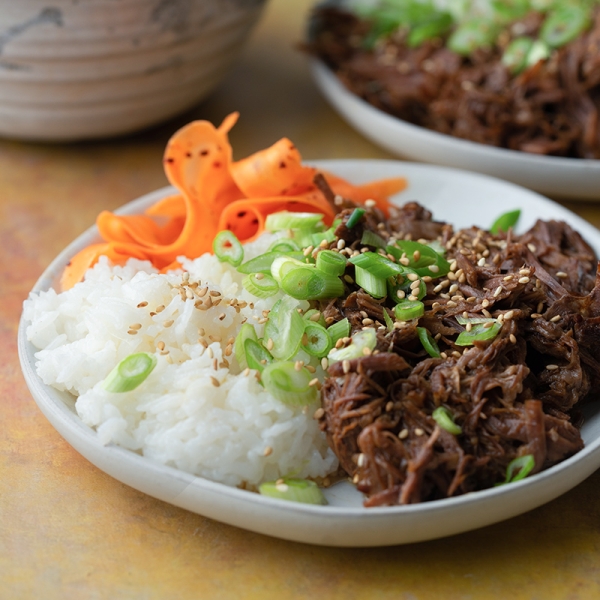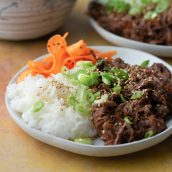 Korean Beef Barbecue
This Korean Barbecue Beef recipe makes tender shredded beef in your Instant Pot. Cook the beef in a savory, sweet and slightly spicy sauce!
Instructions
Heat the oil in the pot using the saute function.

In a separate bowl, toss the meat pieces with the salt and pepper to season.

Add to the hot oil to brown all sides. Depending on the size of your pot and roast, you might need to do this in two batches. If the meat is too crowded, it will steam and not brown.

In a separate bowl, whisk together the pears, soy sauce, brown sugar, chile sauce and ginger. Toss in the onion. Pour sauce over the browned beef pieces and add 1 cup of water.

Secure the lid and place on manual high pressure for 1 hour. Allow for natural release for 15 minutes, then quick release.

Remove meat from the pot and shred using two forks.

Run the sauce through a fine-mesh sieve and discard solids, please sauce back into the pressure cooker on "keep warm". Ladle out a small amount and whisk with the cornstarch. Whisk back into the larger pot and then toss with shredded beef.

Serve with rice and/or kimchi.

If you've tried this recipe, come back and let us know how it was in the comments or star ratings!
Notes
Alternative ways to serve it or use leftovers: tacos, quesadillas, on pizza, spring rolls. You can even use the leftover broth to make birria style tacos!
Nutrition
Serving:
4
ounces
,
Calories:
474
kcal
,
Carbohydrates:
9
g
,
Protein:
45
g
,
Fat:
29
g
,
Saturated Fat:
12
g
,
Polyunsaturated Fat:
4
g
,
Monounsaturated Fat:
14
g
,
Trans Fat:
2
g
,
Cholesterol:
156
mg
,
Sodium:
1114
mg
,
Potassium:
806
mg
,
Fiber:
0.5
g
,
Sugar:
6
g
,
Vitamin A:
41
IU
,
Vitamin C:
1
mg
,
Calcium:
62
mg
,
Iron:
5
mg