Have you been wondering how to cook lamb chops? With this recipe I will show you how to prepare amazing lamb chops in as little as 10 minutes.
This will be one of the easiest dinners you ever make!
Pan Fried Lamb Chops, are one of the easiest dinners to make! This is a easy lamb recipe to serve for Easter dinner or any other night of the year!
Lamb is the traditional dinner for the Easter holiday, however many families have started to veer in other less gamey and cheaper directions.
I have also received feedback that people do not care for the traditional "lamb roast with mint jelly" option and aren't sure of how to find a new, vibrant recipe.
Others find it intimidating or time consuming. While this is true of many lamb recipes, it is not for Pan Fried Lamb Chops.
Lamb chops offer perfect serving sizes with a low fat content and a built-in handle for easy eating. What other holiday do you get to eat with your hands? I used a vegetable packed romesco sauce that adds a smoky, spicy flavor to the crusty lamb lollipops.
Another bonus that makes this the best lamb chop recipe is that the lamb only takes a few minutes. Romesco can be made ahead of time and used for other meals throughout the week.
One batch of homemade romesco will make enough for up to 12 servings of Lamb Lollipops. If you are short on time, you can also buy Romesco online, but it is so simple, what is the point?
Lamb chops can be expensive, so typically one does not serve a large portion, no more than 2-3 per person. Most lamb is raised in the US and fresh, coming from Colorado, my home state!
Most will serve hearty sides to accompany the lamb and plenty of appetizers to start it off.
Here are a few other cuts of lamb. Smoky romesco sauce can be used on any of them!
Ground Lamb: Mellow and mildly flavored, ground lamb is a lean and versatile substitute for ground beef in many recipes and is often preferred by those who historically say they don't care for lamb. Use it in meatballs, burgers, shepherd's pie and meatloaf.
Lamb Loin Chop: Loin chops are lean, tender and the most widely available cut of lamb! With their perfect 3- to 4-ounce serving size and attractive "T" shaped bone that runs through the meat, loin chops are simple to prepare. They can easily be baked, pan fried or grilled for an easy weeknight meal.
Lamb Shank: Lamb shanks practically melt off the bone when they are slow cooked and are a popular menu item across the country. Lean on fat but big on flavor, the meaty shank is perfect for braising in a slow, simmering broth.
Lamb Shoulder Chop: Shoulder chops require a shorter cooking time than other cuts, making them an economical and flavorful choice for quick and easy meals.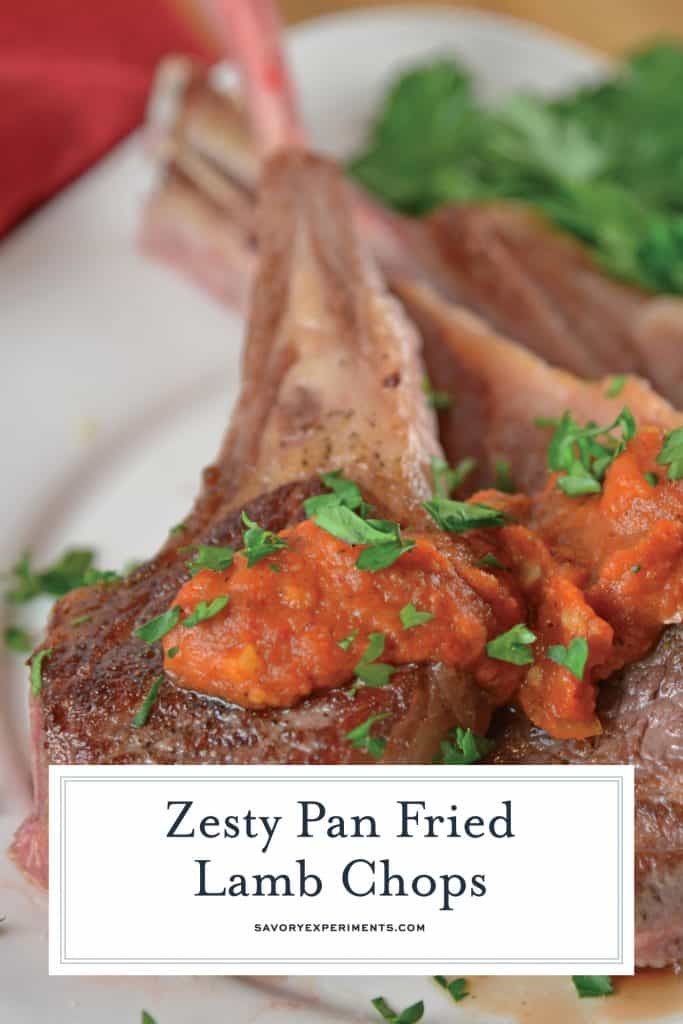 Leg of Lamb: Available boneless or bone-in, leg is the leanest lamb cut and one of the largest. It can be roasted whole or cut into individual steaks. Bone-in leg of lamb is perfect for any holiday or special occasion because of its impressive presentation.
PRO TIP: Save the bones, they add richness and flavor to any homemade stock or broth!
Rack of Lamb: Probably the most iconic, this is what most people envision when they hear lamb. They are commonly available "frenched" or "crowned" with a built in "handle".
They are one of the most elegant, but also the easiest and quickest to prepare. You can make it a one large roast and then cut into individual portions or cut before cooking for an even speedier cooking time.
Lamb Ribs: Lamb spareribs or "Denver Ribs" are perfect for braising and grilling and are a great substitute for baby back pork ribs.
Ranch Roasted Potatoes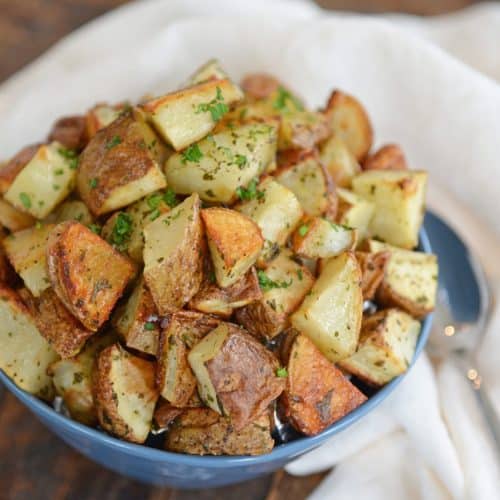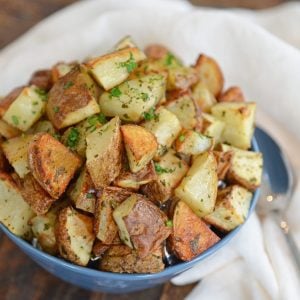 Looking for an easy side dish? These Roasted Ranch Potatoes are the BEST! And you only need 3 ingredients to make them!
Seasoned Peas and Onions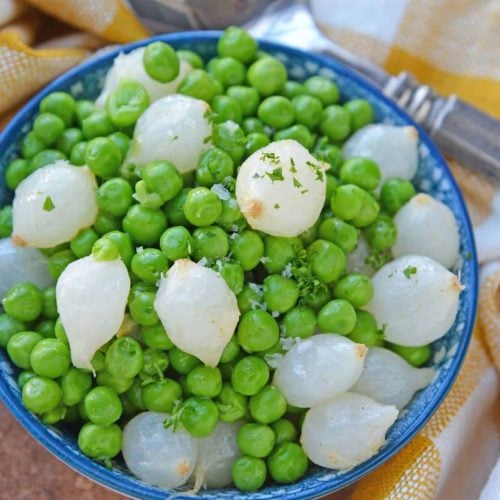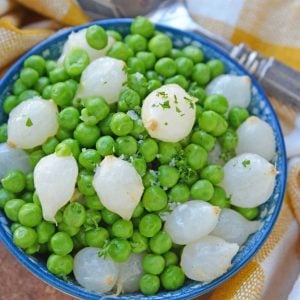 Easy side dish recipes don't get much better than this Seasoned Peas and Onions recipe! You can't beat a dish that only requires four ingredients!
CONNECT WITH SAVORY EXPERIMENTS!

Be sure to follow me on social media, so you never miss a post!

Facebook | Twitter | Youtube
Pinterest | Instagram
Get our FREE 8 Day E-Course on How to Be a Better Home Cook. Sign up HERE!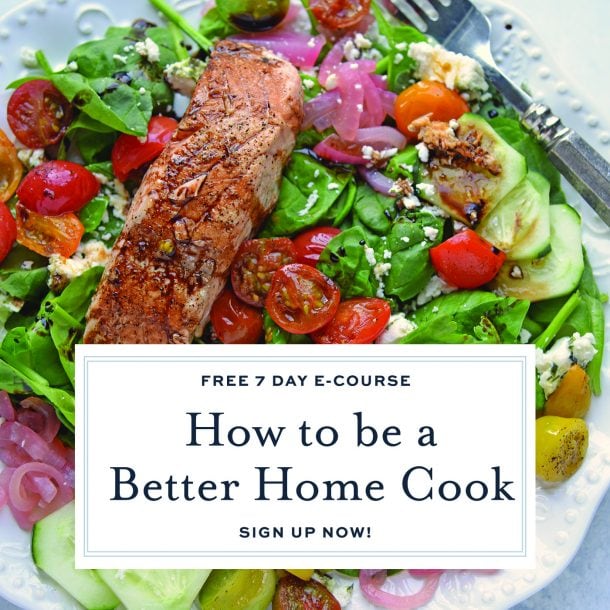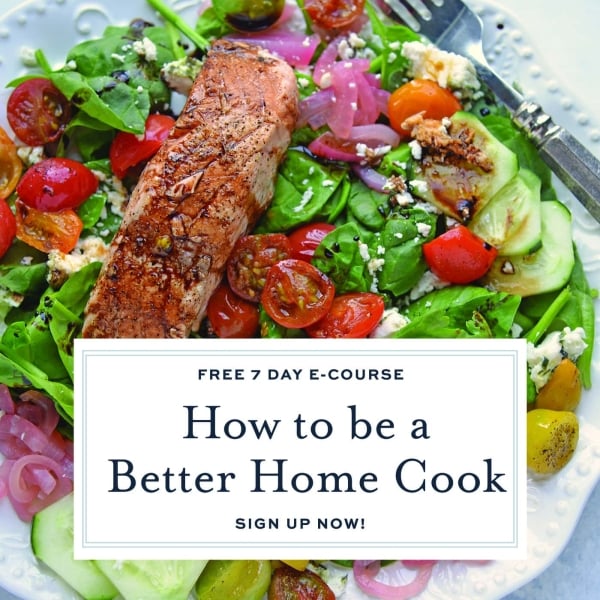 Lamb Chops with Romesco
Lamb Chops, also known as Lamb Lollipops, are one of the easiest dinners to make! Only 10 minutes to cook with a smoky romesco sauce and you are ready to dine!
Instructions
Start by removing Lamb Chops from your refrigerator for at least 10 minutes (just to take the chill off). Pat dry with a paper towel to remove any excess moisture. Preheat oven to 200 degrees (or "keep warm" setting).

Heat a large frying pan or cast iron skillet over high. When hot, add unsalted butter or olive oil, add lamb chops. Only do half at a time to ensure you don't overcrowd the pan or bring down the temperature too much by adding a substance much cooler.

Cook Lamb Chops on each side for 2-3 minutes per side depending on the thickness of your cut. Remove Lamb Chops to a baking sheet and place in the oven to keep warm. Repeat with next batch. Place completed Lamb Chops on baking sheet in the oven until ready to serve.

Plate Lamb Lollipops and top with a generous portion of romesco.

If you've tried this recipe, come back and let us know how it was!
Nutrition
Calories:
404
kcal
|
Protein:
41
g
|
Fat:
25
g
|
Saturated Fat:
6
g
|
Cholesterol:
128
mg
|
Sodium:
390
mg
|
Potassium:
535
mg
|
Calcium:
20
mg
|
Iron:
3.9
mg