This post is in collaboration with Superior Farms American Lamb. All opinions and statements are 100% my own.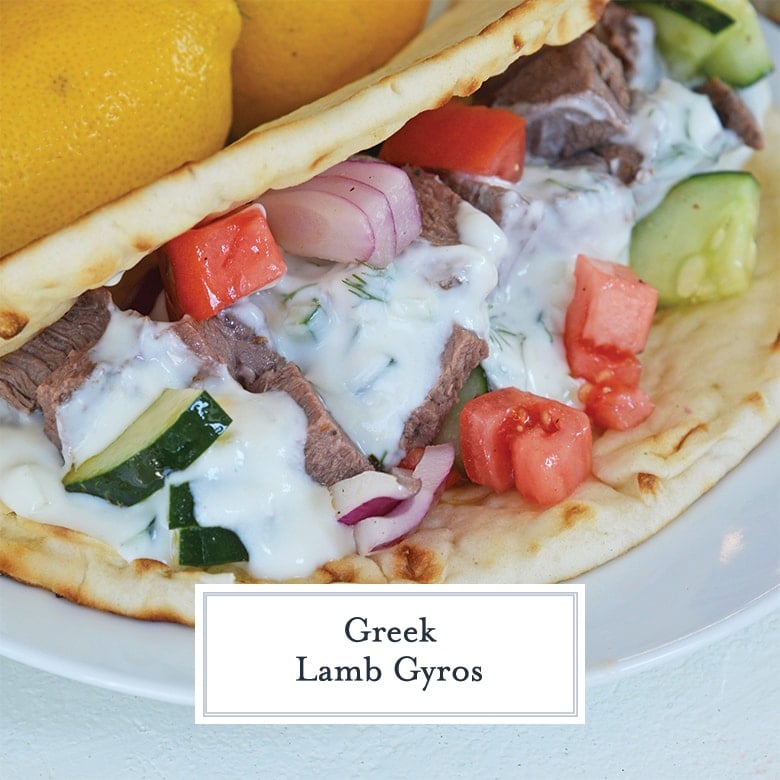 Whether you are at a Greek restaurant or on the run at a food truck, Greek gyros are a thing of simplicity and deliciousness. Tender meat combined with bright, crisp vegetables and cooling yogurt sauce. They are also easy to make at home as soon as you know the basics.
But first, how do you pronounce gyro? It is similar to the word "Euro", phonetically speaking YEE-roh. Americans tend to pronounce guy-ro, which is widely accepted. The term gyro translates literally "spin" just like gyro meat on a rotisserie.
Pair this with a platter of Greek Loaded Fries and Greek Feta Dip and you are good to go!
What goes a gyro?
An authentic gyro recipe is made up of 4 elements.
Pita bread
Gyro meat
Veggies
Yogurt sauce
Some people like a sprinkle of feta cheese. I don't find it necessary, but feel free to add some!
Gyro Meat
Gyro can be any type of protein, but is mostly commonly lamb meat. Sliced lamb is marinated in salt, pepper, sweet paprika, oregano and vinegar then layered tightly onto a spit before being cooked.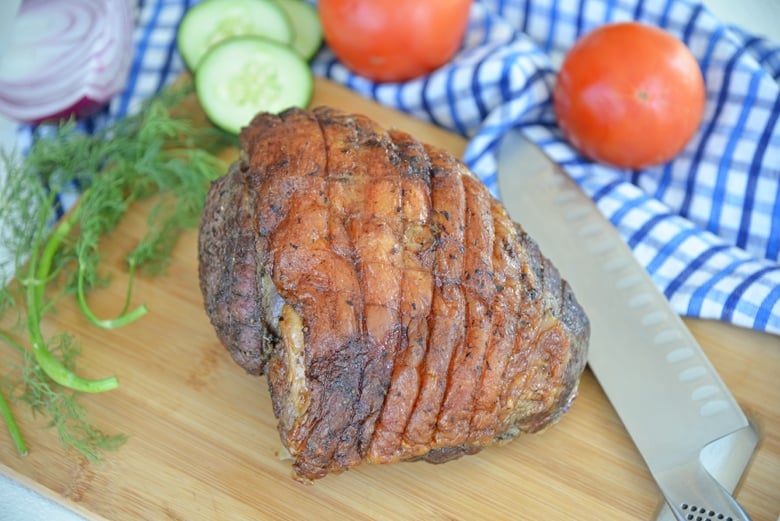 Using a seasoned leg of lamb from Superior Farms takes the most time consuming step right out of the equation. Already perfectly spiced, there is no need to marinate for long periods of time before popping it into the oven (or on the grill). You'll be wafting the aromatics from the moment you remove the plastic.
The roast has a pop-up timer to let you know when it is perfectly cooked. After allowing it to rest so juices resettle, you'll be left with moist, flavorful and tender lamb for the best homemade gyros.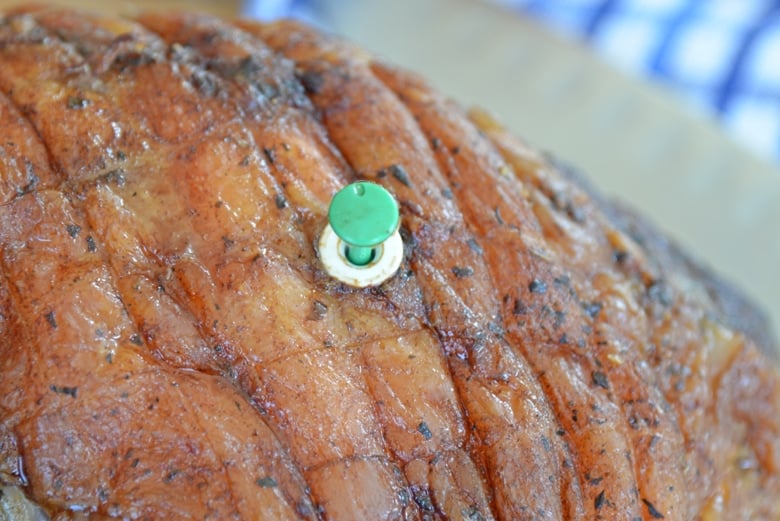 While I like my lamb chops rare, I prefer my gyro meat just a little more cooked to a medium doneness. This is purely personal preference.
I don't own a fancy deli slicer, so instead if thin slices, I choose to just dice my lamb. I find it easier to get a good ration of gyro filling in each bite.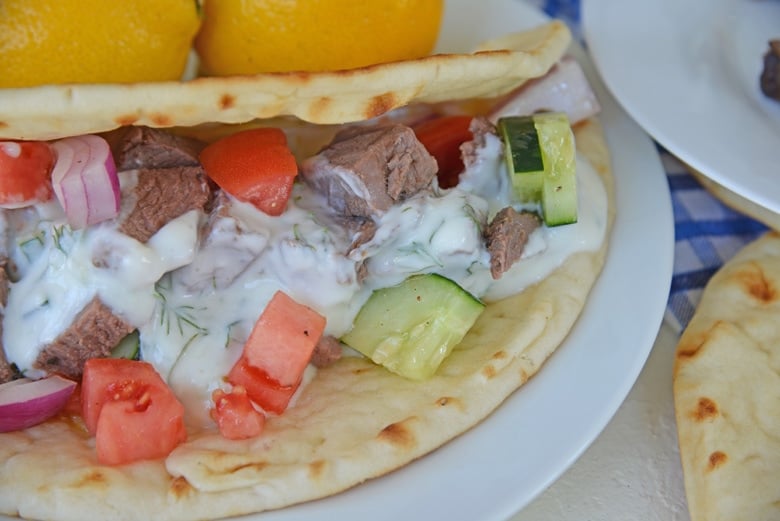 Gyro Veggies
Diced tomato, cucumber and red onion are the typical mix of vegetables. Tossed in olive oil, salt and pepper, they are fresh, juicy and add fresh crunch to the mix.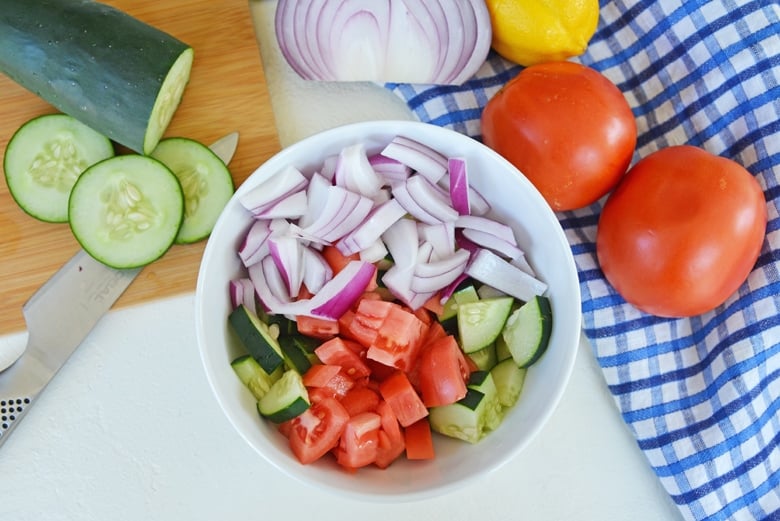 Leftovers can also be topped on a salad.
Gyro Sauce
Gyro sauce can range from plain yogurt to an oil-based vinaigrette and even sometimes tahini or hummus, but my absolute favorite is a Tzatziki sauce.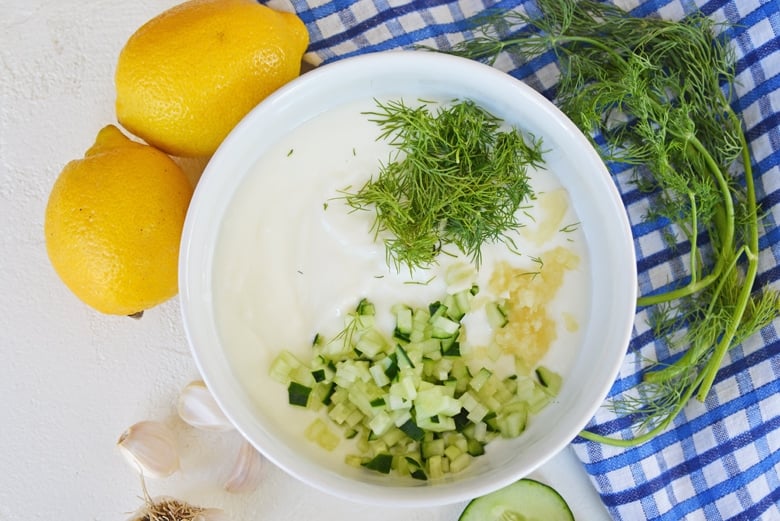 It is plain yogurt blended with diced cucumbers, grated garlic, fresh dill, lemon juice and a pinch of salt. The is a situation where fresh dill (versus dry) makes a huge difference.
Leftovers can be used on any other grilled proteins, as a salad dressing for dipping pita chips or carrot sticks. It can also be made up to 2 days ahead, however I recommend stirring well after any time sitting.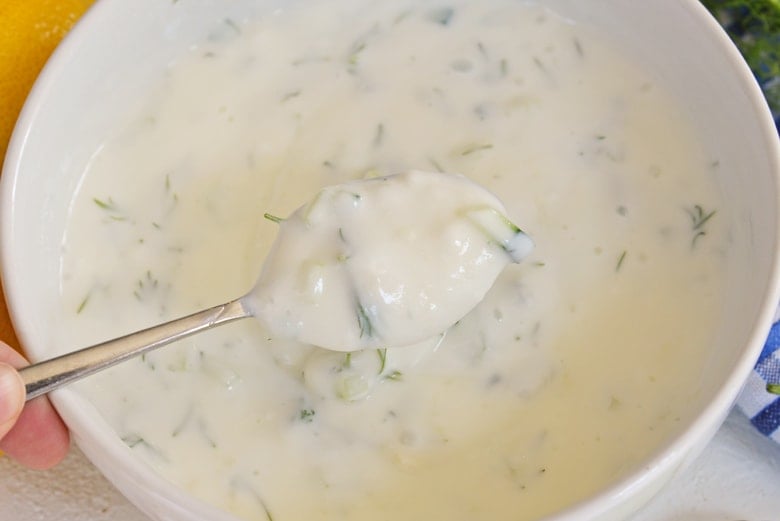 How to Roast Leg of Lamb
Roasting leg of lamb is super easy. Allow the roast to sit at room temperature for about 3o minutes before removing the plastic wrap, putting into a shallow roasting pan fat side up and then popping it in the oven.
Actual cooking times will vary based on the size of your roast, but at 375 degrees, you'll want to cook it anywhere from 15-25 minutes per pound (thinner to thicker). It should be cooked to an internal temperature of 145 degrees for medium.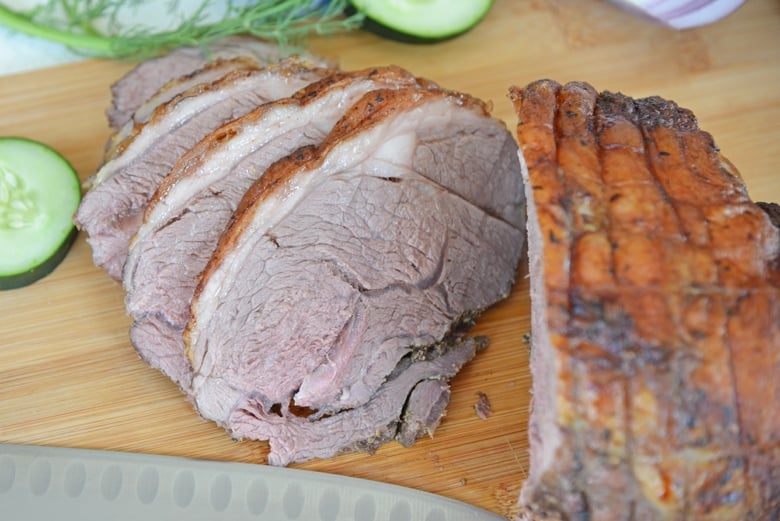 Superior Farms takes gauging temperature to a whole other level of ease by including a pop-up timer so you don't even need to use a digital thermometer.
How to Grill Leg of Lamb
If you like char and smoky flavor, grilling is the way to go. Start by taking off the plastic and any netting (used to keep the roast intact after the bones have been removed).
Place it fat side up on indirect heat for 15-20 minutes per pound, flipping once while cooking.
For either roast, make sure you give it adequate time to rest so those juices don't just seep out while carving.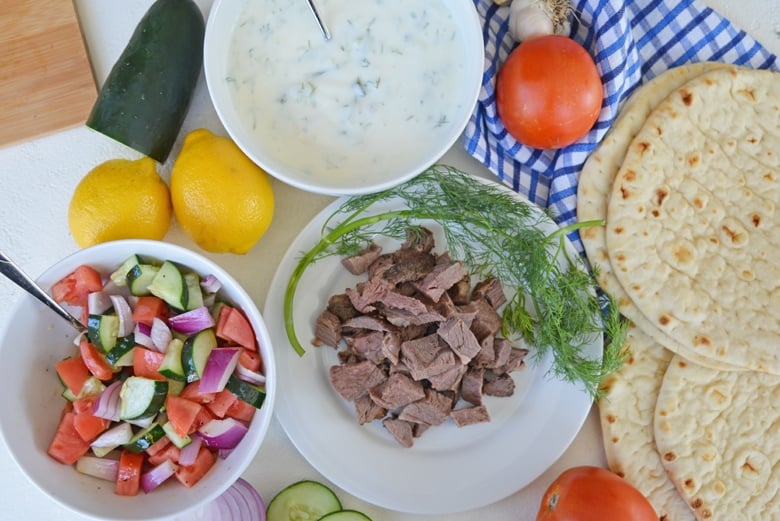 If you prefer your lamb to a different degree of doneness, here are the recommended temperatures.
Rare: 115 to 120°F
Medium-rare: 120 to 125°F
Medium: 130 to 135°F
Medium-well: 140 to 145°F
Well-done: 150 to 155°F
How to Make a Gyro
After you've prepared the three elements, all you have to do is assemble.
I like to start with tzatziki, then veggies, lamb and more sauce. Heating the pita bread in the oven will make it easier to work with and wrap without tearing. Enjoy!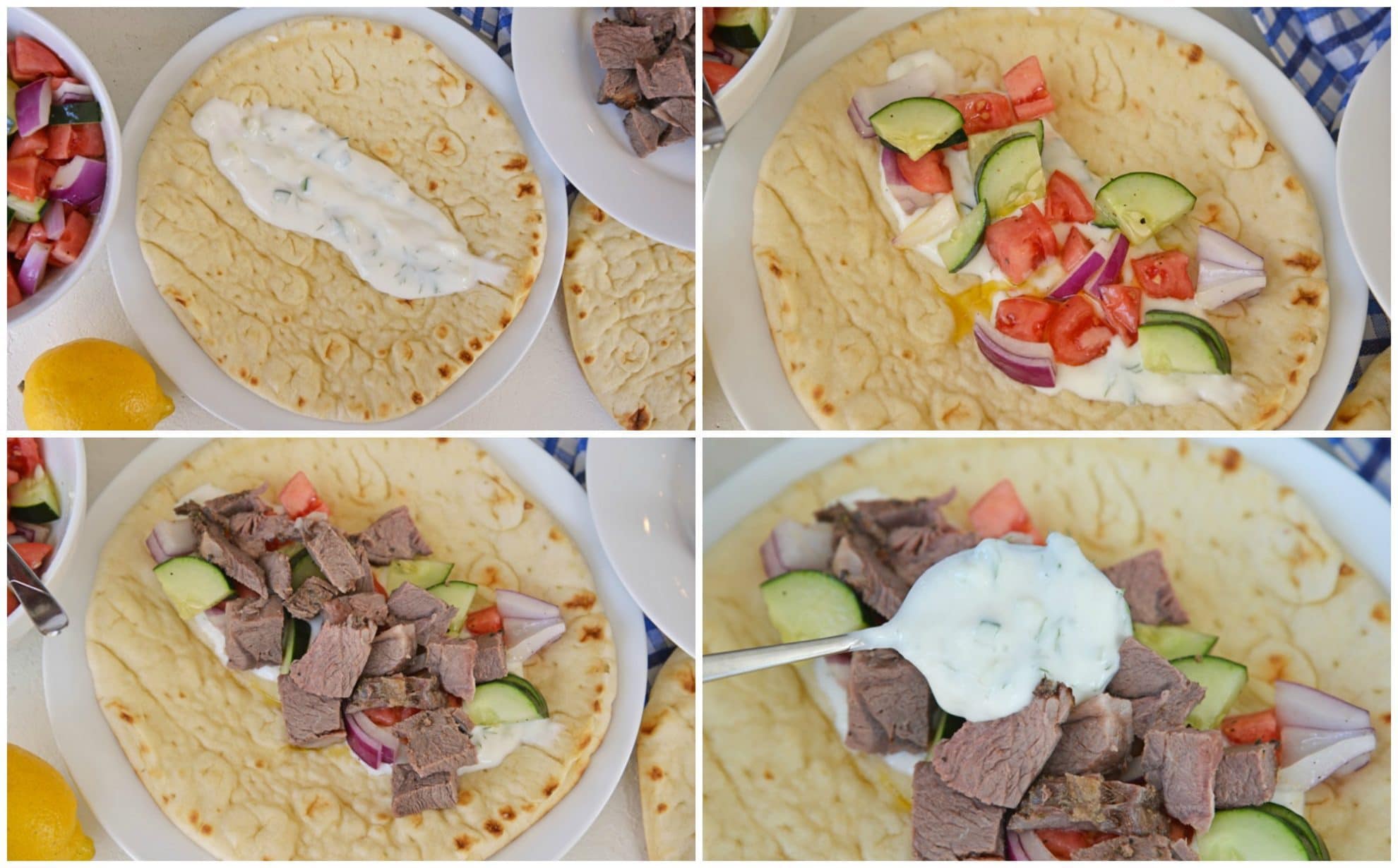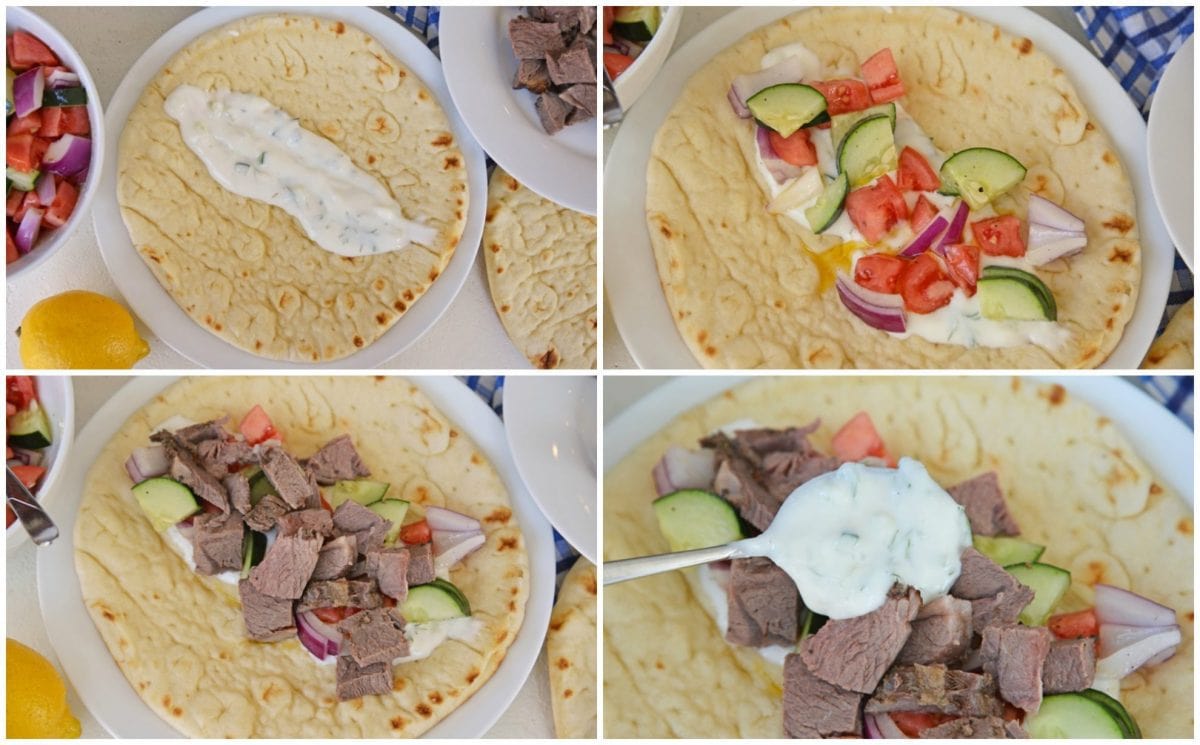 Superior Farms American Lamb
American Lamb is nutrient dense, providing protein, B12, niacin and zinc and contains monounsaturated fats, the same "good" fats found in olive oil. It also has more omega-3 fatty acids than the same size portion of beef and uses no artificial or synthetic growth hormones during the life cycle.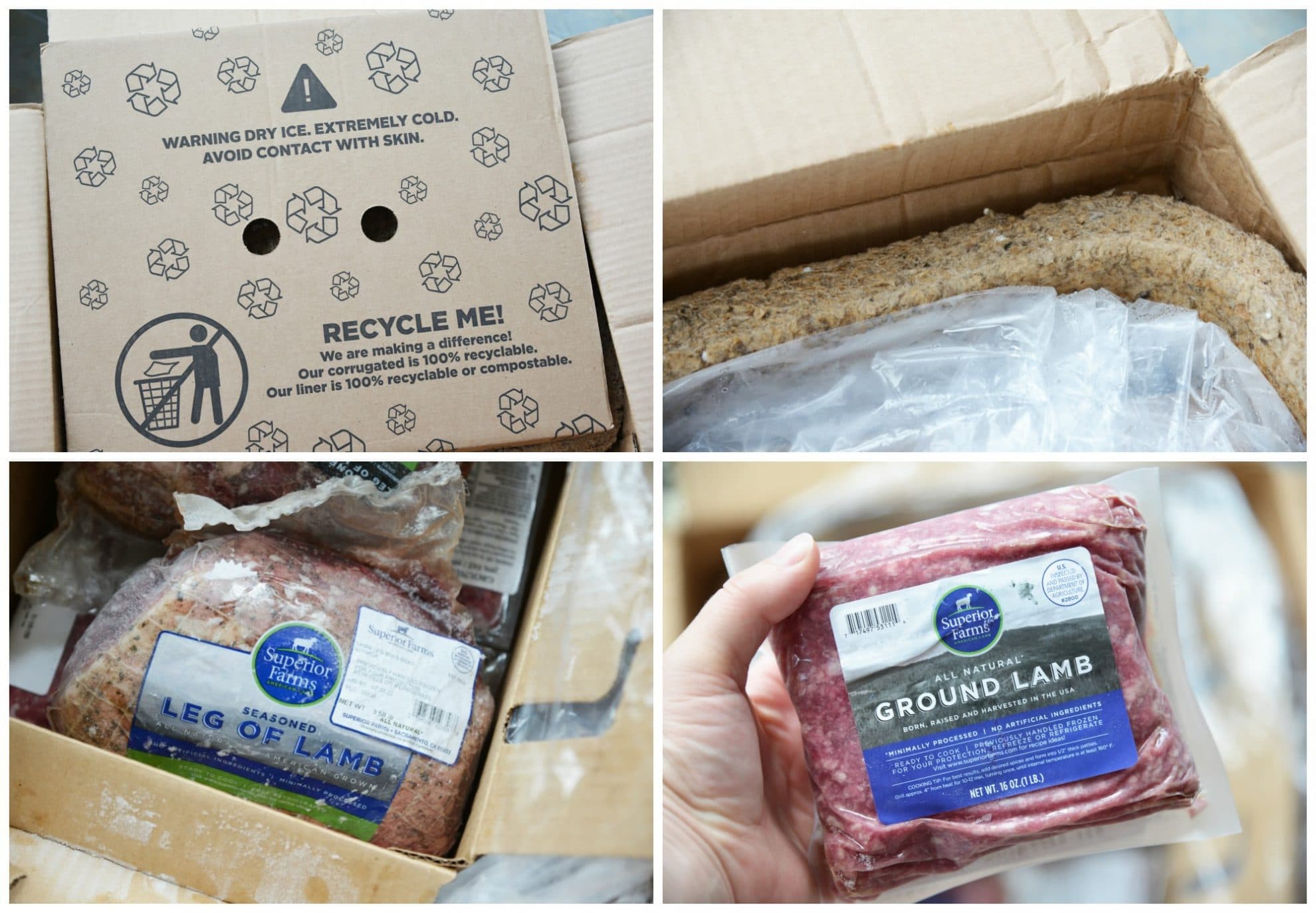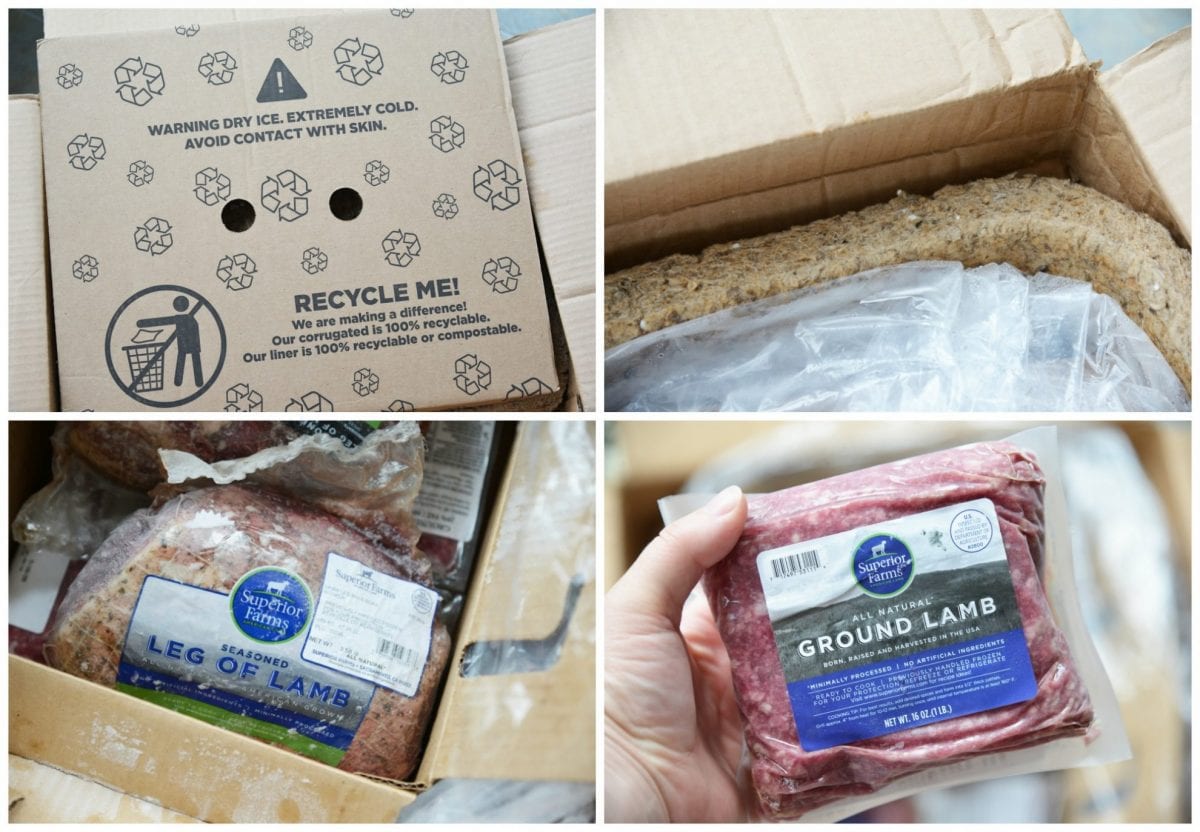 Don't see it at your local grocery store? No worries because now you can have it shipped directly to your house in a safe, refrigerated package packed with dry ice. Mine were still solid as a rock when delivered!
You can order Superior Farms online at www.superior-farms.com. The site offers two bundles: the Sizzling Grill Pack, which includes 2 boneless legs of lamb and 4 1-lb. packs of ground lamb, and the Lamb Rack Party Pack, which include 4 8-rib racks of lamb.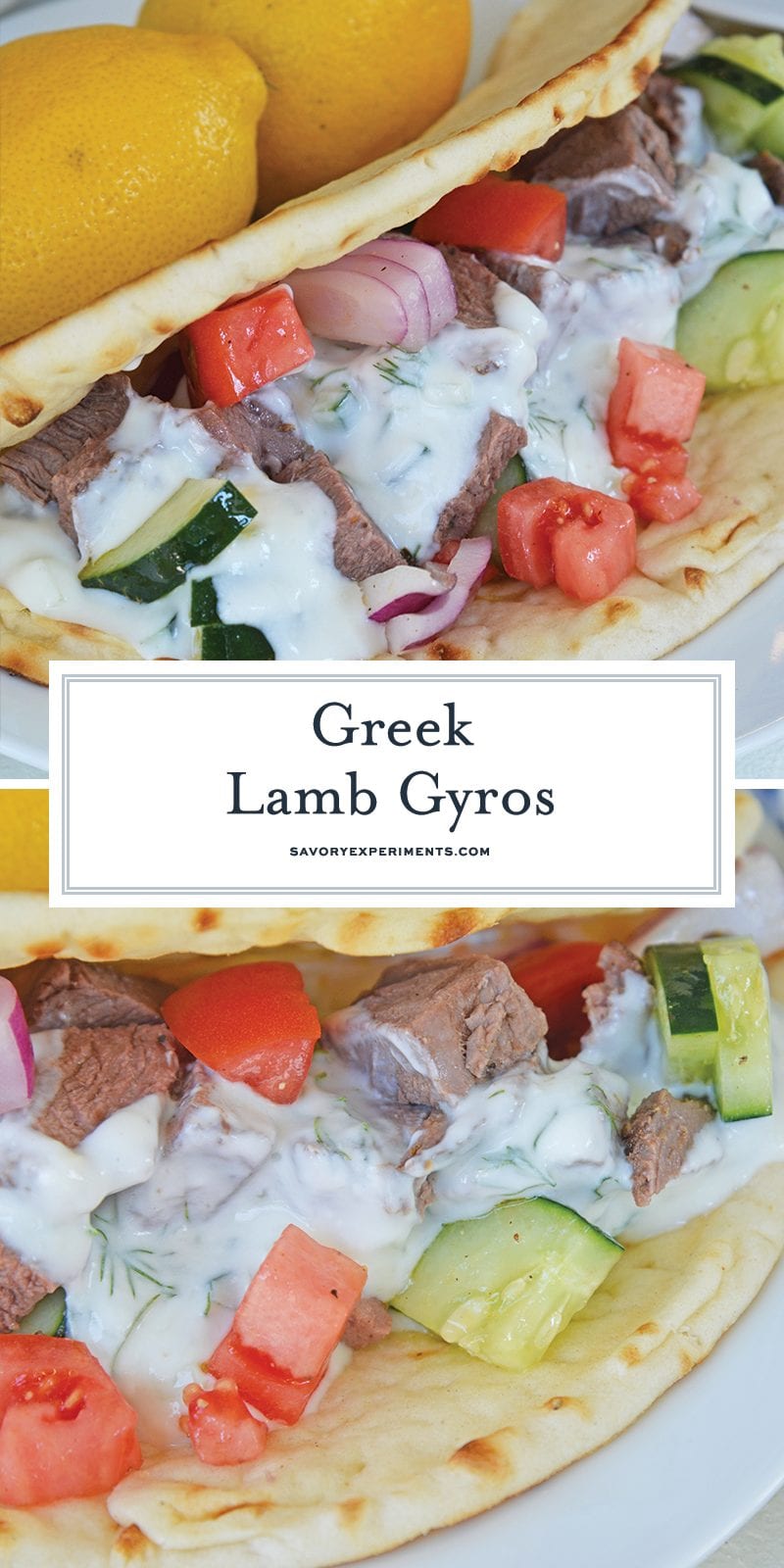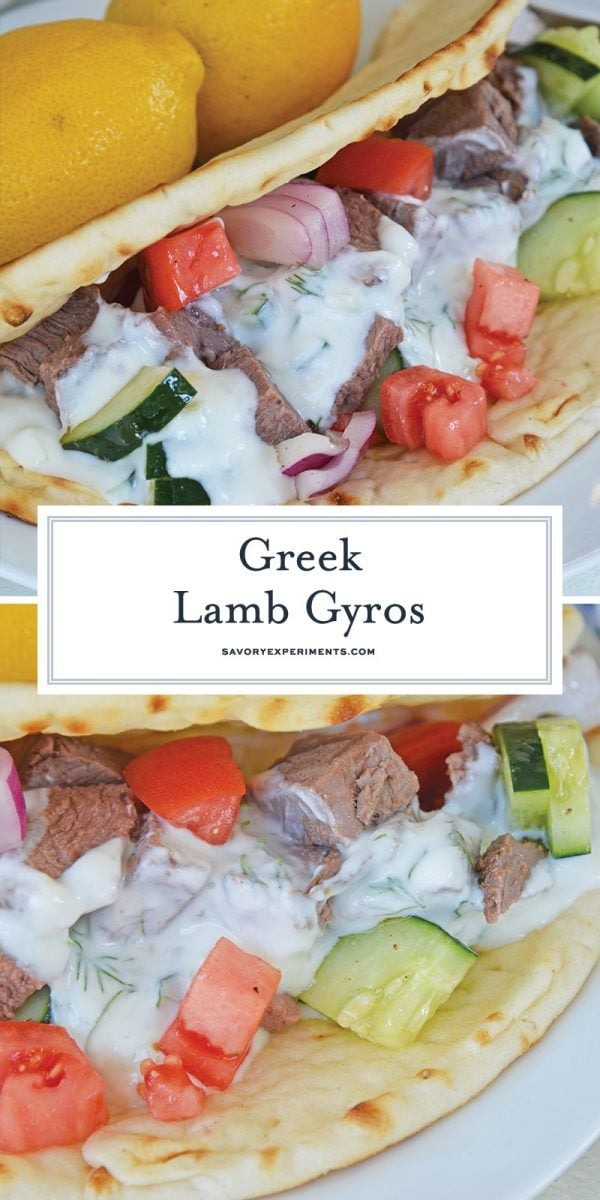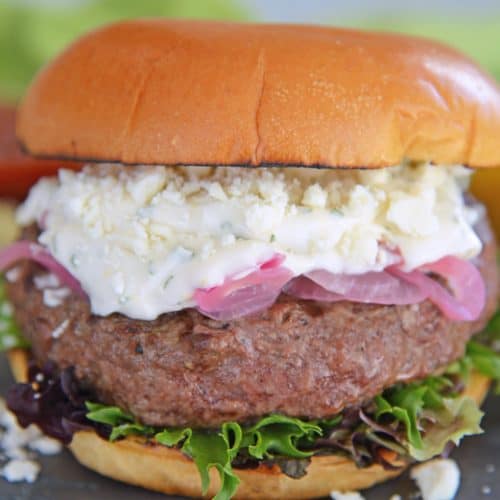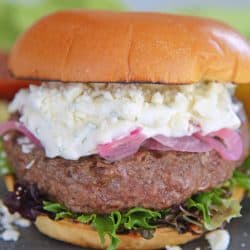 Greek Lamb Burgers
Greek Lamb Burgers are blended with lemon zest and spices then topped with a lemony mint yogurt sauce, pickled onions and feta cheese. The perfect juicy burger on the grill.
View this recipe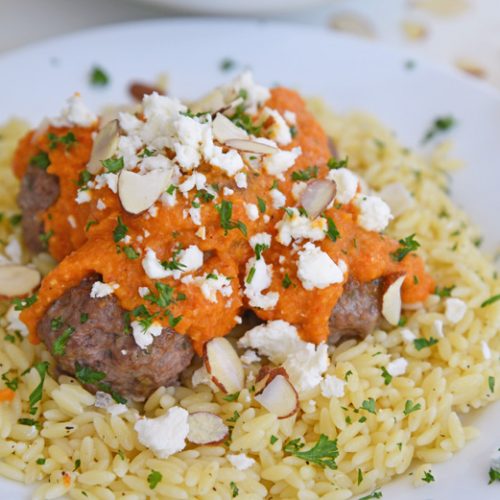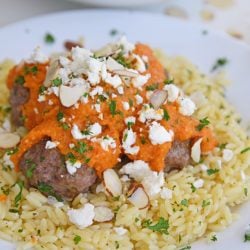 Lamb Meatballs with Romesco Sauce
Lamb meatballs with romesco sauce pairs tender and flavorful mini meatballs with smoky homemade romesco sauce, feta cheese and crunchy almonds.
View this recipe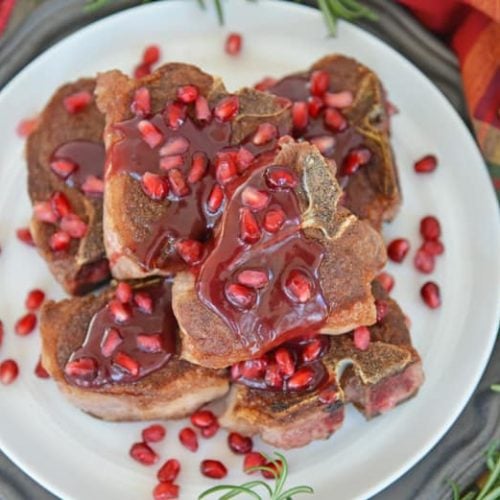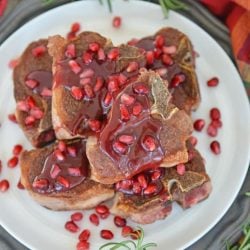 Pomegranate Lamb Loin Chops
Warm, comforting undertones of fall flavors like cinnamon, nutmeg and coriander create a lamb crust that pairs perfectly with sweet, tart burgundy pomegranate sauce. Aroma alone will get you in the holiday spirit.
View this recipe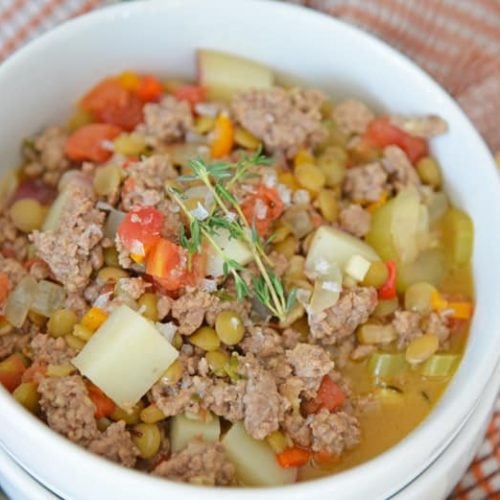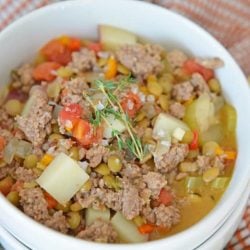 Easy Lamb Stew
Lamb Stew using ground lamb is made in just 30 minutes! Flavorful broth, crispy veggies and lentils make this fall stew recipe an easy weeknight meal.Lamb Stew using ground lamb is made in just 30 minutes! Flavorful broth, crispy veggies and lentils make this fall stew recipe an easy weeknight meal.
View this recipe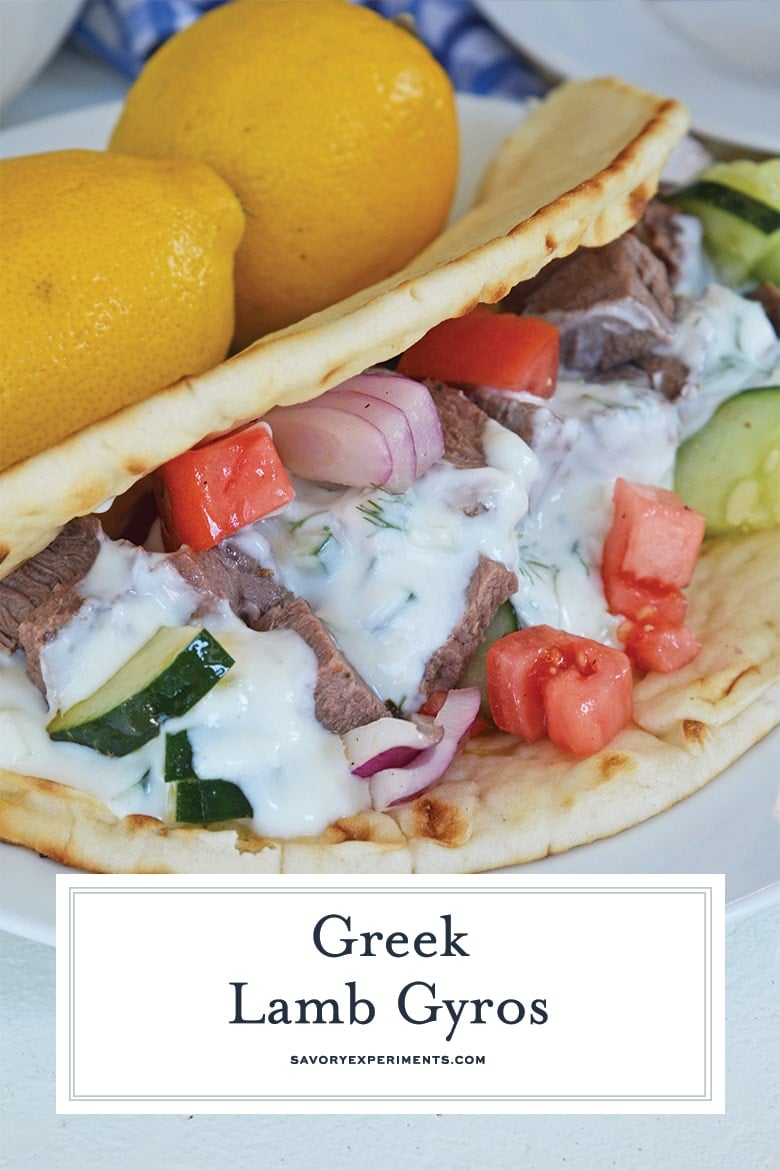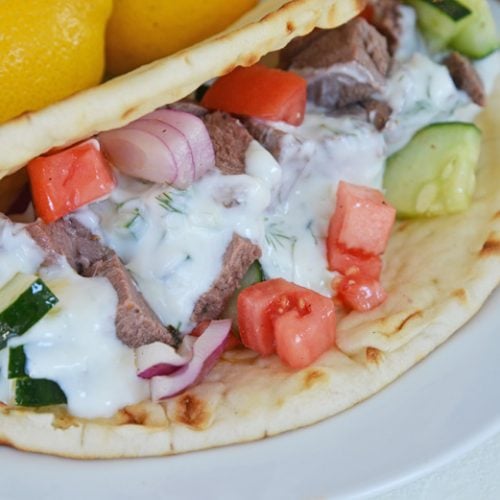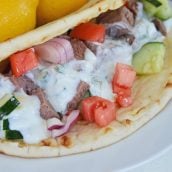 Greek Lamb Gyros
A recipe for Greek Lamb Gyros, served in a warm pita with fresh chopped veggies and garlicky tzatziki sauce.
Ingredients
Meat:
3

pound

seasoned boneless leg of lamb

6

large pita breads
Instructions
Meat:
Allow lamb to sit at room temperature for 30 minutes before baking.

Preheat oven to 375 degrees. Lightly coat a shallow baking dish with cooking spray.

Remove lamb from plastic packaging, leaving netting on.

For thinner roasts, cook for 15 minutes per pound, for larger roasts, 25 minutes per pound, or until the pop-up timer pops or a digital thermometer reads at 145 degrees.

Remove and allow to rest for 15 minutes before slicing or dicing, your preference.

Meanwhile, prepare vegetables and tzatziki sauce.
Vegetables:
Tzatziki:
In a small mixing bowl, combine Greek yogurt, lemon juice, fresh dill, chopped cucumber, Kosher salt and grated garlic. Mix well.

Place back into the refrigerator until ready to serve.

To assemble, warm pita bread in the warm (cooling) oven for 3-4 minutes. This makes it easier to roll and less likely to tear.

Place a dollop of tzatziki in the center, followed by diced or sliced lamb, veggies and more sauce.

Roll your pita bread and enjoy!

If you've tried this recipe, come back and let us know how it was in the comments or ratings.
Notes
If your boneless leg of lamb is not seasoned, combine 1 tablespoon coarse Kosher salt, 1 teaspoon black pepper, 1 teaspoon garlic powder, 1 teaspoon onion powder and 1 teaspoon sweet paprika in a dish. Rub liberally over lamb roast and allow to marinate for 2-24 hours in a chilled area.
Nutrition
Calories:
407
kcal
,
Carbohydrates:
38
g
,
Protein:
40
g
,
Fat:
10
g
,
Saturated Fat:
3
g
,
Cholesterol:
94
mg
,
Sodium:
798
mg
,
Potassium:
744
mg
,
Fiber:
2
g
,
Sugar:
4
g
,
Vitamin A:
514
IU
,
Vitamin C:
12
mg
,
Calcium:
124
mg
,
Iron:
4
mg