Herb Roast Leg of Lamb
Roasting leg of lamb might seem intimidating, but it's a lot easier than you think. This Leg of Lamb recipe helps take you through step by step how to make the perfect roast boneless leg of lamb using fresh herbs and a Dijon glaze.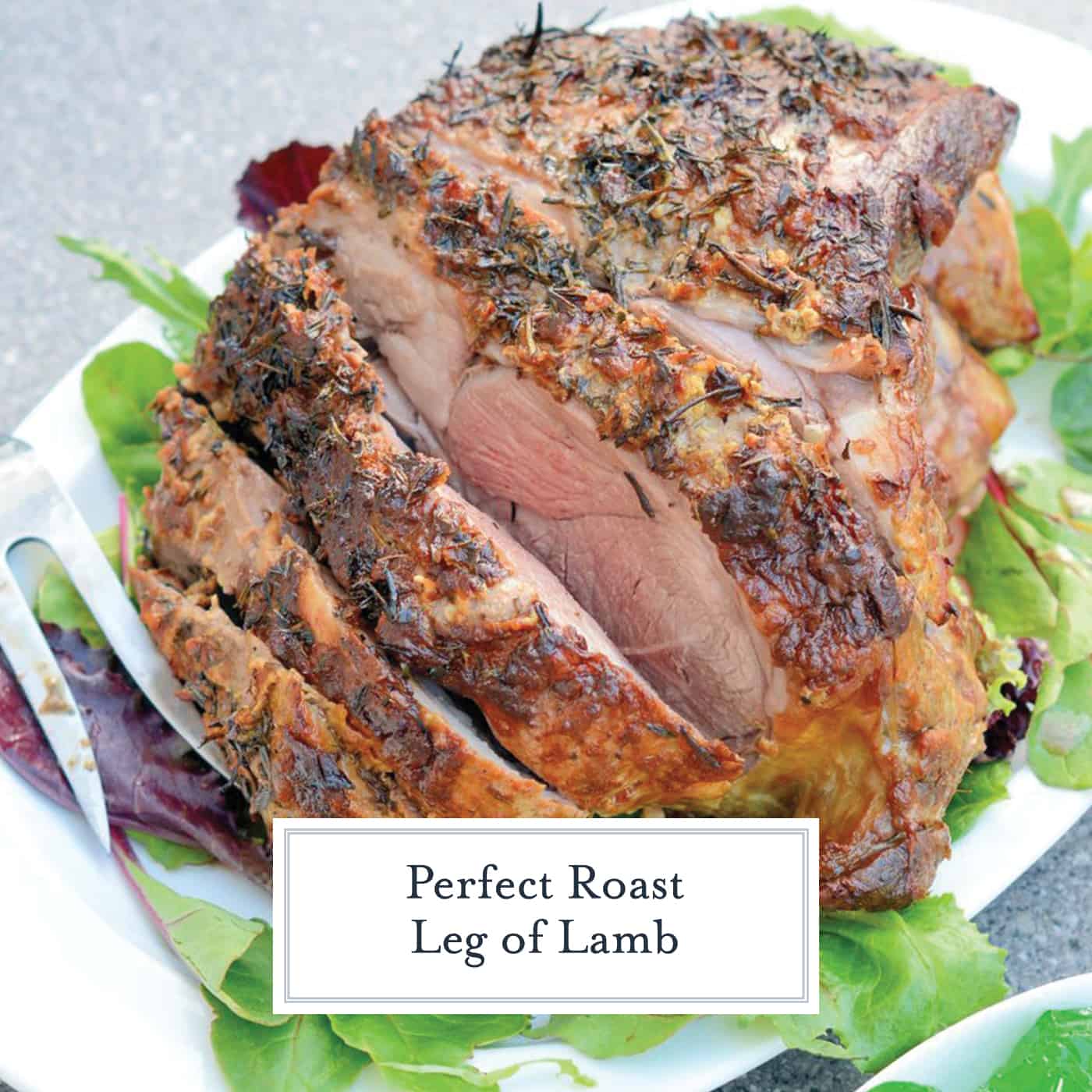 Herb Roast Leg of Lamb is an easy lamb recipe using a layer of fresh herbs, seasonings and high temperatures sear to form a nice crust leaving the instead nice and juicy.
Let me start by admitting something… I don't really care for lamb. *GASP*
I know, I know, it is one of the few meats I don't crave, however hubby loves leg of lamb or some lamb chops every now and again. On those occasions I make sure to load up on appetizers and sides.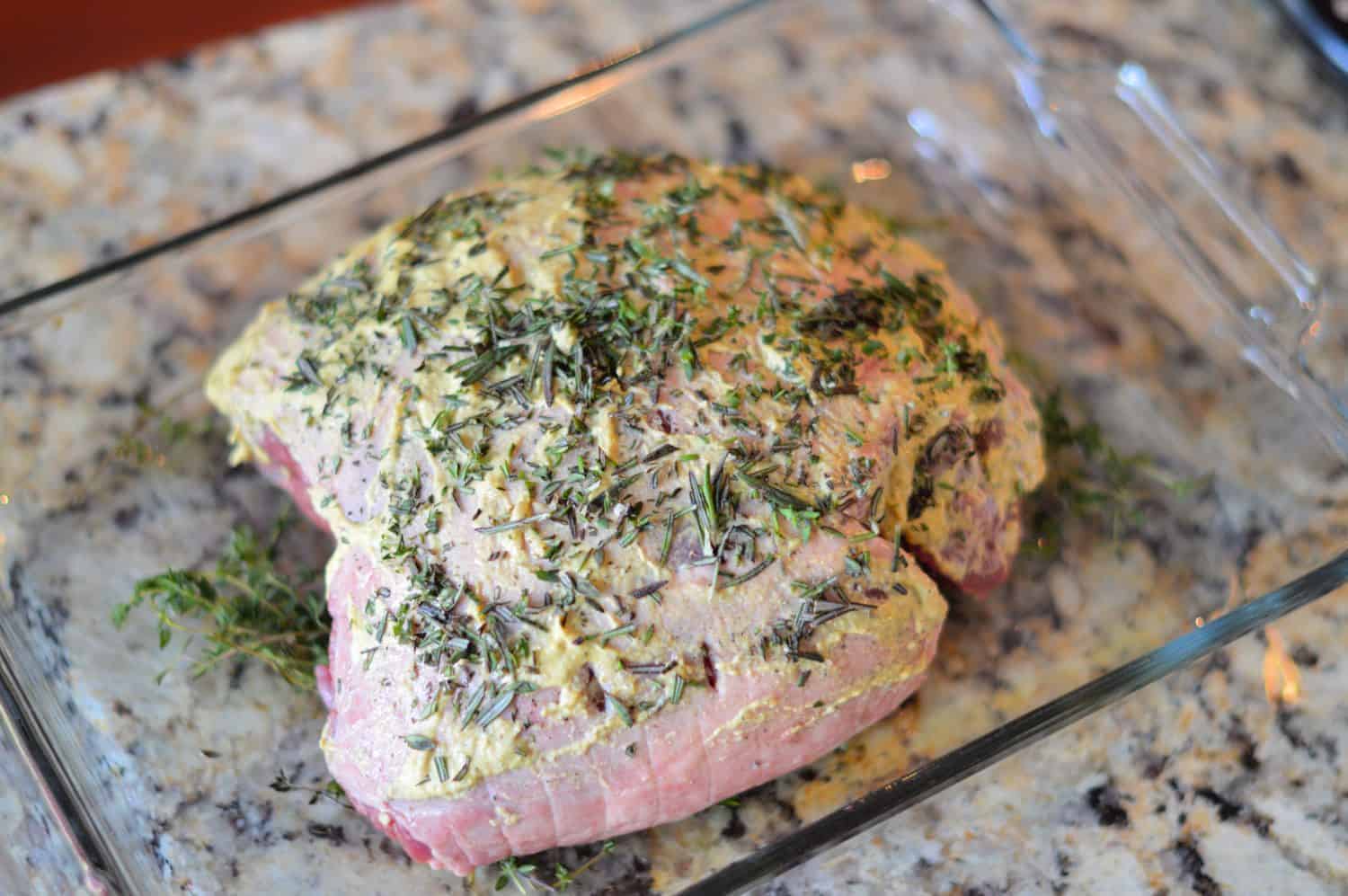 I will also be honest in saying I overcooked this lamb roast a little bit. Much like beef, lamb can be served at a variety of temperatures and this piece is about medium-well.
Here is a temperature guide (all in Fahrenheit) to make sure you don't make the same mistake as I did (don't wing it.)
Rare: 120-130

Medium Rare: 130-140

Medium: 140-150

Medium Well: 150-160

Well: 160 (I don't recommend going this far)
Cooking a leg of lamb is very similar to preparing a prime rib or other meat roast. Fairly simple, yet people are very scared of making one at home.
First, you must decide whether you are using a boneless leg of lamb or bone-in leg of lamb. I prefer to use a boneless because them I don't have to mess around with carving around the bone and I am not paying extra for the bone.
Some folks swear the bone adds flavor, but after you add my herb crust, you wouldn't even notice. It is also of note to say that other experts think the "bone adds flavor" is a totally bogus myth.
This lamb roast is covered with a layer of fresh herbs and seasonings, then seared at a high temperature to make a crust and cauterize the exterior to seal in the juices. You then lower the temperture and allow the interior to warm.
PRO TIP: You can use dried herbs instead of fresh herbs. The conversion is 1 teaspoon of dried herbs for every tablespoon of fresh herbs.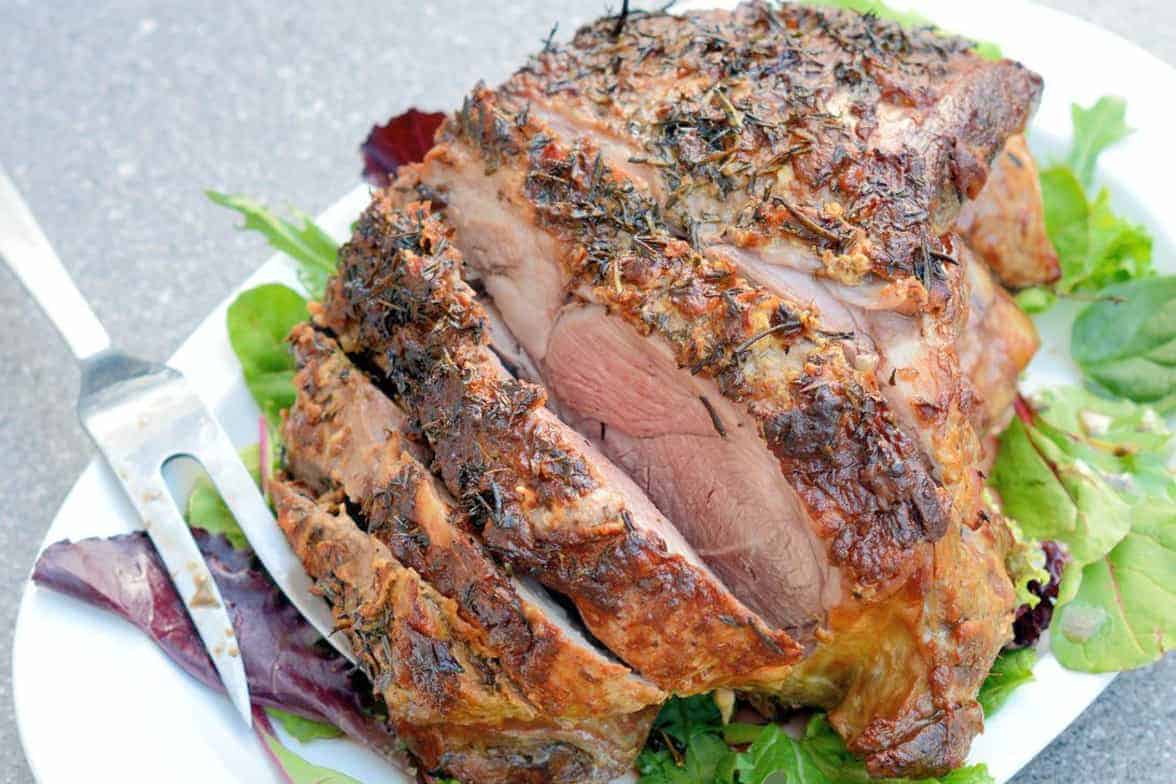 Perfect for an Easter dinner, a special date night, or even just a special meal any other time. You can also use this same rub on lamb chops or even a pork tenderloin.
Why do we eat lamb on Easter? According to The History Channel:
"The tradition of eating lamb on Easter has its roots in early Passover observances before the birth of Christianity. According to the biblical Exodus story, the people of Egypt suffered a series of terrible plagues, including the death of all firstborn sons.

Jews painted their doorposts with sacrificed lamb's blood so that God would "pass over" their homes while carrying out the punishment. Accustomed to eating roast lamb on Passover, Jews who converted to Christianity continued the tradition at Easter.

Additionally, Christians refer to Jesus as the "Lamb of God," so it makes sense that the food shows up at the Easter table. On a less symbolic note, lamb would have been one of the first fresh meats available after a long winter with no livestock to slaughter."
If you enjoyed this roast leg of lamb recipe, check out these easy Easter recipes:
Tools for making your Easter Lamb:
Roasting Pan– every home cook should have one for roasting lamb, chicken, beef or pork.
Kitchen Shears– Sometimes kitchen shears are more efficient than a knife. Jobs like snipping herbs, cutting meats or making your biscuits into fourths are good examples! Always make sure to hand wash anything with a blade, as the dishwasher will dull the edges.
Mini Food Processor– I use this thing daily! It is by far my most used kitchen appliance, it is small and I throw all the parts into the dishwasher, well except the base and cord, of course!
Carving Knife– I carving knife is very different than any other knife you own. You may not use it often, but when you do, you'll be glad you have it!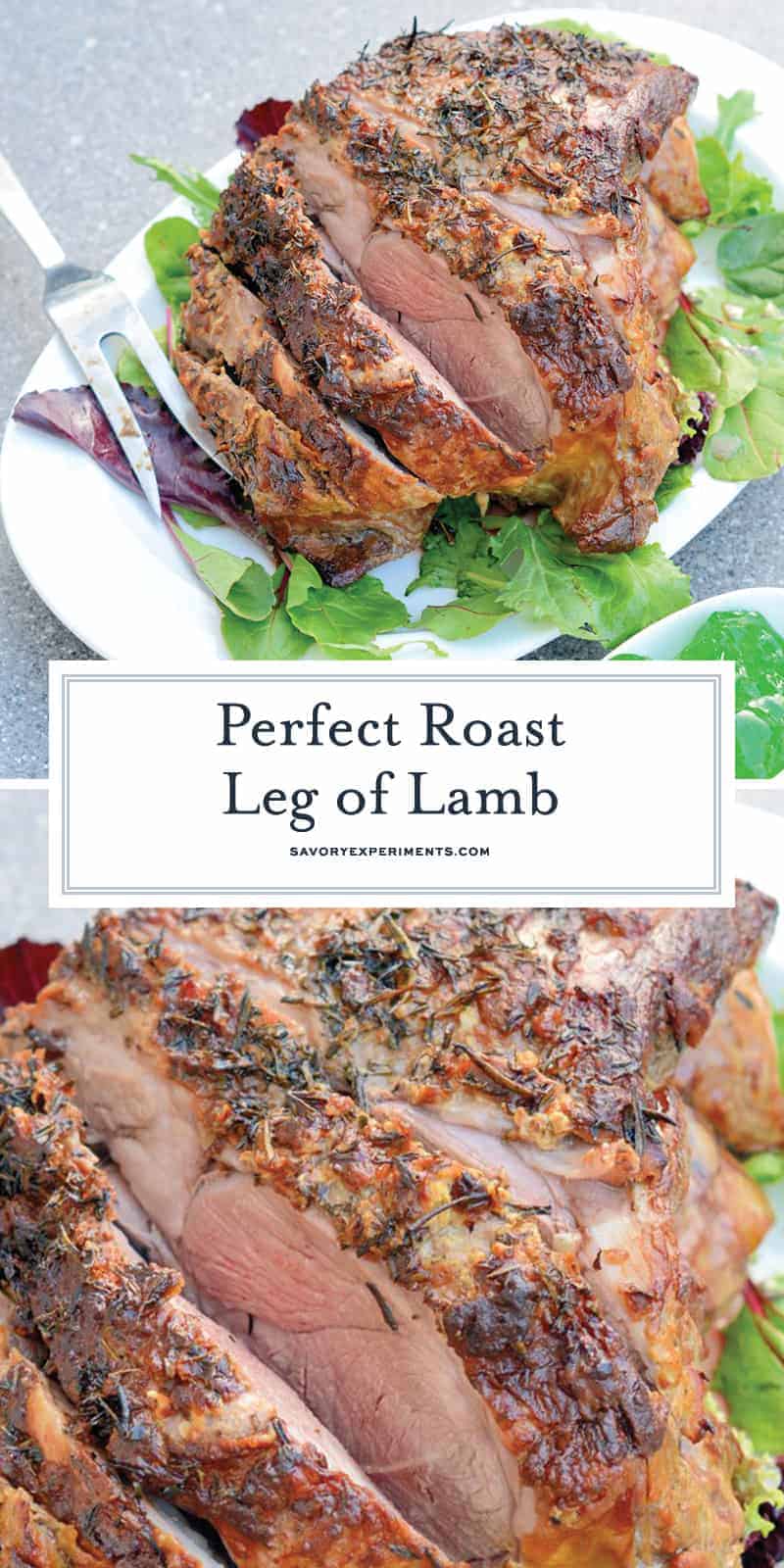 Questions you might have about how to cook leg of lamb:
Can it be pink inside? Yes! It is okay if your lamb is pink, in fact, that is preferable. See the temperture chart above.
How do you reheat leg of lamb? I would reheat it low and slow in the oven on 300 degrees. Of course you can microwave, but meat tends to get rubbery.
How much leg of lamb should I plan for per person? It is recommended to plan for 8 ounces ( 1/2 pound) of meat per person. if your family tends to eat more, place for more.
Can I grill leg of lamb? You sure can! Grilled lamb is positively delicious! In fact, you can even use this recipe.
Heat on indirect heat for 30-40 minutes. Check internal temperature to get it right! Make sure you get a meat thermometer!
Herb Roast Leg of Lamb is an easy lamb recipe using fresh herbs, seasonings and high temperatures sear a nice crust leaving the instead nice & juicy.
CONNECT WITH SAVORY EXPERIMENTS!

Be sure to follow me on social media, so you never miss a post!

Facebook | Twitter | Youtube
Pinterest | Instagram

Get our FREE 8 Day E-Course on How to Be a Better Home Cook. Sign up HERE!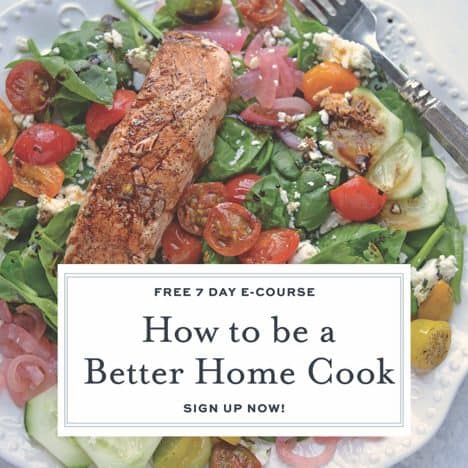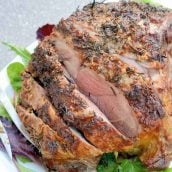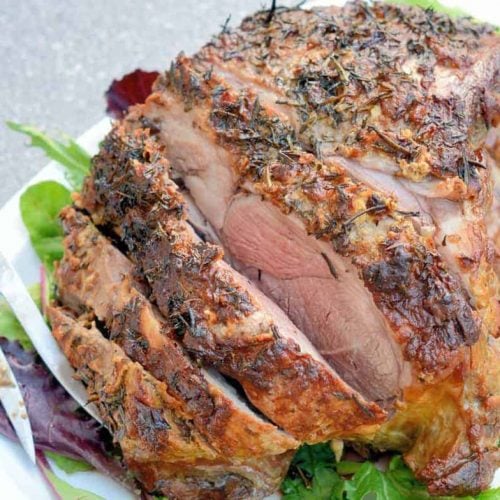 Print Recipe
Herb Roast Leg of Lamb
Herb Roast Leg of Lamb is an easy lamb recipe using fresh herbs, seasonings and high temperatures sear a nice crust leaving the instead nice & juicy.
Ingredients
5-6

pound

boneless leg of lamb

2-3

large garlic cloves

thinly sliced

1

tablespoon

coarse sea salt

1

teaspoon

black pepper

2

tablespoons

Dijon mustard

1 1/2

tablespoons

fresh rosemary

finely chopped

1 1/2

tablespoons

fresh thyme

finely chopped

4-5

rosemary and thyme sprigs

2

tablespoons

light extra virgin olive oil

Mint jelly

optional
Instructions
Preheat oven to 500 degrees. Prepare a 9×13 roasting pan by spreading light extra virgin olive oil in the bottom and then laying springs of fresh herbs on the center, a nice bed of aromatics for your leg of lamb to rest on while it roasts.

Place boneless leg of lamb on a clean work surface, like a cutting board. Pierce the top with a knife, making slits deep enough for garlic slices. Fill the slits with garlic. Next, rub the surface with coarse sea salt and pepper. Slather with Dijon mustard and finally press fresh, chopped rosemary and thyme into the Dijon mustard. Transfer boneless leg of lamb to the prepared roasting dish.

Place into the hot oven for 20 minutes. This will create a nice crust and seal in juices.

After 20 minutes, lower heat to 350 degrees. Open oven door to allow excess heat to escape and cool down the oven fast. Continue to roast for 40-60 minutes. Time will vary greatly depending on size of your leg of lamb and your preferred level of doneness.

Remove roast after reaching desired temperature. Allow to rest for 2o minutes before carving. Carve and serve with a side of mint jelly. Enjoy your Leg of Lamb!

If you've tried this recipe, come back and let us know how it was!
Notes
Easily chop fresh herbs using kitchen shears or a mini food processor. 
Nutrition
Calories:
531
kcal
|
Carbohydrates:
2
g
|
Protein:
74
g
|
Fat:
23
g
|
Saturated Fat:
6
g
|
Cholesterol:
228
mg
|
Sodium:
2051
mg
|
Potassium:
1058
mg
|
Vitamin A:
145
IU
|
Vitamin C:
4.7
mg
|
Calcium:
39
mg
|
Iron:
7.2
mg