A Crustless Spinach Quiche is the perfect way to start any day! It has simple ingredients and is super quick and easy to whip up!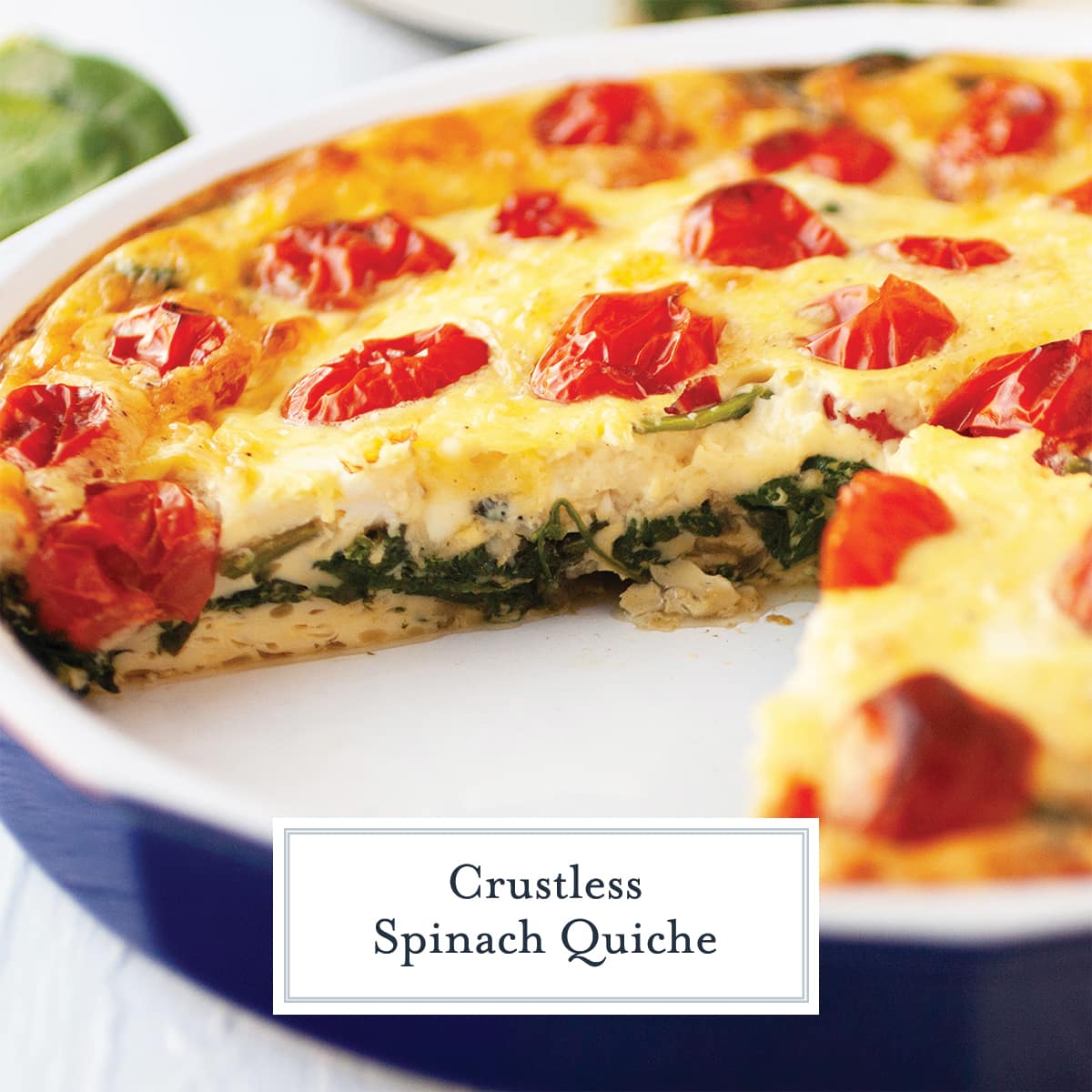 Quiche is a fantastic dish ideal for breakfast, brunch or even dinner. A cross between frittata and omelette, it is basically a savory egg pie.
And while quiche is one of the simplest of recipes, or so it should appear, our foodie friends tend to meet challenges while preparing them. I'm going to teach you how to make light, fluffy and airy quiche.
What is Quiche?
Other than having a lovely name that is fun to say and just rolls off the tongue, quiche is a French egg tart.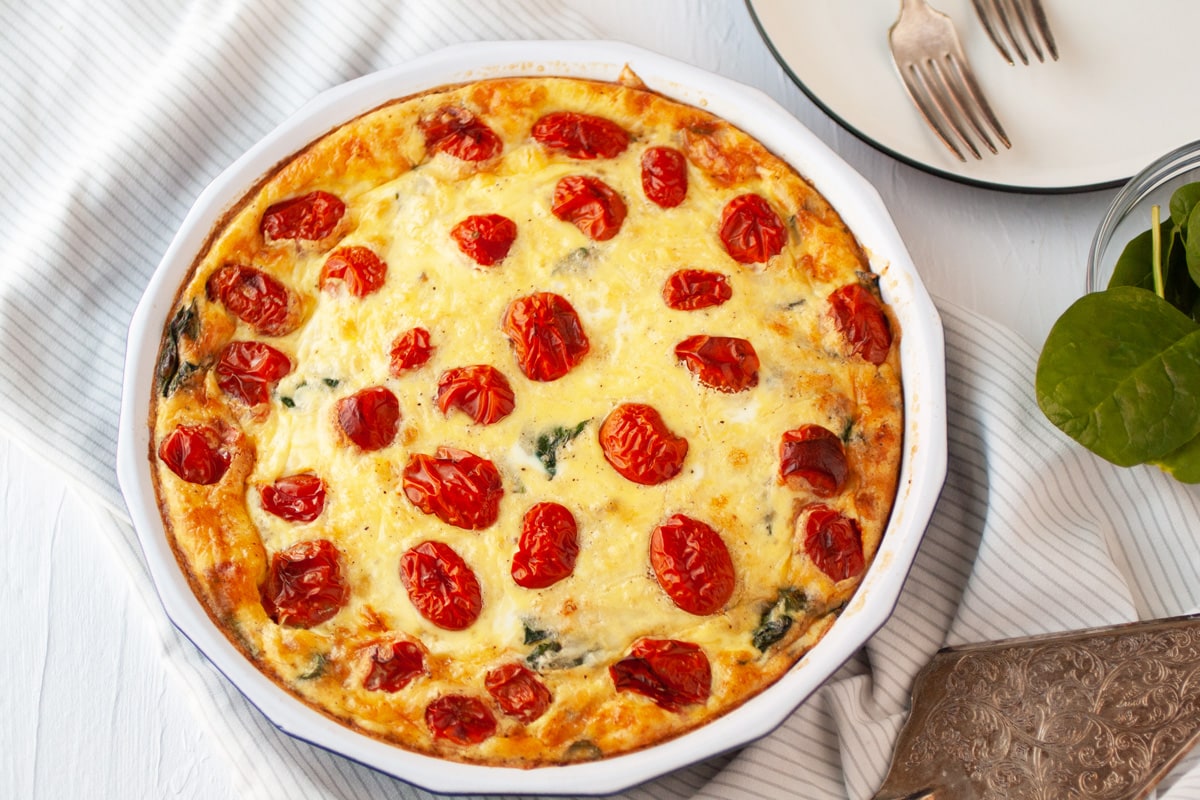 Many quiche are served in a pie or tart crust, but some, like this one are crustless making them naturally gluten free and a low in carbs. Not that I am watching my figure or anything, I regularly post about eating raw cookie dough.
Crustless Spinach Quiche
This quiche recipe is fairly simple in nature and combine fresh spinach with cherry tomatoes and onion. There is only one element that can ruin this recipe and that is too much liquid left in the veggies.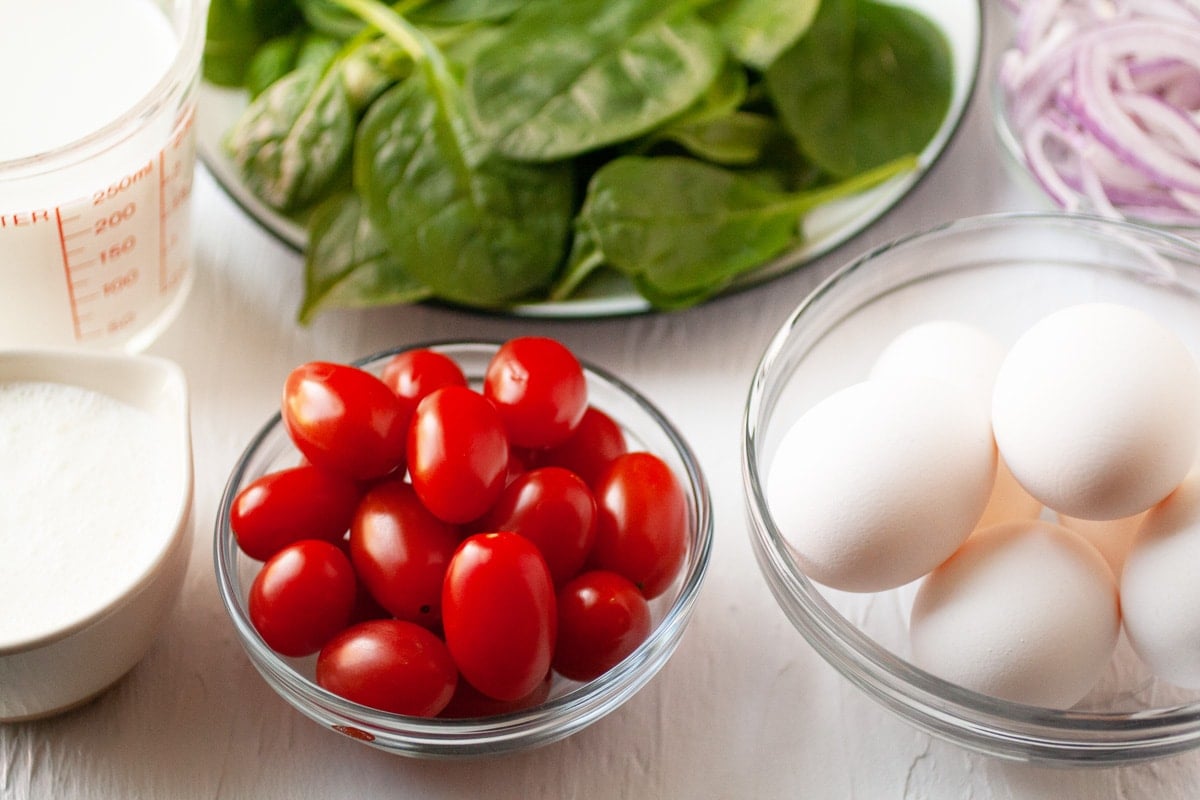 In fact, this is the number one thing that most people report being an issue. If vegetables and filling aren't sweat down (liquid released) prior to baking, they will release into the egg mixture making a mealy, soggy mess. Yuck.
To ensure this does not happen to your crustless spinach quiche, make sure to cook your spinach until it is not only wilted, but nearly dry. And don't wing the olive oil. You only need a small touch.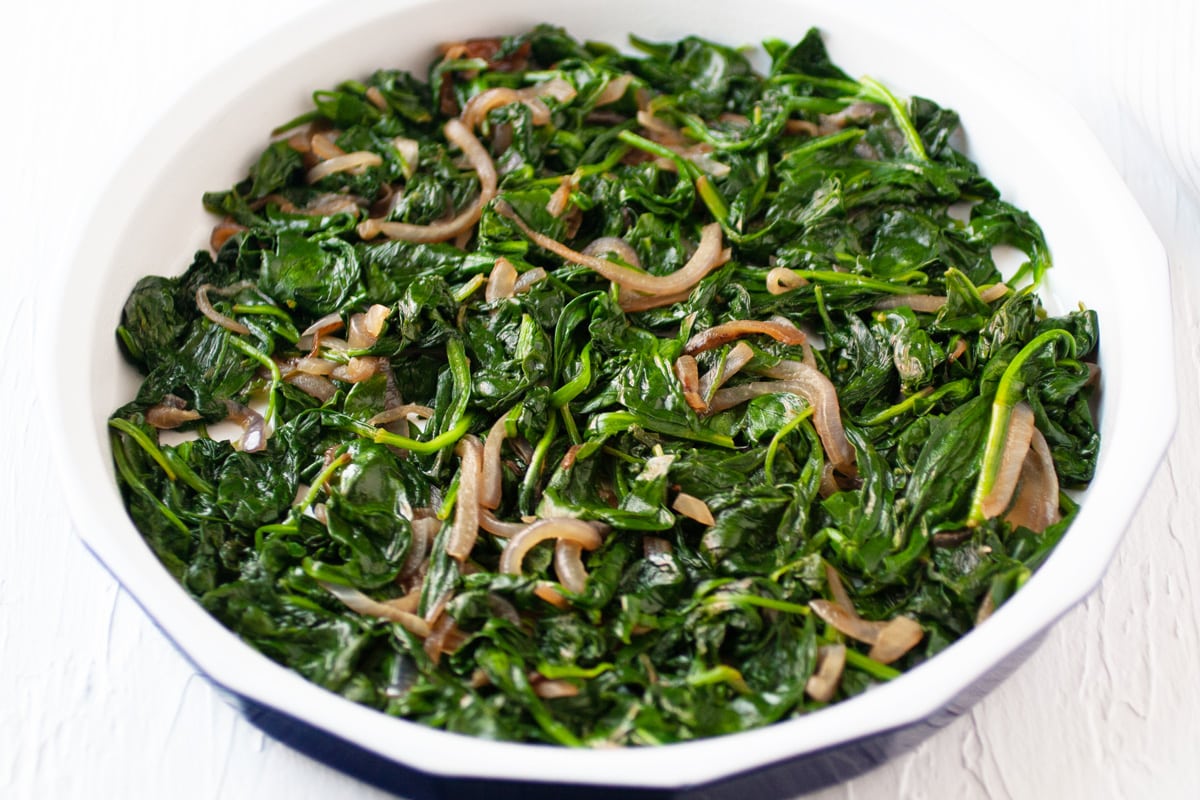 I even recommend taking this a step further and wringing out wilted spinach after it cools. Or at the very least, allow it to cool on a paper towel lined plate in the refrigerator. You'd be surprised how much moisture you'll catch even though you thought it was dry.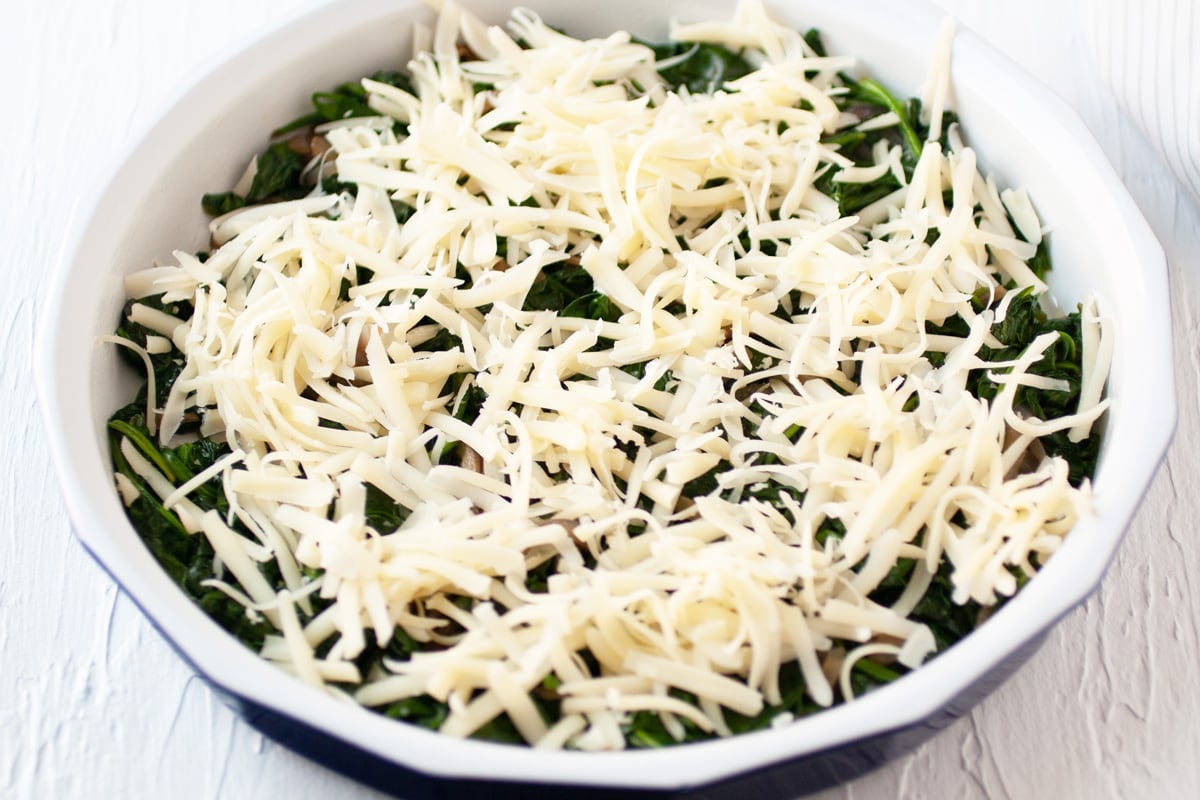 Crustless Spinach Quiche Variations
The beauty of a quiche are also the variations. In Italian households, and would suspect French as well, frittata and omelet are ways to make dinner while clearing out the vegetable crisper. Chop up all your little odds and ends and then toss them on in!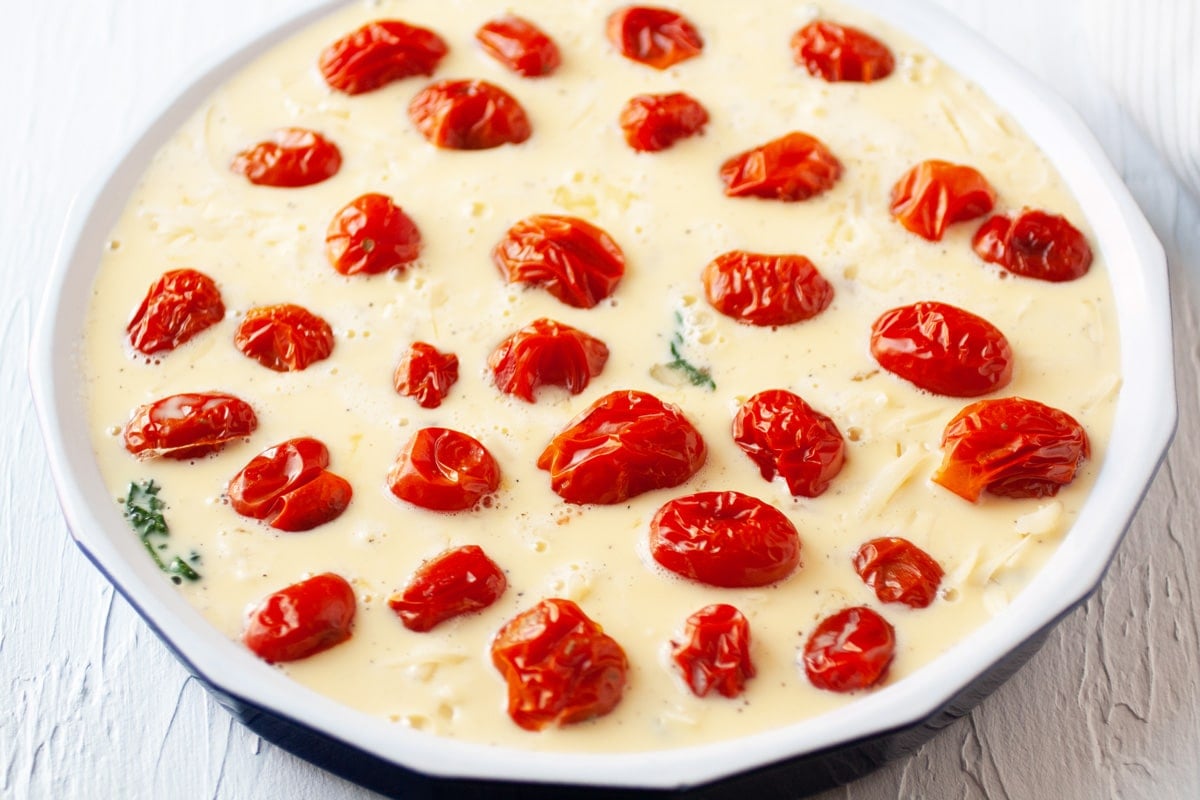 But just like above, all veggies need to be cooked down and sweat out before adding. I can't stress this enough! This is why we suggest roasting the tomatoes before hand. They have a lot of moisture, so cooking them to burst and allowing some pulp to escape will help the overall consistency.
Here are some of our favorite crustless spinach quiche add-ins.
Diced ham
Crumbled bacon (cooked)
Thinly sliced smoked salmon
Cooked, cubed potato
Procuitto
Cut asparagus
Chopped bell pepper
Mushrooms
Artichoke hearts
Pancetta
Feel free to swap out the type of cheese as well. Swiss cheese adds a nice nutty flavor. Cheddar, Gruyere, Gouda and Feta are other common favorites.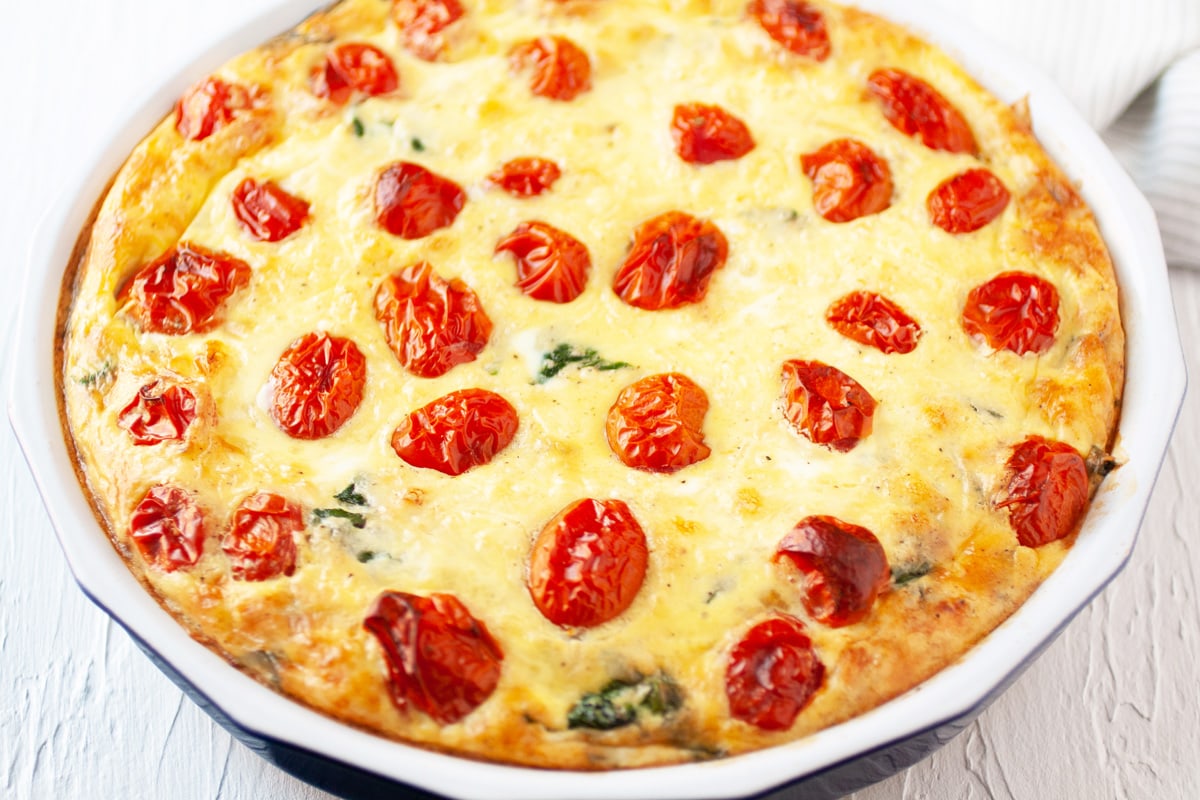 It might be an extra step, but I strongly recommend shredding your own cheese. It will be cheaper, but also melt better and not risk giving your quiche a funny texture. Shredded cheese is tossed in starch to prevent suc
Deep Dish vs Standard Pie Plate
This crustless spinach quiche recipe uses a deep dish pie plate or a special quiche plate. A deep dish has a depth of 2 to 2.5 inches. A standard is only 1 to 1/4 inch deep and won't hold nearly as much filling.
Using a deep dish is even more important if you plan to use a crust. It makes for a better crust to quiche ratio. In a standard pie dish, you'll end up with nearly 25% crust.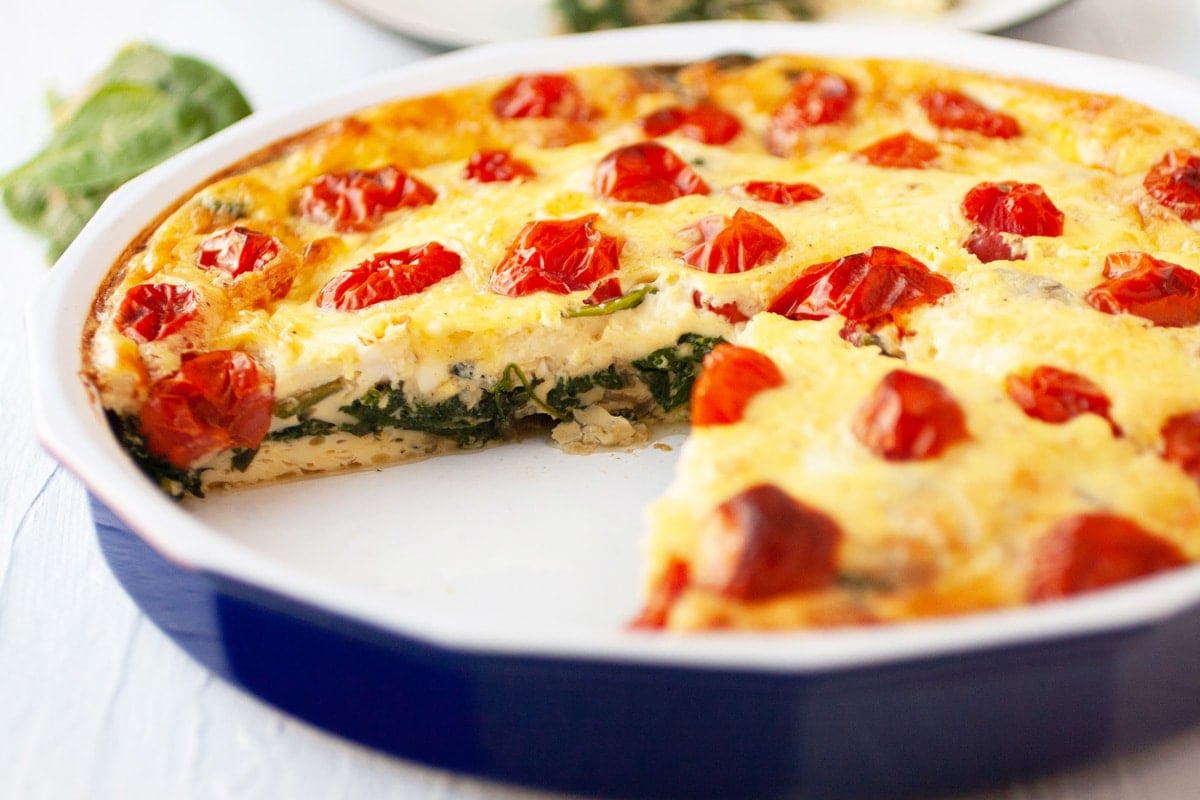 If using standard pie plates, you'll actually make two thinner quiches and reduce the cooking time by about 10 minutes.
Frozen Spinach
We used fresh spinach, but you can also swap in frozen. The same issues arise with frozen though- it needs to be as dry as possible.
You might might still need to saute it to get all of the moisture from freezing released. At the very least, it needs to be thawed and well drained.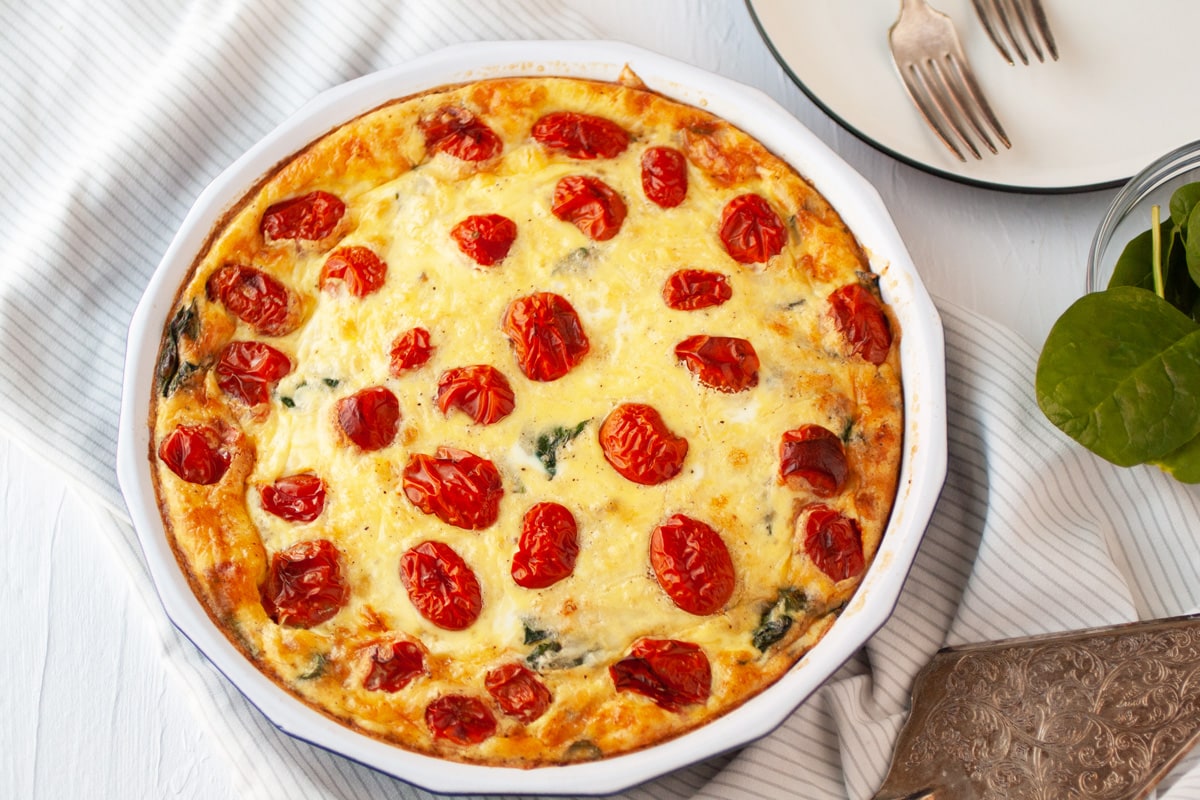 Tips for Great Crustless Spinach Quiche
In review, here are a few ways to make sure that any quiche recipe turns out fabulous.
Precook any vegetables to sweat out excess liquids. The drier, the better.
Lightly brown meats to impart more flavor.
Whisk eggs really well before adding other ingredients. This introduces air to the mix and makes it light and airy. I use my immersion blender with the chopping blade (not the whisk attachment) to get the best whisk I can quickly.
Shred your own cheese. Pre-shredded cheese can be gritty.
Use a deep dish pie plate or quiche dish. You can even opt for a casserole dish. No one wants a thin, limp slice of quiche.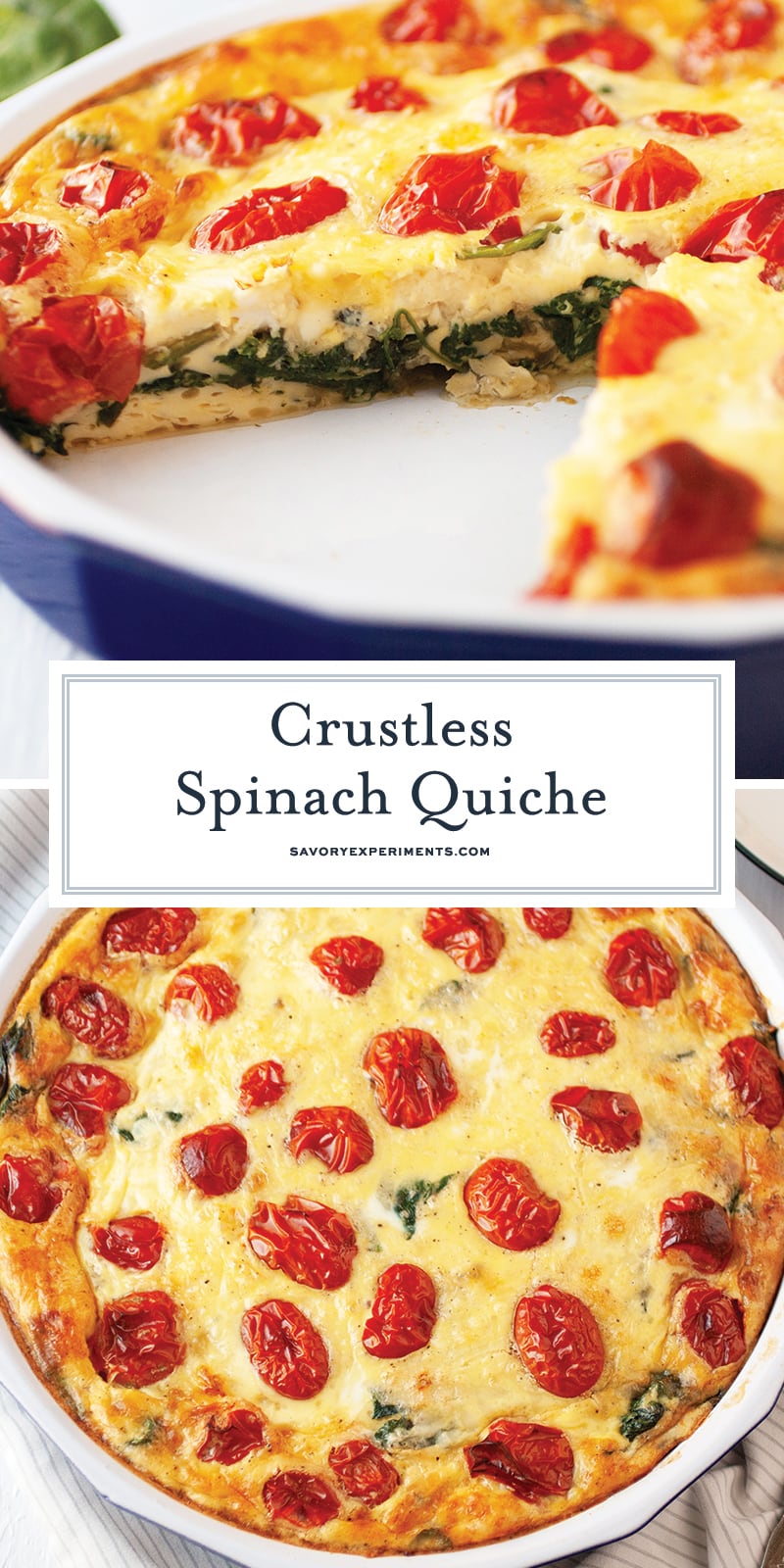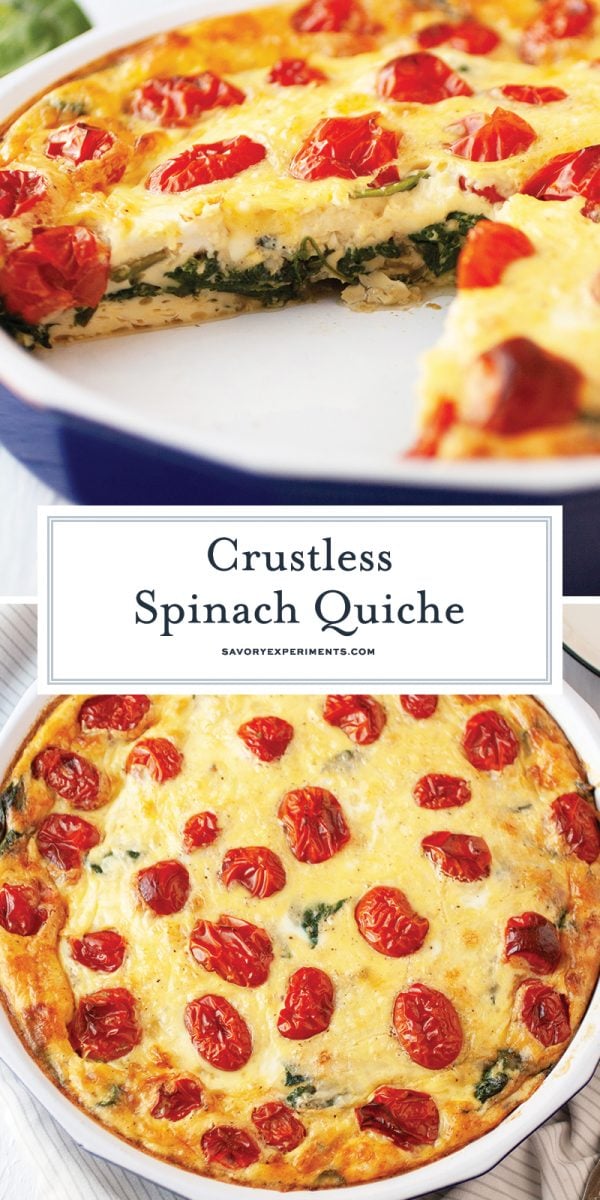 More egg breakfast recipes: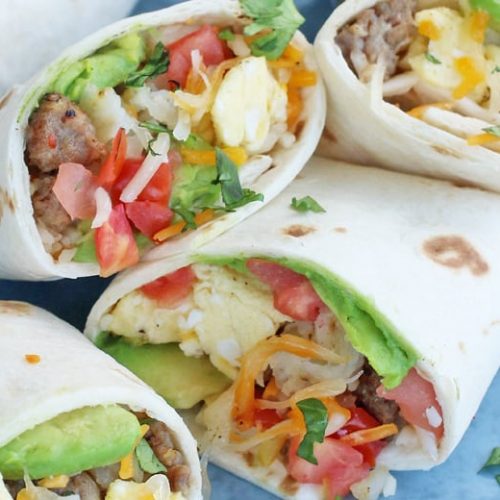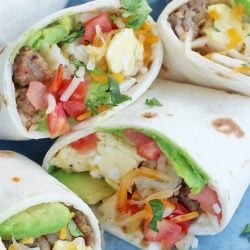 Easy Breakfast Burritos
If you're looking for the best breakfast burrito, you've found it with this easy, delicious breakfast burrito recipe! Easy to make and delicious to eat!
See The Recipe!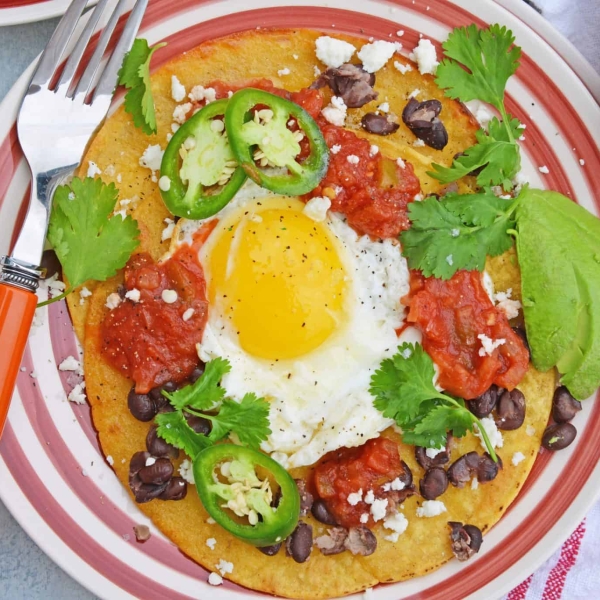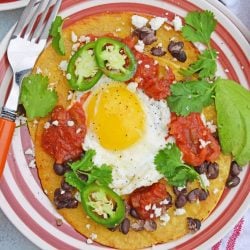 Ultimate Huevos Ranchoes
Huevos Rancheros are a great way to spice up your breakfast. Lacey eggs with a runny yolk over warm corn tortillas, chunky salsa, black beans, cilantro and queso fresco.
See The Recipe!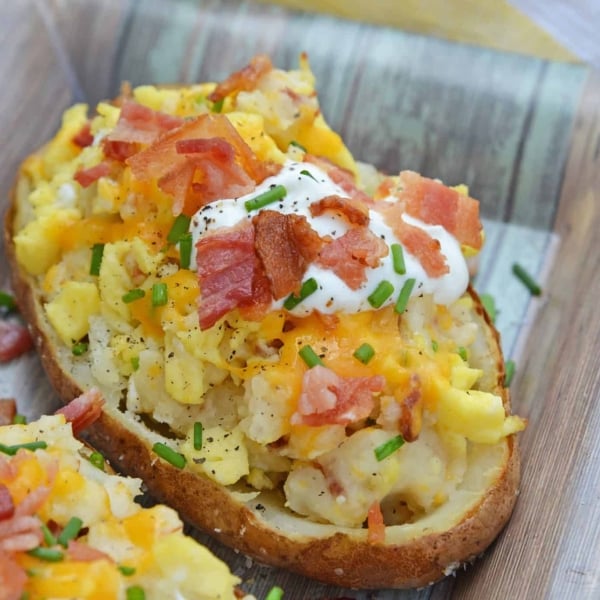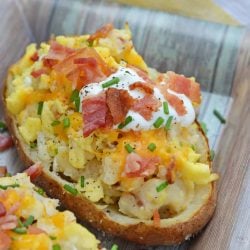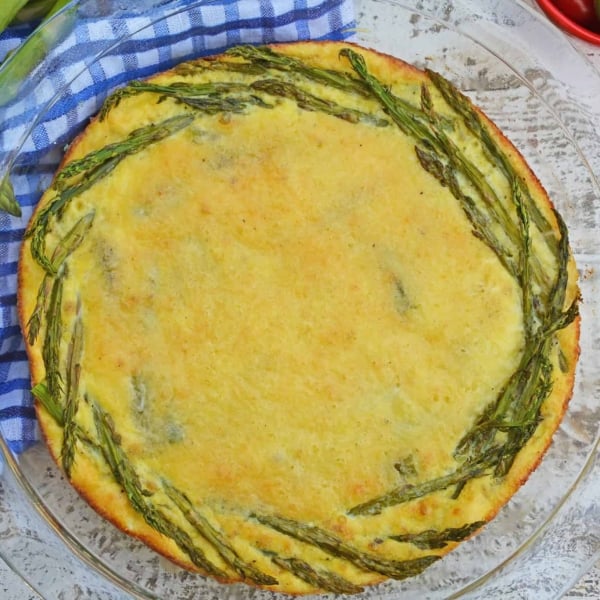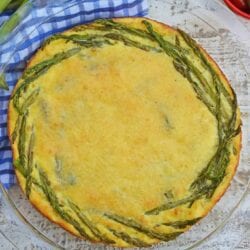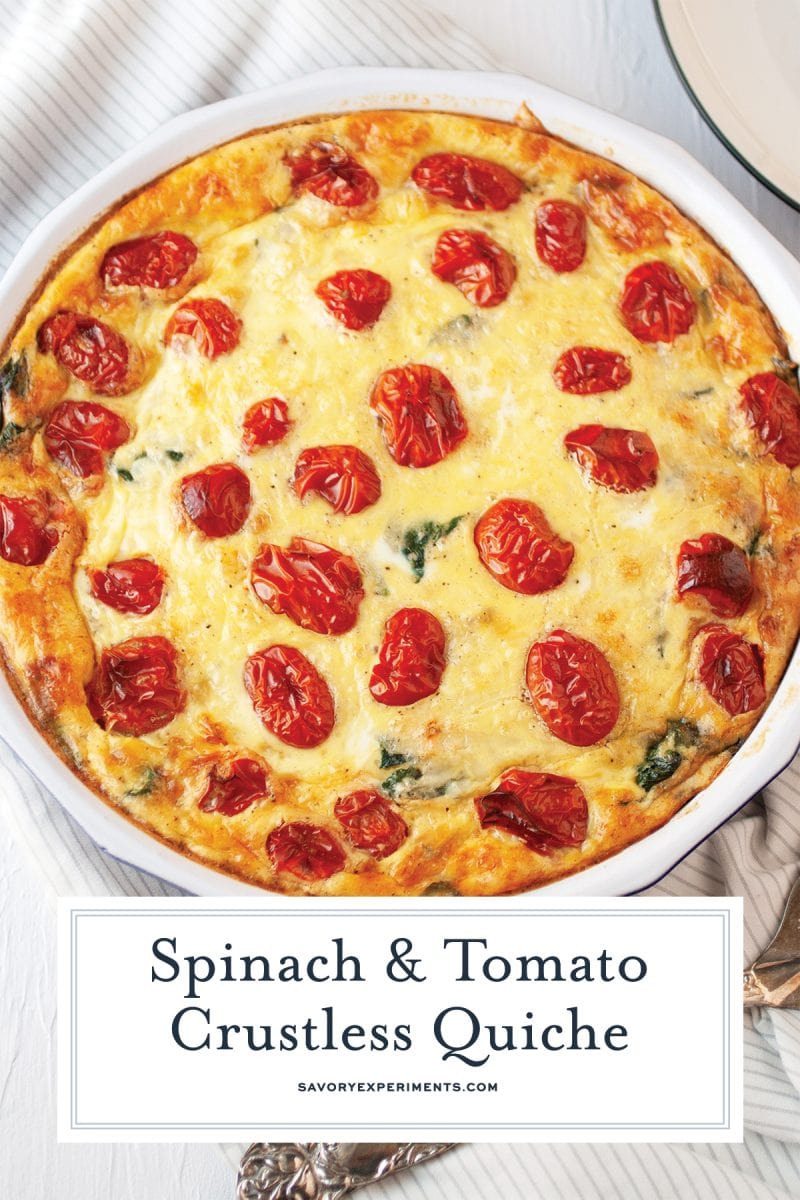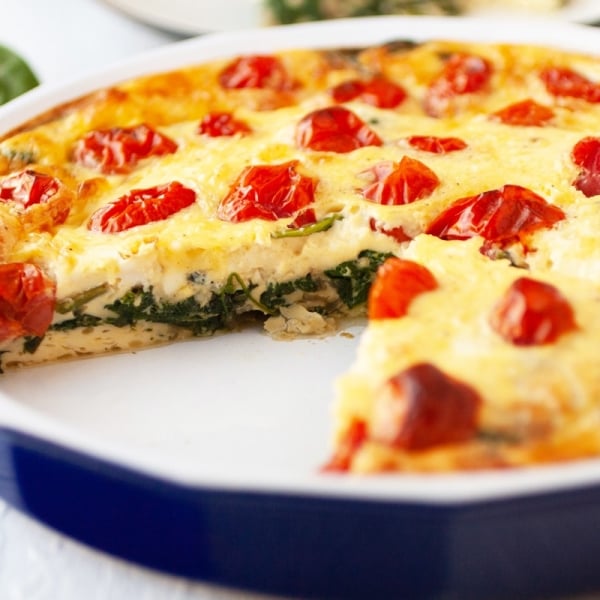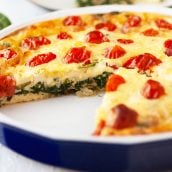 Crustless Spinach Quiche
This Crustless Spinach Quiche recipe is the BEST! It has less than 10 ingredients and it's perfect for breakfast or brunch.
Instructions
In a medium bowl, whisk eggs, heavy cream, milk, salt, and pepper. Set aside.

Preheat oven to 400 degrees. Place cherry tomatoes on a baking sheet and bake for 15 minutes. Let them cool.

Heat a large skillet over medium to medium-low heat, add the olive oil. Saute onion, stirring occasionally, for 5 minutes, or until the onion is soft and mostly transparent.

Add as much spinach as will fit and stir. Cook the spinach until it's just wilted. Transfer everything to a plate to cool.

Reduce oven temperature to 350 degrees and lightly grease a 9-inch quiche plate or deep-dish pie plate.

Spoon spinach and onion mixture into prepared plate. Sprinkle cheese evenly over the top. Pour the egg mixture over the spinach mixture in the prepared pie plate. Top with roast tomatoes.

Bake until the quiche is just set in the center, approximately 35 minutes, although this can vary based on the depth of your pie plate. Look for the center to set and not jiggle. Cool on a rack before serving.

If you've tried this recipe, come back and let us know how it was in the comments or ratings!
Nutrition
Calories:
190
kcal
,
Carbohydrates:
6
g
,
Protein:
10
g
,
Fat:
14
g
,
Saturated Fat:
8
g
,
Cholesterol:
159
mg
,
Sodium:
414
mg
,
Potassium:
392
mg
,
Fiber:
1
g
,
Sugar:
3
g
,
Vitamin A:
4055
IU
,
Vitamin C:
19
mg
,
Calcium:
210
mg
,
Iron:
2
mg