Do you love restaurant style fried rice? What if I told you that you can make the same at home!? Pineapple Fried Rice is right up your alley!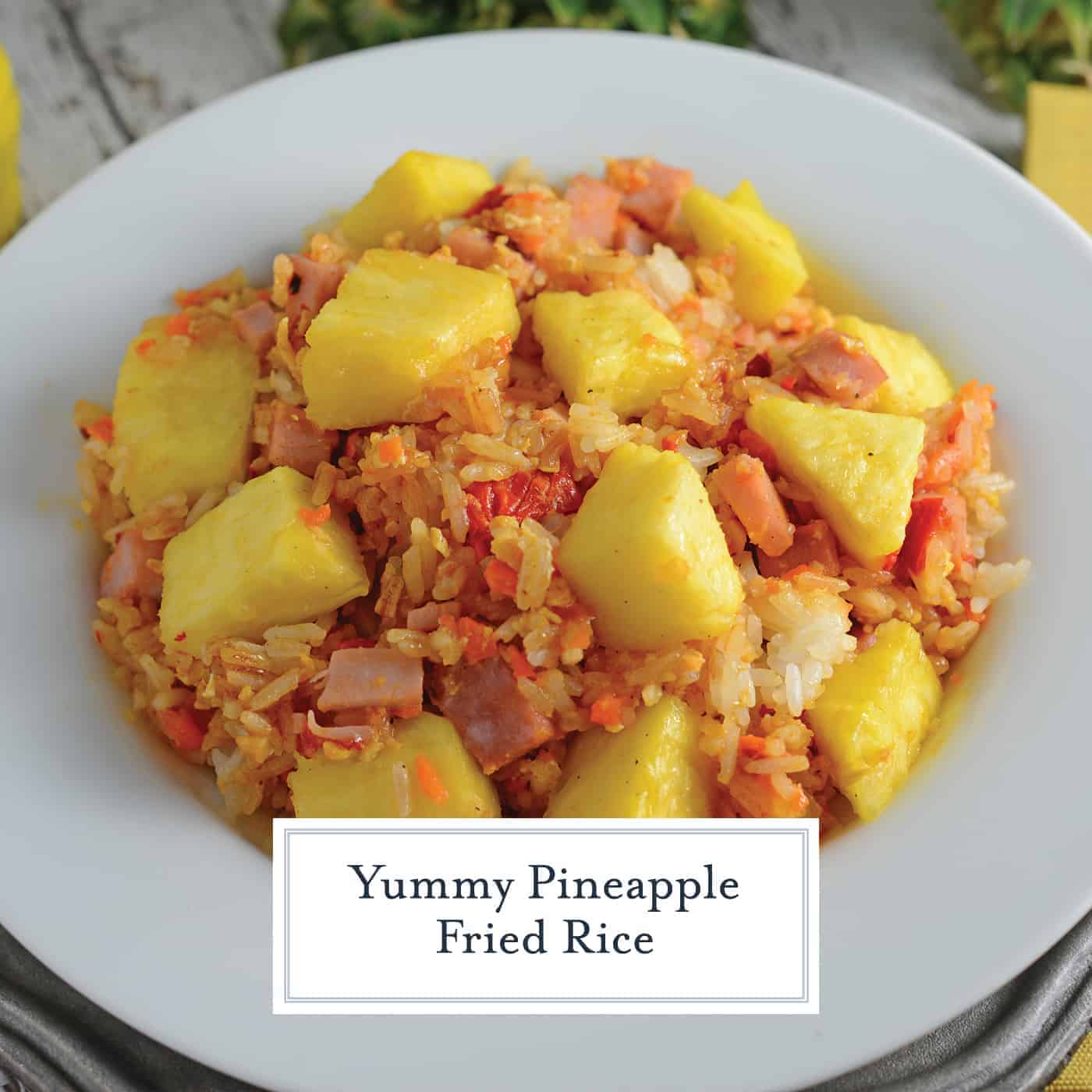 Pineapple Fried Rice is a quick, easy weeknight meal that's much cheaper, tastier and healthier than take-out! Make it a vegetarian meal or add ham.
Fried rice is the best. I usually only order it out because it is time intensive, but on this date I was making a Pineapple Owl Sculpture and needed a good recipe to use up all the pineapple when Hootie (I named my owl sculpture) was through entertaining the guests. Pineapple Fried Rice was my answer.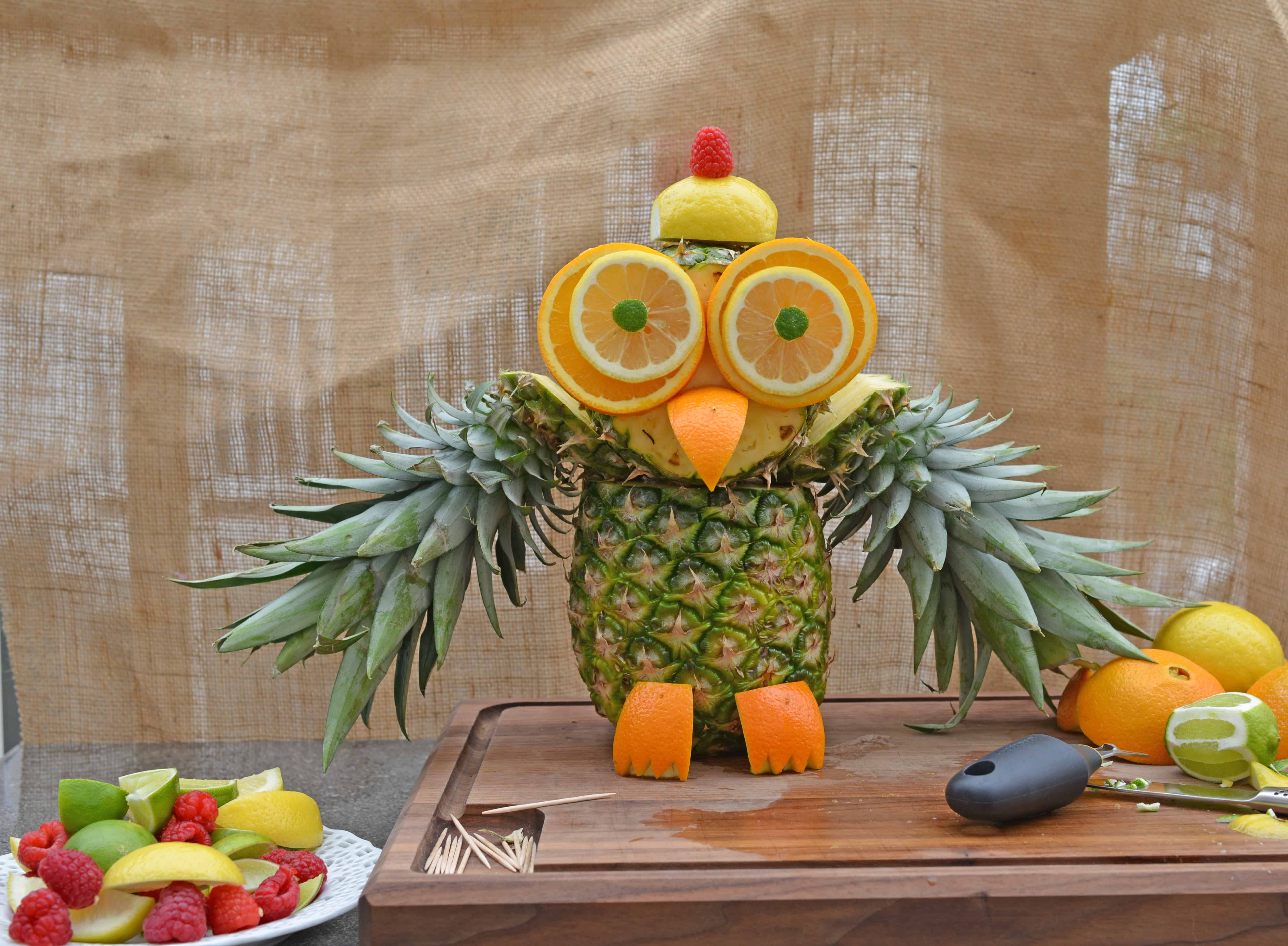 Not challenging, nor sophisticated, fried rice does require time. Not hands-on time, but time to have day old jasmine rice. Or at the very least, cooked and then chilled.
The grains need to dry out adequately so it doesn't turn starchy and gooey on the second cooking. Some Chinese food restaurants will even say that 3 days of drying is necessary. I barely know what is for dinner tomorrow, so having the foresight of three day is pretty hard for me.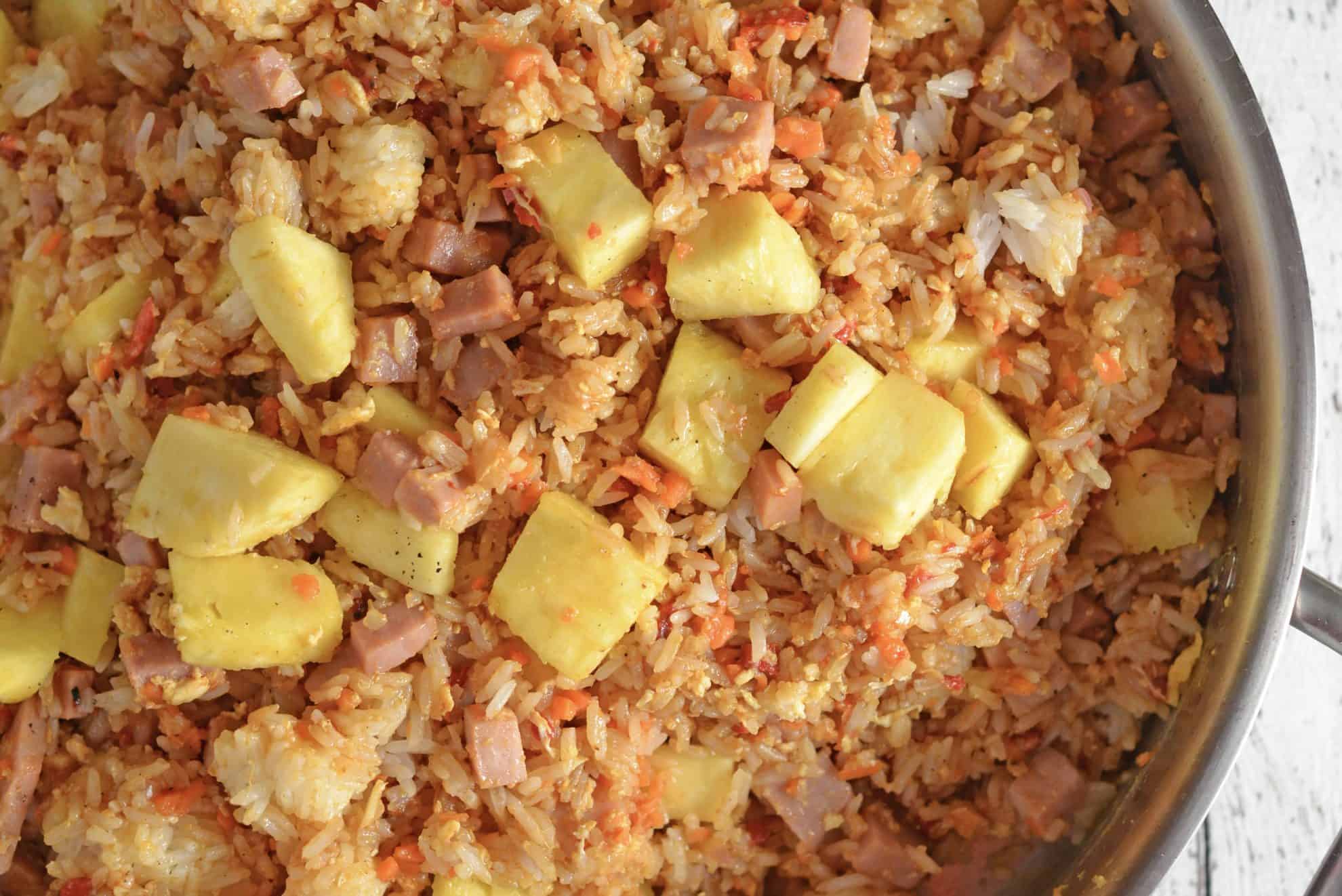 Restaurants might even lay the rice out at room temperture in a thin, single layer to allow air to circulate around each and every kernel. You can do the same thing for a quick chill. Just gingerly arrange your rice on a rimmed baking sheet and chill for about 1 hour.
Ham is the protein of choice for my Pineapple Fried Rice, but it is typically seen in Polynesian culture made with SPAM. Just the word SPAM gets a chuckle here in the states, but in Hawaii and other locations, SPAM is an acceptable and even popular form of pork.
Really, it is the same as the pork roll we eat and love. For your Pineapple Fried Rice you can use ham, SPAM or nothing at all, making it a vegetarian fried rice recipe.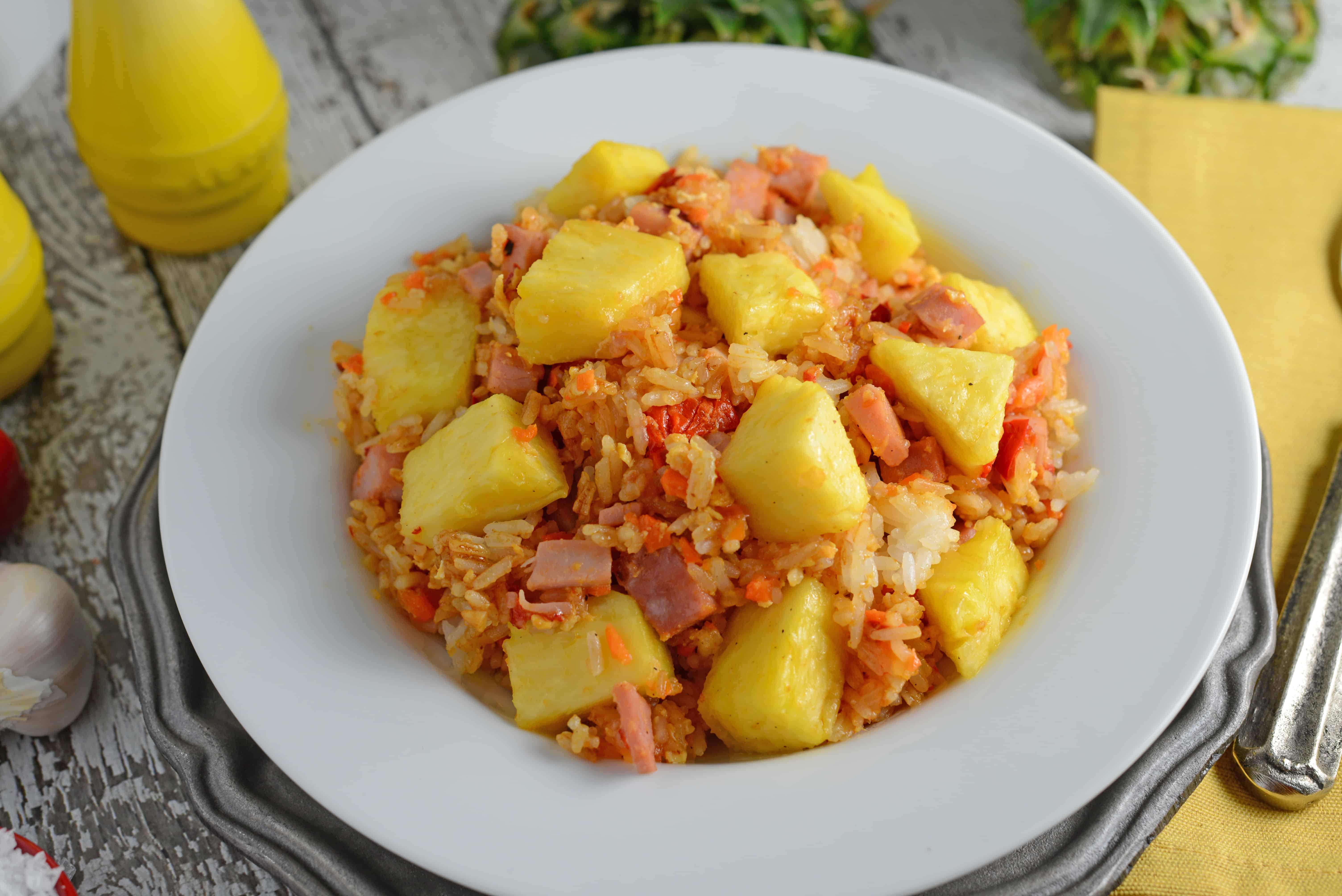 If I do make fried rice at home, it usually made from Chinese delivery leftovers or from another dish, like Pork and Pineapple Curry. For Pineapple Fried Rice, Cilantro Lime Rice (hold the cilantro) seemed ideal for tropical flavors, but you can make plain jasmine rice
and use a rice cooker
, if you prefer.
Also check out my tips on making Perfect Rice before getting started!
If you liked this recipe for homemade fried rice, check these out: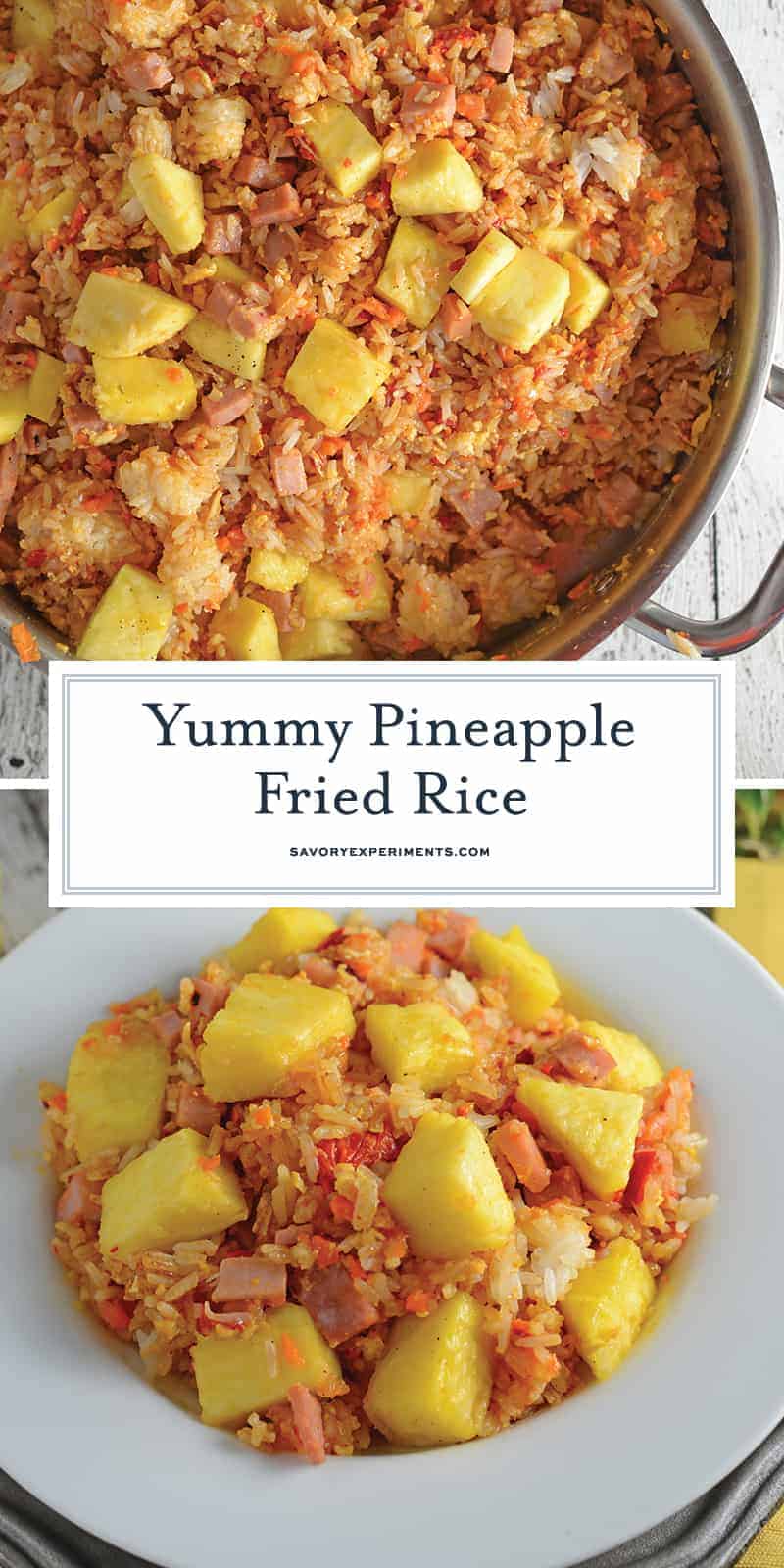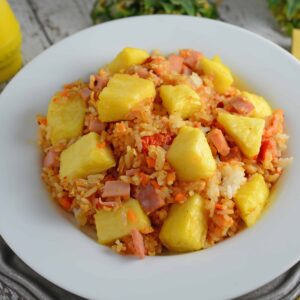 Pineapple Fried Rice
Pineapple Fried Rice Recipe - A quick and easy weeknight meal that's so much cheaper, tastier and healthier than take-out! Make it a vegetarian meal or add ham.
Course:
Main Dish, Side Dish
Keyword:
fried rice recipe, pineapple fried rice
Ingredients
3

cups

Coconut Lime Rice

cooked and day old, hold the cilantro

1

tablespoon

vegetable oil

1/2

serrano pepper

minced

1

garlic cloves

minced

1

tablespoons

red onion

minced

1/2

cup

carrot

minced

1/4

cup

red bell pepper

minced

1

tablespoon

lime juice

1/2

teaspoon

lime zest

2

teaspoons

sugar

2

eggs

lightly whisked

1

tablespoons

dark soy sauce

1

tablespoon

seasoned rice vinegar

1

teaspoon

sesame oil

1

tablespoons

fresh ginger

grated (about 1 inch nub)

1/2

teaspoon

fine sea salt

1/4

teaspoons

black pepper

freshly ground

1

cup

ham

cubed

1 1/2

cups

fresh pineapple

cubed

1/2

cup

cashews

halved (optional)
Instructions
In a small bowl, combine serrano pepper through sugar. Allow to sit for 5-10 minutes.

In another small bowl, whisk together dark soy sauce through black pepper, set aside.

Heat vegetable oil in a large skillet over medium-high heat.

Add vegetable mixture to hot oil, stirring for 2-3 minutes, or until it starts to soften. Add eggs, tossing like you wold with scrambled eggs. When eggs are fully cooked, add ham, stirring for another minute.

Add rice, breaking into pieces. Drizzle with sauce mixture, tossing instead of stirring (stirring will make rice mushy).

Lastly, add pineapple and cashews, heating and tossing for only one minute before serving immediately.

If you've tried this recipe, come back and let us know how it was!
Nutrition Facts
Pineapple Fried Rice
Amount Per Serving
Calories 807
Calories from Fat 180
% Daily Value*
Total Fat 20g 31%
Cholesterol 103mg 34%
Sodium 1010mg 42%
Potassium 544mg 16%
Total Carbohydrates 129g 43%
Protein 24g 48%
* Percent Daily Values are based on a 2000 calorie diet.