Do you love restaurant style fried rice? What if I told you that you can make the same at home!? Pineapple Fried Rice is right up your alley!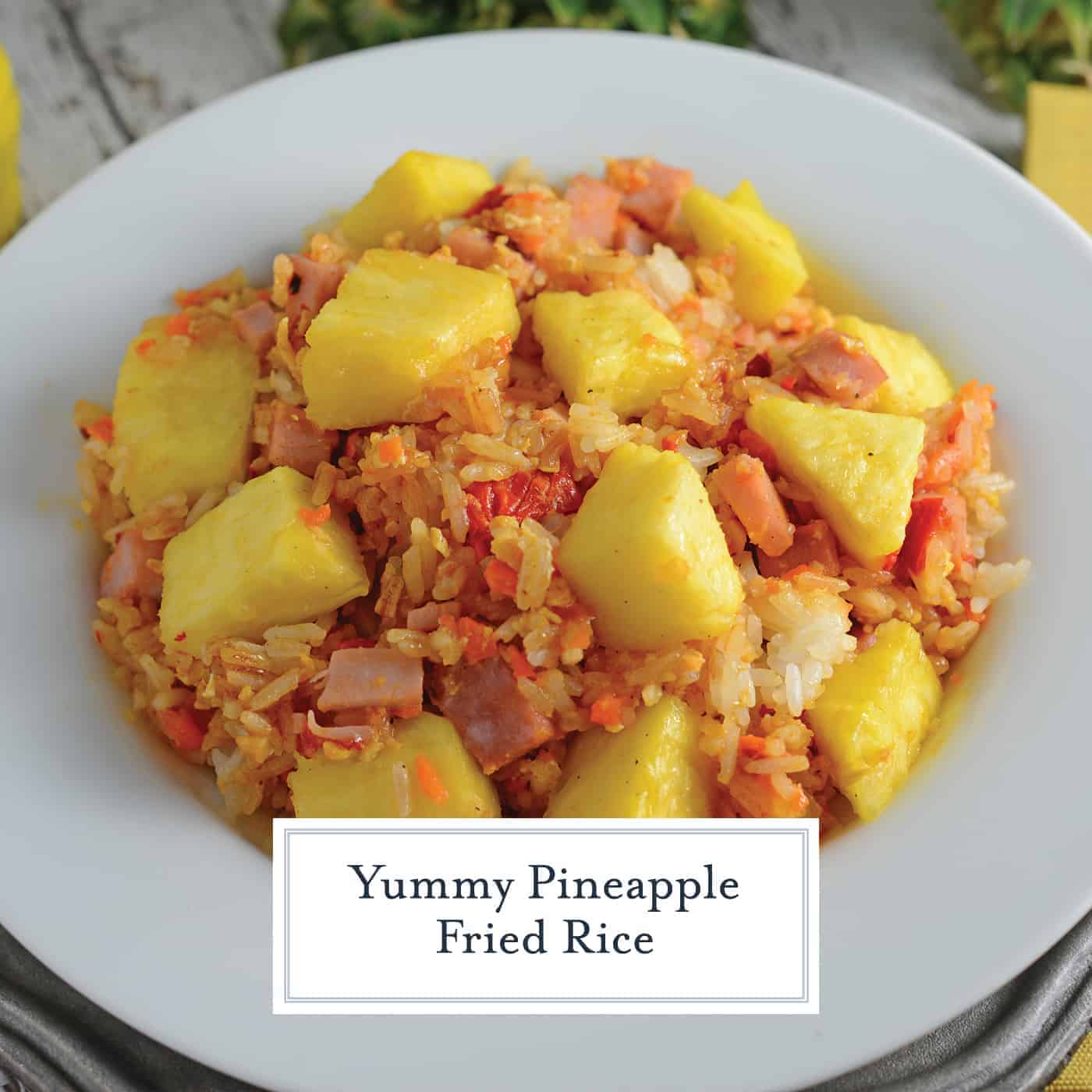 Pineapple Fried Rice is a quick, easy weeknight meal that's much cheaper, tastier and healthier than take-out! Make it a vegetarian meal or add ham.
Fried rice is the best. I usually only order it out because it is time intensive, but on this date I was making a Pineapple Owl Sculpture and needed a good recipe to use up all the pineapple when Hootie (I named my owl sculpture) was through entertaining the guests. Pineapple Fried Rice was my answer.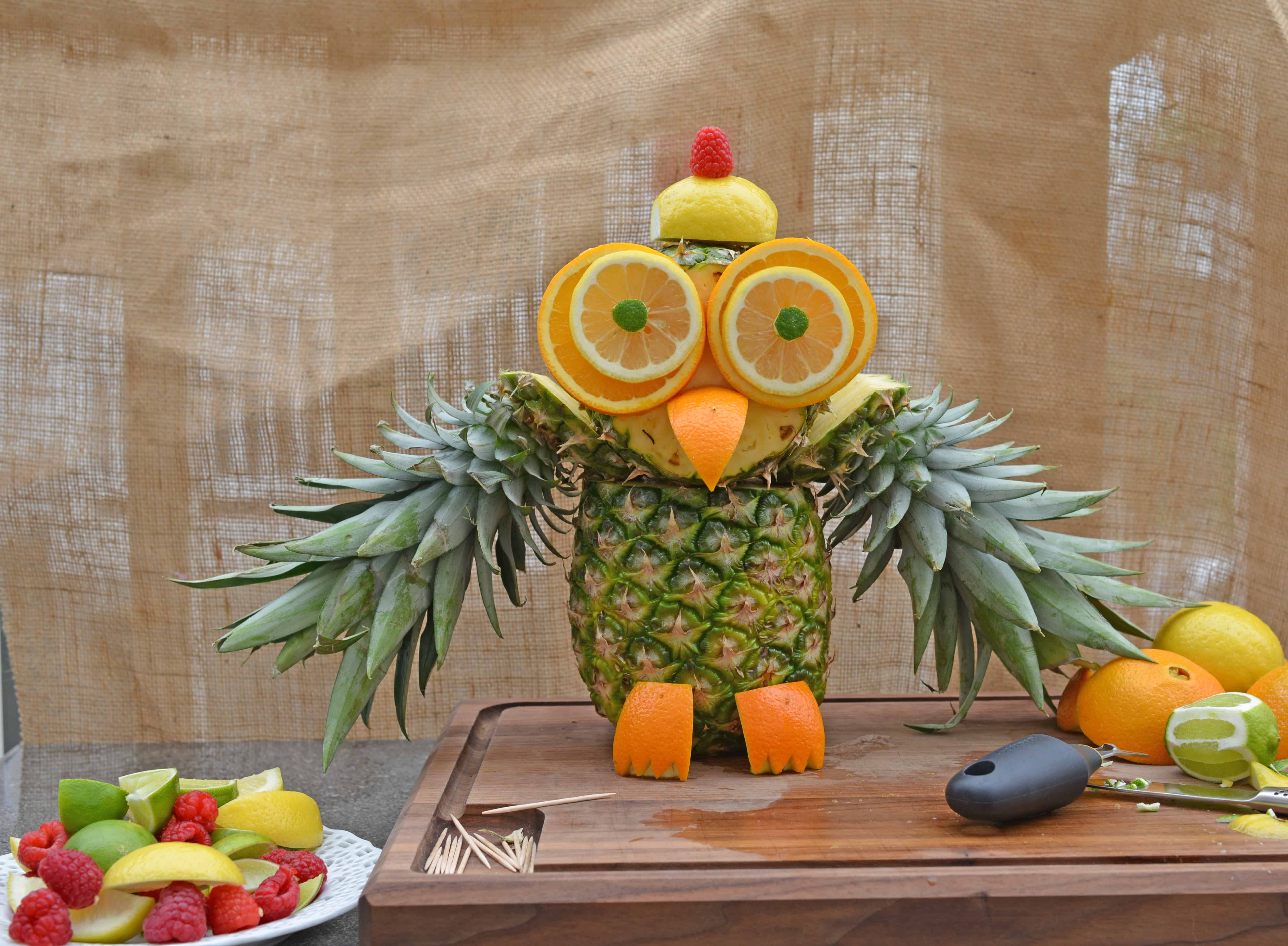 Not challenging, nor sophisticated, homemade fried rice does require time. Not hands-on time, but time to have day old cooked rice. Or at the very least, cooked and then chilled.
Cold rice is best for fried recipe. White rice is also prefered. You can use other types of rice, but white jasmine rice tends to be the best at keeping its texture.
The grains need to dry out adequately so it doesn't turn starchy and gooey on the second cooking. Some Chinese food restaurants will even say that 3 days of drying is necessary.
PRO TIP: Rinse your rice well in a colander before cooking. It removes small pieces of debris that can make it mushy or starchy when cooked.
I barely know what is for dinner tomorrow, so having the foresight of three day is pretty hard for me. But here are some tricks for cooling that rice down fast…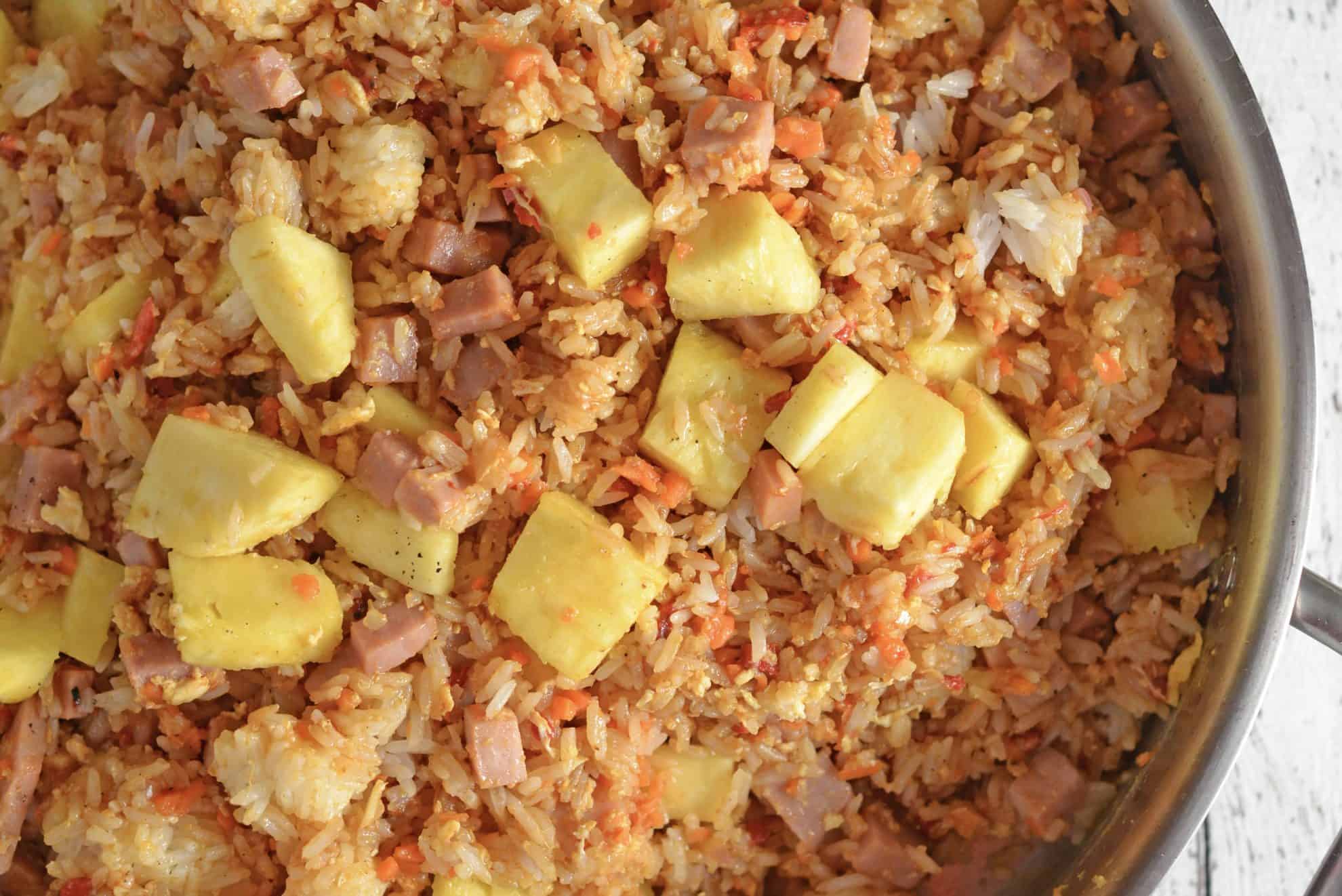 Restaurants might even lay the rice out at room temperture in a thin, single layer to allow air to circulate around each and every kernel. You can do the same thing for a quick chill. Just gingerly arrange your rice on a rimmed baking sheet and chill for about 1 hour.
Ham is the protein of choice for my Pineapple Fried Rice, but it is typically seen in Polynesian culture made with SPAM. Just the word SPAM gets a chuckle here in the states, but in Hawaii and other locations, SPAM is an acceptable and even popular form of pork.
SPAM Fact: There are many rumors about what SPAM stands for, but the answer is, no one really knows. Not even Hormel, their manufacturer.
Really, it is the same as the pork roll we eat and love. For your Pineapple Fried Rice you can use ham, SPAM or nothing at all, making it a vegetarian fried rice recipe.
You can also substitute the ham for shrimp, chicken or even another form of pork. Just make sure it is fully cooked before adding it.
My recipe also includes a carnival of festive and colorful veggies with a hint of sesame oil. Many recipes also use fish sauce, oyster sauce or even coconut oil, but I find my seasoned soy sauce mixture to be just the right amount of flavor.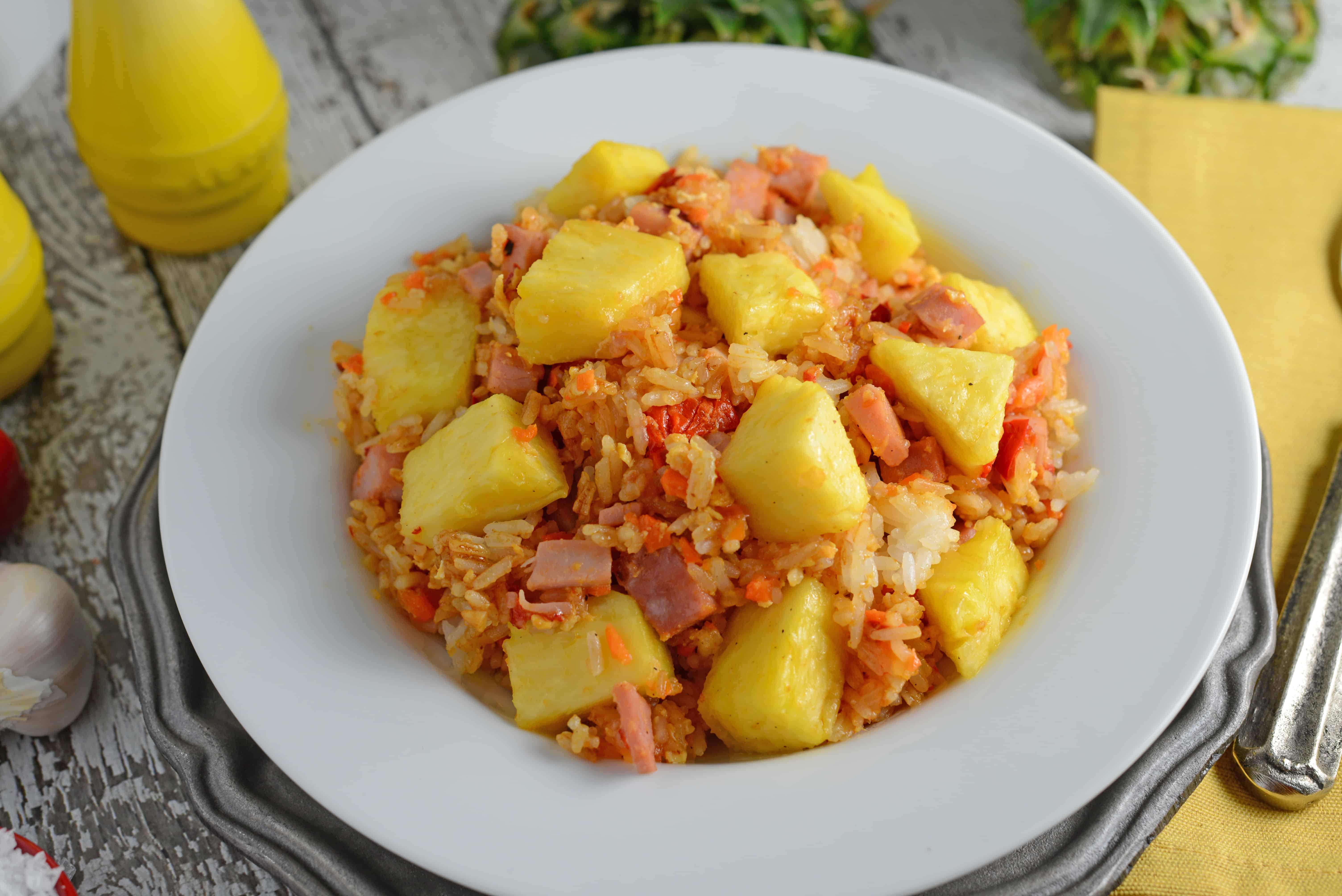 If I do make fried rice at home, it usually made from Chinese delivery leftovers or from another dish, like Pork and Pineapple Curry.
For Pineapple Fried Rice, Cilantro Lime Rice (hold the cilantro) seemed ideal for tropical flavors, but you can make plain jasmine rice
and use a rice cooker
, if you prefer.
PRO TIP: To quickly and easily mince all of these vegetables, give them a whirl in a mini food processor.
You can garnish your finished dish with sliced green onions (scallions) or toasted sesame seeds.
Also check out my tips on making Perfect Rice before getting started!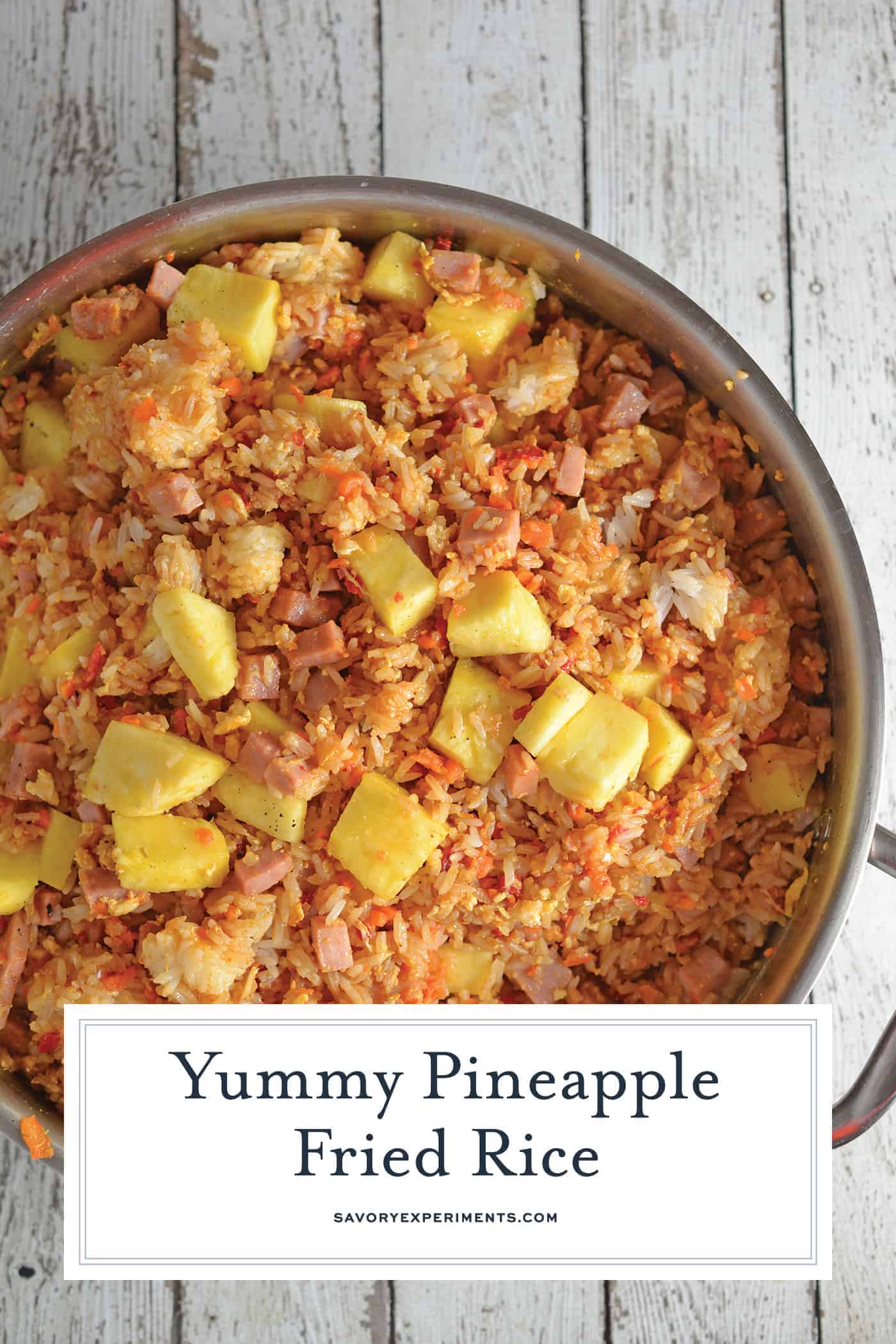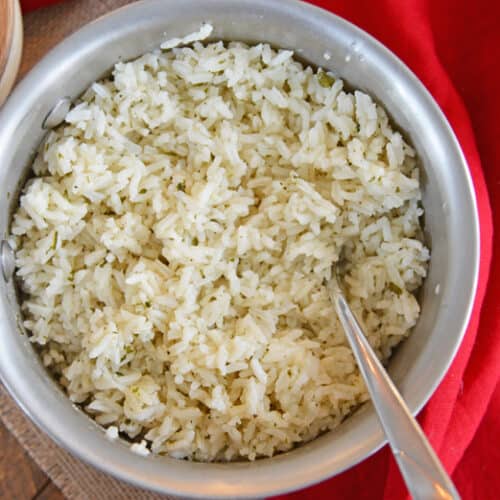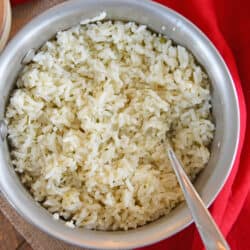 Ranch Rice
Calling all ranch fanatics! This Ranch Rice is super easy to make and adds fun flavor to your meals. No more boring rice recipes!
See The Recipe!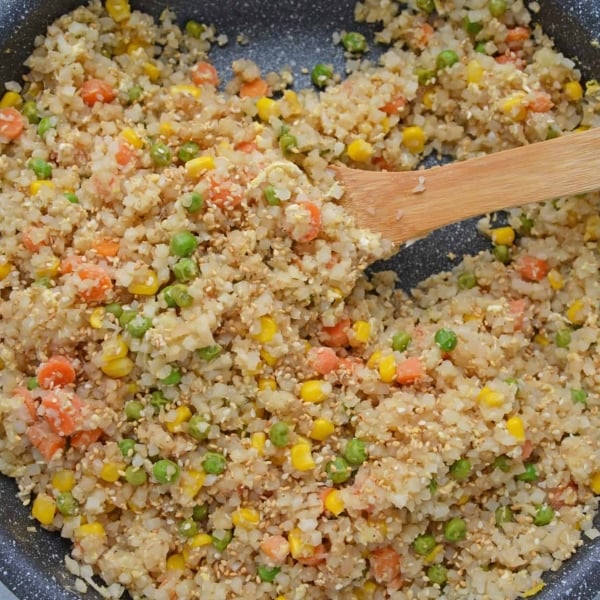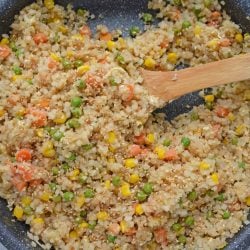 Cauliflower Fried Rice
If you've ever wondered how to make Cauliflower Fried Rice, look no further! This cauliflower fried rice recipe is the perfect way to cut down on carbs!
See The Recipe!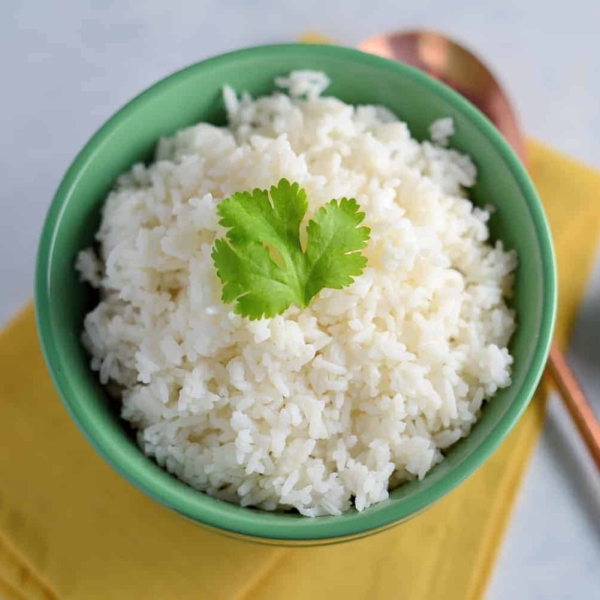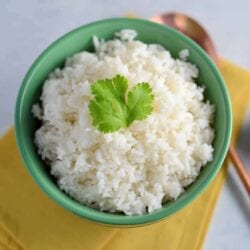 Tools for making pineapple fried rice:
Heavy Bottom Frying Pan– this will be one of your most used kitchen tools. Having something that is heavy bottom will distribute heat better and prevent burning whether you are using an electric or gas range.
Wood cutting board – wood won't dull your knives like plastic and if treated properly, has natural antimicrobial properties.
Good knife – Global is my favorite! They are worth the price, I promise. I am kind of obsessed with them and store them tucked away so no one else can use them. Including hubby. Hands off my good stuff!
Mixing Bowls– make sure to check out my article on Using the Right Mixing Bowl, you'd be surprised how many people aren't!
Whisks– I buy whisks in multiple sizes. You never know which one you will need.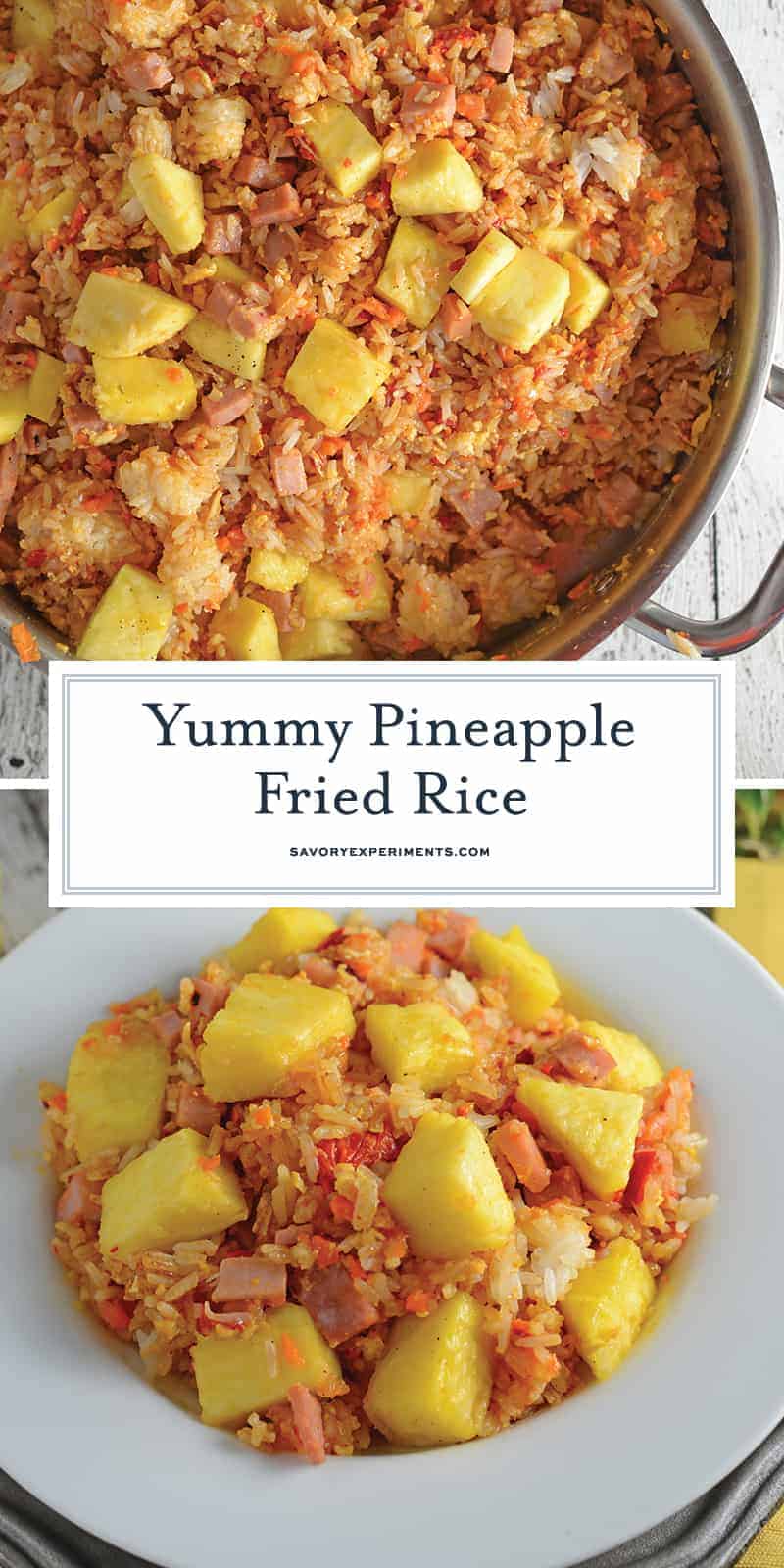 Questions you might have about how to make pineapple fried rice:
Can I use canned pineapple? You can sure use canned pineapple chunks or pineapple slices cut into chunks.
Can omit or substitute the cashews? You sure can. Omit for someone with a nut allergy or substitute with almonds or macadamia nuts.
Is fried rice gluten free? Rice itself is gluten free, but be weary of the soy sauce you are using, as it isn't always gluten free.
How do you reheat fried rice? You can easily reheat it in the microwave or a saucepan. I would add a small amount of liquid, water will do, so it doesn't get too dry.
How long is fried rice good for? Like most food, when kept chilled and covered, it is good for about 5 days.
Is fried rice a side dish or entree? It can be either, you pick!
Can you freeze fried rice? Yes, you can freeze fried rice if packaged correctly. It will stay good for 3-4 months. Freezing items in airtight plastic bags works best since you can get the most amount of air out.
Can fried rice be eaten cold? Sure can! In fact, hubby might tell you that cold fried rice is the best kind of leftover fried rice! LOL.
Can I omit the egg from fried rice? It is considered to be one of the key ingredients of fried rice, but you surely can omit it.
Can I make this recipe with rice noodles instead of rice? You sure can! Just cook the noodles and continue with the recipe.
Can I use brown rice in fried rice? Again, brown rice is perfectly good to be used in a fried rice recipe, just cook it well before using. It tends to be a little more gummy and taunt.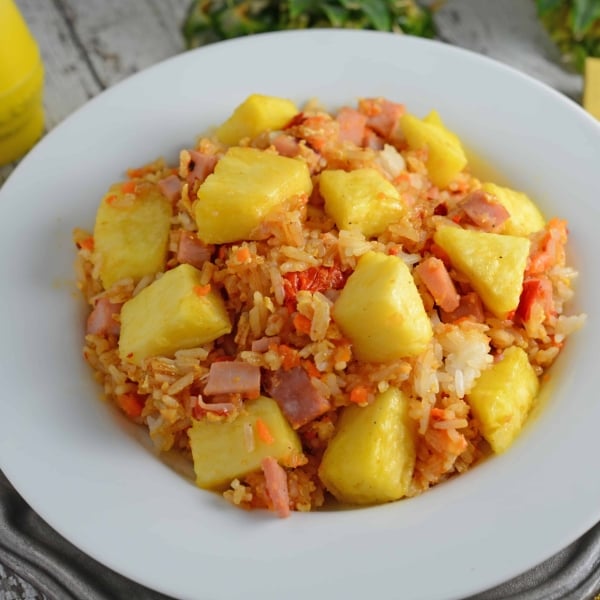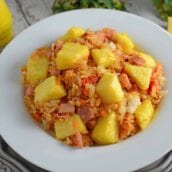 Pineapple Fried Rice
Pineapple Fried Rice Recipe – A quick and easy weeknight meal that's so much cheaper, tastier and healthier than take-out! Make it a vegetarian meal or add ham.
Instructions
In a small bowl, combine serrano pepper through sugar. Allow to sit for 5-10 minutes.

In another small bowl, whisk together dark soy sauce through black pepper, set aside.

Heat vegetable oil in a large skillet over medium-high heat.

Add vegetable mixture to hot oil, stirring for 2-3 minutes, or until it starts to soften. Add eggs, tossing like you wold with scrambled eggs. When eggs are fully cooked, add ham, stirring for another minute.

Add rice, breaking into pieces. Drizzle with sauce mixture, tossing instead of stirring (stirring will make rice mushy).

Lastly, add pineapple and cashews, heating and tossing for only one minute before serving immediately.

If you've tried this recipe, come back and let us know how it was!
Nutrition
Calories:
807
kcal
,
Carbohydrates:
129
g
,
Protein:
24
g
,
Fat:
20
g
,
Saturated Fat:
7
g
,
Cholesterol:
103
mg
,
Sodium:
1010
mg
,
Potassium:
544
mg
,
Fiber:
3
g
,
Sugar:
10
g
,
Vitamin A:
3120
IU
,
Vitamin C:
44.1
mg
,
Calcium:
70
mg
,
Iron:
3.2
mg