Thai Coconut Chicken is an easy dinner recipe fitting for any family. My family loves that you can customize the spice level and add more ingredients, such as vegetables.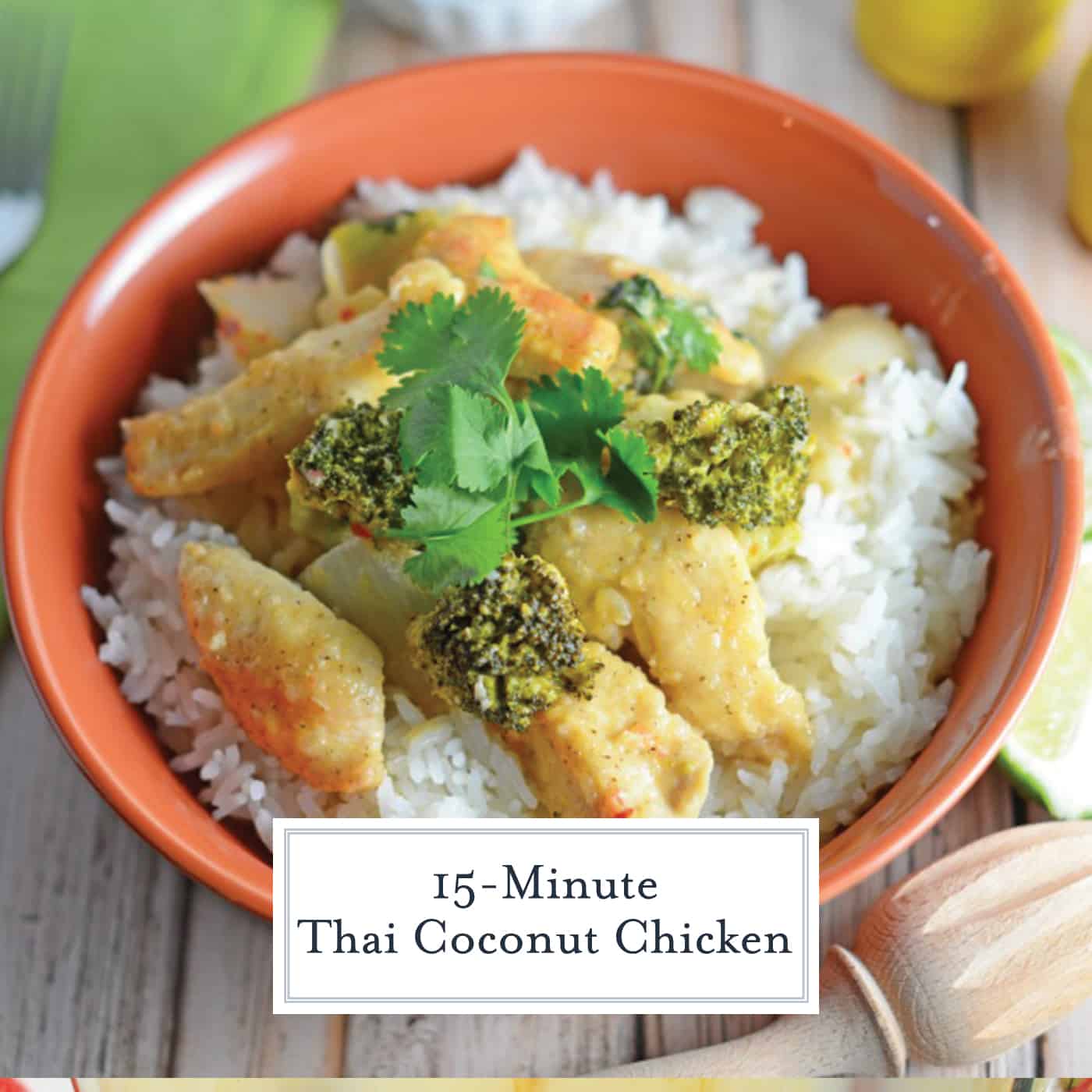 It is an also a Thai recipe that doesn't use curry.
Coconut Thai Chicken is a easy dinner recipe made with coconut milk, broccoli, ginger and flavorful spices. Dinner is ready in just 20 minutes!
Never had Thai food or never made Thai food at home? It is actually very easy and pretty healthy. Instead of using heavy, calorie ridden dairy products, Thai foods use a lot of coconut milk.
Many folks also associate Thai food with spice and heat. When preparing it at home, these flavors can be adjusting to your liking or even made sweet instead of spicy. You are in the driver's seat.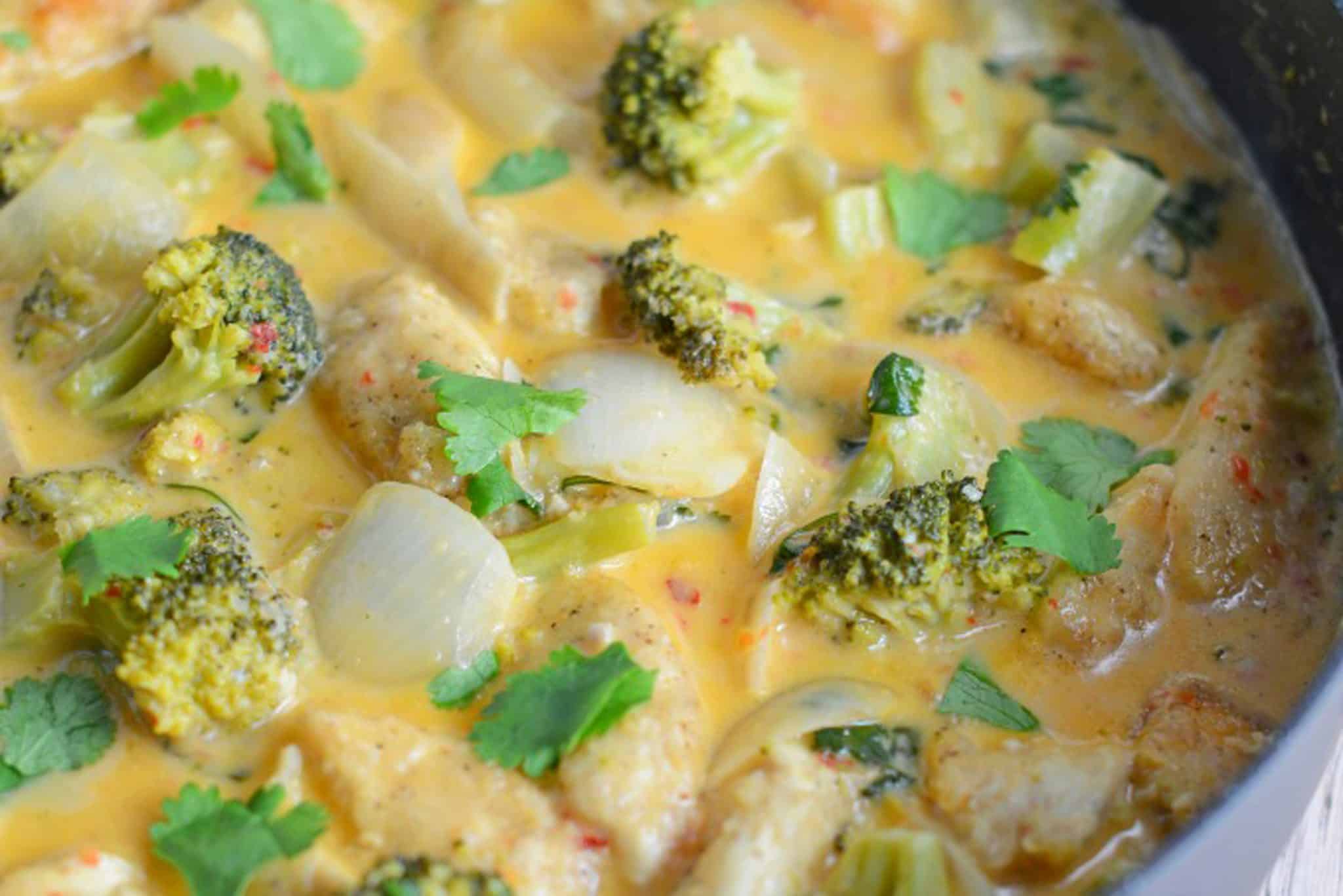 If you've never used coconut milk, it is mild and doesn't have an overly coconut flavor. In fact, I don't even care for coconut that much, and I love coconut milk. I use it also in sauces, but also for rice.
Light coconut milk is basically just watered down and thinner than its thicker counterpart. You can use either light or whole in recipes, but be mindful that the consistency of the sauce will change based on which you use.
Thai ingredients are usually easily located in the International food aisle of your grocery store. You might even have some of them in your pantry already!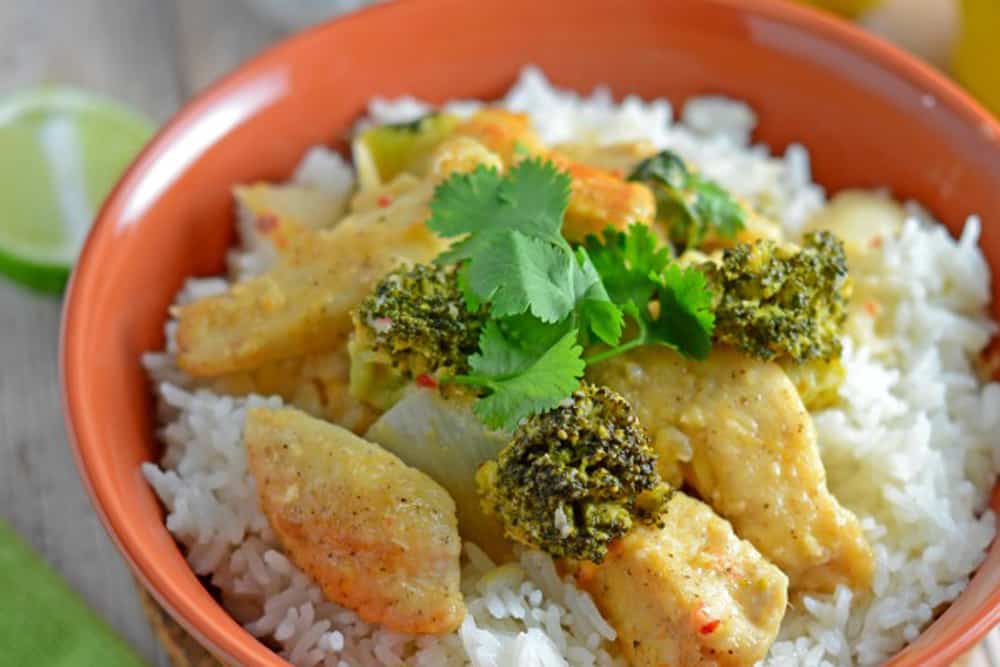 I serve my Thai Coconut Chicken over Lime Coconut Rice. The rice actually takes a few minutes longer than the chicken. Really, if you start it first, the entree will be ready just as your rice dings.
Also check out my tips for making perfect rice, no rice cooker needed! Ginger Rice is also a good pick.
Hubby likes his Thai Coconut Chicken super spicy… like sweat beading on your nose, need tissues, eyes watering spicy. I like mine with a kick, but still able to enjoy and taste the other flavors.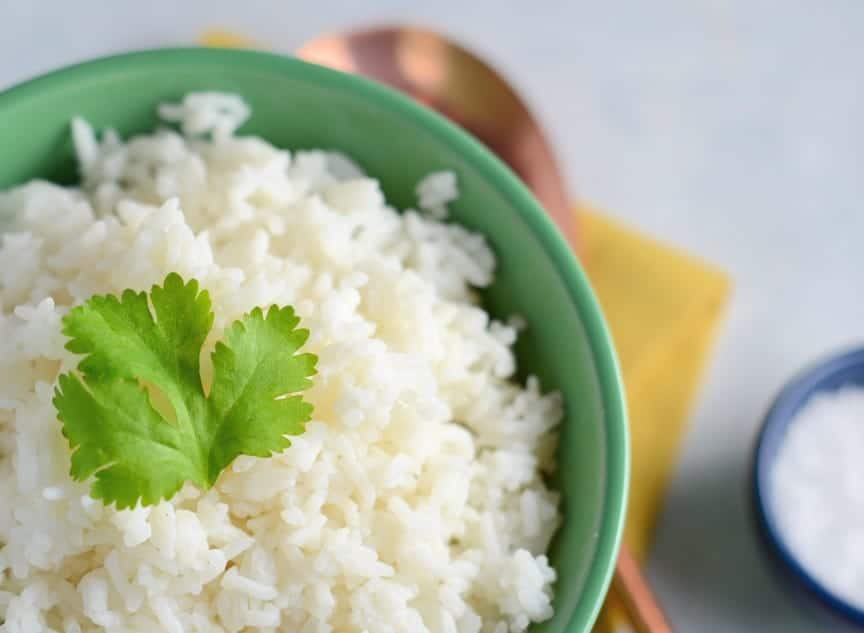 Adjust the amount of chile sauce according to your taste. If you family doesn't care for spicy at all, just omit it. And if you are like us and can't agree, serve it on the side.
Same with cilantro. Did you know that some folks have a genetic marker that actually makes cilantro taste like dirt or dish soap?
Next time someone tells you they don't like cilantro and you try to "make them try it this way," just know it is an actual "thing" and no matter how you prepare it, they probably won't care for it. Your Thai Coconut Chicken will still be super flavorful without it.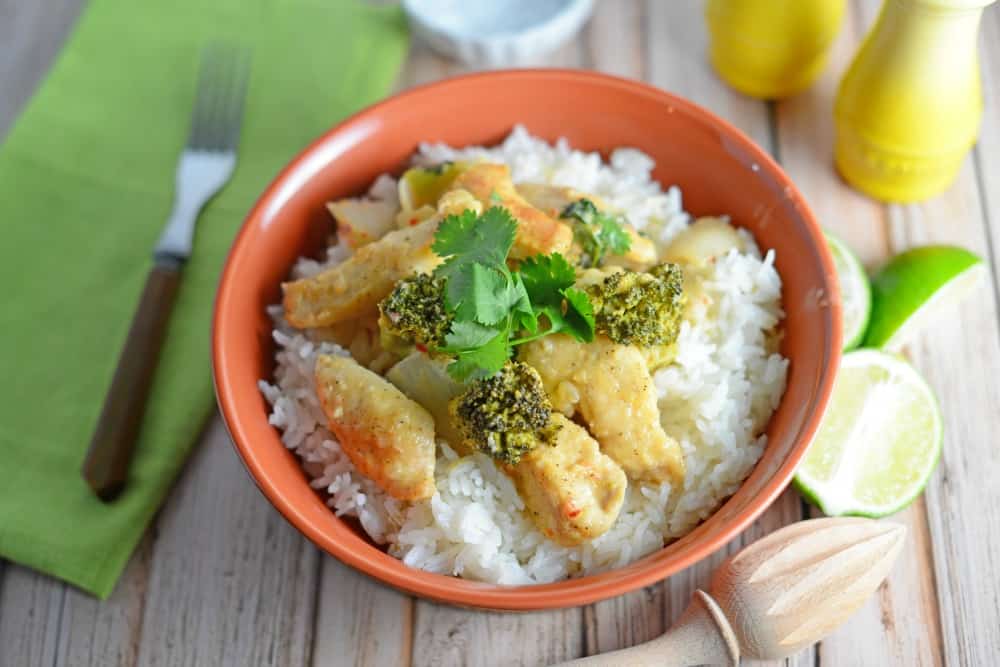 Tools for making Coconut Thai Chicken:
Heavy Bottom Frying Pan– this will be one of your most used kitchen tools. Having something that is heavy bottom will distribute heat better and prevent burning whether you are using an electric or gas range.
Wood cutting board – wood won't dull your knives like plastic and if treated properly, has natural antimicrobial properties.
Good knife – Global is my favorite! They are worth the price, I promise. I am kind of obsessed with them and store them tucked away so no one else can use them. Including hubby. Hands off my good stuff!
More easy Thai Recipes: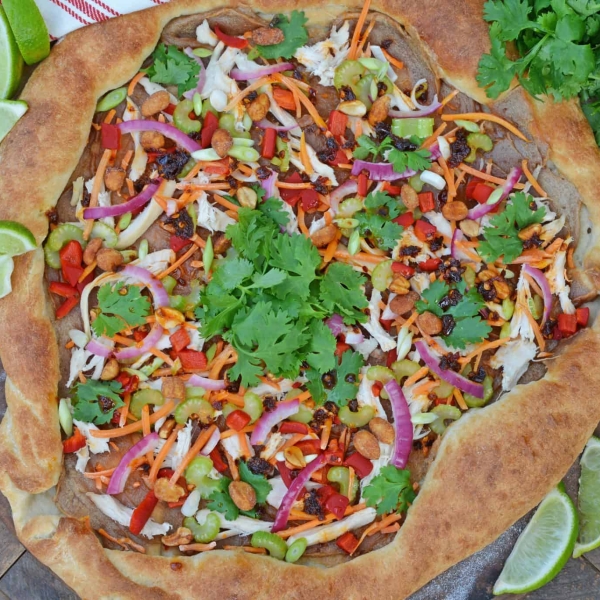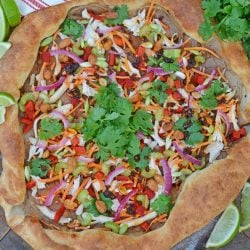 Spicy Thai Chicken Pizza
Spicy Thai Chicken Pizza uses a rich peanut satay sauce with shredded chicken, colorful vegetables and topped with sweet honey roasted peanuts and spicy chili oil.
View this recipe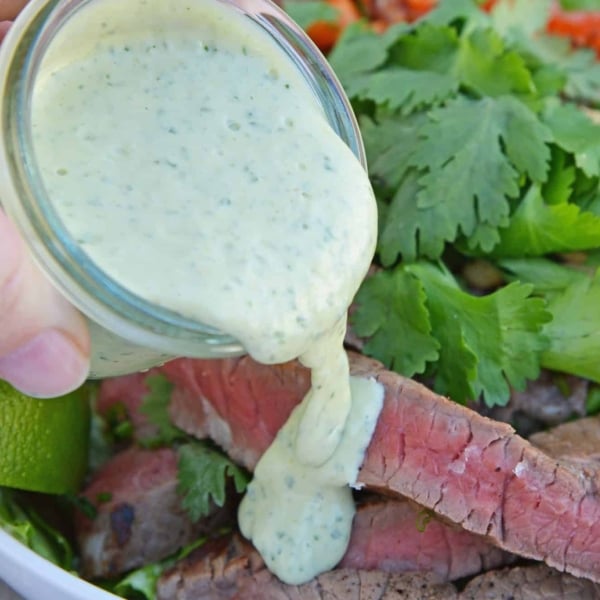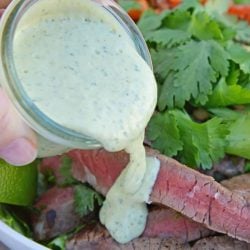 Green Curry Sauce
If you are a fan of Thai food, you have got to try this Green Curry Sauce recipe! Made with ingredients like lime juice and fresh ginger, it's bursting with flavor!
View this recipe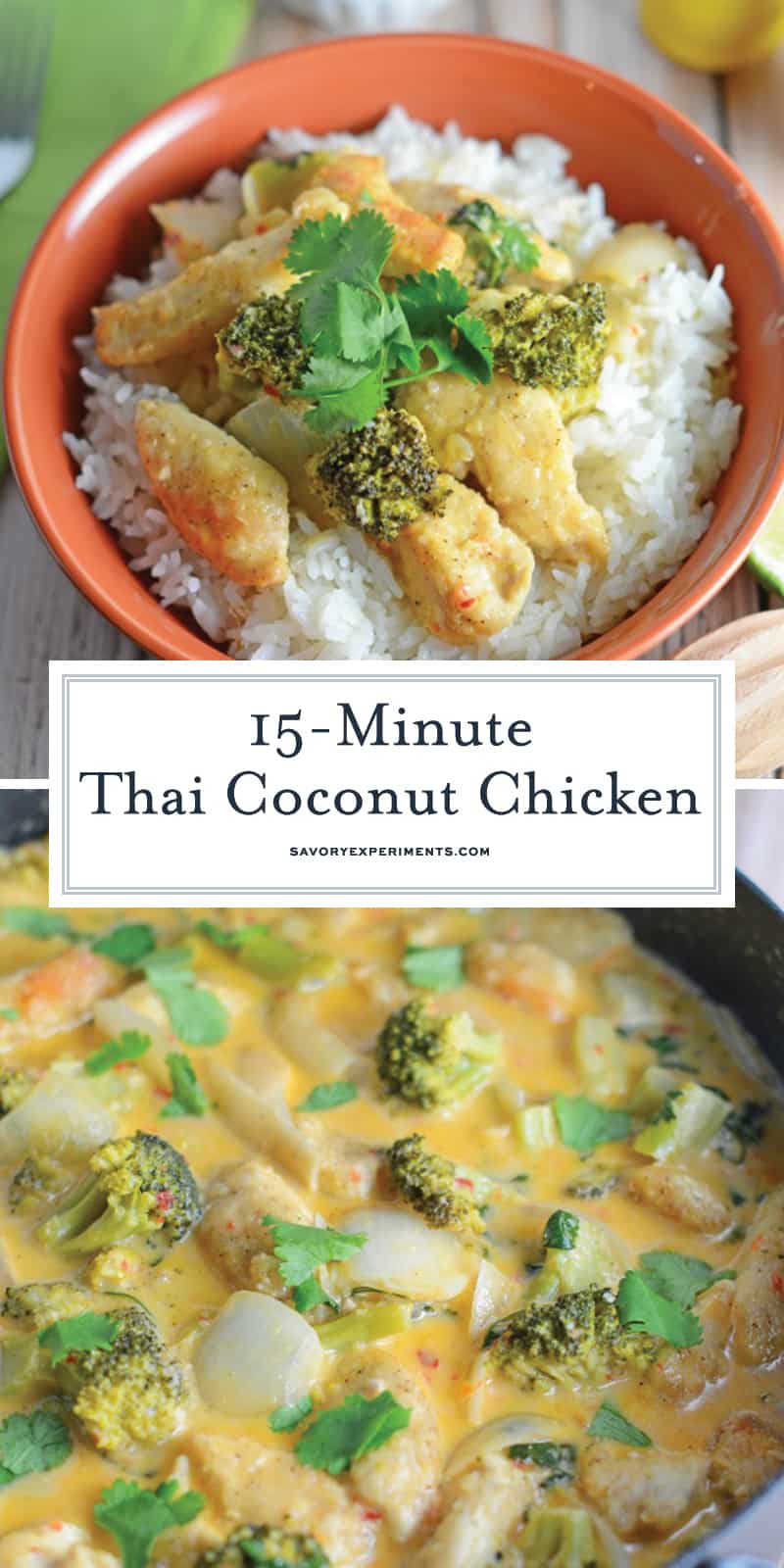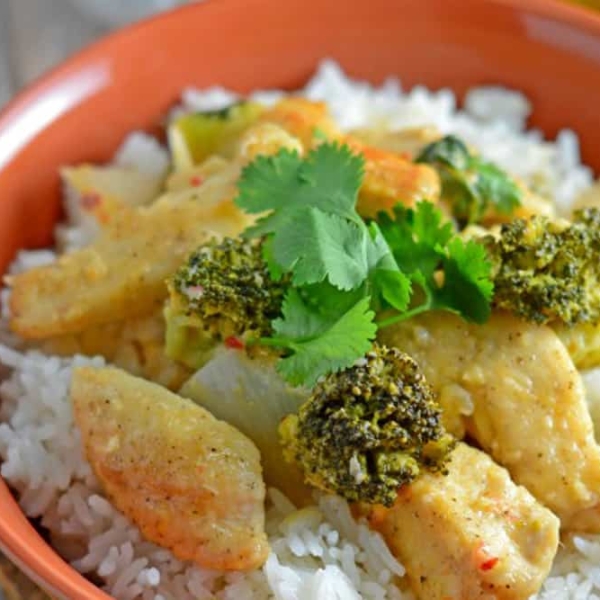 Thai Coconut Chicken Recipe
Thai Coconut Chicken is a easy dinner recipe made with coconut milk, broccoli, ginger and more flavorful spices. Dinner is ready in just 20 minutes!
Instructions
Remove excess fat from chicken breasts and cut into strips.

In a shallow bowl, mix corn starch, salt and pepper. Dredge chicken in the mixture, covering the majority of each piece.

Heat oil in large frying pan over medium heat. When hot, add chicken and discard remaining flour mixture. Turn frequently until cooked evenly, about 7-8 minutes. Remove chicken onto a paper towel lined plate. Set aside.

In same pan (without cleaning it out or turning down heat), add onions, garlic and ginger. Cook until onions start to soften, approximately 2 minutes. If there is little to no oil left, add an additional teaspoon.

Add coconut milk, broccoli florets, hot chili sauce, sugar, lime juice and cilantro, cooking for another 3 minutes.

Return cooked chicken to the mixture. Toss to coat. The corn starch chicken will thicken the sauce. Cook over medium heat for an additional 3 minutes, stirring occasionally. Turn off heat and allow to sit for 2-3 minutes before serving. The sauce will continue to thicken as the temperature decreases.

Spoon rice into a serving bowl, top with chicken and sauce. Garnish and serve with fresh lime wedges to squeeze over top.

If you've tried this recipe, come back and let us know how you liked it!
Notes
I sometimes add bottled roasted red peppers to give the dish more color. Just slice the peppers into strips and add in with chicken and broccoli to give them time to warm up.
Nutrition
Calories:
255
kcal
,
Carbohydrates:
20
g
,
Protein:
20
g
,
Fat:
10
g
,
Saturated Fat:
7
g
,
Cholesterol:
54
mg
,
Sodium:
408
mg
,
Potassium:
542
mg
,
Fiber:
2
g
,
Sugar:
6
g
,
Vitamin A:
380
IU
,
Vitamin C:
51.3
mg
,
Calcium:
40
mg
,
Iron:
0.9
mg