Yakitori Chicken is one of my favorite childhood recipes and now also one of hubby's. It is a perfect example of how the right ratios of just a few simple ingredients can result in a delicious meal.
With a soy sauce based marinade, rice wine vinegar, honey and garlic round out the flavors.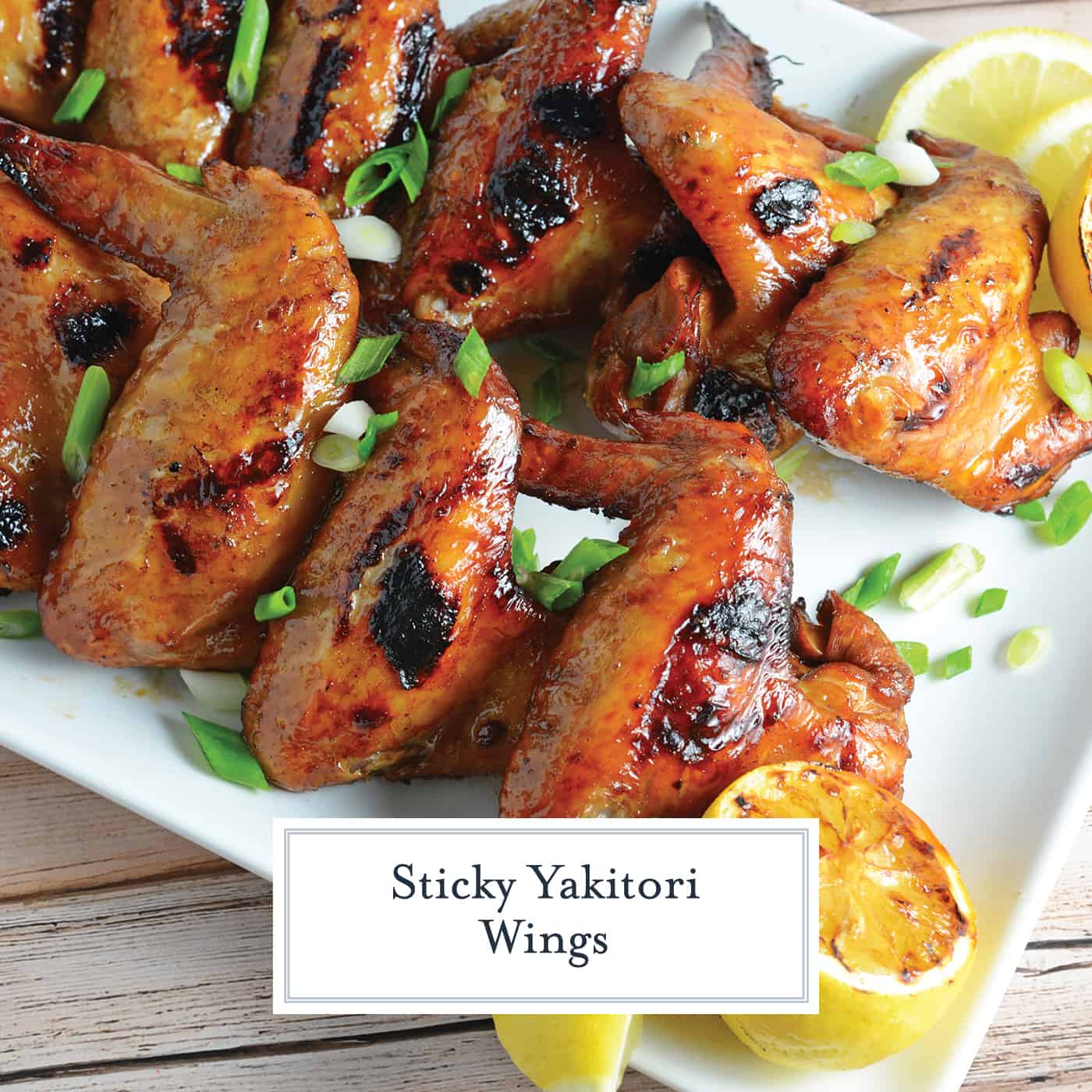 Yakitori Chicken is a sweet and sticky chicken cooked on the grill. Made from a simple soy sauce marinade, it can be served as an entree or appetizer.
Yakitori Chicken is also unique because you will parboil the chicken before marinating in Yakitori sauce. The trick here is waiting for the chicken to float, when it floats, it is done!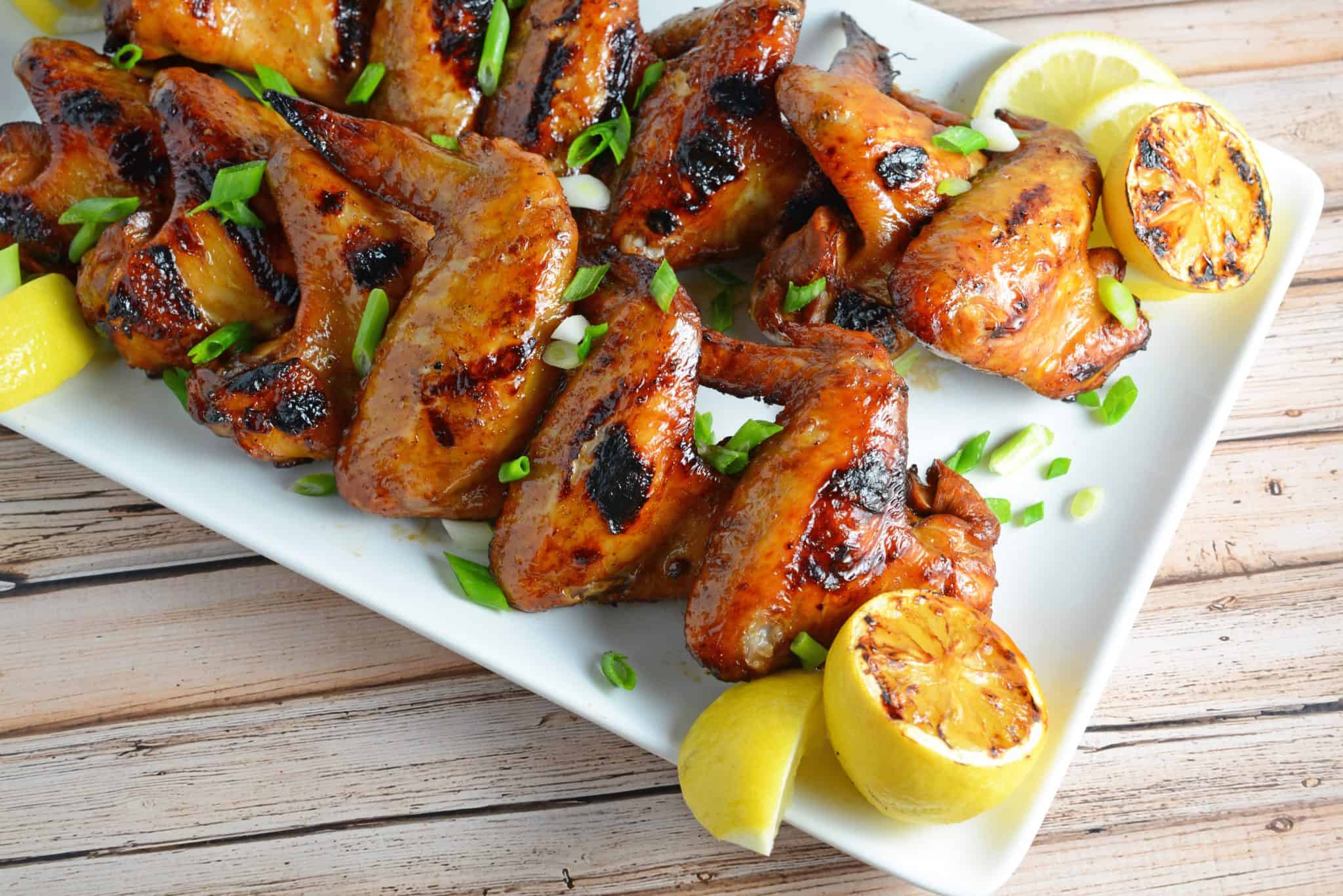 This means less actual grill time and ensures that the chicken is cooked all the way through. Finishing it off on the grill give it a nice, sticky and smoky finish. I usually prepare the chicken a day or even two before we plan to eat, allowing for the yakitori marinade to really seep deep.
Traditional Japanese Yakitori Chicken is also prepared on a yakitori grill. If you have one, great! Use it! But we don't and quite frankly, we have enough grills/smokers/gadgets lying around the garage and deck that it just wasn't feasible to add one more.
Yakitori Chicken tastes best on a charcoal grill, as does most grilled food, but if you are making it as a quick weeknight meal, no one will fault you for using gas.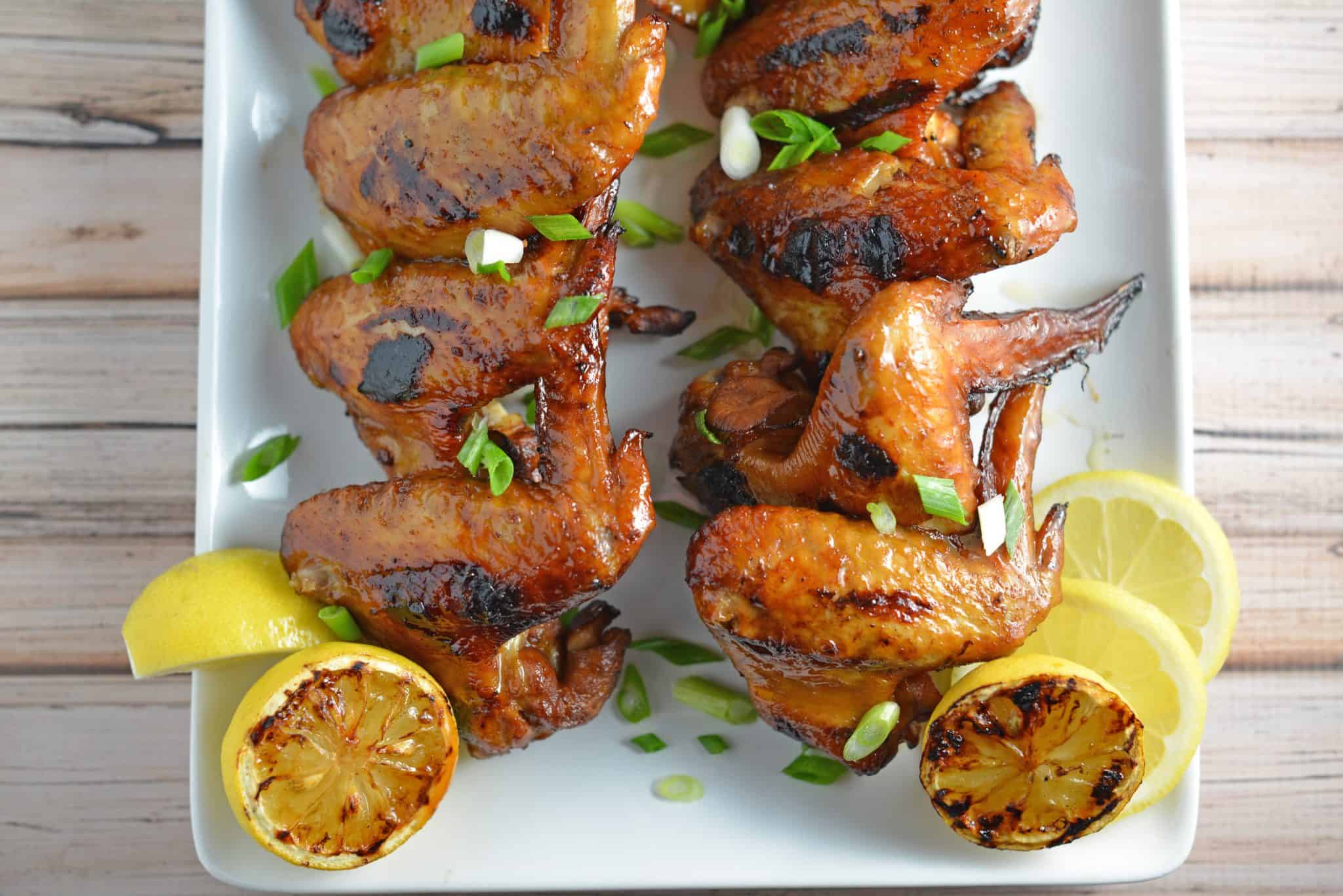 I like to garnish my Yakitori Chicken with scallions, fresh grilled lemon juice and sometimes even sesame seeds. We usually serve it over my Easy Fried Rice , Pineapple Fried Rice or Ginger Rice.
If you have any leftover chicken, shred it off the bone and stir it into your fried rice for a fabulous lunch the next day.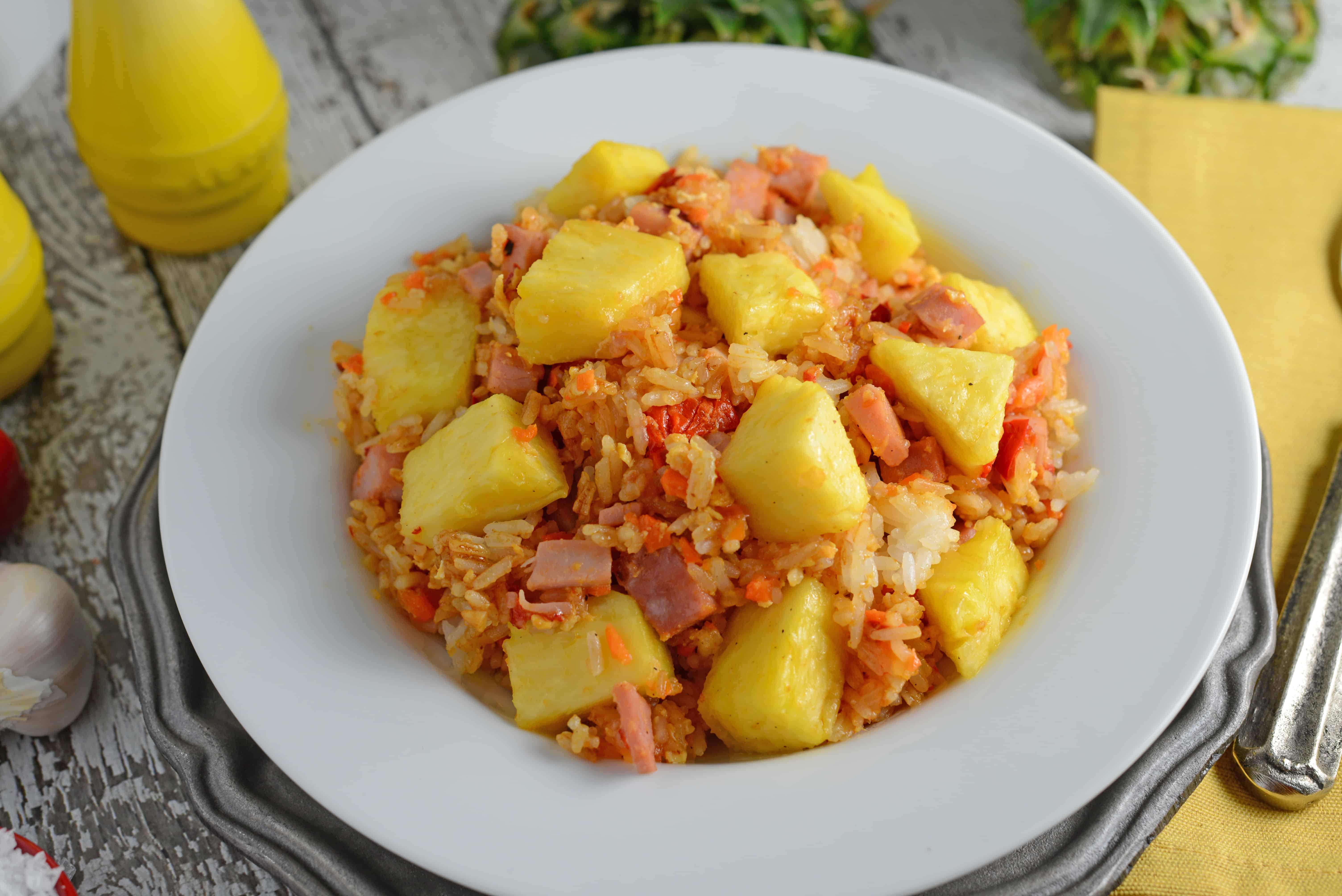 If you want extra Yakitori dipping sauce, as my hubby always does, you can either make additional marinade and boil it down to half. Or use the leftover marinade and bring it to a full boil for 5 minutes to kill any bacteria from the chicken.
I find this way to be the most flavorful. Be careful though, since the Yakitori marinade has honey, it will boil over easily and fast!
Tools need to make Yakitori Chicken:
Yakitori Grill
– you don't need to have one, but in case you are curious…
9 x 13 Glass Baking Dish – another kitchen must have item, you will use this item for marinating, prepping, baking cakes and more! I like the ones with fitted lids.
Tongs – have at least 3 pairs of these at varying lengths around the kitchen!
If you like this recipe, you might also like these other Asian inspired meals: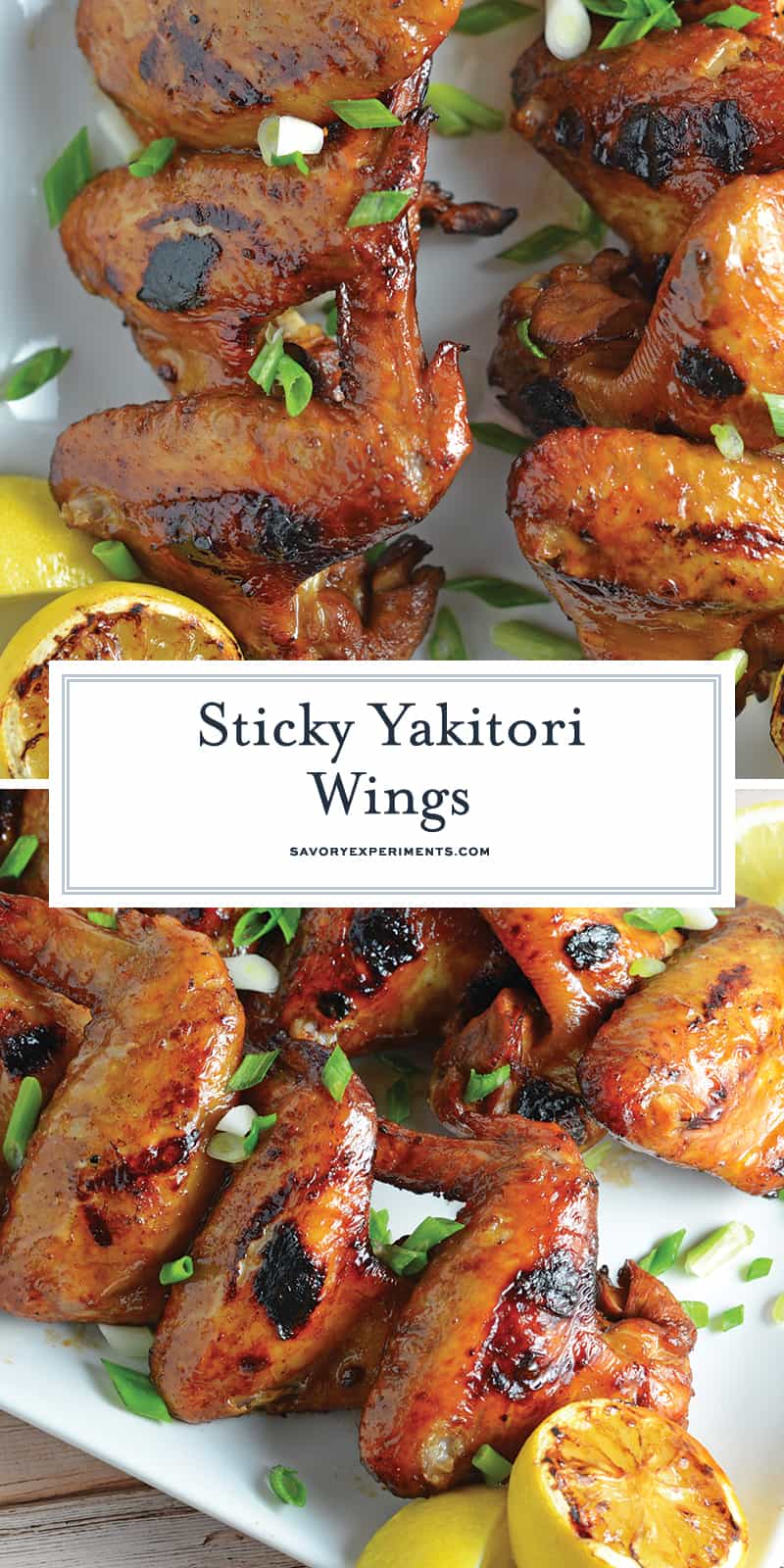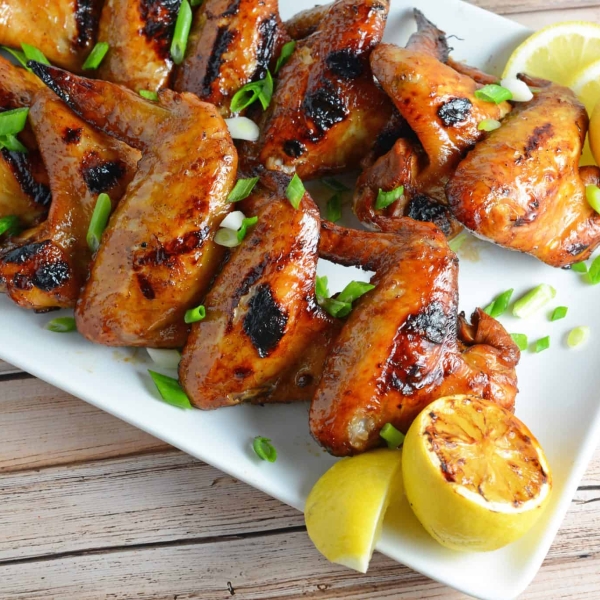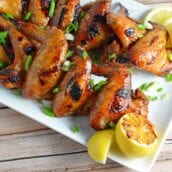 Yakitori Chicken Recipe
Yakitori Chicken is a sweet and sticky chicken cooked on the grill. Made from a simple soy sauce marinade, it can be served as an entree or appetizer!
Instructions
Fill a large pot or Dutch oven half way with water, bringing to a rapid boil. Salt generously and then add half of the chicken (or whatever fits, being careful not to crowd the pot or overflow).

Wings are done when they begin to float. Remove floating wings to a paper towel lined baking sheet and allow to cool and drain. Continue until all wings are cooked.

Use 4 larger freezer bags, double bagged to make two (chicken pieces poke through). Divide wings evenly, 8 and 8, into doubled bagged freezer bags.

In a medium bowl, whisk together seasoned rice wine vinegar, ¼ honey, soy sauce, mined garlic and vegetable oil. Divide evenly between the two bags.

Massage the marinade into the chicken and place into the refrigerator for 2 hours-24 hours.

Remove chicken from the bag and marinade. Heat grill to medium high heat. Grill on each side for 5-6 minutes or until the chicken starts to look sticky and glazed. Remember it is already cooked, so you are just reheating and charring for flavor and presentation.

Serve with lemon wedges. Squeeze fresh lemon juice onto chicken before eating. You can half the lemons are grill them for added visual appeal. Warmed lemons will actually produce more juice!

If you've tried this recipe, please leave us a comment and let us know how it went!
Nutrition
Calories:
684
kcal
,
Carbohydrates:
47
g
,
Protein:
39
g
,
Fat:
37
g
,
Saturated Fat:
14
g
,
Cholesterol:
148
mg
,
Sodium:
2269
mg
,
Potassium:
548
mg
,
Fiber:
2
g
,
Sugar:
37
g
,
Vitamin A:
300
IU
,
Vitamin C:
44.5
mg
,
Calcium:
61
mg
,
Iron:
3.8
mg