Chances are you haven't had wild boar before. Maybe boar sausage, but not braised wild boar shanks. It isn't a protein the grocery store usually carries, unless you are in Texas, perhaps.
Don't worry… I'll tell you how to get your hands on some boar and transform it into a memorable meal.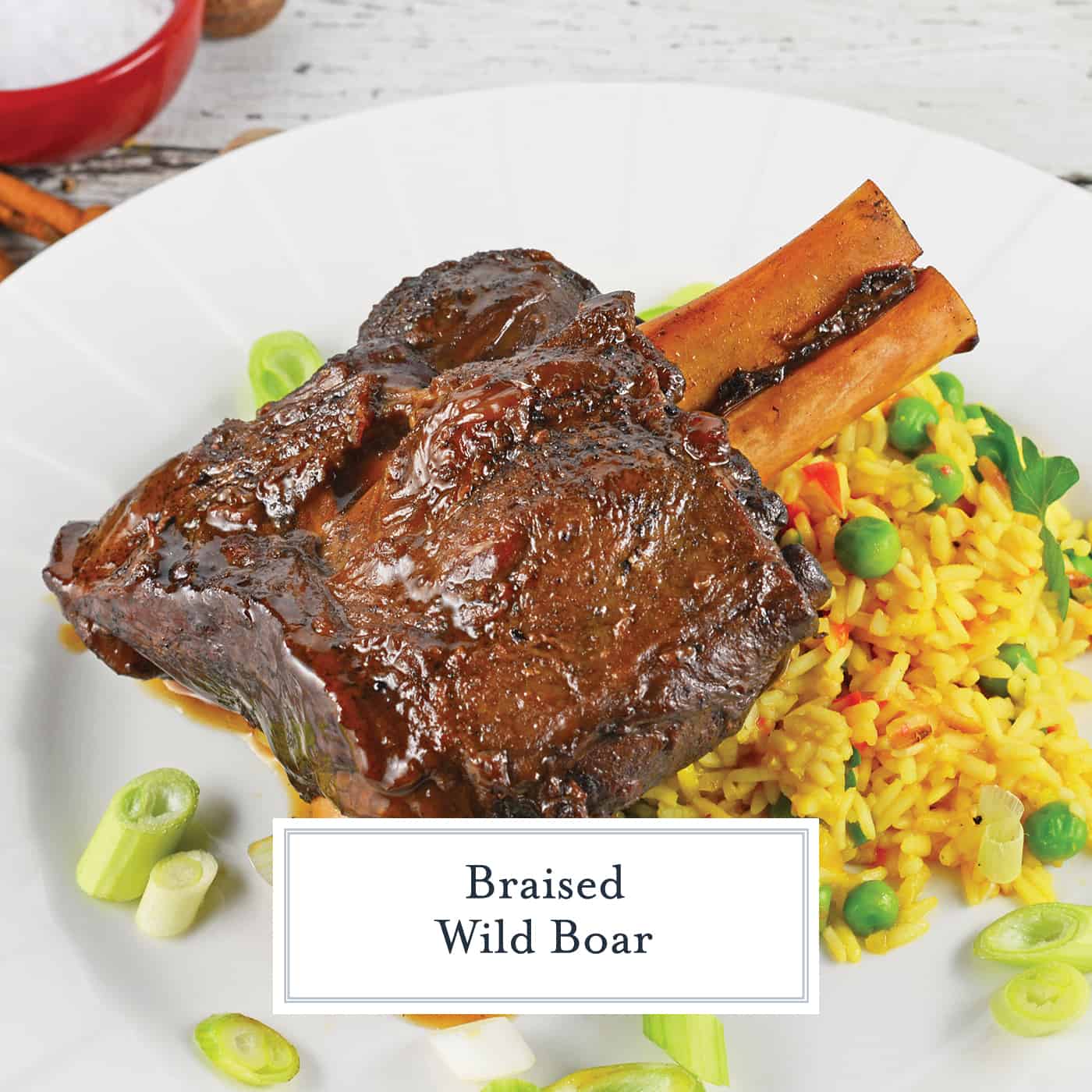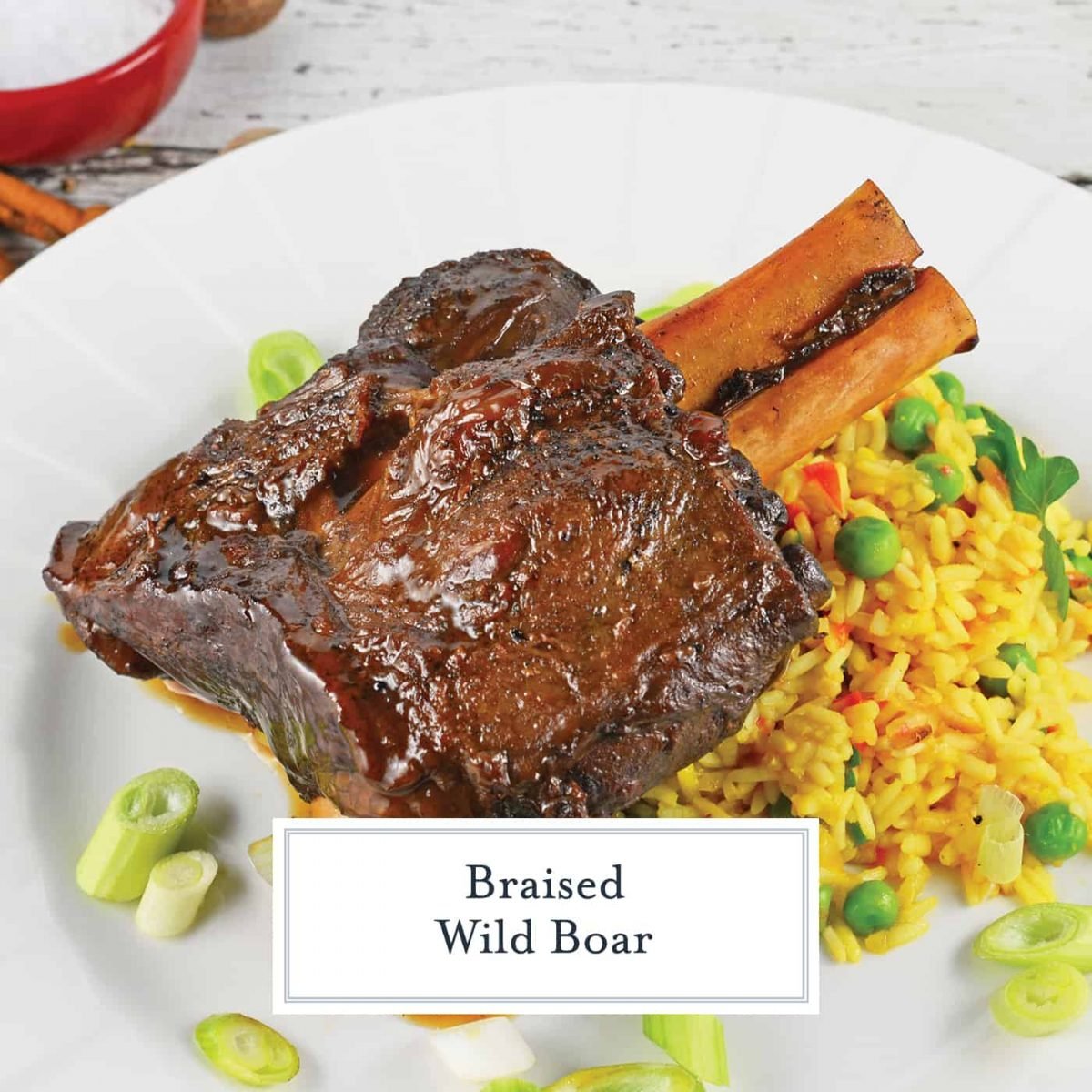 Braised Wild Boar Shanks are a sophisticated and exotic meal, ideal for special occasions and dinner parties. Lean and healthy with loads of rich flavor.
Most boar is feral, running around wild, and is therefore very meaty with little to no fat. Wild boars are angry suckers and need to be kept under control for farmers.
They happen to taste great if prepared correctly and since they are all wild, you don't have to worry about all the crud that comes along with farmed meat, like antibiodics and special diets.
They are naturally lean and don't have an especially gamey taste.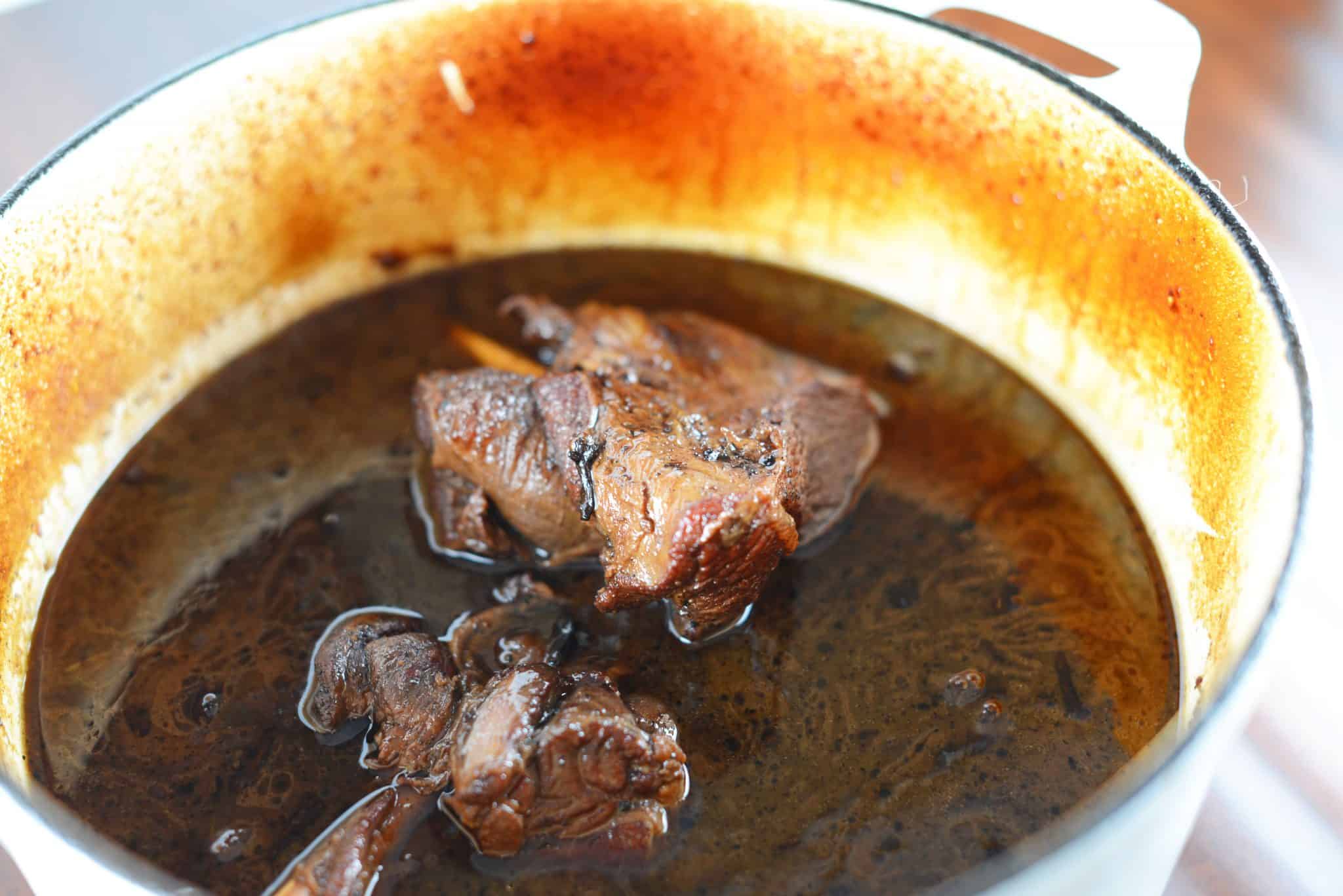 Although this is the middle of the summer, my husband came through the door exclaiming "The house smells like Thanksgiving!" Braised Wild Boar Shanks are wonderfully aromatic; smelling like freshly baked molasses cookies.
My husband and I eat bison and venison frequently- leaner meats with lots of flavor, so when I came across wild boar in a restaurant I wanted to try working with it.
I researched and found that most recipes call for fall spices- much like Thanksgiving. Your most challenging task will be to find wild boar.
I could not locate any in Baltimore, not even by special order from a private butcher. I ended up ordering them through Dartagnan, who offers multiple specialty meats and delivers them frozen.
They even allow you choose your delivery date! You can substitute pork shanks, but they won't have the same rich flavor. Learn more about eating and cooking wild boar here!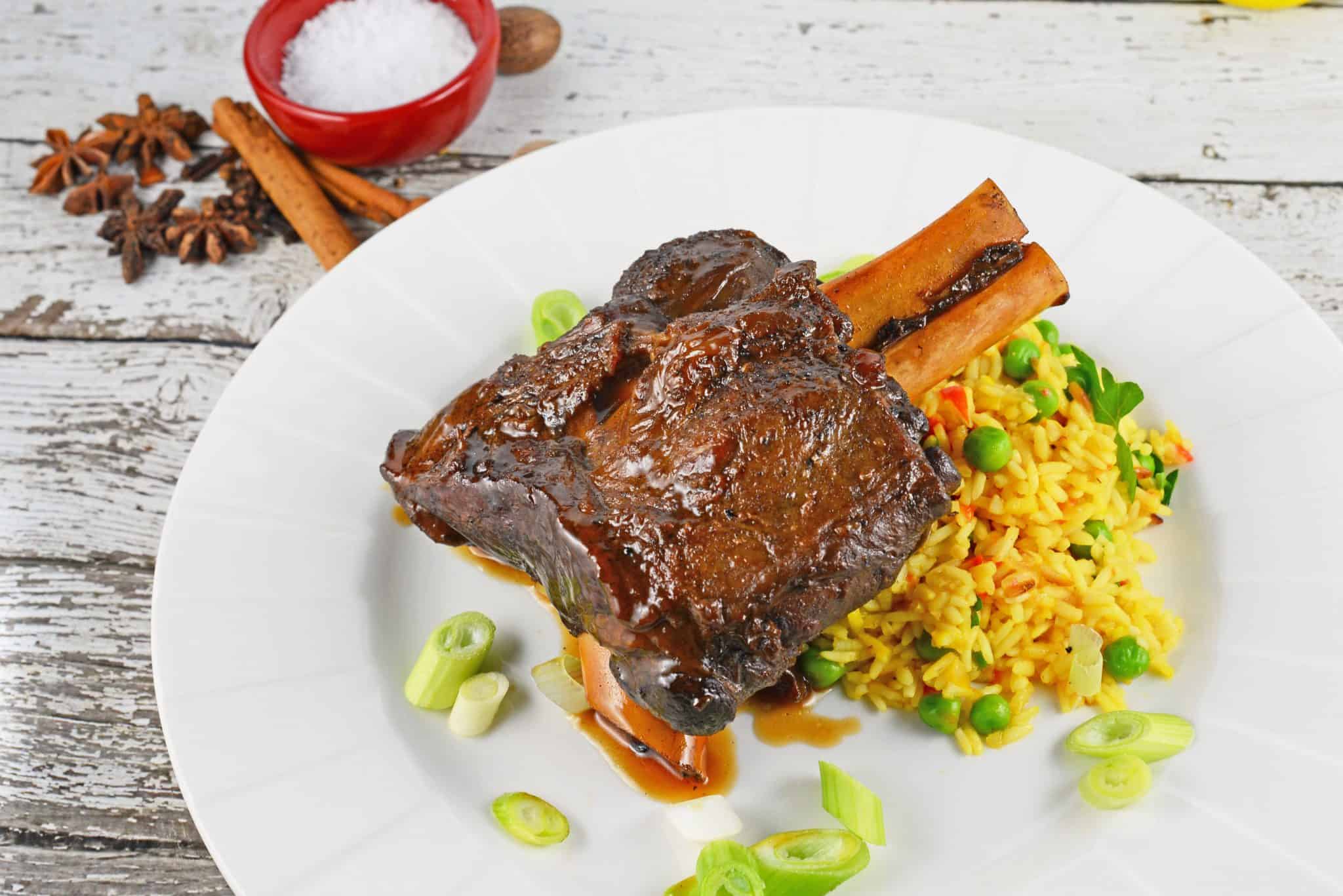 Wild Boar is also healthy- only 136 calories and 4 grams of fat per four ounce serving. Wild boar run around a lot so they do not have the luxury of building up fat deposits.
They also roll around in the dirt, acting like a Kobe massage to tenderize their meat. I know what you're thinking: this is a lot of work! Well, save Braised Boar Shanks for a special event or holiday and I'm sure you won't regret it!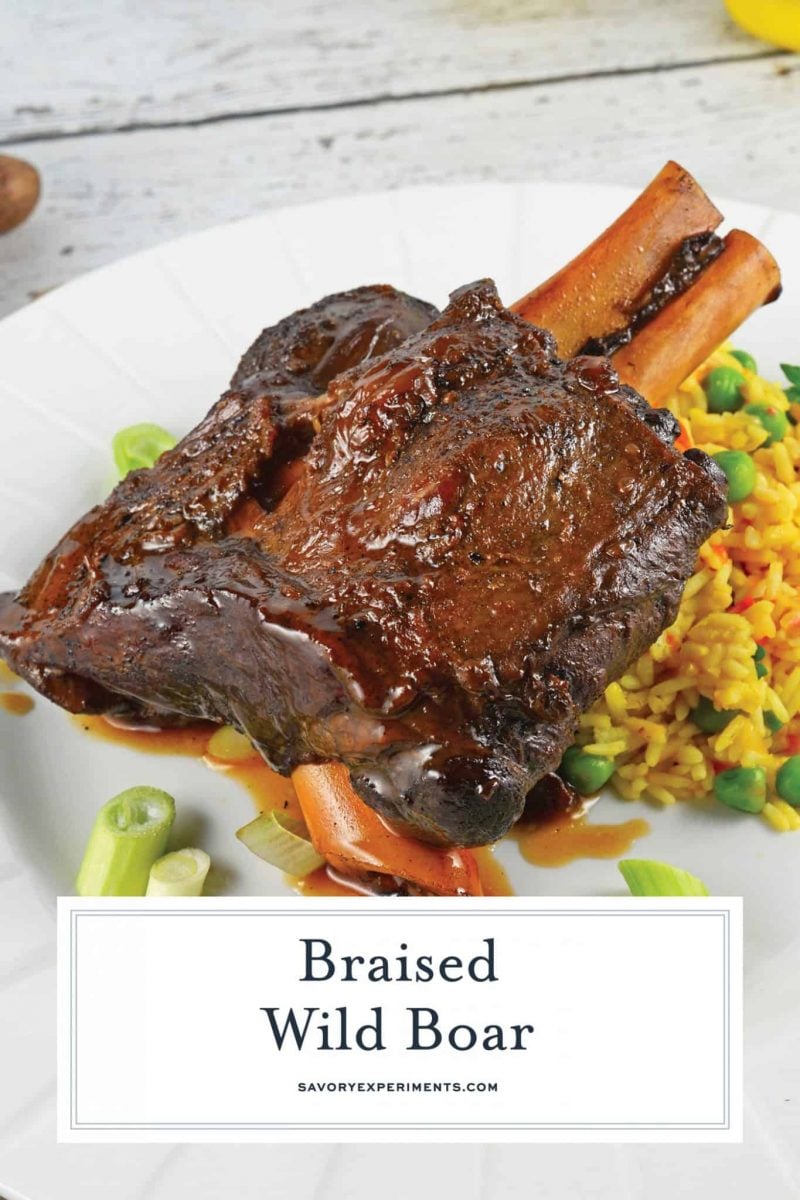 Tools for making Braised Wild Boar Shanks:
Dutch Oven– every kitchen should have one! They are heavy. They are expensive. They are worth it!
Fat Separator– This is the best tool for making rich sauces. It will help you separate out the grease, fat and gunk resulting in a flavorful sauce.
Easy side dish recipes to serve with your Braised Wild Boar: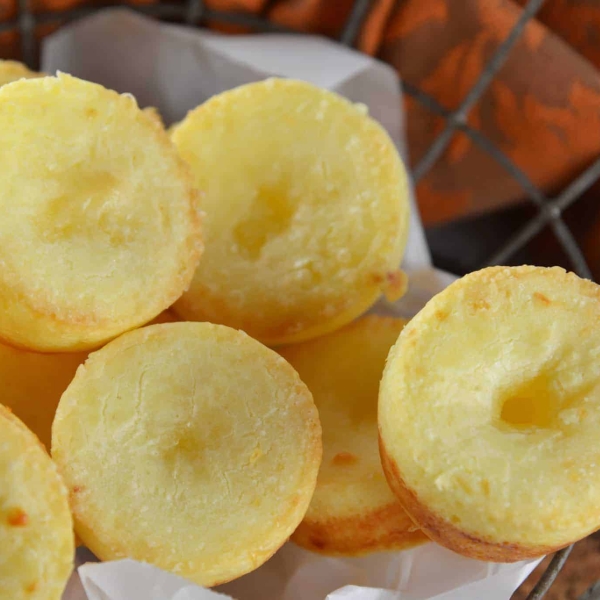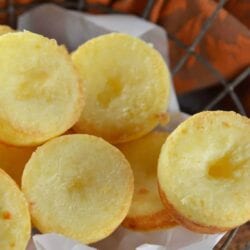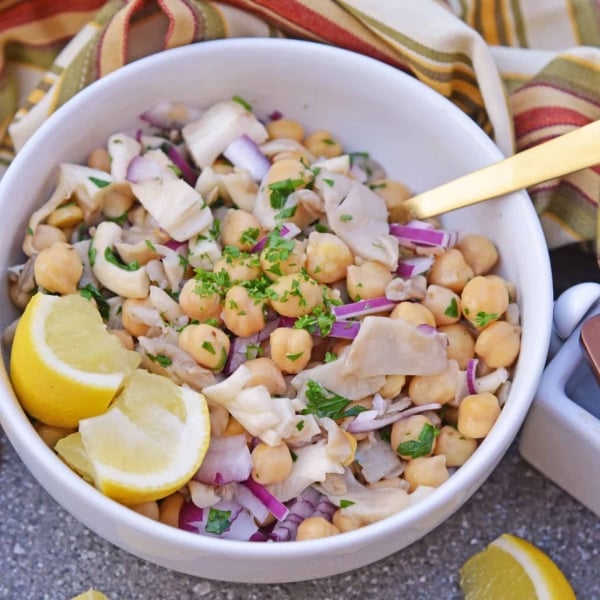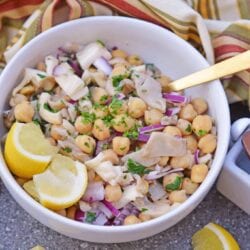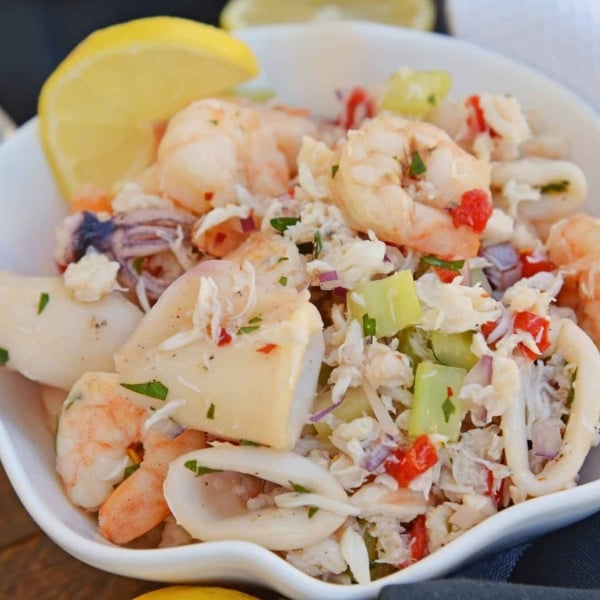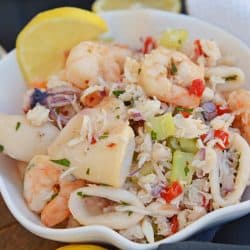 Italian Seafood Salad
Made with shrimp, calamari and lump blue crab meat, this Italian Seafood Salad is one of the easiest but most delicious seafood salad recipes you'll ever make. Perfect as an appetizer or light meal!
See The Recipe!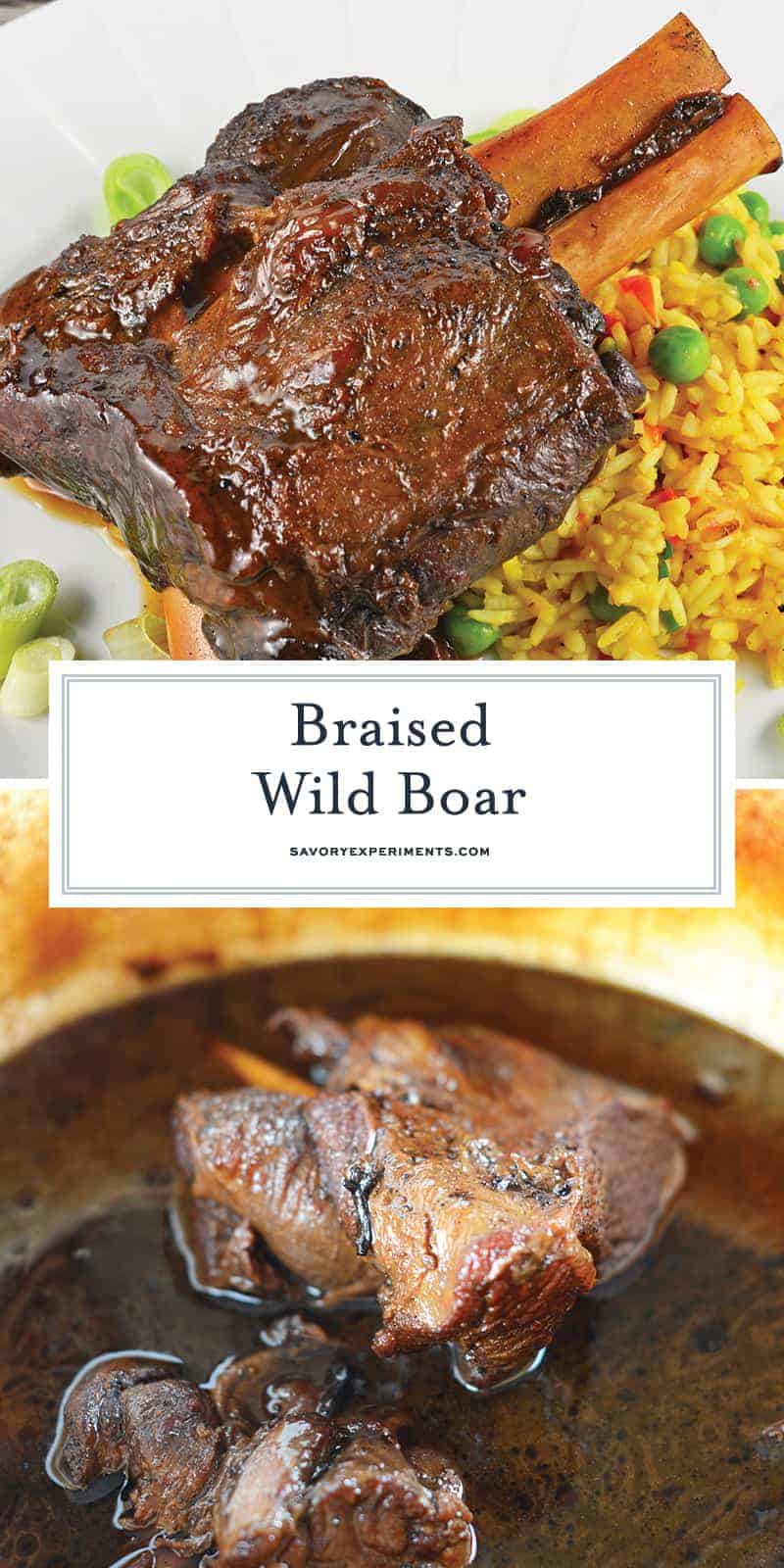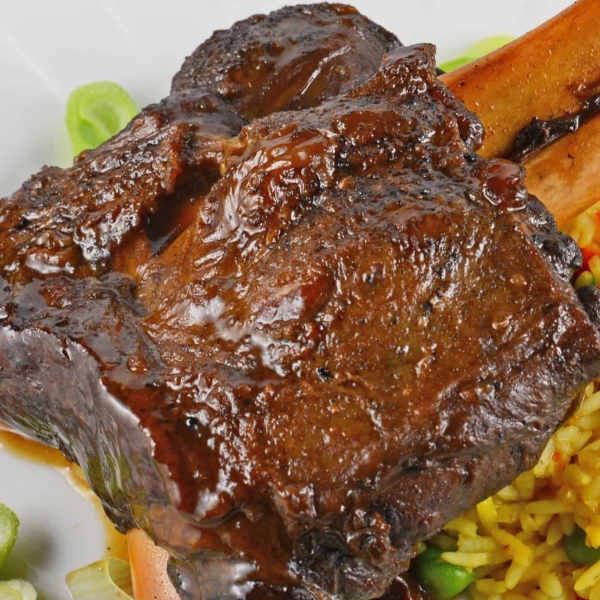 Braised Wild Boar Shanks Recipe
Braised Wild Boar Shanks are a sophisticated and exotic meal, ideal for special occasions and dinner parties. Lean and healthy with loads of rich flavor.
Instructions
Preheat oven to 350 degrees.

Rinse your boar shanks well and pat dry. Any excess moisture will prevent browning.

Generously season with fine sea salt and freshly ground pepper.

Heat olive oil over high heat in a large enamel pot or Dutch oven. Working with 1 shank at a time, lightly brown each side of the shanks (about 6-8 minutes total). Because they are so oddly shaped, this might take some creative maneuvering with the tongs to get all angles. Remove, set aside and repeat with remaining shanks.

Reduce heat to low and deglaze pan with red wine, scraping up all of the browned bits. Add garlic through brown sugar, stirring to combine. Mixture will be fragrant. Add boar shanks and add just enough water to cover the meat (about 4-5 cups).

Bring mixture to a low boil. Cover and place in the oven. Reduce heat to 300 degrees.

Braise for 2-3 hours or until meat registers at 180 degrees. Sizes vary greatly, so aim for temperture versus time.

Remove pot from oven and fish out the boar shanks and set aside. Run liquid through a fine mesh sieve, then transfer to a fat separator. Transfer liquid to a medium sauce pan.

Bring to a boil and then whisk in 2 tablespoons cornstarch dissolved in 1 tablespoon water and 1 tablespoon butter. Whisk until the mixture thickens.

Serve with rice and a ladle of sauce.

If you've tried this recipe, make sure to come back and let us know!
Notes
Purchase one foreshank per person.
Nutrition
Calories:
793
kcal
,
Carbohydrates:
120
g
,
Protein:
32
g
,
Fat:
17
g
,
Saturated Fat:
5
g
,
Cholesterol:
15
mg
,
Sodium:
4339
mg
,
Potassium:
925
mg
,
Fiber:
1
g
,
Sugar:
105
g
,
Vitamin A:
175
IU
,
Vitamin C:
3.7
mg
,
Calcium:
197
mg
,
Iron:
5.8
mg