Long gone are the days of chopping up your cabbage and just throwing it in the slow cooker. Oh no. Now we have fancy cabbage salads, cabbage slaw, and even cabbage rolls. But what about cabbage steaks?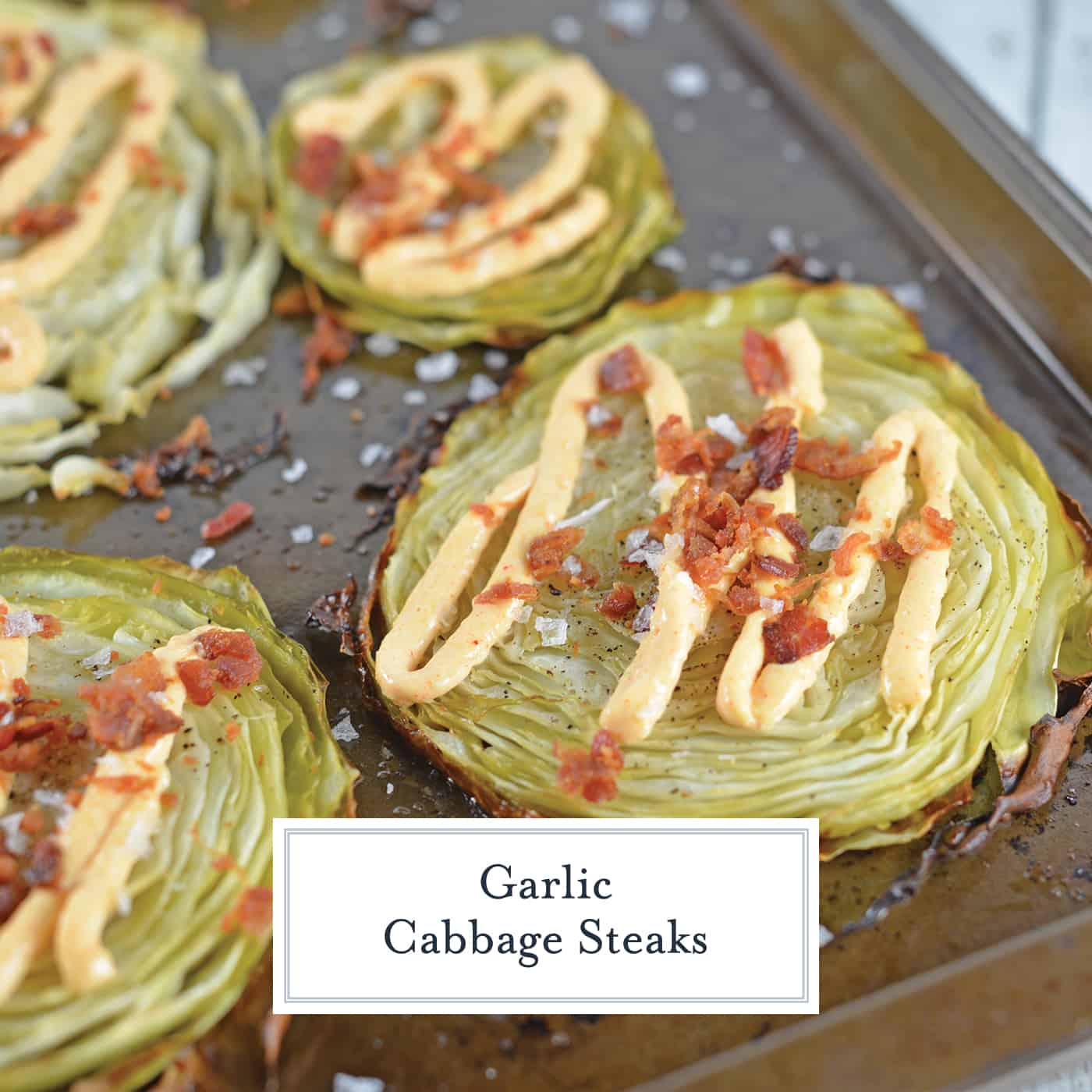 Garlic Cabbage Steaks are caramelized to perfection and then topped with a garlic and smoked paprika aioli, bacon, and sea salt. Serve them with any meal, especially corned beef!
With slightly less preparation time (cutting or chopping) and hands-off cooking, they are the perfect way to get your family to eat their veggies while saving you time and aggravation.
Garlic Cabbage Steaks are thinly sliced, rubbed with fine sea salt, black pepper, and extra virgin olive oil before roasting in the oven.
While in the oven, the sugars in the cabbage slowly caramelize on the edges, giving them a slightly sweet bite and accentuating their natural cabbage flavor.
And while I did everything I could to bring out the natural cabbage flavor, I felt it needed a little something more. I wanted to beef up the flavor game so to speak.
How about a garlic and smoked paprika aioli? Yes! Aioli can be a game changer for lackluster dishes and although my cabbage steaks didn't lack any luster per se, they still needed a little something to create layers of sophisticated flavor.
Aioli is simply a fancy word for flavored mayonnaise. Mayonnaise flavored with garlic to be more specific. From there, you can add even more flavor, but garlic is the base.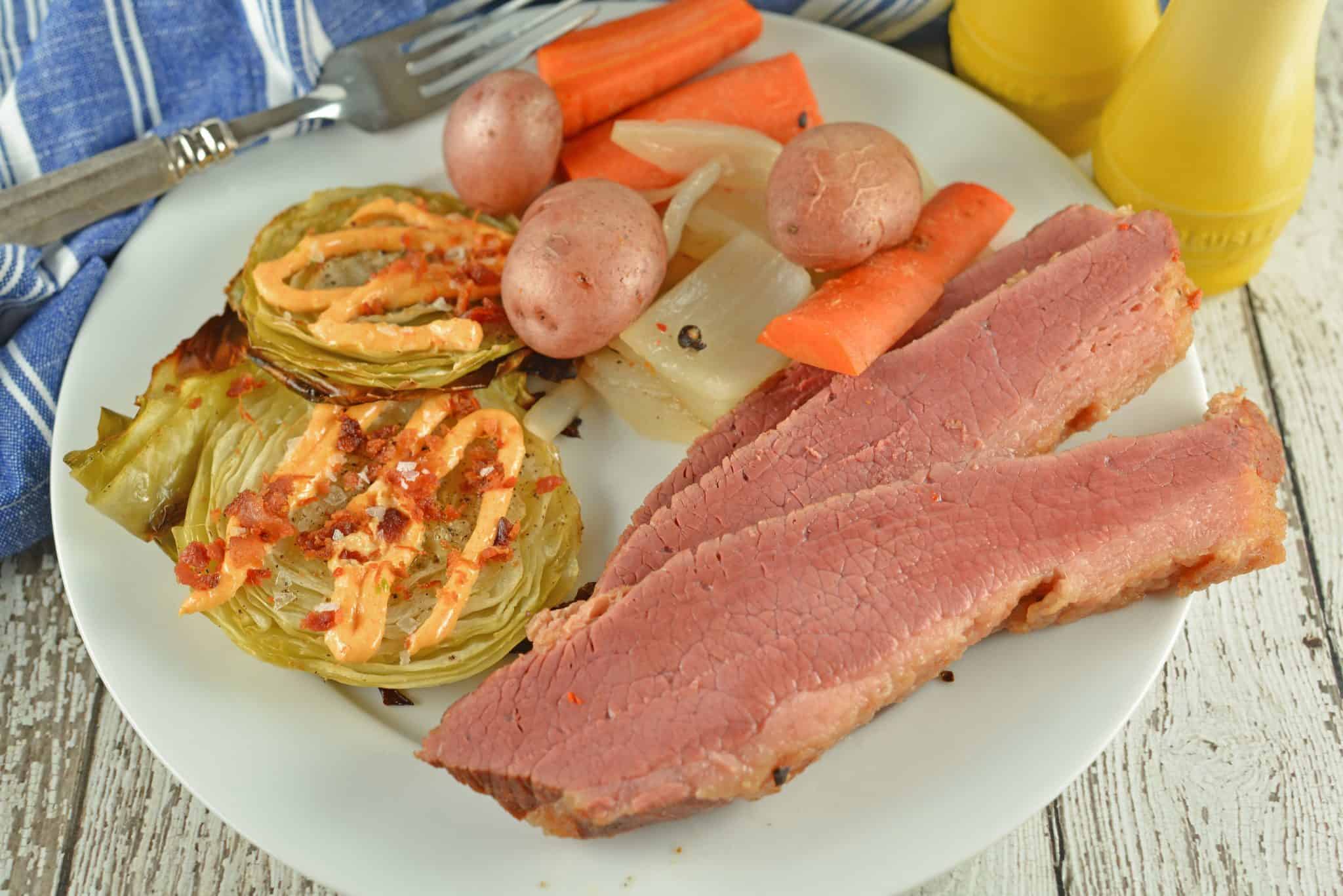 While I like making my mayo from scratch (it only takes 5 minutes in the blender) you can also use the store-bought version of your choice. I find the olive oil-based mayonnaises have much better taste, but again the choice is yours.
Next, you'll need a small food processor. You can finely mince your garlic and just mix by hand, but this mini food processor makes it a whiz. It is probably also the most used appliance in my kitchen.
If you don't have one, I strongly suggest the small splurge. The investment is well worth it!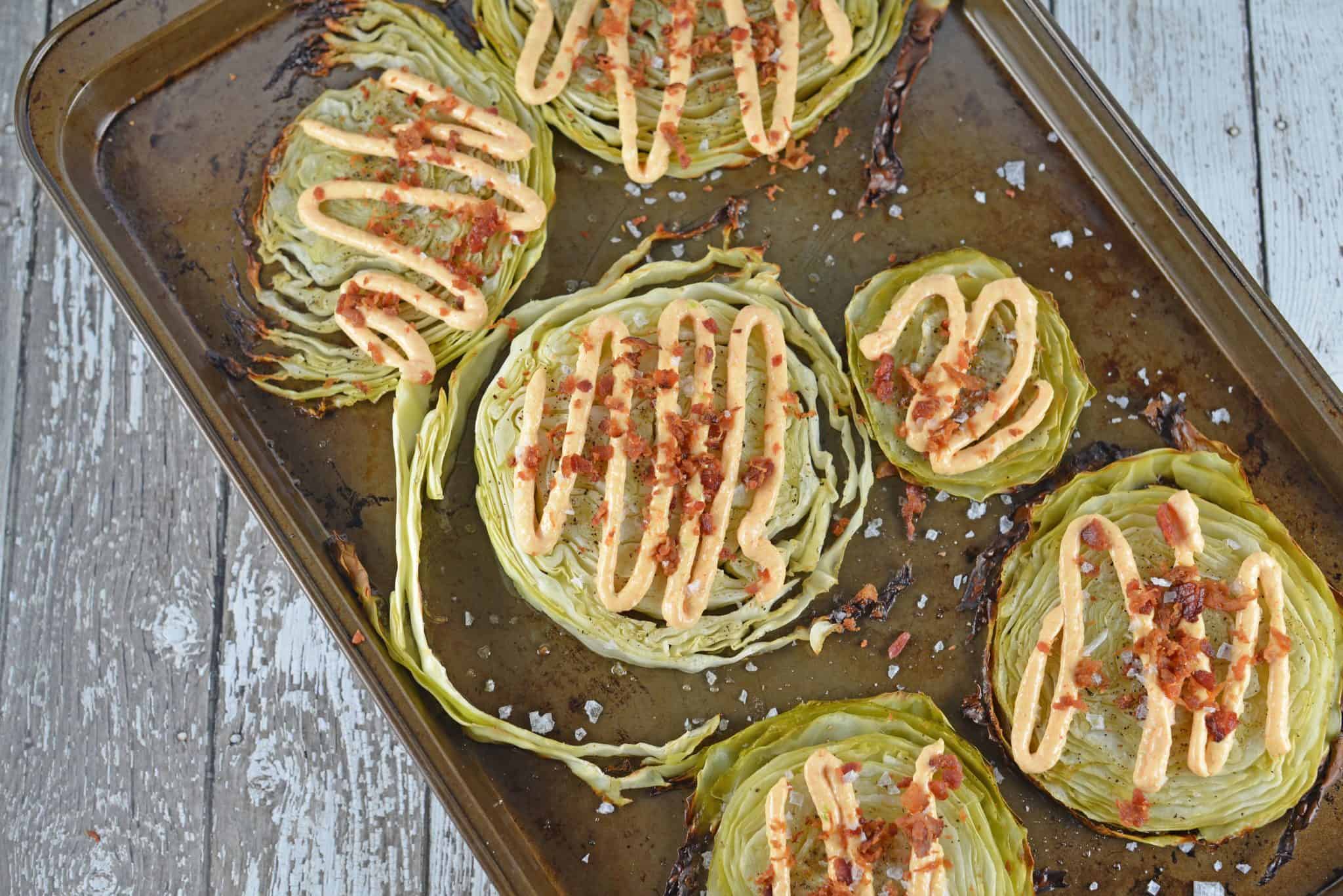 So the addition of the smoky and garlicky aioli was a fantastic addition, but I still wanted more for my cabbage steak masterpiece! I think you know where I went with this.
BACON! Of course, I added bacon.
I have said it before and I will say it again, bacon makes everything taste better. Crisp up a few slices in the pan or even in the oven, give them a good chop and you have a heck of a topping for these cabbage steaks.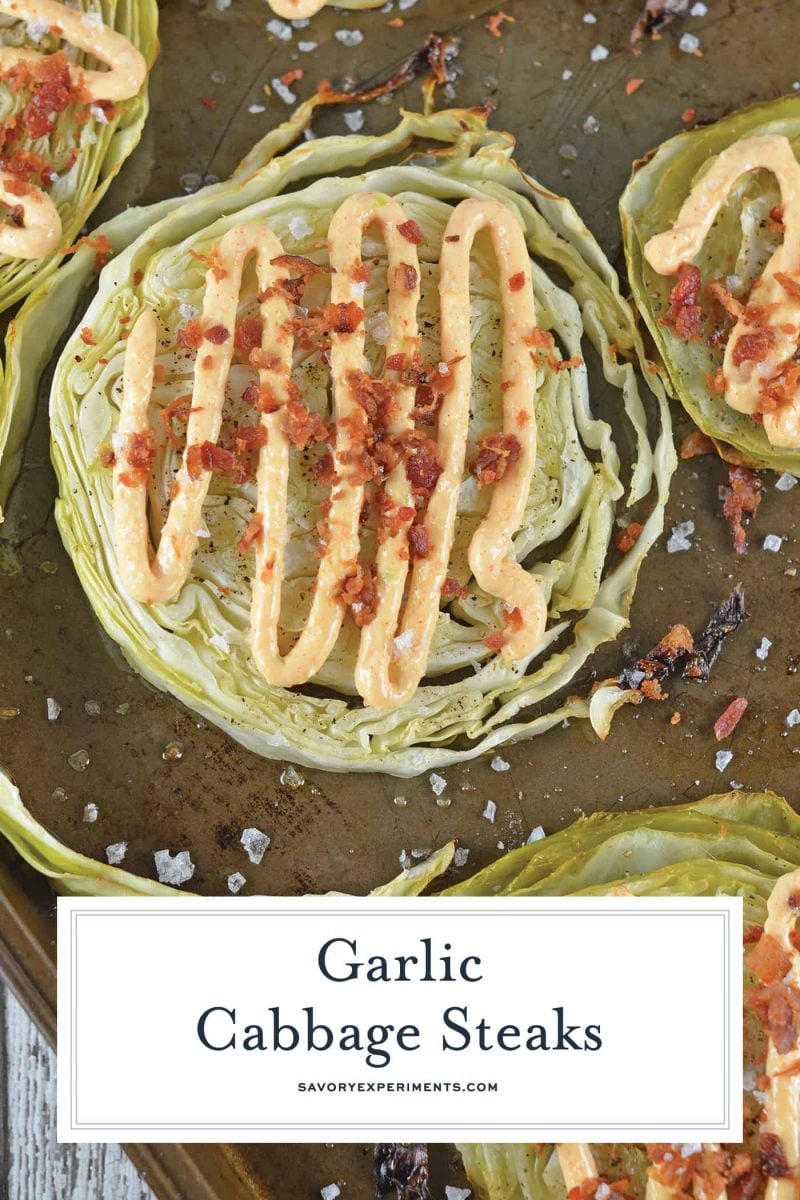 While I served my Garlic Cabbage Steaks very traditionally with my home-cured Corned Beef, you can pair yours year-round with any number of dinner recipes: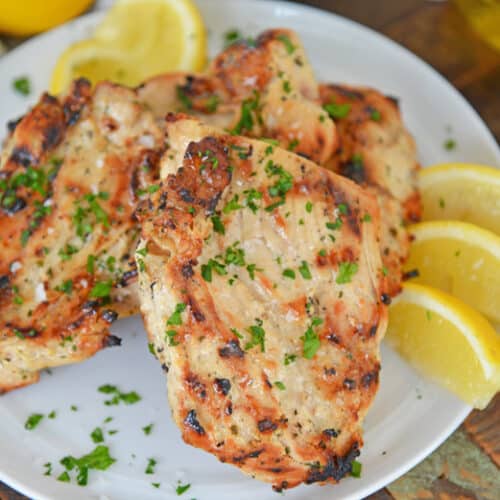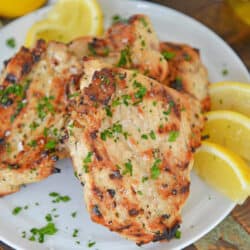 Ranch Grilled Chicken
Fire up the grill and make this delicious and juicy Ranch Grilled Chicken for dinner tonight! The best part? You only need 5 ingredients!
View this recipe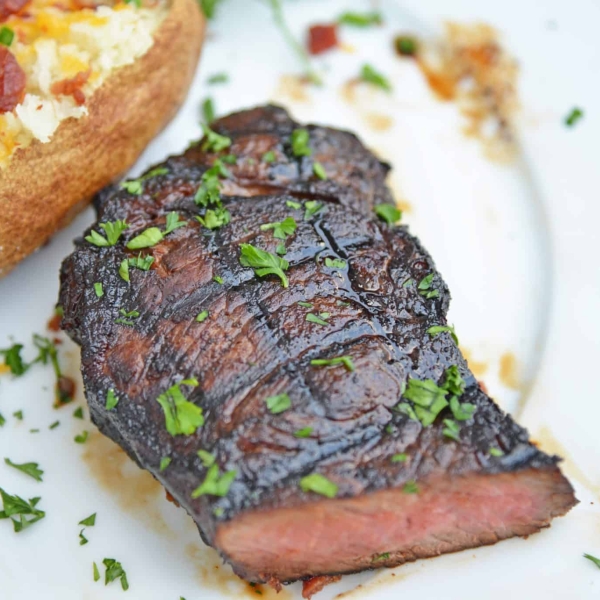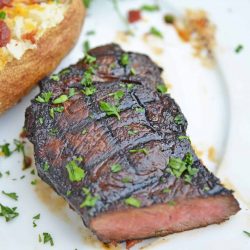 BEST Steak Marinade
The BEST Easy Steak Marinade will be the only marinade you ever use in the future!
View this recipe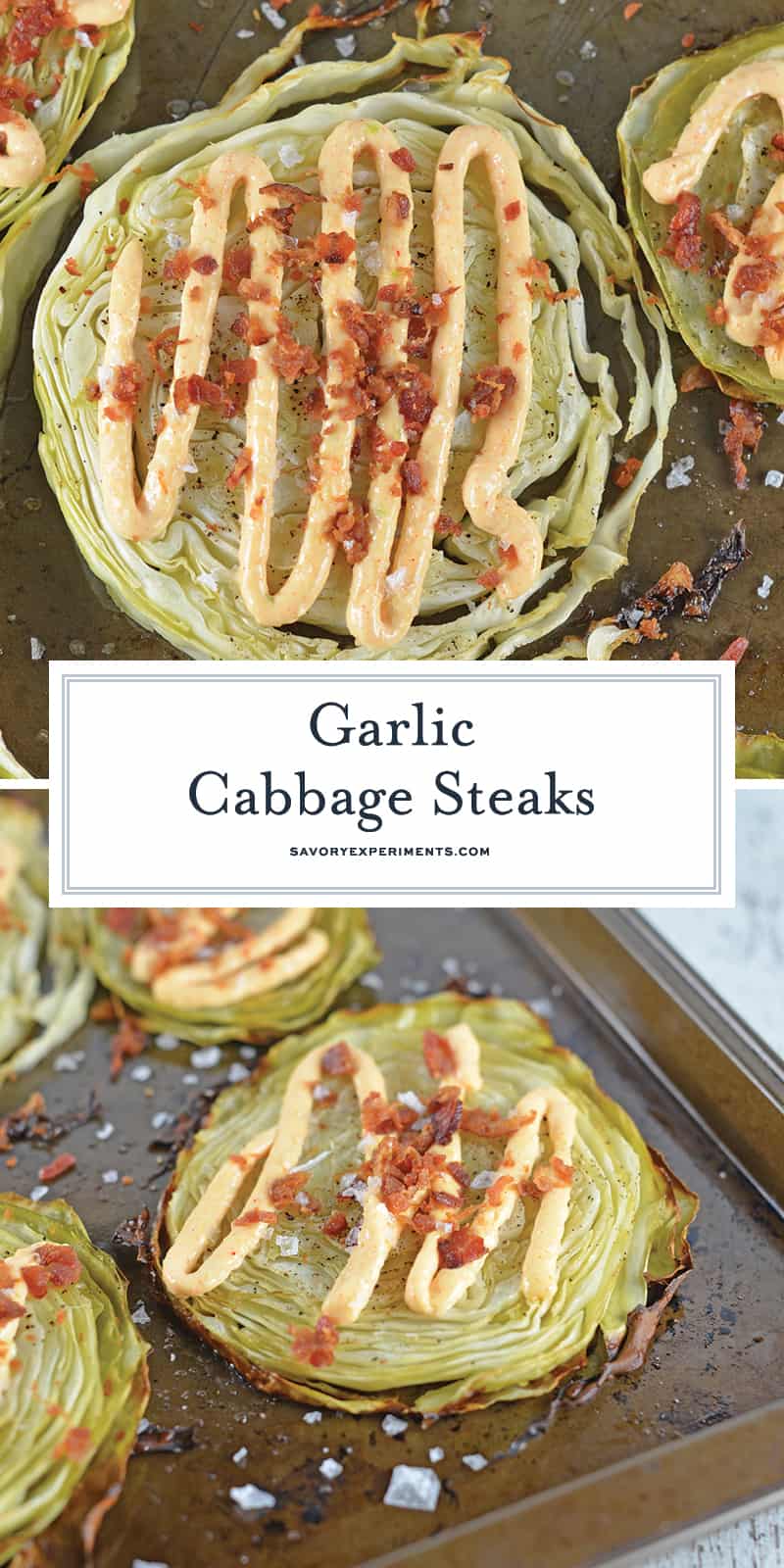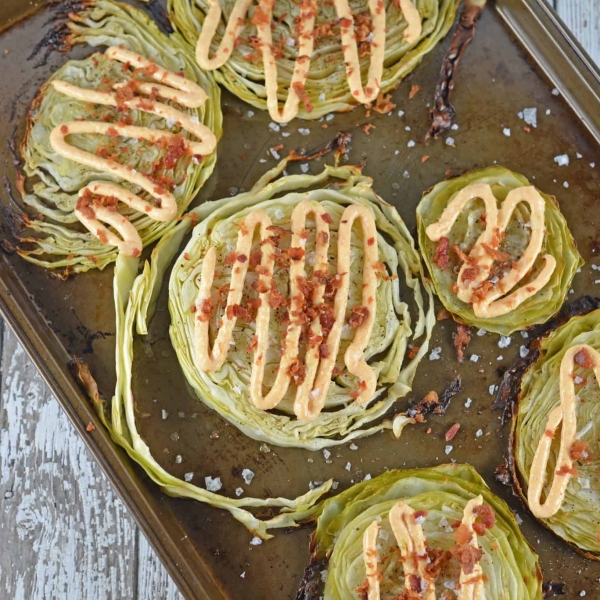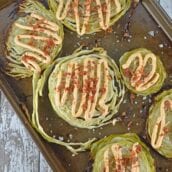 Garlic Cabbage Steaks
Garlic Cabbage Steaks are roasted to perfection, then topped with a garlic and smoked paprika aioli, bacon and sea salt. Serve with any meal, especially corned beef!
Instructions
Preheat oven to 350 degrees.

Cut cabbage into 1 inch slices, cutting horizontally. Place on a baking sheet in a single layer.

Drizzle extra virging olive oil over cabbage steaks, spreading out with a basting brush. Season with fine sea salt and ground black pepper.

Bake for 15-18 minutes, or until outside leaves are turning brown and caramelizing.

While cabbage steaks cook, place all ingredients for aioli in a small food processor and blend until smooth.

When cabbage steaks are cooked, top with aioli and crumbled bacon.

If you've tried this recipe, come back and let us know how it was!
Nutrition
Calories:
360
kcal
,
Carbohydrates:
14
g
,
Protein:
4
g
,
Fat:
32
g
,
Saturated Fat:
5
g
,
Cholesterol:
19
mg
,
Sodium:
438
mg
,
Potassium:
419
mg
,
Fiber:
5
g
,
Sugar:
7
g
,
Vitamin A:
425
IU
,
Vitamin C:
84
mg
,
Calcium:
96
mg
,
Iron:
1.3
mg