I know what you are thinking- you might have even made a face when you saw a butter ice cream recipe. But if you've had butter pecan, you've already enjoyed it and now that we normalized the experience, know that a plain butter ice cream is an excellent complement to nearly any dessert dish.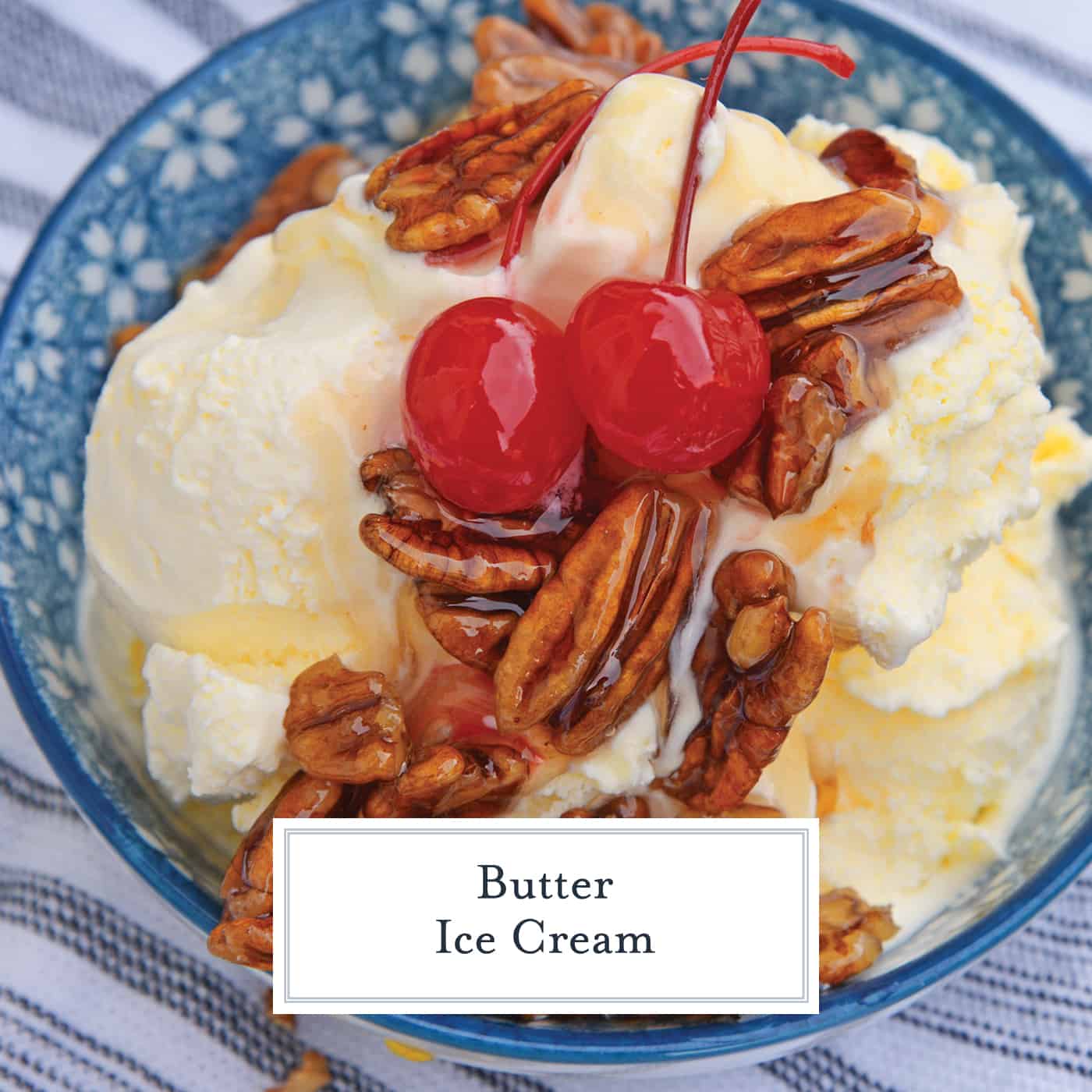 Homemade Ice Cream
This recipe for ice cream is homemade and does require the use of an ice cream maker. No, there isn't really a way to do it no churn.
Ice cream from an ice cream maker uses a cream or egg (custard) base. Custard bases typically have a much thicker and richer final texture than no churn or plain cream. They are all tasty, but surely serve up a different experience.
No churn ice creams use sweetened condensed milk, which is condensed milk with a lower water level that has been combined with sugar so it is sweet. It makes a lighter and less creamy ice cream, but also cuts out several steps.
Ingredients
The ingredients you'll need for butter ice cream are short, but the order in which you combine them is imperative, as is the temperatures, but more on that in the "how to make" section.
Heavy Cream – feel free to use heavy cream or heavy whipping cream, but not half & half or milk.
Sugar– just plain granulated sugar. You can opt for brown sugar if you want a molasses flavor, but I prefer the all-butter myself.
Salt– Use a coarse Kosher salt. If you are using a finer salt, cut volume in half. If your salt is too fine you'll go past the sweet and salty perfection and straight to "holy SALT!"
Eggs– Grab pasteurized eggs if you are worried, but these are tempered and frozen, so they are perfectly safe. Use only egg yolks, so find some good meringue recipes for the whites or just toss them into an omelette or egg casserole.
Butter– this gets its own section, see below.
Butter Extract– Extract is optional and only needed if you are using a low quality butter. You can also give a dash of vanilla extract. Neither are needed if you are using a good European butter.
Butter Is Not Created Equal
There are different price points because there are different calibers of butter. You can grab the store brand and get just a hint of real butter flavor and then you can get a cultured European and your eyes will light up with butter joy. I'm also going to admit that I totally judge restaurants on their butter.
American butters are about 80% fat and made with American dairy cows, which are a different breed and also eat different native grasses. European butters are 83-86% fat and made with a different breed of cow eating their own native grasses.
European butter typically has more flavor, darker color and richer texture and consistency. As well as higher smoke point. American butters are paler with less pungent flavors. Cultured butter is made with a fermented cream so it has a little tang to it, similar to yogurt.
This doesn't mean that European, or even cultured butter, is better than American, it simply means that they are going to be used for different things. In ice cream that demends a heavy, butter forward flavor, I opt for a non-cultured European butter.
If you can only get your hands on American butter, add a a little butter extract to amplify the natural flavors.
Why Not Melt the Butter?
I've tested this recipe using melted butter and even clarified butter, but ultimately, adding a soft, room temperature gave the best smooth results.
If you add it melted, it starts to separate out the fats when cooling again, which make little pockets of flavor bombs and almost make little chips. They are good, but noticeable. I was aiming for smooth.
Clarified butter takes out all of the milk solids and you are left with ghee. This is great when you need a higher smoke point, but not when you are literally making a churned dairy product- you need the dairy to get the rich texture and taste.
When you add the soft butter to the ice cream base, it will be clumpy and weird. It will not totally combine, don't worry. After adding it all to the ice cream maker, it will start to combine while churning and fully incorporate. Make sure it is nice and soft before adding it. If it is too hard, it won't combine.
Learn how to soften butter fast.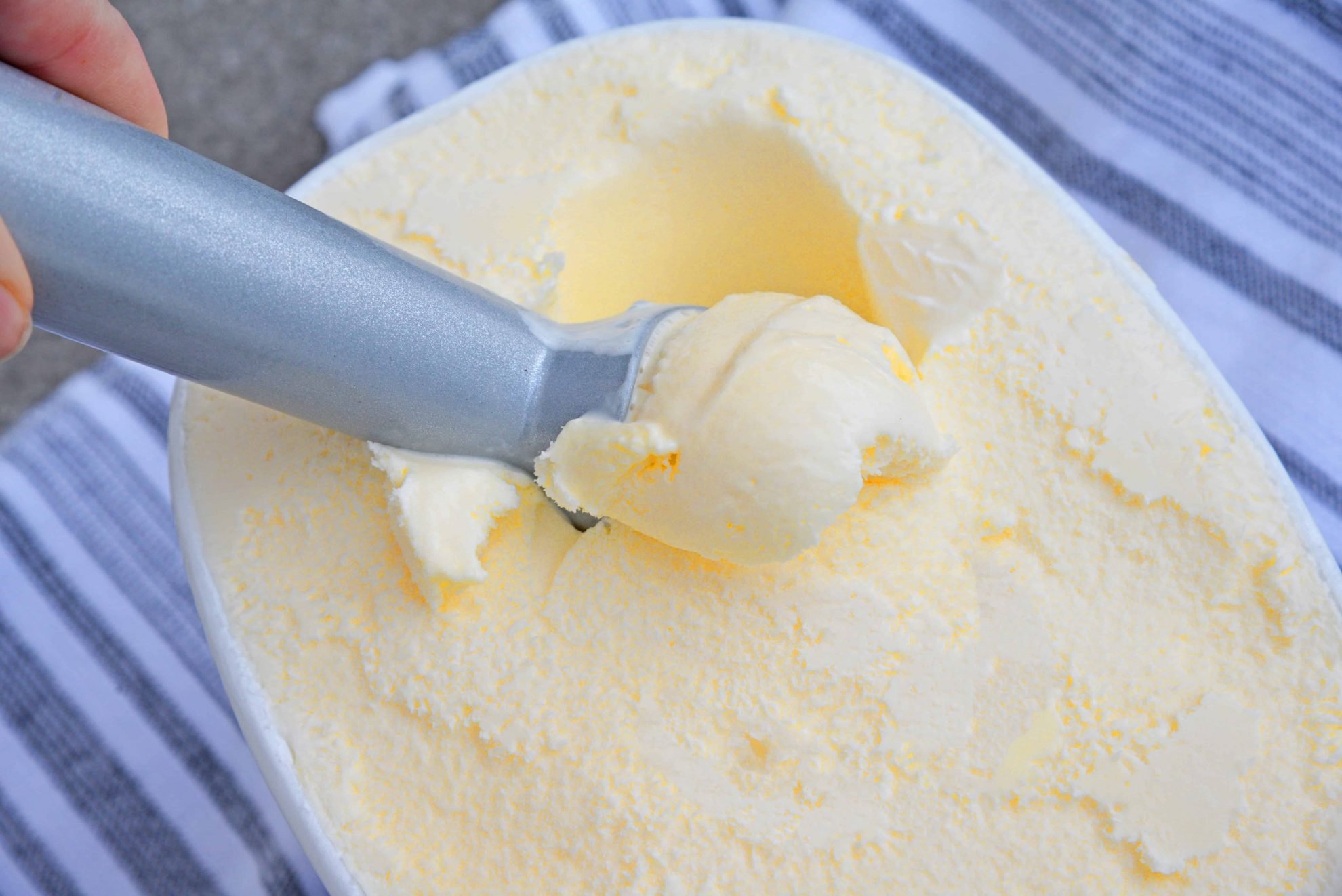 How to Make
Making it is easy, but again like the temperature of the butter, heat is the key. That and planning ahead…
This is by far the hardest step and the most crucial- put the ice cream maker bowl upside down in the freezer for at least 24 hours. Do not skimp on the hours, go for 48 if you can. I know, planning it tough!
Make the base. Over low heat, whisk together cream, sugar and salt. Only use a coarse salt and omit if your butter is fairly salty. Heat until sugar dissolves, but no longer. Remove from heat.
Temper in eggs to make the custard base- this means adds just a small bit of hot liquid to the whisked egg yolks while whisking. If you addit while it isn't moving, or too much, you'll end up with scrambled eggs. Slowly add eggs to the warm cream and whisk continuously.
Add softened butter to the mixture, knowing that it will likely be clumpy and won't full blend.
Transfer to the bowl of your ice cream maker and churn for 30 minutes.
Slowly, the butter will incorporate into the custard base seamlessly.
After blended, transfer to a freezer safe vessel, like a bread loaf pan. Cut a piece of parchment paper to cover the top, preventing ice crystals and freezer burn. Cover with aluminum foil.
Freeze for 12-24 hours before enjoying.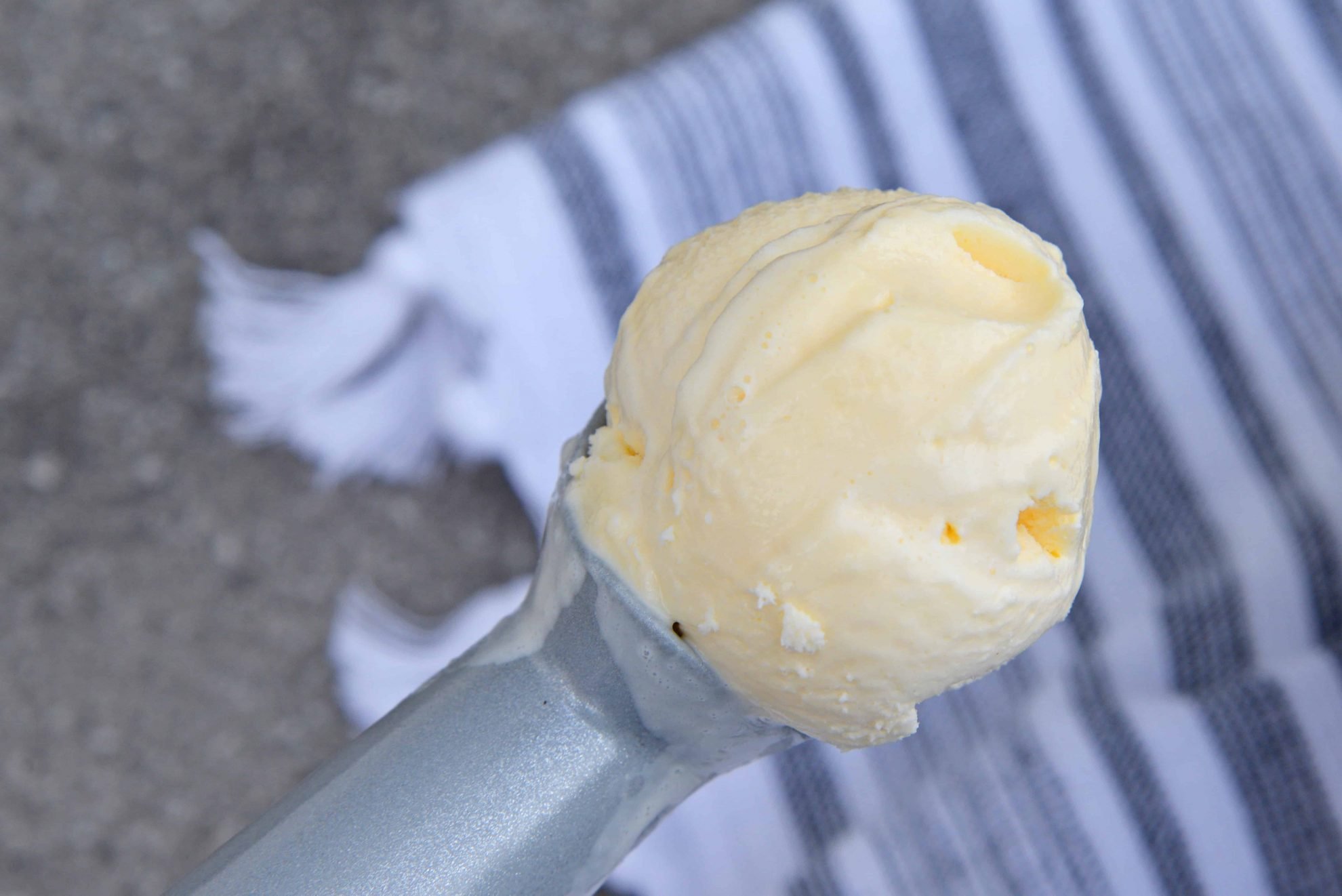 What to Serve It With
Basically anything that you'd serve vanilla ice cream with, you can swap for butter ice cream. Make it into a brownie fudge sundae or on the side of chocolate mayo cake.
My favorite is with Butterscotch Blondies.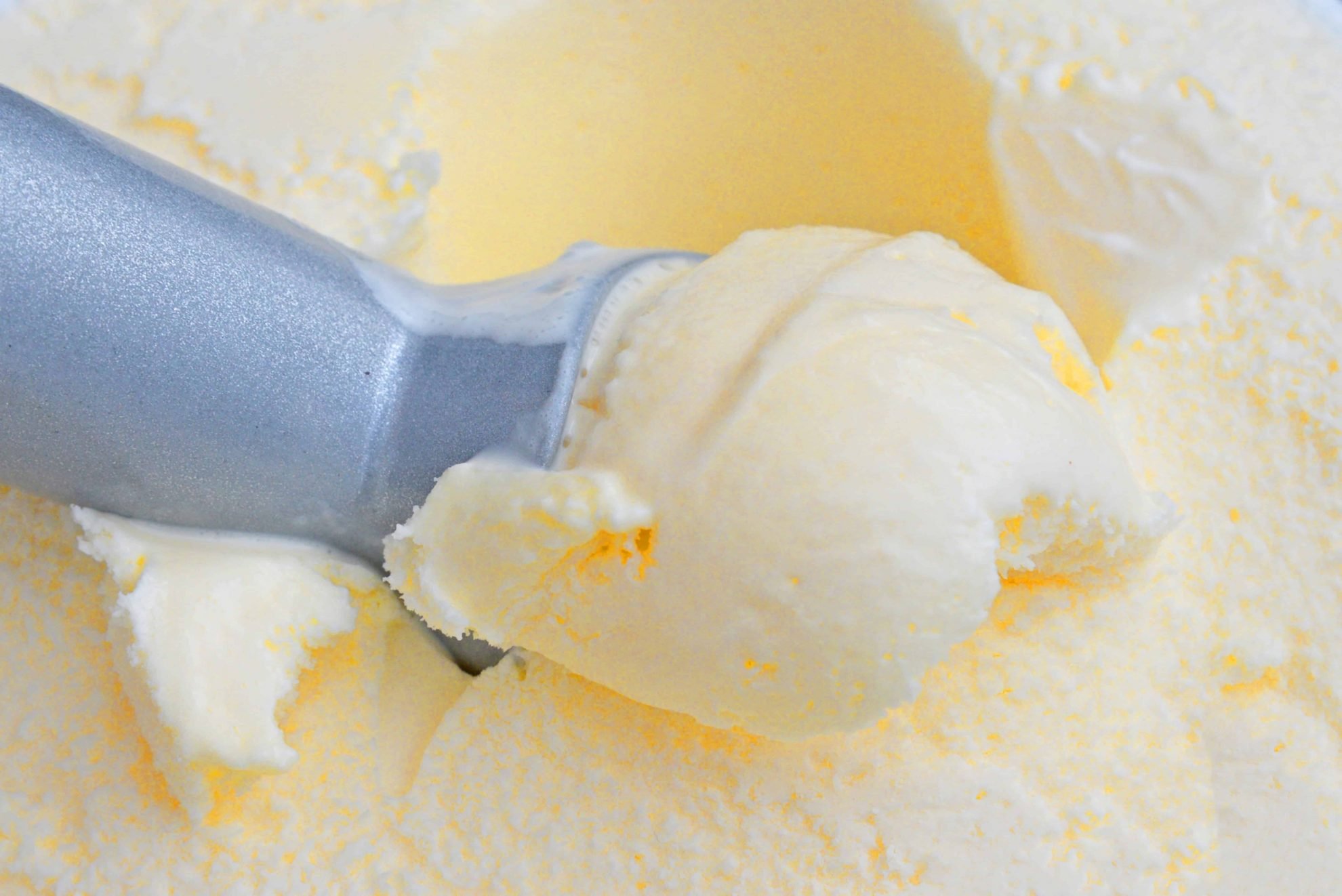 Pro Tip: Run ice cream scoop under hot water before scooping frozen ice cream to make it easier.
Check out these other easy ice cream recipes: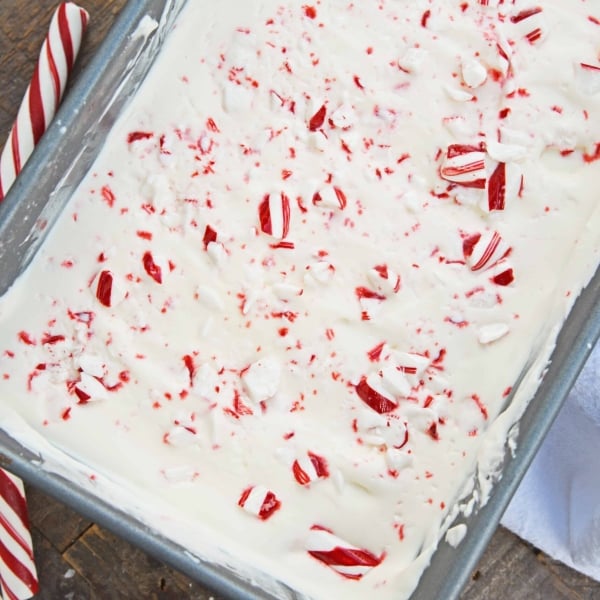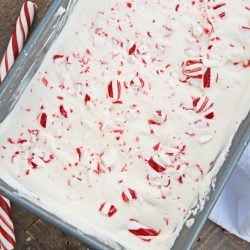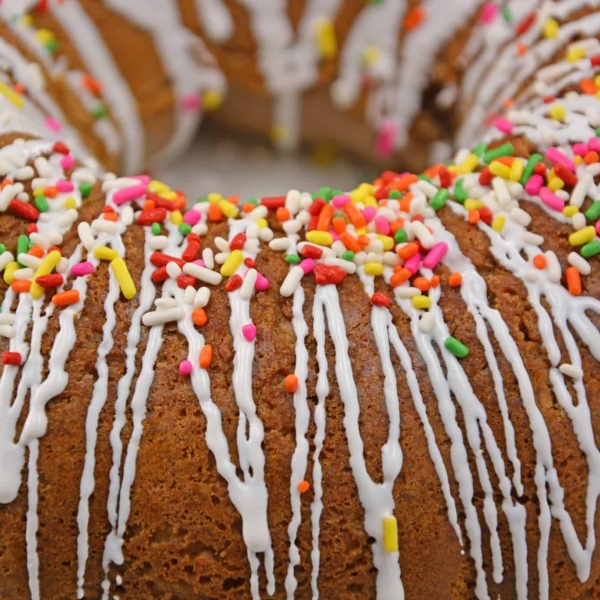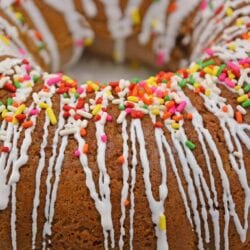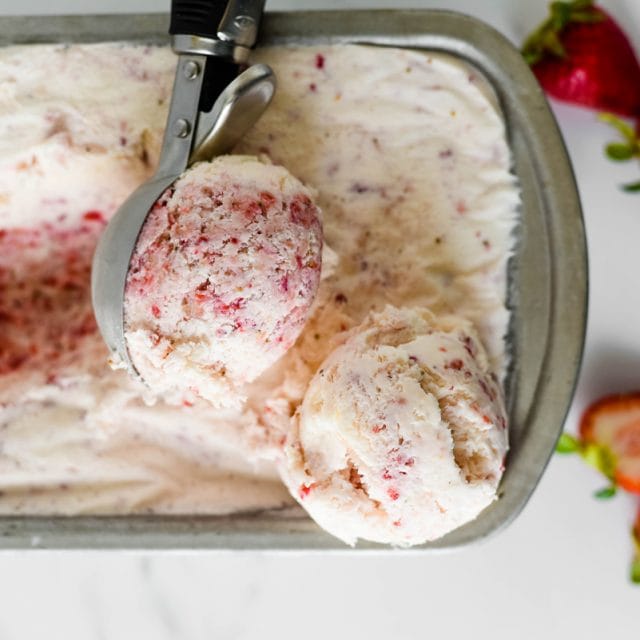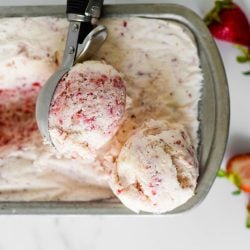 No Churn Strawberry Ice Cream
This homemade Strawberry Ice Cream is an easy no churn ice cream recipe. With great real strawberry flavor and a luscious, creamy texture, you won't believe how simple this is to make!
See The Recipe!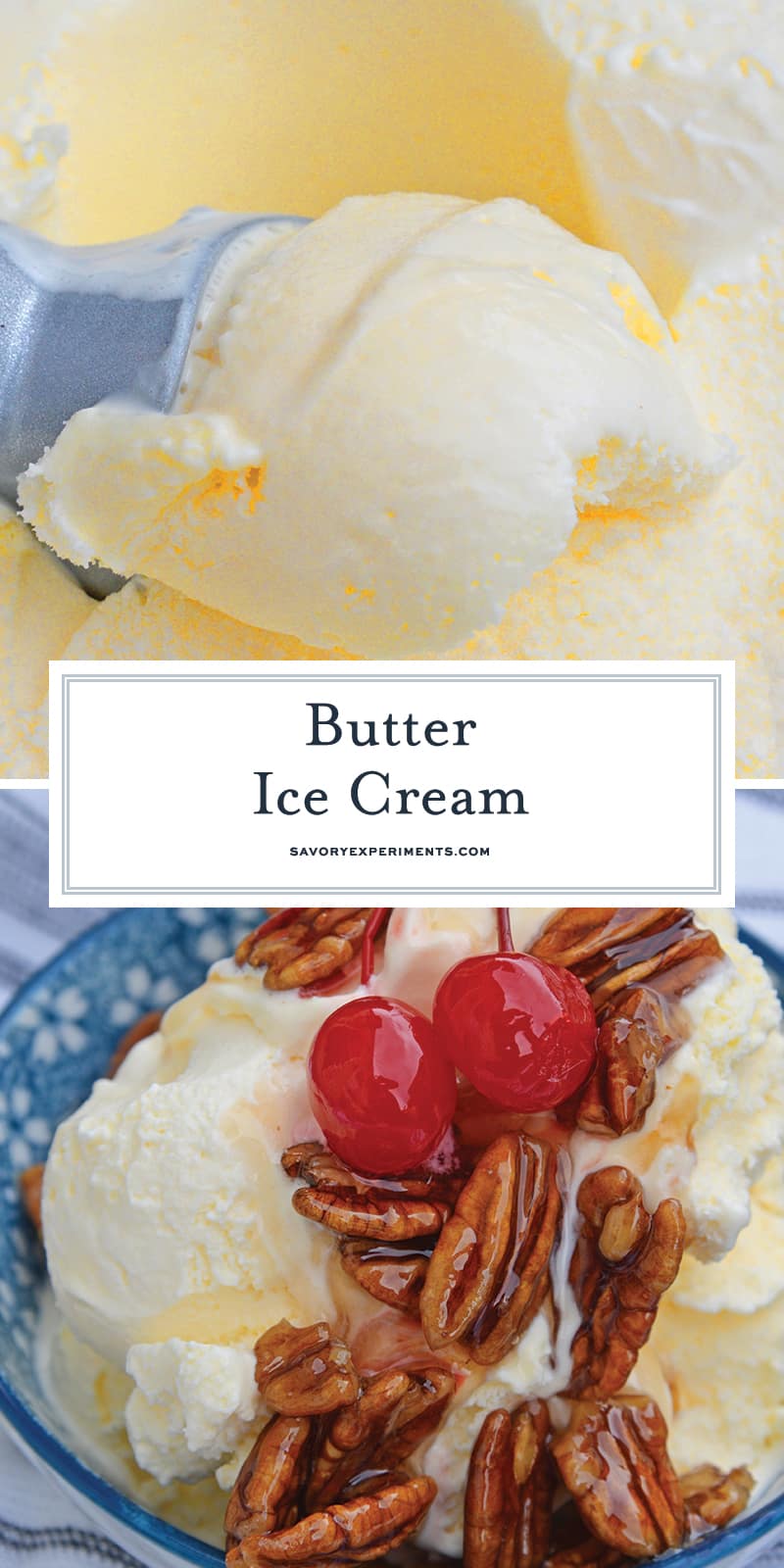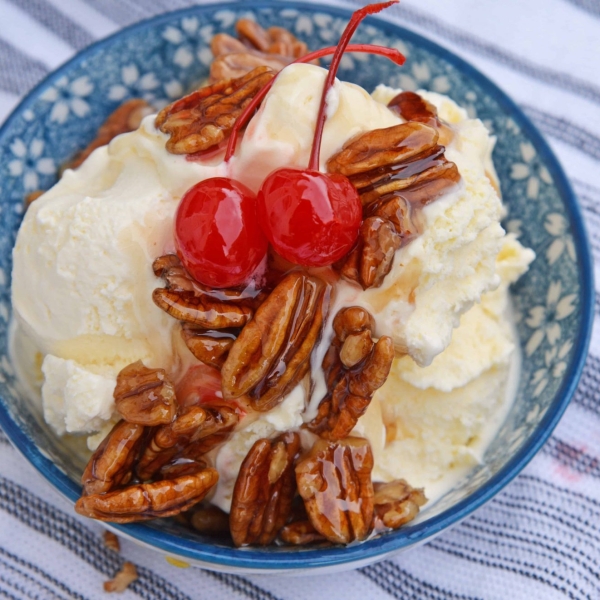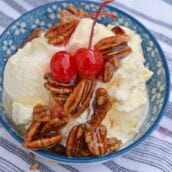 Butter Ice Cream
Velvety butter ice cream.
Instructions
Prepare your ice cream maker, which can take up to 24 hours for proper freezing.

In a medium saucepan, heat cream, sugar and salt over low heat. Whisk until sugar has dissolved. Remove from heat.

Whisk egg yolks until they are mixed and lighten in color.

Temper in egg yolks, meaning that you'll want to whisk together a small amount of warm cream mixture with eggs and then while vigorously whisking, slowly add cream to prevent clumping and cooking eggs.

Add softened butter to the mixture, stir as best you can, but know that it will be largely clumpy. If you are using a low quality butter or just really want a BAM butter flavor, add butter extract.

Pour mixture into the ice cream maker and churn for 30 minutes or until fully combined. The butter should blend into the mixture naturally.

Spoon into an airtight container and place in the freezer to harden to ice cream consistency.

If you've tried this recipe, come back and let us know how it was in the comments or ratings.
Nutrition
Calories:
407
kcal
,
Carbohydrates:
21
g
,
Protein:
3
g
,
Fat:
36
g
,
Saturated Fat:
22
g
,
Trans Fat:
1
g
,
Cholesterol:
209
mg
,
Sodium:
274
mg
,
Potassium:
58
mg
,
Sugar:
19
g
,
Vitamin A:
1354
IU
,
Vitamin C:
1
mg
,
Calcium:
54
mg
,
Iron:
1
mg