Creamy vanilla ice cream filled with oreo cookie crumbs and chunks of crunchy cookies. Your new favorite ice cream.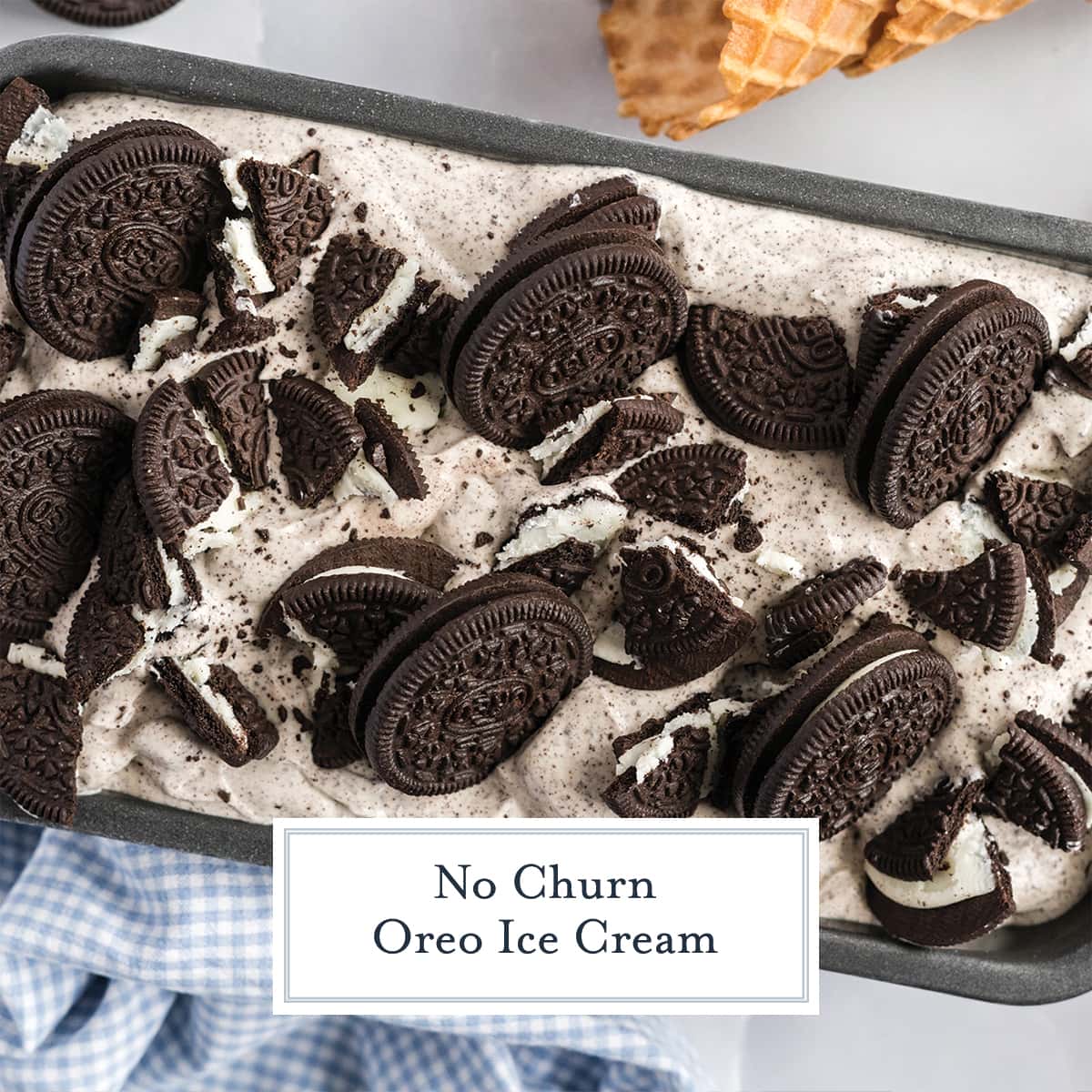 This No-churn method requires only four simple ingredients and no special equipment making it easier than ever to have homemade Oreo Ice Cream whenever you want!
Oreo Ice Cream Recipe without An Ice Cream Maker
There is really nothing better on a hot day than a nice bowl of ice cream. And homemade ice cream is even better.
No-churn ice cream is simple to make, requires just a few ingredients, and there are endless flavor combinations.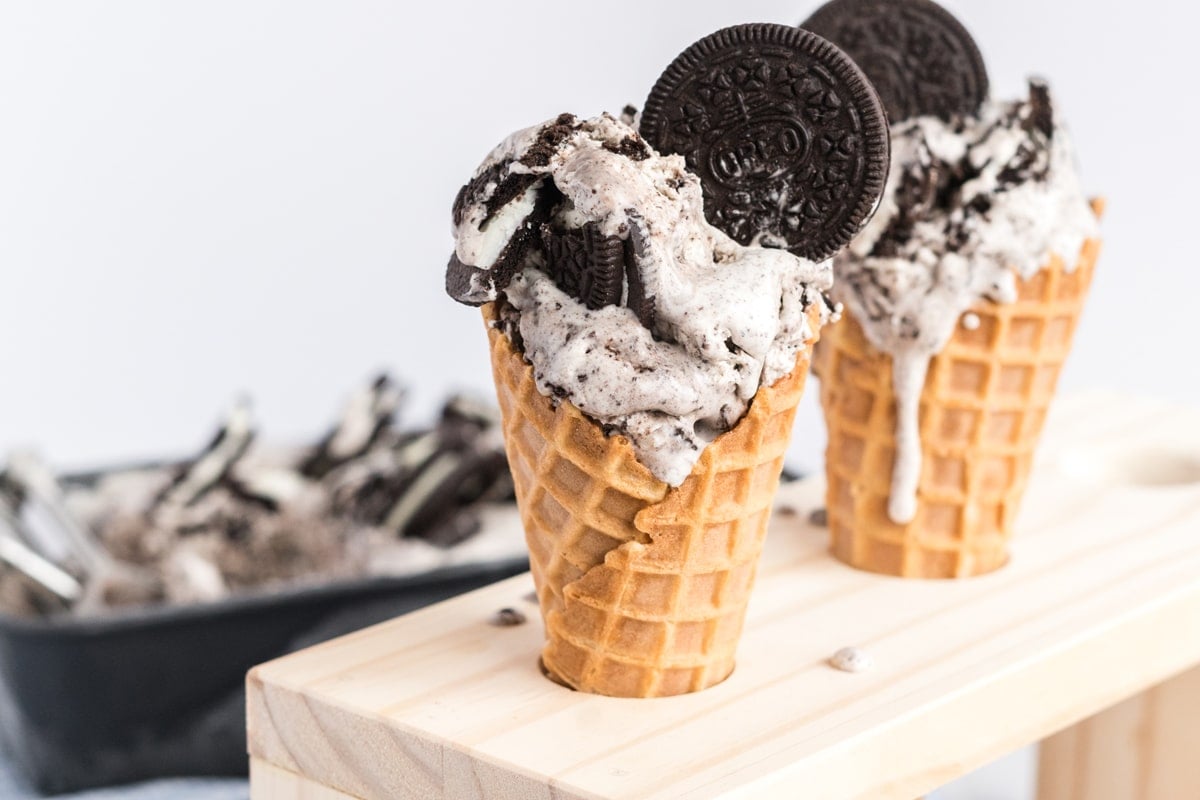 This oreo ice cream, with the familiar cookies and cream flavor, is always a favorite and you can get creative with it and use any of the unique or limited edition oreo flavors as well.
Because no churn ice cream doesn't require any cooking or special equipment it is a fun recipe to get the kids involved with and they will enjoy coming up with new flavor combos.
Ingredients
You only need four ingredients in order to make this homemade oreo ice cream.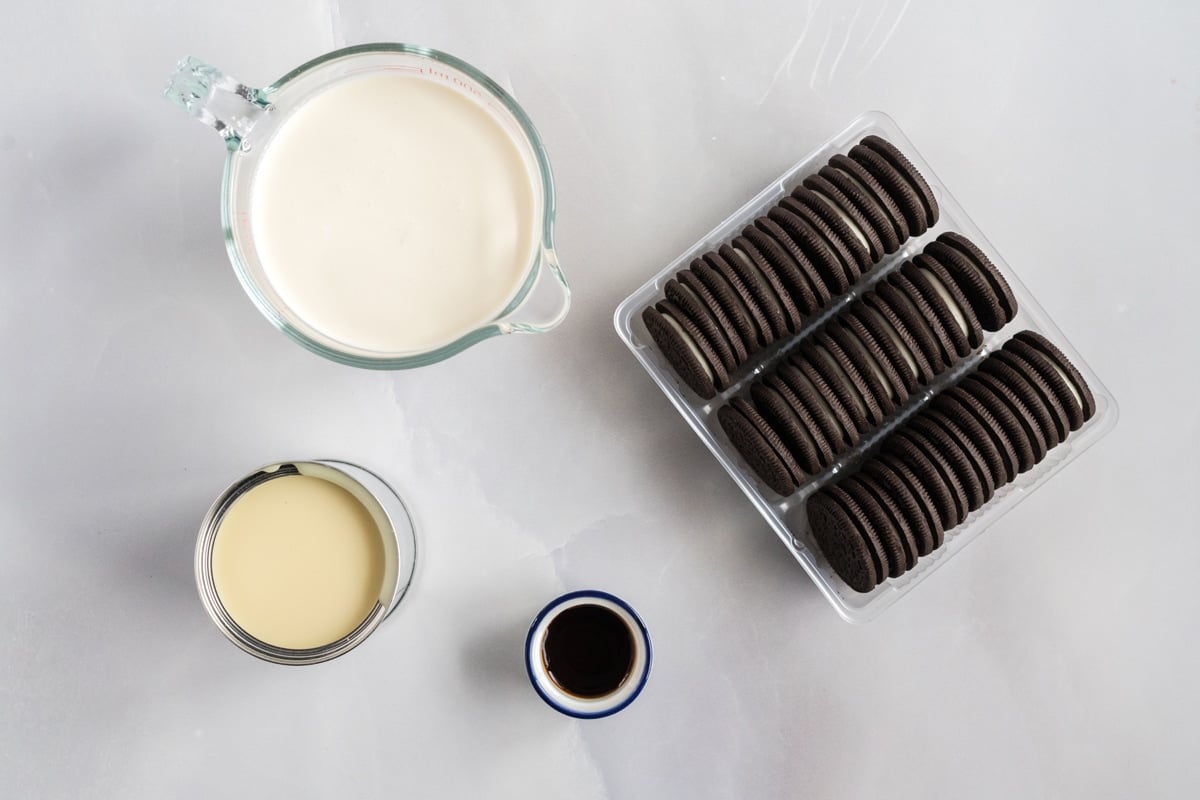 Heavy Whipping cream (heavy cream) – The heavy cream, once whipped, is what will give the ice cream the light and fluffy texture.
Sweetened condensed milk – Don't get this confused with evaporated milk. The sweetened condensed milk helps thicken the mixture and adds the sweetness that ice cream needs.
Vanilla extract – make sure it is a pure extract, not imitation. The best way to do this is homemade, of course.
Oreos – I used the regular, original oreo for this recipe. However, you could use double stuffed, or any of the oreo variations you like. There are endless flavor options and seasonal mixes available. If you want to get downright sinful, add a handful of mini chocolate chips too.
How to Make No-Churn Oreo Ice Cream
Before you begin you will want to prepare the oreos for the ice cream.
Place 1 row of the oreos (9 oreos in my package) in a blender or food processor and pulse until you have small crumbs.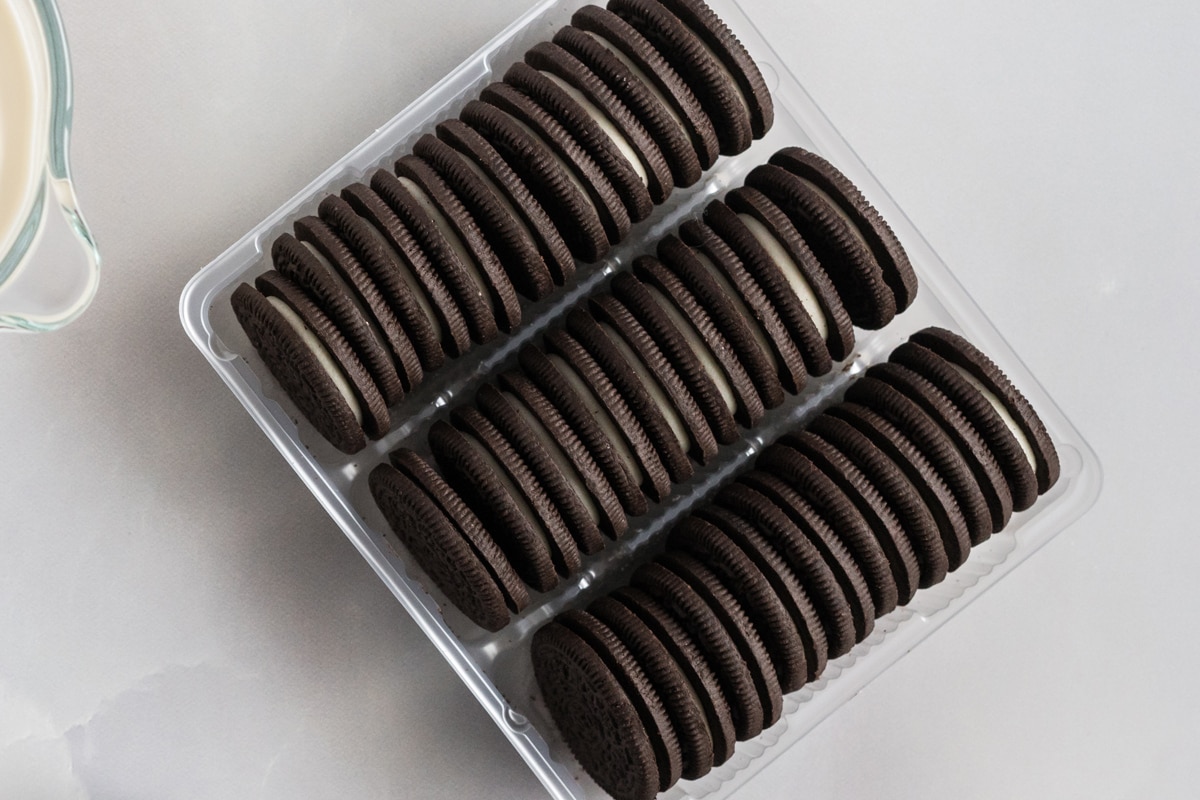 Crumble 1 row of the oreos (another 9 oreos) into small chunks. You can use your fingers and simply break them apart or place them in a ziplock bag and smash them with a rolling pin. Either works fine, depending on how small you want your crumbles, though smashing them is quite satisfying (and a fun way to get out any aggression).
Reserve the final row to decorate the top of the ice cream.
Now you can begin making the Oreo Ice Cream.
One – Add the heavy cream and vanilla to a large bowl. Using a hand mixer, beat the cream on high until it begins to thicken. This can be done using an electric hand mixer or a stand mixer with the whisk attachment.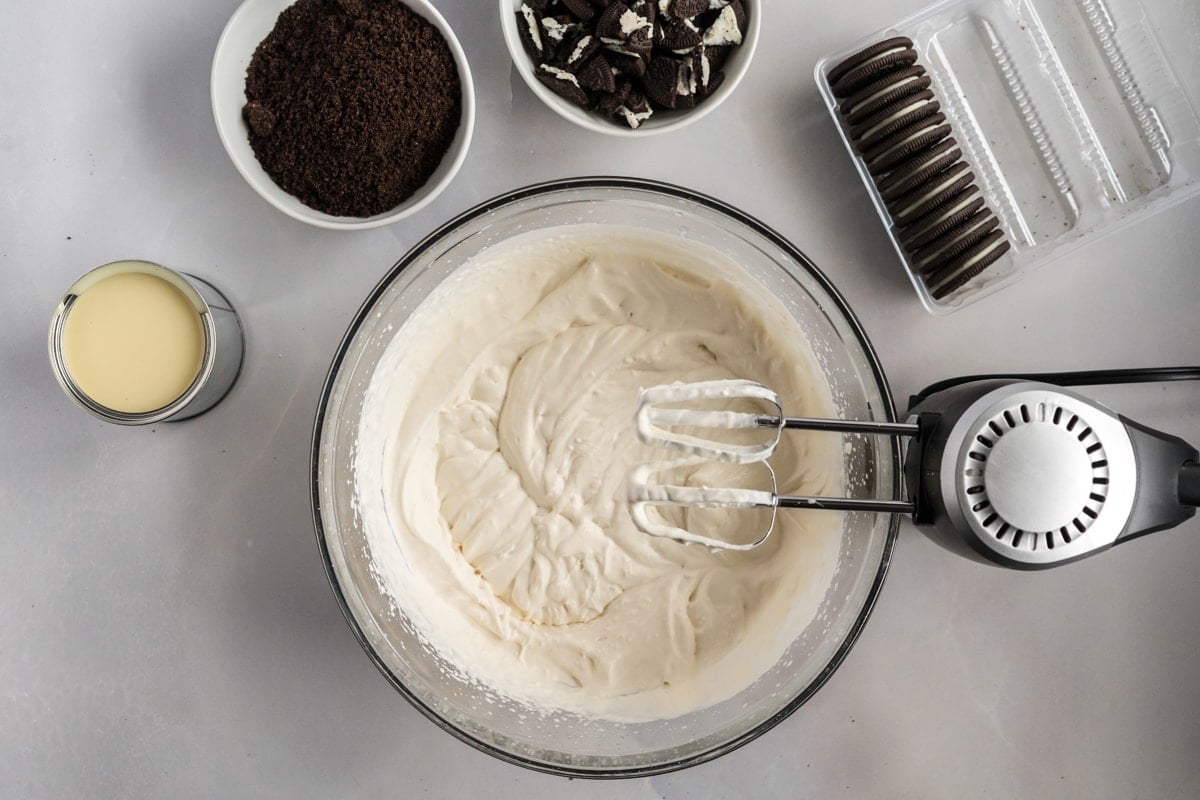 Two – Add the condensed milk and continue to beat until the cream holds soft peaks.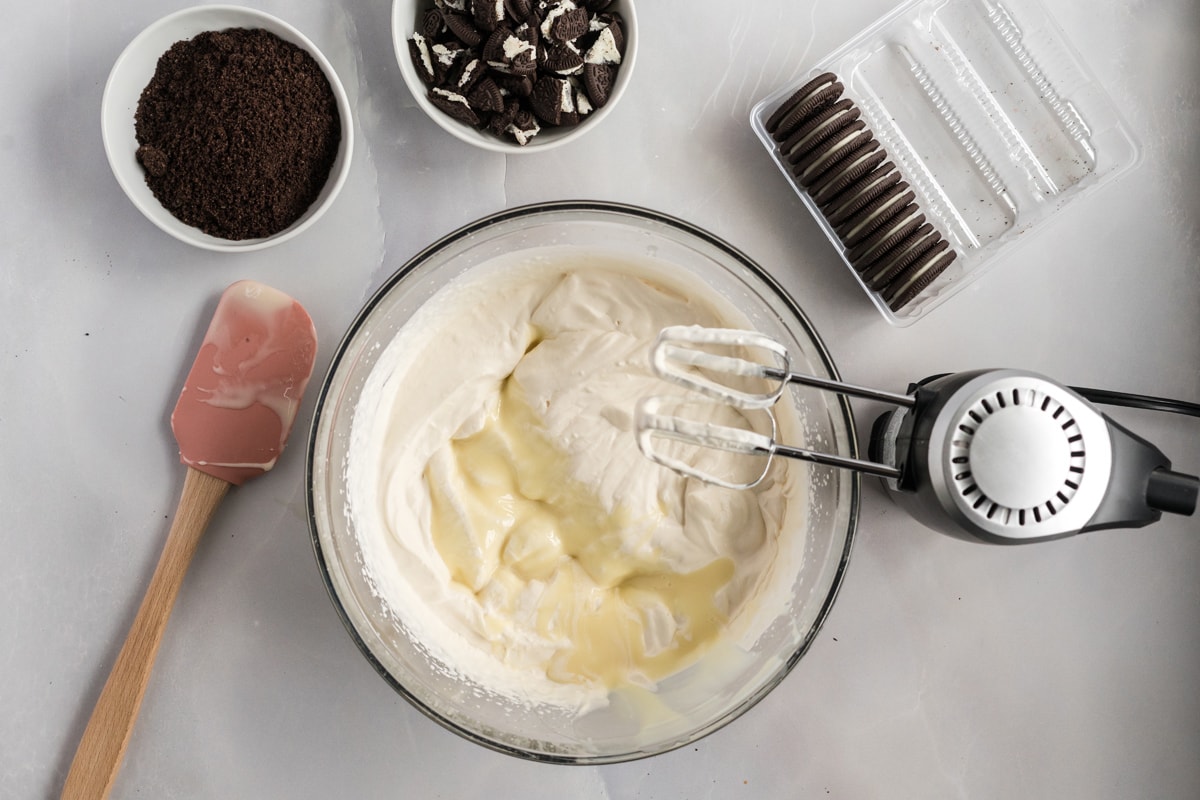 Three – Fold in the oreo cookie crumbs, then fold in the crushed oreos.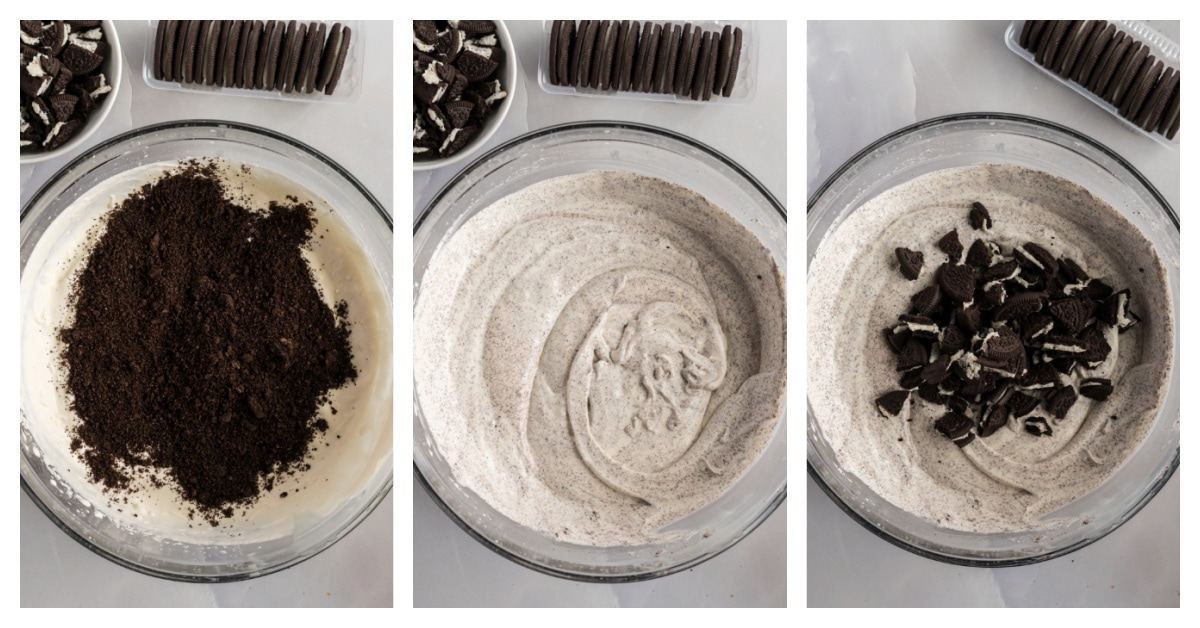 Four – Pour the ice cream into a loaf pan, crumble the rest of the cookies on top and decorate with whole cookies if desired. Place in the freezer and allow to set at least 8 hours, or overnight.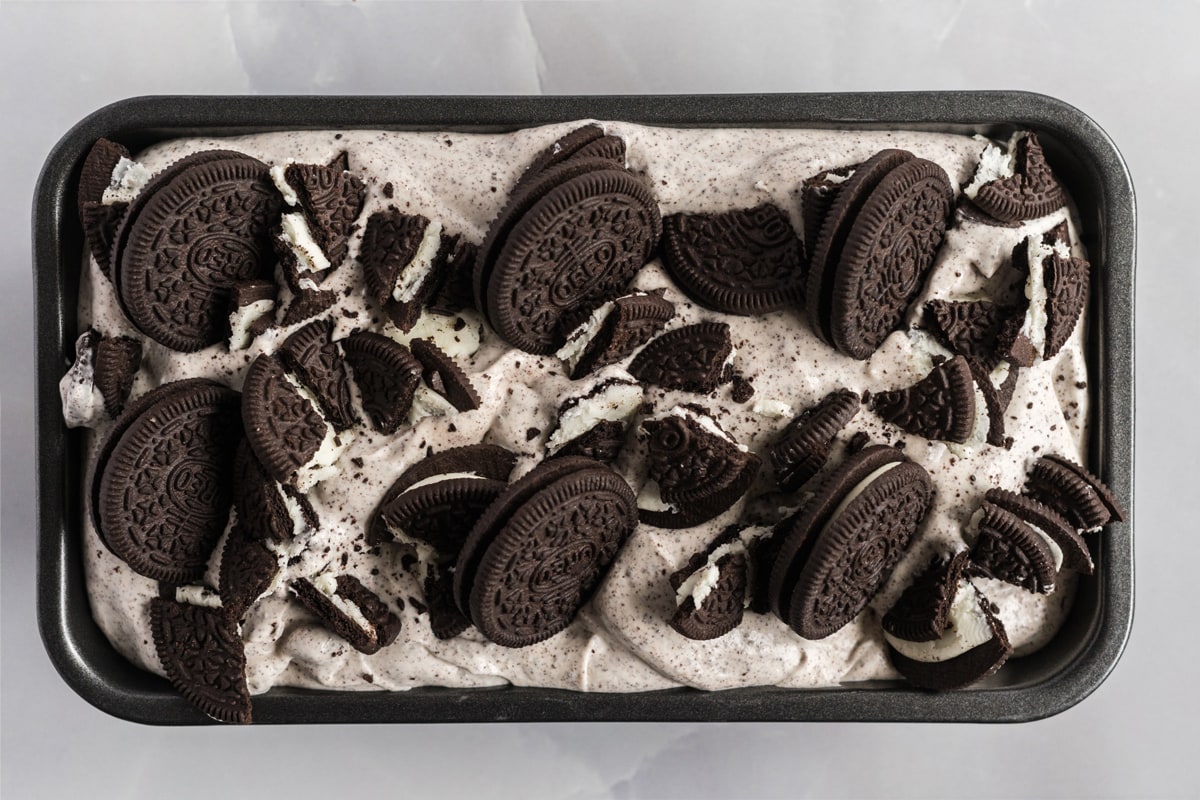 Once the Oreo Ice Cream is set you can scoop and serve as desired.
No-Churn vs Churned Ice Cream
There are a few differences between traditional churned ice cream and no-churn ice cream. Both in the ingredients and the process used to make it.
Traditional ice cream requires a few more ingredients and more equipment to make. Churned ice cream often begins by making a custard with eggs and cream, heating it on the stove and then adding it to an ice cream maker where it is slowly churned while it is frozen.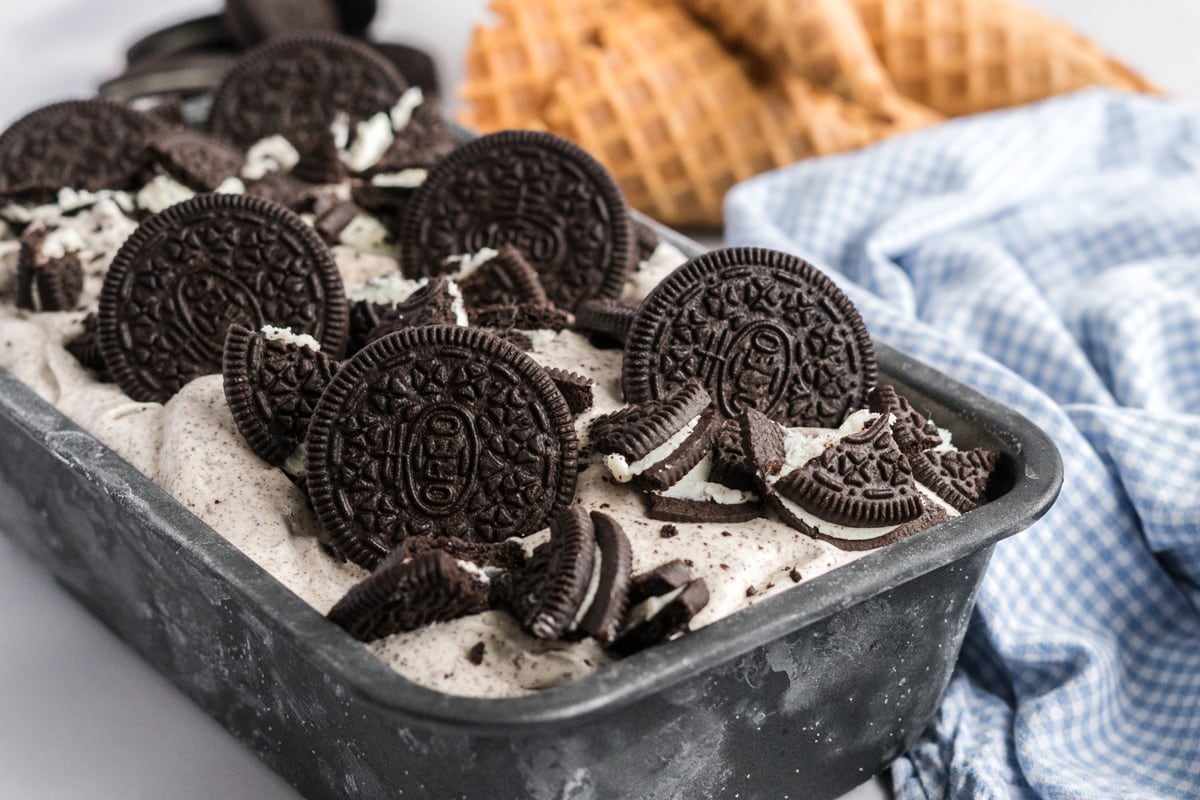 The process of churning while freezing creates the smooth ice cream and prevents crunchy crystals from forming.
No-churn ice cream, on the other hand, requires no heating or special equipment to make. You simply mix the ingredients in a bowl, pour it in a container and toss it in the freezer to set.
There is a definite texture difference between the two with traditional ice cream being a bit firmer and smoother. No-churn ice cream like this Oreo Ice Cream tends to be fluffier and it will melt quite a bit quicker at room temperature than churned ice cream will.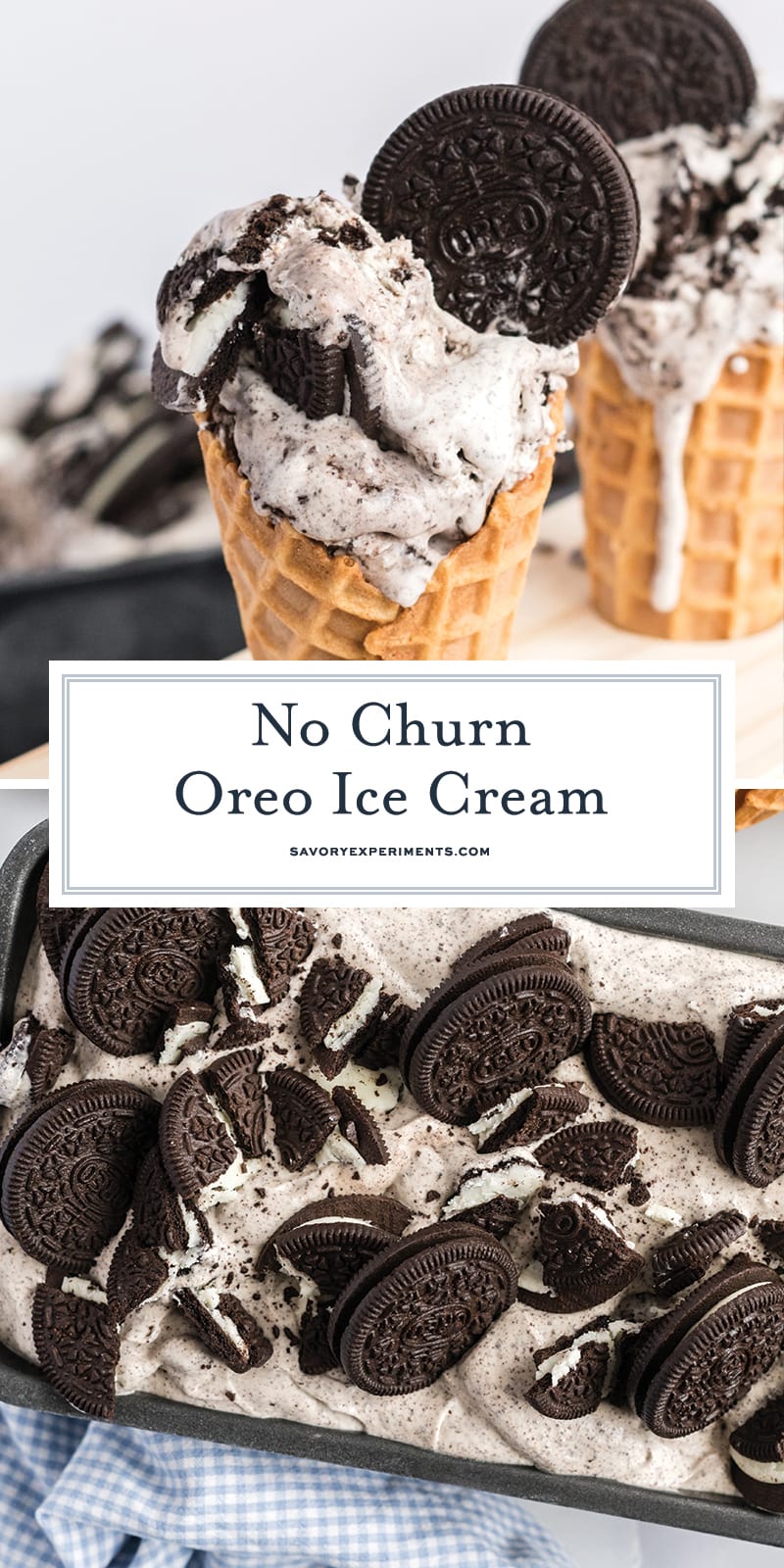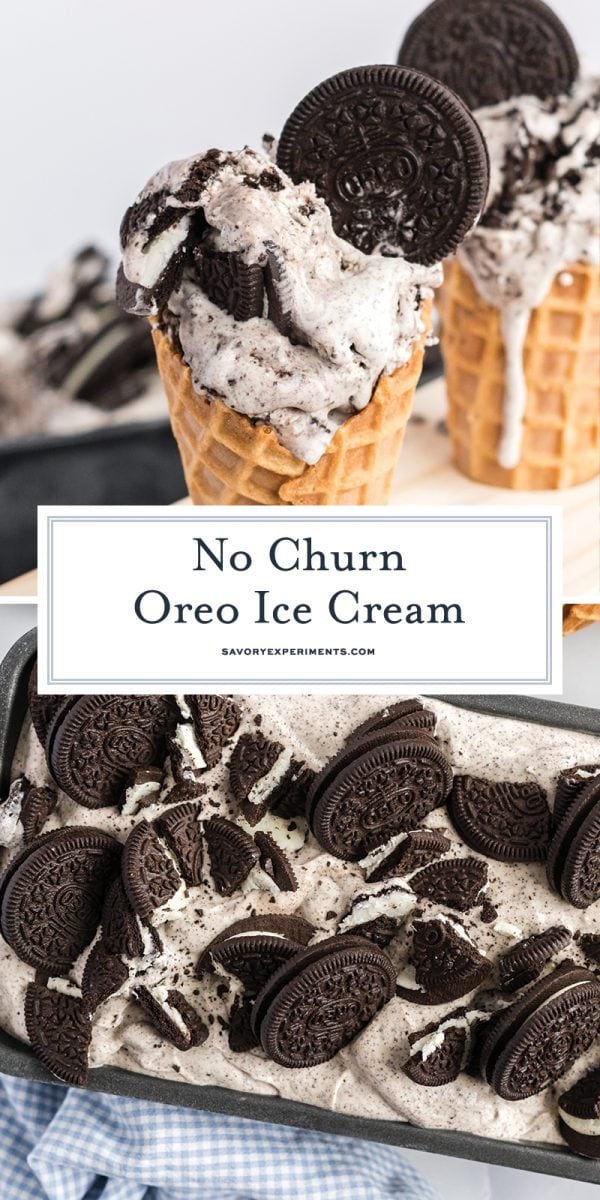 More homemade ice cream recipes: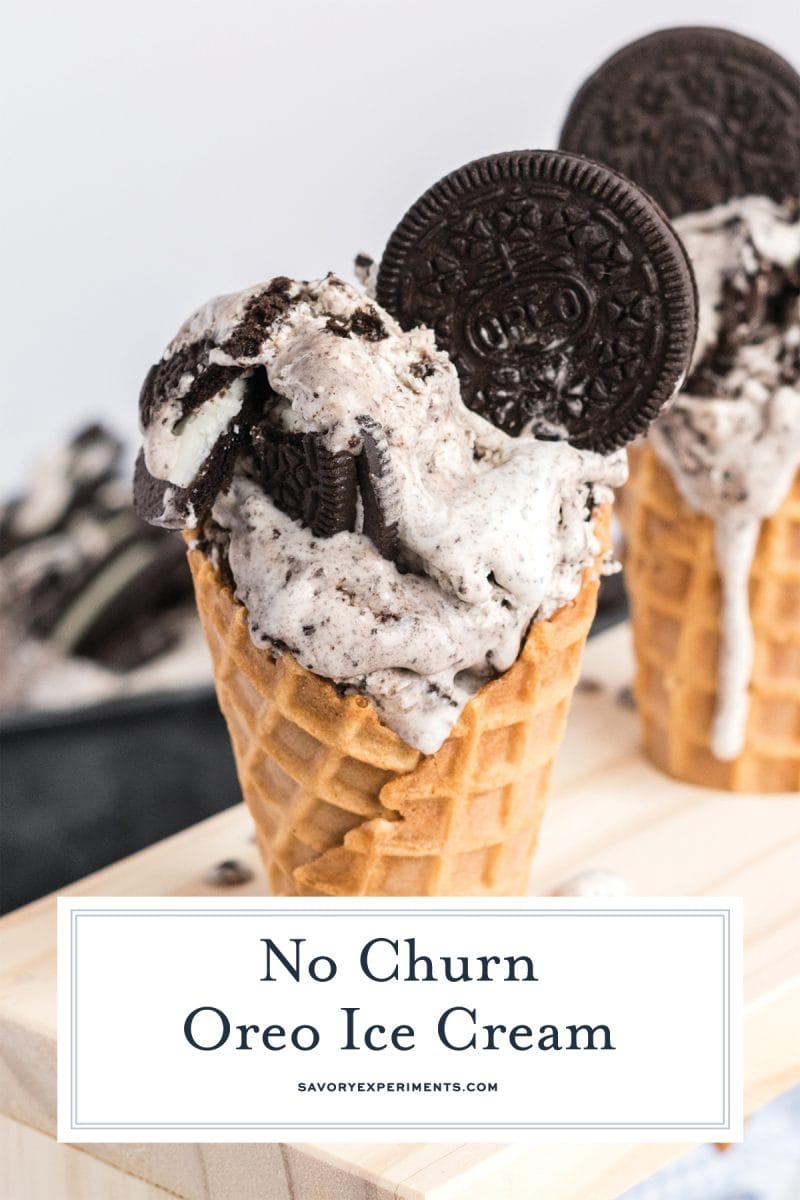 CONNECT WITH SAVORY EXPERIMENTS!

Be sure to follow me on social media, so you never miss a post!

Facebook | Twitter | Youtube
Pinterest | Instagram

Get our FREE 8 Day E-Course on How to Be a Better Home Cook. Sign up HERE!