If you like piña coladas… getting caught in the rain.
If you're not into yoga, if you have half a brain.
You know you are singing it! Just did out loud and got a very disapproving look from my cat. Apparently I do not have the gift of song.  It summer time and who doesn't want a blended frozen drink?  What if you didn't need to get out the blender and you could keep your summer crush in the freezer? You can with Piña Colada Ice Cream!
Coconut and pineapple: two notorious summer, tropical flavors that play together like spaghetti and meatballs… mac and cheese.  Why do they have to be blended and sipped? No one ever said I can't make them into my favorite dessert too and eat them with a spoon.
While no-churn ice creams are super time saving and totally fabulous in a pinch, I do prefer churned. True, it requires foresight and certainly more time, but in the long, the rich, creaminess is worth it!
Piña Colada Ice Cream came to me when I saw a coconut ice cream made from coconut milk for vegan frozen treat lovers and while I respect using coconut milk, it doesn't result in the same creamy goodness that heavy cream will. I landed with coconut milk, coconut creme, crushed pineapple and pineapple juice to make the ideal "caribbean island" in a cup. Here you go folks, Piña Colada Ice Cream!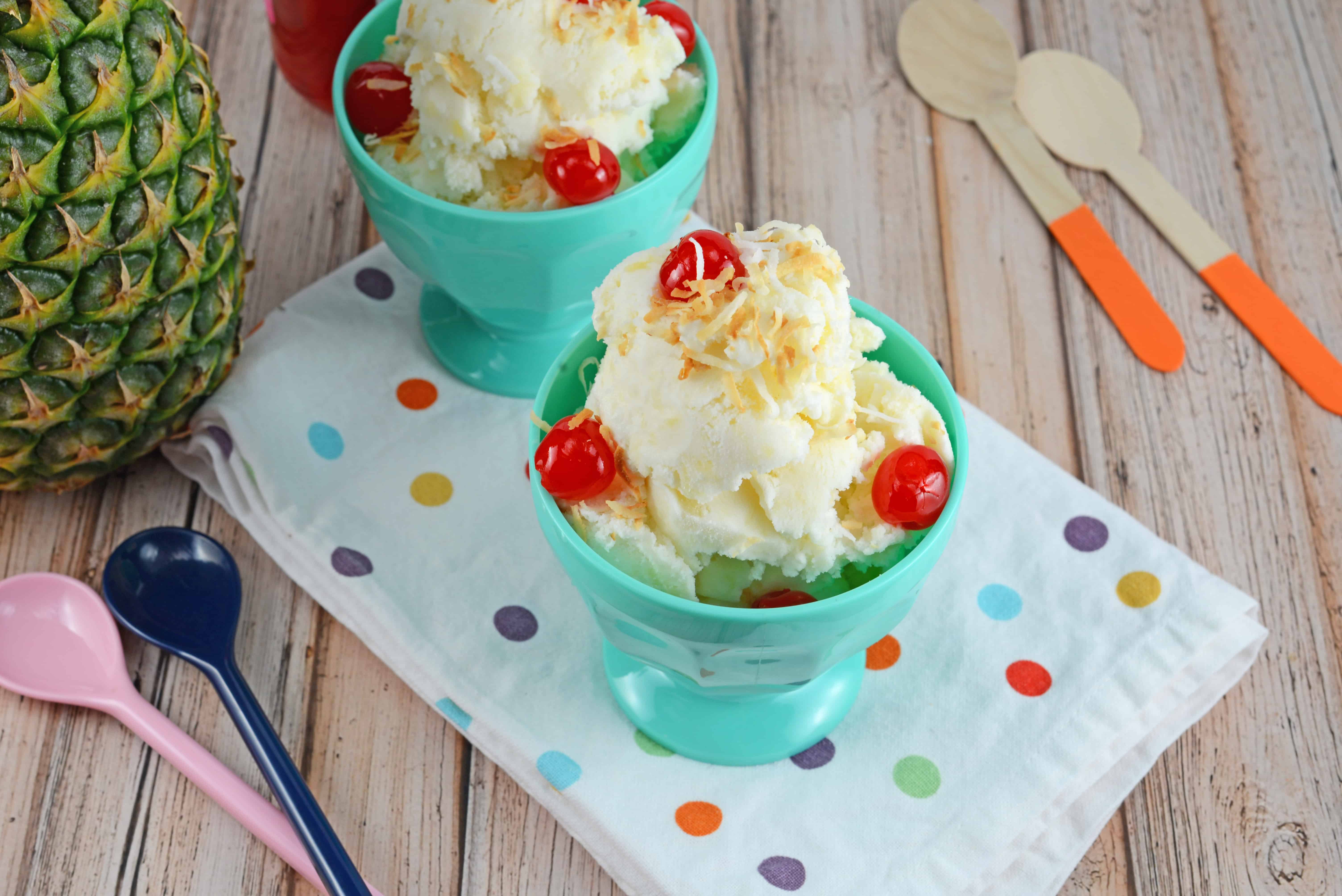 Don't forget to PIN Piña Colada Ice Cream!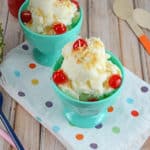 Piña Colada Ice Cream
Piña Colada Ice Cream Recipe - Make your favorite frozen drink into tropical ice cream! Loads of coconut and pineapple will have you feeling like you are on vacation.
Ingredients
1

cup

heavy cream

1/2

cup

sugar

13.5

ounces

unsweetened coconut milk

1/2

cup

coconut creme

20

ounces

crushed pineapple

Pinch of salt

Toasted coconut

for garnish

Maraschino cherries

for garnish
Instructions
Prepare ice cream maker according to package directions (usually a 24 hour freezing time).

At least 2-6 hours before churning, add heavy cream and sugar to a heavy bottom sauce pan. Stir over low-medium heat until sugar dissolves.

Stir in coconut milk, coconut creme, crushed pineapple (whole can) and salt. Stir until smooth (except for the pineapple pieces).

Transfer mixture to a heat safe bowl with a lid, refrigerate for at least 2 hours before churning. Longer is perfectly fine, just not any shorter.

Churn in ice cream maker for 25-20 minutes. Transfer to a freezer safe dish, cover and freeze for an additional 2-4 hours, although overnight is best.

Scoop and garnish with toasted coconut and/or maraschino cherries.