These French Toast Sticks, flavored with vanilla and cinnamon, come together quickly and easily. Lightly crispy on the outside and soft on the inside, these sticks are a fun and delicious breakfast that both kids and adults will love!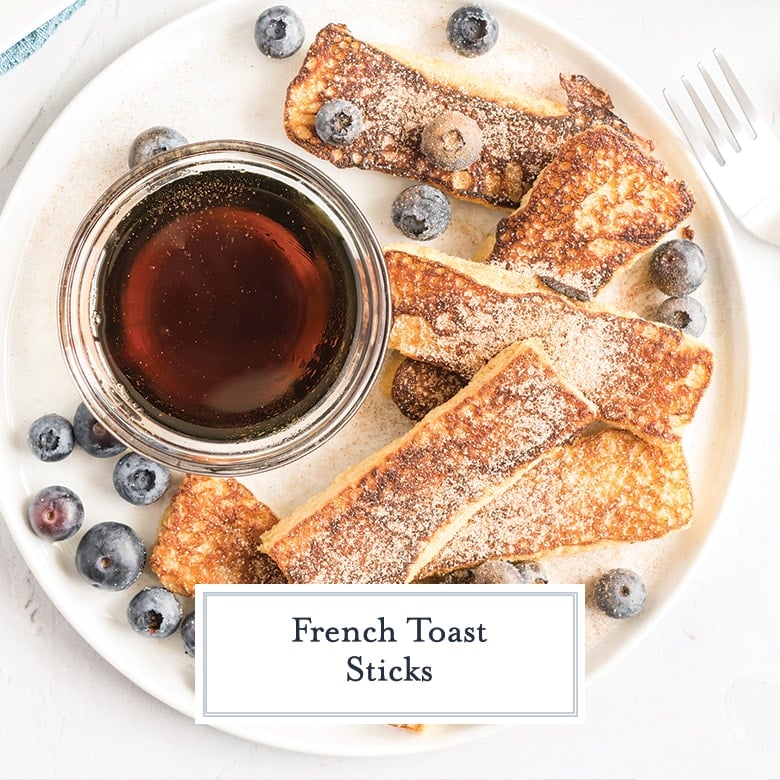 French Toast Sticks Recipe
French toast is a classic weekend breakfast. Slices of bread are soaked in an eggy custard and then placed on a hot, buttery griddle until they are golden brown.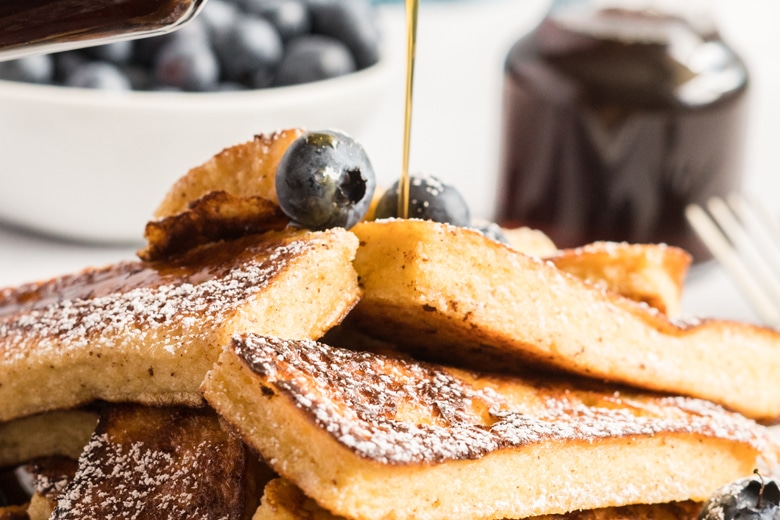 Often it will be dusted with either powdered sugar or cinnamon sugar and then drenched in maple syrup. Or some of our other favorites like:
I have never liked soggy food and as a kid I would cut my French toast into little squares and then dunk them in a dish of syrup that sat beside my plate. In fact, I still do that.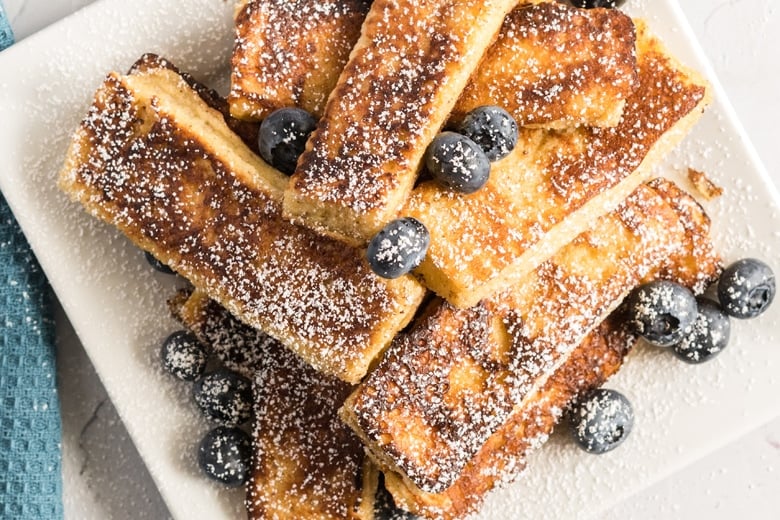 At least I used to do that, until I discovered the perfect breakfast finger food. Homemade French toast sticks!
They are Special
Cinnamon French toast sticks are made with exactly the same ingredients as traditional French toast except the bread is cut into strips, or sticks, before it is soaked in custard and fried.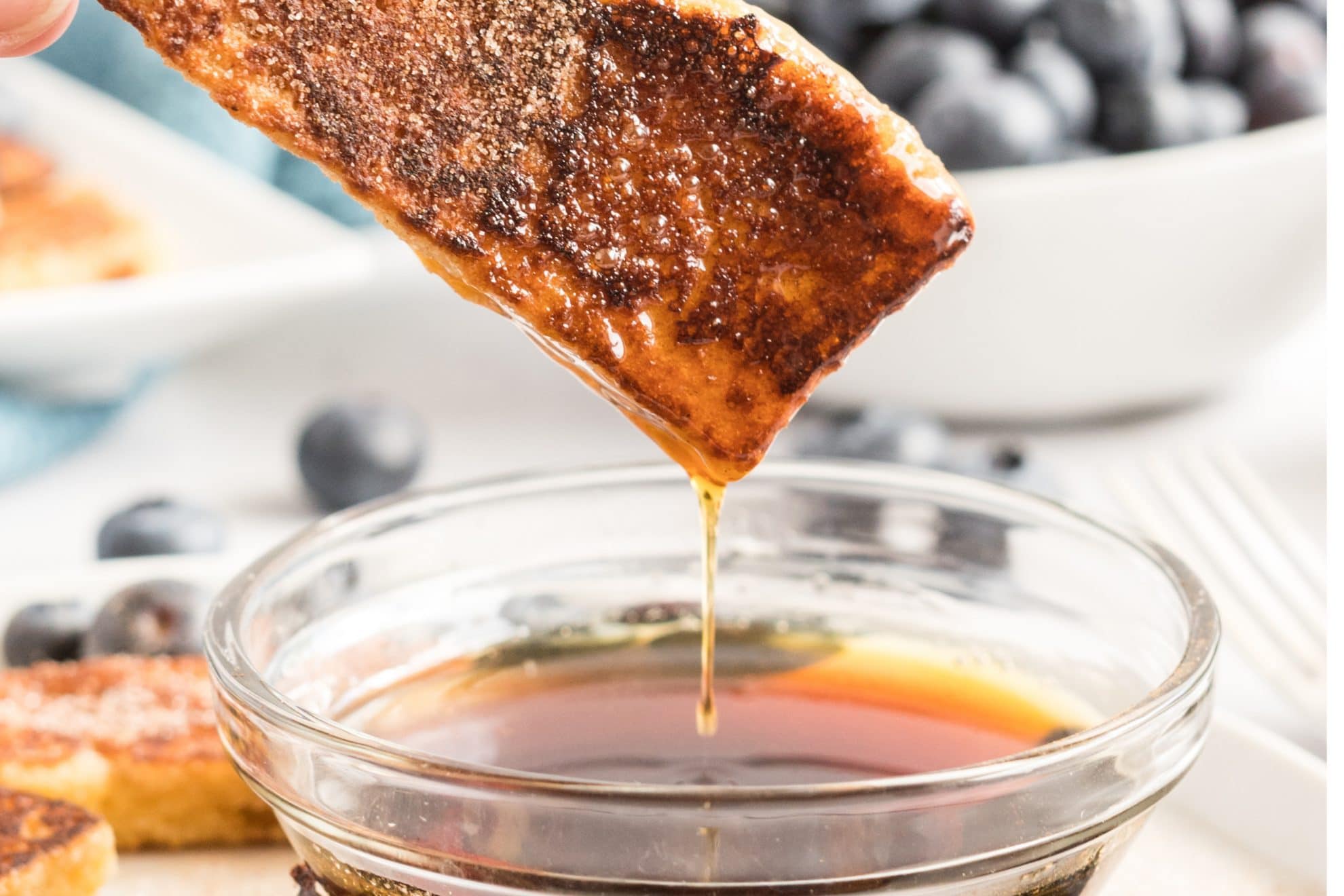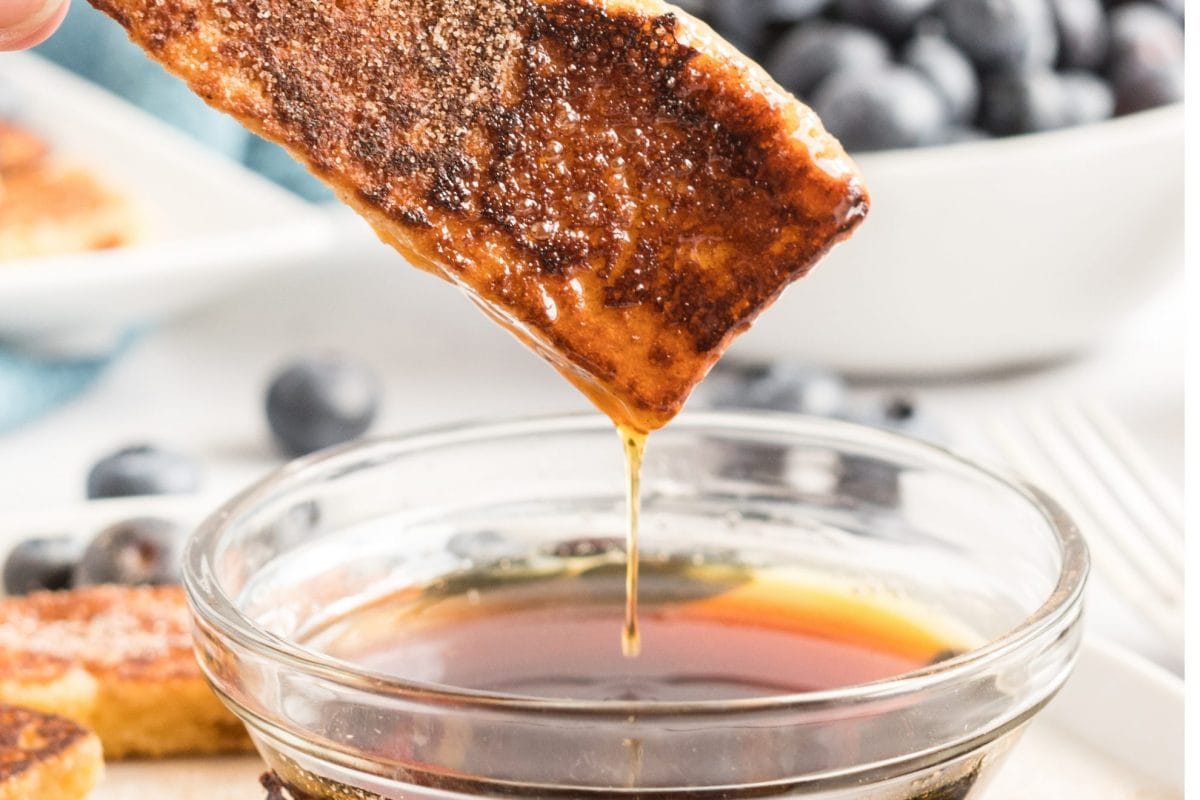 The result is slightly crispy sticks that can be picked up with your fingers and dunked in your favourite syrup with no knife or fork required. The fact that they can be eaten with your hands makes them a great grab and go breakfast as well and perfect for kids.
Of course, you are welcome to pile them high on your plate, drench them with syrup, and eat them the traditional way if you prefer. We won't judge.
French Toast Sticks Ingredients
These easy French toast sticks only require a few simple ingredients.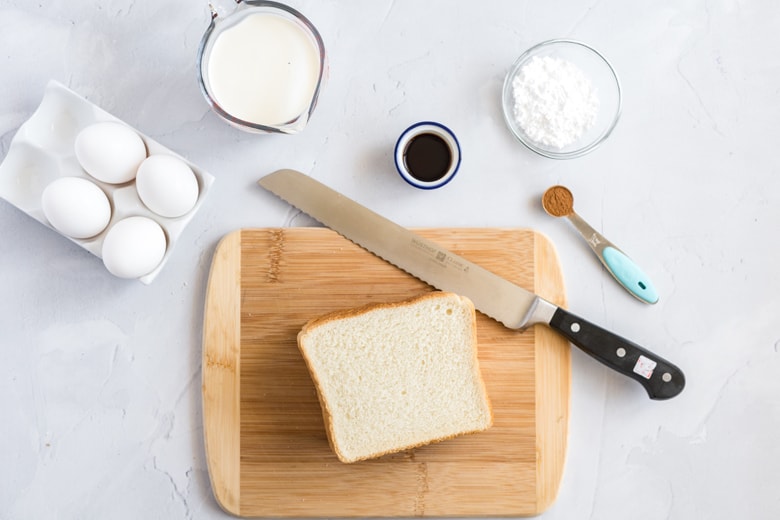 Bread – I use a plain white sandwich bread, but they will work with whatever bread you prefer. Brioche or Texas toast are also great options, and whole wheat bread works well too.
Eggs – Forms the base of the custard and creates the crisp toast
Heavy Cream – produces a nice thick, rich custard. You can use milk if you prefer.
Vanilla – enhances the flavor of the custard. 
Powdered sugar – provides a bit of sweetness and helps the toast to crisp
Cinnamon – adds a nice aroma and warm flavors to the toast. Nutmeg or pumpkin pie spice work well too.
How to make French Toast Sticks
Begin by slicing the bread into sticks. Cut the crust off all 4 sides of the bread, then cut the bread into 1 inch sticks. I get 3 sticks per slice using basic sandwich bread.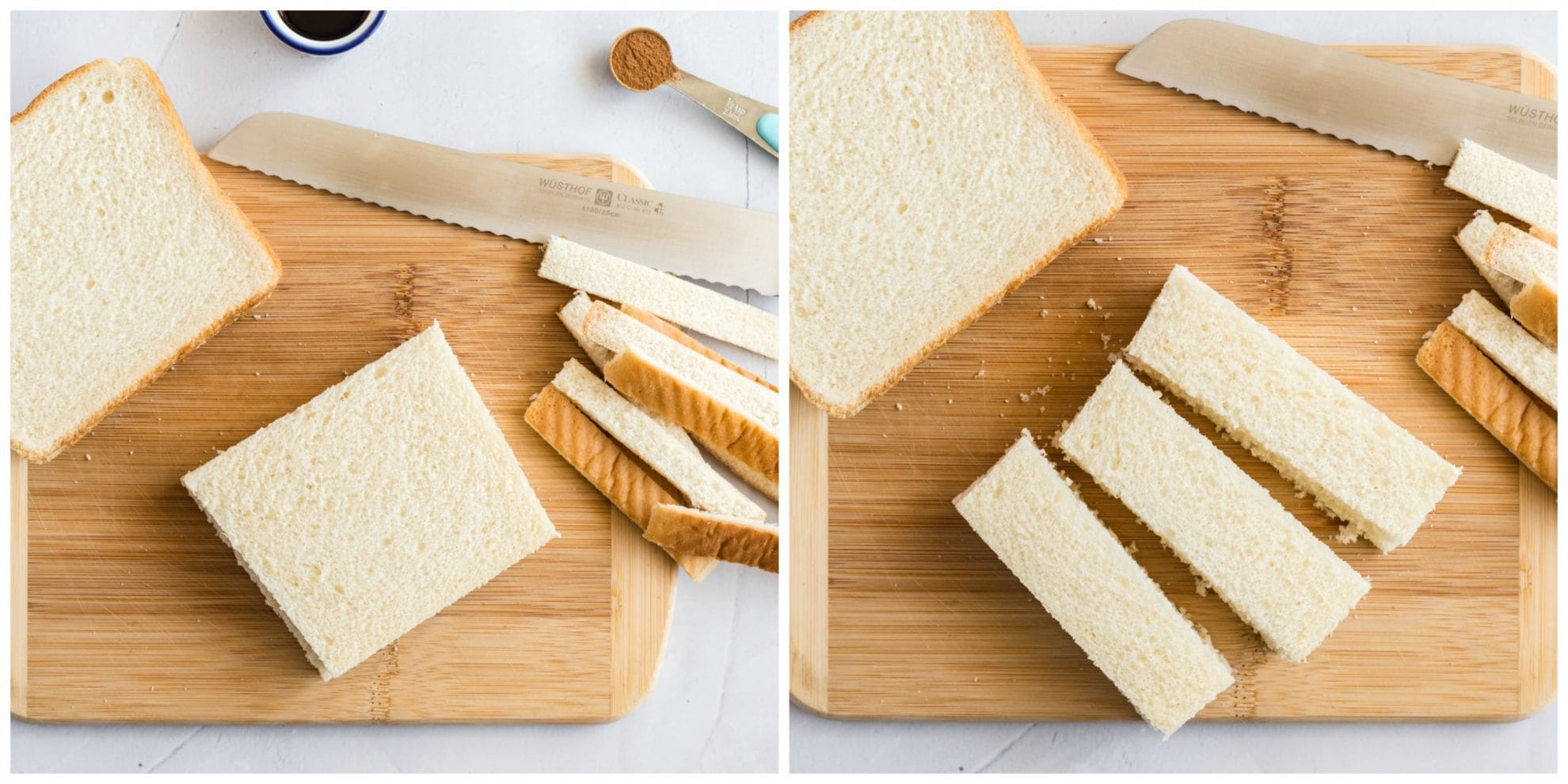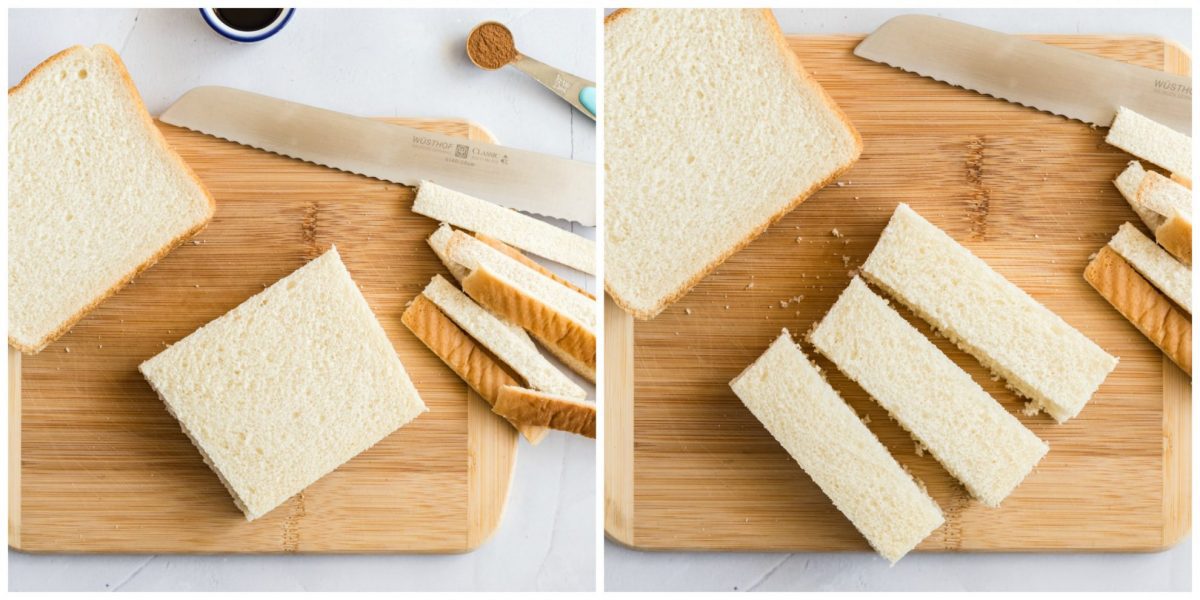 Next, break the eggs into a large, shallow bowl and whisk until they are well blended.Add the heavy cream and vanilla and whisk until you have a smooth custard.
Next add the powdered sugar and cinnamon and whisk to combine. Heat a large pan or griddle over medium heat and coat with butter.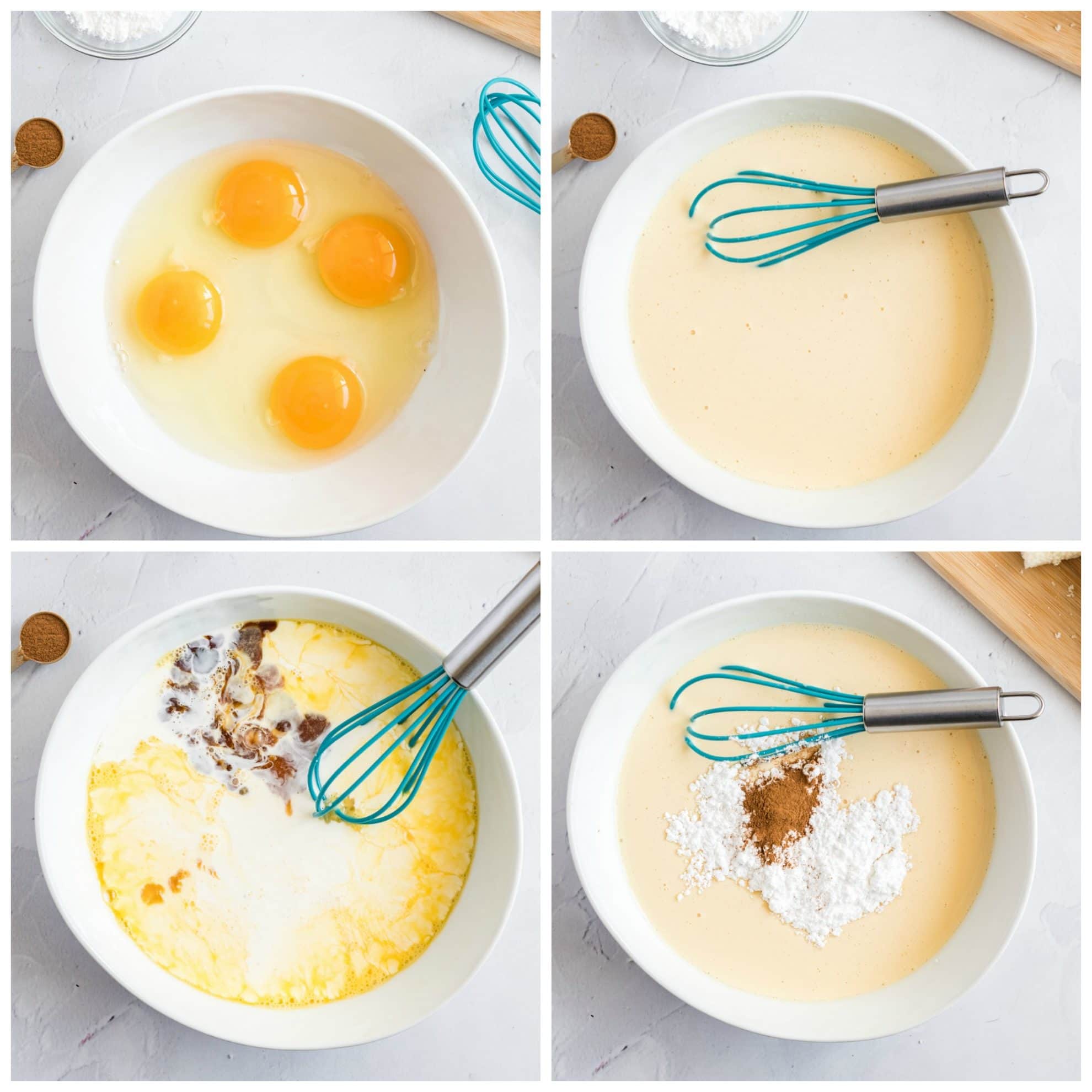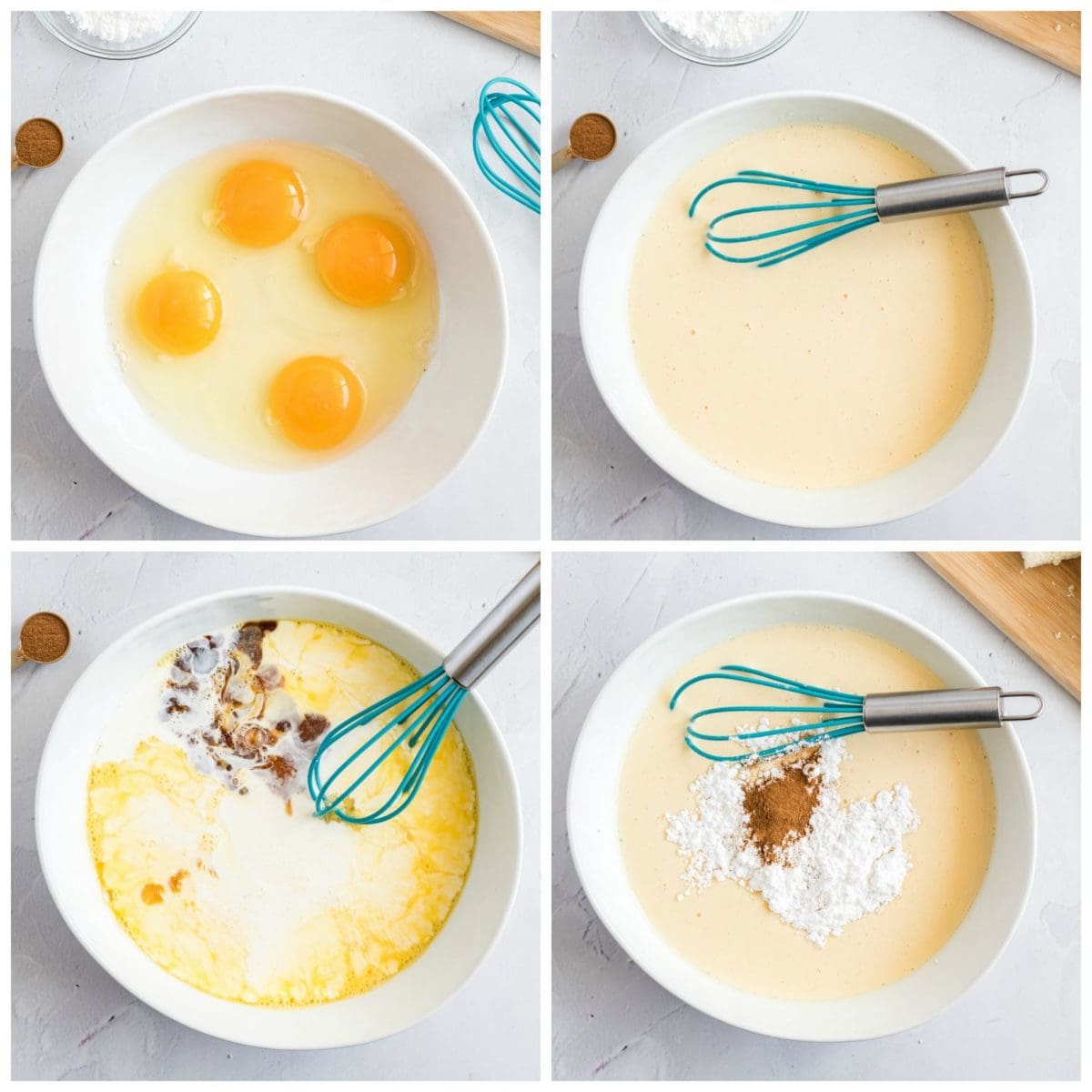 Dip each stick into the custard making sure all edges and sides are coated, then place on the griddle. Repeat with remaining sticks, working in batches if necessary.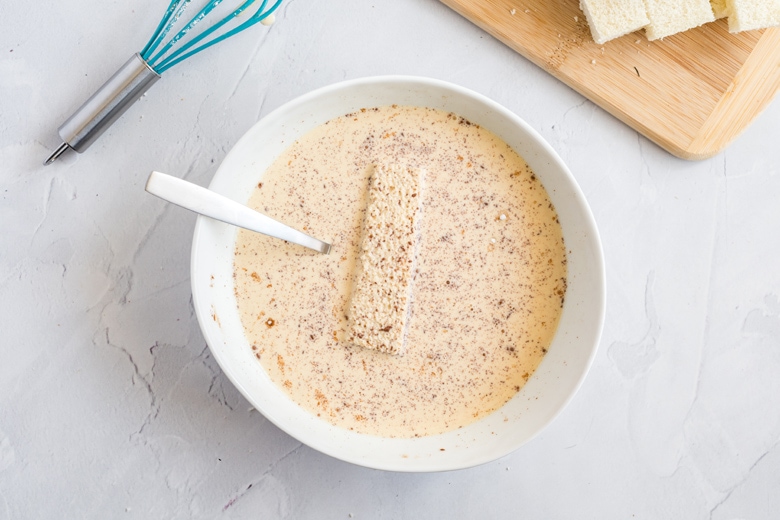 Cook for about 5 minutes, or until the sticks are golden brown, then flip and cook an additional 5 minutes to toast the other side. Move the cooked French toast sticks to a plate and serve.
How to Freeze
These French toast sticks are easy to make ahead and freezer safe. This makes them great for quick weekday breakfasts or even after school snacks.
Once the French toast sticks have cooled, place them on a parchment lined baking sheet in a single layer. Then place the tray in the freezer.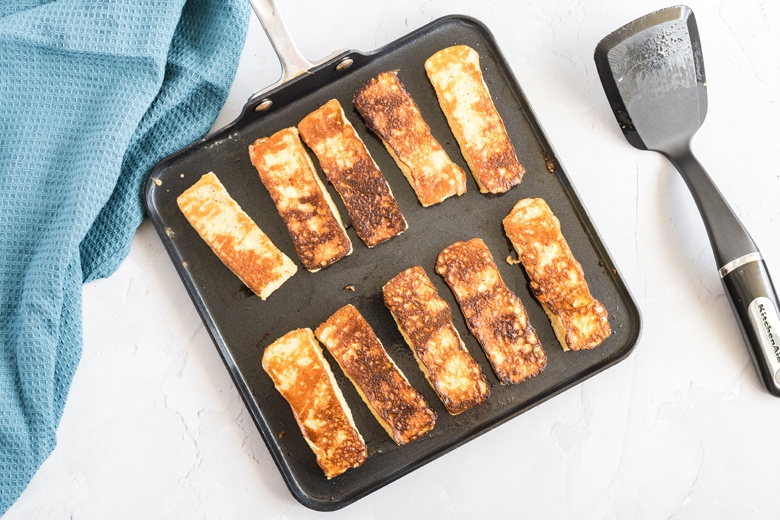 Wait 2-3 hours for the sticks to freeze, then gather them up and store them in an air tight container or large zip lock bag.
To reheat, simply remove as many as you'd like from the freezer and then place them on a baking sheet in a 350 degree oven for about 15 minutes.
You can also reheat these in a microwave for about 1 minute, however this method will leave them a bit soft.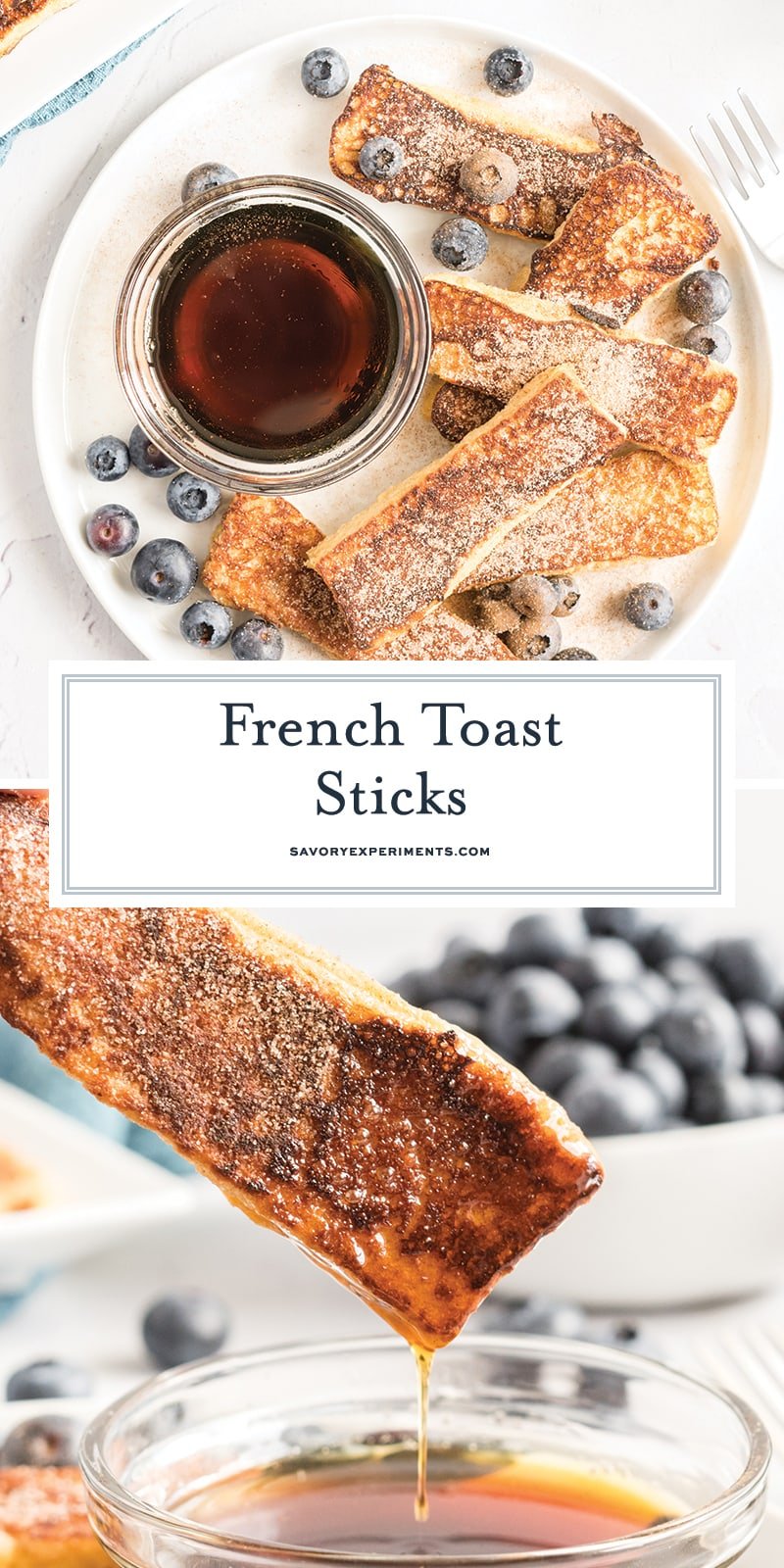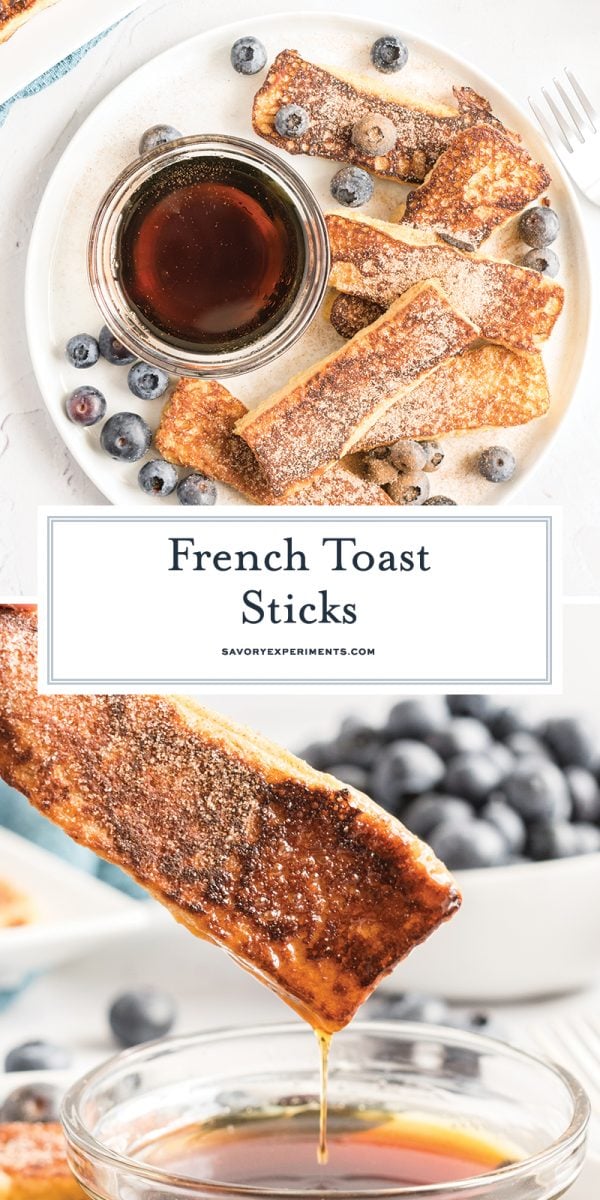 More French toast recipes to try: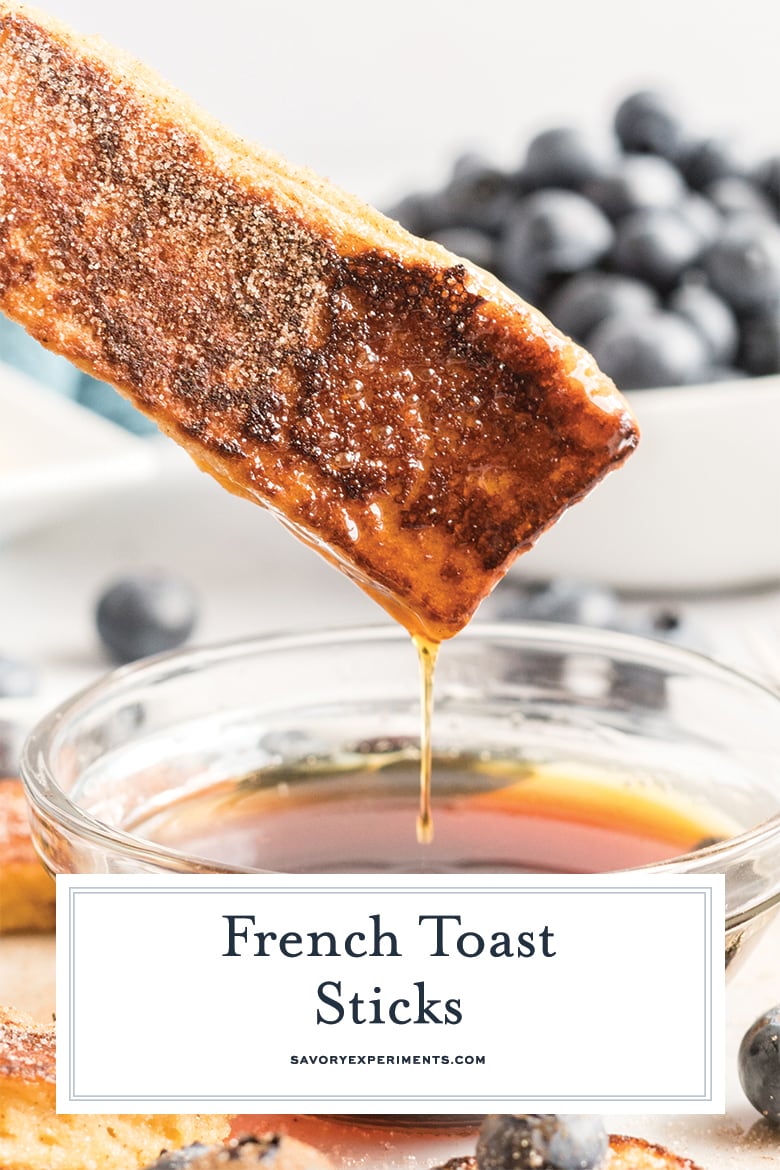 CONNECT WITH SAVORY EXPERIMENTS!

Be sure to follow me on social media, so you never miss a post!

Facebook | Twitter | Youtube
Pinterest | Instagram

Get our FREE 8 Day E-Course on How to Be a Better Home Cook. Sign up HERE!