Thick and chewy M&M Cookie bars are the things dreams are made of. The first time I made this easy dessert recipe for was for 4th of July.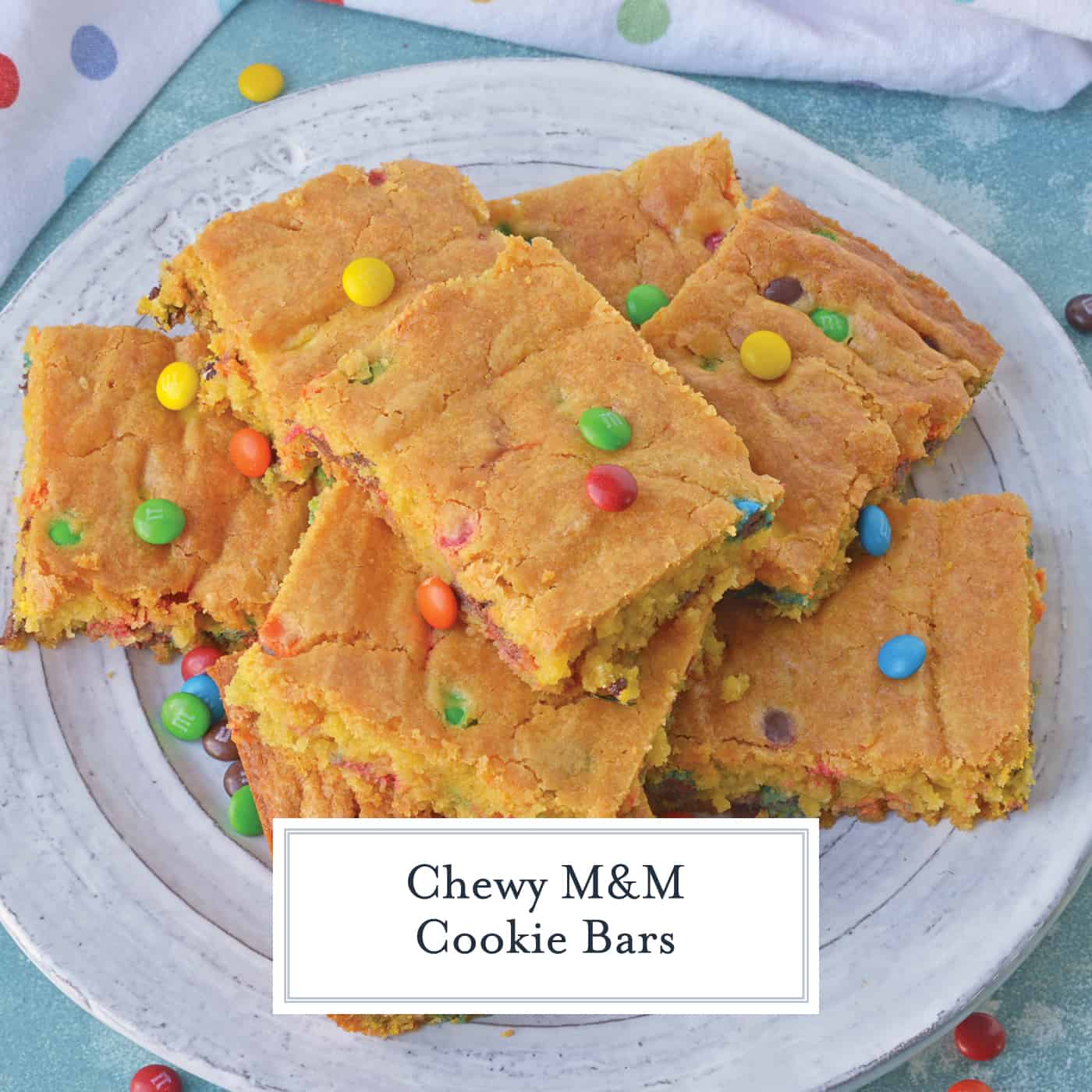 Thick and chewy M&M Cookie Bars are perfect for your cookie exchange, dessert potluck or an after school snack. Cake mix cookie bars that are so soft and dreamy.
I needed a dessert that was easy to make, transport and could withstand being outdoors in the heat. M&M Cookie Bars ticked all the boxes. I set down the platter and came back 30 minutes later to find it empty.
Gone. They were that popular and the burgers weren't even being served yet! I don't even judge the people who eat dessert first. LOL.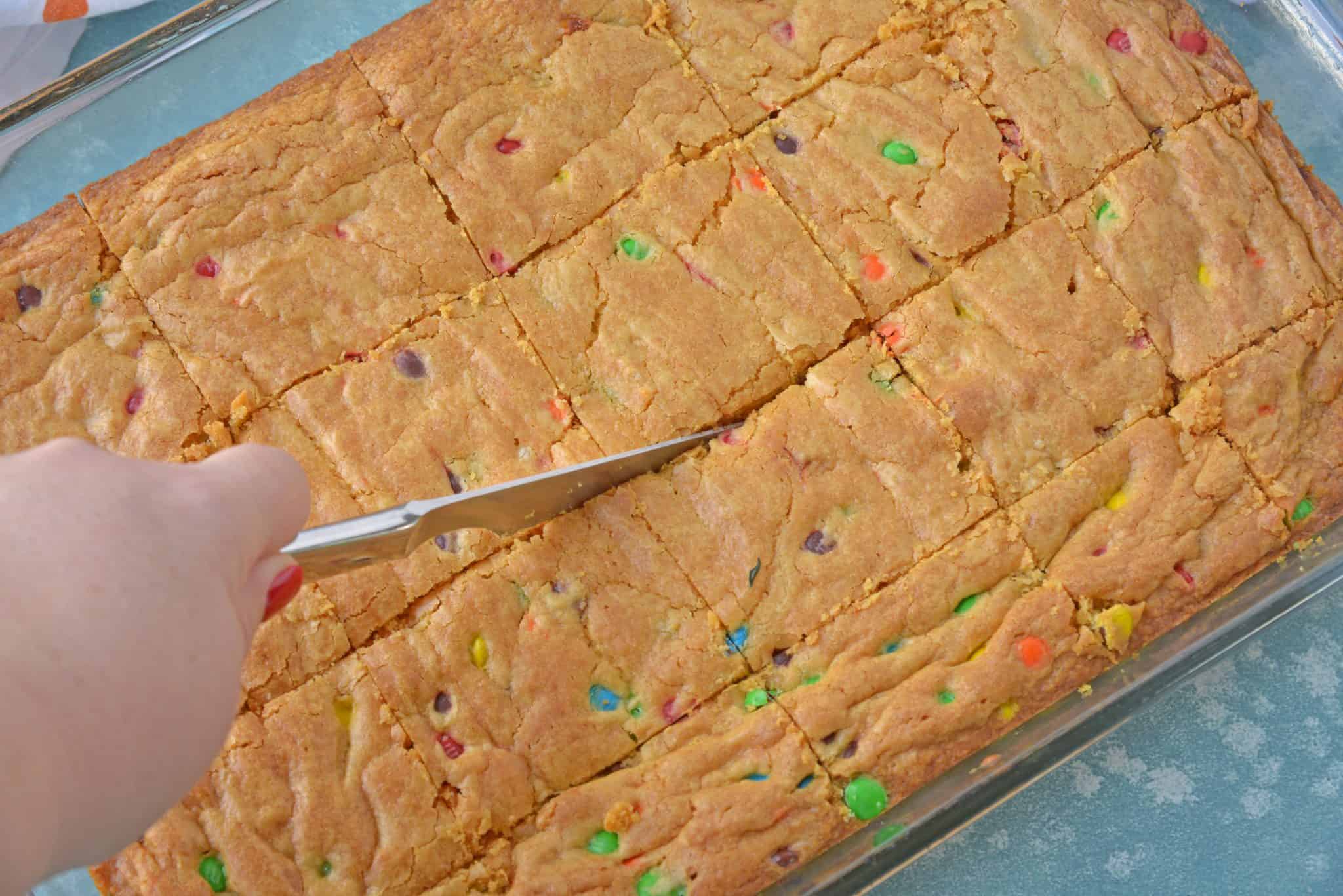 I ended up having to go home and whip up another batch of M&M Cookie Bars just so I could try them myself and I learned they are, indeed, that delicious!
These aren't your regular cookie bars…. oh no… they don't even use cookie dough! Cake mix and pudding mix are the secrets to these bad boys.
The smell of the batter alone is pure, sugary heaven and the end result is reminiscent of a half baked cookie cake. Another weakness of mine…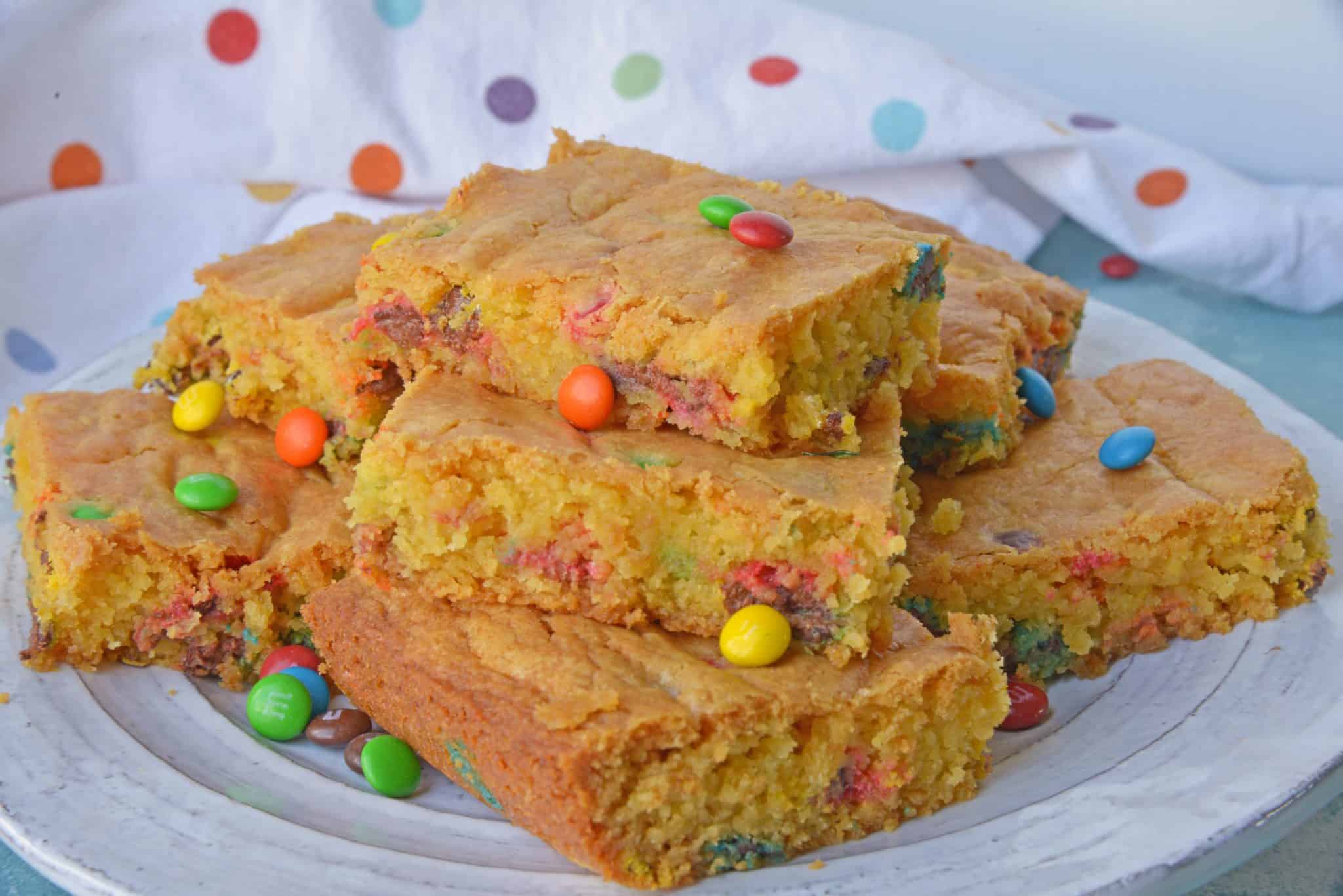 In fact, next time I might frost them! Make cookie bars in under 30 minutes with fewer than 5 ingredients: cake mix, pudding mix, water, oil, eggs and M&Ms.
PRO TIP: Make sure to pay attention to the size of the pudding mix you purchase. There are technically 4 different weights and the smallest two and largest two have identical boxes except for the weight. You'll need the 5.1 ounce box.
Great for a special treat at school or a soccer game, for a potluck at work or a BBQ at the neighbor's. People will rave. I promise.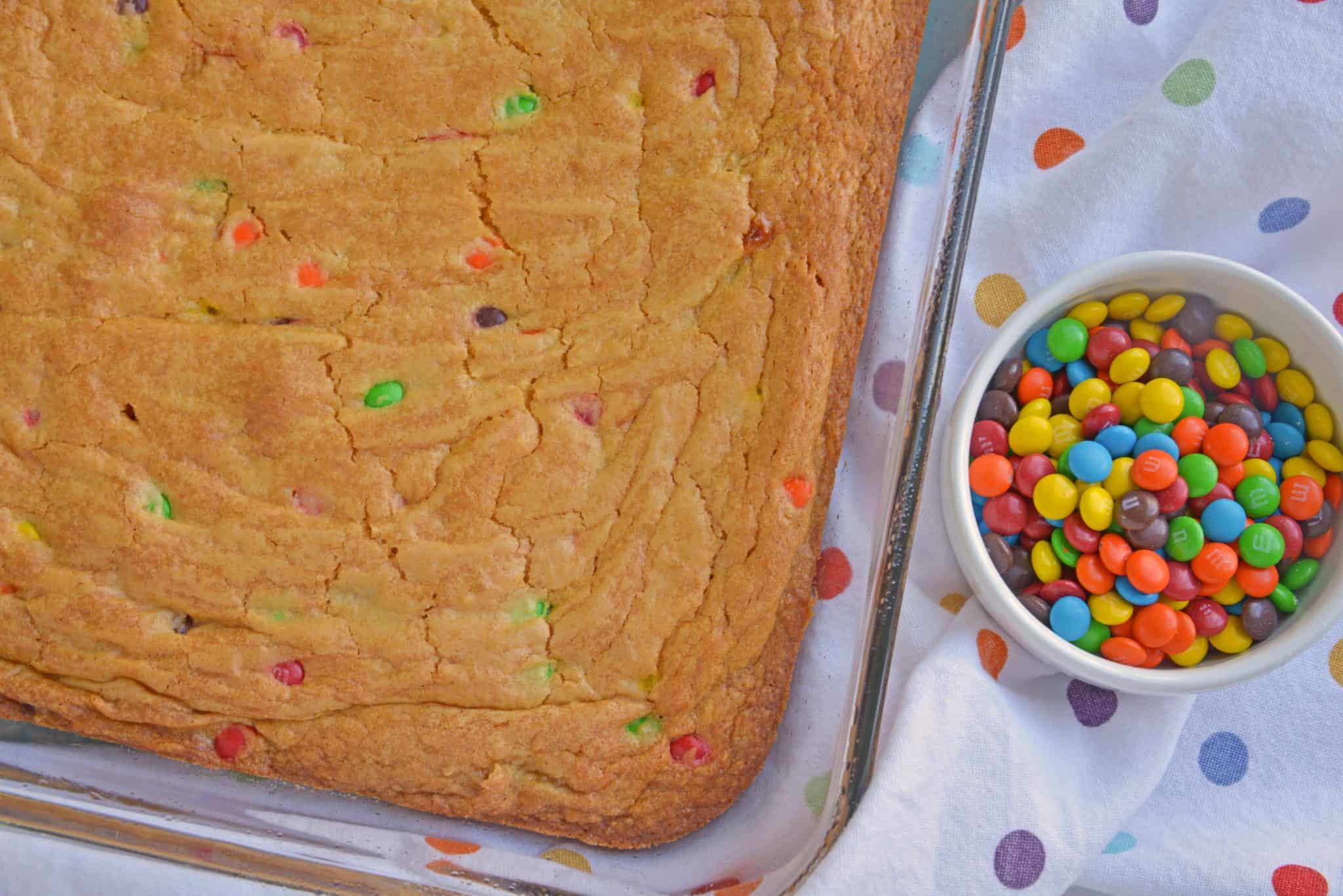 One thing I did learn- make these directly in the pan, preferably glass. The first time around I used parchment and ended up with a globby mess instead of moist bars. They will get stuck in aluminum foil as well.
PRO TIP: Sift all dry ingredients, including cake mix and pudding mix. This eliminates clumps, which are usually the culprit for over mixing.
Also, don't overmix the batter. It is easy to do, but will result in dry and crumbly cookie bars.
The beauty of using a cake mix is it eliminates the need for waiting around for ingredients to come to room temperature and the additional ingredients, which in turn leads to less of a mess. Simply place the easy batter into a baking pan and cook until golden brown. My family loves them!
PRO TIP: Take your cookie bars up a notch by sprinkling them with sea salt or adding a drizzle of caramel (or both!) before serving!

Tools for making cake mix bars:
9 x 13 Glass Baking Dish– an absolute essential for any kitchen! Use it for baking, marinating or storing. Get one with a lid, you'll thank me later.
Stand Mixer-
While this is an investment, I can guarantee you will use it more than you realize and will never regret the decision.
Sifter
– An underutilized tool in the kitchen, use this with all dry ingredients while baking to prevent clumps in your batter and thus preventing overmixing. I prefer the ones with a rotary handle, the process goes faster without giving me a hand cramp.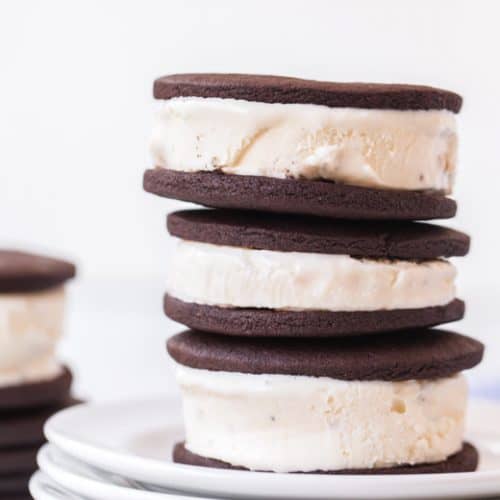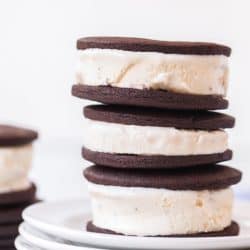 Ice Cream Sandwiches
Ice Cream Sandwiches are a frozen delight everyone in the family will love. Make them for your next cookout or have them on standby in the freezer for when you want a delicious dessert.
View this recipe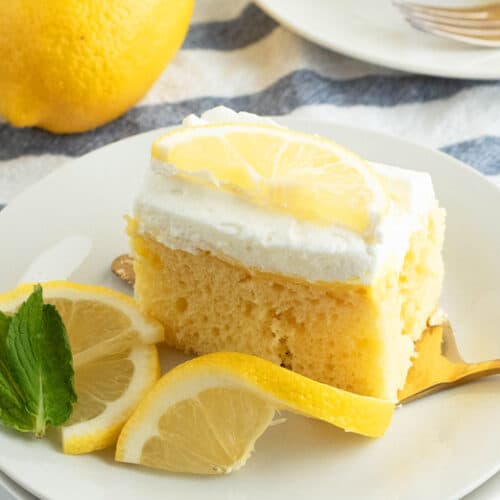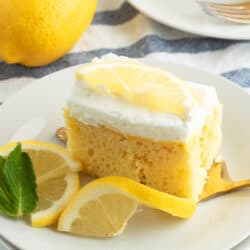 Lemon Poke Cake
This deliciously moist BEST Lemon Poke Cake recipe is perfect for any occasion! It's made easy thanks to a boxed cake mix and instant pudding!
View this recipe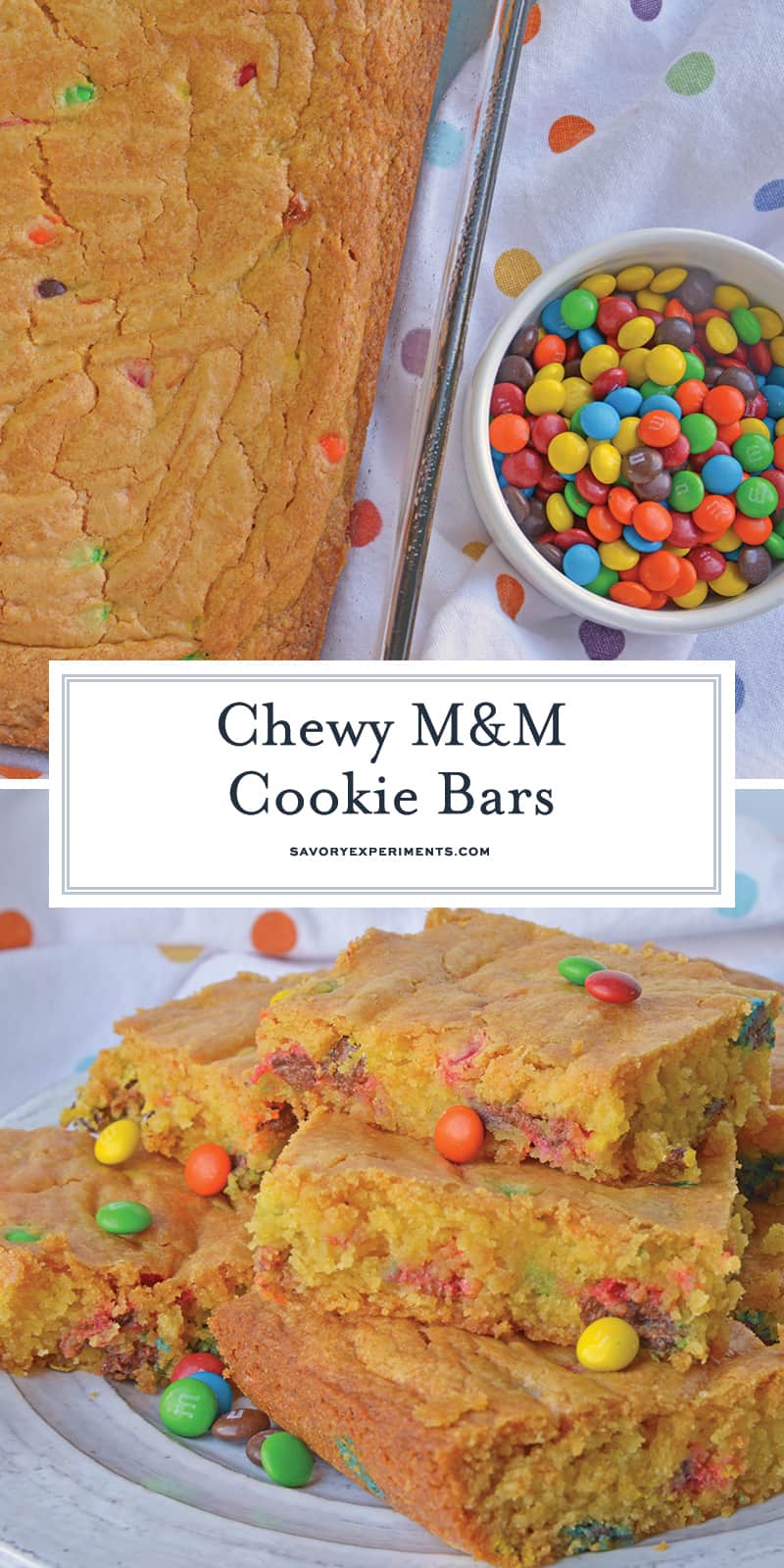 Questions you might have about how to make M&M Cookie Bars:
Can I make these cake mix bars in advance? You sure can! I make them up to a day in advance, but after that they start to dry out, like any bar dessert. For best results and soft and chewy bars, serve them the same day as baking.
Do I have to use yellow cake mix? Nope! If you are a chocolate lover, use chocolate cake mix. Want a party in a bar? Use funfetti cake mix. Any flavor you think pairs well with M&Ms is a good bet.
Do I have to use vanilla pudding mix? Same answer, nope. Yse any flavor you'd like, but be mindful that is pairs well with the cake mix flavor of your choice. Vanilla is the most basic and will complement any cake mix.
Can I use parchment paper in the prepared pan? I haven't tested out using parchment paper, but I do know that the batter didn't get to a hot enough temperture to bake properly when I tried to use aluminum foil. If you test it out, let us know.
Do I have to use M&Ms? You can use whatever candy you desire. I liked M&Ms because of the candy coating- it won't melt and make a mess in the heat, like an outdoor, middle of summer BBQ.
You can easily make these into chocolate chip cookie bars by substituting chocolate chips (mini, regular or jumbo) for M&Ms. I also like the mini Reese PB Cups.
Can I freeze cookie bars? You sure can! Place them in an airtight container or plastic bag with as little air as possible. They will be good for 3-4 months. Allow them to thaw at room temperture before serving.
You can microwave them for 5-10 seconds to get them gooey again, as any frozen baked good tends to dry out a little.
How long will they stay good for? This cookie bar recipe will be good at packaged at room temperture for up to 5 days. However, I would bet you dollars to donuts that they won't last much longer than 24 hours.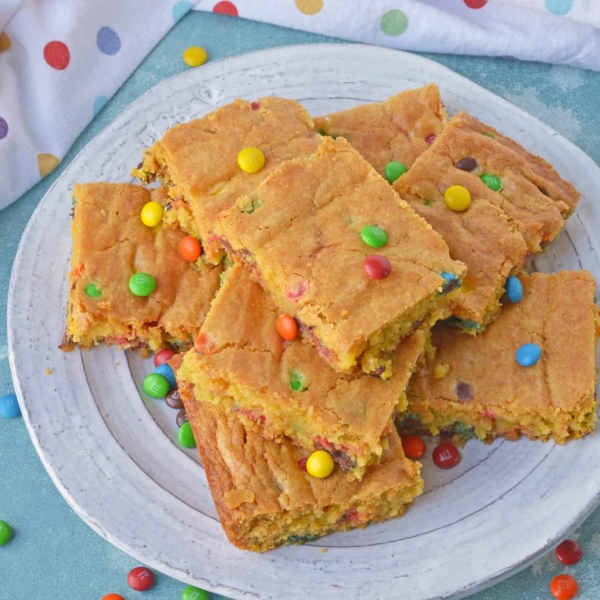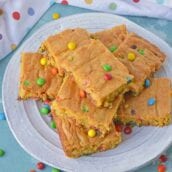 M&M Cookie Bar Recipe
Thick and chewy M&M Cookie Bars are perfect for your cookie exchange, dessert potluck or an after school snack using just a few ingredients!
Instructions
Preheat oven to 350 degrees. Coat a 9×13 glass baking dish with cooking spray.

On the bowl of a stand mixer using the paddle attachment or an electric hand mixer in a large mixing bowl, stir together cake mix, pudding mix, water, vegetable oil and eggs.

Fold in 1 cup M&M's. Do not over fold or the colors will start to bleed.

Evenly pat batter into prepared baking dish. Top with remaining 1/2 cup M&M's and lightly press down.

Bake for 25-30 minutes or until tops are uniformly light brown and it passes the toothpick test.

Remove and allow to cool. Cut into squares and enjoy your M&M Cookie Bars!

If you've tried these, come back and let us know how they were!
Nutrition
Calories:
262
kcal
,
Carbohydrates:
35
g
,
Protein:
2
g
,
Fat:
12
g
,
Saturated Fat:
9
g
,
Cholesterol:
18
mg
,
Sodium:
220
mg
,
Potassium:
16
mg
,
Sugar:
24
g
,
Vitamin A:
60
IU
,
Vitamin C:
0.1
mg
,
Calcium:
66
mg
,
Iron:
0.7
mg