I've said it once and I'll say it again: I am a horrible cake and cupcake decorator. Like really bad. It always looks so easy in those viral Facebook videos.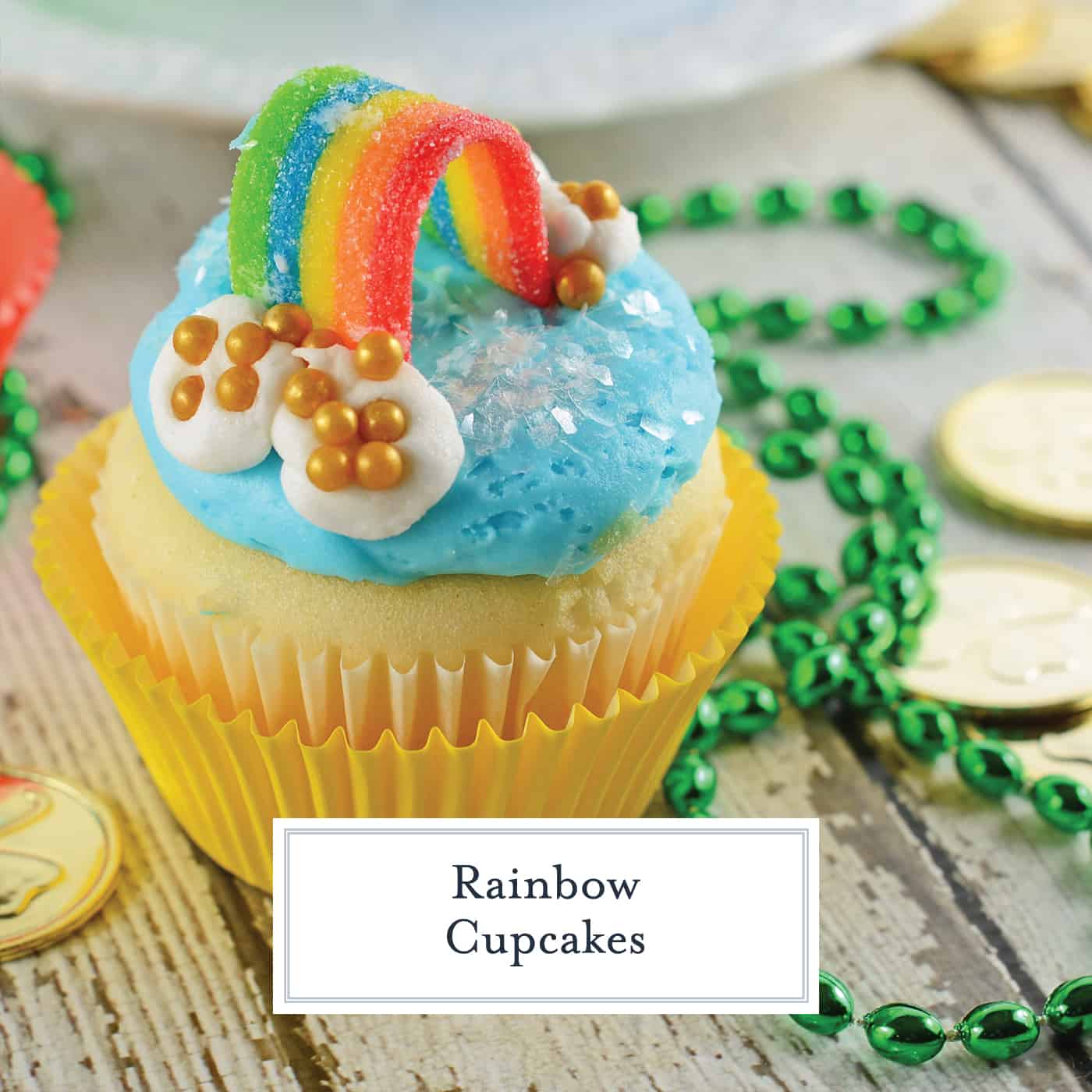 Rainbow Cupcakes are super easy and cute. The perfect cupcake for St. Patrick's Day, children's birthday parties, or any random day of the week!
The truth comes out here: I don't have a steady hand and it typically looks like a 2-year-old was doing their best to make a unicorn when in reality, it was meant to be a cat. It's been that way forever and it seems things will not be getting better.
That said, I won't go down without a fight. Instead of staying out of the cupcake game, I come up with clever ways to embellish and decorate to cover up my lack of decorating ability.
Rainbow cupcakes are a great example of this and if you fall in the "need some help decorating" category, this is the recipe for you!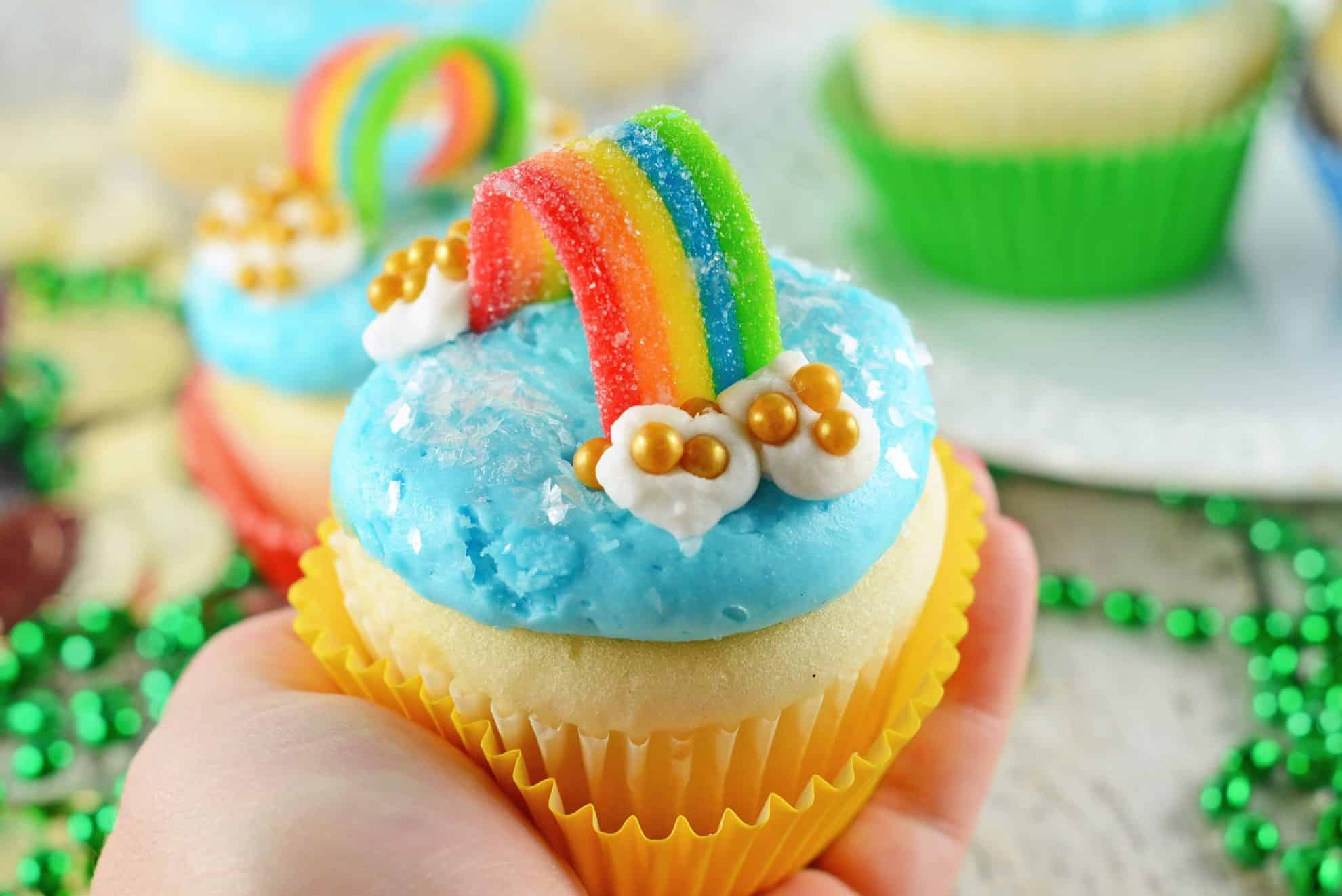 Start with your favorite cupcake. A bunch of them. Pick your poison – chocolate, vanilla, oreo, confetti, whatever your heart desires will work for this little beauty.
Add a cloudy blue buttercream frosting and you are well on your way to the perfect, professional-looking treat.
Next up, you have to construct that rainbow. Luckily, the candy companies have done it for you. Rainbow fruit leather comes in a couple of varieties. Look for rainbow candy belts and then choose either sour or sweet.
These are wonderful because the hard work has been done for you and they are super pliable. Snag just one package and then use scissors or a knife to snip them into smaller rectangles.
But before you affix your perfect little rainbows, you will need to create some clouds. Place or pipe a few dabs of white buttercream on either side of the cupcake. This will anchor your rainbow.
Golden sugar pearls give you that "pot of gold" and shimmery cake sparkles make your clouds float. Top it off with your candy rainbow and there you have it. A gorgeous cupcake that is almost too pretty to eat. Simple and perfect!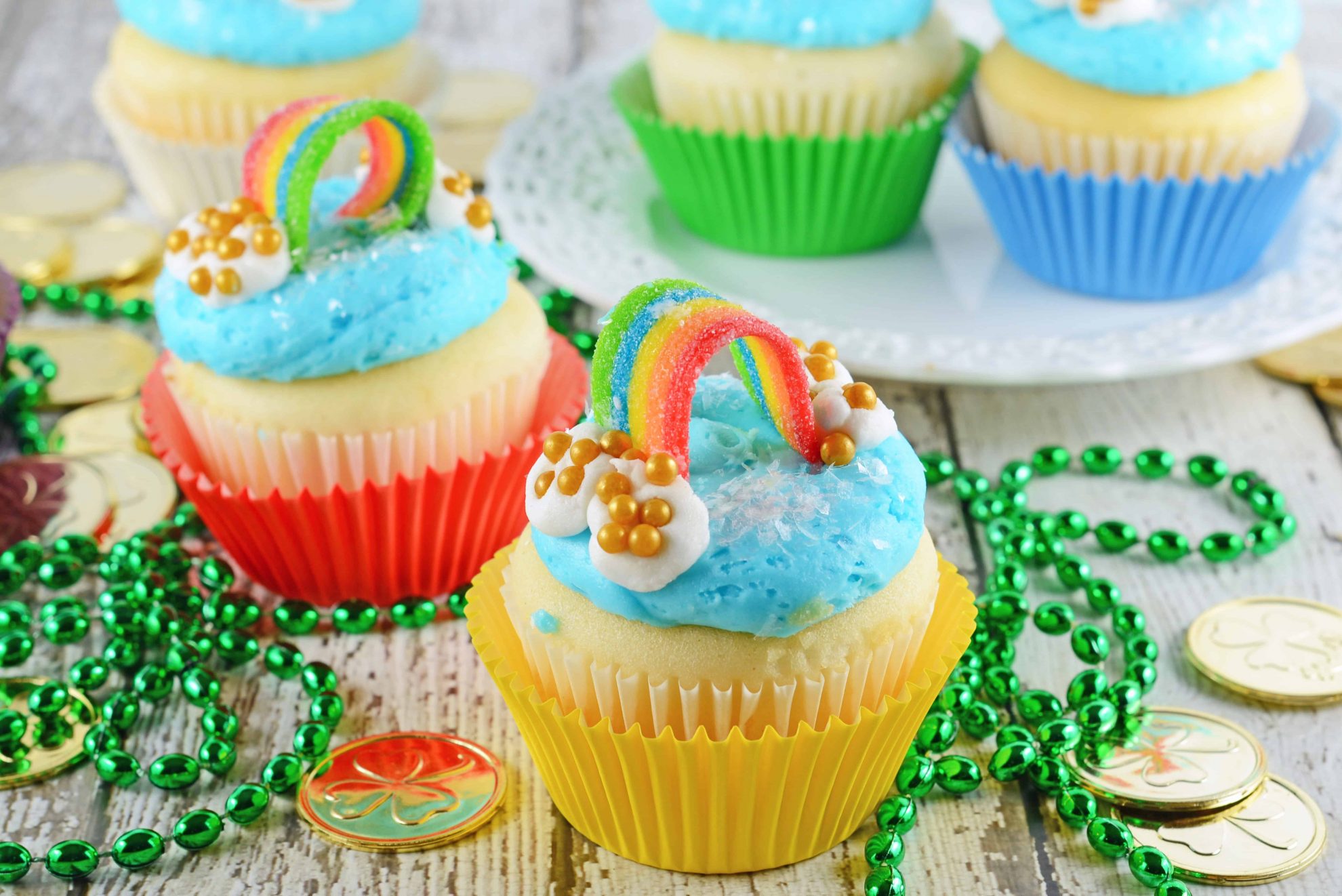 If you are looking for a time-saver, head to the bakery of your grocery store. They often offer pre-baked cupcakes with no frosting or decoration. Sometimes even the simplest shortcut can make a world of difference.
To make them even more festive, you can buy rainbow cupcake liners and put a second one underneath the one the cupcake baked in. A simple way to make them even more fun!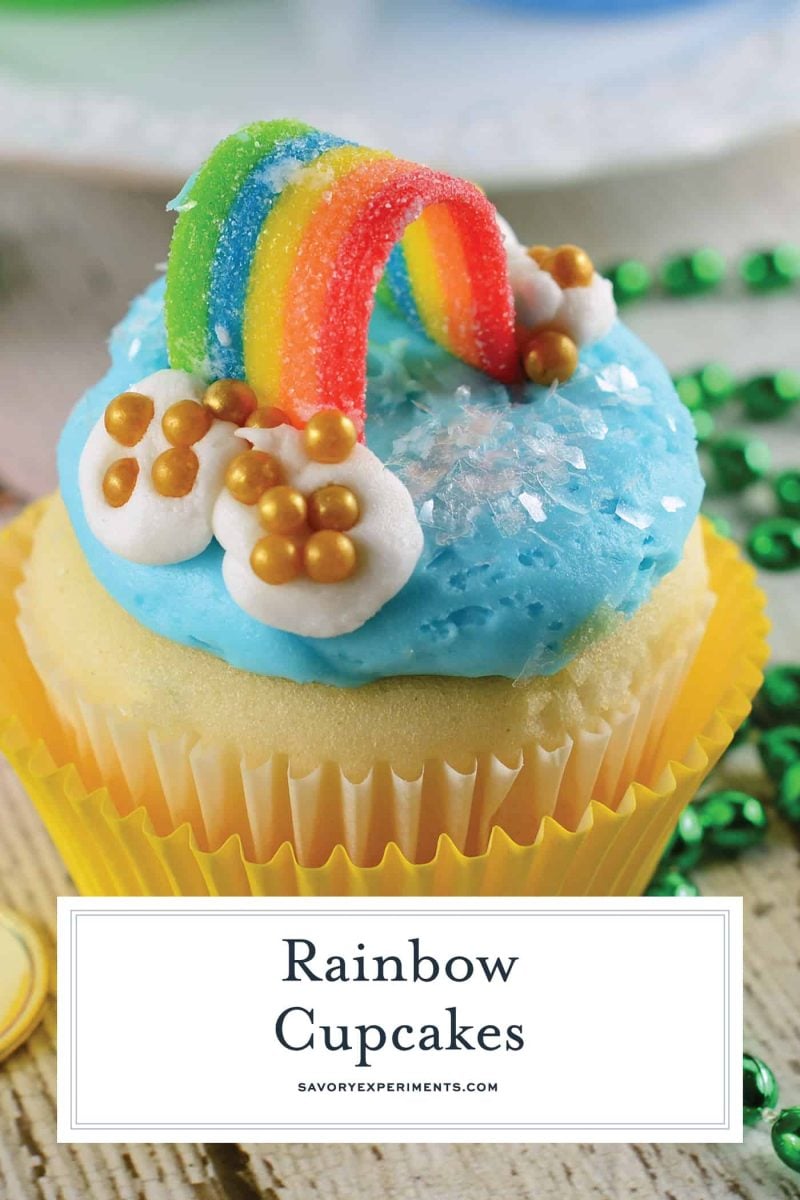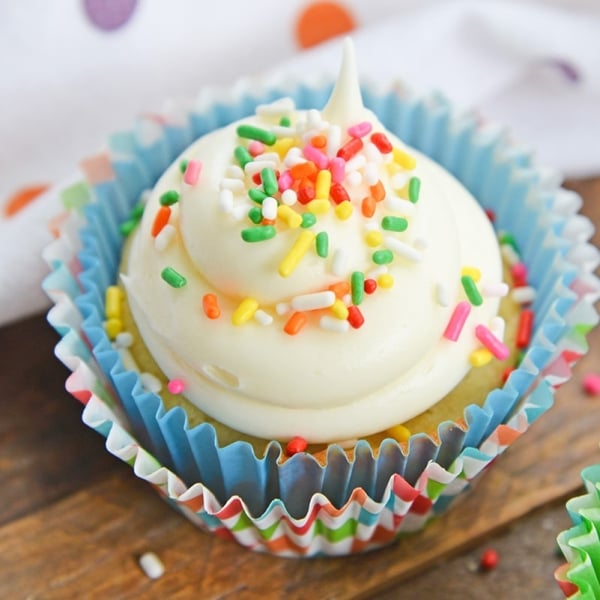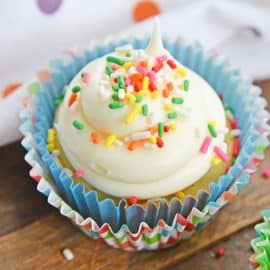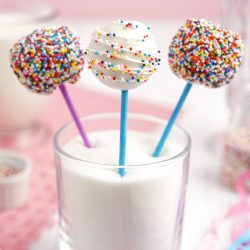 Easy Cake Pops
Make these easy cake pops in just 30 minutes using our donut holes instead of baking your own cake. Delicious and beautiful!
See The Recipe!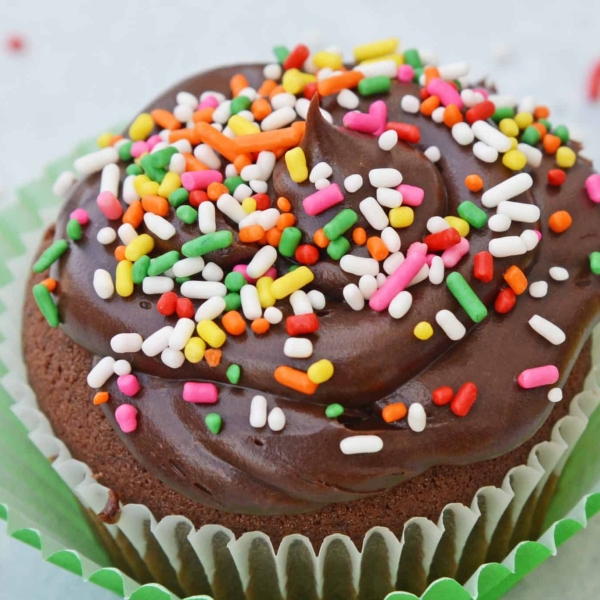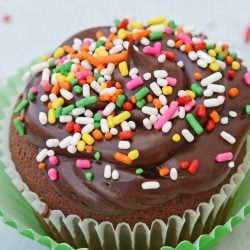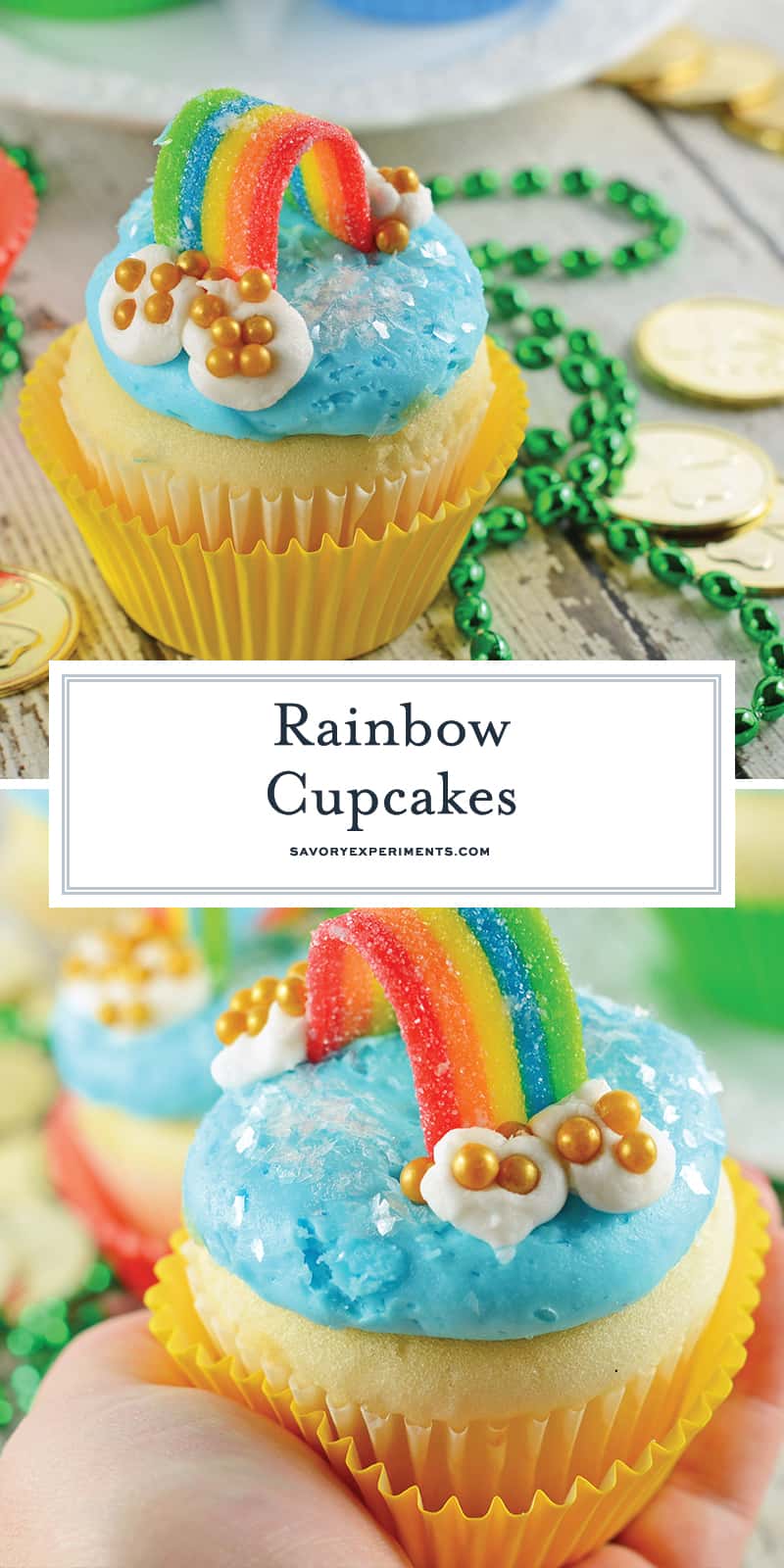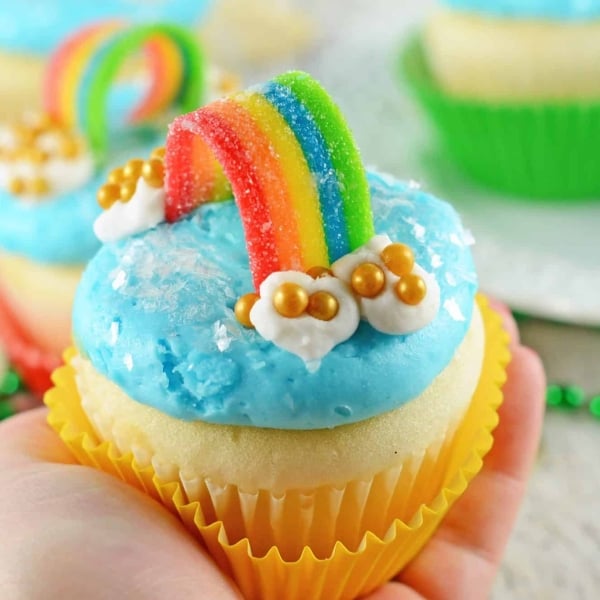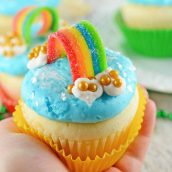 Rainbow Cupcakes
Rainbow Cupcakes are super easy and cute. The perfect cupcake for St. Patrick's Day, children's birthday parties or any random day of the week!
Instructions
Reserve 2 tablespoons vanilla buttercream frosting, mix the rest with blue food coloring achieving the perfect cloudy blue. Frost each cupcake.

Spoon remaining buttercream into a piping bag or a sandwich bag, snip the end. Pipe two balls on each side to secure the rainbows.

Cut rainbow candy belts into 1 1/2 inch pieces, secure them between the "clouds".

Using tweezers, place gold sugar pearls into the clouds.

Sprinkle cake sprinkles over "blue sky" and serve.

If you've tried this recipe, come back and let us know how it was!
Nutrition
Calories:
232
kcal
,
Carbohydrates:
37
g
,
Protein:
2
g
,
Fat:
8
g
,
Saturated Fat:
1
g
,
Sodium:
175
mg
,
Potassium:
47
mg
,
Sugar:
27
g
,
Vitamin A:
20
IU
,
Vitamin C:
0.1
mg
,
Calcium:
56
mg
,
Iron:
0.7
mg