Apple Cinnamon Popcorn is a sponsored post on behalf of The Popcorn Board. All opinions are honest and 100% my own.
Why would you want to always only be eating plain old popcorn? Level up your popcorn game by adding some flavor to your popcorn and make this scrumptious Apple Cinnamon Popcorn!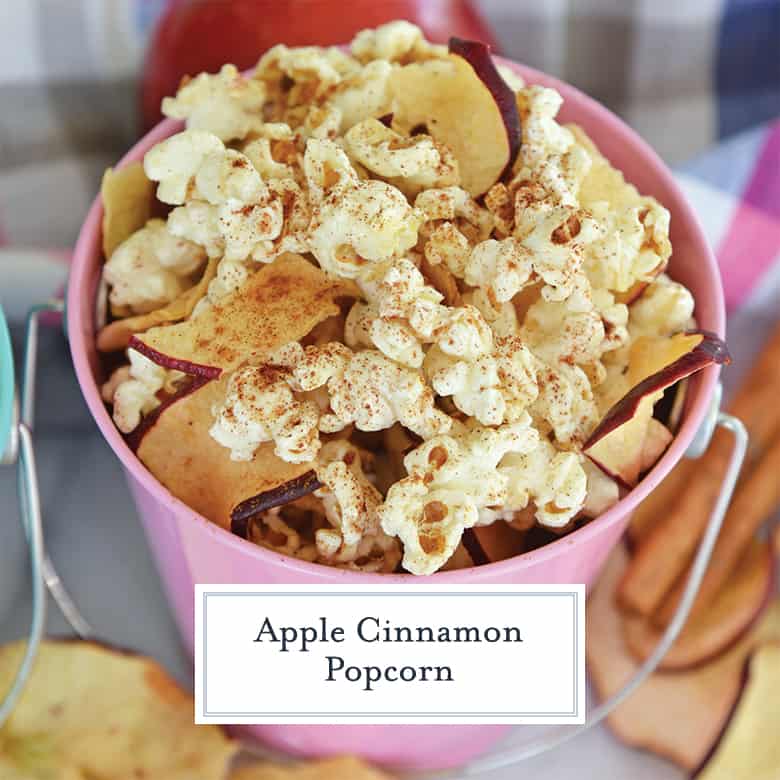 Flavored Popcorn
There has never been a shortage of flavored popcorn, caramel apple popcorn being among the most popular. I even remember as a kid eating colored popcorn balls.
Now that I think about it, they must have just been corn syrup with food coloring. I'll have to ask my mom. But I had fond memories of warm, gooey and sweet popcorn balls.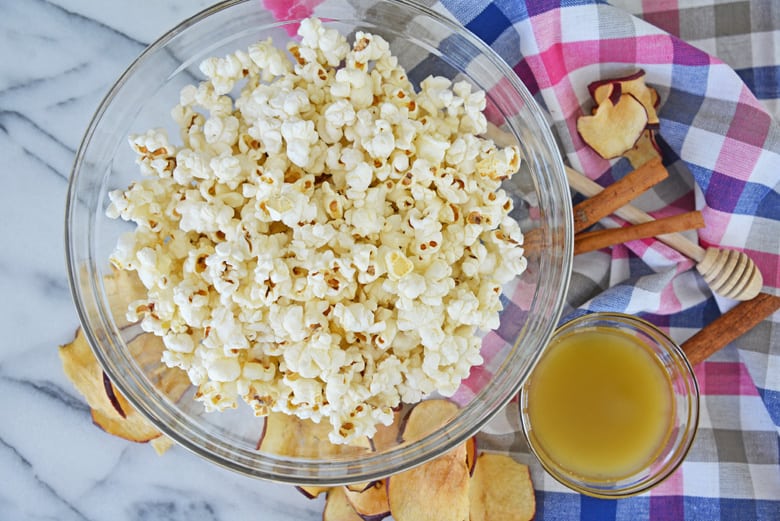 While fabulous in moderation, I needed an alternative popcorn seasoning to keep me munching responsibly. I came up with a healthier version: Apple Cinnamon Popcorn!
How to Make Flavored Popcorn
Basically an apple pie popcorn, I took air popped kernels and tossed them with honey butter, cinnamon and vanilla. You can even use apple pie spice if you'd like.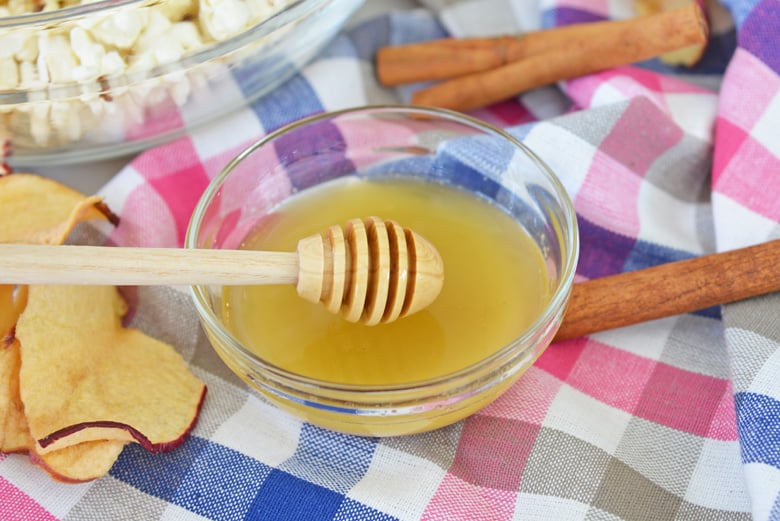 Depending on what you have around the house, use coconut oil or unsalted butter, to toss with the other flavors and equally distribute.
It only uses 2 tablespoons of butter for 4-6 cups of popcorn. I whisk that with just a tablespoon of honey (or agave nectar) and cinnamon before tossing.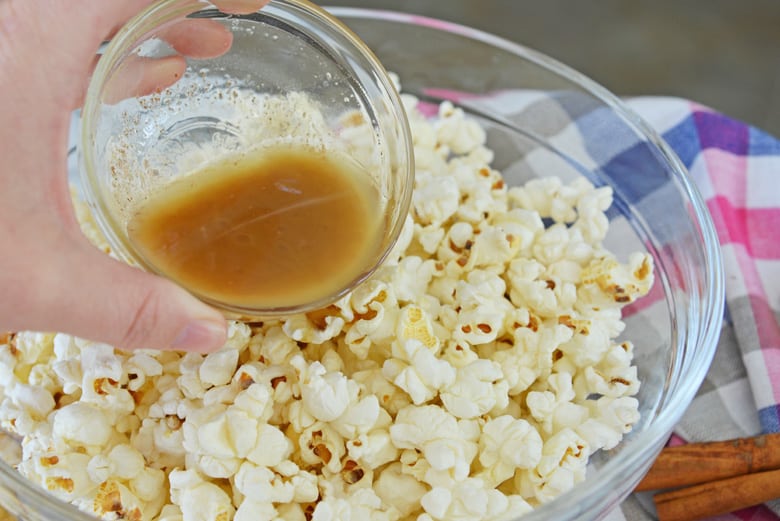 But what really sets this popcorn seasoning apart are the apple chips. Dehydrated chips of tart and sweet apples account for fruit intake and add loads of flavor!
You can toss in an flavor of dried fruit, banana chips, cranberries or raisins.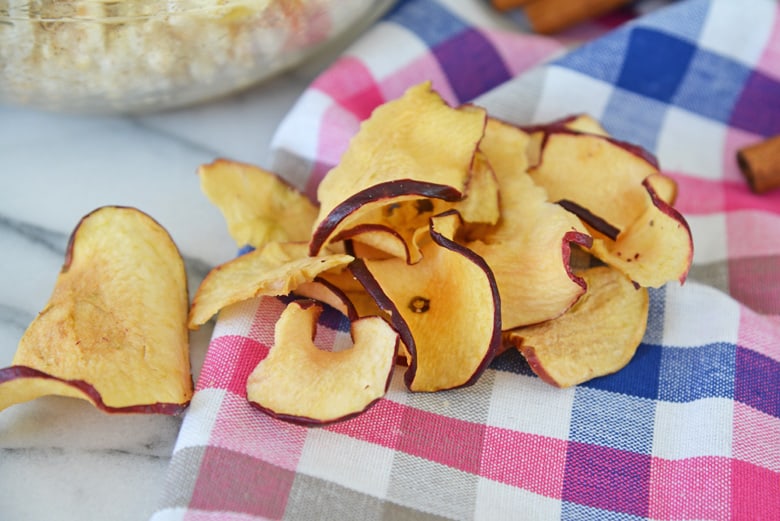 The mix is a little tacky when first tossed, just like it would be with just butter, but if you allow it to sit in a single layer on a baking sheet for a few hours, it will dry.
When to Serve
When can't you serve it? I like it as a snack or dessert. It works perfectly for movie night at home.
Kids also love these flavors, so serving it as a munchie at kids parties or even in little baggies for goodie bags is an excellent idea.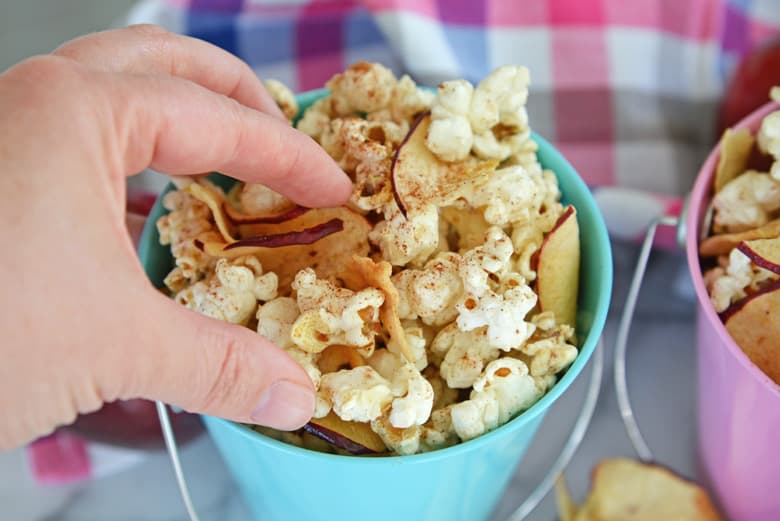 Storage & Freezing
I actually prefer this popcorn best right after tossing when the honey butter makes the popcorn all warm and gooey. But you can also follow the instructions above for a dry version.
Popcorn is best the first day. Remember, this is doesn't have preservatives or a ton of salt to keep it fresh for a long amount of time.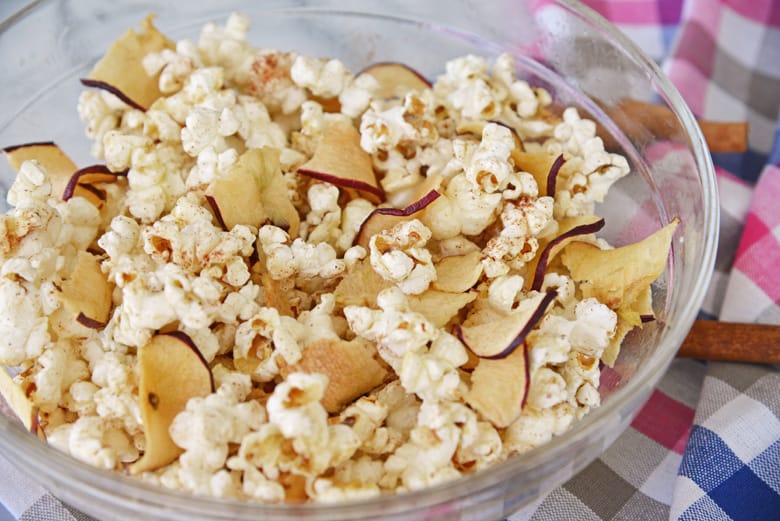 You can store leftovers in an airtight plastic container for 3-5 days, but any pieces that got an extra dose of butter might get soggy. I highly recommend using the drying method if you plan to store this or serve in goodie bags for parties.
Popcorn, in general, doesn't freeze well after being popped. However, unpopped kernels do stay much fresher if frozen for up to 1 year.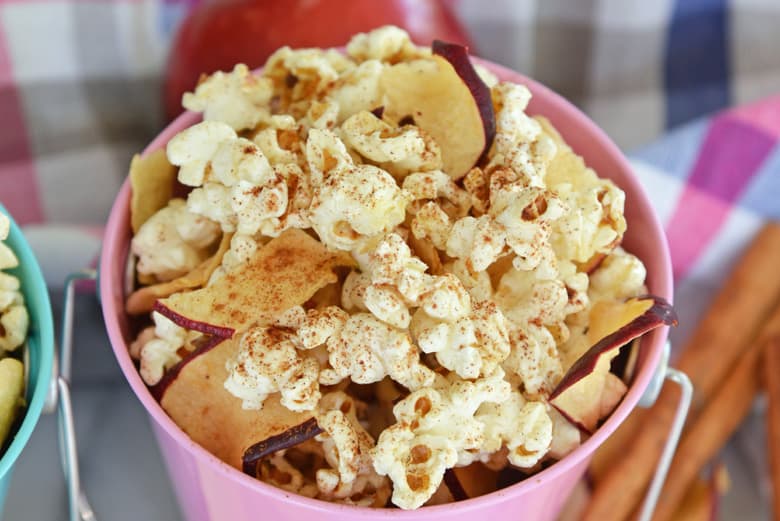 Want to learn more corny facts about popcorn?
Popcorn is actually a seed.
Popcorn is a whole grain, full of dietary fiber and is naturally gluten free.
Popcorn is non-GMO and there has never been a GMO popcorn seed for sale in the U.S..
Americans consume 14 billion quarts of popcorn annually.
The highest kernel popped 3 feet into the air.
"Popability" refers to the percentage of kernels that pop in any given variety.
Popcorn comes in two shapes: the "snowflake" and the "mushroom".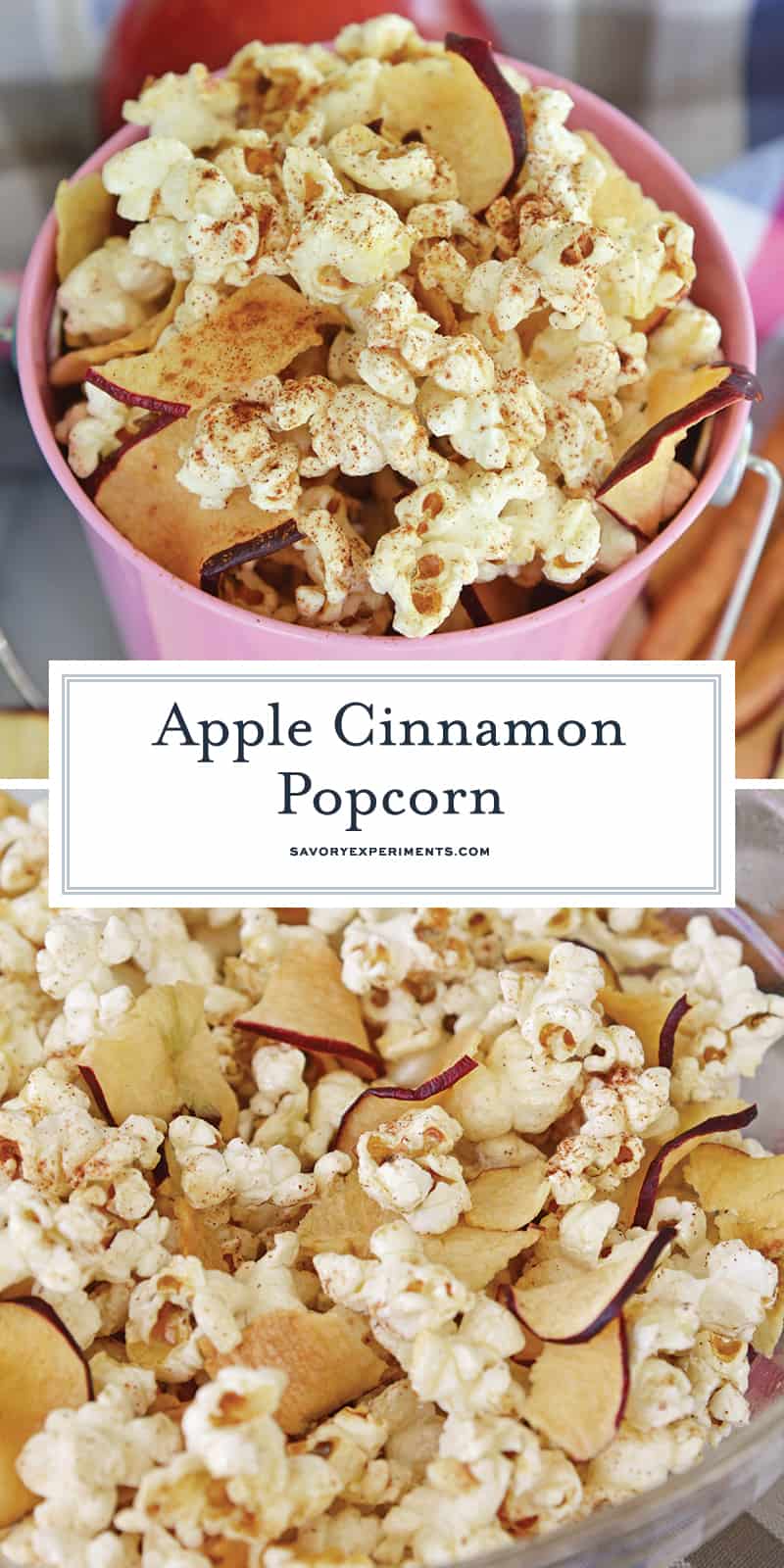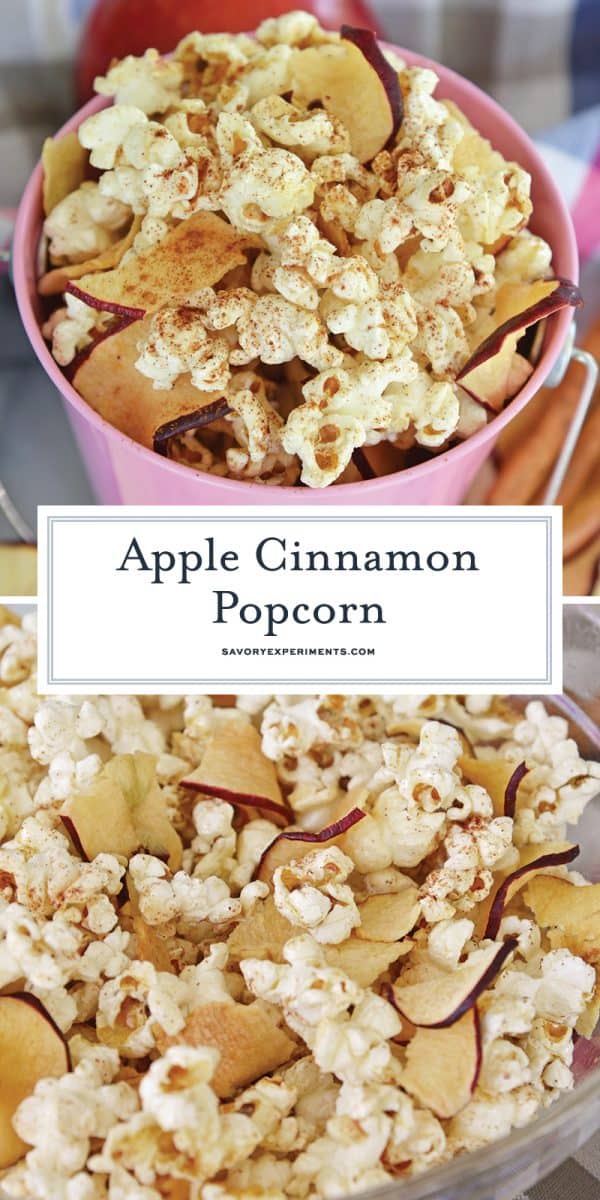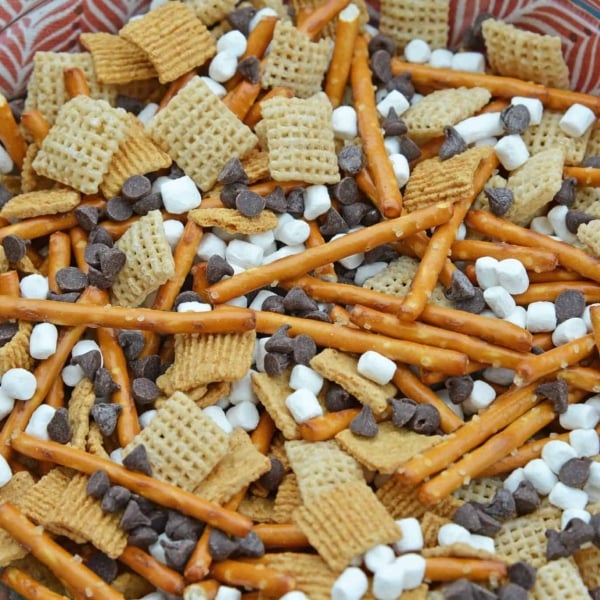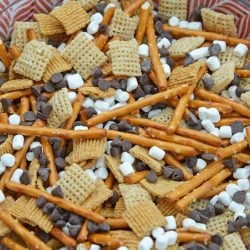 S'Mores Trail Mix
S'mores Trail Mix uses just 5 ingredient to make a sweet, salty and crunchy snack that is perfect for on-the-go and anytime of day!
See The Recipe!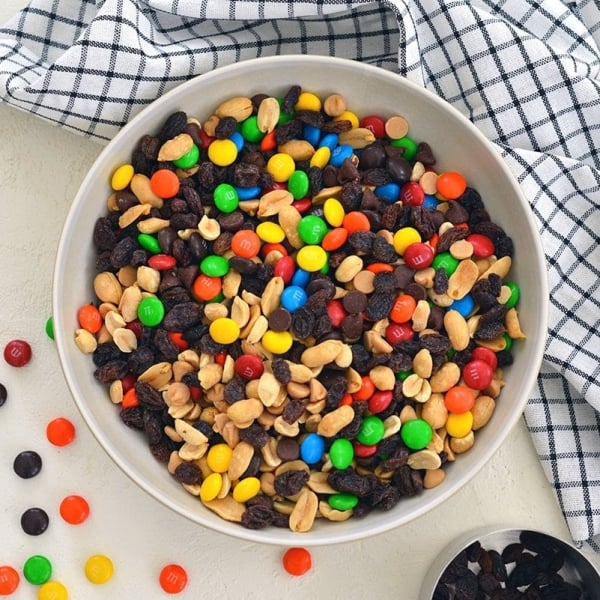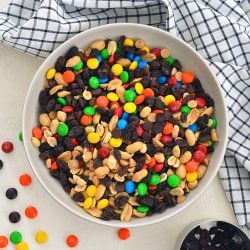 Monster Trail Mix
Monster Trail Mix is an easy trail mix of nuts, M&Ms, raisins and chips. The perfect snack for camping, hiking or an afternoon by the pool. Make a large batch and snack for days!
See The Recipe!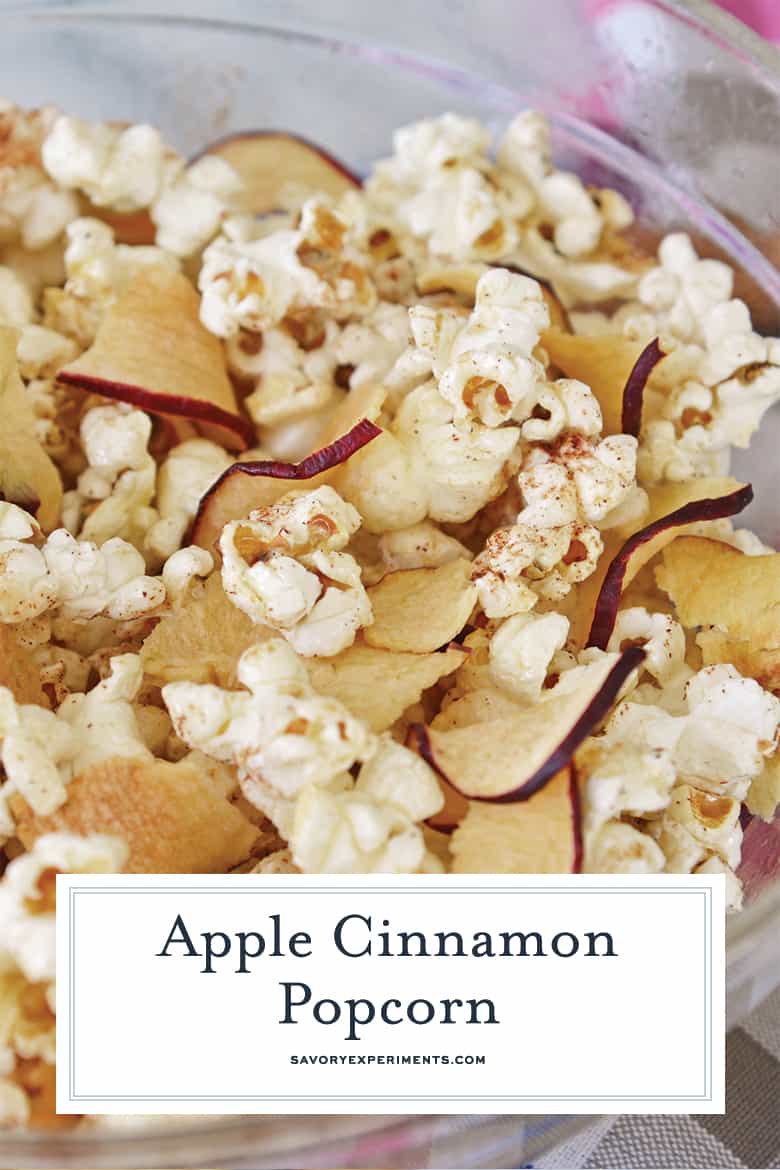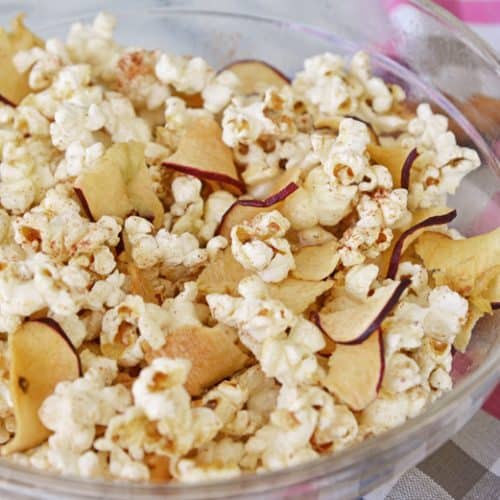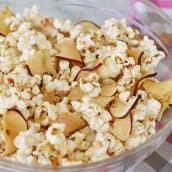 Apple Cinnamon Popcorn
Apple Cinnamon Popcorn is a great way to enjoy popcorn as a dessert or snack. Fresh popcorn tossed with honey butter, cinnamon, vanilla and crunchy apple chips.
Ingredients
Instructions
In a small bowl, melt coconut oil or unsalted butter with honey, vanilla and cinnamon or apple pie spice. Whisk to combine.

Drizzle and toss with popped plain popcorn.

Toss mixture with apple chips. Enjoy!

If you've tried this recipe, come back and let us know how it was!
Nutrition
Calories:
174
kcal
,
Carbohydrates:
28
g
,
Protein:
2
g
,
Fat:
8
g
,
Saturated Fat:
6
g
,
Sodium:
20
mg
,
Potassium:
133
mg
,
Fiber:
4
g
,
Sugar:
17
g
,
Vitamin A:
22
IU
,
Vitamin C:
1
mg
,
Calcium:
8
mg
,
Iron:
1
mg
Leave me a comment and let me know how you like to eat your popcorn! To learn more about popcorn and get even more delicious flavored popcorn recipes, visit The Popcorn Board on Facebook or their website at popcorn.org.