This is a sponsored conversation written by me on behalf of Omni Hotels & Resorts . The opinions and text are all mine.
Last summer we gallivanted around Italy, Canada and the states with our darling infant daughter. She did more travel in her first year than some folks do in a lifetime. It was fabulous.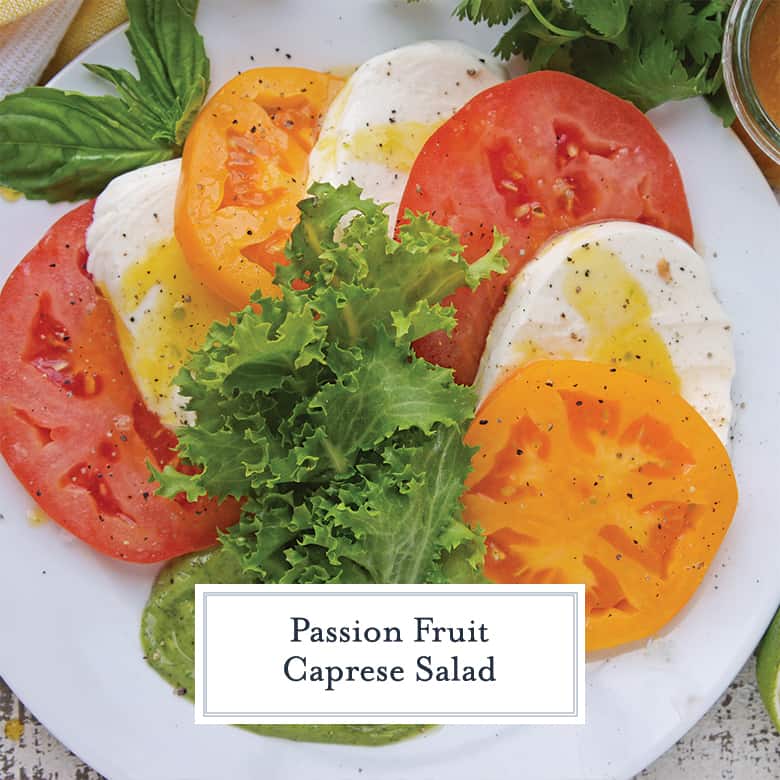 Passion Fruit Caprese Salad, a summer salad offered by Omni Hotels & Resorts, combines a sweet and spicy serrano-passion fruit dressing and avocado spread with a traditional Caprese salad.
This summer is turning out to be a little different. Instead of living out of a suitcase, we will be adjusting to the newest member of our family, a little boy. He is due to arrive any day now and we couldn't be more excited.
And because a new baby isn't stressful enough, we also bought and house and will be moving shortly after his homecoming. What were we thinking??
Even though I recognize that I don't need to add any more positive stress to our lives, I am still bummed to be missing out on travel. Especially exploring the Omni Originals Program; customized menus with focus on a star ingredient. This is the Summer of Passion Fruit.
Oh, how I love passion fruit!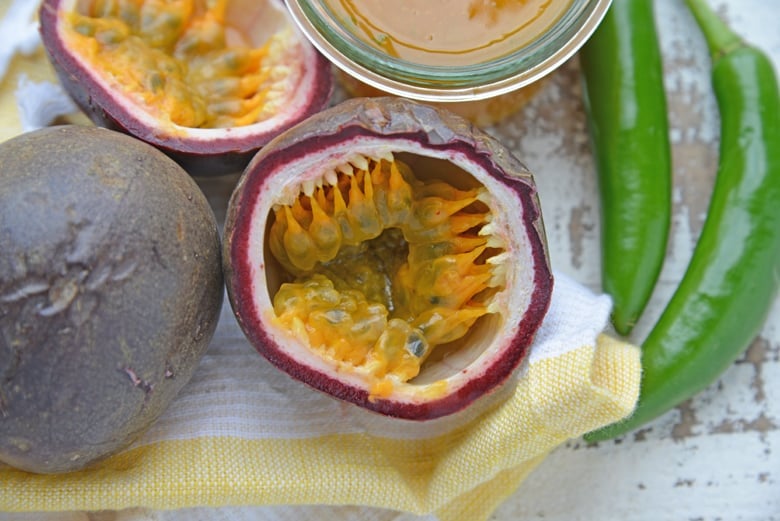 What is passion fruit?
Passion fruit is a delicious fruit deceptively masked by a thick brown, yellow or burgundy shell. Inside contains a sweet, sticky and seedy fruit. A tropical fruit that pairs well with almonds, citrus fruits, tropical flavors and vanilla.
Due to my unique circumstances, Omni was kind enough to share a few of their propriety passion fruit recipes so I could bring the magic into my home. Today we made Passion Fruit Caprese Salads.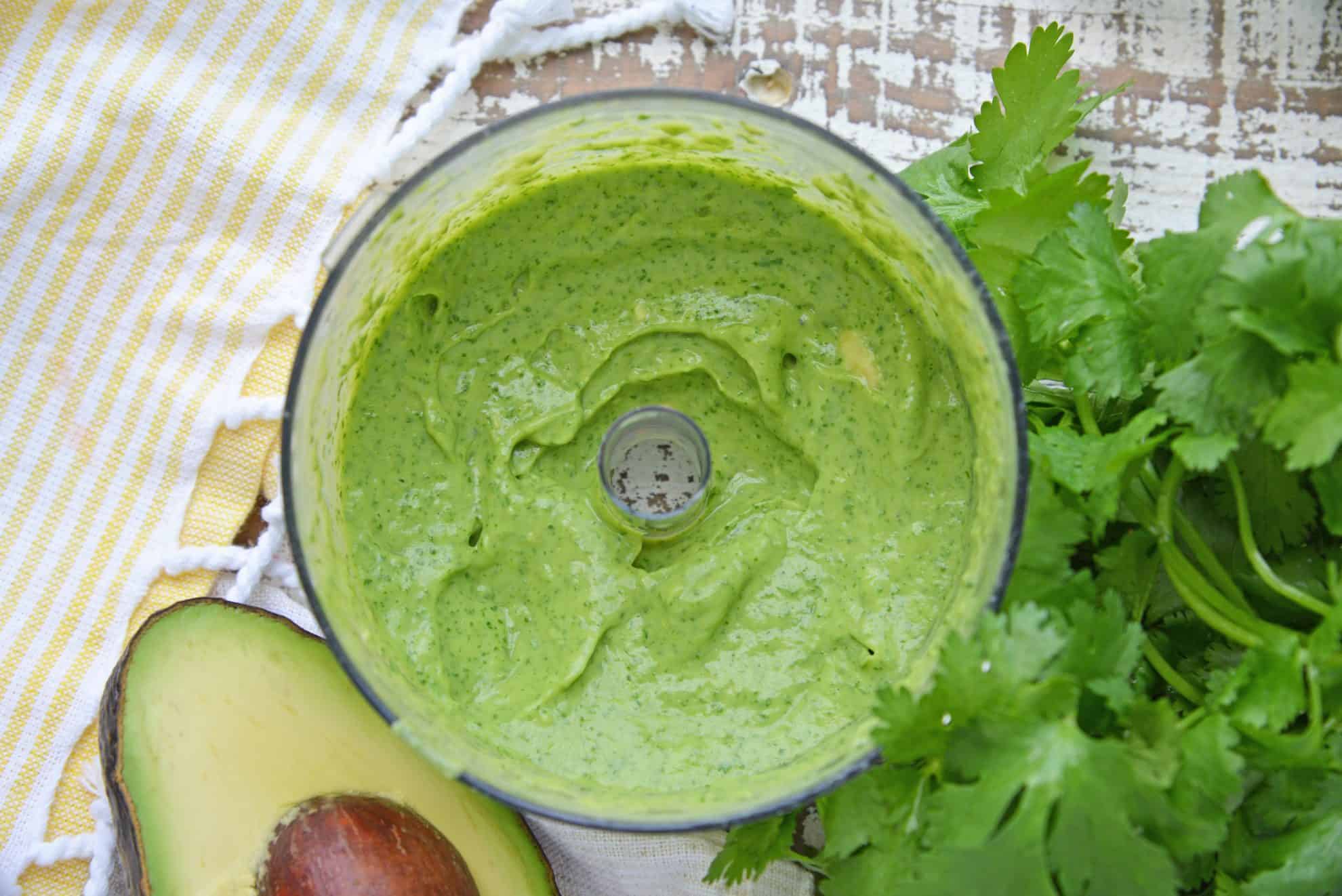 A traditional Caprese Salad made with heirloom tomatoes, burrata and fresh basil, but with two slight twists. The first being a bright avocado spread and the other a sweet and spicy passion fruit dressing.
PRO TIP: Wear powder-free latex gloves while handling serrano pepper. Anytime you chop a hot pepper, you risk the oils permeating your skin and it BURNS!
The flavor combination is juicy and fresh, the true essence of poolside summer days. If I close my eyes, I can picture myself basking in sun at the Omni Shoreham in Washington DC.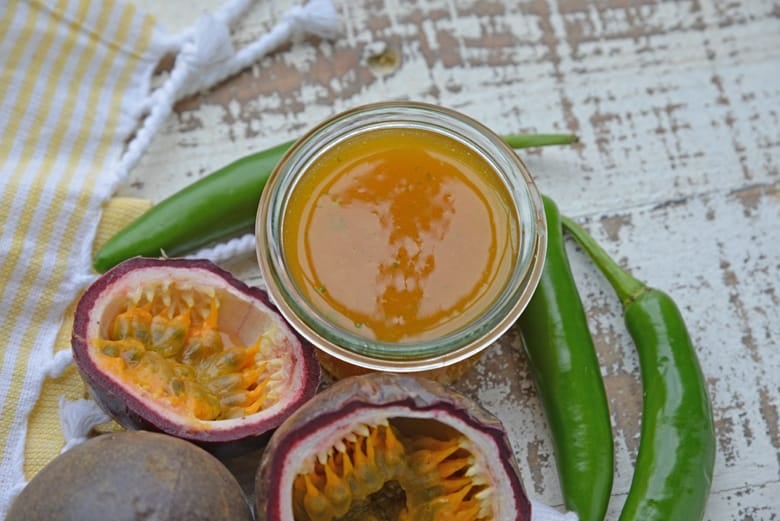 In fact, I've already planned our visit in the fall after things calm down. Whether you are planning a local staycation or a trip to the District of Columbia, the Omni Shoreham is my top choice of hotels.
Whenever possible, we book with Omni Hotels & Resorts. Between the unparalleled personalized service, award winning spas and picturesque golf courses, our stays are always memorable.
Each luxury resort is tailored and unique to their location offering local cuisine and flare.
If you are lucky enough to get to one of the 60 Omni Hotel & Resort locations for the Summer of Passion Fruit, here are some other menu items you should try:
Salmon Poke Bowl

: passion fruit aioli, avocado, cilantro, sweet chili, wonton crisps, sesame seeds

Watermelon and Kiwi Salad

: baby bok choy, almond, fennel, passion fruit vinaigrette

Jackfruit Tacos al Pastor

: passion fruit salsa, salsa verde, radish, onion, cilantro, lime

Smoked Baby Back Ribs

: passion fruit barbecue, pickled onions, peppers

Passion Fruit Yogurt Pop:

passion fruit curd, Greek yogurt, white and dark chocolate

Peach Passion Freeze

: peach vodka, passion fruit puree, lemon

Poolside Passion Fruit Cooler:

bourbon, passion fruit puree, lemon, club soda

Ruby Red Rejuvenator:

grapefruit vodka, passion fruit puree, lime, grapefruit soda

Questions you might have about how to make a Passion Fruit Caprese Salad:
What is burrata? Burrata is an Italian cheese made from cow's milk. The outside is solid mozzarella, while the inside is filled with stracciatella and cream. A substitution for burrata is fresh mozzarella cheese.
What is frisee? Frisee is a type of lettuce that comes from the chicory family, has a frizzy texture and a bitter flavor. Frisee and curly endive come from the same family and are similar, but slightly different in appearance.
Escarole, Belgium endive and radicchio also have similar flavor, but look different, and can be substituted.
What are heirloom tomatoes? Heirloom tomatoes are simply a type of tomato and are known in other areas of the world as heritage tomatoes.
They are often characterized by their uneven shape and color, but are unbeatable when it comes to juicy, sweet flavor.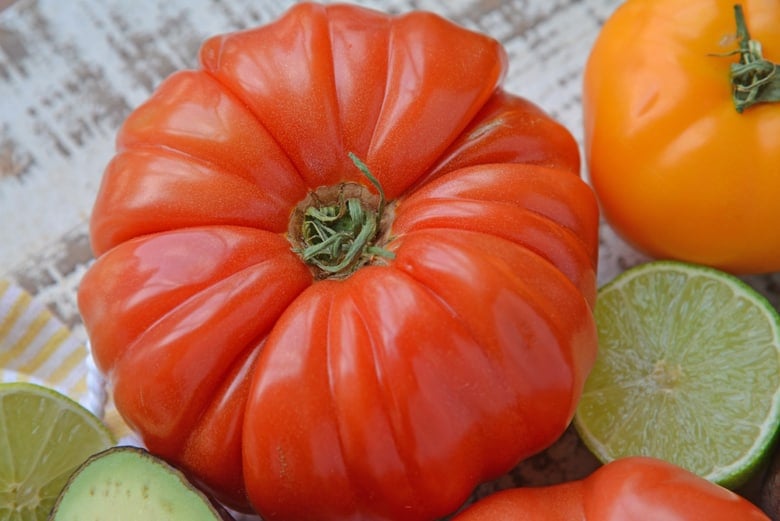 If you aren't able to locate heirloom tomatoes, they next best bet is a beefsteak tomato.
Where can I find passion fruit puree? I found passion fruit puree in the cocktail section of my grocery store. You can also order it online or find it at a liquor store.
If you want to make your own passion fruit puree, cut open two fresh passion fruits (there isn't much pulp in a fruit). Scoop out the seeds and pulp, separating the pulp into a food processor or blender along with 1 tablespoon of water. Blend until smooth.
What can I use as a substitute for passion fruit puree? You can substitute passion fruit preserves or jam for puree.
However, in this recipe, you will then omit the sugar as sugar as already been added to the preserves. See recipe notes for instructions.
You can also use other tropical fruits like kiwi.
What can I do with my leftover passion fruit puree or jam? Make some fabulous cocktails! Check out a few of the passion fruit cocktail ideas above and be the star of your next BBQ.
Passion fruit preserves are especially tasty on a peanut butter and jelly sandwich, grilled cheese with bacon or slathered on brioche French toast.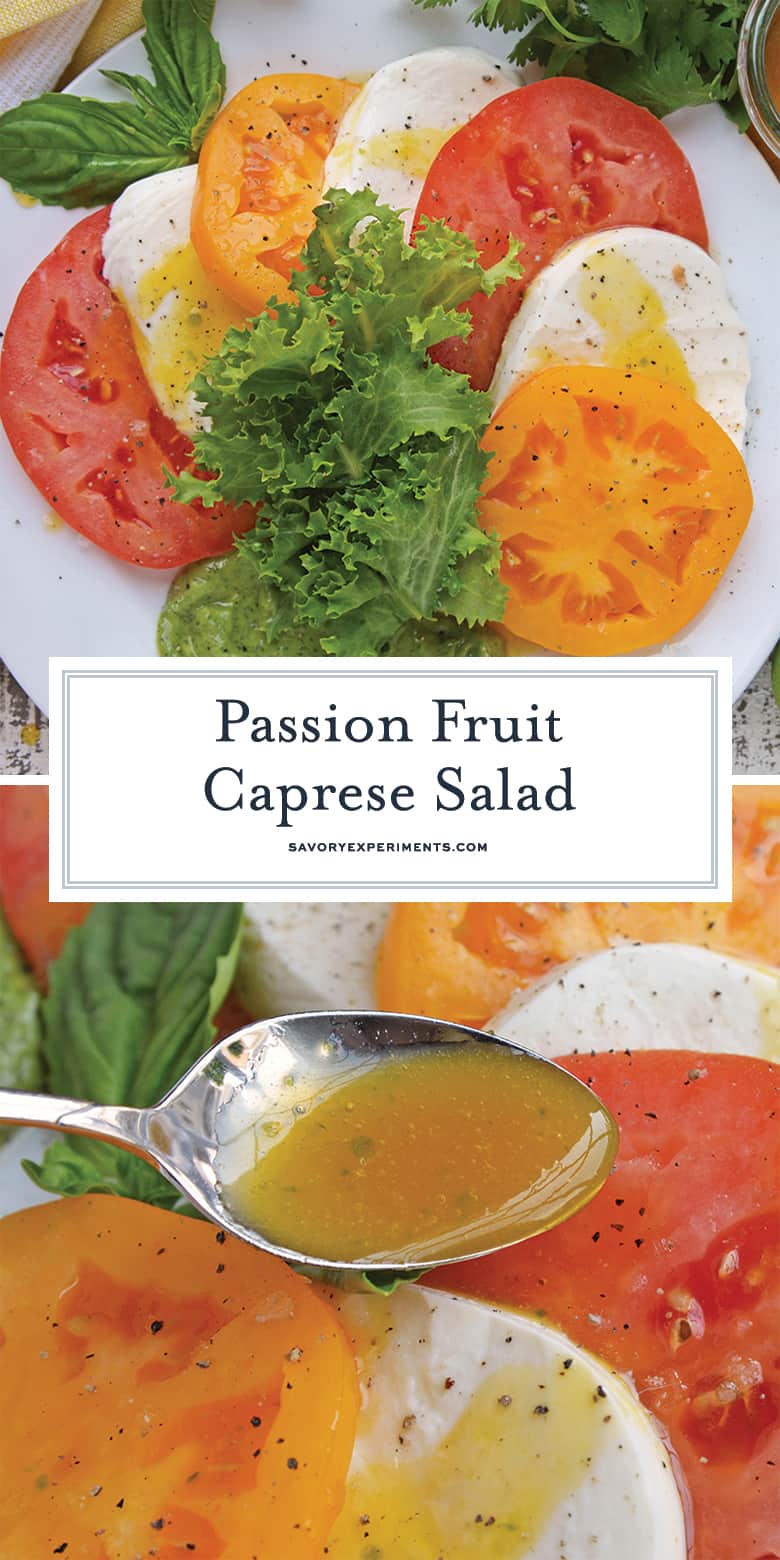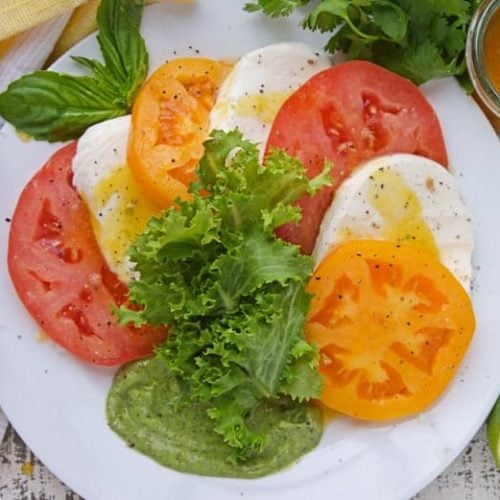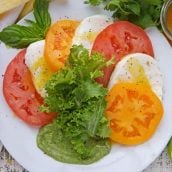 Passion Fruit Caprese Salad
Passion Fruit Caprese Salad, a summer salad offered by Omni Hotels & Resorts, combines a sweet and spicy serrano-passion fruit dressing and avocado spread with a traditional Caprese salad.
Ingredients
Serrano Passion Fruit Dressing*:
¼

serrano chile

, seeded and chopped

1/3

cup

passion fruit puree

1/3

cup

sugar
Instructions
Serrano-Passion Fruit Dressing:
Heat all ingredients in a heavy bottom sauce pan. Simmer on low until reduced by half and sugar has dissolved. Run through a strainer and discard strained solids and chill dressing until ready to serve.
Avocado Spread:
Combine avocado, cilantro and lime juice in a small food processor or blender. Pulse until smooth. Set aside until ready to plate.
Caprese Salad:
On serving dishes, alternate red and yellow heirloom tomatoes with fresh burrata, overlapping slightly. Divide all ingredients evenly on the two plates.

Place frisee lettuce in the center.To Finish:Place a smear of avocado spread on the side of both serving dishes using the back of a spoon. Drizzle serrano-passion-fruit dressing over tomato and burrata.

Garnish with Maldon sea salt, freshly ground black pepper and fresh basil.
Notes
Notes: If you can't find passion fruit puree and are substituting passion fruit preserves, combine ¼ cup preserves and 1/4 serrano chile, seeded, with 1 tablespoon water in a small food processor or blender. Pulse until smooth.
Nutrition
Calories:
380
kcal
,
Carbohydrates:
52
g
,
Protein:
10
g
,
Fat:
19
g
,
Saturated Fat:
7
g
,
Cholesterol:
30
mg
,
Sodium:
26
mg
,
Potassium:
699
mg
,
Fiber:
9
g
,
Sugar:
41
g
,
Vitamin A:
3095
IU
,
Vitamin C:
36.2
mg
,
Calcium:
244
mg
,
Iron:
1.4
mg
More information on Omni Originals can be found at OmniHotels.com .
Follow Omni Hotels & Resorts at www.Facebook.com/OmniHotels, Twitter.com/OmniHotels and Instagram.com/OmniHotels.