This is an easy calamari recipe that will help you create the perfect crunchy appetizer in as little as 20 minutes! A simple yet delicious Chimichurri Fried Calamari recipe!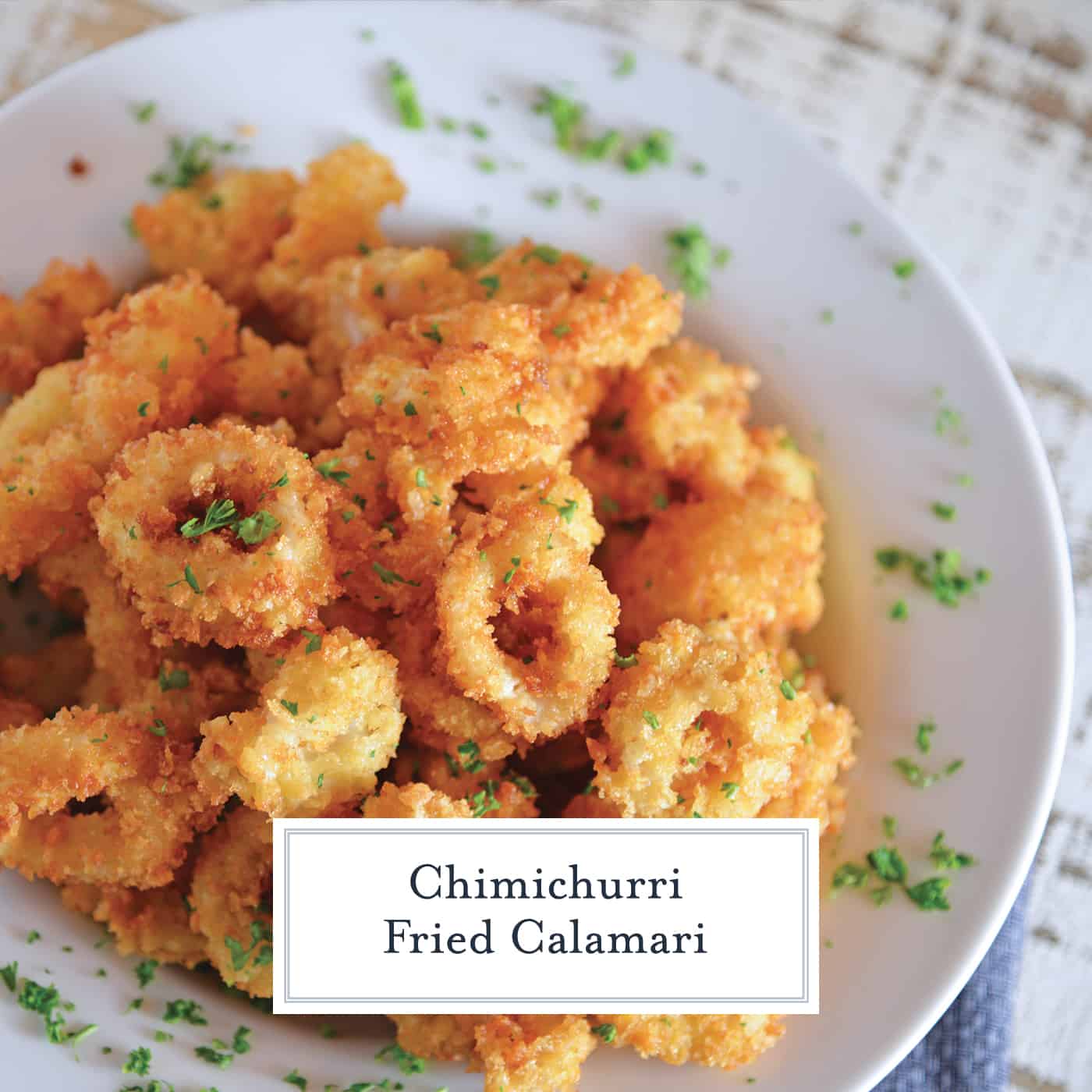 Chimichurri Fried Calamari is a quick and delicious appetizer recipe that can please any crowd! Served with fresh chimichurri sauce, it is a delicious twist.
Do you have a party or just family over? Well this recipe would be perfect!
One of my favorite easy appetizers is calamari. Traditionally cut into rings or left as whole tentacles, squid is seasoned and flash fried.
I originally wanted to make Calamari Fries, however I quickly realized that the squid did not keep its shape well when fried and they suddenly turned into Curls. Just as tasty, this recipe is a crowd pleaser.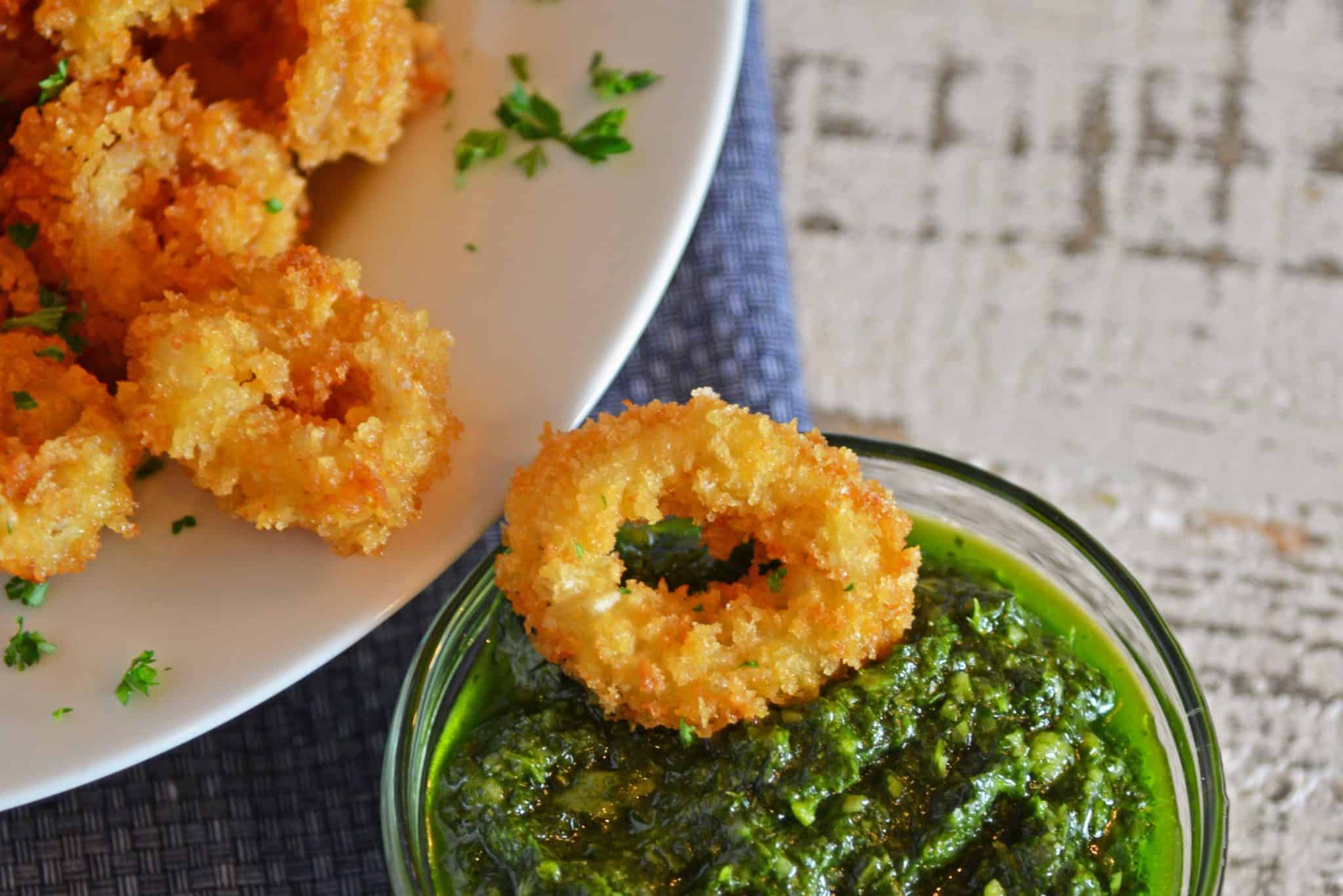 A question I get often is how to make calamari the easiest way. After you have cleaned the squid, start setting up your panko, salt and pepper mix. In a separate bowl mix egg whites and flour until you have a thicker pasty mixture.
Start to coat your calamari strips in the egg white mixture, then cover in the panko mix before placing into the hot oil. The frying should only take 2-3 minutes and will take less time as the oil heats up.
Chimichurri Sauce is used generally in South America and Mexican recipes. It is a spicy sauce or marinade that can be used on grilled meat but can be used on anything you prefer. Here are our favorite recipes that use chimichurri.
Usually made up of a mixture of parsley, garlic, vinegar, olive oil, and flakes of chili pepper! It is the perfect sauce for this fried calamari!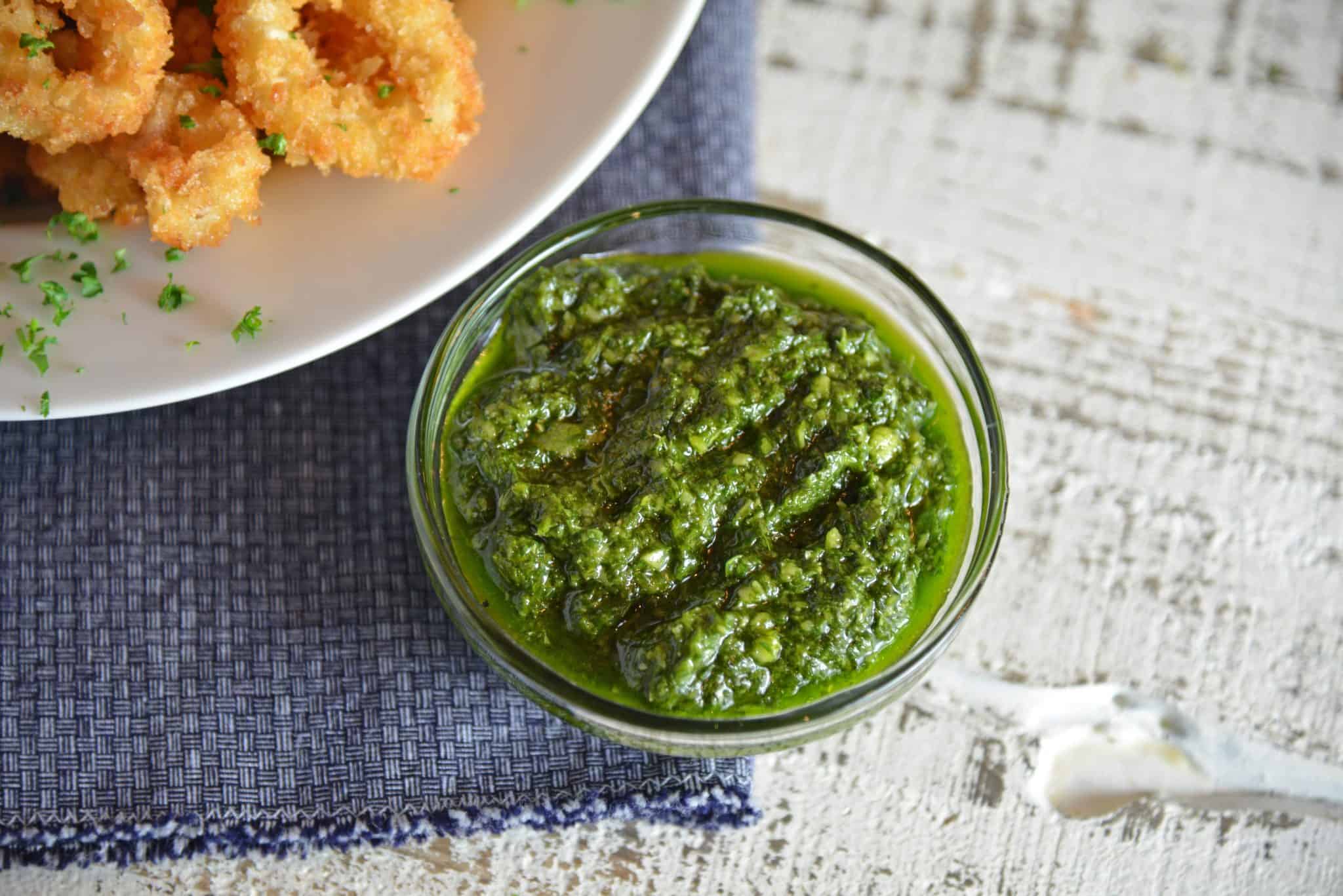 If you liked this easy calamari recipe, check out these other easy seafood recipes: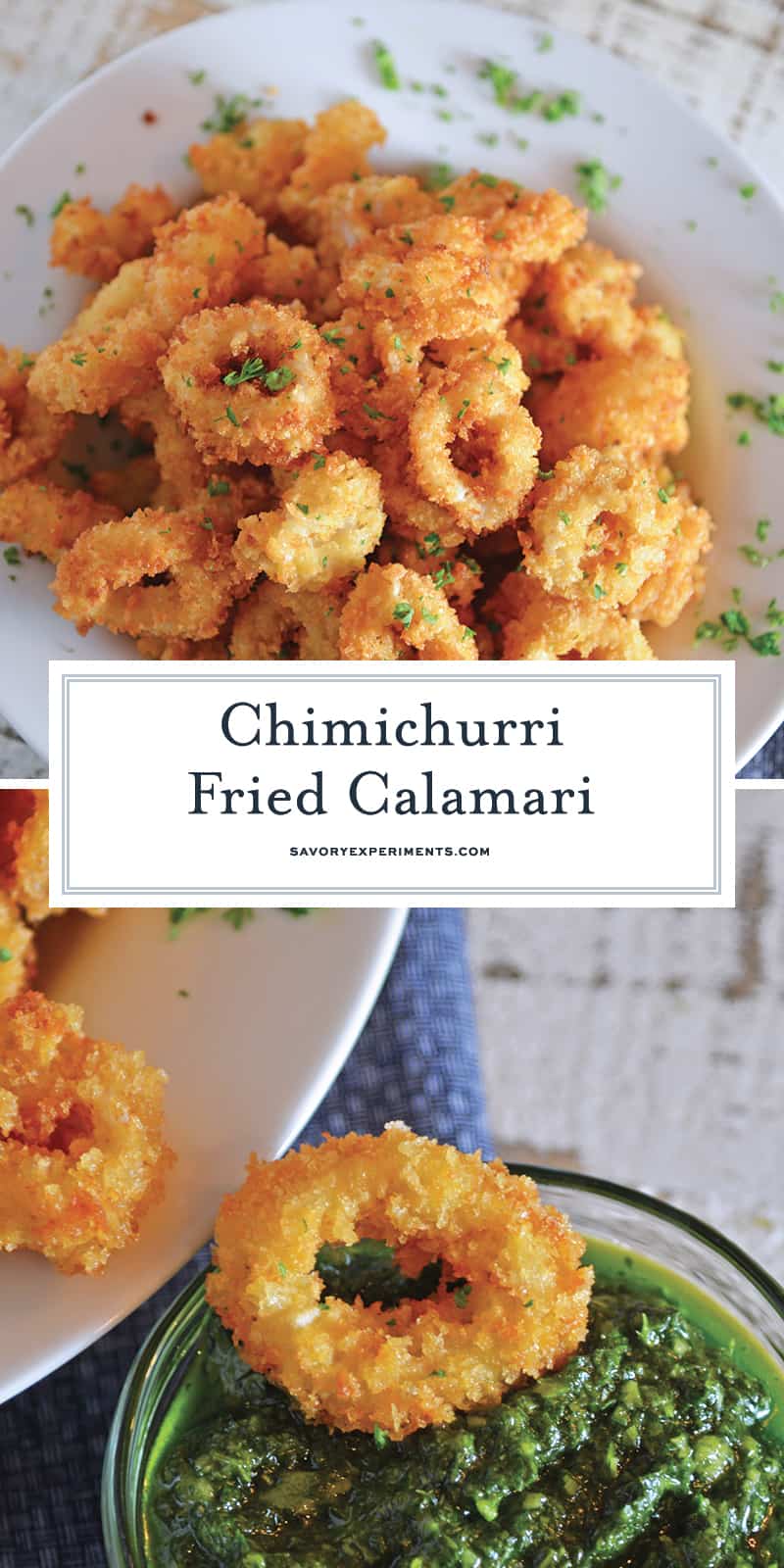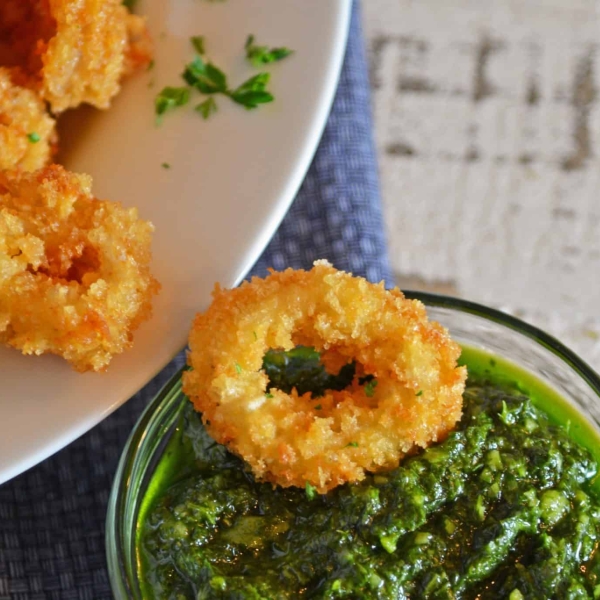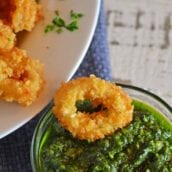 Chimichurri Fried Calamari Recipe
Chimichurri Fried Calamari is a quick and delicious appetizer recipe that can please any crowd! Served with fresh chimichurri sauce, it is a delicious twist.
Ingredients
1

pound

squid tubes

2

cups

Japanese Panko bread crumbs

fine sea salt and fresh ground pepper

1/3

cup

flour
vegetable oil

, enough to fill your frying pan up to 1 1/2 inches
Instructions
Thoroughly clean squid pieces under cold water, running water through tubes. The tips might have a jelly-like tendon that will need to be cut off and discarded. Cut tubes into 1/4 inch slices lengthwise, like a French fry. Set in refrigerator.

In a medium bowl combine panko bread crumbs with a few dashes of sea salt and a couple turns of a fresh peppercorn medley. In another medium bowl whisk together egg whites and flour to make a paste.

Preheat oven to warm, 150-200 degrees. Heat oil over medium-high heat. Dredge calamari strips in egg white mixture. Strips do not need to be fully coated. Allow excess coating to drip off or gently push off excess batter with your fingers and transfer to panko mixture. Pat bread crumbs into calamari and transfer to hot oil.

Fry until strips are lightly browned and curled, turning through out process. This a quick, flash fry, and will only take 2-3 minutes and will get quicker as the oil gets hotter. Over cooking will result in a rubbery, chewy mess, under cooking will be jelly like and tough. Calamari will be white and curly when done. Remove calamari curls to a paper towel lined baking sheet and place in oven to keep warm while you fry the remainder.

Serve hot with chimichurri sauce.

If you've tried this recipe, come back and let us know how it was!
Nutrition
Calories:
272
kcal
,
Carbohydrates:
33
g
,
Protein:
25
g
,
Fat:
3
g
,
Cholesterol:
264
mg
,
Sodium:
307
mg
,
Potassium:
385
mg
,
Fiber:
1
g
,
Sugar:
2
g
,
Vitamin A:
35
IU
,
Vitamin C:
5.4
mg
,
Calcium:
91
mg
,
Iron:
2.7
mg