This post is sponsored by Prego®, however all thoughts and opinions are 100% my own.
What happens when you combine two of the most delicious dishes: mac and cheese and pizza? You get Pizza Mac and Cheese! The ultimate comfort food.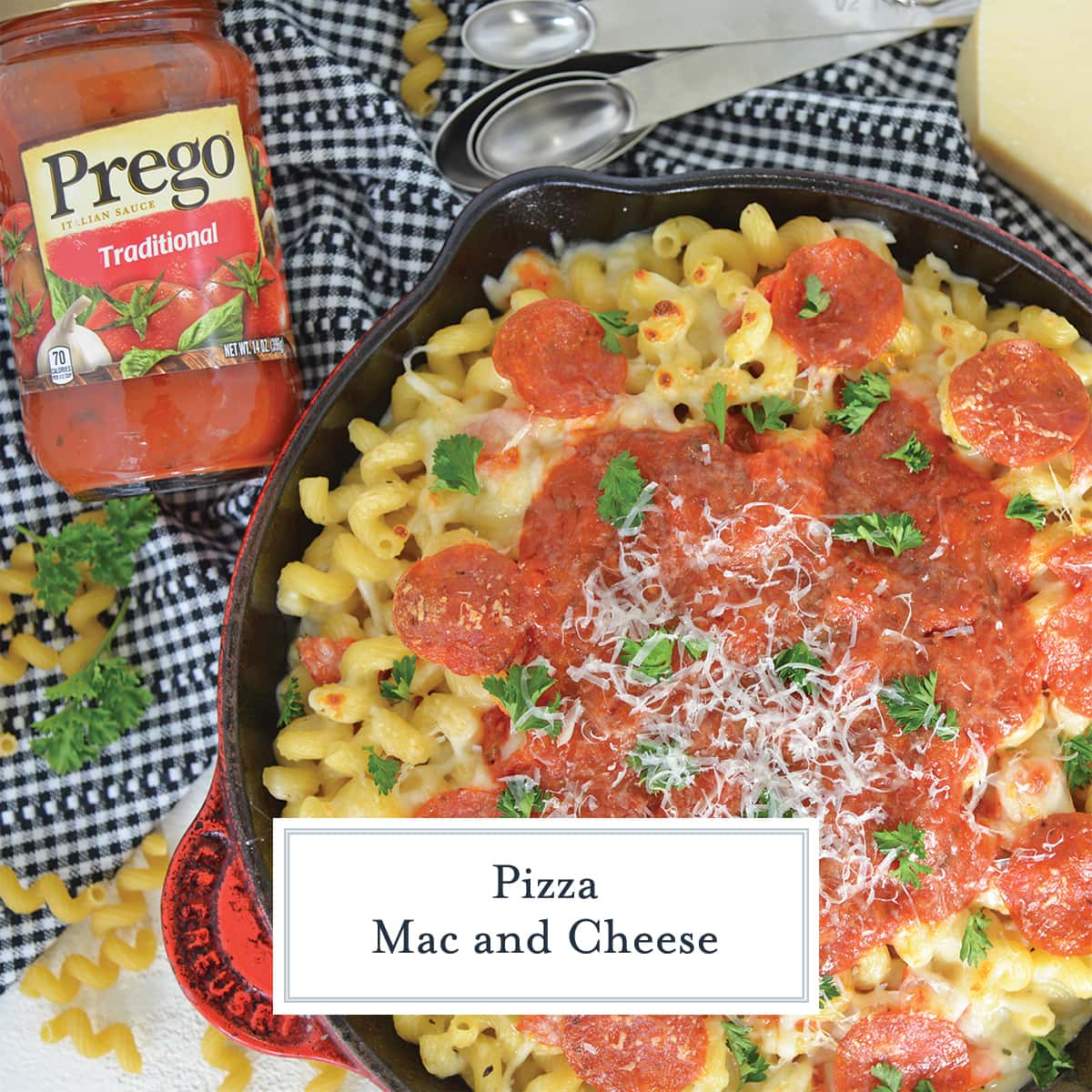 I'm always looking for new twists on old favorites and in this case, I was able to combine two of my loves.
Pizza Mac and Cheese
My kids are fairly adventurous eaters as far as littles go. At ages 1 and 3 they'll eat things like truffle pate and smoked salmon, but they still love the good old childhood favorites. I wanted to find some new twists on macaroni and cheese and landed on this saucy idea.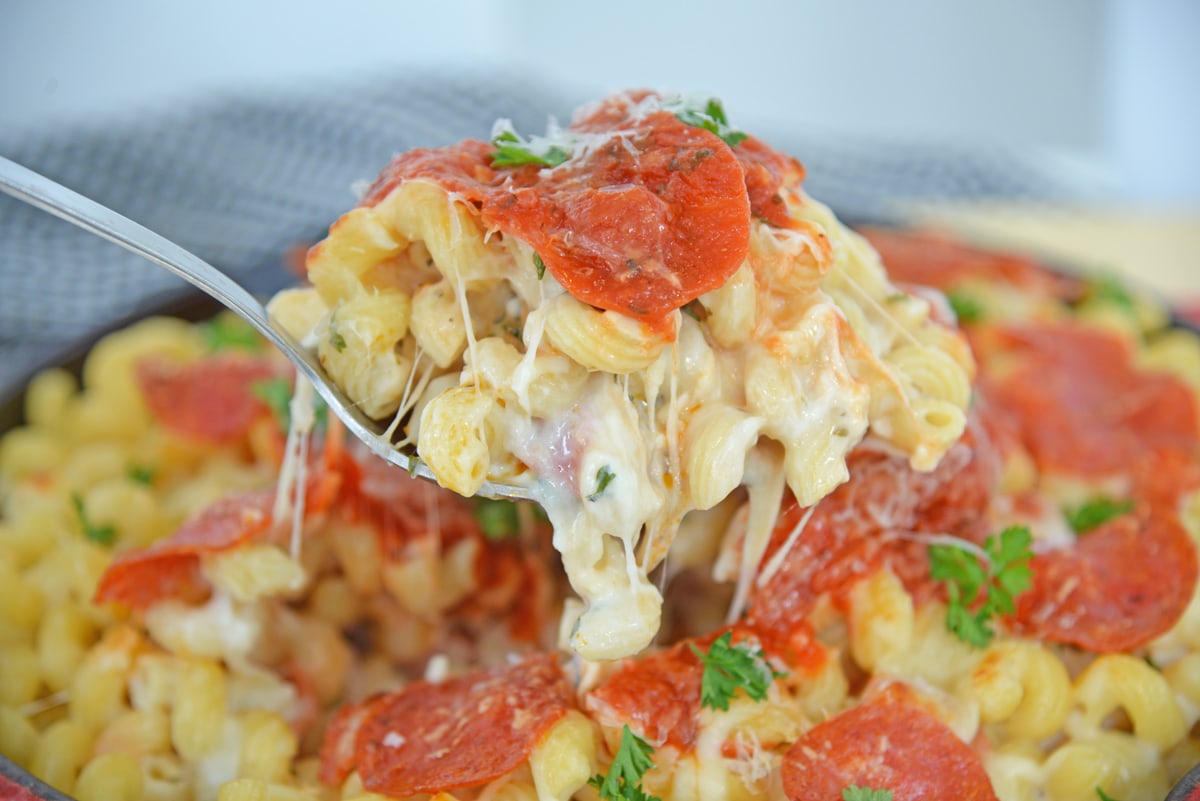 Easy to make, freezer and make-ahead friendly, it is the ultimate side or even entree for families everywhere. I made classic pepperoni, but read on for some more fun variations.
It took a little experimenting with the cheese sauce to get it just right.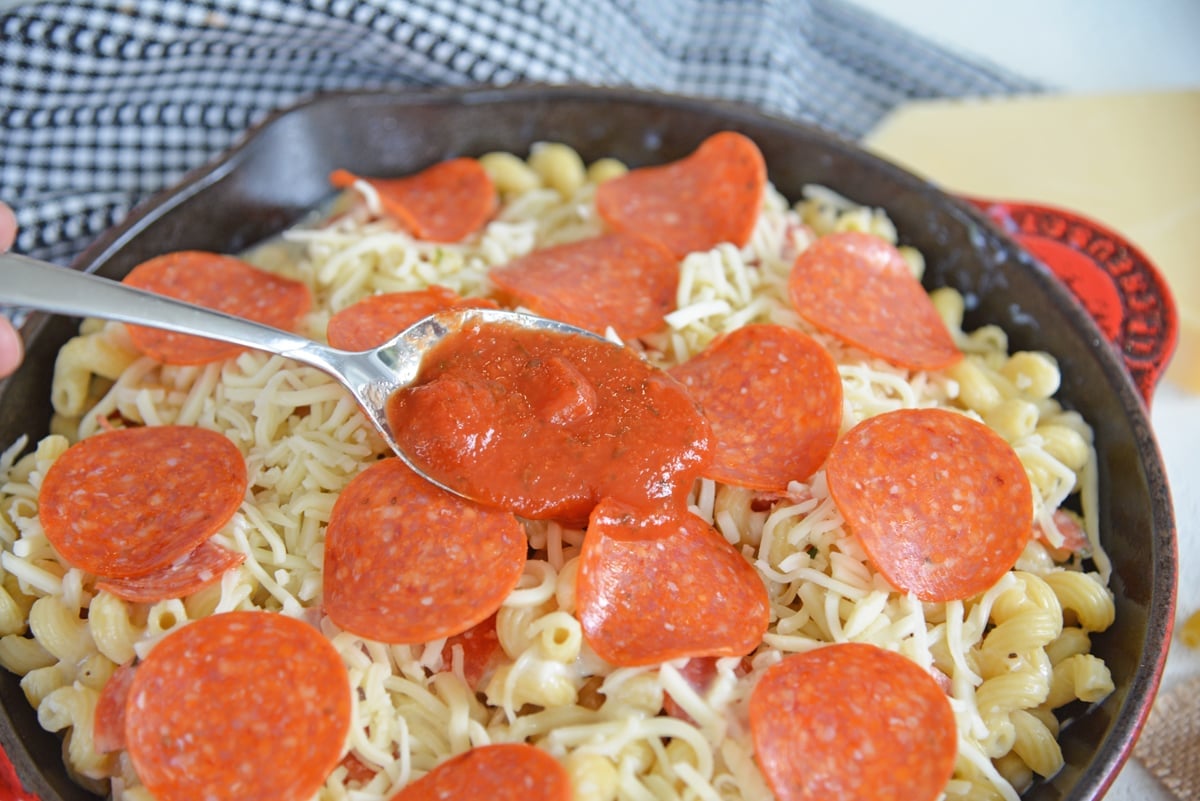 Prego® Traditional Italian Sauce
The secret ingredient is Prego Traditional Italian Sauce… and it isn't just for pasta. It makes an excellent tasty and thick pizza sauce too. Instead of sinking into the nooks and crannies of my pasta, it sits right on top.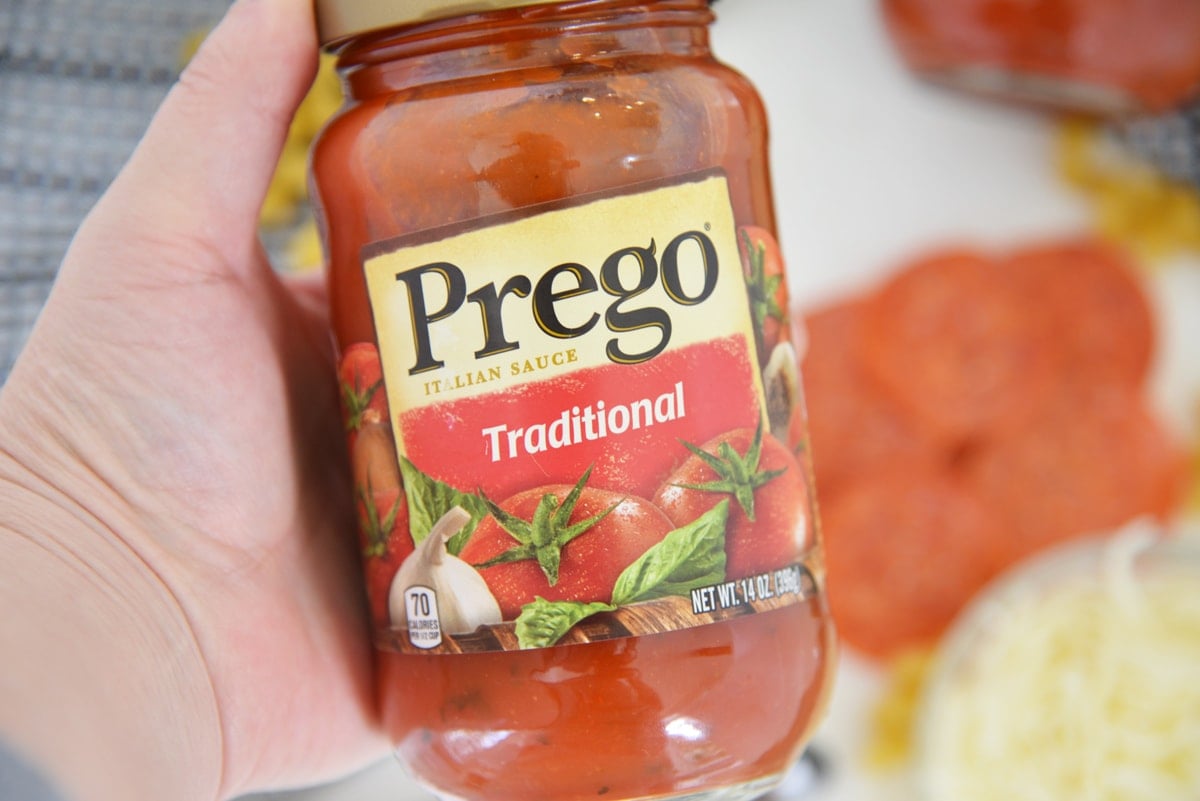 Prego Traditional is gluten free and uses vine-ripened tomatoes for the perfect balance of sweet tomato taste. A true pantry staple for pasta, pizzas and more, like making the base for tomato soups and dipping veggies, crackers and mozzarella cheese sticks.
The Cheese
Cheese sauce is certainly one of the most important things for any mac and cheese recipe. The best start with a roux made of butter and flour and are whisked with a blend of dairy.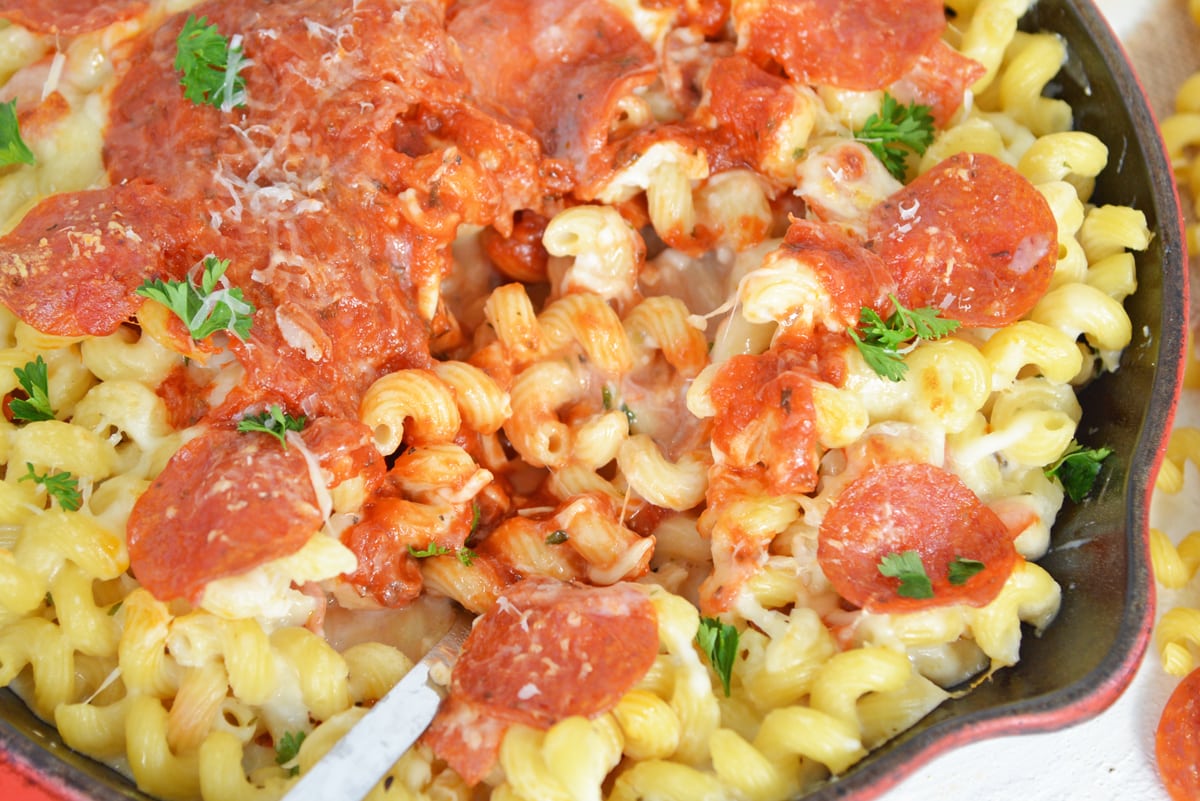 Pizza traditionally uses a low-moisture skim mozzarella, but this type of cheese isn't best for velvety sauces. Instead I opted for white cheddar and topped it with shredded mozzarella. You can swap it out for white American as well.
Parmesan is also blended in making it a three-cheese masterpiece!
Other Ingredients
While we've covered the two most important elements of any mac and cheese recipe, sauce and cheese, let's review the other items that make this a standout dish for your family table:
Pasta Type – I used cavatappi, which is a fun corkscrew shape. Elbows are another traditional pick. Make sure that your choice is a tube and has enough surface space to cling to the cheese and pasta sauce.
Roux – A classic roux using butter, flour and milk. Whole milk is best, 2% will do, but skim is not advised.
Seasonings – The cheese sauce can be a little bland with just the basic roux and white cheese, so I added garlic and onion powder with Italian seasoning.
Pepperoni – What is more classic than a pepperoni pizza!? Chopped and blended into the actual mac and cheese and also placed on top, you'll certainly get your pepperoni needs fulfilled.
Parmesan & Mozzarella – I like a blend of Italian cheeses on my pizza and since neither of these makes the meltiest cheese sauce, I used them on top of our creation.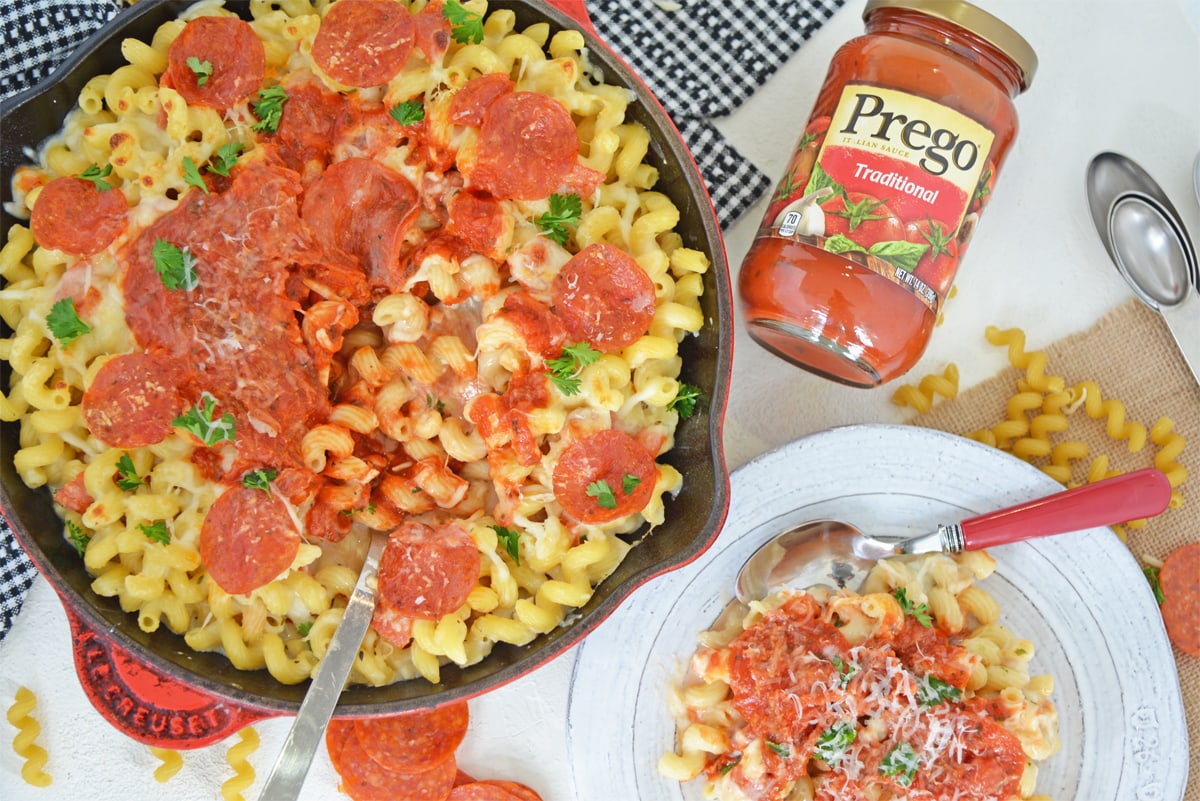 Variations
Variations include any mix you would see on a pizza! One word to the wise: depending on the veggies you add, you might want to chop and cook them ahead of time, allowing any additional liquid to evaporate out. Putting them in raw can results in watery cheese sauce.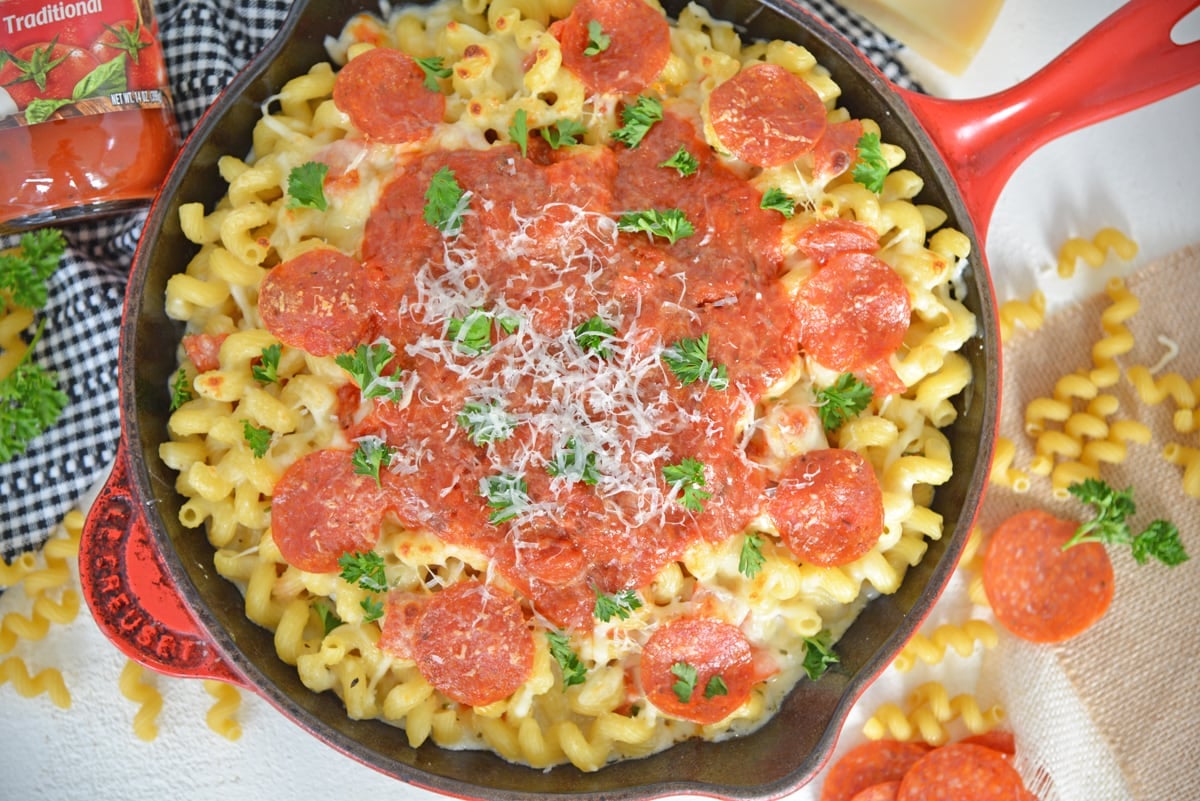 Here are some other favorites:
Cooked and crumbled sausage
Canned or cooked mushroom slices
Onions
Green or red bell pepper
Sundried tomatoes
Olives
Meatballs, smashed
Canadian bacon
Make Ahead, Storage & Freezing
Mac and cheese is a wondrous dish. What makes it so perfect for holidays and potlucks is its amazing ability to be made ahead and reheated. Make up to 1 day in advance up to step #8 (pouring into a baking dish) and then bake when you are ready.
It can also be frozen at this step for up to 3 months. To cook, place frozen dish in an oven preheated to 350 degrees for 45-60 minutes, or until the full dish has heated. If freezing, I highly recommend using a disposable aluminum pan.
Leftovers will be good for up to 5 days. Reheat in the microwave at 50% power to prevent the cheese sauce from separating, or in a saucepan with a tablespoon of milk. It can also be reheated in the oven at 350°F for 5-10 minutes. I also like to use a fresh spoon of Prego sauce to liven it up.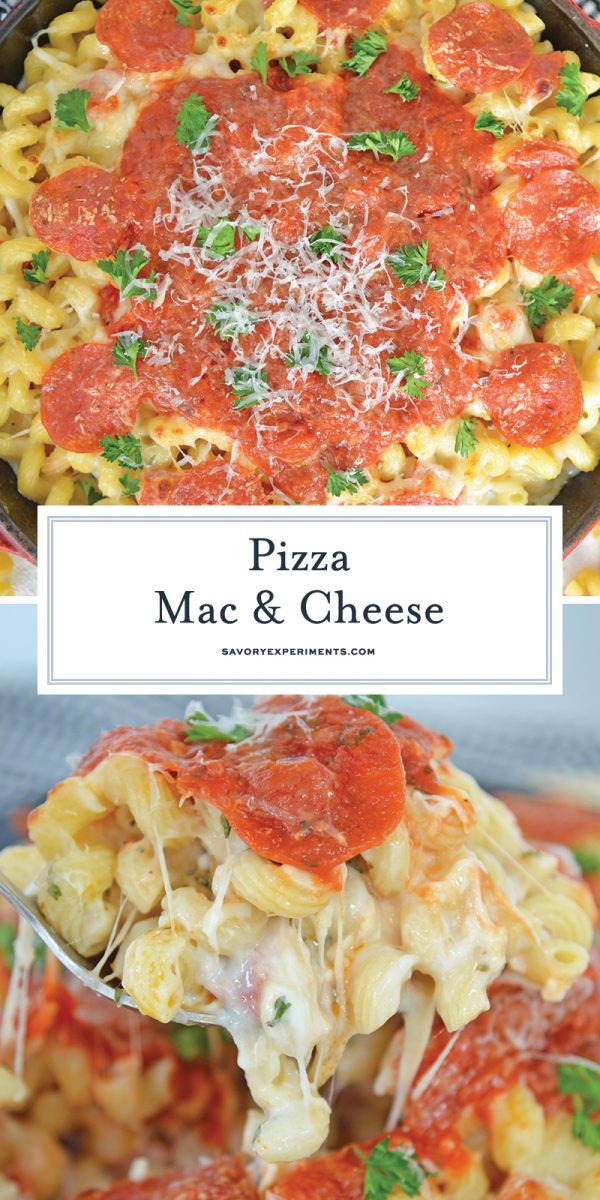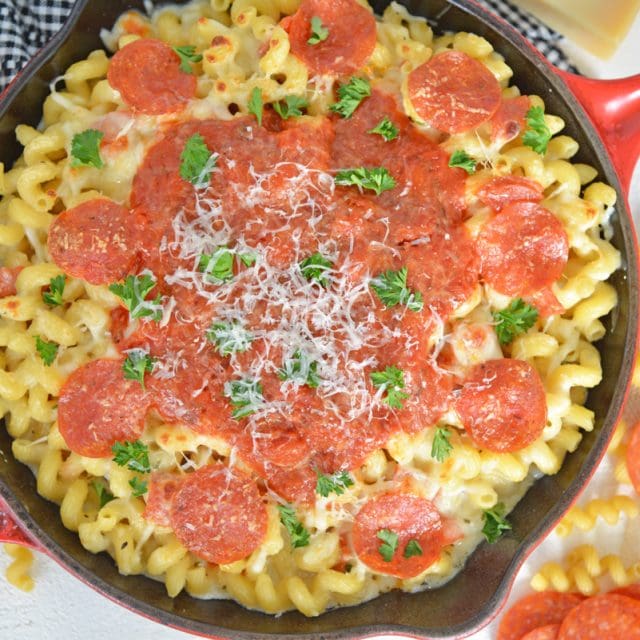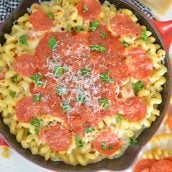 Pizza Mac and Cheese
Delicious three cheese mac and cheese combined with thick pasta sauce and pepperoni makes for the best side dish or entrée with Pizza Mac and Cheese!
Instructions
Preheat oven to 350 degrees and cook the pasta accordingly to package directions for al dente. Drain and set aside.

Chop about ½ cup of the pepperoni, leaving 10-12 slices whole.

Melt the butter, adding the flour, garlic and onion powder and Italian seasoning in large saucepan set over medium heat. Whisk together until it forms a paste.

Slowly whisk in the milk. Continue to whisk and bring to a boil. Reduce heat to medium-low and simmer for 2-3 minutes, until it thickens slightly and flavors marry.

Remove sauce from heat and whisk in the white cheddar cheese.

Transfer to greased 9 x 13-inch baking dish (or any 3-quart casserole, baking dish or cast iron skillet).

Top with sliced pepperoni. Spoon Prego® Traditional Italian sauce on top. Sprinkle with the mozzarella and Parmesan cheese.

Bake uncovered for 15 to 20 minutes or until golden and bubbling.

Remove and allow to sit for 5 minutes before serving. Serve with additional pasta sauce, cheese and chopped parsley, if desired.

If you've tried this recipe, come back and let us know how it was in the comments or ratings!
Nutrition
Calories:
567
kcal
,
Carbohydrates:
66
g
,
Protein:
24
g
,
Fat:
22
g
,
Saturated Fat:
12
g
,
Cholesterol:
59
mg
,
Sodium:
742
mg
,
Potassium:
484
mg
,
Fiber:
3
g
,
Sugar:
8
g
,
Vitamin A:
684
IU
,
Vitamin C:
3
mg
,
Calcium:
346
mg
,
Iron:
2
mg