Yeah, I know what you are thinking. What are slutty brownies and why in the world am I posting about them. I'm wondering the same thing myself, but oddly enough, that is the actual name.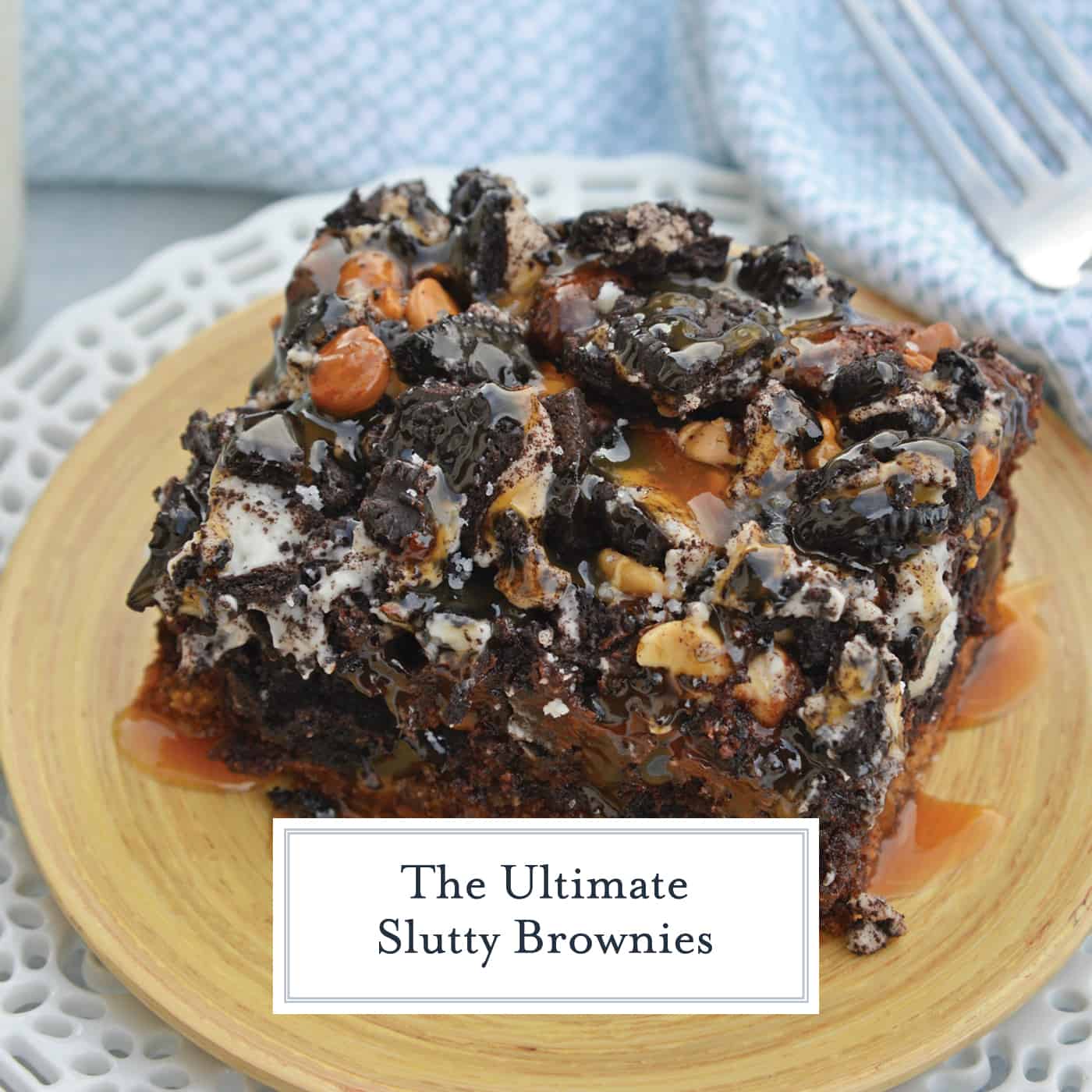 This recipe uses layers of chocolate chip cookie dough, brownie, Oreo cookies, caramel and sea salt. The perfect decadent, sweet and salty easy slutty brownie recipe.
Slutty Brownies, Say What???
I came across these when I was looking for a stellar brownie recipe.
Apparently this magical brownie, Oreo cookie brownie, chocolate chip cookie dough and brownie concoction was created by The Londoner and then popularized by What's Gaby Cooking. Pure gooey genius.
I still can't locate information on why they are called Slutty Brownies. Perhaps because you feel a little dirty eating them? But I did figure out how to make them and make them super good.
I mean, one should not admit to enjoying layers of the three best desserts known to man. Sinfully delicious, for sure.

Variations
Since their origination makers of the best brownie recipe have made their own modifications. Some add peanut butter, others a layer of caramel, different types of cookies and the list goes on.
PRO TIP: Line the pan with parchment paper or aluminum foil to make for easy clean up and slicing.
I tried several variations. And even though some were a bust, they all tasted amazing. What I will say is that lining your pan with aluminum foil is KEY. These bad boys are gooey and messy.
The cookie dough layer didn't cook all the way, the dough on the bottom was raw (which I liked, but it made them harder to eat). Others were too dry. Some too mushy and impossible to eat.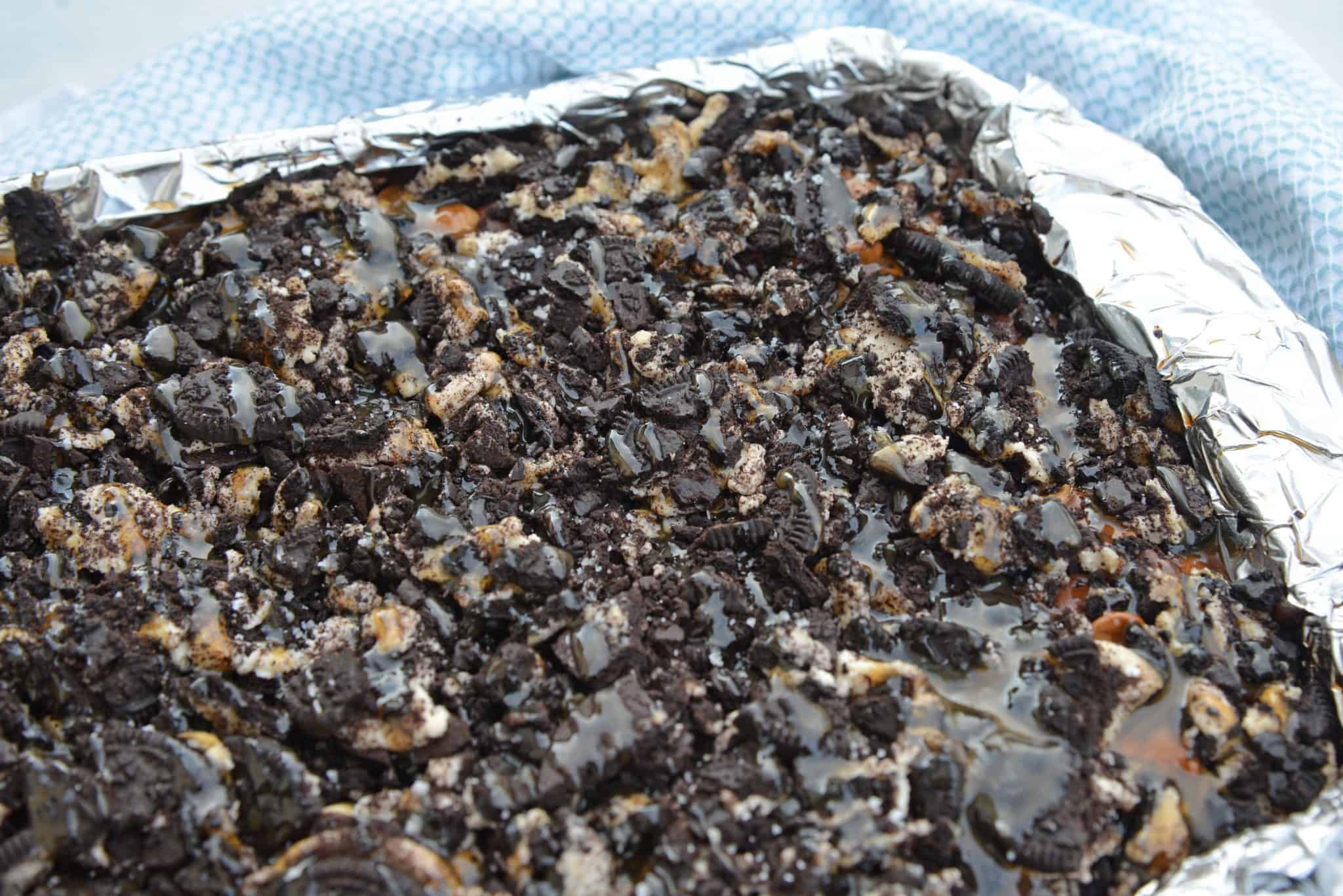 Messy Brownies
I have no idea how some folks got their brownies to cut nicely and stay in a finger-food bar form.
All of mine required a fork and any of them prepped in an 8×8 or 9×9 pan didn't even bake all the way, they were just too thick. Using a 9×13 was the way to go.
Even though mine needed a fork, but the flavors were OH. MY. GAWD. You think it will be too rich and then you just keep eating this magic in a pan. You'll feel a little dirty, but you'll keep eating.

My Version of Slutty Brownies
My ultimate slutty brownies take my favorite layer, double stuffed Oreo cookie, and double it. Not only is there a layer of Oreo, now there is also a crumbled Oreo topping.
I also added chocolate chips to the brownie batter and a layer of white chocolate chips for good measure. As if this isn't already a decadent dessert recipe.
Chocolate lover, right here *raises hand*!
Drizzle that with caramel sauce and sprinkling of salt and you get…. something words can't describe. Slutty brownies are pure ecstasy. Sweet and salty brownie heaven.
The ultimate homemade brownie recipe.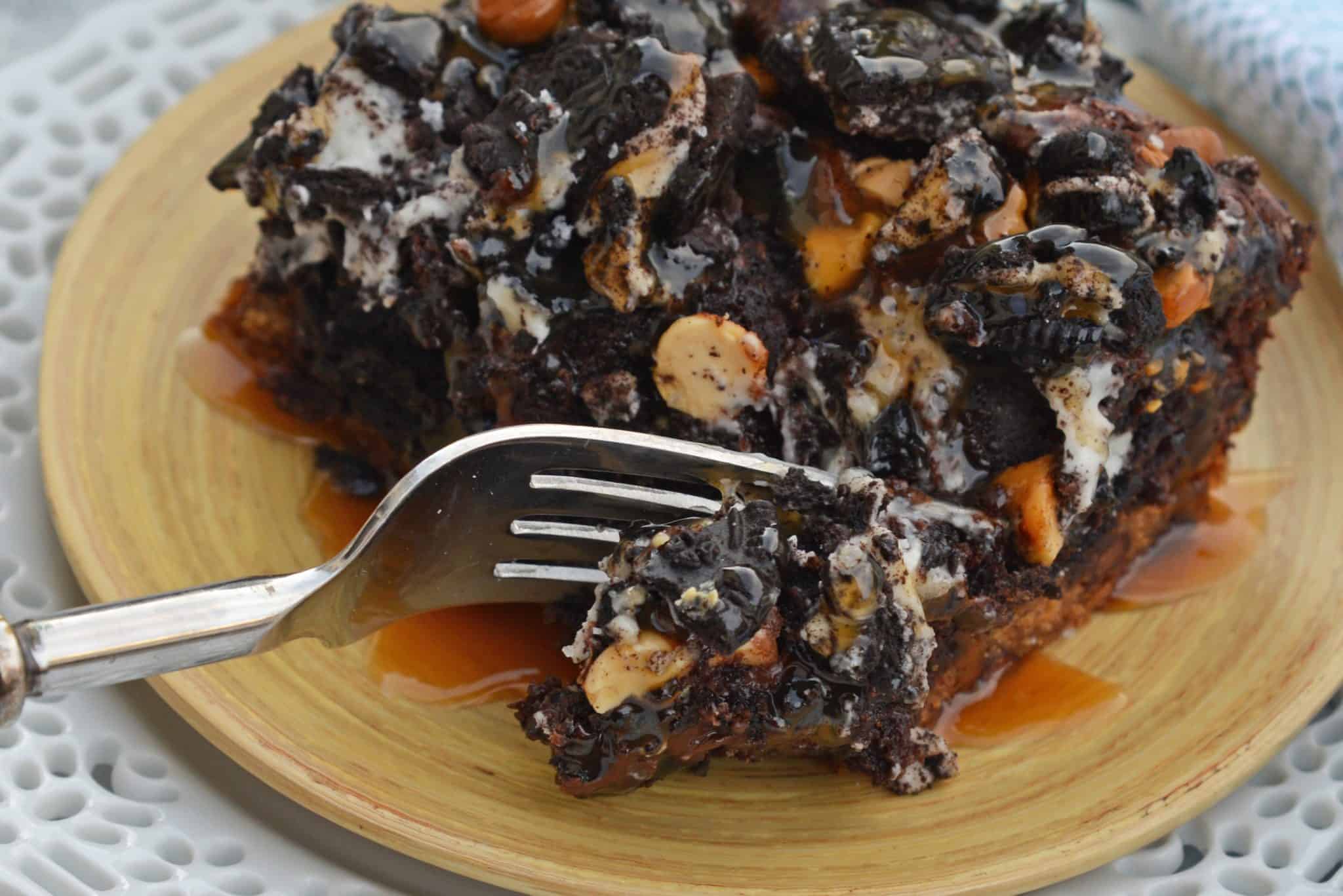 From Scratch or a Box?
While I prefer to make my cookie dough and brownie batter from scratch, feel free to use a roll of pre-made chocolate chip cookie dough and a box mix of brownies. You might need to adjust the cooking time slightly.
In fact, I think a lot of the issues people have with baking time has to do with using different types of mixes.
One box of brownie mix and another may need different cooking times, so use your best judgement and the toothpick test.
Storage & Freezing
How long are slutty brownies food for? Like most homemade brownies, they are best in the first 3 days of baking, but up to one week.
How do I store slutty brownies? They are best covered at room temperature. If you put them in the fridge, they tend to get dry and brittle. make sure they stay in a single layer so they don't stick together.
Can I freeze them? Yes! I like to freeze them in single servings in individual plastic bags. Don't freeze with caramel sauce though, add that after thawing.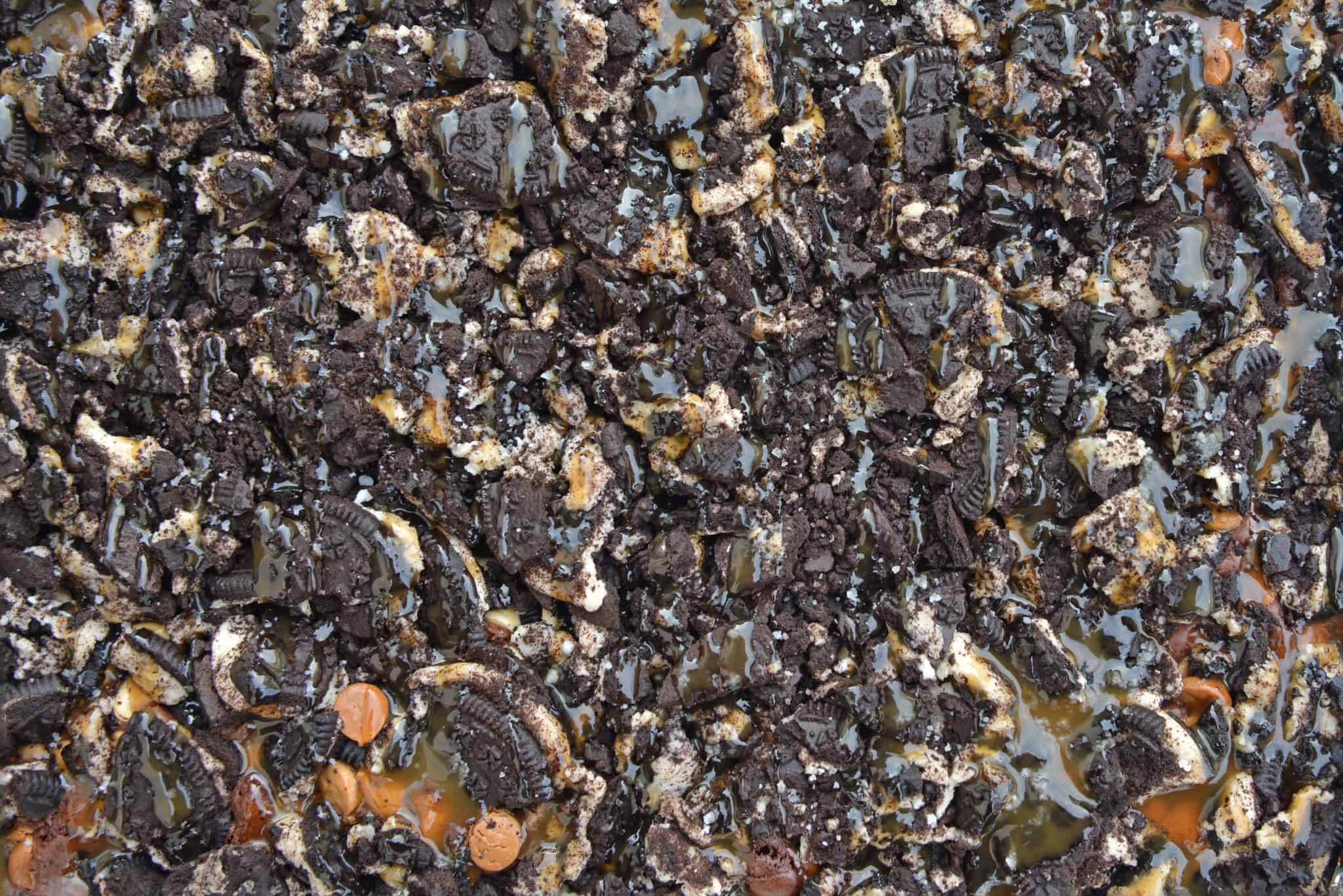 Baking & Serving
How do you keep brownies from sinking in the middle? When you beat your ingredients, you incorporate air into the batter and the flour stabilizes the air bubbles.
If there is more air than flour, the brownies will over expand and as they bake, the collapse and deflate. As I always say, baking is more chemistry than artistry.
To prevent this, don't overmix, which can also cause brownies to be dry (due to the air) and have the correct ratios of flour to wet ingredients.
How can I best cut these? Make sure you wait for your brownies to cool completely before attempting to slice. But to be 100% honest, these are very gooey and best eaten with a fork.
You can let them harden in the fridge to get a nice clean cut.
How do I serve them? You can be totally decadent and serve with with even more chocolate or caramel sauce and a scoop of vanilla ice cream!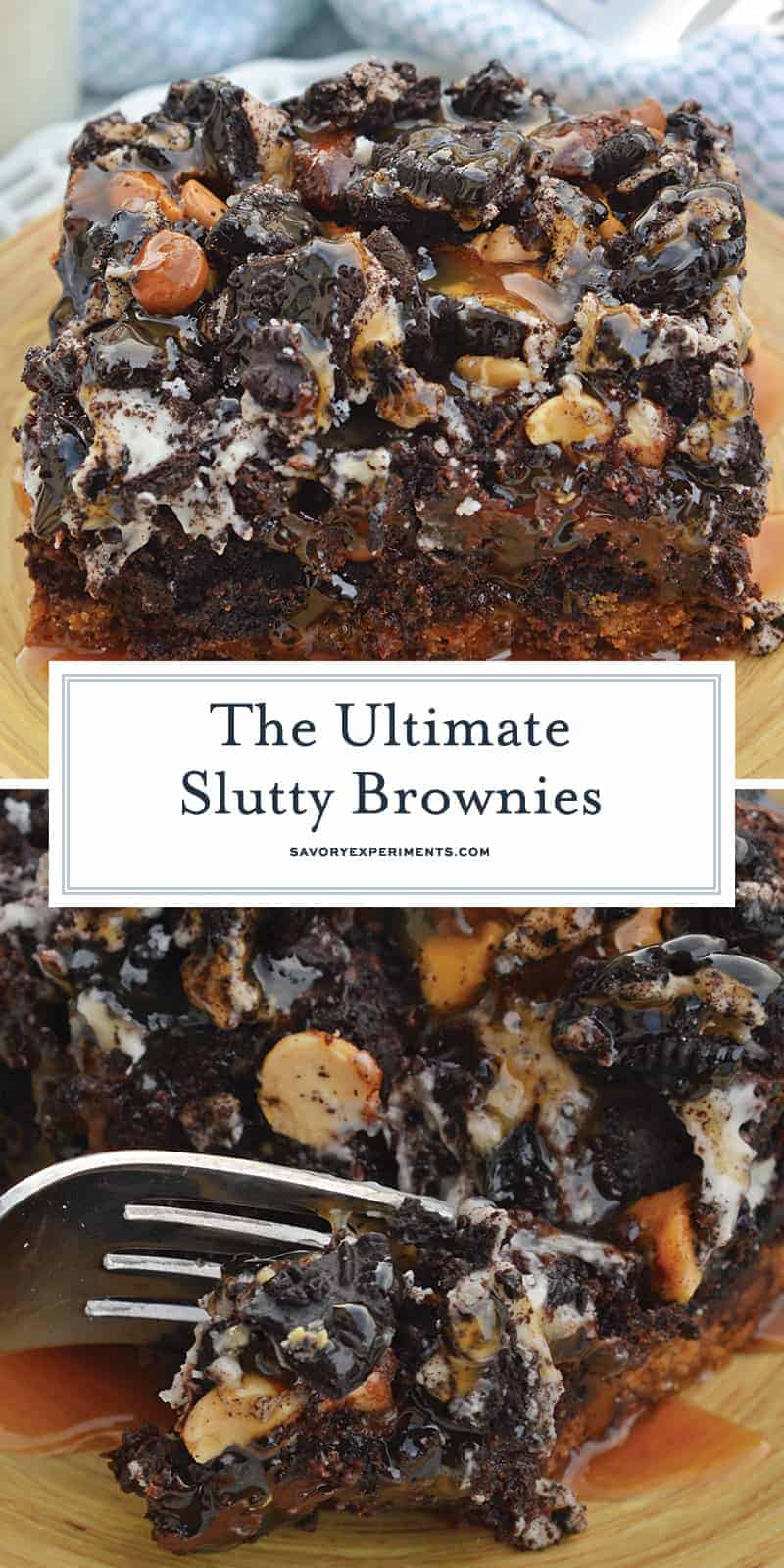 Nutella Brownies
Homemade Nutella brownies are made in one bowl. With 7 simple ingredients and in less than 1 hour you can enjoy a piece of this delicious brownie recipe!
See The Recipe!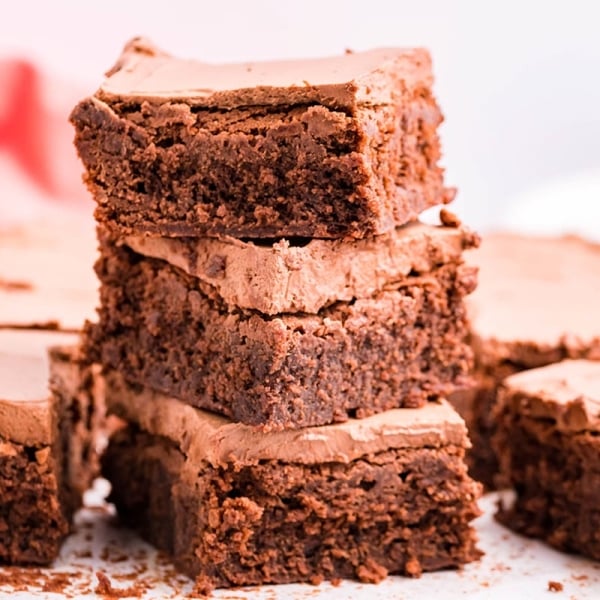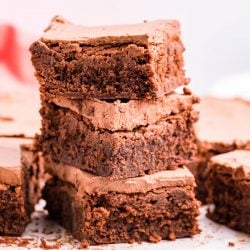 Frosted Brownies
Homemade brownies don't get much better than these fudgy Frosted Brownies! With a moist crumb and a light, airy frosting, they can't be beat!
See The Recipe!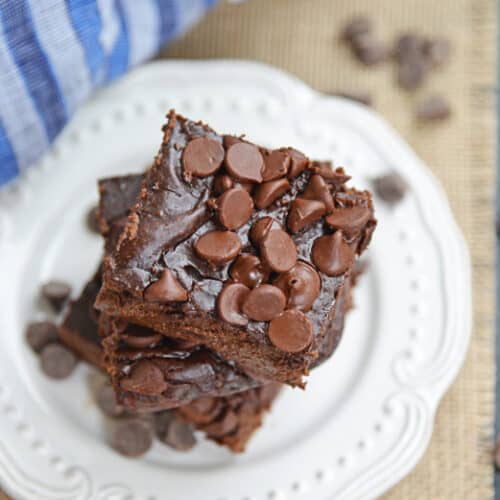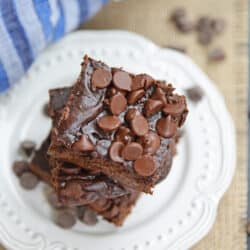 Tools you'll need:
9 x 13 Glass Baking Dish– an absolute essential for any kitchen! Use it for baking, marinating or storing. Get one with a lid, you'll thank me later.
Mixing Bowls– make sure to check out my article on Using the Right Mixing Bowl, you'd be surprised how many people aren't!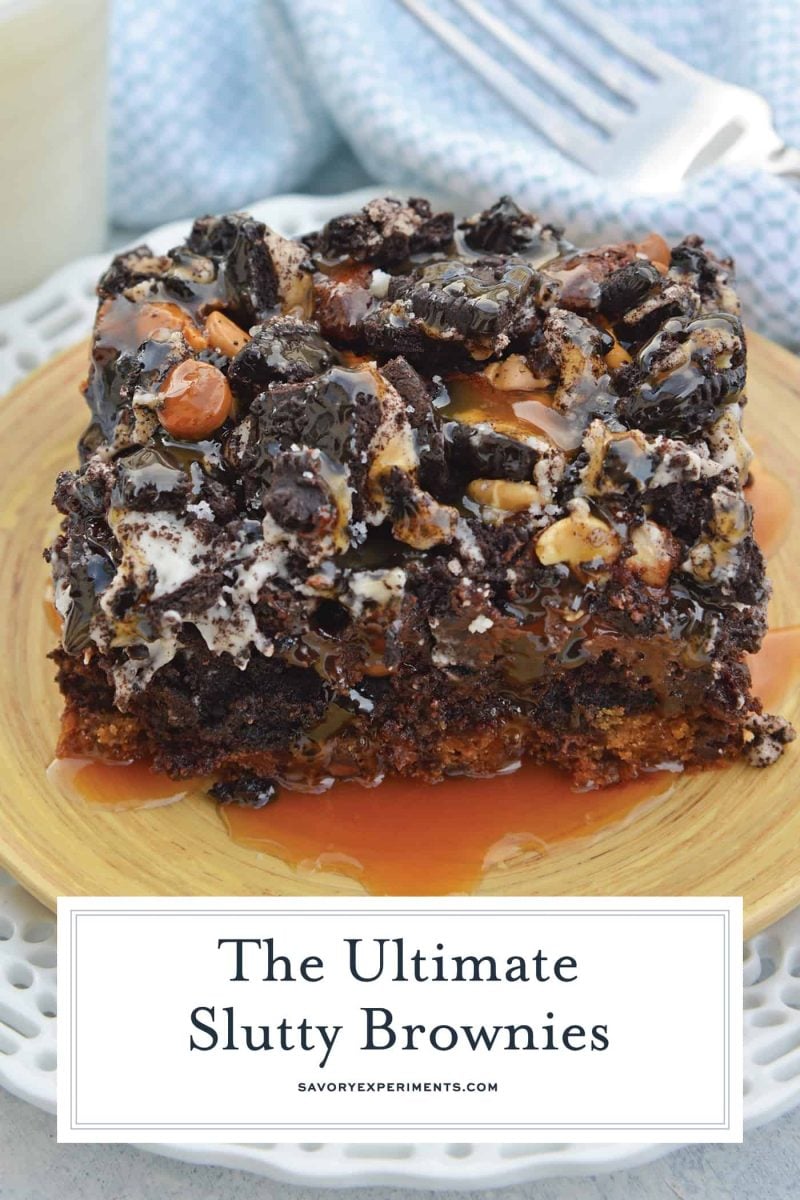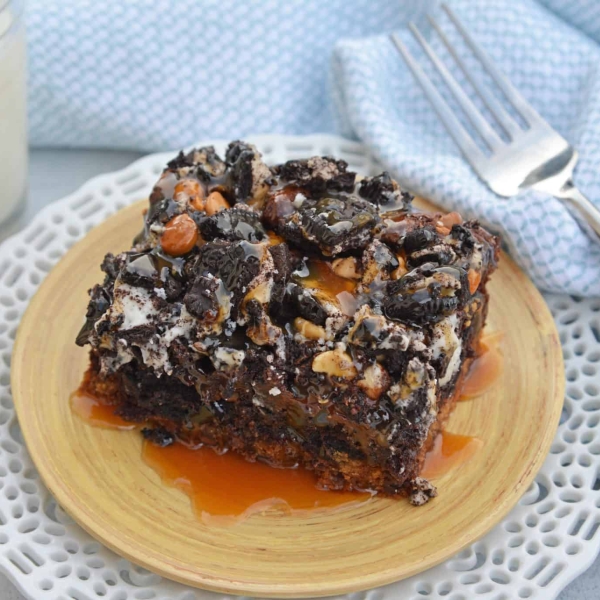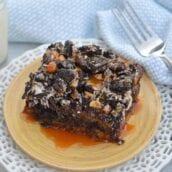 Ultimate Slutty Brownie Recipe
The Ultimate Slutty Brownies are layers of chocolate chip cookie dough, brownie, Oreo cookies, caramel and sea salt. The perfect decadent, sweet and salty easy dessert recipe.
Ingredients
1

package chocolate chip cookie dough

1 18

ounce

box fudge brownie mix

, prepared according to package directions

1

cup

semisweet chocolate morsels

1

pack double stuffed Oreo cookies

, divided

1

cup

white chocolate chips

1

cup

caramel sauce

2

teaspoons

fleur de sel
Instructions
Preheat oven to 350 degrees.

Line a 9×13 dish with aluminum foil or parchment paper. You'll thank me in the long run. Coat with cooking spray.

Press cookie dough into the bottom of the pan.

Place a single layer of Oreo cookies over raw cookie dough (approximately 28).

Prepare fudge brownies according to package directions. Fold in 1 cup semisweet chocolate morsels.

Pour brownie batter over Oreo layer.

Top brownie batter with white chocolate chips.

Crush remaining Oreos into large pieces. Evenly pour on top.

Bake, uncovered, for 35-40 minutes or until they pass the toothpick test.

Remove from the oven and allow to cool.

Pull the brownies out of the pan by aluminum foil. Drizzle with caramel sauce and sprinkle with fleur de sel.

Cut into 16 squares and enjoy. They are supposed to be gooey- you might need a fork!

If you've tried this recipe or made your own modifications, please come back and let us know how it went!
Nutrition
Calories:
563
kcal
,
Carbohydrates:
48
g
,
Protein:
3
g
,
Fat:
25
g
,
Saturated Fat:
5
g
,
Cholesterol:
3
mg
,
Sodium:
453
mg
,
Potassium:
107
mg
,
Fiber:
1
g
,
Sugar:
27
g
,
Vitamin A:
20
IU
,
Vitamin C:
0.1
mg
,
Calcium:
37
mg
,
Iron:
1.8
mg