After P.F. Changs Chicken Lettuce Wraps blew onto the scene, any other type of lettuce wrap became super popular too including shrimp lettuce wraps.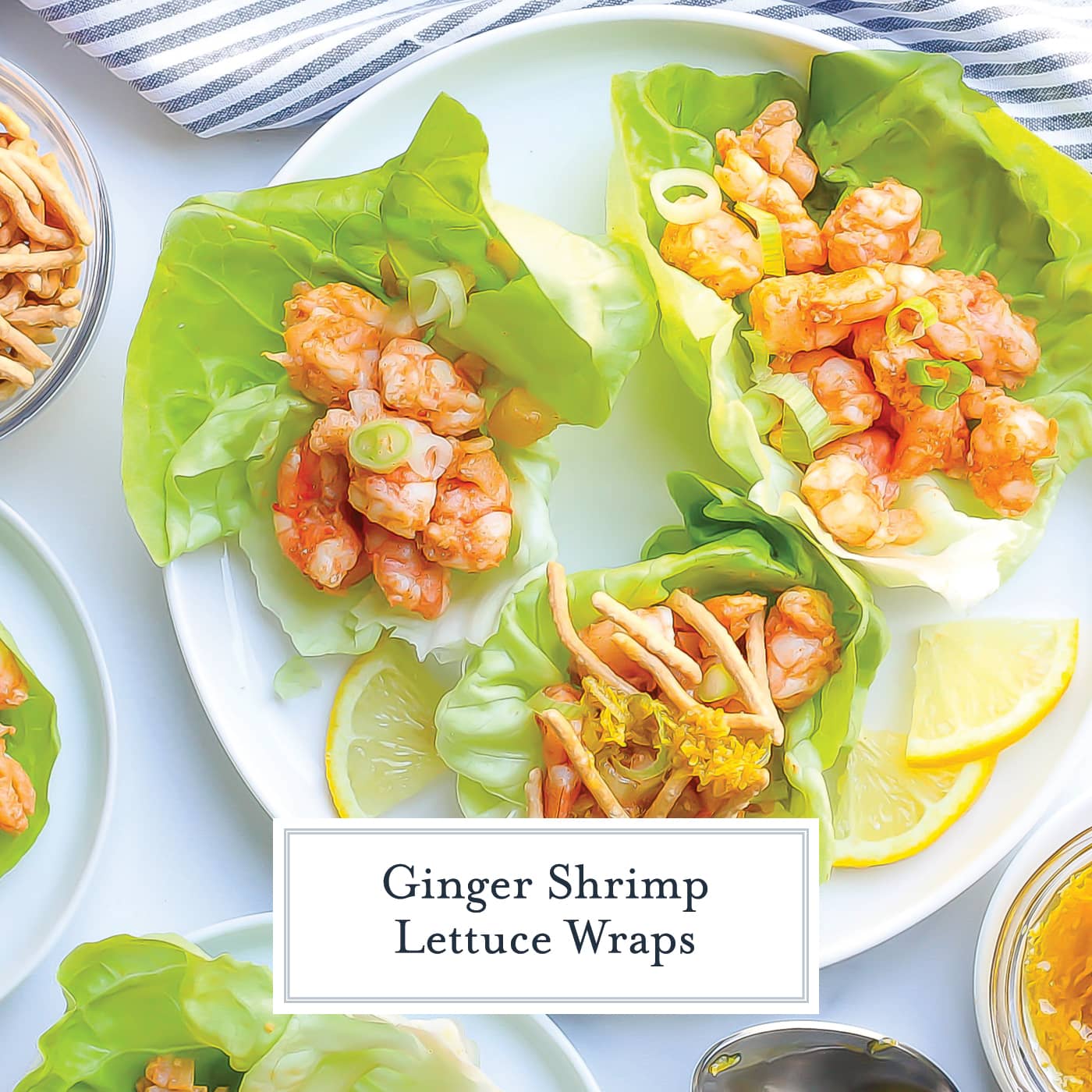 Ready in just 15 minutes, relatively healthy and filled with flavor, these Asian lettuce wraps are great as a light lunch, light dinner, appetizer or even snack. Make the shrimp filling ahead of time and enjoy it warm or cold.
Lettuce Wraps
Lettuce wraps have been around far longer than PF Changs putting them on the menu and even before a low carb lifestyle was trendy.
They are defined by the lettuce wrap, acting like a tortilla to hold in all of the filling. They are sometimes referred to as a lettuce sandwich. Fillings are some sort of stir-fry ranging from ground meats to veggie only and seafood.
Sherry & Sherry Vinegar
This Shrimp Lettuce Wrap recipe uses both sherry and sherry vinegar, which are different. Sherry is a fortified wine made from white grapes, although it takes on a light brown hue.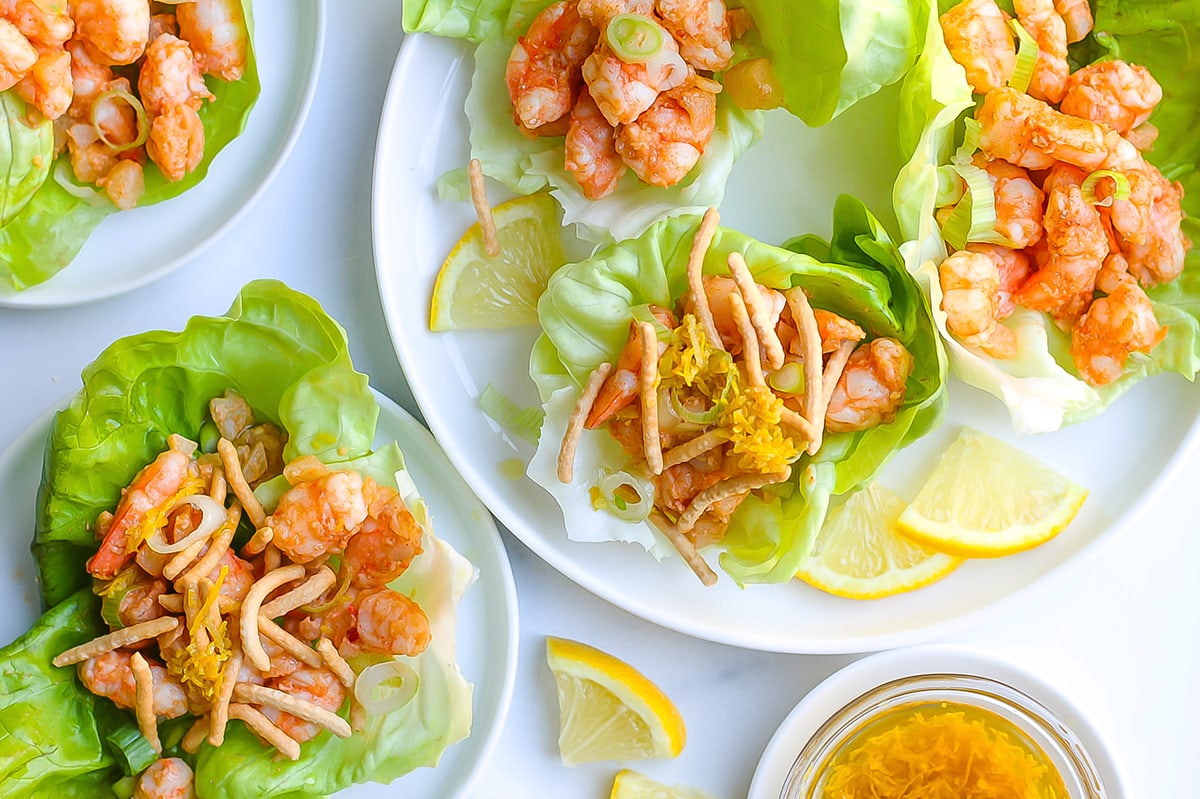 You can find the cooking version (little to no alcohol) in the oil and vinegar aisle at the grocery store. Sherry vinegar is also comes from the white grapes in the Sherry region of Spain, but is mixed with vinegar. Both are an acid and add the signature tang.
It can also be used in salad dressings and any recipe that calls for a red wine vinegar.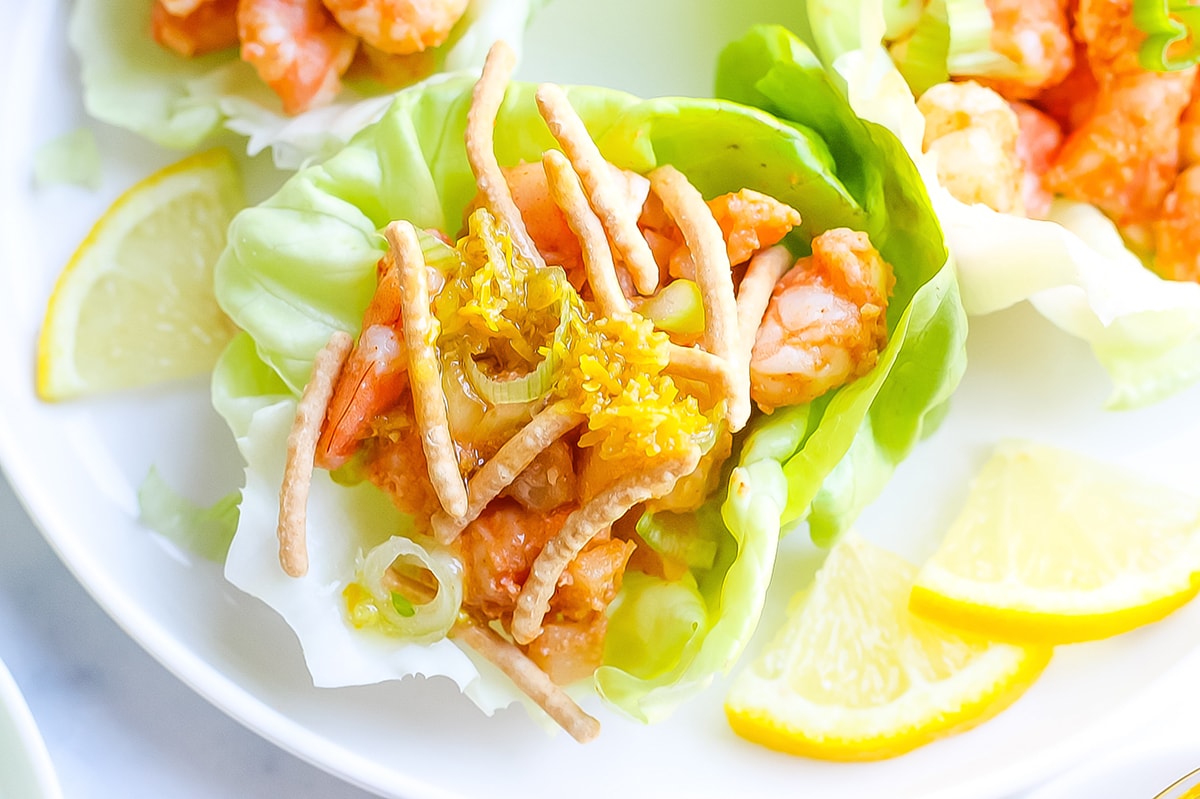 Ingredients
The items you need are broken down into three sections: the filling, dressing and toppings. Most wraps use just plain soy sauce or a peanut sauce, which are both delightful, but I was aiming for something unexpected, which I got out of the sherry.
Shrimp Filling
Shrimp– Don't break the bank with large expensive shrimp. You'll be chopping them up into bite-size pieces.
Water chestnuts– these are typically found canned in the Asian aisle of the grocery store.
Sesame oil- Sesame oil adds flavor to the dish, but if you don't have any, any neutral oil will do.
Fine sea salt- If using coarse, you might need a tiny bit more. I use fine in this version because it won't have much time to dissolve the large granules.
Smoked paprika- sweet paprika will also work.
Dry sherry- see notes above on sherry.
Fresh ginger– grated or finely minced, I prefer grated. If you don't have the super fresh nub, grab one of the pre-grated bottles at the store.
Garlic Cloves- For extra garlicky flavor, grate it. The more garlic is agitated, the more pungent the flavor. This is why sliced garlic is less flavorful than minced, crushed or grated. Grated makes a nice pulp so it incorporates into sauces easily without being in large chunks. Store bought jarred stuff will give it more of a sweet taste.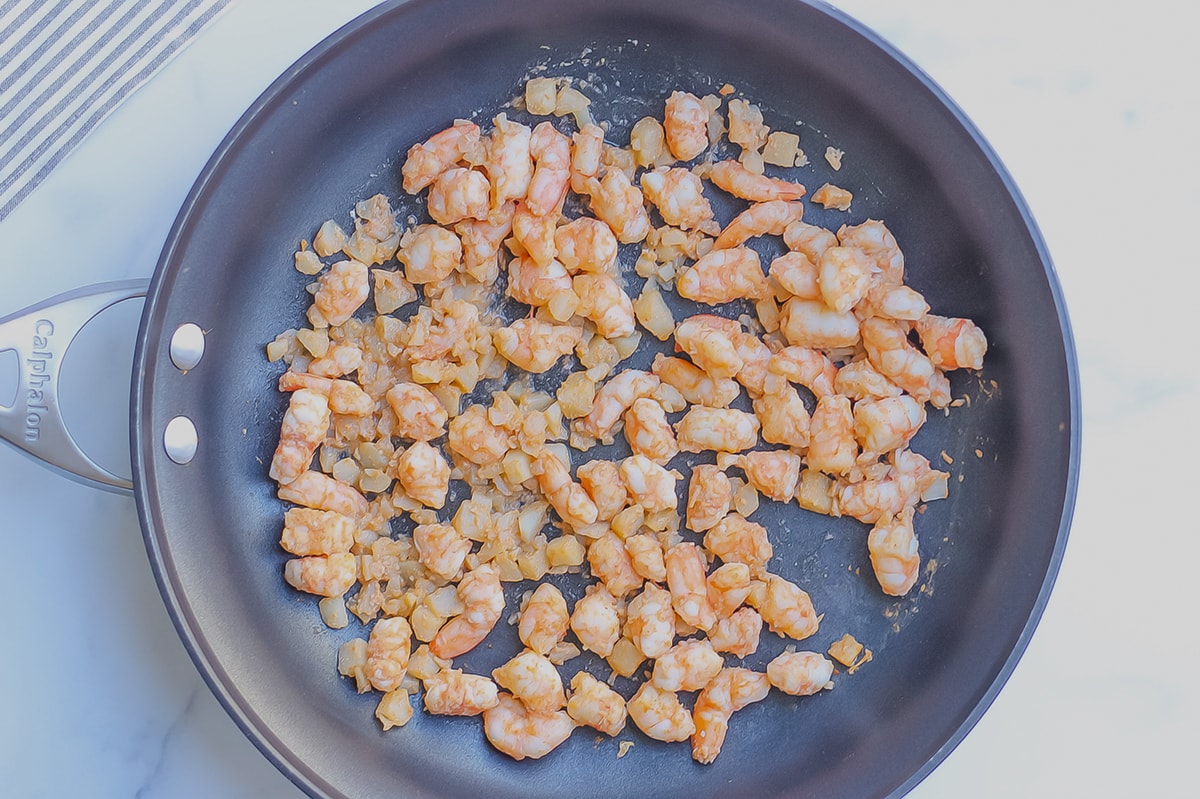 Vinaigrette
Serve the vinaigrette on the side or place the shrimp and water chestnut mixture into a medium bowl and toss before spooning into butter lettuce leaves.
Olive Oil – or any neutral oil like vegetable oil or canola oil.
Lemon zest– Zest adds a the most clean of lemon flavors that is very different than lemon juice. The oils will continue to infuse the oil, while juice would just separate.
Sherry Vinegar– The vinegar in your vinaigrette. Swap out red vinegar or rice rice wine vinegar, if desired.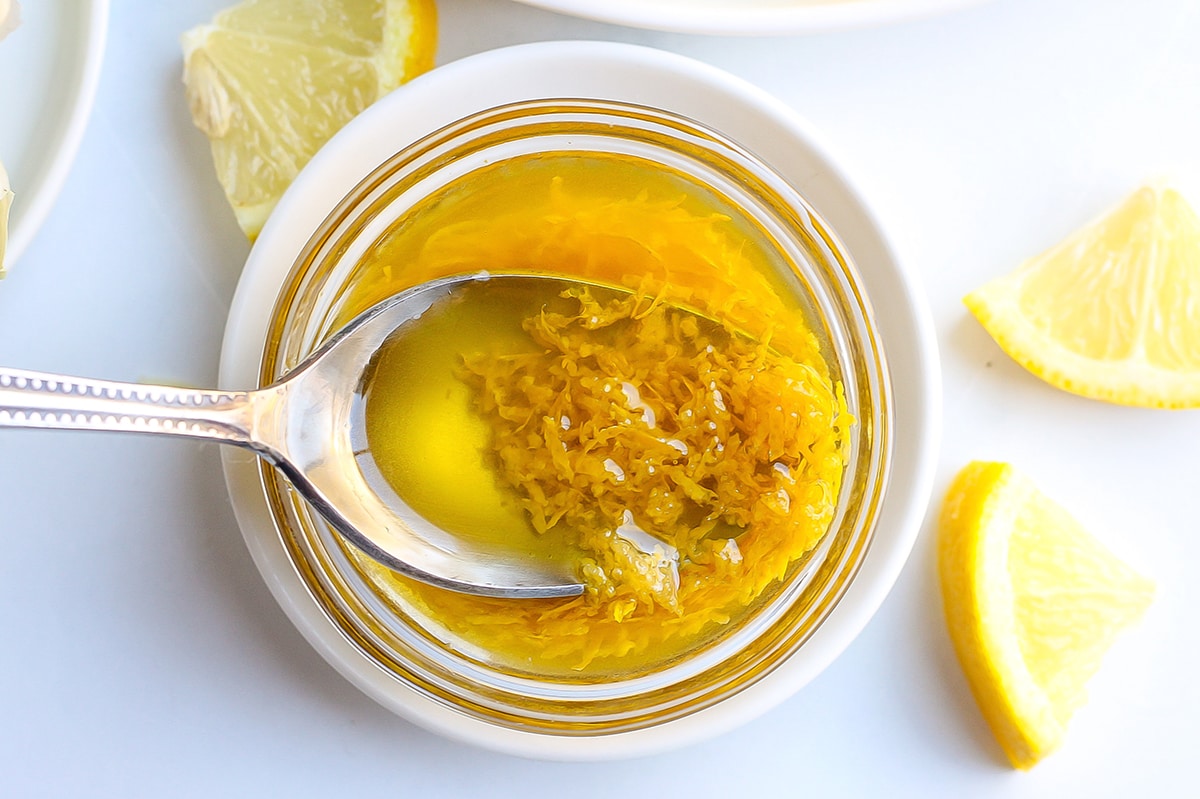 Toppings
Carrots– shredded or chopped into matchsticks, they add a nice crunch and color.
Scallions (Green Onions)- Another fresh crunch and blast of color.
Butter lettuce– this is what I prefer for wraps because of the silky texture and smaller size, but they are a little less sturdy. Double up on leaves to make the perfect lettuce cup. Any green leaf lettuce will work. Romaine is actually more popular if you want to make a shrimp wrap. Iceberg lettuce works too.
Crispy Chow Mein Noodles or rice noodles– Add a bit of crunch and a little salt.
Lemon or Lime Wedges- These are optional, some folks love citrus while others can do without.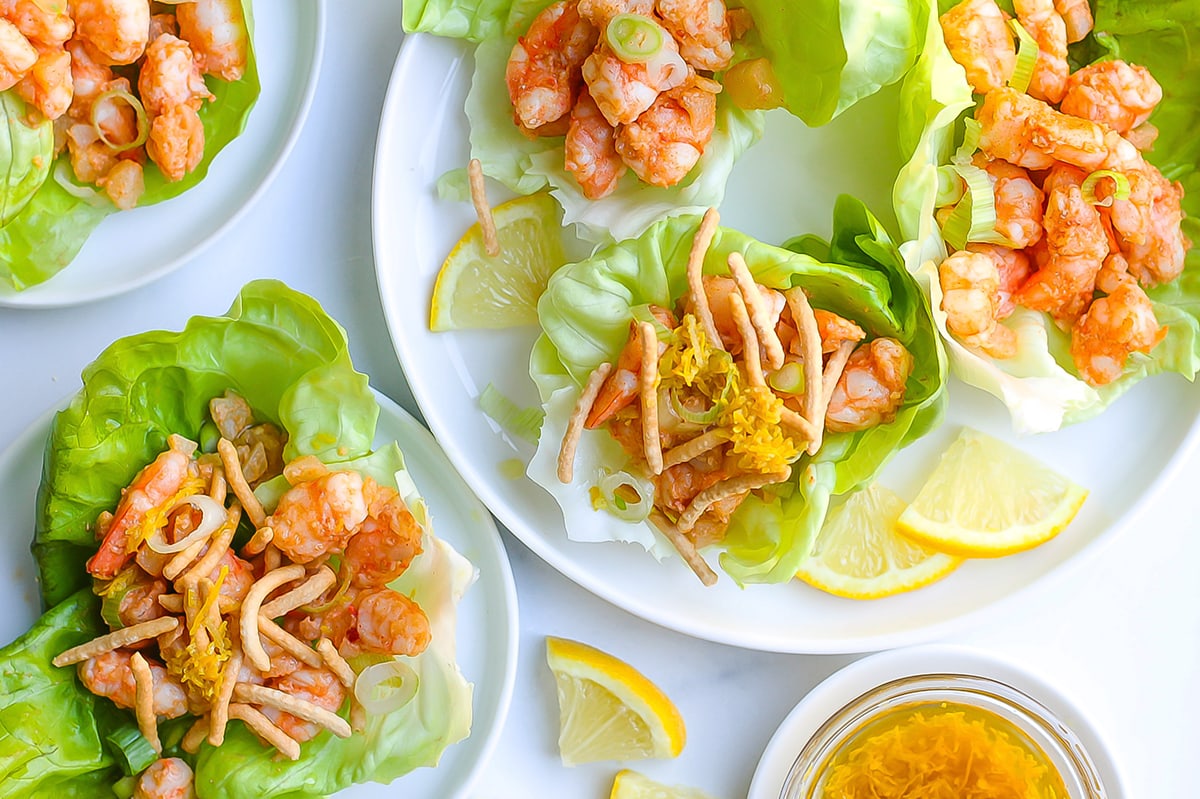 Other variations include:
Adding 2 teaspoons of peanut butter to the dressing
Adding bell pepper, red onion or other fresh veggies to the shrimp recipe
Make spicy shrimp lettuce wraps by using a few dashes of garlic chile oil or hot chile paste to the filling. Add just a dash or a whole teaspoon depending on your spice level and taste buds.
A few dashes of hoisin sauce to the shrimp mixture.
Make them into shrimp tacos! Hey, not everyone loves a lettuce wrap, but this filling tastes just as good on soft or hard tortilla shells.
Serve with fresh avocado slices.
How to Make
Both the filling and the dressing can be made ahead of time. Shrimp lettuce wraps can be served cold or hot.
For the filling, heat the sesame oil in a large skillet over medium-high heat and when hot, add the shrimp, water chestnuts paprika and salt. Saute for a few minutes and then add the rest of the filling ingredients, only cooking for another 2-3 minutes to combine. Set aside.
In a small bowl, whisk together all the ingredients for the dressing. This is best done ahead of time so the lemon zest has time to penetrate and infuse into the oil.
The only thing left to do is assemble. I like to use 2 pieces of butter lettuce to reinforce the shrimp filling. Top with your favorite toppings and enjoy! Sometimes I make it into a "bar" so family members can pick their own toppings.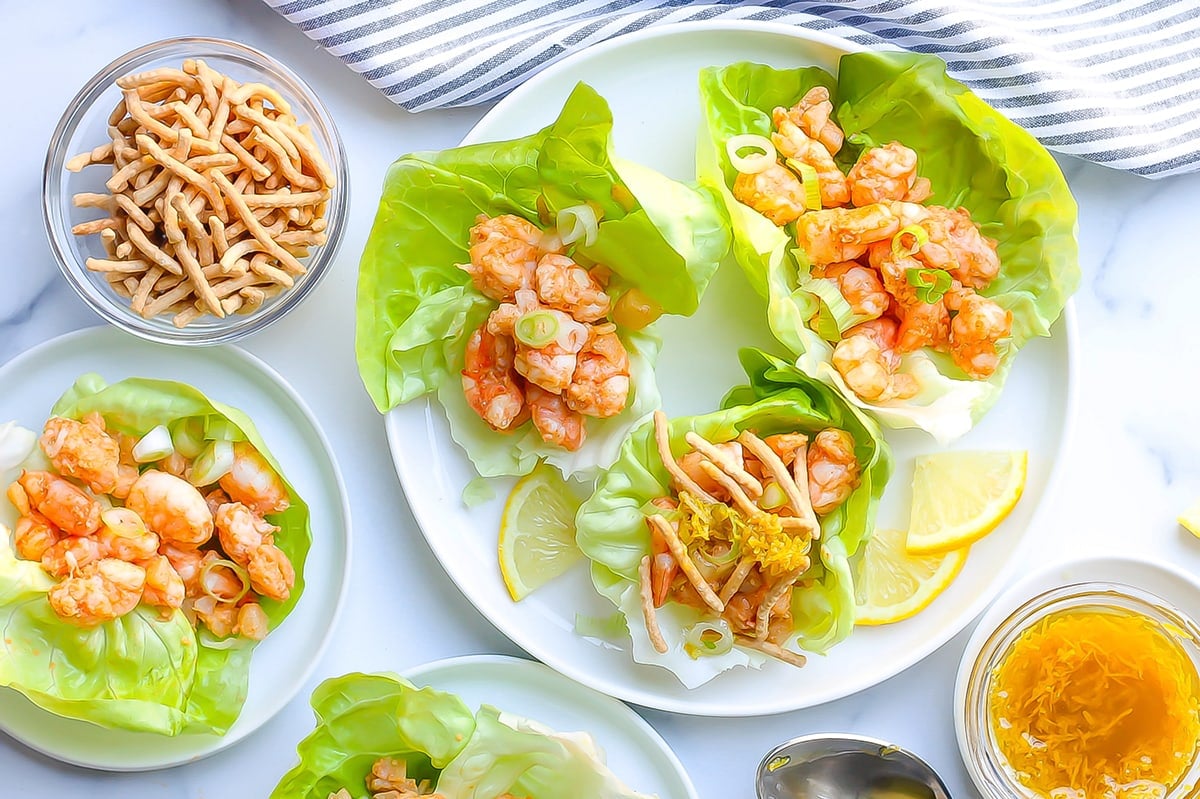 What to Serve with Lettuce Wraps
They can top a salad, be served wrapped in lettuce for an appetizer or party tray or even incorporated into my easy fried rice.
I also like serving them alongside a beef dish like BBQ Asian Sirloin with a green salad and Japanese Ginger dressing.
Storage & Make Ahead
Store the filling for up to 5 days in an airtight container in the refrigerator. They can be made ahead of time (in fact hubby swears they are better the next day), but I suggest keeping the filling, lettuce and dressing separate until ready to serve. Lettuce can be stored in an airtight bag in the fridge, but make sure to get all of the moisture off leaves to prevent wilting.
Reheat in the microwave on 50% power to prevent the shrimp from getting rubbery or on in a skillet on the stovetop (preferred).
I do not recommend freezing this filling because nearly all shrimp purchased in the US is previously frozen and it is not recommended to refreeze seafood.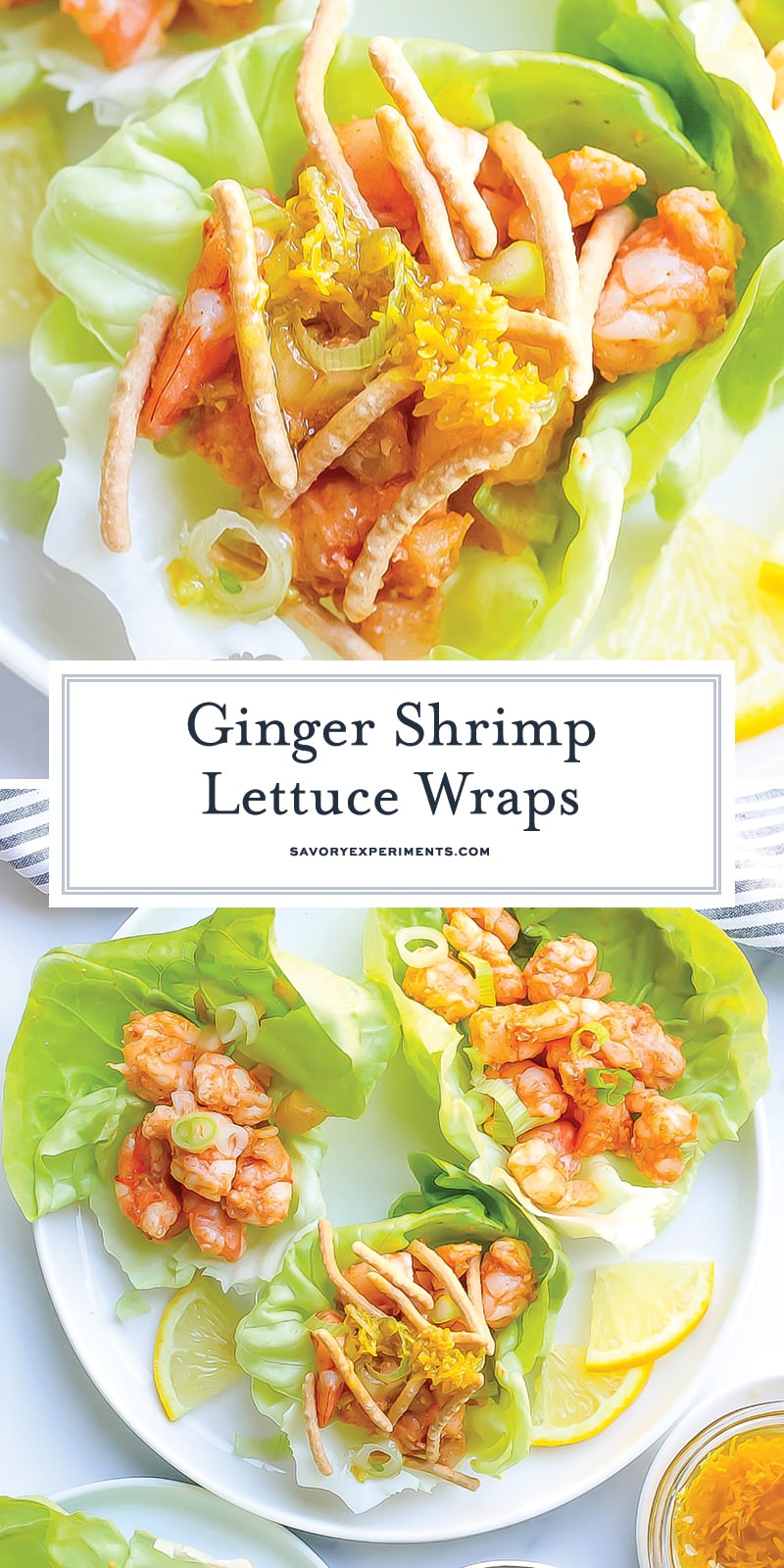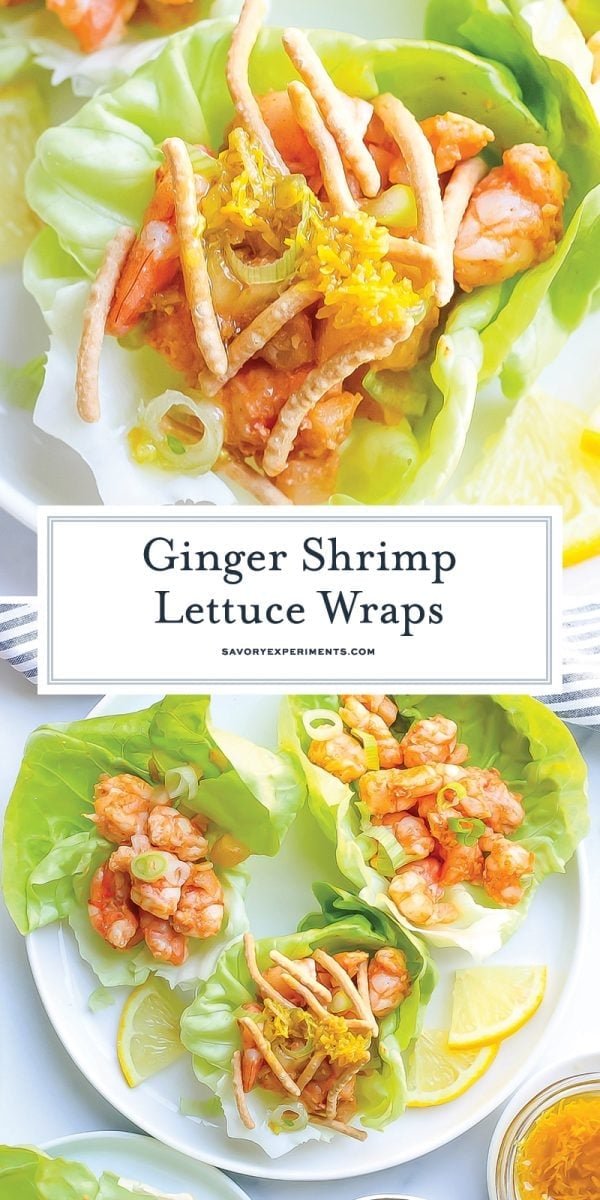 More Asian Inspired Recipes: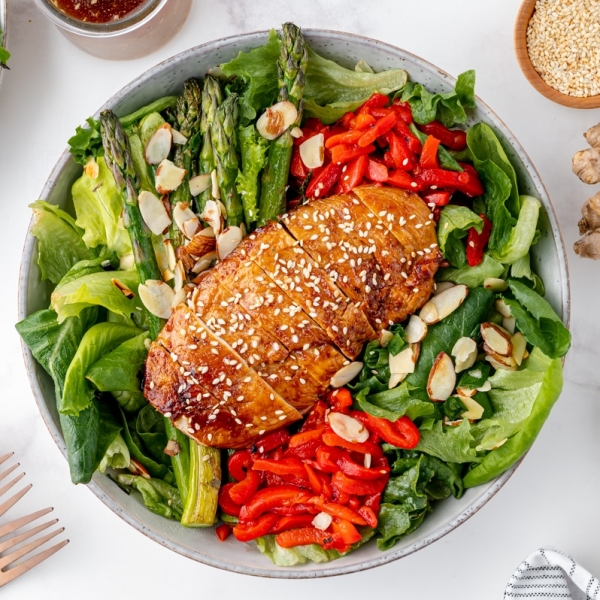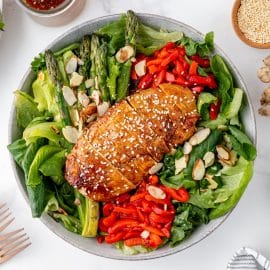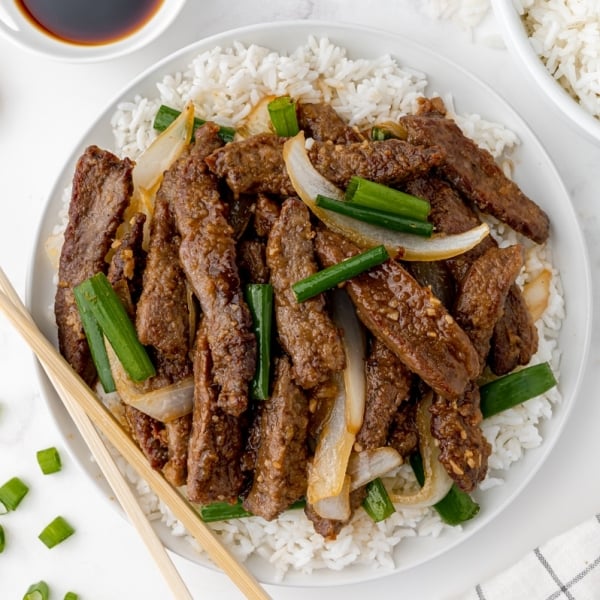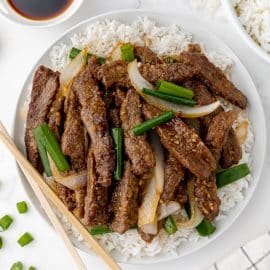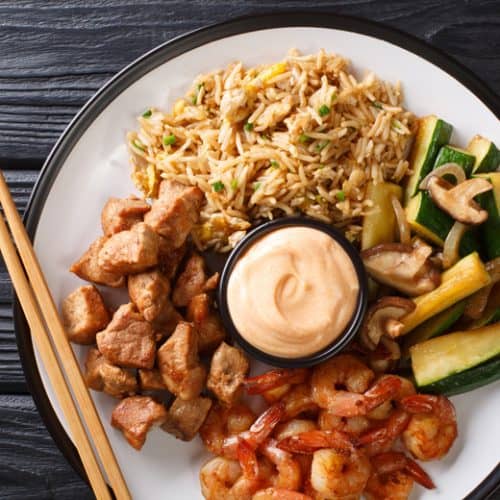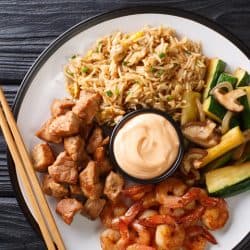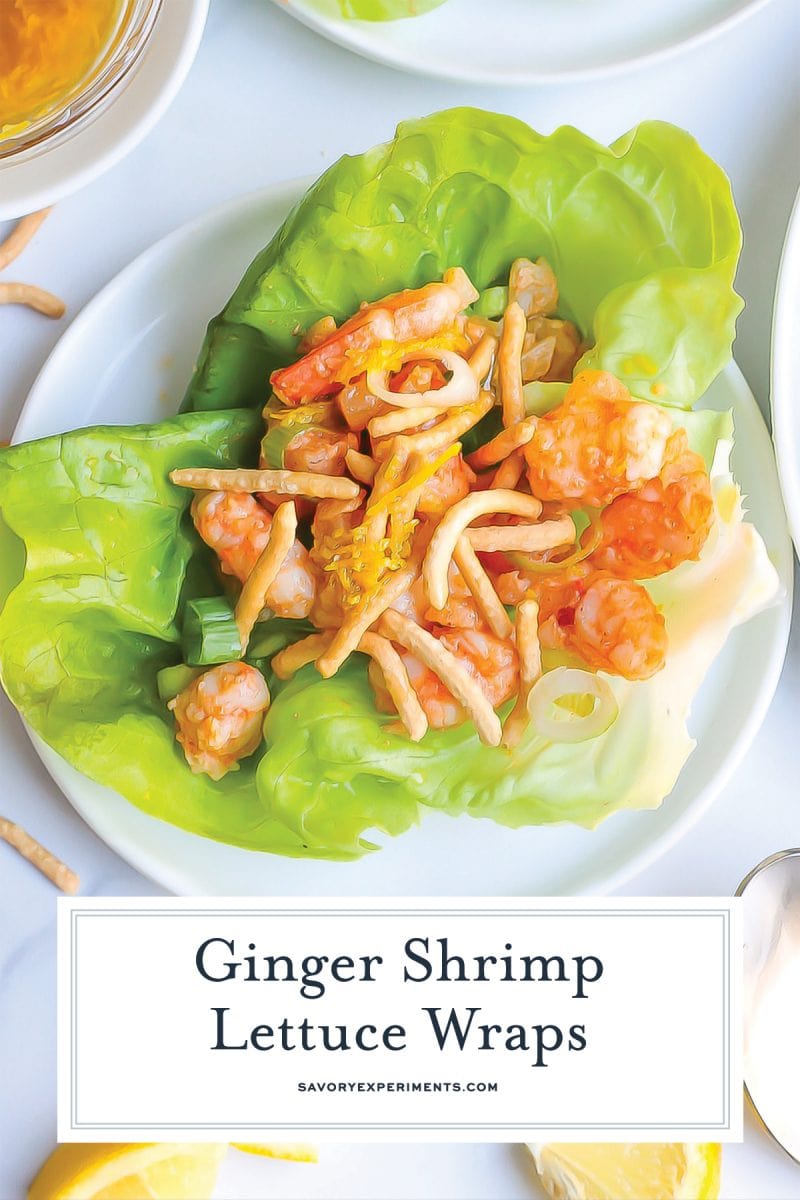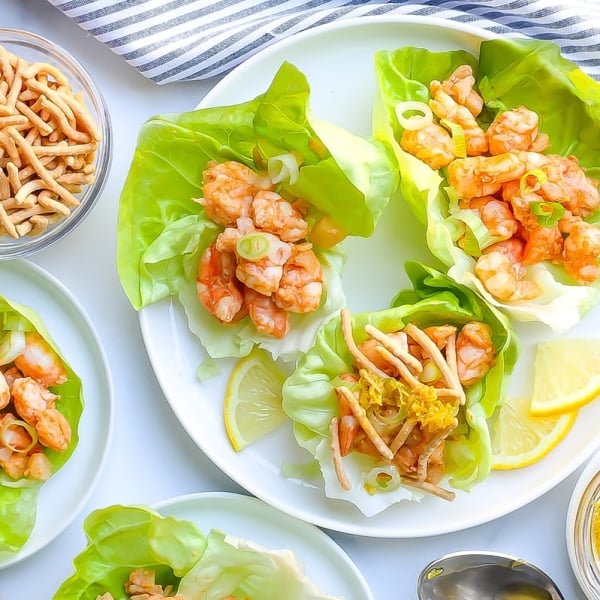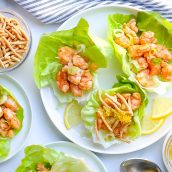 Ginger Shrimp Lettuce Wraps
Ginger Shrimp Lettuce Wraps, made with sherry, ginger and garlic, are the perfect appetizer or entrée. Ready in just 15 minutes!
Instructions
For the shrimp filling:
Heat the sesame oil in a medium skillet over medium heat. Add the shrimp, water chestnuts, salt and paprika, cook for 2 minutes, stirring to prevent sticking.

Add the sherry, ginger and garlic. Continue to cook until shrimp are fully cooked and opaque, approximately 2 minutes. Remove from heat and set aside.
For the dressing:
In a small container or bowl, whisk together the oil, lemon zest and sherry vinegar. Set aside or if making in advance, place in a container and refrigerate.
To assemble:
Place a spoonful of shrimp mixture onto two doubled up pieces of butter lettuce. Top with a drizzle of the dressing and then desired toppings.

If you've tried this recipe, come back and let us know how it was in the comments or ratings.
Notes
This recipe originally appeared on Real Housemoms, where I am a contributor.
Nutrition
Calories:
279
kcal
,
Carbohydrates:
16
g
,
Protein:
18
g
,
Fat:
16
g
,
Saturated Fat:
2
g
,
Cholesterol:
142
mg
,
Sodium:
765
mg
,
Potassium:
1266
mg
,
Fiber:
6
g
,
Sugar:
5
g
,
Vitamin A:
17600
IU
,
Vitamin C:
26.2
mg
,
Calcium:
260
mg
,
Iron:
7.7
mg