French Baked Chicken isn't another boring chicken recipe. Oh no!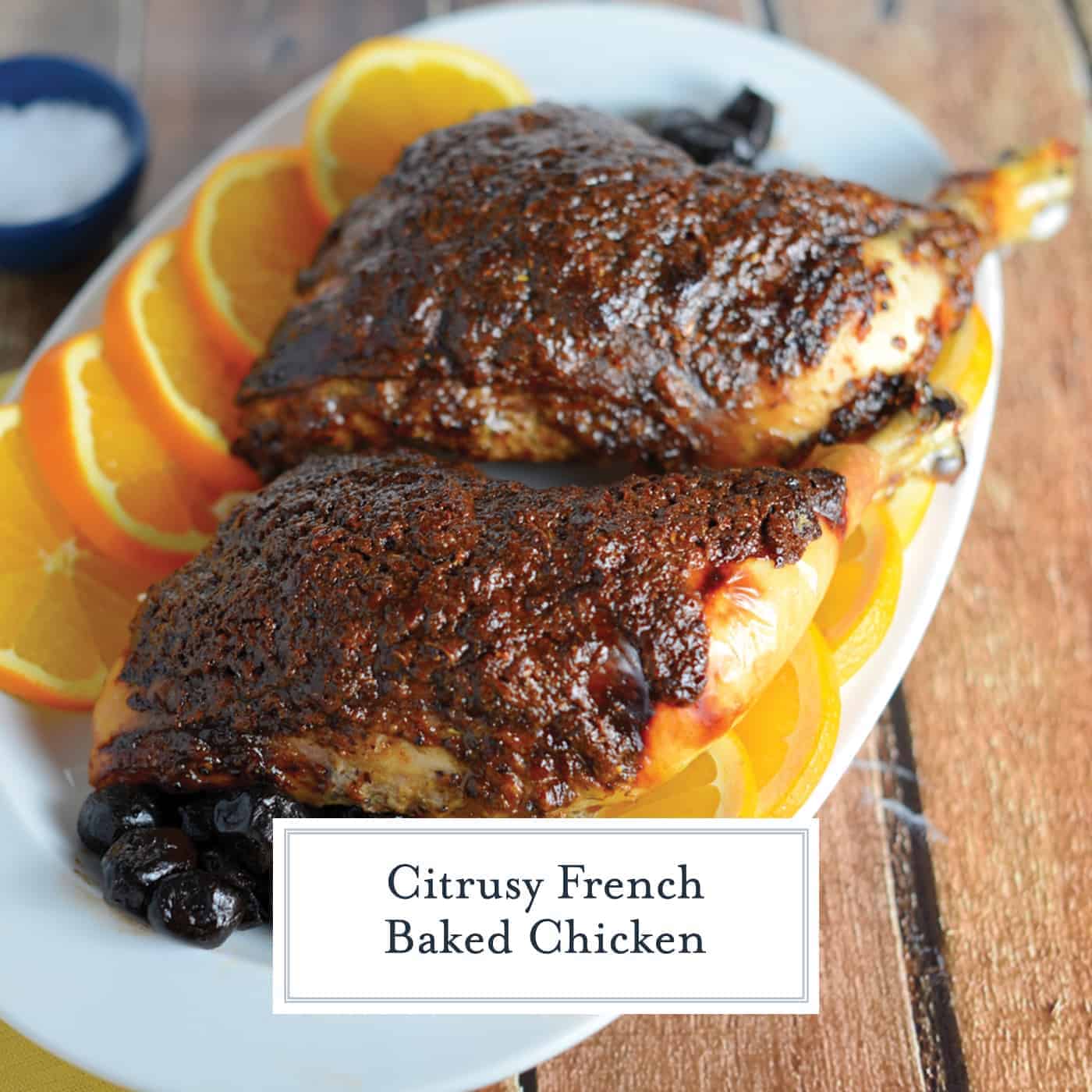 Orange Marmalade with orange, tarragon and olives make this delicious, sticky crust for French Baked Chicken. Use on chicken halves or chicken breasts for a delicious French dinner recipe.
Foodie friends, I'm still on a roll with my New Year's resolution! Next up: French Baked Chicken. Another recipe adapted from my lovely French Comfort Food cookbook by Hillary Davis.
This baked chicken is smothered with French flavors, citrus, garlic, tarragon, herbes de Provence and oil-cured olives. If fresh tarragon is not s spice you use often, it is best described as as floral licorice.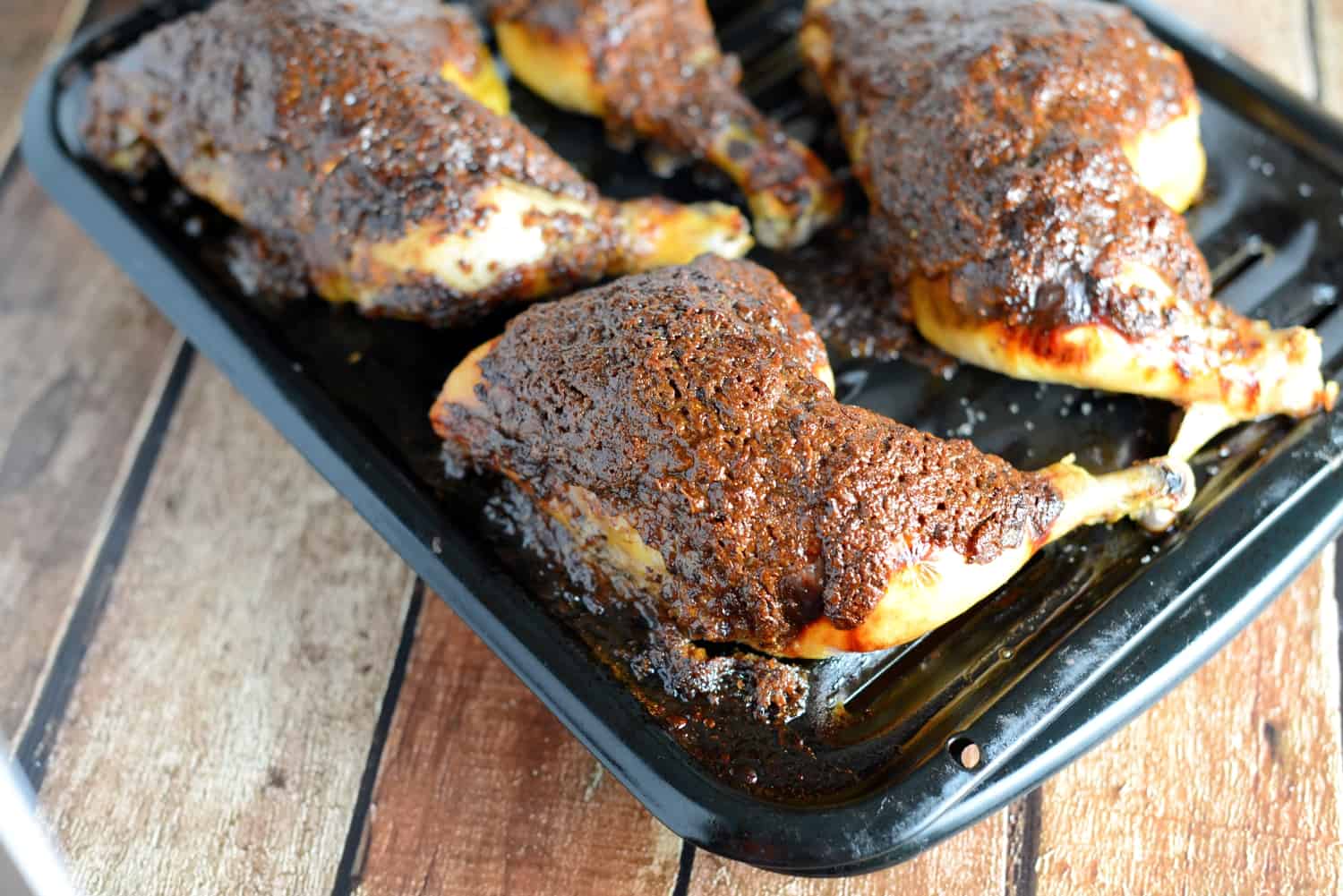 Fresh tarragon has a vastly different taste than dried, you can adjust the amount based on your preference. Oil-cured olives are another ingredient not used commonly in American cuisine.
When you locate them in the store, you might think the jarred is busted, but this is the way they actually look. Like olives soaked in oil, but then drained. They are also amazing in salads and tapenade.
This recipe originally called for a whole chicken, but I was making this recipe during a blizzard and can you believe the grocery store was sold out of whole chicken?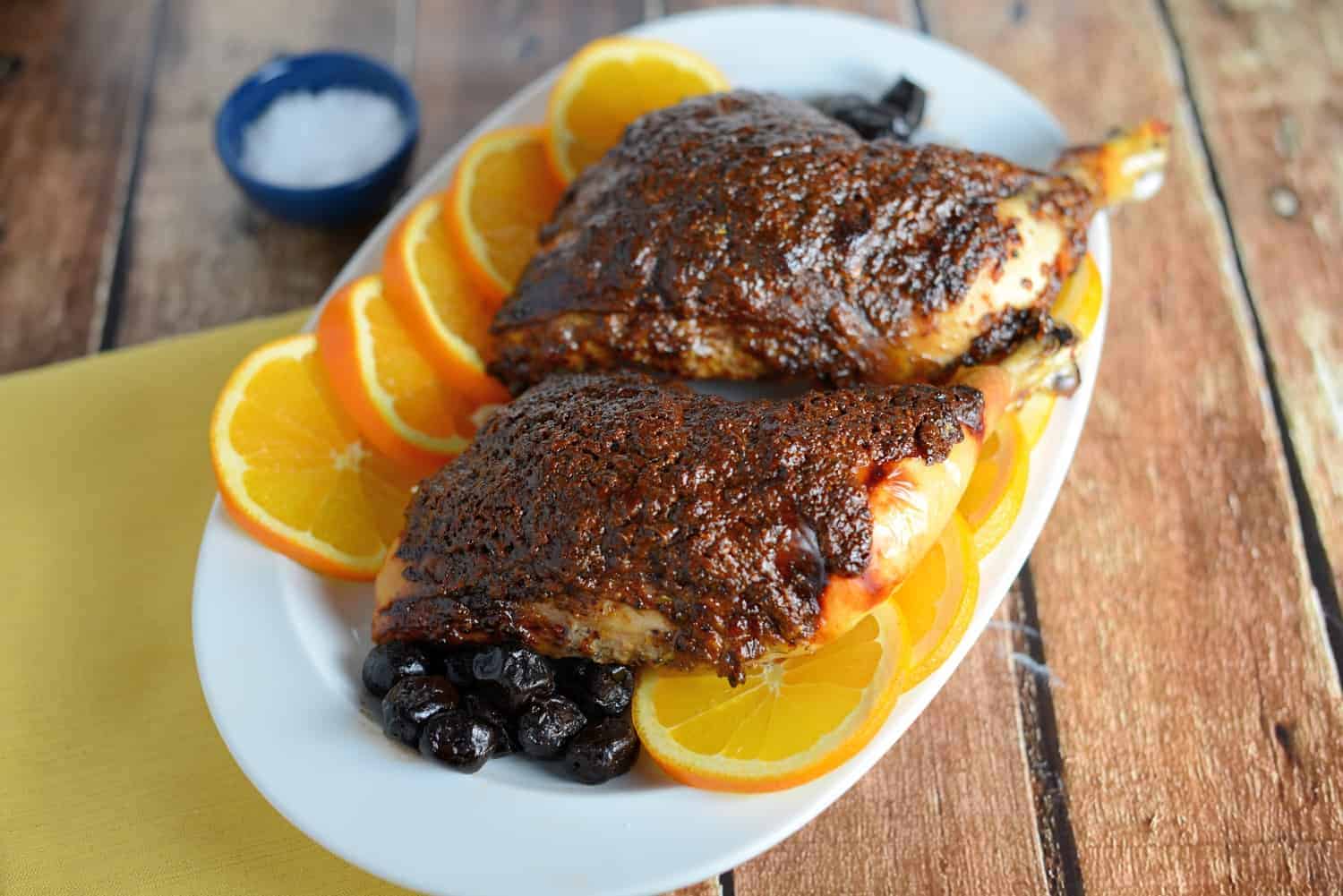 I opted for chicken halves, which was perfect for each individual plate, ditching the need to carve. The glaze is unique, flavorful and sweet, a real pleaser! If you buy orange marmalade, you can use the rest to make Slow Cooker Orange Chicken.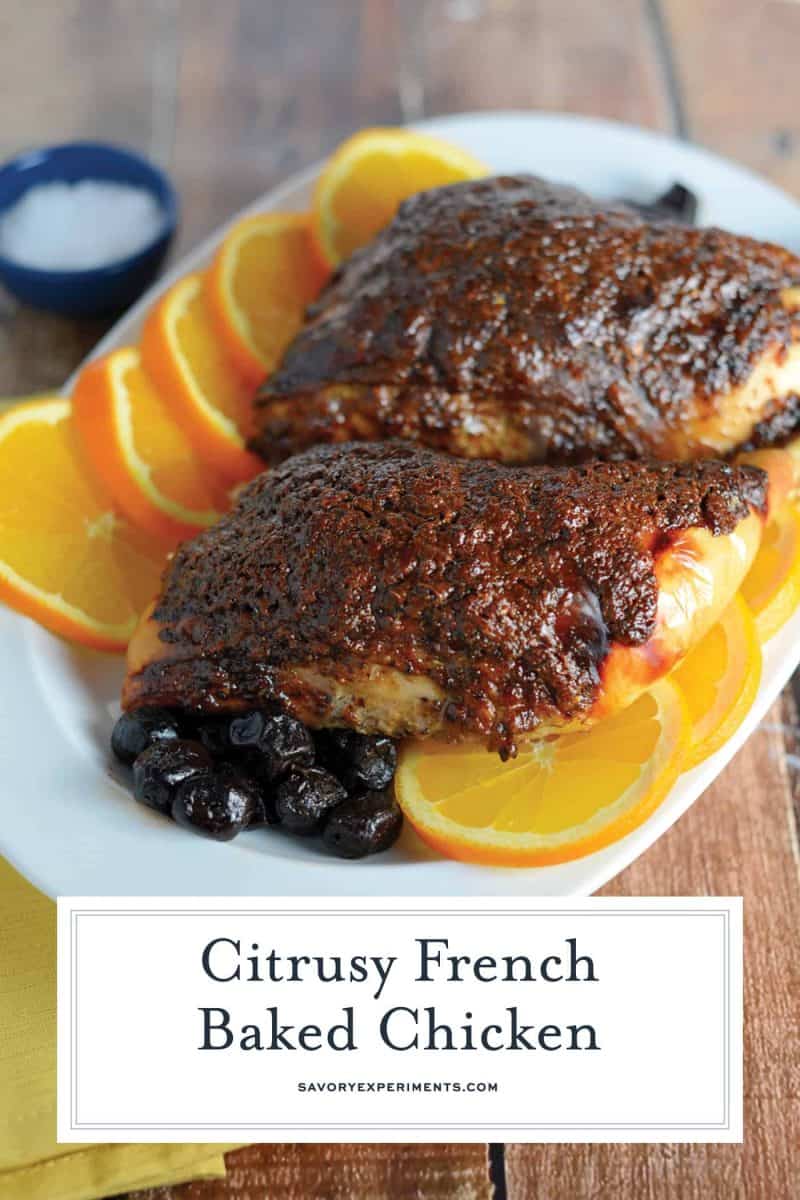 Tools for making French baked chicken (affiliate):
Broiler Pan– I like using one so the fats and other drippings don't pool up below the chicken. It also allows air to circulate around the chicken helping it cook more evenly.
Wood cutting board – wood won't dull your knives like plastic and if treated properly, has natural antimicrobial properties.
Good knife – Global is my favorite! They are worth the price, I promise. I am kind of obsessed with them and store them tucked away so no one else can use them. Including hubby. Hands off my good stuff!
Mini Food Processor– I use this thing daily! It is by far my most used kitchen appliance, it is small and I throw all the parts into the dishwasher, well except the base and cord, of course!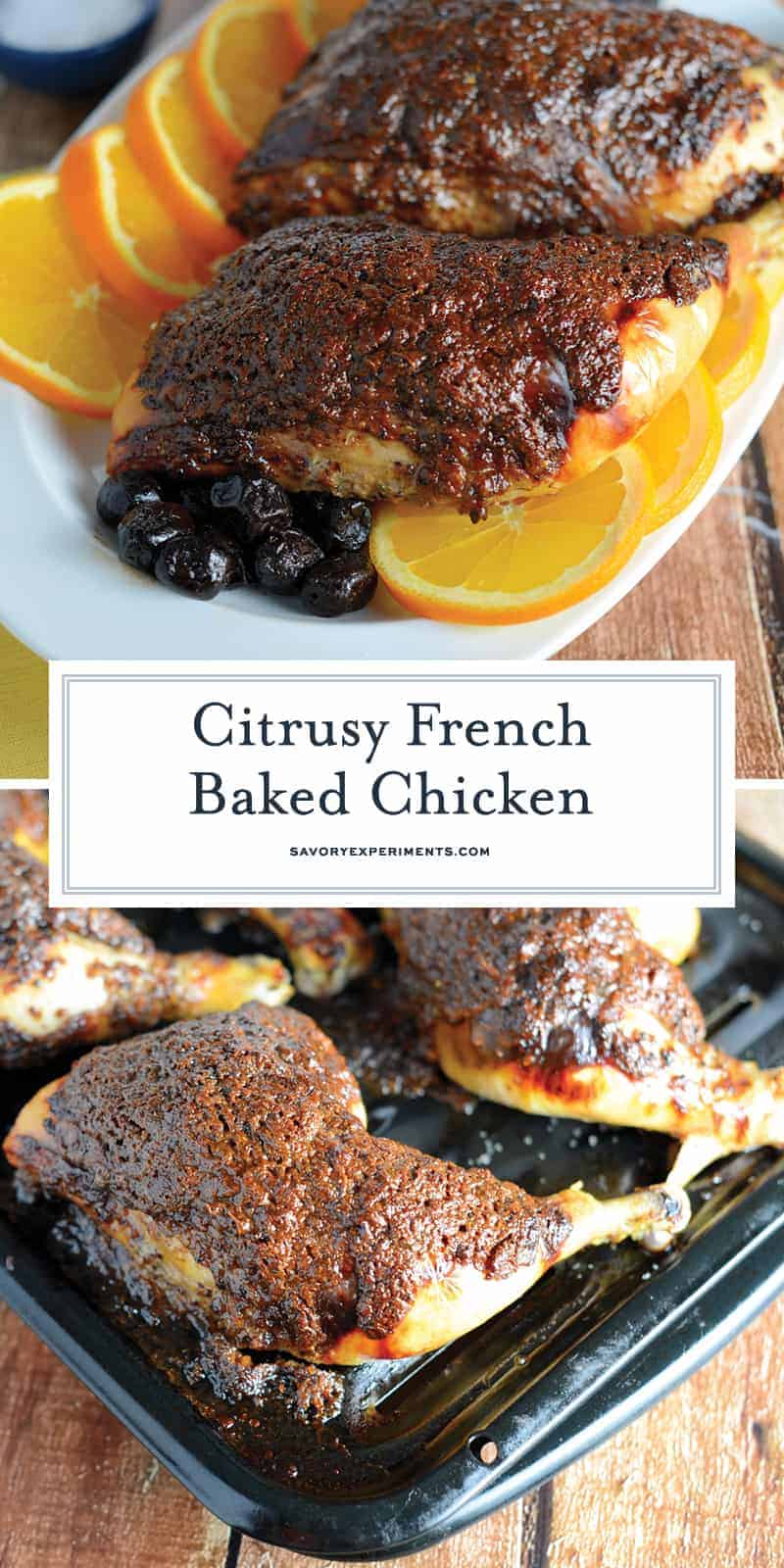 CONNECT WITH SAVORY EXPERIMENTS!

Be sure to follow me on social media, so you never miss a post!

Facebook | Twitter | Youtube
Pinterest | Instagram

Get our FREE 8 Day E-Course on How to Be a Better Home Cook. Sign up HERE!