As a pound cake fanatic I love variations of a velvety smooth, rich and delicious pound cake. This Coconut Pound Cake is no exception with it's sweet glaze and tropical flavor. It's a fan favorite hot out of the oven or even the next day after it's had a chance to sit.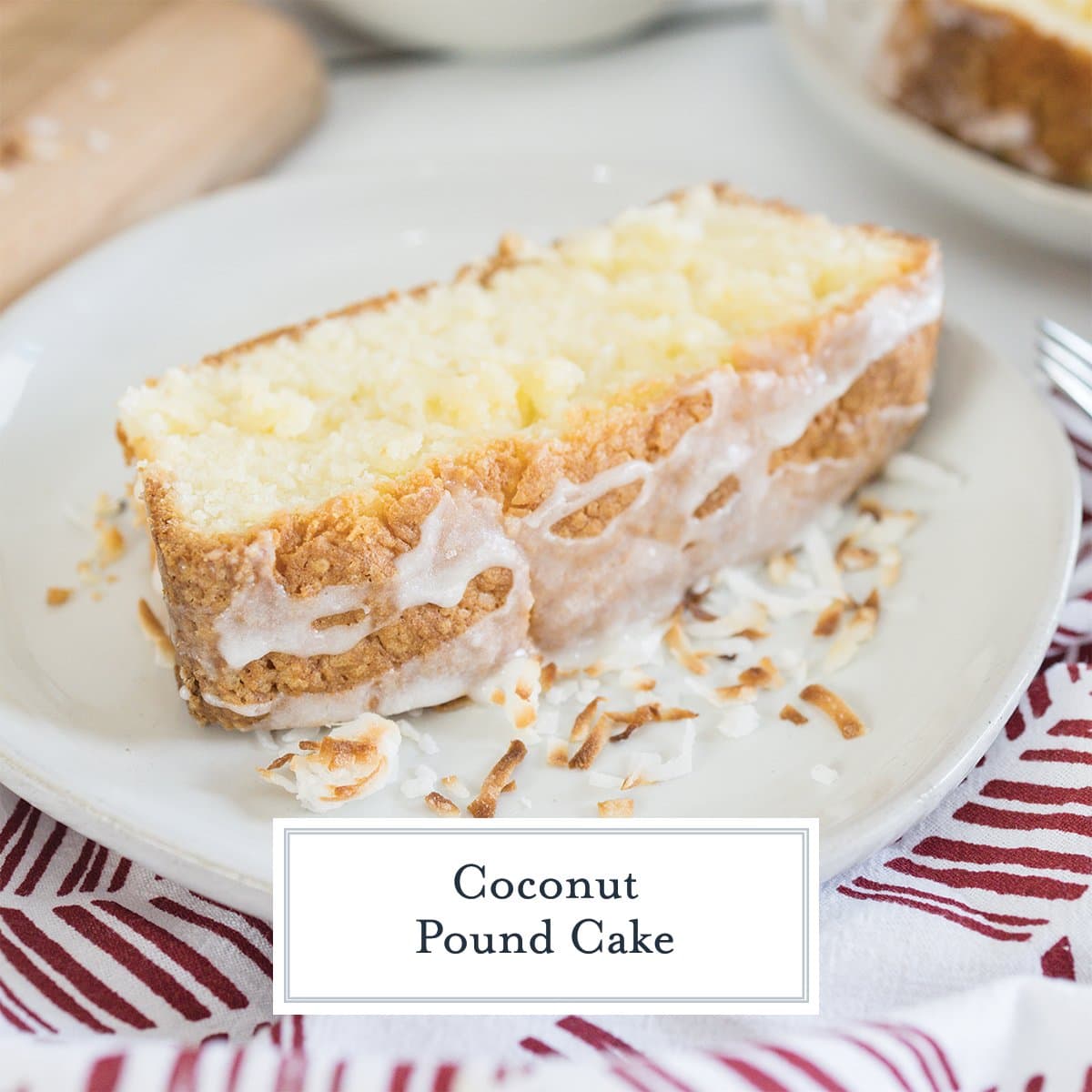 Serve your slice of coconut cake (sometimes called coconut cream pound cake) with tropical fruit, vanilla ice cream, fresh strawberries enjoy on its own. I like mine with a cup of coffee or tea. It's a recipe that is refreshing and delicious and gets rave reviews all around.
With so many good pound cake recipes it's difficult to know which ones are best but rest assured this recipe is proven and tested to help you have the same fantastic results as I do. I've got tips and tricks to help you along the way so you love coconut cake like we do!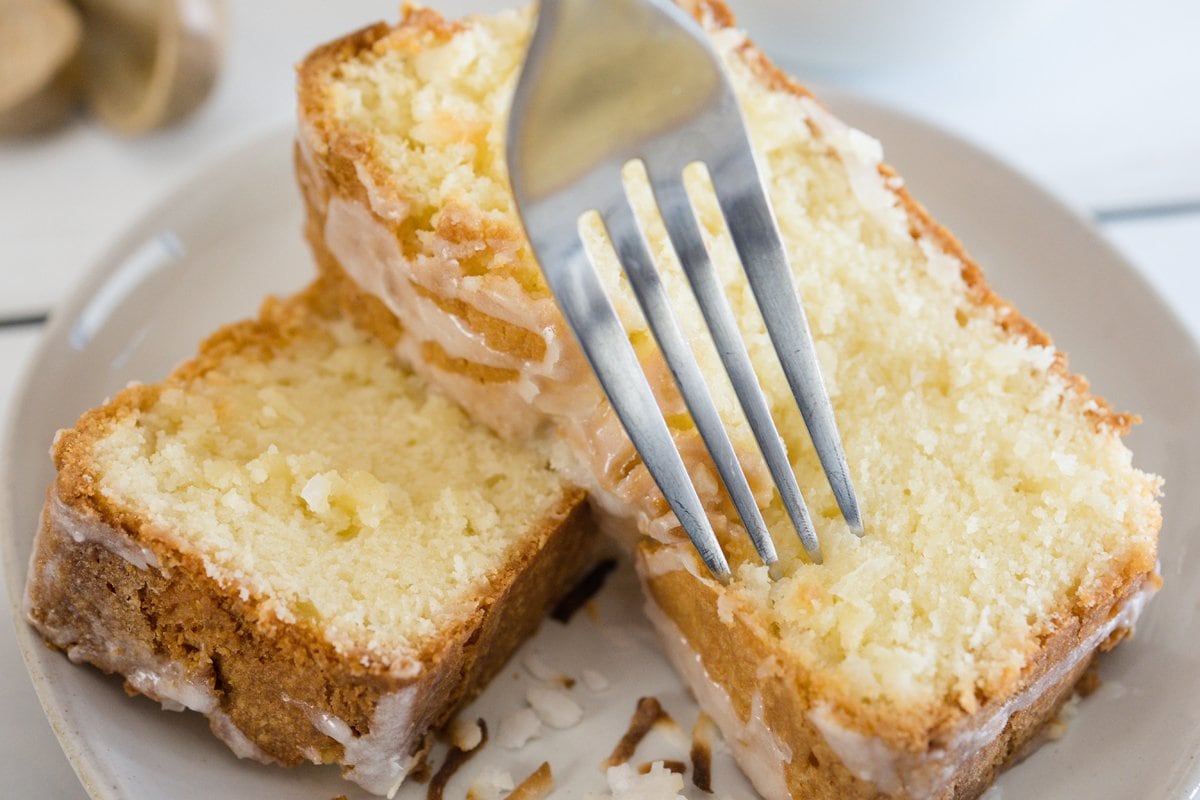 Ingredients
The ingredients for this coconut pound cake recipe are really quite simple. You might even have most of them already, except for maybe the shredded coconut and coconut extract… and the cream cheese. Did I mention this is actually a cream cheese coconut pound cake recipe? WINNING!
For the cake:
Dry ingredients: Sugar, Flour, Salt
Wet: Eggs, Butter, Cream Cheese, Coconut Extract, Almond Extract
Topping: Sweetened Shredded Coconut (Coconut flakes)
The glaze is a really simple mixture of only 4 ingredients. It's perfectly creamy, sweet and the perfect texture for drizzling right over top of your delectable coconut pound cake.
For the glaze:
This is a basic powdered sugar glaze, but with coconut extract.
Butter
Coconut extract- this gives great coconut flavor, but if you are going for subtle, opt for vanilla extract
Whole Milk- you can use lesser fat contents, but whole gives the best texture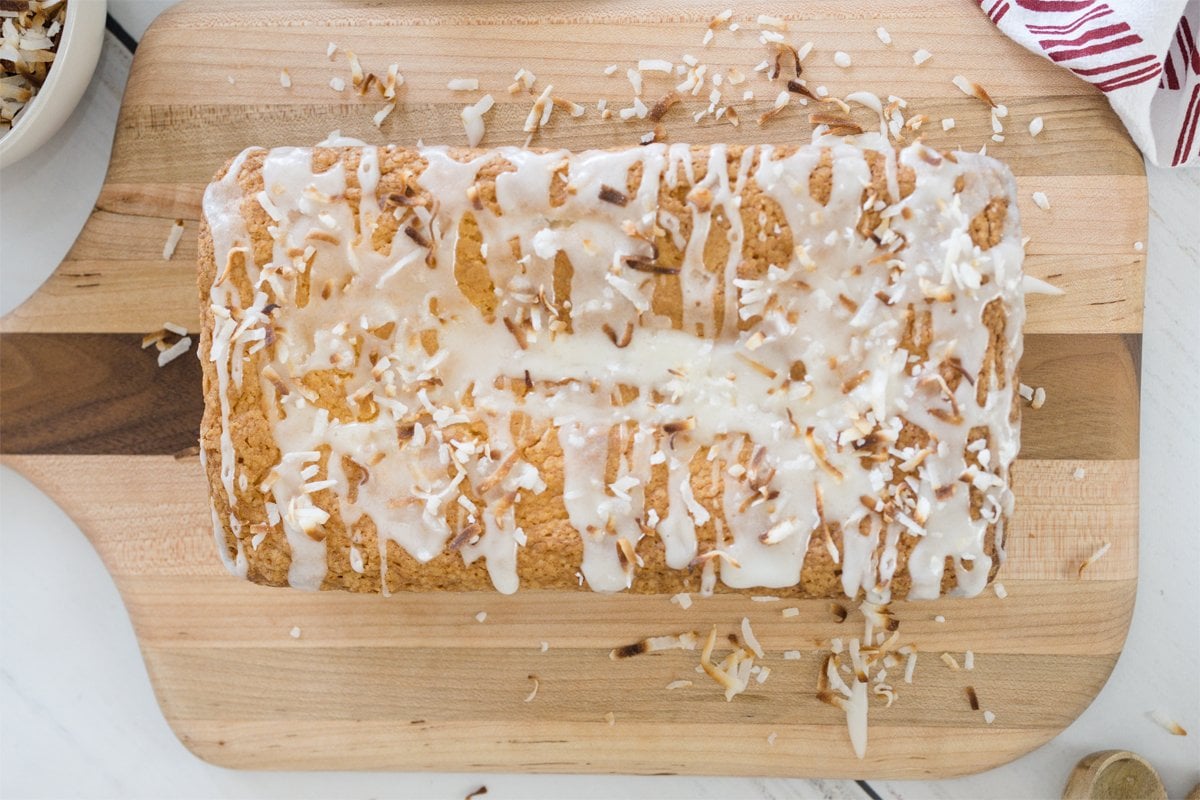 How to Make Coconut Pound Cake
If you've never made a pound cake before, the process is fairly simple. But let's walk through it step by step.
First, cream together the butter, cream cheese and sugar until it's light and fluffy. I highly recommend using an electric mixer of some sort unless you have superhuman arm strength!This usually takes several minutes and is imperative to the process of incorporating in enough air to give it fluff.
Next, add the coconut and almond extract. Using two flavors gives it nice balance, although if you are partial to one or the other, go ahead and use just one. You can also substitute vanilla extract.
Sift salt into the flour, set aside.
This next part is a little trickier. On medium speed, add one egg and alternate with a small amount of flour until all eggs and flour mixture have been combined. Fully incorporate, but do not overmix. ix them well.
By hand, stir in the sweetened coconut.
Prepare two 9-inch loaf pans by coating them with cooking spray or butter and then dusting with flour. Pour the coconut pound cake batter into prepared pan(s).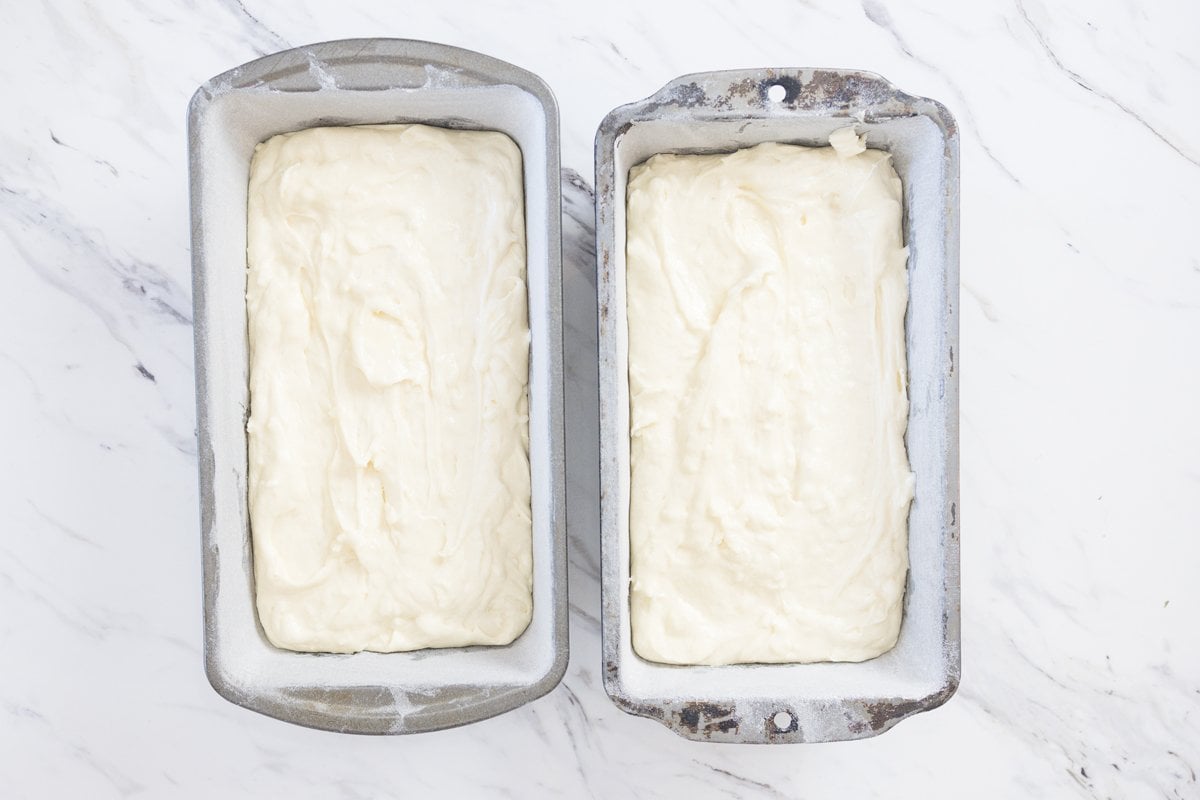 Bake at 325°F degrees for 75-80 minutes or until a toothpick inserted into the center comes out clean. Let the cake cool for 5-10 minutes before removing from the pan and setting on a wire rack for icing and cooling. Cook times will vary depending on the size of your baking pan (loaf pan versus Bundt cake pan).
Coconut Glaze
Now for the glaze; it is our favorite recipe and super easy to interchange for the right amount of coconut flavor.
In a large bowl combine the powdered sugar and butter with a fork or whisk. Once fully incorporated, add in the coconut extract and milk.
Pour the glaze over the cake while it is still hot. This allows it to drip down the sides of the cake, which is both pretty and appetizing. And for my real coconut lovers, while the glaze is still tacky, sprinkle additional coconut over the top of the cake.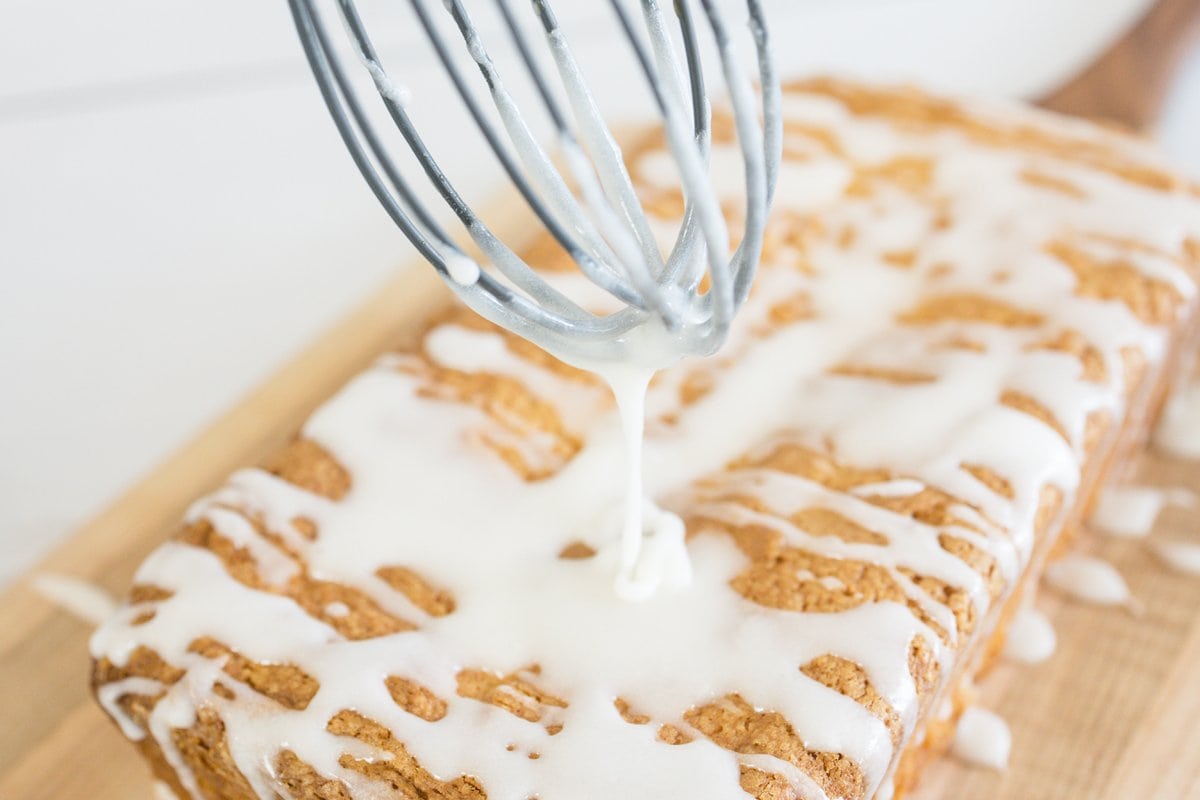 Pound cake recipes are very dense and will crack while baking as the batter rises. If that's not something you'd like to happen, Use a bundt pan instead of loaf pans. Using a bundt pan often eliminates the cracked top due to the hole in the center of the pan for a more even baking process. The bake time will be about the same, please watch closely.
Tips and Tricks
I've always found that using room temperature ingredients works best for perfect pound cake. Allow your butter, cream cheese and eggs to sit on counter for at least an hour before mixing into your coconut pound cake. While you are waiting for the ingredients to soften take the time to measure and weigh your dry ingredients and prepare the baking pans.
This recipe can be made in two loaf pans, one bundt pan or a 9-inch tube pan. I prefer to grease pans with butter, making sure to coat the edges and corners and then dusting in 1-2 tablespoons of flour. This helps ensure your pound cake will release from pans easily.
Pound cakes get their name from the ingredients used. Typically a pound of butter, eggs, flour, and sugar are included in the recipe. It's a heavy dense cake and it's oh so good. I love a big bite of warm pound cake but trust me, you want to wait until it's cooled. Even the next day if you can wait that long. It's velvety rich texture comes out as it sits and cools. Yum!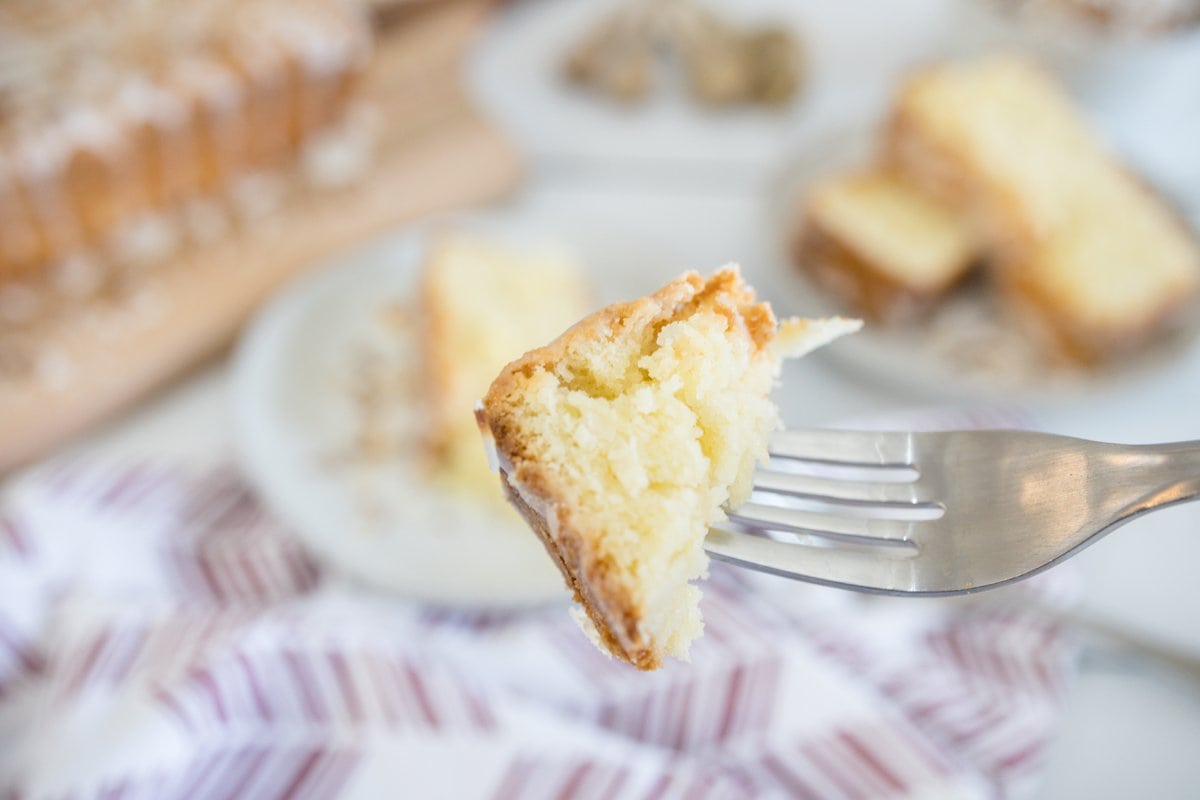 Can you over beat a pound cake?
Over beating ingredients can dry cake out because of the extra air beaten into the recipe. It will also change the texture of the cake making it tough due to the gluten in the flour.
Why does the top of my pound cake crack?
Pound Cake Recipes are very dense and will crack while baking as the batter rises. Using a Bundt pan often eliminates the cracked top due to the hole in the center of the pan for a more even baking process. But so does splitting up the batter and using two loaf pans since they are narrower.
If you are using a bundt pan, the bottom (which is usually the top) when inverted should stay intact. You can also trim the bottom for it to be level with a cake leveler or a steady hand and a serrated knife.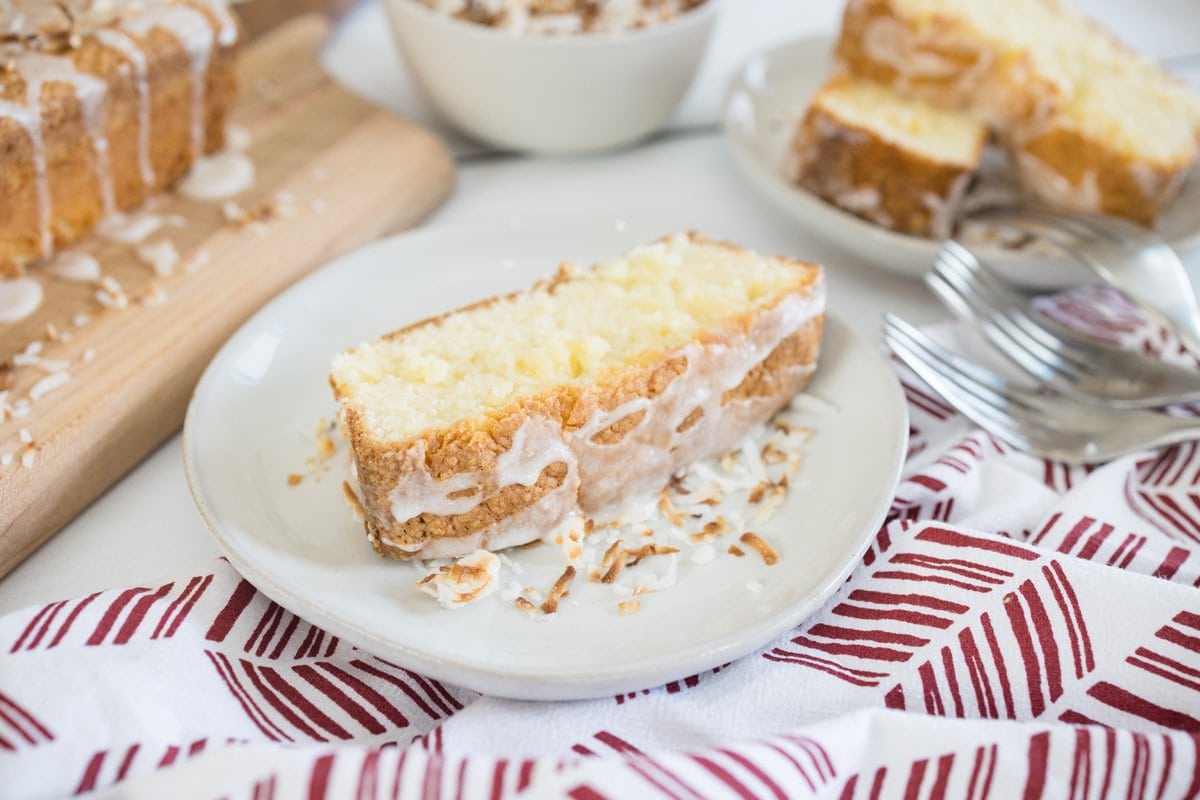 No Baking Powder?
Do pound cakes need baking powder? Classic pound cakes do not have any baking powder or baking soda in the ingredients. Pound cakes don't rise using any chemical leavening and utilizes physical leavening from the air mixed into the ingredients, eggs and flour.
Storage
Store your cake in a cool, dry place at room temperature. Make sure to keep it covered with plastic wrap or aluminum foil. It should stay good and moist for up to 5 days.
These loaves are also freezer friendly. Wrap very well in aluminum foil and/or freezer paper and store in the back of the freezer for up to 6 months. Thaw by unwrapping and sitting at room temperature for 3-4 hours.
I highly recommend waiting to glaze until they are thawed and ready to be enjoyed.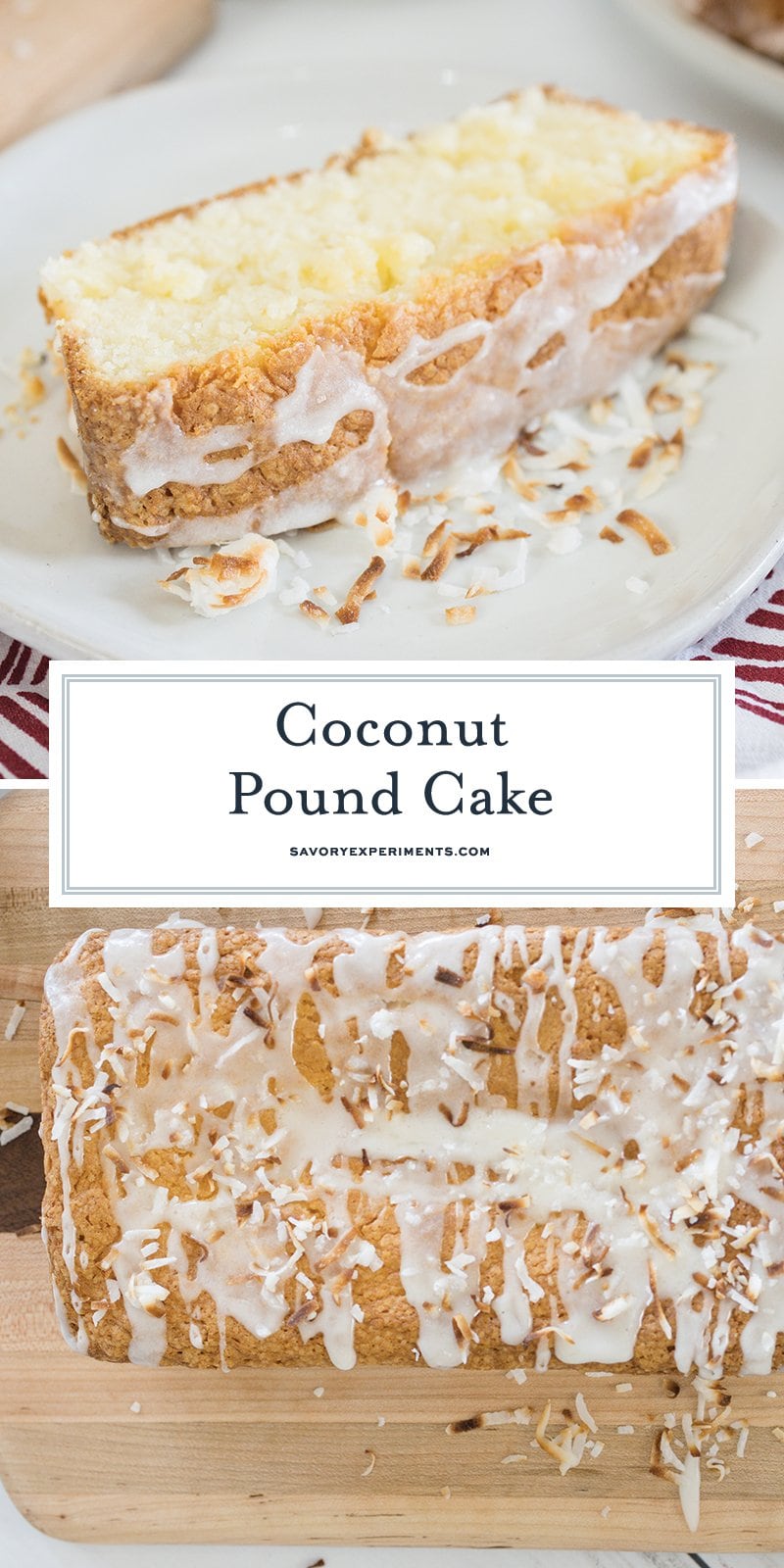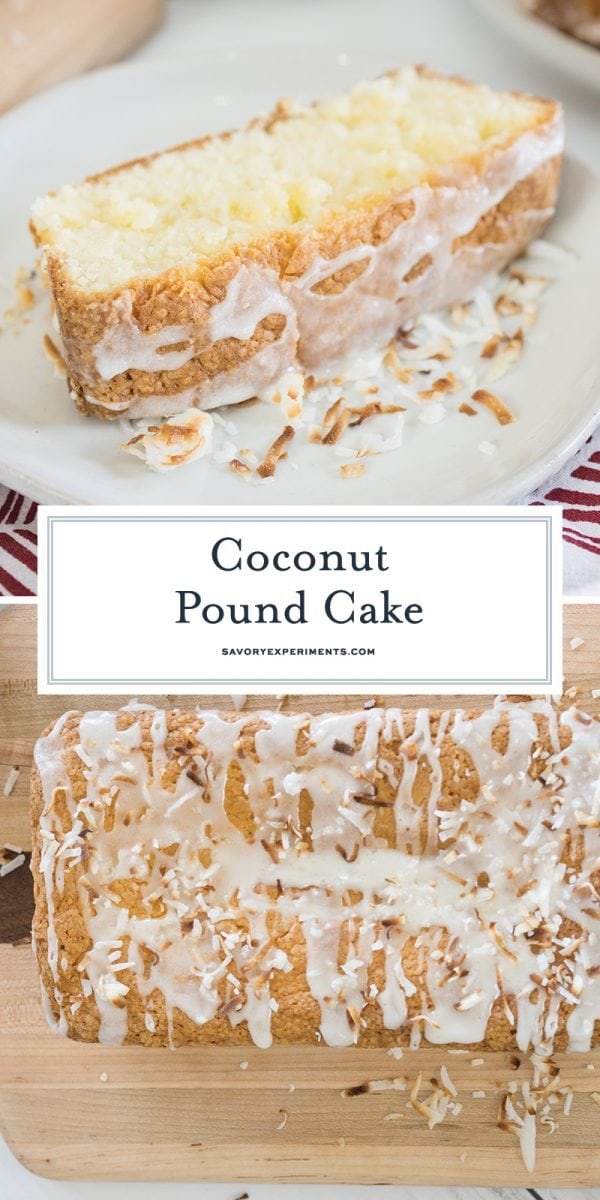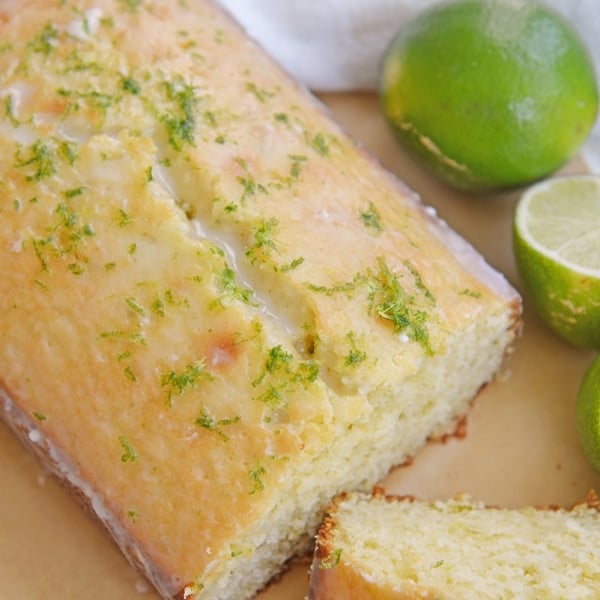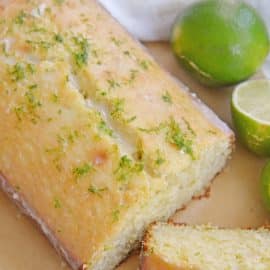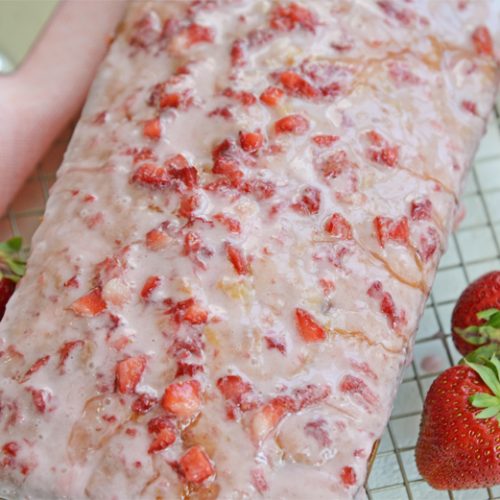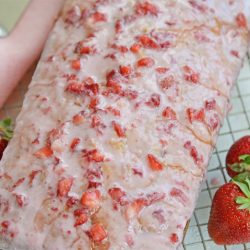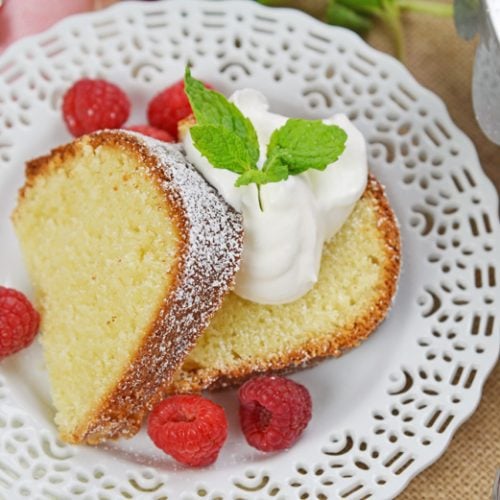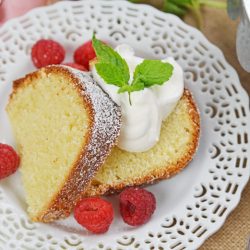 Sour Cream Pound Cake
Sour cream makes this pound cake extra moist and buttery. Easy to make and serves up to 12- perfect for parties. Pair with sauce or fresh fruit.
See The Recipe!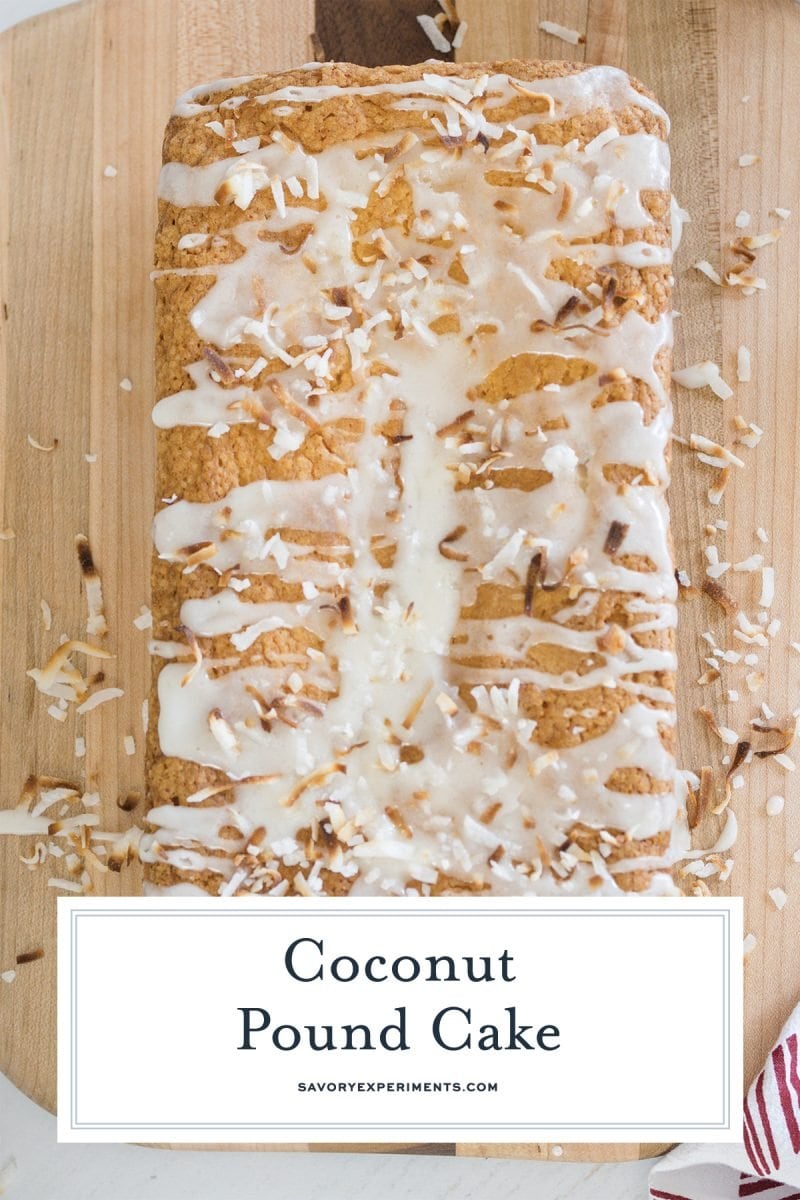 Also give our Coconut Cream Pie and Frosted Coconut Bars a try!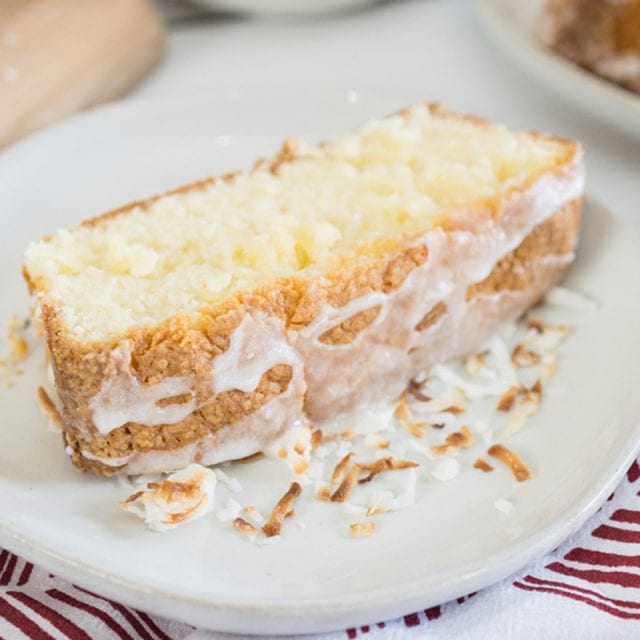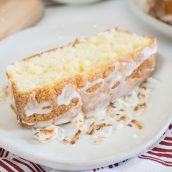 Coconut Pound Cake Recipe
This Coconut Pound Cake is the BEST with a sweet glaze & tropical coconut flavor! It's perfect right out of the oven with vanilla ice cream!
Instructions
Coconut Cake:
Spray two 9-inch loaf pans with cooking spray or coat with butter and dust with flour, tapping out excess.

In a large bowl or stand mixer fitted with the paddle attachment, cream the butter, cream cheese and sugar until light and fluffy. Mix in the coconut and almond extract.

Sift together flour with salt. Set aside.

Add the eggs one at a time and alternate by adding the flour mixture until fully combined.

Add the flaked coconut by hand. Do not overmix.

Bake at 325°F degrees for 75-80 Minutes or until toothpick inserted into center comes out clean.

Allow the baked loaves to cool for 5-10 minutes before removing from pan and icing on a wire rack.
Garnish Coconut Glaze:
In a large bowl, combine the powdered sugar and softened butter using a fork or pastry cutter.

Add the coconut extract and milk, mixing to combine.

Pour the glaze over hot loaves and allow to drizzle down sides.

Sprinkle with additional flaked coconut, if desired.

If you've tried this recipe, come back and let us know how it was in the comments or ratings!
Notes
This recipe can also be made in a 9-cup bundt pan.
Nutrition
Calories:
513
kcal
,
Carbohydrates:
69
g
,
Protein:
5
g
,
Fat:
25
g
,
Saturated Fat:
15
g
,
Polyunsaturated Fat:
1
g
,
Monounsaturated Fat:
6
g
,
Trans Fat:
1
g
,
Cholesterol:
119
mg
,
Sodium:
138
mg
,
Potassium:
96
mg
,
Fiber:
1
g
,
Sugar:
52
g
,
Vitamin A:
769
IU
,
Vitamin C:
1
mg
,
Calcium:
35
mg
,
Iron:
1
mg