Transform a simple pork loin into a shredded pork masterpiece with a simple homemade rub, pineapple, onion, and soy sauce. Easy ingredients and your slow cooker make this Hawaiian Pork Loin a new dinner favorite, any night of the week!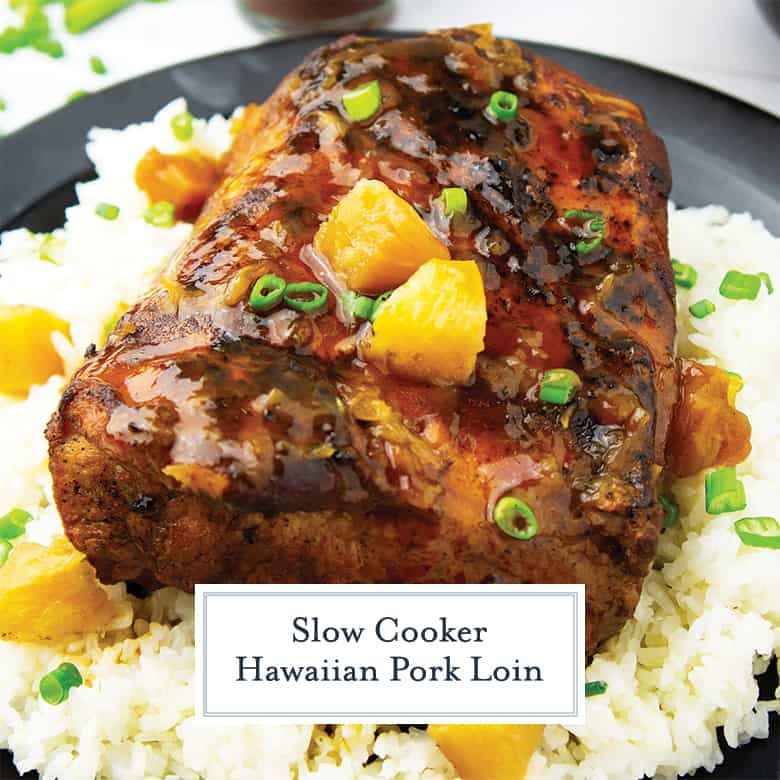 You will love this Hawaiian Pork Loin Crock Pot recipe!
Pork loin is a staple standby in our house. Often sold in 2 to 5 pound roasts, it's an easy way to feed a group or to cook once and have leftovers to reimagine for days. This Hawaiian pork loin version ticks all of those boxes and is packed with big flavor. A family dinner favorite that no one says no to.
With very simple ingredients I can rub the loin down with a homemade spice mix, give it a quick sear, then toss it in my slow cooker for a few hours while I go about my day.
A pot of rice later, some Hawaiian rolls, and a few minutes to whip up a sauce from the slow cooker juices, and dinner is on the table. Everyone is happy, myself included because it is such an easy recipe.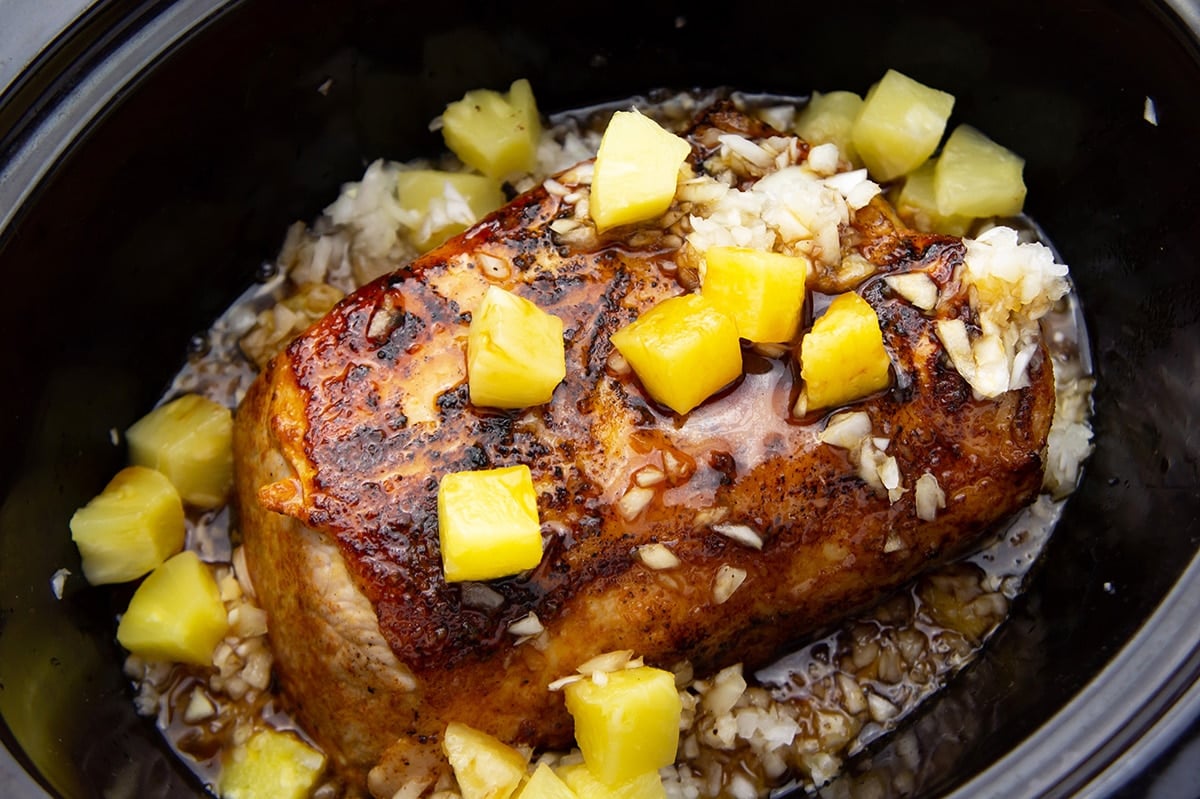 Best of all, this makes leftovers for days! Pork tacos, pork sliders (with those hawaiian rolls, yum!), or just a plate of rice and pork with sauce can feed us happily all week. What's not to love?
Pork Loin Roast Recipe Ingredients
This pork loin roast recipe uses simple ingredients that are shelf stable, with the exception of the pork and onion, so it is easy to throw together.
Pork Loin– Pork loin is a cut of meat from the back of a pig, located just below the shoulder and above the tenderloin. It's a lean and tender cut that's commonly used for roasts, chops, and other pork dishes.
Low-Sodium Soy sauce– Adding salty, acidic and umami flavors, this all-purpose sauce is perfect for rounding out the sweet flavors.
Pineapple chunks in 100% juice– This is part of the Polynesian element. Look for pineapple in 100%juice, opposed to pineapple in syrup.
Sweet Onion– I prefer a sweet onion in this dish, but feel free to swap it out with a more pungent white onion or red onion.
Ground Ginger– Since this is a fast recipe and I'm already breaking my "set-it and forget-it" rule by browning, we did opt for ground dry ginger. The ground ginger to fresh ginger ratio is 1/4 teaspoon of ground to every 1 tablespoon of fresh.
Paprika– To add flavor and color.
Onion powder– Onion and onion powder, which add remarkable different onion-flavors. Of you are a lover of garlic, feel free to swap this one with garlic powder.
Coarse Kosher Salt– To elevate natural flavors, although taste test and if using full sodium soy sauce, this might not be needed at all.
A dash of oil– To prevent sticking and promote browning while searing. This can be any neutral oil with a high smoke point, olive oil, vegetable oil or even a blend can work.
Cornstarch– For thickening the sauce. Cornstarch adds a velvety texture. Arrowroot can also be used.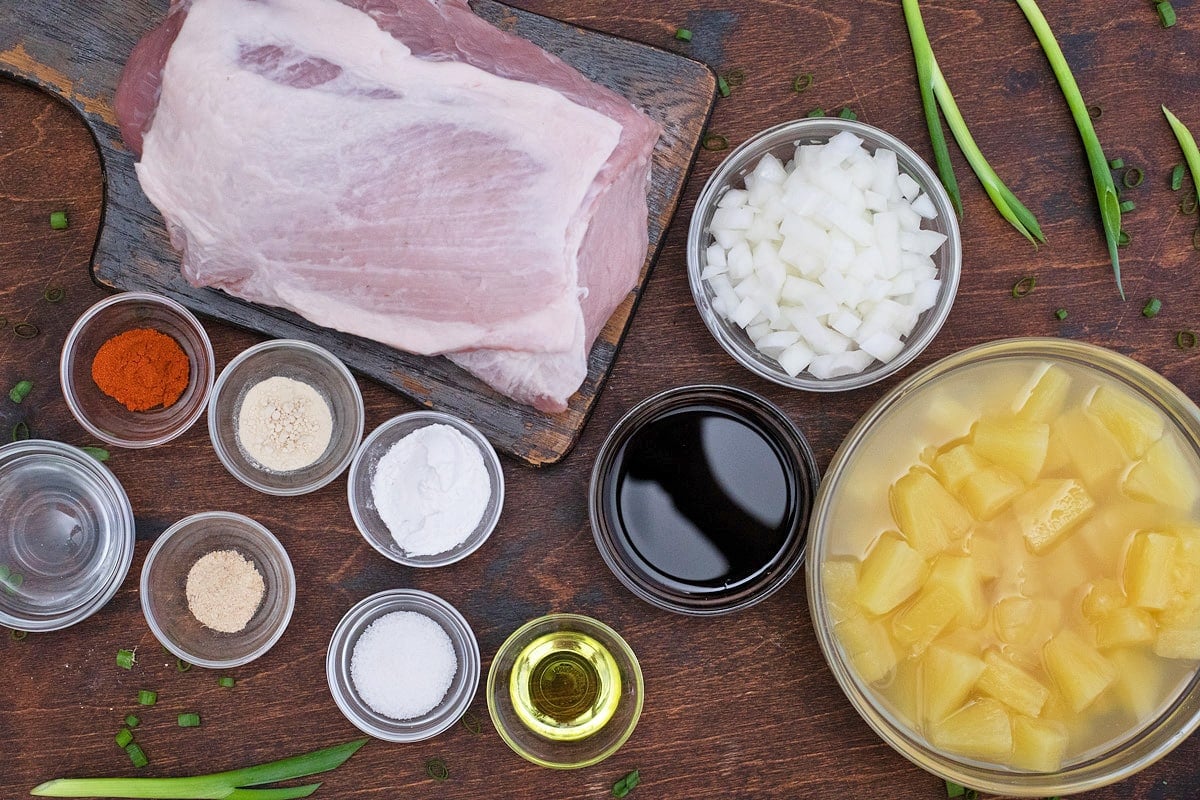 PRO TIP: Maui or Vidalia onions are my go to sweet onion varieties for this recipe, but any sweet onion you can find will do. In a pinch, substitute red onion with ½ a tablespoon of honey.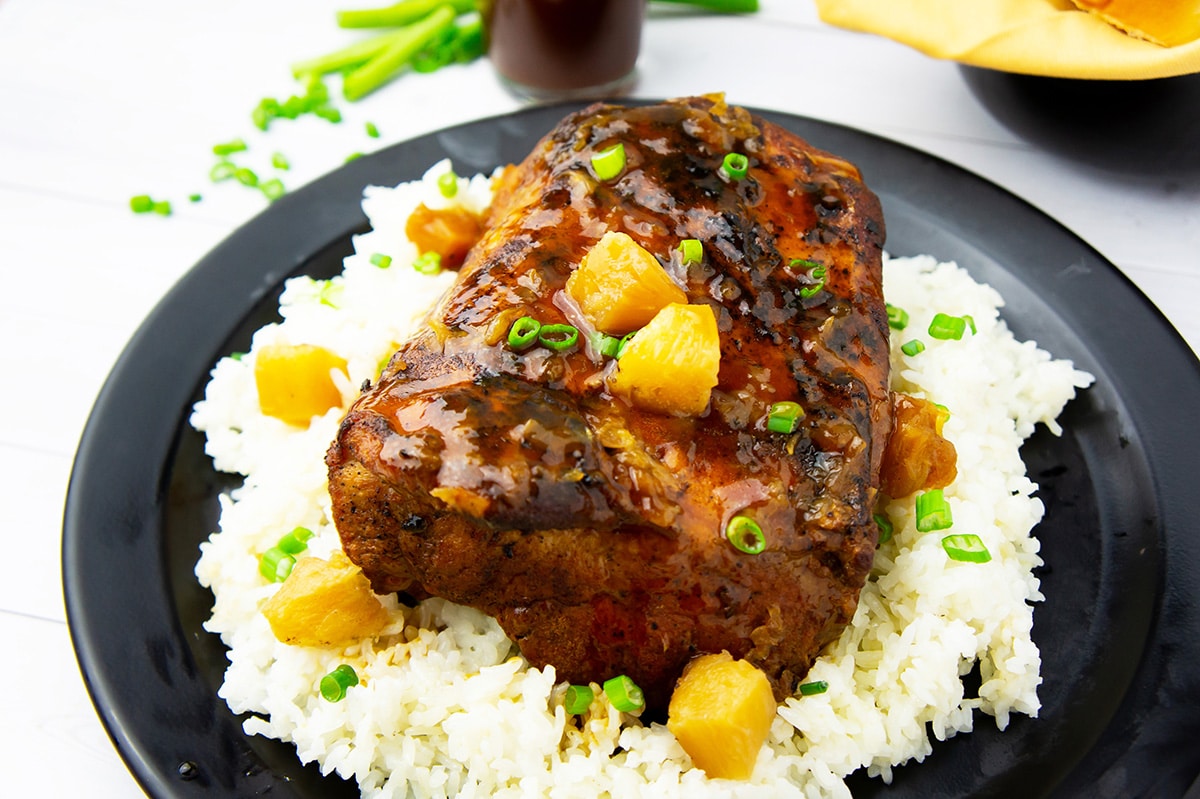 Pork Loin vs Pork Tenderloin
If there's one thing to remember it's to make sure you're picking up the right cut. Pork loin is not to be confused with pork tenderloin!
Pork Loin – A lean, large, wide cut of meat that is broken down into many different cuts, like chops and roasts. You want a boneless pork loin roast for this recipe. It may be sold as a top loin or center loin roast and it benefits from low, long cooks. It also has a nice layer of fat, which helps keep it juicy and adds flavor.
Pork Tenderloin – Similarly named but NOT a similar cut in any other way. Tenderloin is a thin, narrow cut that averages about 1 pound and is considered one of the most tender cuts of pork available. It's best cooked quickly at high heat, and cannot be substituted in this recipe. It is also a lean cut of meat.
Here is a pork tenderloin recipe if you realized that is what you are looking.
PRO TIP: Choose a pork loin with a nice white fat cap on it. A lean cut like pork loin benefits from the extra fat to stay moist and tender.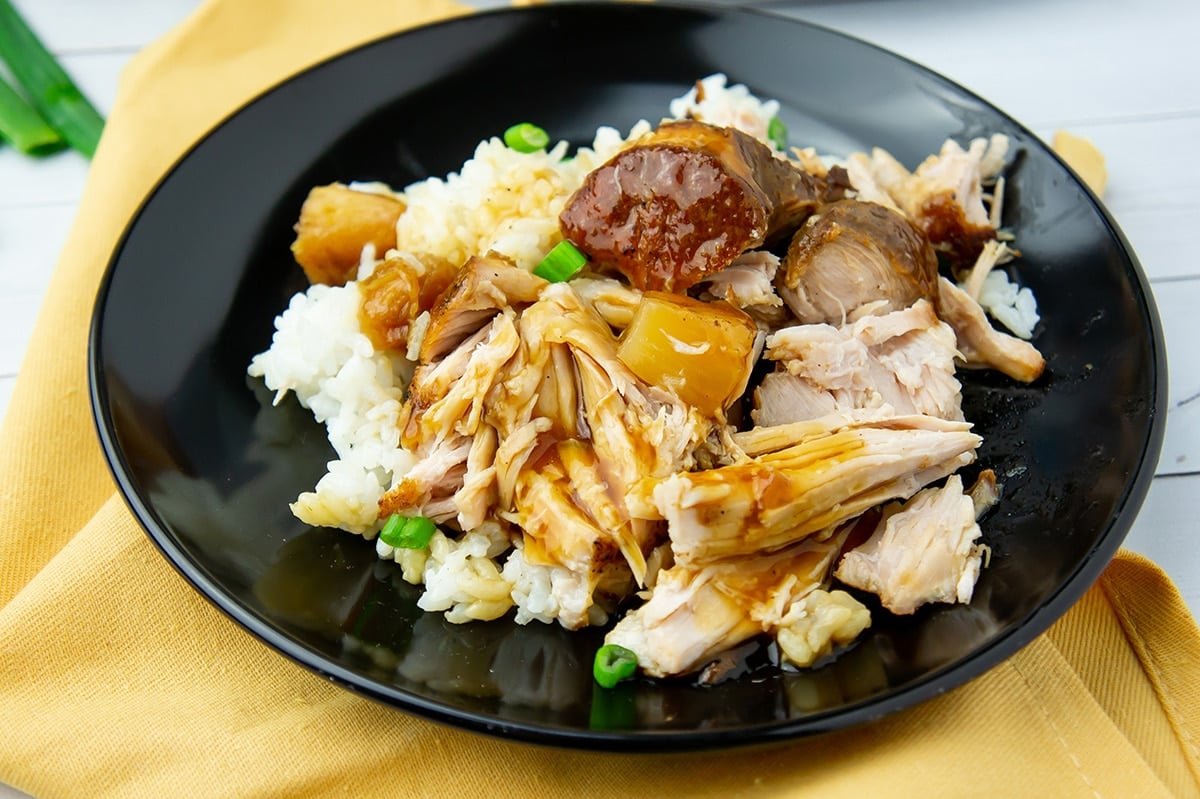 How to make this Pork Loin Crock Pot Recipe
I tend to shy away from crock pot recipes that require me to brown the meat, I tend to be more of a throw-and-go type of person, but I make an exception for this dish. It is delicious and the extra step of browning makes a marked different in the outcome.
Heat a tablespoon of oil in a large skillet over medium high heat. While your pan is heating, combine your onion powder, paprika, salt, and pepper in a small bowl.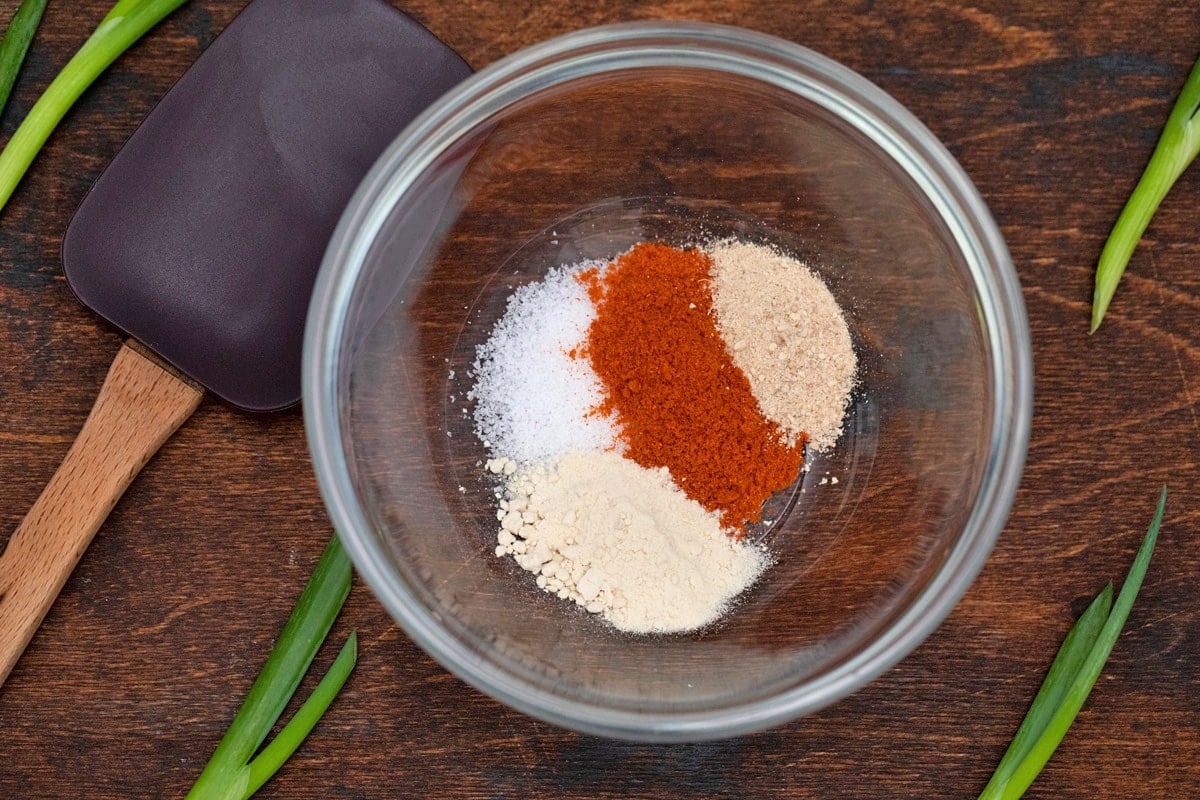 Pat your pork loin dry and rub down with the spice mixture. When your pan is hot, sear the loin on all sides, beginning with the fat side down, until the outside is caramelized and browned, about 3 to 4 minutes per side.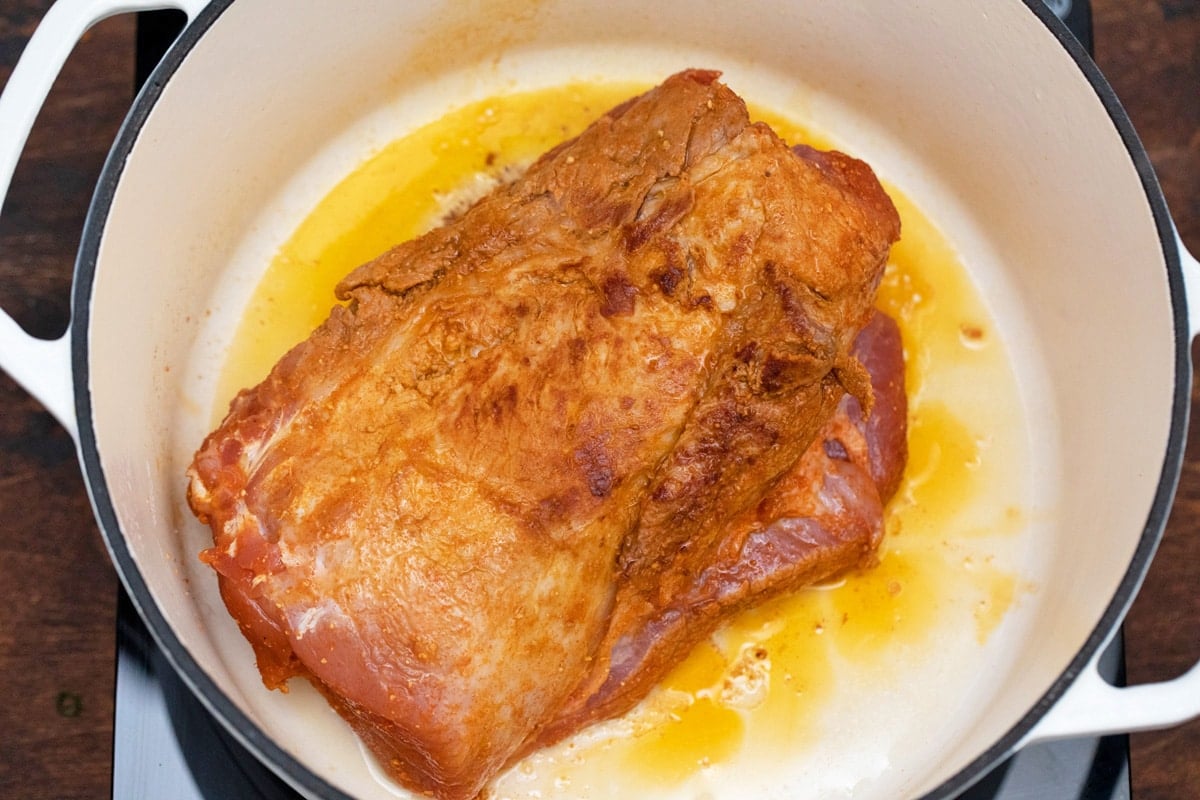 While the pork is searing, dice your onion. Open your pineapple and pour off the juice into a separate bowl with the soy sauce.
Place half the chunks of pineapple in the bottom of your slow cooker then place the seared pork loin on top, fat side up. Add in the remaining pineapple, the diced onion, and pour over the pineapple juice and soy sauce mixture. Cover and cook on low for 5 hours.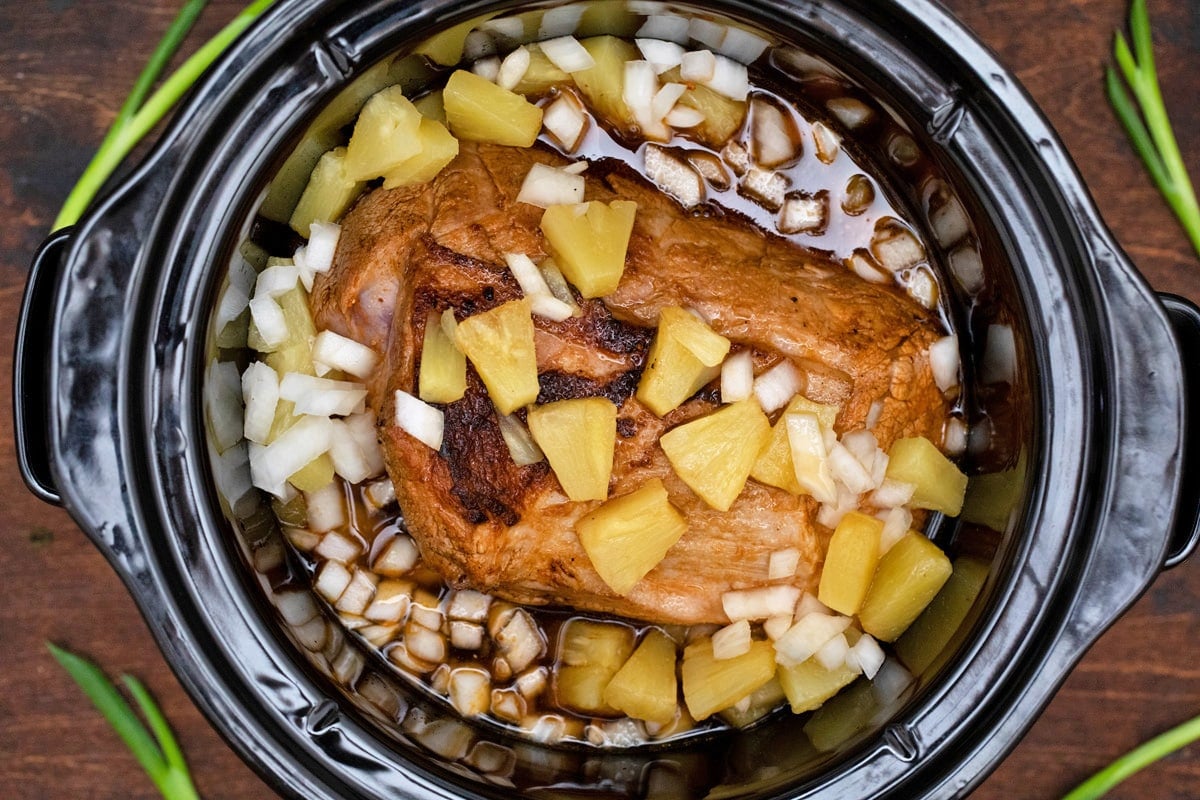 When your pork is done, remove from the slow cooker and set aside. Ladle the liquid through a sieve into a saucepan set over medium high heat and bring it to a simmer. Reserve some of the pineapple chunks for serving.
Whisk the cornstarch with 1 ½ tablespoons of cold water to make a slurry. When sauce is simmering, slowly whisk the slurry in and continue stirring gently until thickened.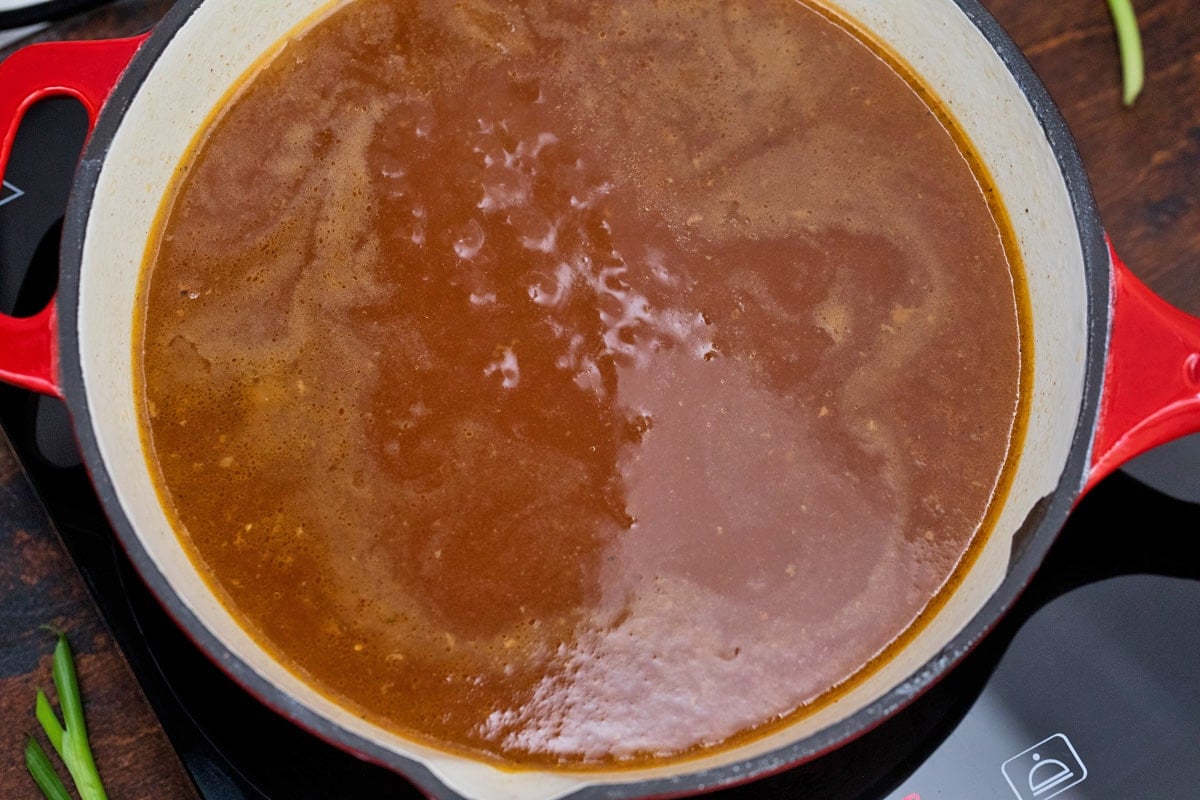 Shred the pork and serve with the reserved pineapple chunks and a generous drizzle of sauce.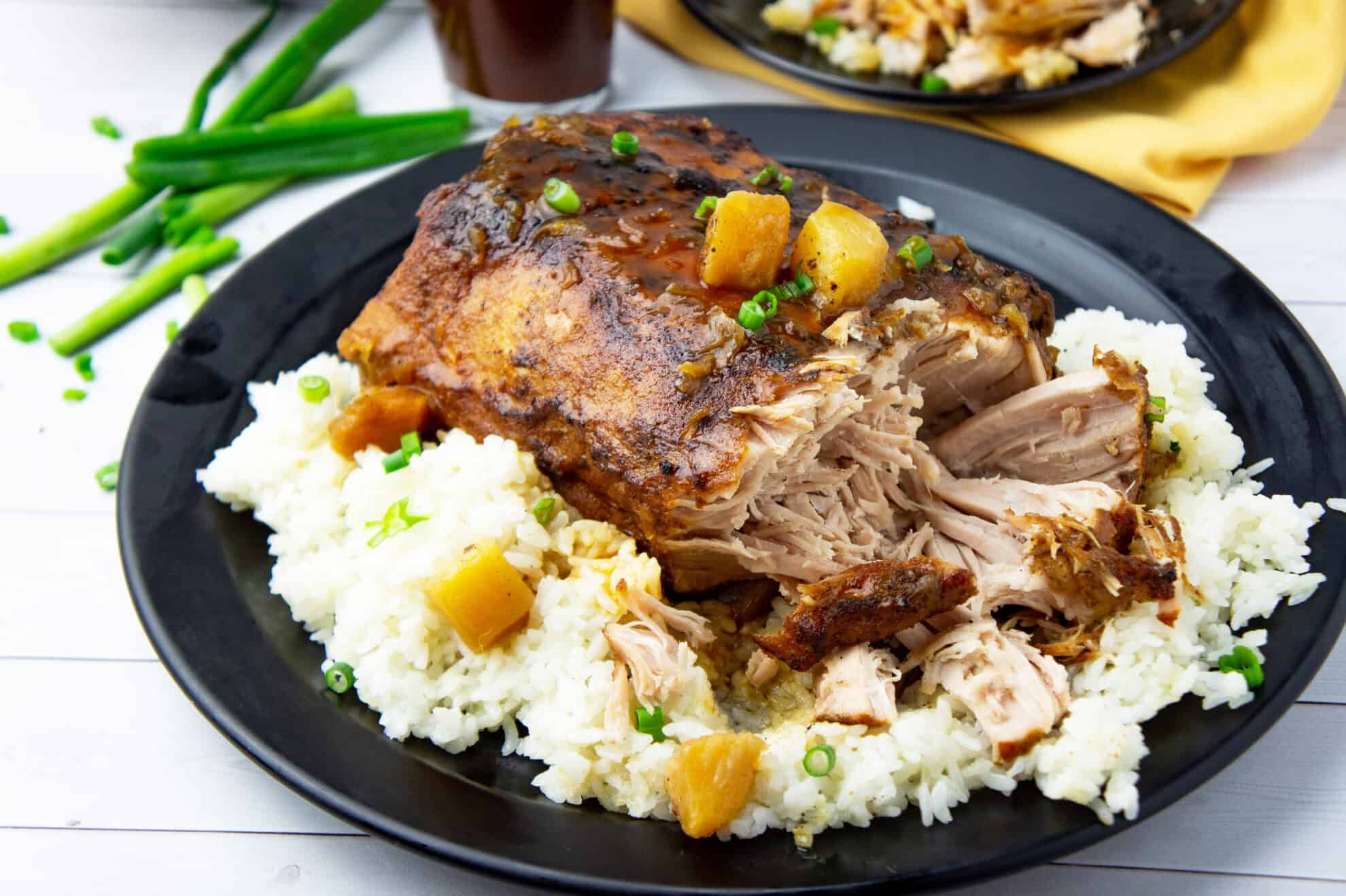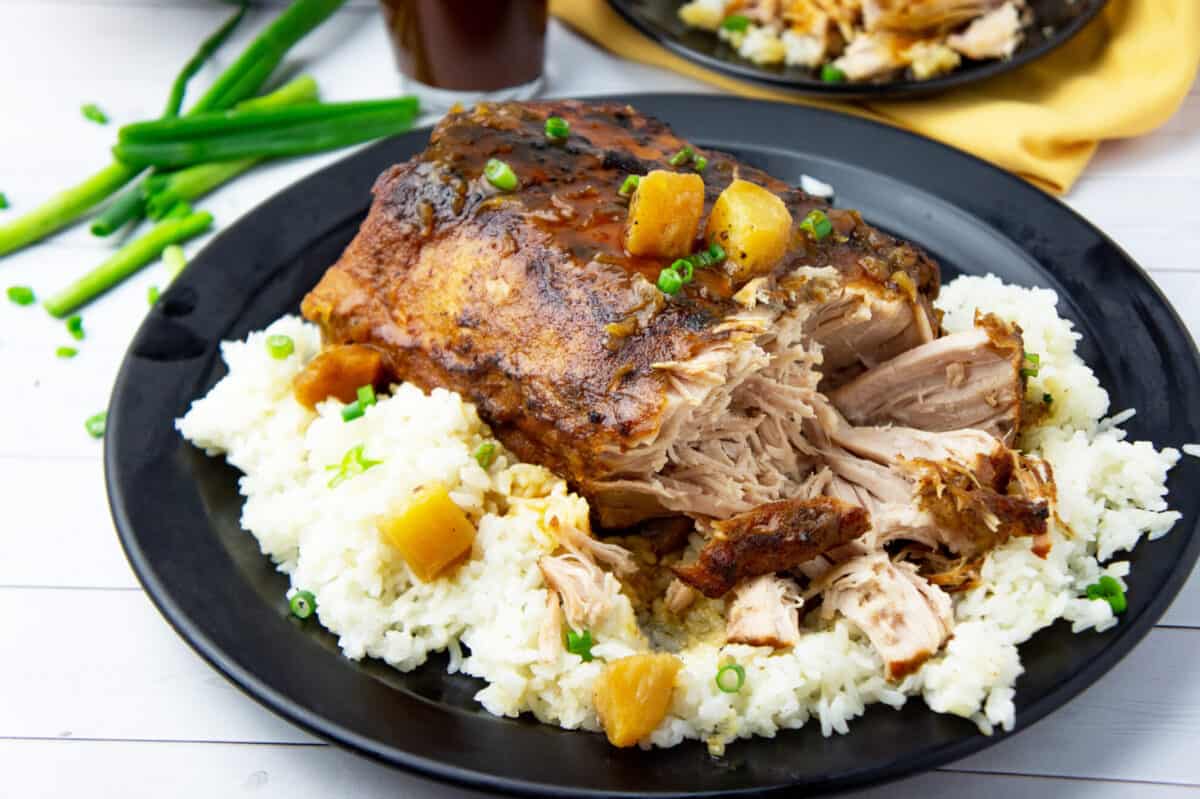 How Long Does it Take for Pork to Cook in Slow Cooker?
The cook time is highly dependent on the size of roast. Here is a quick guide for your size of roast:
3-4 pounds: 5-6 hours on low, 3-4 hours on high
4-6 pounds: 6-8 hours on low, 4-5 hours on high
To be sure your roast is complete, use a digital meat thermometer and check the internal temperature for 145°F.
Instant Pot Pork Loin Recipe Directions
The good new is that you can make this recipe in an instant pot and it also makes one juicy pork loin.
Sear the meat in IP using the "saute" function.
Add the other ingredients just like the slow cooker instructions.
Place the lid on and seal. Cook on high manuel pressure for 15 minutes per pound.
Use the quick release and continue following instructions for shredding and using the pan juices to make a sauce.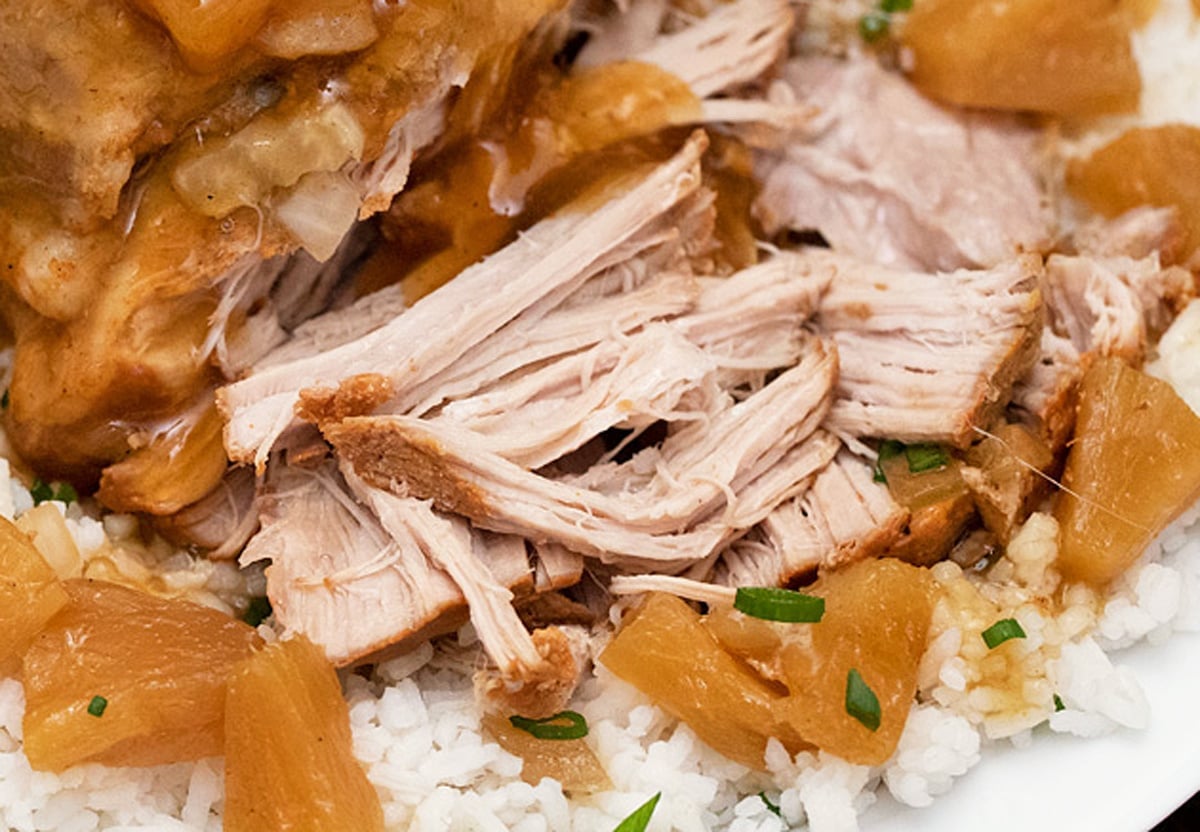 Pork Loin Recipe Slow Cooker Variations
Here are a few tips to get your started and keep you on the right path.
While you might want to skip the step of browning, for best results this adds loads of flavor to the meat and the sauce and kick starts the cooking process. You can throw it in unbrowned, but expect the sauce to be a little less seasoned and add 15-20 minutes to the cook time.
Changing the type of onion used will change the flavor profile of the sauce. A sweet onion gives sweeter results while a yellow or red onion will be more oniony.
If you really like pineapple, consider doubling the amount of pineapple.
Make sure you are using a pork loin, not a pork tenderloin, which is smaller in diameter and leaner. You can use the sauce recipe for a tenderloin, but the cooking time is different.
For a sweeter, sticky sauce, add 2-3 tablespoons of light brown sugar or dark brown sugar.
If you like a peppery sauce, add a few grinds of fresh black pepper.
How to serve this Slow Cook Pork Loin recipe
This slow cooker pork loin is easiest served over a bed of white rice, but you can also use toasted couscous or ranch rice. It is also great over mashed potatoes or roasted sweet potatoes.
It also make an amazing pulled pork sandwich.
As a side, consider serving with vegetables like marinated green beans, roasted rainbow carrots, or whole roasted cauliflower.
Shredded meat can be used in tacos or even quesadillas and nachos! Leftovers can be served on top of a fun leafy green salad too.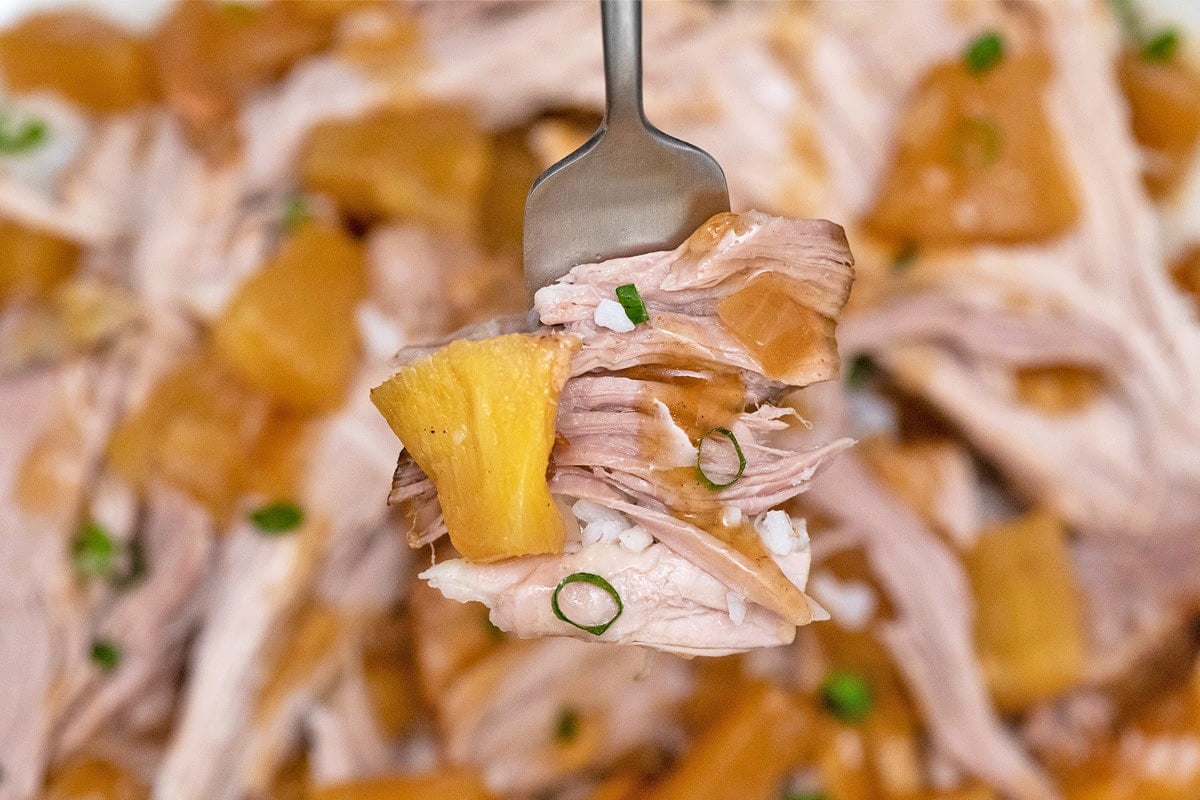 Pork Loin Recipe Slow Cooker Storage
Store leftovers in an airtight container in the refrigerator for up to 5 days. Use in another recipe that calls for pulled pork or reheat the meat only in the microwave.
Can cooked pork loin be frozen?
Absolutely. Prepare the Hawaiian pork loin as directed, then shred and freeze in desired portions. I recommend making the sauce and freezing it in an ice cube tray, then adding cubes to the bags or containers of shredded pork.
Pork Loin Roast Slow Cooker FAQs
Can I skip searing the pork loin?
Technically yes. Your pork loin will cook fine without searing it first. However searing the spice rubbed pork first wakes up the aromatic nature of the spices (big flavor), and creates a crust.

That crust creates a beautiful texture when you shred the pork, a lovely combination of crunchy browned edges and tender shredded meat.
Do I need to strain the sauce?
No, it's certainly not necessary if you're comfortable with your sauce having chunks of onions in it. However, straining it leaves you with a silky drizzly sauce I highly recommend.
Can I use
different cuts of meat?
Absolutely! This recipe will work with either pork butt (pork shoulder) or boneless pork country ribs.
Can I make this in the oven instead?
Yes! Simply start your recipe by searing the pork in a large dutch oven or oven safe pot. Then add in the pineapple, onion, and the pineapple juice/soy sauce mixture.

Cover and place in a 325°F oven for 2 to 3 hours, or until you can shred it easily with a fork.
Why is my pork loin dry in the crock pot?
Since this recipe includes an adequate amount of liquid and the slow cooker lid should be keeping all condensation in, the only reasons your pork could be dry are that you used a pork tenderloin (instead of loin) or it was cooked too long for the size. However, this is a hard cut of meat to over cook!
Should I brown pork loin before crockpot?
Browning meat before placing it in the crockpot isn't essential, but does add sophistication and flavor to the meat and the sauce.
Does pork loin get more tender the longer you cook it?
There are many cuts of meat that get more juicy and tender when cooked low and slow. It helps to tenderize and break down connective tissues that otherwise can feel chewy or tough. But there is a tipping point at which the meat starts to dry out, so wait until it reaches 140°-145°F and then remove it.
Do I need to add liquid to slow cooker pork?
Yes! If the slow cooker and roast don't have any liquids, then the roast will be dry, tough, and flavorless. The slow cooker is essentially a table top braiser and braising requires liquid to create steam and condensation, making the roast stay moist.
Should I cook pork on high or low in crock pot?
For this roast, low is best because it gives those connective tissues longer to break down, but high is still an option and works well. It is a good middle ground between a true low and slow cook and high heat roasting.
Can you put raw pork in a slow cooker?
You can put raw pork in a slow cooker and even though this roast will be browned on the exterior, the interior will still be raw.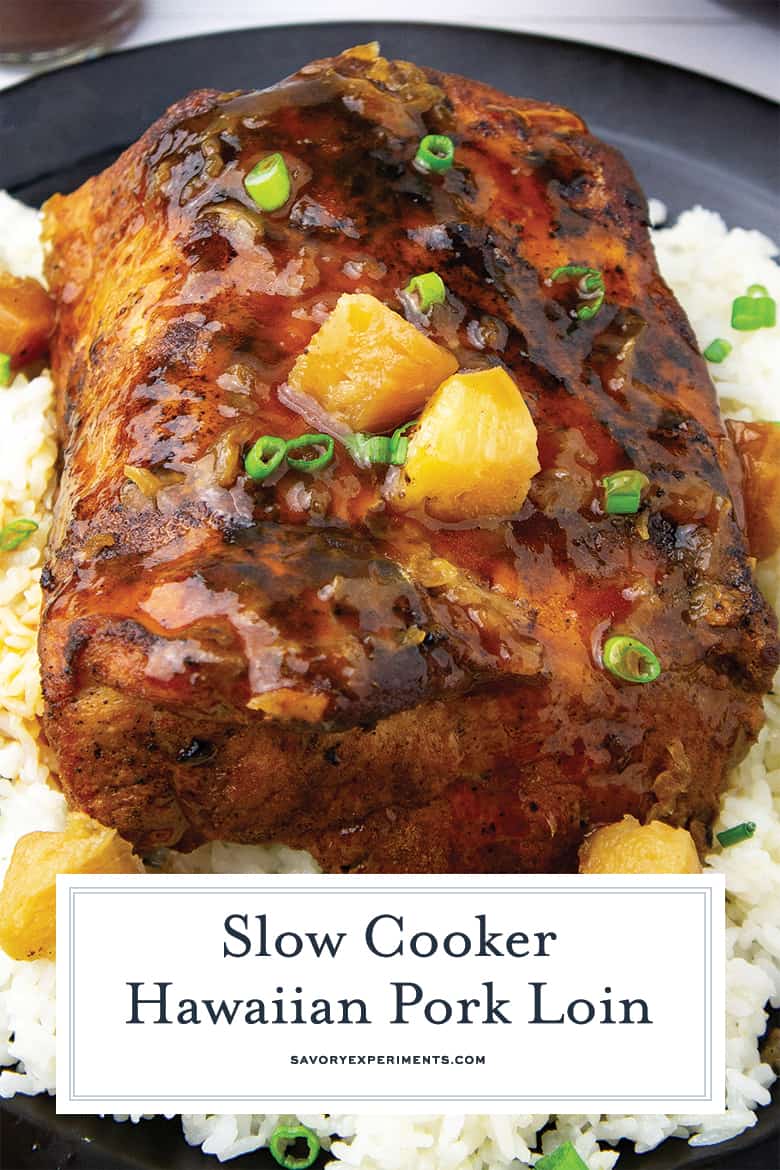 If you liked this Hawaiian Pork Loin, you might also like these easy dinner recipes:
These are some of our other favorite pork recipes: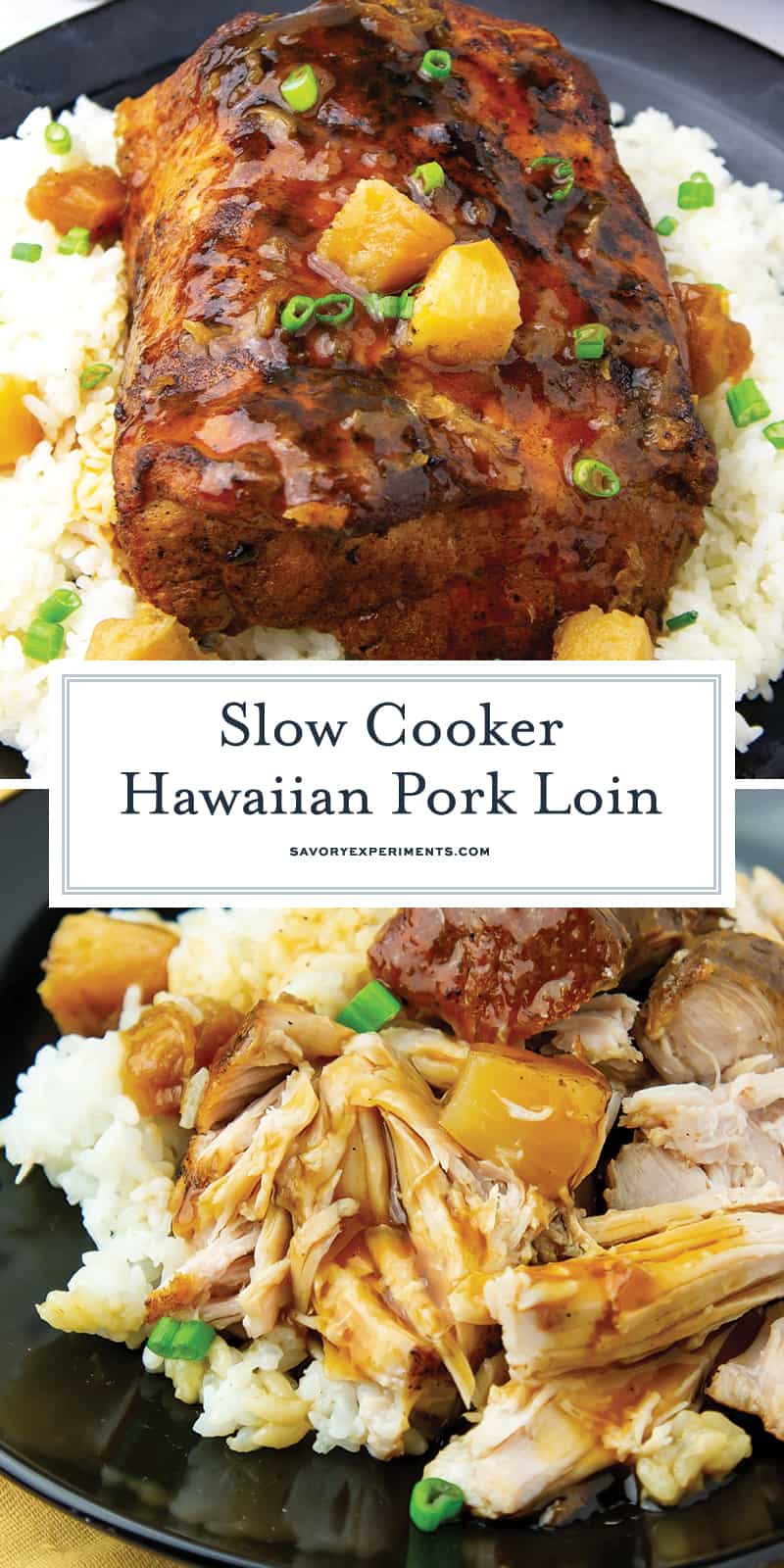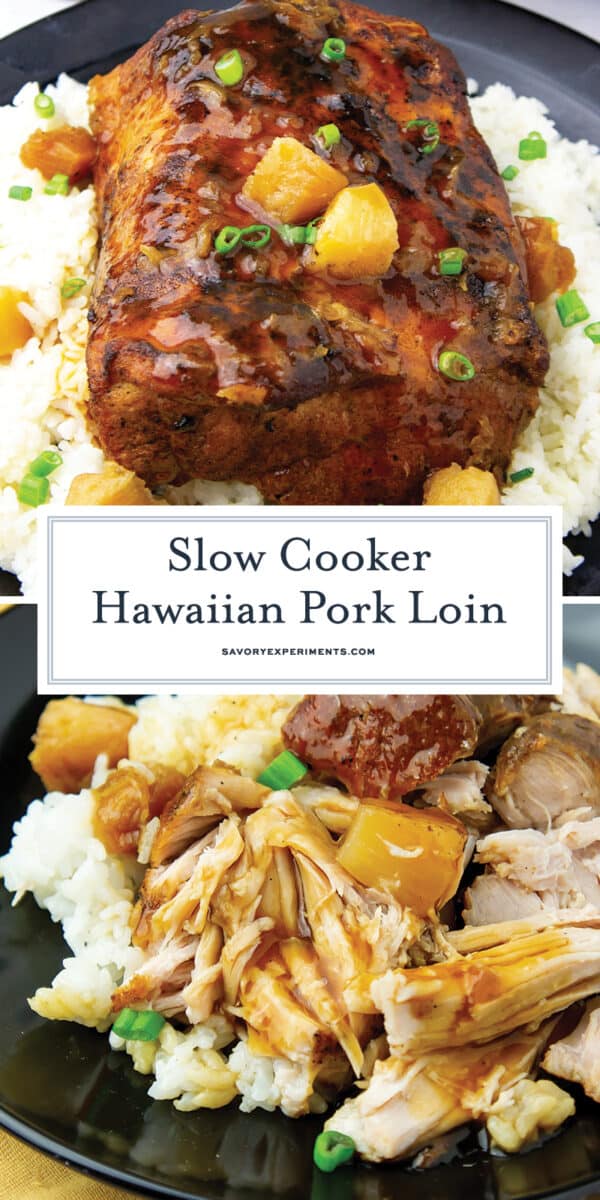 These delicious sweet and savory flavors of a Hawaiian Pork Loin are sure to be a hit with your whole family!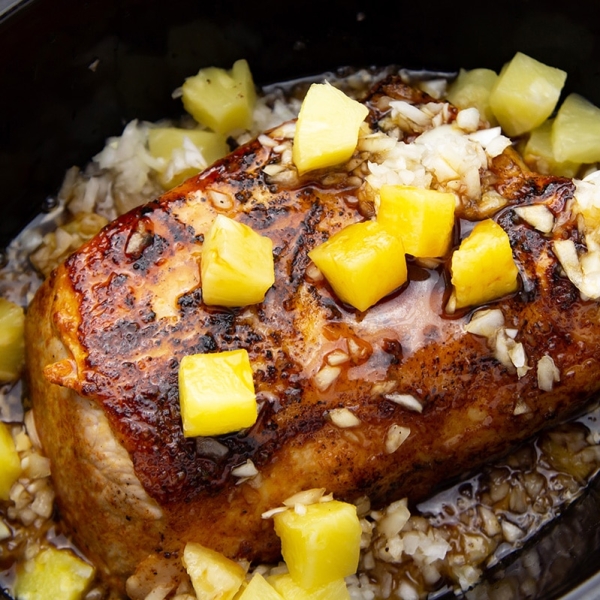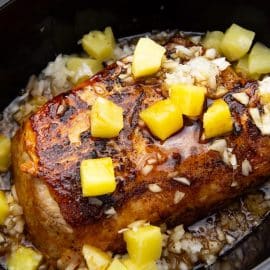 Hawaiian Slow Cook Pork Loin
Bring the island flavors to the table with this simple, slow cooker Hawaiian Pork loin made with pantry staples and finished with an easy to make sauce.
Instructions
Heat the oil in a large skillet over medium high heat. Combine the salt, paprika, onion powder, and ginger in a bowl.

Pat your pork loin dry with paper towels then rub in the spice mixture.

Sear the pork in the hot pan until browned on each side, beginning the the fat side down. 3 to 4 minutes on each side.

Meanwhile, dice your onion. Then combine the soy sauce with the juice from the can of pineapple chunks, you should get about ¾ cups of juice from the can.

Place half the pineapple chunks on the bottom of your slow cooker then place your seared pork loin on top of them with the fat side up.

Add in the remaining pineapple, diced onion, and pour the soy sauce/pineapple juice mixture over the top.

Cover and cook on low for 5 hours. The pork should shred easily with a fork.

Strain the liquid from the slow cooker through a sieve into a medium saucepan over medium high heat and bring to a simmer. Reserve some pineapple chunks from the slow cooker for serving.

Whisk the cornstarch with 1 ½ tbs cold water to make a slurry then slowly whisk it into the simmering sauce. Continue to stir gently until thickened.

Serve the pork with the sauce and reserved pineapple chunks.

If you've tried this recipe, come back and let us know how it was!
Notes
* Make sure you are familiar with your soy sauce and the levels of salt it has. Different brands are saltier than others. If yours is particularly salty or you do not like salty foods, then omit the additional 1 1/2 teaspoon of salt.
Nutrition
Calories:
297
kcal
,
Carbohydrates:
13
g
,
Protein:
40
g
,
Fat:
9
g
,
Saturated Fat:
4
g
,
Cholesterol:
107
mg
,
Sodium:
1331
mg
,
Potassium:
760
mg
,
Fiber:
1
g
,
Sugar:
10
g
,
Vitamin A:
159
IU
,
Vitamin C:
7
mg
,
Calcium:
23
mg
,
Iron:
2
mg