Transform a simple pork loin into a shredded pork masterpiece with a simple homemade rub, pineapple, onion, and soy sauce. Easy ingredients and your slow cooker make this Hawaiian Pork Loin a new dinner favorite, any night of the week!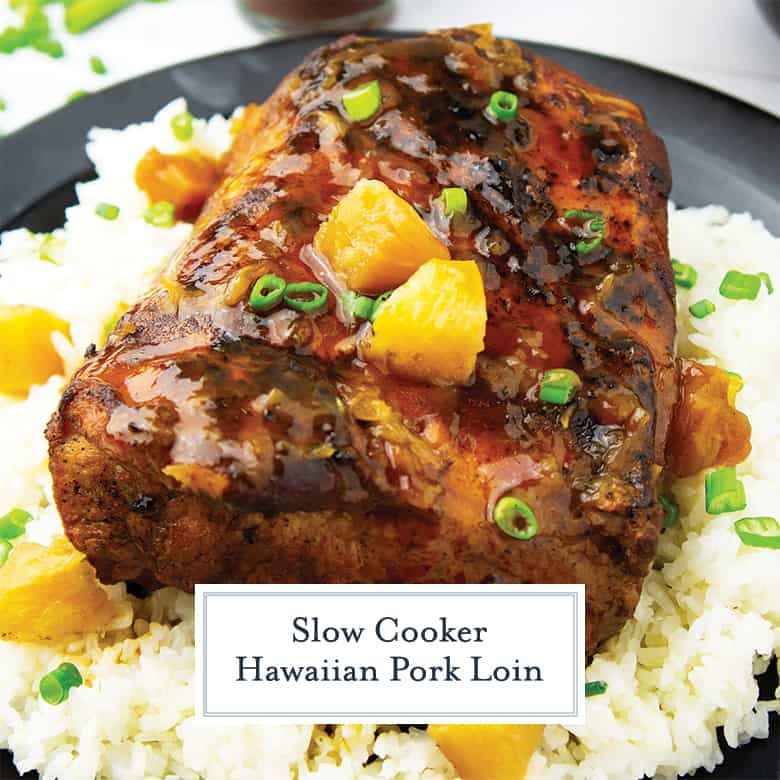 Slow Cooker Hawaiian Pork loin
Pork loin is a staple standby in our house. Often sold in 2 to 5 pound roasts, it's an easy way to feed a group or to cook once and have leftovers to reimagine for days. This Hawaiian pork loin version ticks all of those boxes and is packed with big flavor.
With very simple ingredients I can rub the loin down with a homemade spice mix, give it a quick sear, then toss it in my slow cooker for a few hours while I go about my day.
A pot of rice later, some Hawaiian rolls, and a few minutes to whip up a sauce from the slow cooker juices, and dinner is on the table. Everyone is happy, myself included!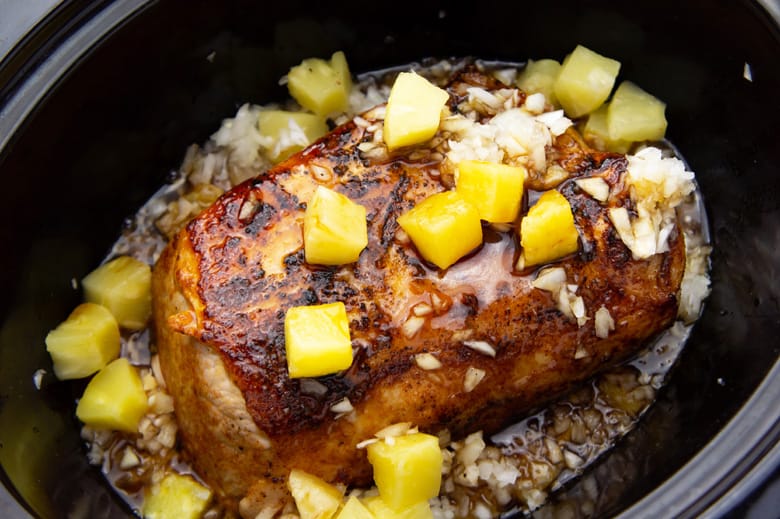 Hawaiian Pork Loin Ingredients:
3-4 pound pork loin
Soy sauce
A can of pineapple chunks in 100% juice
A sweet onion
Ginger
Paprika
Onion powder
Saltr
A dash of oil
Cornstarch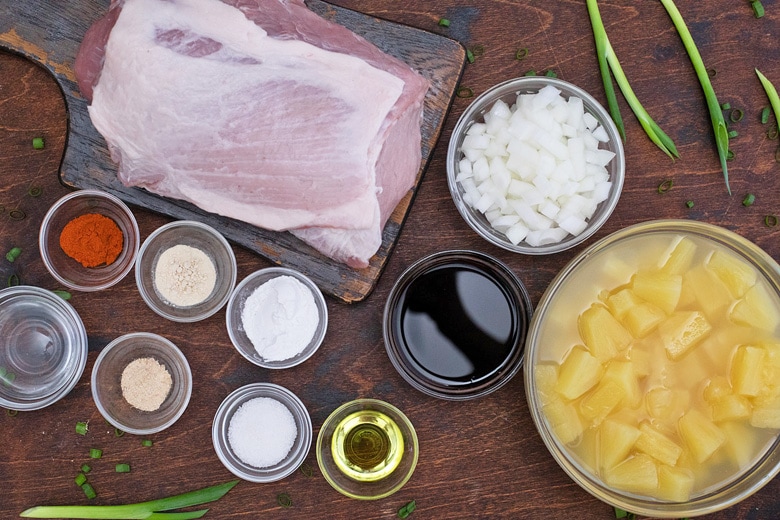 Best of all, this makes leftovers for days! Pork tacos, pork sliders (with those hawaiian rolls, yum!), or just a plate of rice and pork with sauce can feed us happily all week. What's not to love?
PRO TIP: Maui or Vidalia onions are my go to sweet onion varieties for this recipe, but any sweet onion you can find will do. In a pinch, substitute red onion with ½ a tablespoon of honey.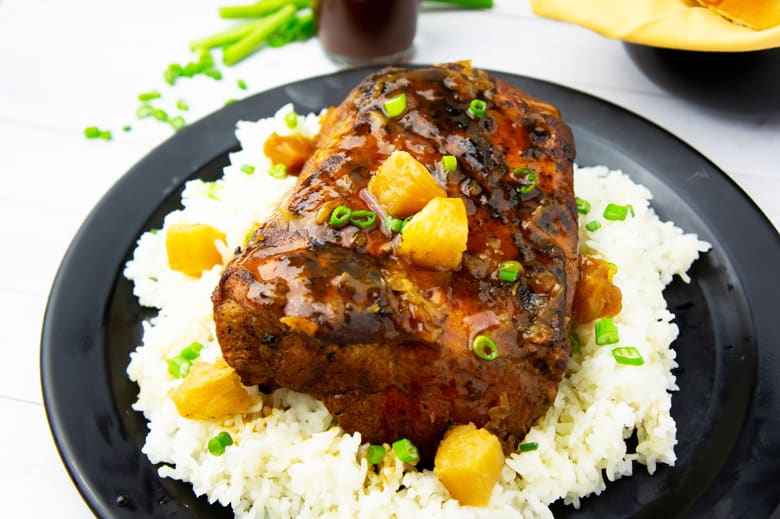 Pork Loin vs Pork Tenderloin
If there's one thing to remember it's to make sure you're picking up the right cut. Pork loin is not to be confused with pork tenderloin!
Pork Loin – A lean, large, wide cut of meat that is broken down into many different cuts, like chops and roasts. You want a boneless pork loin roast for this recipe. It may be sold as a top loin or center loin roast and it benefits from low, long cooks.
Pork Tenderloin – Similarly named but NOT a similar cut in any other way. Tenderloin is a thin, narrow cut that averages about 1 pound and is considered one of the most tender cuts of pork available. It's best cooked quickly at high heat, and cannot be substituted in this recipe.
PRO TIP: Choose a pork loin with a nice white fat cap on it. A lean cut like pork loin benefits from the extra fat to stay moist and tender.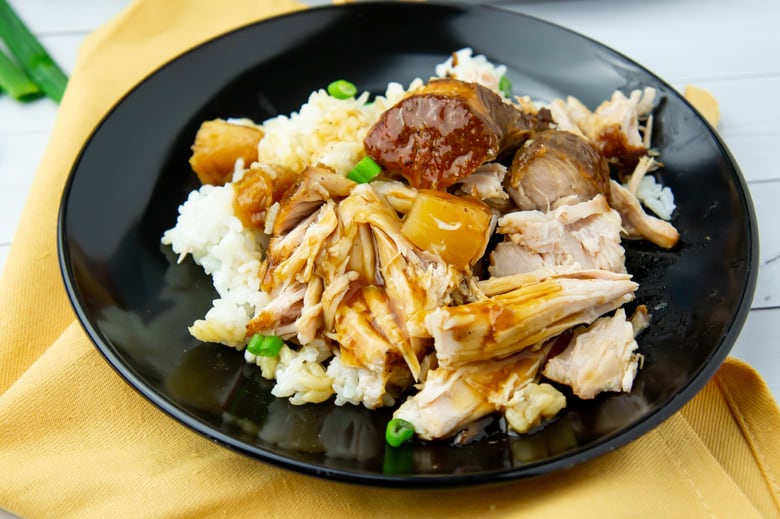 How to slow cook Hawaiian Pork Loin
Heat a tablespoon of oil in a large skillet over medium high heat. While your pan is heating, combine your onion powder, paprika, salt, and pepper in a small bowl.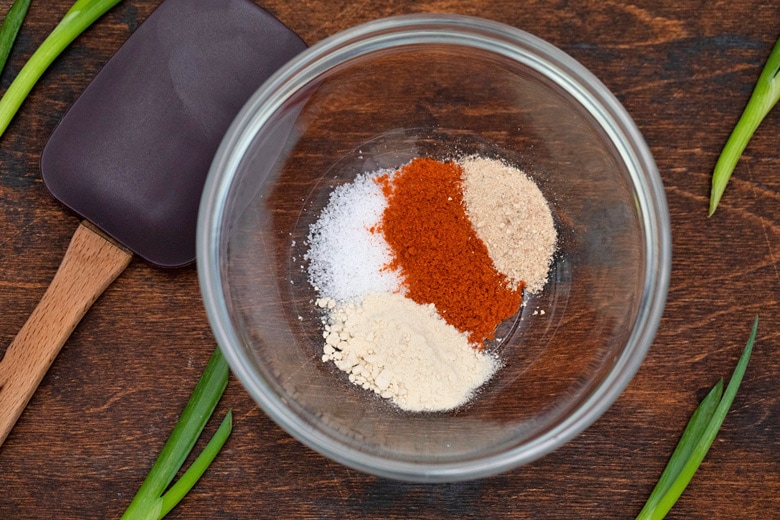 Pat your pork loin dry and rub down with the spice mixture. When your pan is hot, sear the loin on all sides, beginning with the fat side down, until the outside is caramelized and browned, about 3 to 4 minutes per side.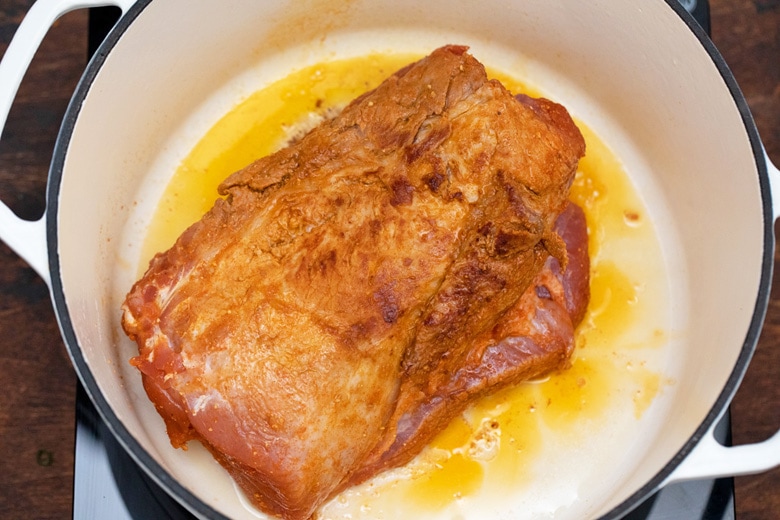 While the pork is searing, dice your onion. Open your pineapple and pour off the juice into a separate bowl with the soy sauce.
Place half the chunks of pineapple in the bottom of your slow cooker then place the seared pork loin on top, fat side up. Add in the remaining pineapple, the diced onion, and pour over the pineapple juice and soy sauce mixture. Cover and cook on low for 5 hours.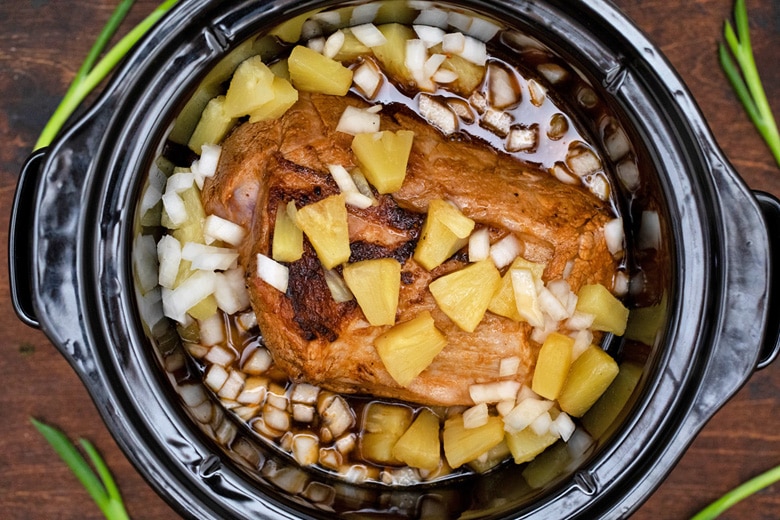 When your pork is done, remove from the slow cooker and set aside. Ladle the liquid through a sieve into a saucepan set over medium high heat and bring it to a simmer. Reserve some of the pineapple chunks for serving.
Whisk the cornstarch with 1 ½ tablespoons of cold water to make a slurry. When sauce is simmering, slowly whisk the slurry in and continue stirring gently until thickened.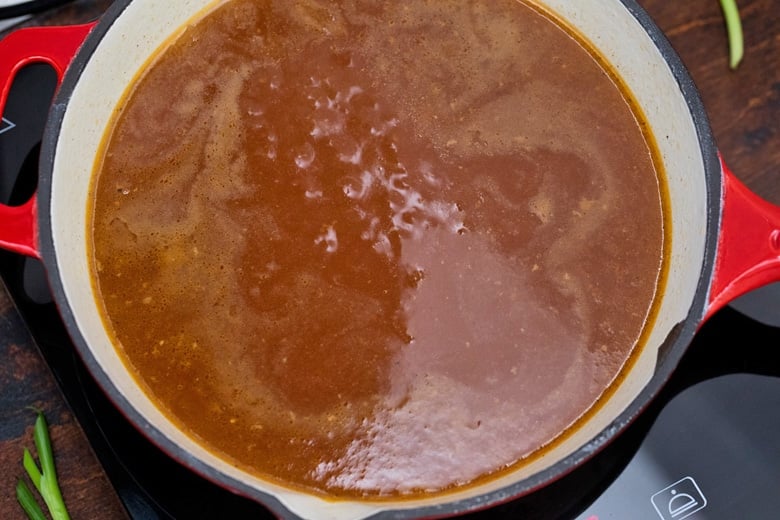 Shred the pork and serve with the reserved pineapple chunks and a generous drizzle of sauce.
PRO TIP: Use a food processor to chop the onion uniformly and quickly!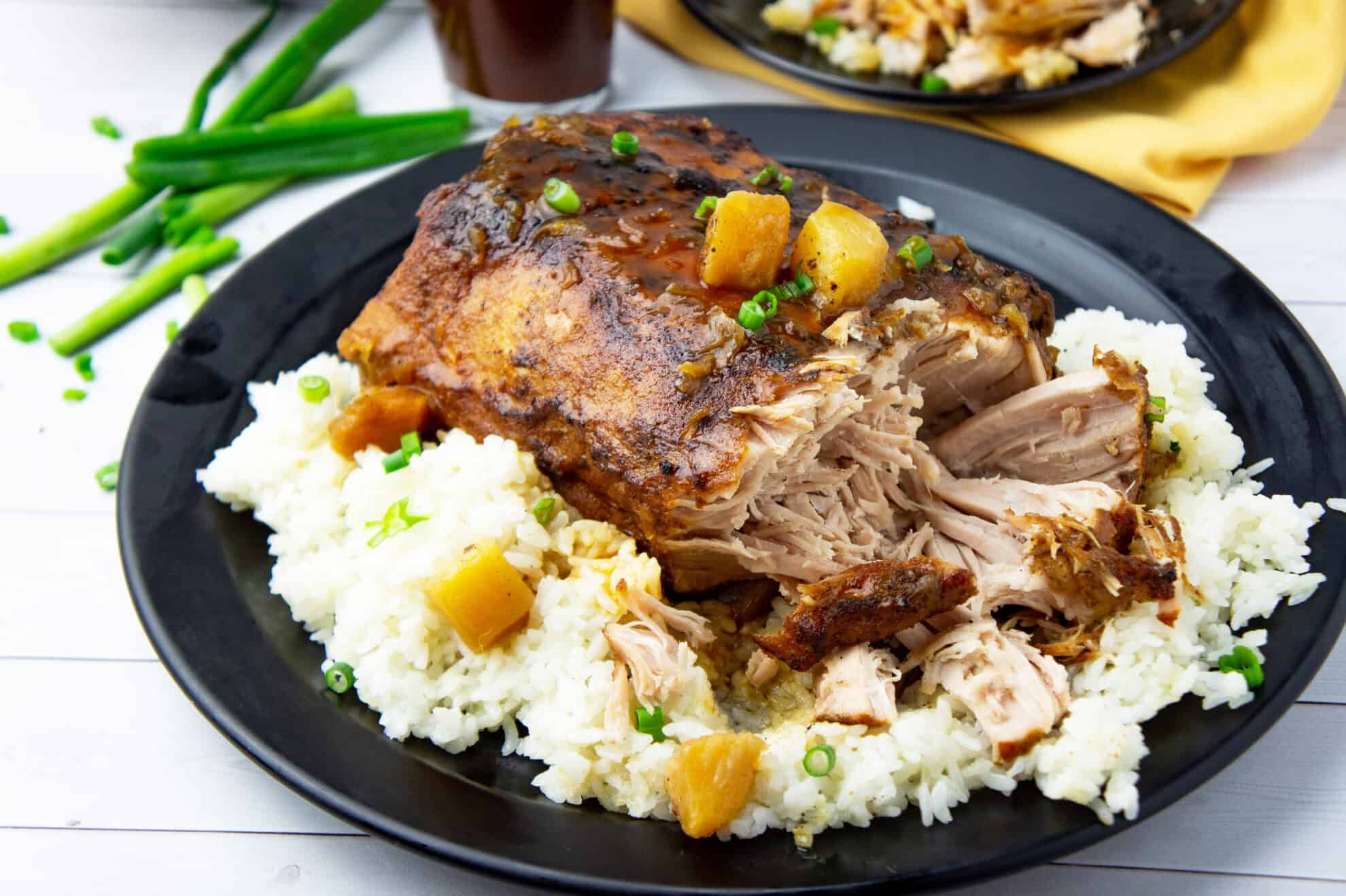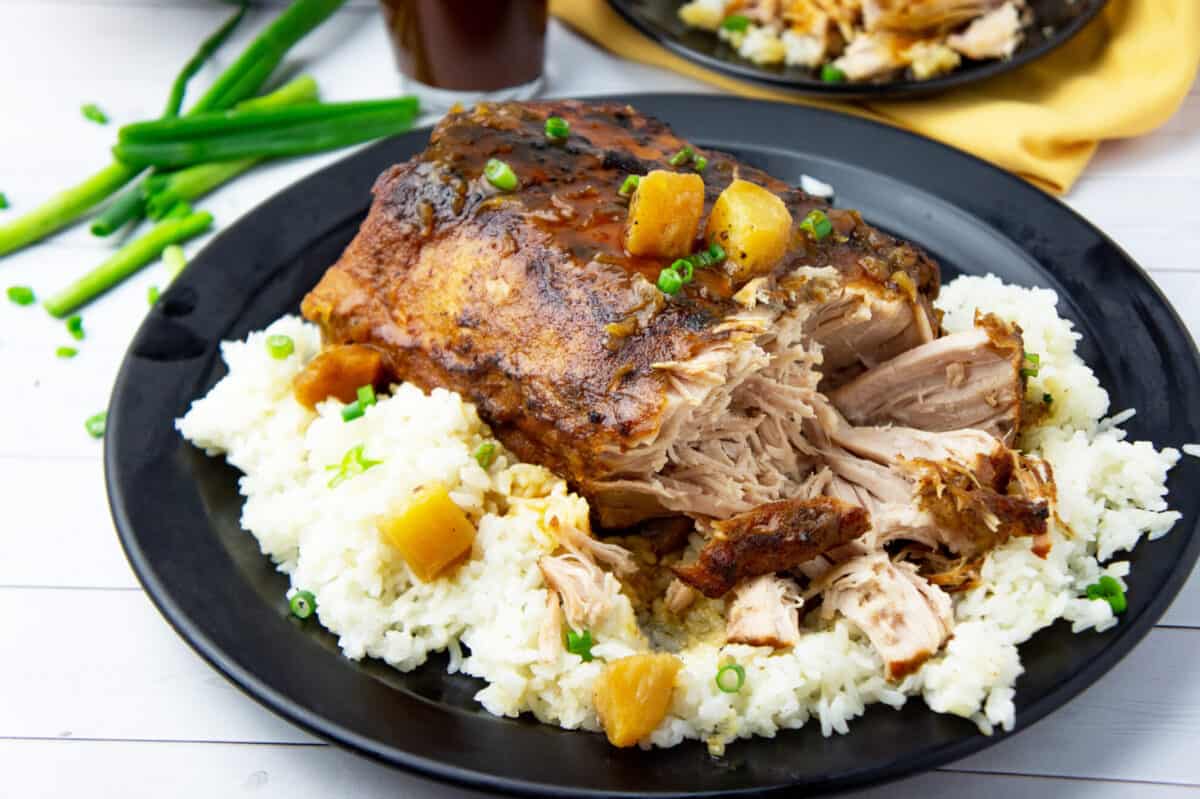 Are you drooling yet? While it's not quite 'dump and go', this easy slow cooker pork loin is a family favorite. Keep a couple cans of pineapple chunks in the cupboard and you can whip it up anytime!
Taking that 5 minutes to make the sauce really makes all the difference, it drives home that sweet Hawaiian flavor!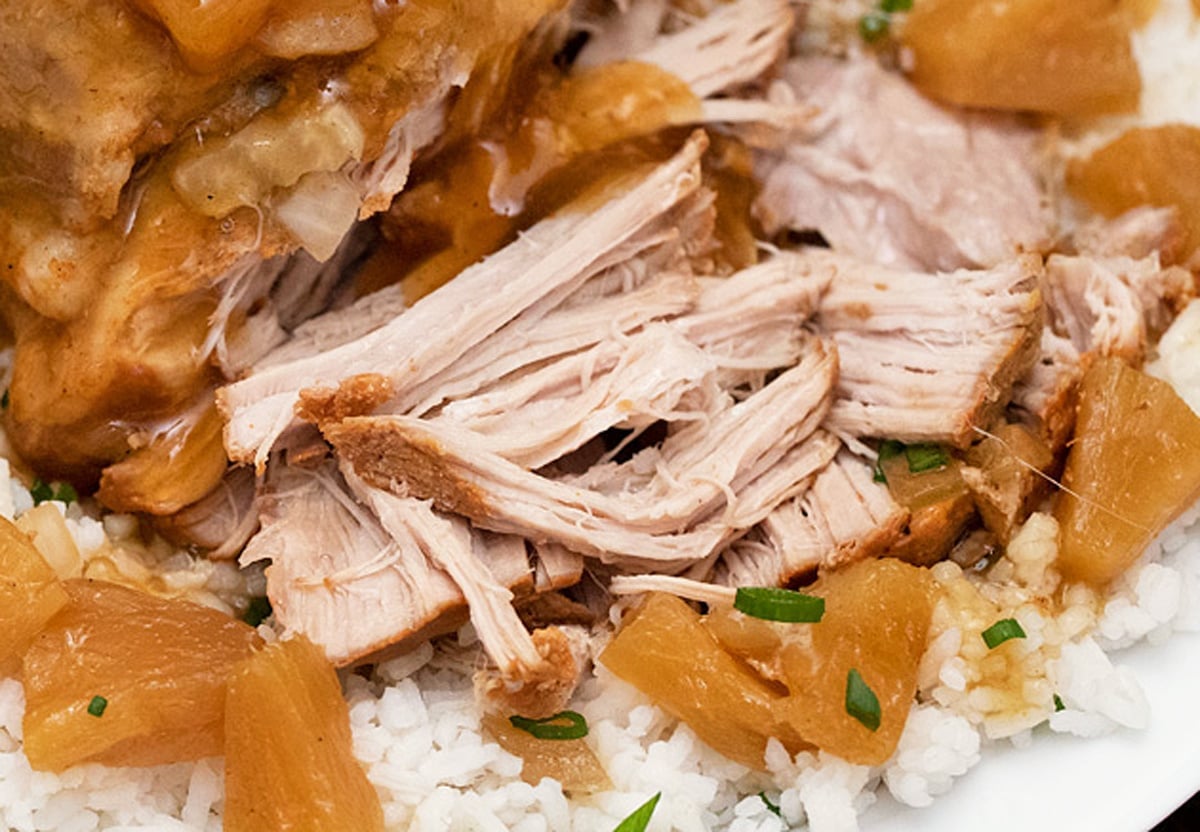 Can I skip searing the pork loin?
Technically yes. Your pork loin will cook fine without searing it first. However searing the spice rubbed pork first wakes up the aromatic nature of the spices (big flavor), and creates a crust.
That crust creates a beautiful texture when you shred the pork, a lovely combination of crunchy browned edges and tender shredded meat.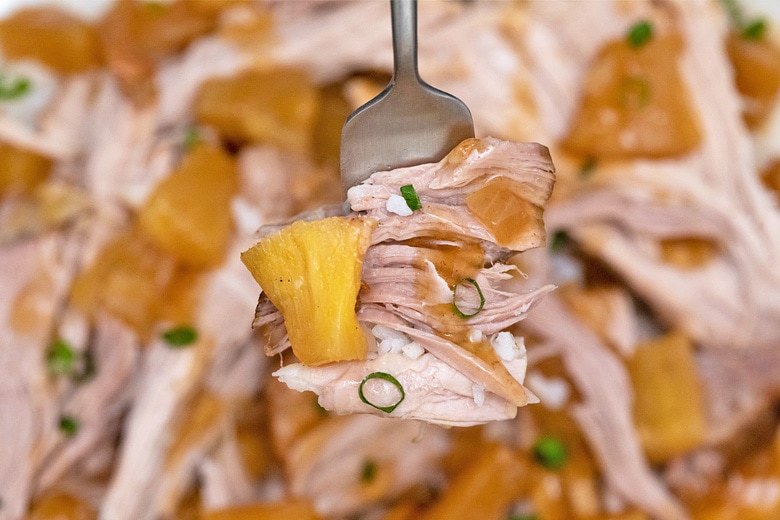 Do I need to strain the sauce?
No, it's certainly not necessary if you're comfortable with your sauce having chunks of onions in it. However, straining it leaves you with a silky drizzly sauce I highly recommend.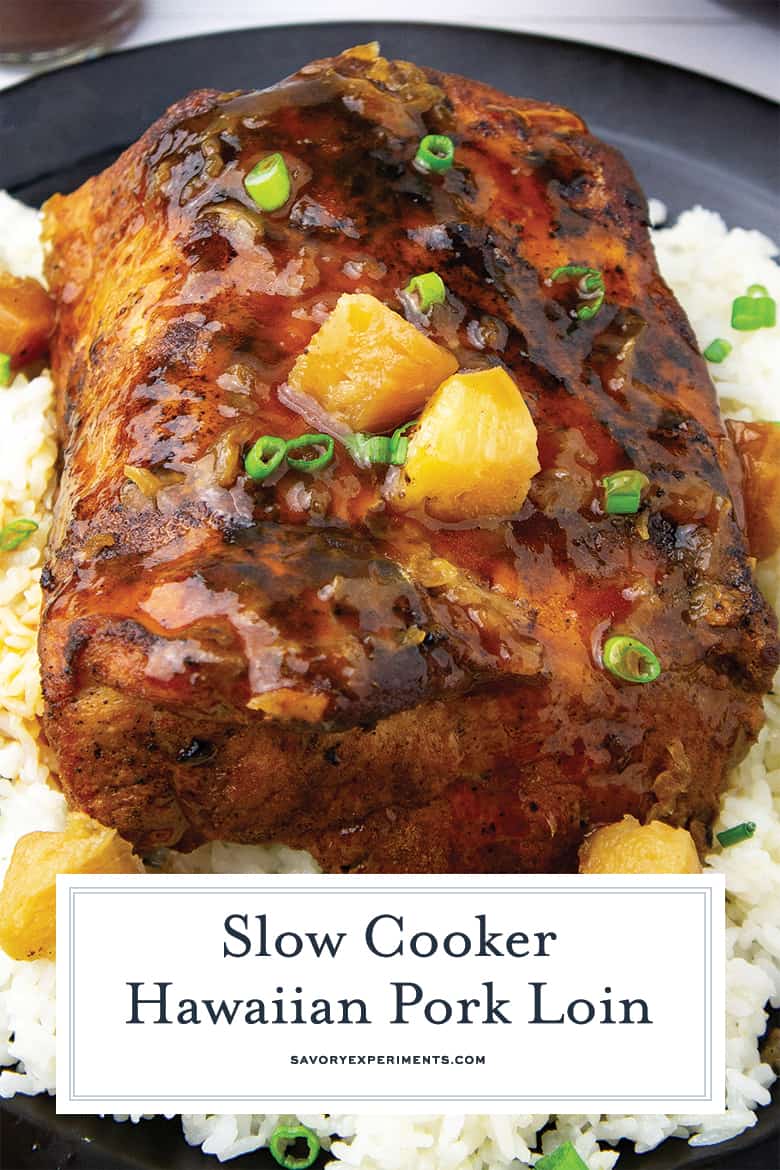 Can I use another cut of pork?
Absolutely! This recipe will work with either pork butt (pork shoulder) or boneless pork country ribs.
Can I make this in the oven instead?
Yes! Simply start your recipe by searing the pork in a large dutch oven or oven safe pot. Then add in the pineapple, onion, and the pineapple juice/soy sauce mixture.
Cover and place in a 325°F oven for 2 to 3 hours, or until you can shred it easily with a fork.
Can this be frozen?
Absolutely. Prepare the Hawaiian pork loin as directed, then shred and freeze in desired portions. I recommend making the sauce and freezing it in an ice cube tray, then adding cubes to the bags or containers of shredded pork.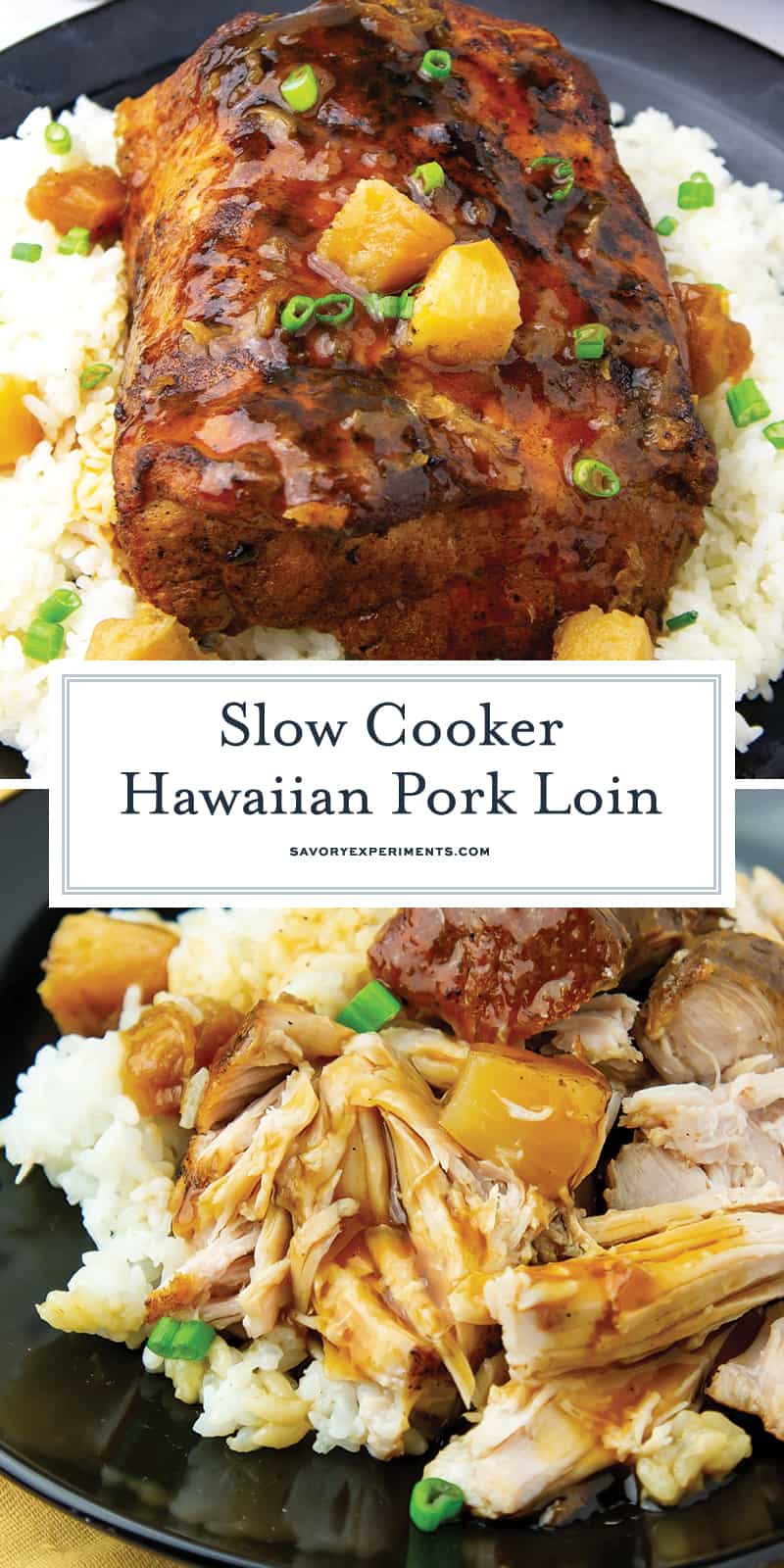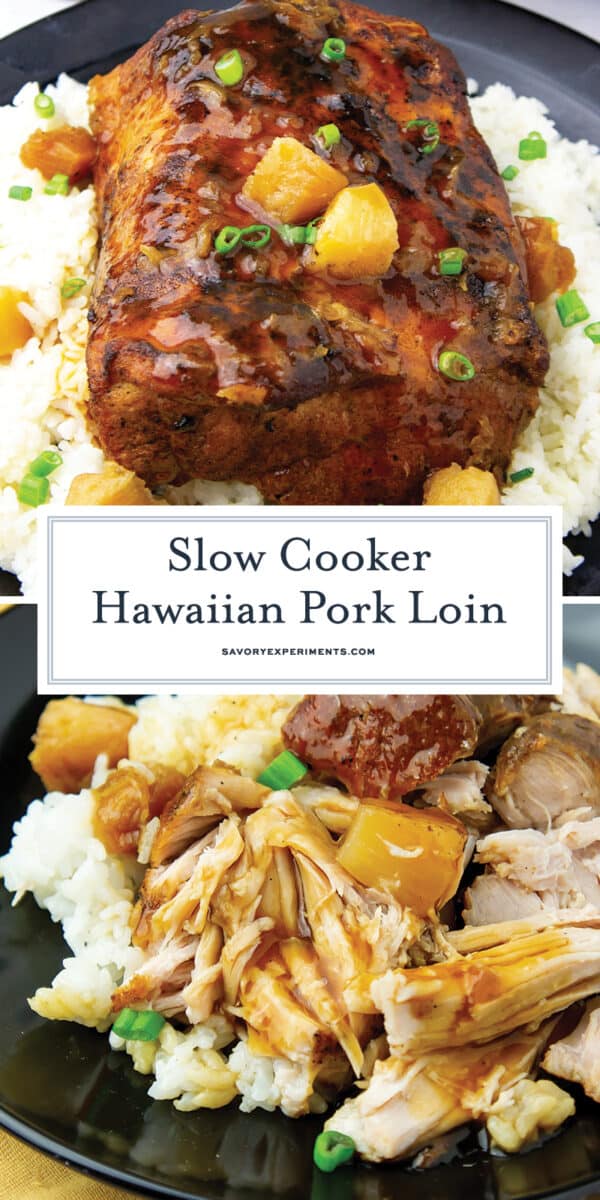 If you liked this Hawaiian Pork Loin, you might also like these easy dinner recipes:
These are some of our other favorite pork recipes:
These delicious sweet and savory flavors of a Hawaiian Pork Loin are sure to be a hit with your whole family!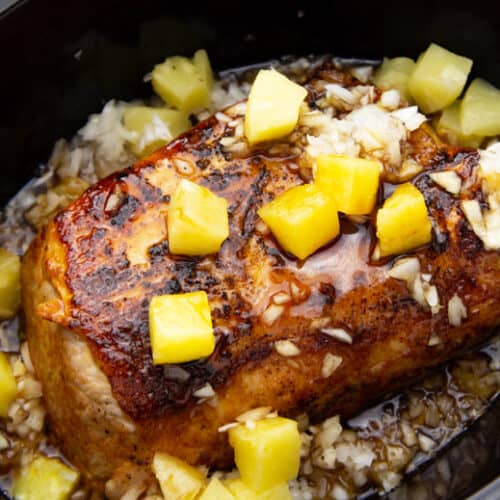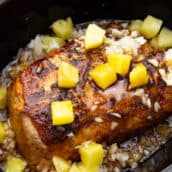 Hawaiian Pork Loin
Bring the island flavors to the table with this simple, slow cooker Hawaiian Pork loin made with pantry staples and finished with an easy to make sauce.
Instructions
Heat the oil in a large skillet over medium high heat. Combine the salt, paprika, onion powder, and ginger in a bowl.

Pat your pork loin dry with paper towels then rub in the spice mixture.

Sear the pork in the hot pan until browned on each side, beginning the the fat side down. 3 to 4 minutes on each side.

Meanwhile, dice your onion. Then combine the soy sauce with the juice from the can of pineapple chunks, you should get about ¾ cups of juice from the can.

Place half the pineapple chunks on the bottom of your slow cooker then place your seared pork loin on top of them with the fat side up.

Add in the remaining pineapple, diced onion, and pour the soy sauce/pineapple juice mixture over the top.

Cover and cook on low for 5 hours. The pork should shred easily with a fork.

Strain the liquid from the slow cooker through a sieve into a medium saucepan over medium high heat and bring to a simmer. Reserve some pineapple chunks from the slow cooker for serving.

Whisk the cornstarch with 1 ½ tbs cold water to make a slurry then slowly whisk it into the simmering sauce. Continue to stir gently until thickened.

Serve the pork with the sauce and reserved pineapple chunks.

If you've tried this recipe, come back and let us know how it was!
Notes
* Make sure you are familiar with your soy sauce and the levels of salt it has. Different brands are saltier than others. If yours is particularly salty or you do not like salty foods, then omit the additional 1 1/2 teaspoon of salt.
Nutrition
Calories:
297
kcal
,
Carbohydrates:
13
g
,
Protein:
40
g
,
Fat:
9
g
,
Saturated Fat:
4
g
,
Cholesterol:
107
mg
,
Sodium:
1331
mg
,
Potassium:
760
mg
,
Fiber:
1
g
,
Sugar:
10
g
,
Vitamin A:
159
IU
,
Vitamin C:
7
mg
,
Calcium:
23
mg
,
Iron:
2
mg