Cauliflower seems to be the newest in home cooking food trends and I'm on the bandwagon with Herb Roasted Cauliflower!
Herb Whole Roasted Cauliflower uses a whole head of cauliflower, covers it in a yogurt and fresh herb blend and then roasts it to perfection. A healthy, low carb side dish!
A chalky cousin of broccoli, cauliflower is slightly spongy, but also crisp and can be fairly bland in flavor. This feature makes it an ideal base for fresh herbs and sauces. It is like having a blank canvas to paint.
Many folks have tossed cauliflower in buffalo sauce, roasted it or pureed it to a mashed potato-like consistency. All of these versions are delicious so I decided to try something new.
First I wanted cauliflower steaks. Thicks cuts of cauliflower basted with my hot sauce spiked yogurt sauce. But for the life of me, I've never found a head of cauliflower that actually slices nicely for a steak. Have you?
Instead, I kept the head whole for a simple, but dramatic presentation. Dredging in yogurt, fresh herbs and a dash or two of hot sauce adds just enough flavor to make it a suitable side for nearly any main course.
It has flavor, but not so much to overpower. It stays low carb and super healthy, catering to so many speciality diets, I won't even name them all!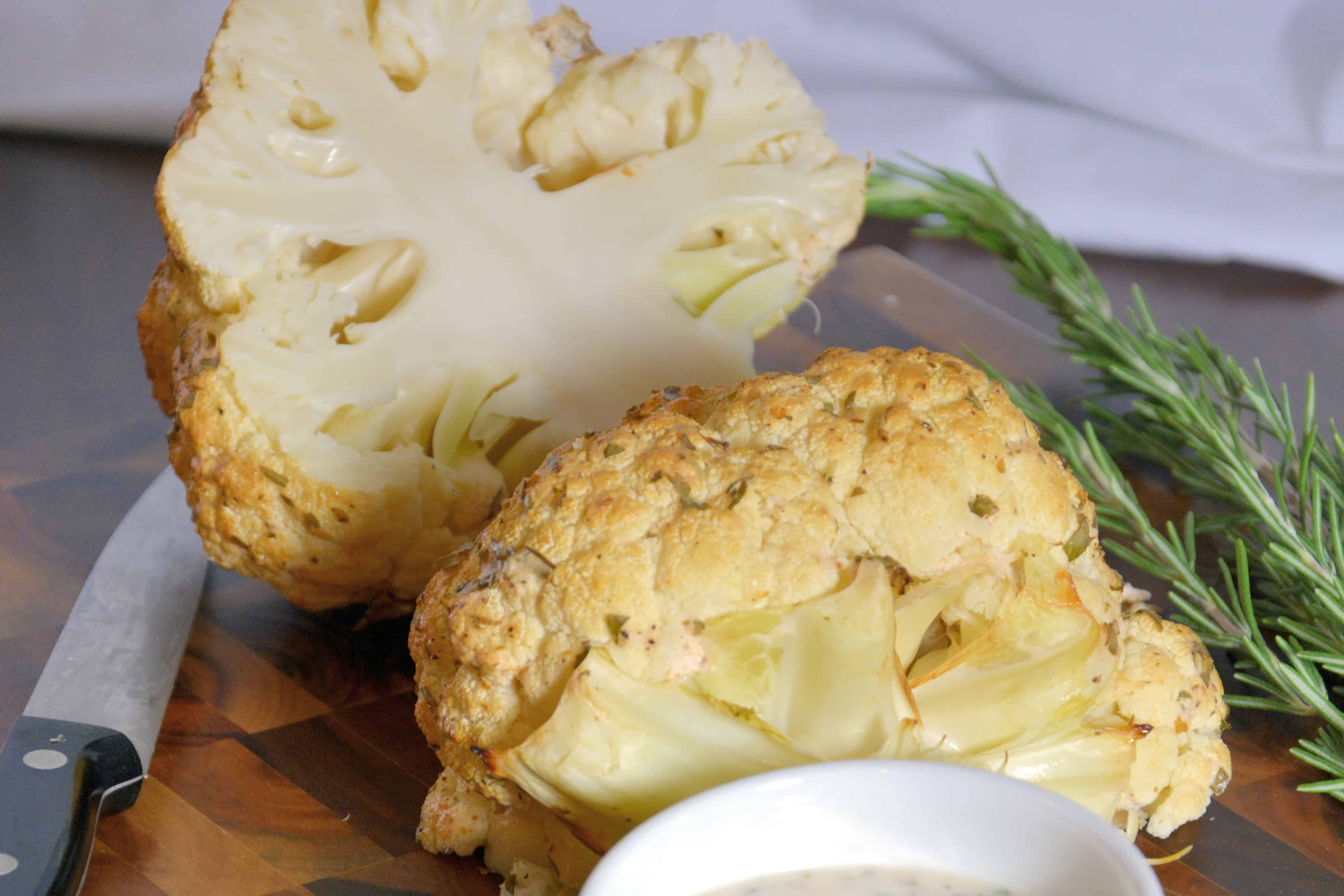 If you don't have or like hot sauce try adding a few dabs of lemon juice or lemon zest to add acidity and elevate the flavor profile of the dish. It really brightens the fresh herbs.
While it has plenty of flavor after being dredged in this fabulous yogurt sauce, but some people just like sauces. They are saucy people.
Hubby is one. So here are a few suggestions.
Tools for roasting whole cauliflower:
Wood cutting board – wood won't dull your knives like plastic and if treated properly, has natural antimicrobial properties.
Good knife – Global is my favorite! They are worth the price, I promise. I am kind of obsessed with them and store them tucked away so no one else can use them. Including hubby. Hands off my good stuff!
Rimmed Baking Sheet– another kitchen staple! You'll use this for prep work, roasting and much more. I have 7 at my house.
Questions you might have about how to make roast cauliflower:
Do you wash cauliflower before cooking? Yes. Please, rinse all produce before cooking. Rinse it with water, but make sure it is patted dry.
How many florets are in a head of cauliflower? An average head weighs about 2 pounds and will feed about 4 people.
Can I roast cauliflower ahead of time? You can parbake the cauliflower and then finish heating right before serving. Don't bake it the whole way or else when you reheat it, it will be soft and soggy.
What are the brown spots on cauliflower? Small brown spots aren't too much to worry about, just cut them off. However, it is the first sign the head is going bad so if they aren't easily trimmed, you might need to throw the whole head away.