Slow Cooker Chicken Korma is a delicious red curry recipe that is filled with amazing flavors. Set it and forget it in a crockpot, to make this amazing korma recipe for your whole family to enjoy!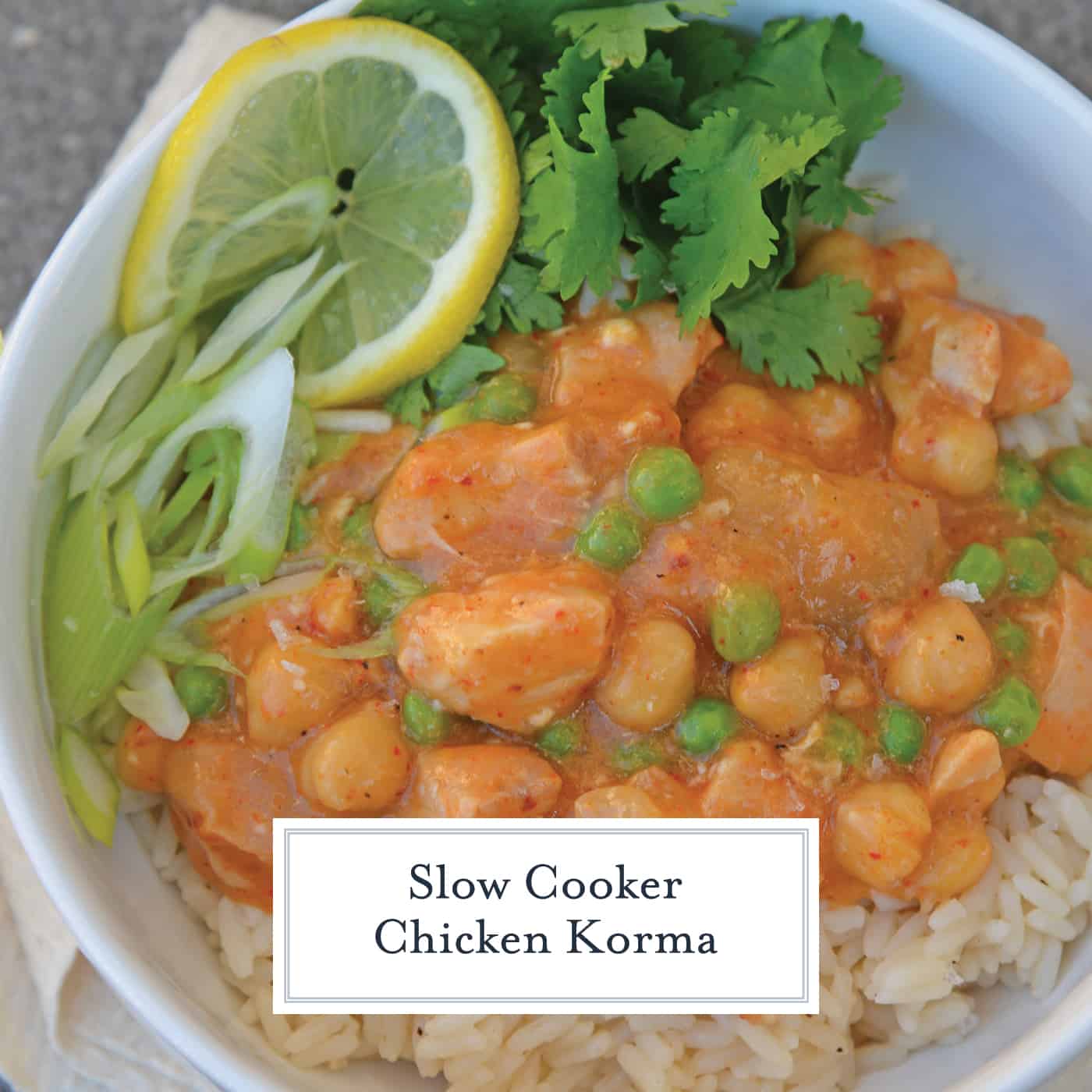 Slow Cooker Chicken Korma is a healthier way to prepare dinner. Only 10 minutes of prep time and into the crockpot it goes.
I recently took a poll of items to post on Savory Experiments Facebook page. While the overwhelming majority picked Slow Cooker Chicken Korma, at least 50% also reported not knowing what it was!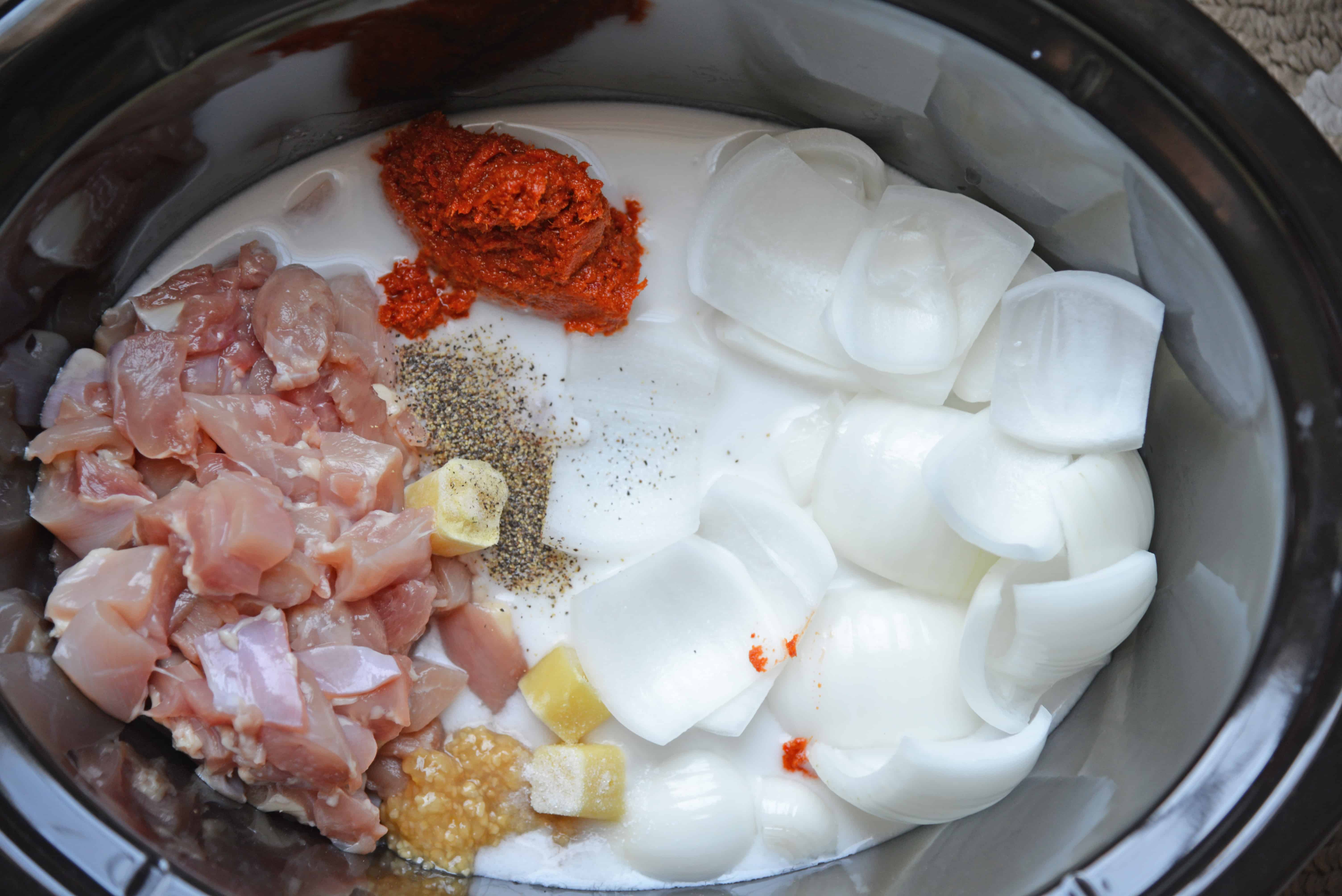 So let's start off with the basics, what is korma? Korma sauce is a popular sauce in India and Turkey with a spiced yogurt or cream base. Some are made with garam masala, but this isn't my favorite flavor, so I don't use it in mine.
In India, where many people are vegetarians, korma recipes are made with vegetables like chickpeas, spinach and turnips, but can have other types of meat or tofu to add substance and texture.
I prefer to use red curry for my spice, coconut milk and Greek yogurt for a tart taste. Greek yogurt is actually a very popular ingredient in lots of middle Eastern cooking.
PRO TIP: You can also use boneless chicken thighs for a sweet, moist meat that is often cheaper than buying boneless skinless chicken breasts.
Sweet peas, tender bite sized pieces of chicken and creamy chickpeas are hearty ingredients that lend themselves well to this creamy, bold sauce.
It also adds loads of other health benefits like fiber and antioxidants. Feel free to add broccoli, carrots or corn, too.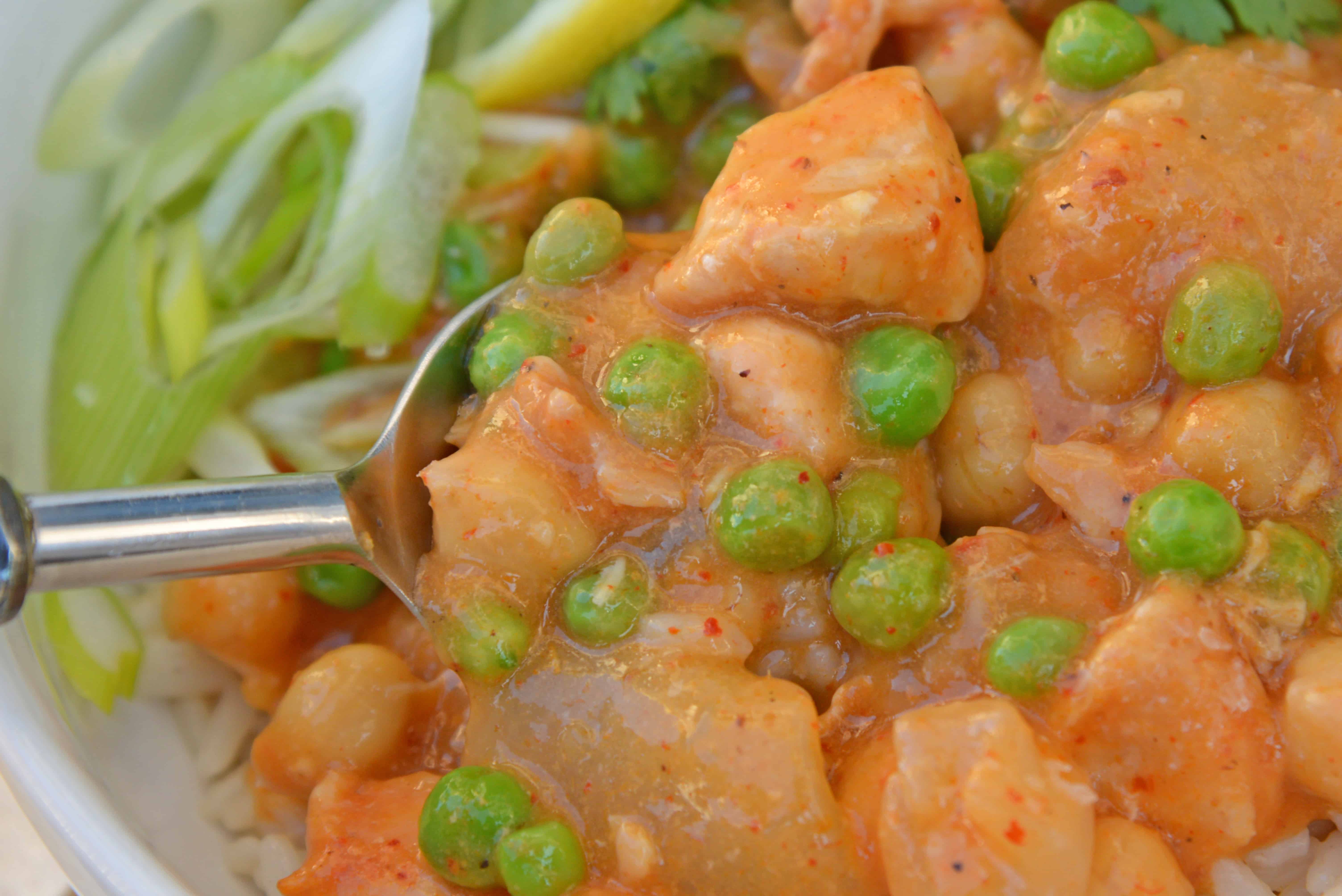 Depending on the durability of your chosen vegetables, add at the beginning or towards the end of cooking, like I do with the peas and chickpeas.
All of these super foods also make for a healthy, well-rounded dish loaded with dietary fiber and protein. A mouth watering mix when all combined!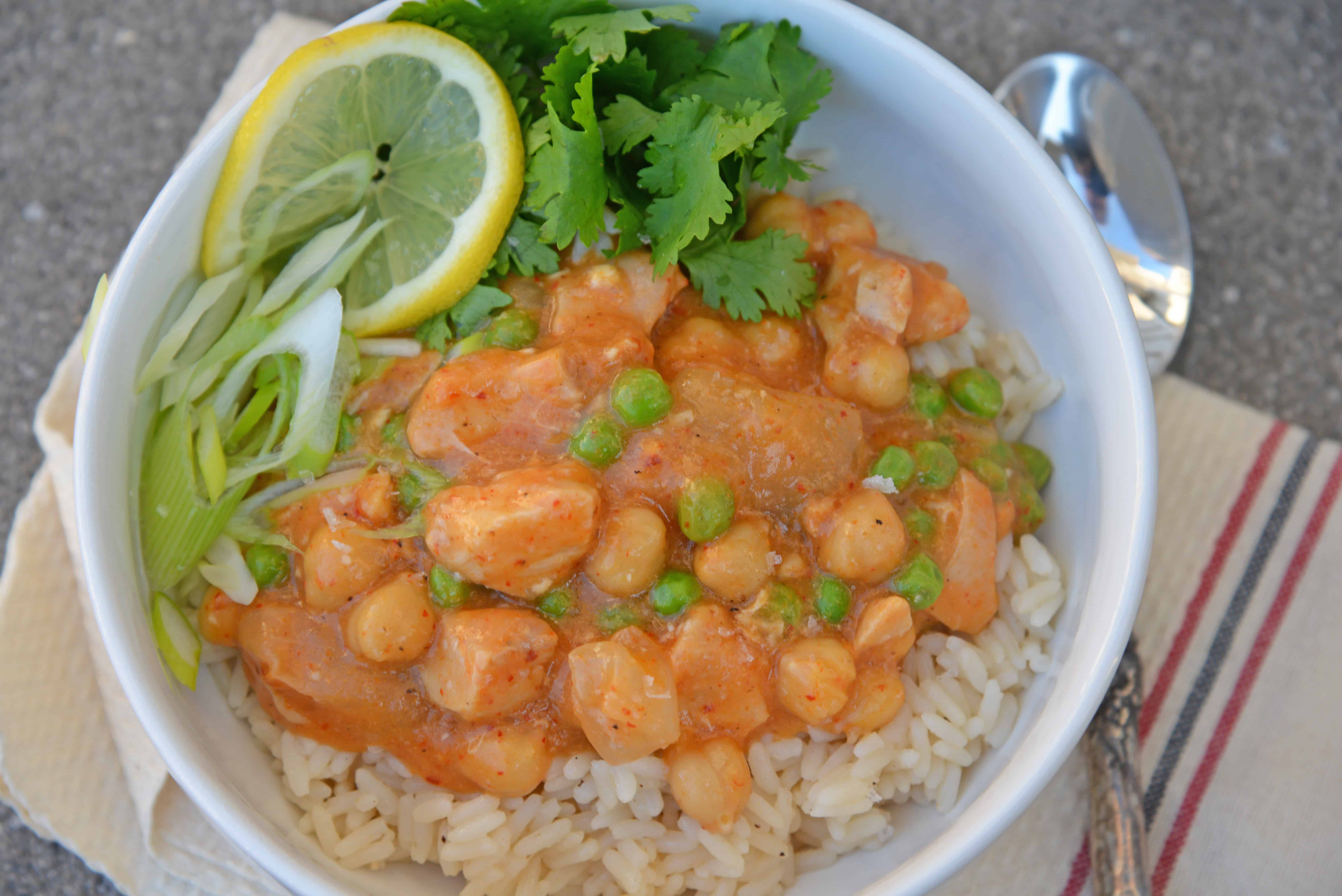 If you aren't familiar with red curry and what it's made up of, it's from Thailand and it's a paste made from dried red chillies, galangal, shrimp paste, cilantro, lemongrass, shallots, and lime.
You can typically find the ingredients to make your own at an Asian supermarket, but a lot of places sell red curry paste already made. You can also check to see if shrimp paste is used, many omit it to avoid food allergies.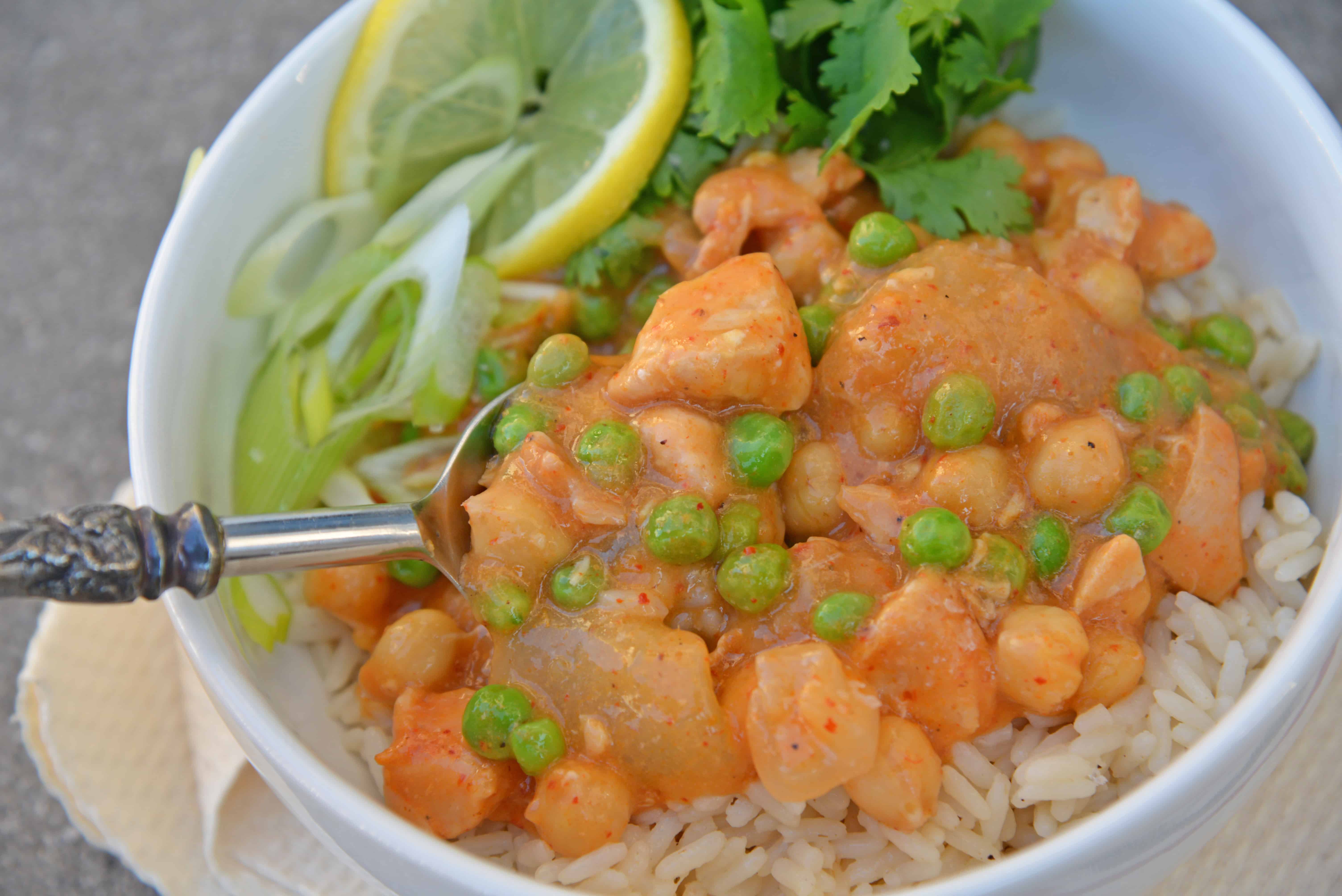 Traditionally speaking, korma recipes aren't made in a slow cooker. I don't think they can even get slow cookers in India. You can also prepare it low and slow in a large Dutch oven.
Slow Cooker Chicken Korma also freezes well. Serve over white or brown rice or quinoa for a full meal!
Tools for making Slow Cooker Chicken Korma:
Wood cutting board – wood won't dull your knives like plastic and if treated properly, has natural antimicrobial properties.
Good knife – Global is my favorite! They are worth the price, I promise. I am kind of obsessed with them and store them tucked away so no one else can use them. Including hubby. Hands off my good stuff!
Slow Cooker– as mentioned above, you can make this korma recipe low and slow in a Dutch oven as well. See recipe notes for instructions. Now days I am recommending folks purchase an Instant Pot, which also has the functionality of a slow cooker in addition to being an electric pressure cooker.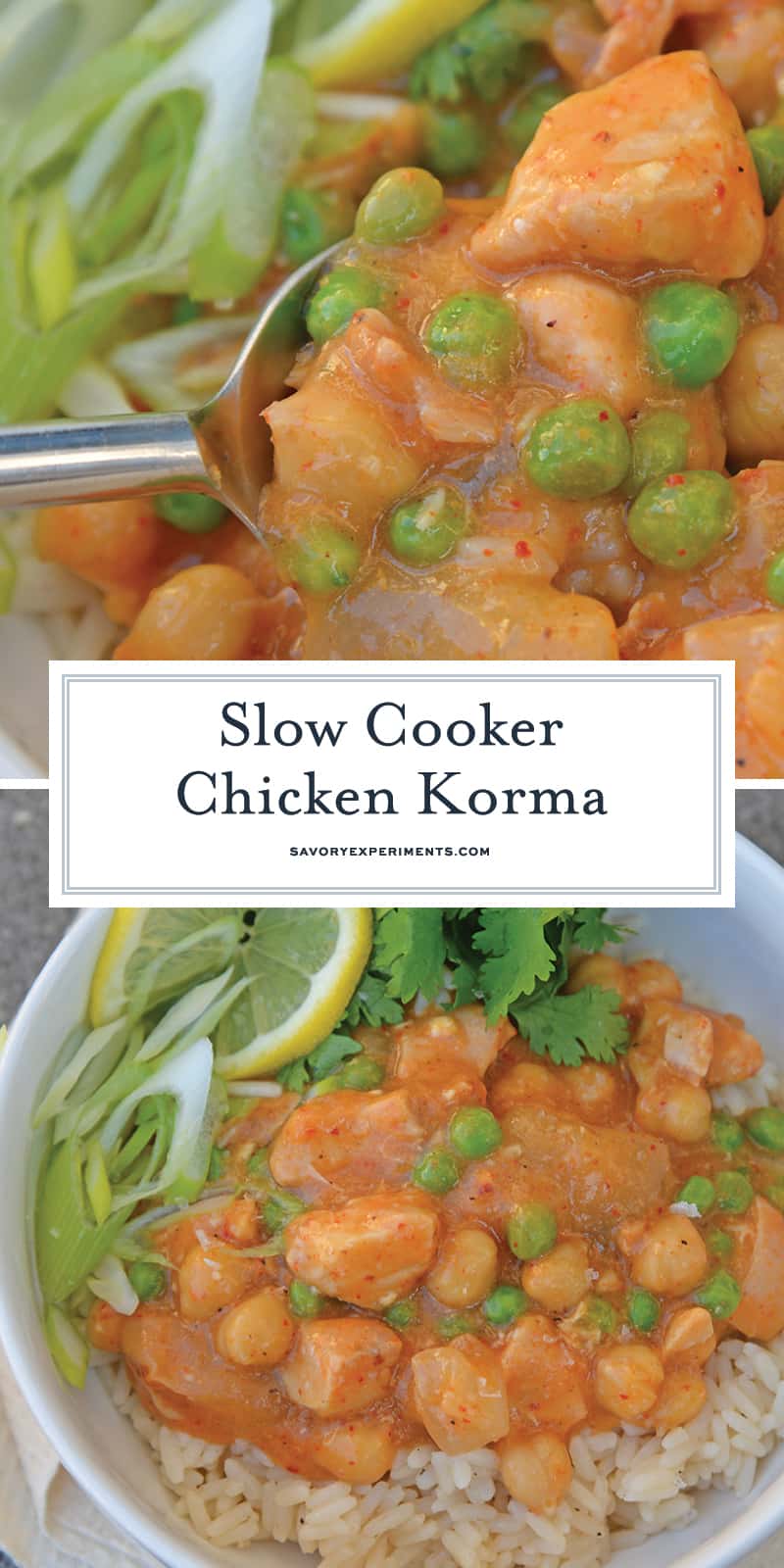 Questions you might have about how to make chicken korma:
Is chicken korma gluten-free? This chicken korma recipe is gluten free.
Is chicken korma spicy? The beauty of making homemade korma sauce is that you can control the spice level. Like it hot and want your nose to sweat? Increase the red curry to 6 ounces or toss in 1 teaspoon of crushed red pepper flakes or chili powder.
If you prefer a milder korma sauce, reduce the red curry to 3 ounces. Coconut milk and yogurt will balance it out to be a sweet heat.
How do you thicken chicken korma? I prefer to use cornstarch mixed with a little bit of water. You can also use arrowroot or flour. The only downside to slow cooker recipes is that sauces don't have the ability to reduce while cooking, so thickening is necessary.
What can I substitute for coconut milk? You can use cream or half and half, but if your reason for not using coconut milk is because you don't like the taste of coconut, I can assure you that you won't taste coconut. I don't actually care for coconut. I like the smell, but not the taste, and I eat it!