What goes better together than chocolate and peanut butter? Nothing! You are going to love my Brownie Cupcakes with Whipped Peanut Butter Frosting.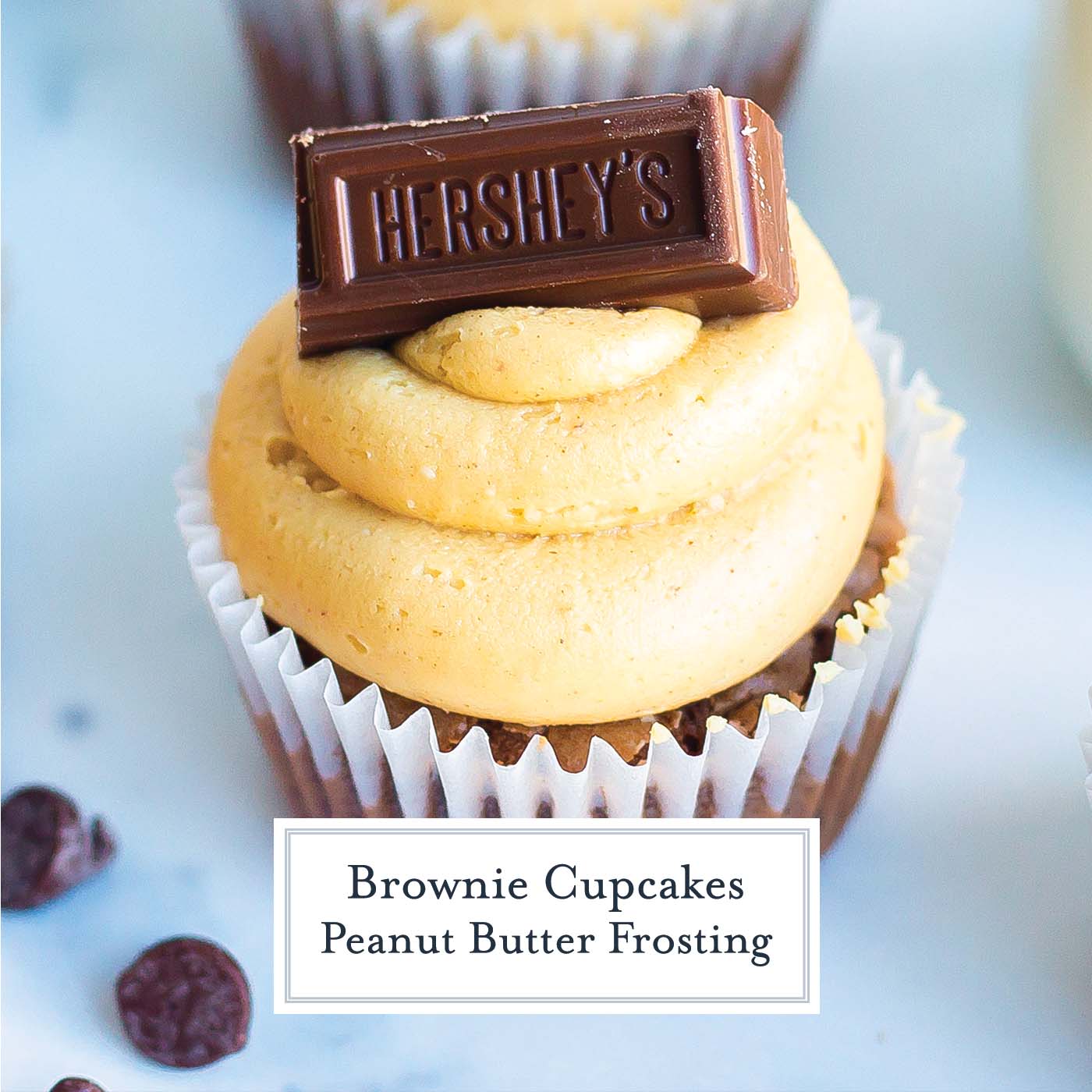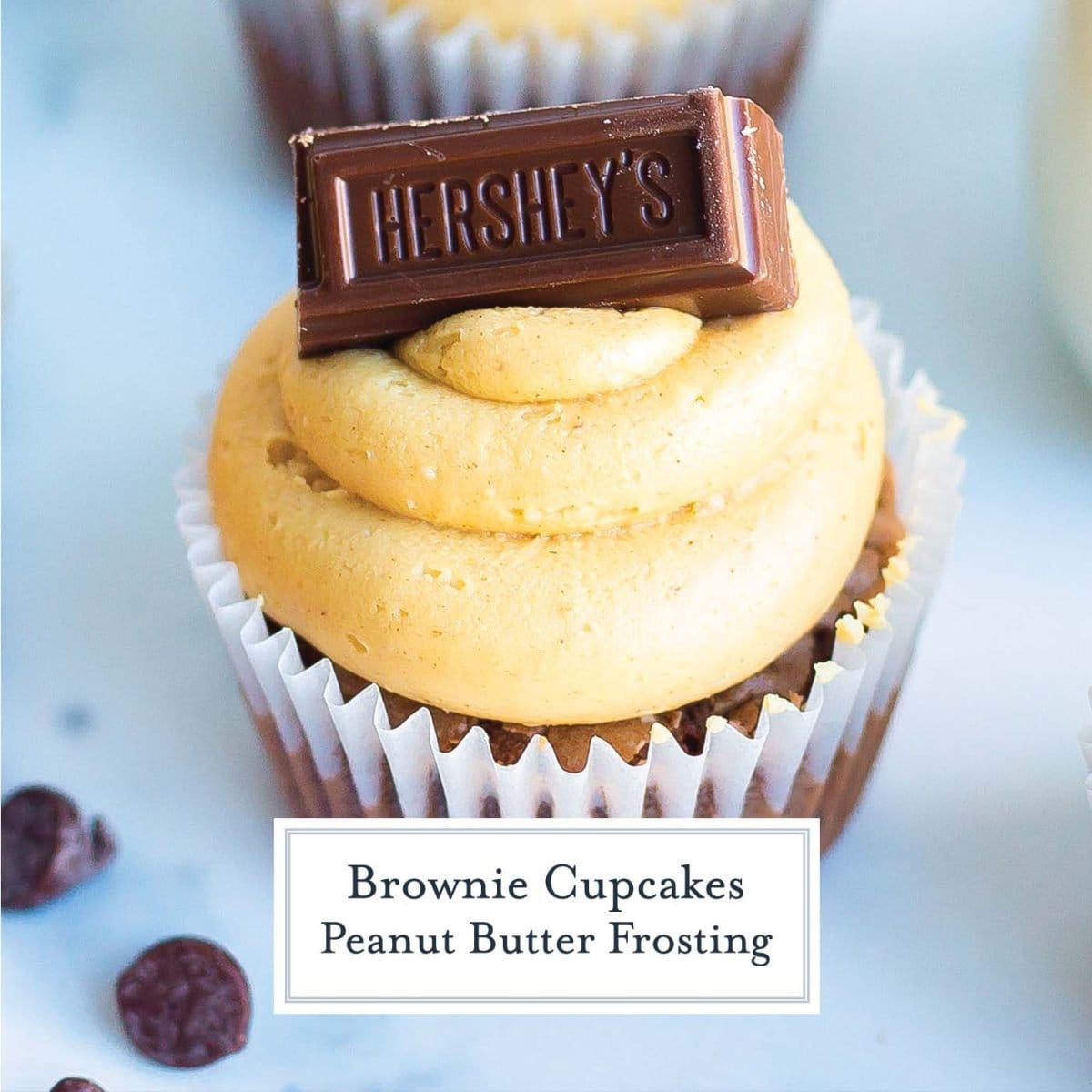 A couple of weekends back my husband had some college buddies come visit. They of course know that I'm a food blogger and wanted to know what I was making for them.
I hadn't intended on making anything because I assumed they would be out and about the entire time they were here, but in fact they wanted some sweets, specifically chocolate and peanut butter.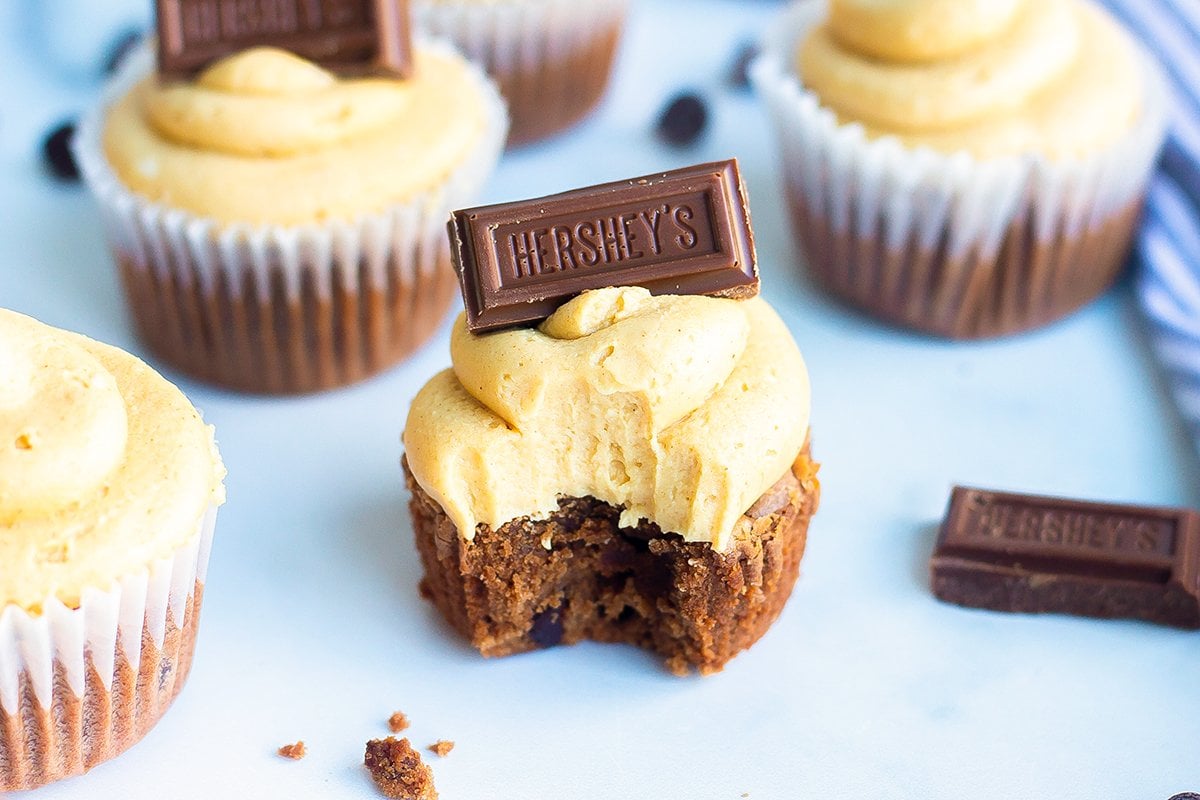 My first thought was brownie bites. You know the ones you get at the store with cream cheese frosting, but instead making them with a whipped peanut butter frosting like the instead of a peanut butter cup. Chewy brownies with decadent frosting like the filling of buckeye candy. Buckeye brownies, if you will.
I made my brownie cupcakes full size instead of the mini two-bite ones. The whipped peanut butter frosting was so delicious that I stashed the extra in the back of fridge and just ate it with a spoon. Sorry, not sorry.
Brownie Cupcakes Ingredients
There are no crazy off the wall ingredients when it comes to these cupcakes. In fact, you will probably have most if not all of them on hand already!
Semi sweet chocolate chips – We use chocolate chips for both the base of the cupcakes and the garnish on top. When melted with the butter, they give a nice rich flavor to the cupcake batter. I used semi-sweet, but dark chocolate or milk chocolate will also work, just change the flavor profile a little.
Butter – I always opt for using unsalted butter when baking. It allows me to control the amount of salt going into my cupcakes. If all you have is salted, just cut the amount of sea salt in half.
Egg – Eggs are an important part of lots of baked goods! They provide structure and flavor.
Sugar – What would a cupcake be without a little sugar? I use white granulated sugar here, no need for the molasses from brown sugar.
Vanilla – You might be wondering why we're putting vanilla in a chocolate cupcake. but vanilla extract is just a great way to balance and round out the flavors of a lot of baked goods.
Flour – The flour is what holds this cupcake recipe together and gives them body and shape.
Fine sea salt – Make sure you half the amount if you are using salted butter. Use a fine salt for this one, or use a 1:2 ratio for coarse. Sea salt has a cleaner finish than other processed, iodized salts.
Peanut butter – You definitely want to opt for a creamy peanut butter here. I don't know about you, but I don't prefer to have to crunch my way through the frosting of a cupcake, unless it's a chocolate chip.
Powdered sugar – This is what gives the peanut butter frosting it's sweetness. Peanut butter itself is already fairly sweet, but powdered sugar helps to make it more of a frosting consistency.
Milk – The milk gives the frosting a creamy texture and also provides a way to dissolve the powdered sugar into the peanut butter. Whole will be the richest, but any other fat content can be used, as can cream.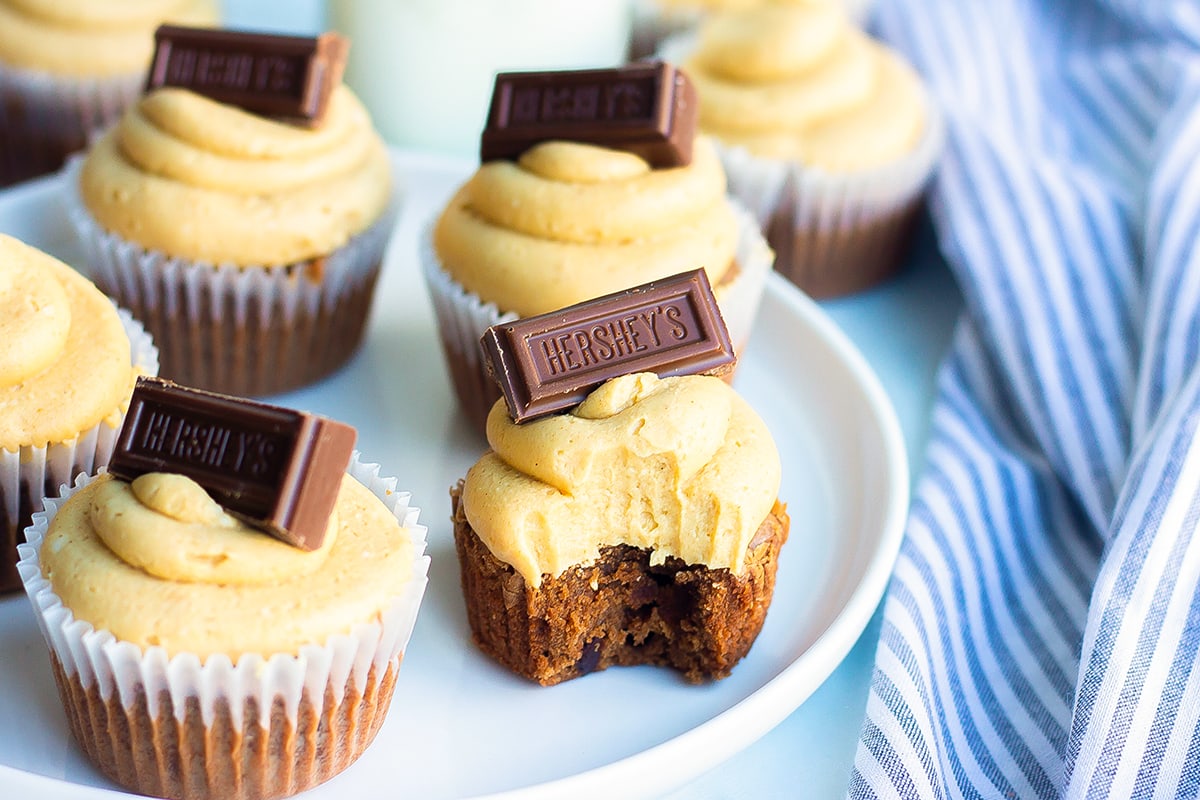 How to Make
These brownie cupcakes are surprisingly easy to make! So easy, in fact, that you'll want to make them over and over again! Let's walk through the steps together.
First, make the cupcake batter. Start by melting the chocolate chips and butter together in a small bowl. Make sure the chips are completely melted and the mixture is smooth. Watch carefully to not overcook the chocolate, it will get clumpy and burnt. Microwaves vary so greatly in wattage, for reference, mine is a 1200 watt oven. Allow it to cool before adding to the rest of the batter.
In a separate large bowl, beat together the egg and sugar until light and fluffy. Then add in the melted chocolate mixture as well as the vanilla. Make sure the chocolate isn't too hot, as to not accidentally scramble the eggs.
Sift together the flour and salt. This is the step so many people skip and it is super important to make sure the salt is evenly distributed and also fluffs up the batter.
Add the sifted flour, but only incorporate until just mixed. Don't overmix! We don't want tough cupcakes. By hand, fold in the rest of the chocolate chips.
Then simply pour the brownie batter into a muffin tin fitted with cupcake liners and bake for 20-25 minutes. Watch carefully, we all know that baking times vary. They will be a little crinkly on top, just like brownies.
Now onto the frosting! Combine the peanut butter, powdered sugar and milk in a bowl and beat until light and fluffy. Depending on a variety of factors, you might need more or less powdered sugar or milk to get a nice frosting consistency.
Make sure your cupcakes are completely cooled before piping or slathering the frosting. Place them on a wire rack to cool faster. We used a large circle piping tip.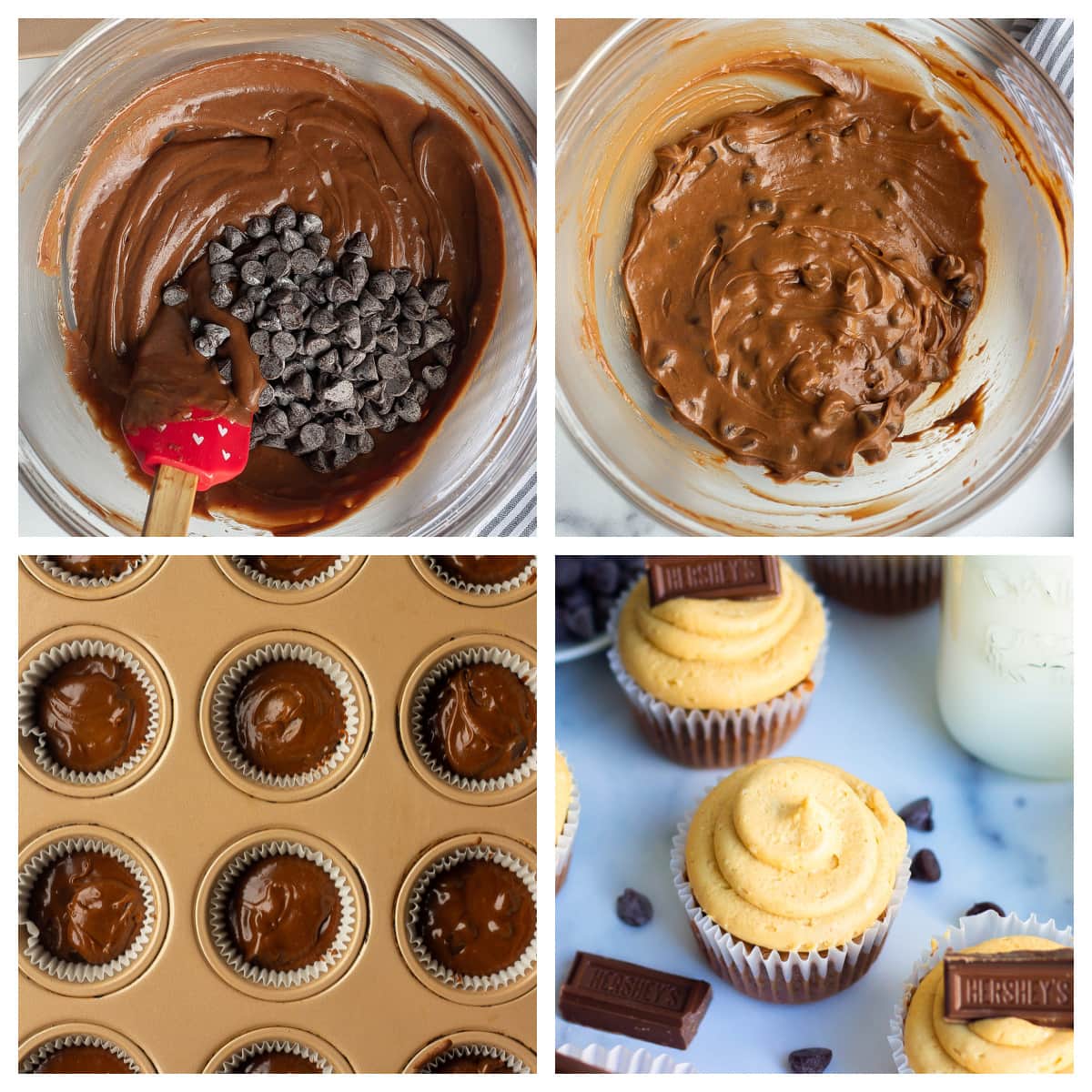 My Brownie Cupcakes with Peanut Butter Frosting were quite the hit at my home and I hope they will be in yours too!
Toppings
Although these cupcakes don't really need anything else but the lip-smacking peanut butter frosting, but I like things to look super pretty. Here are my picks for adorning.
Mini chocolate chips
Peanut butter chips
Shaved chocolate curls
Sprinkles or colored decorating sugar
Small Hershey bars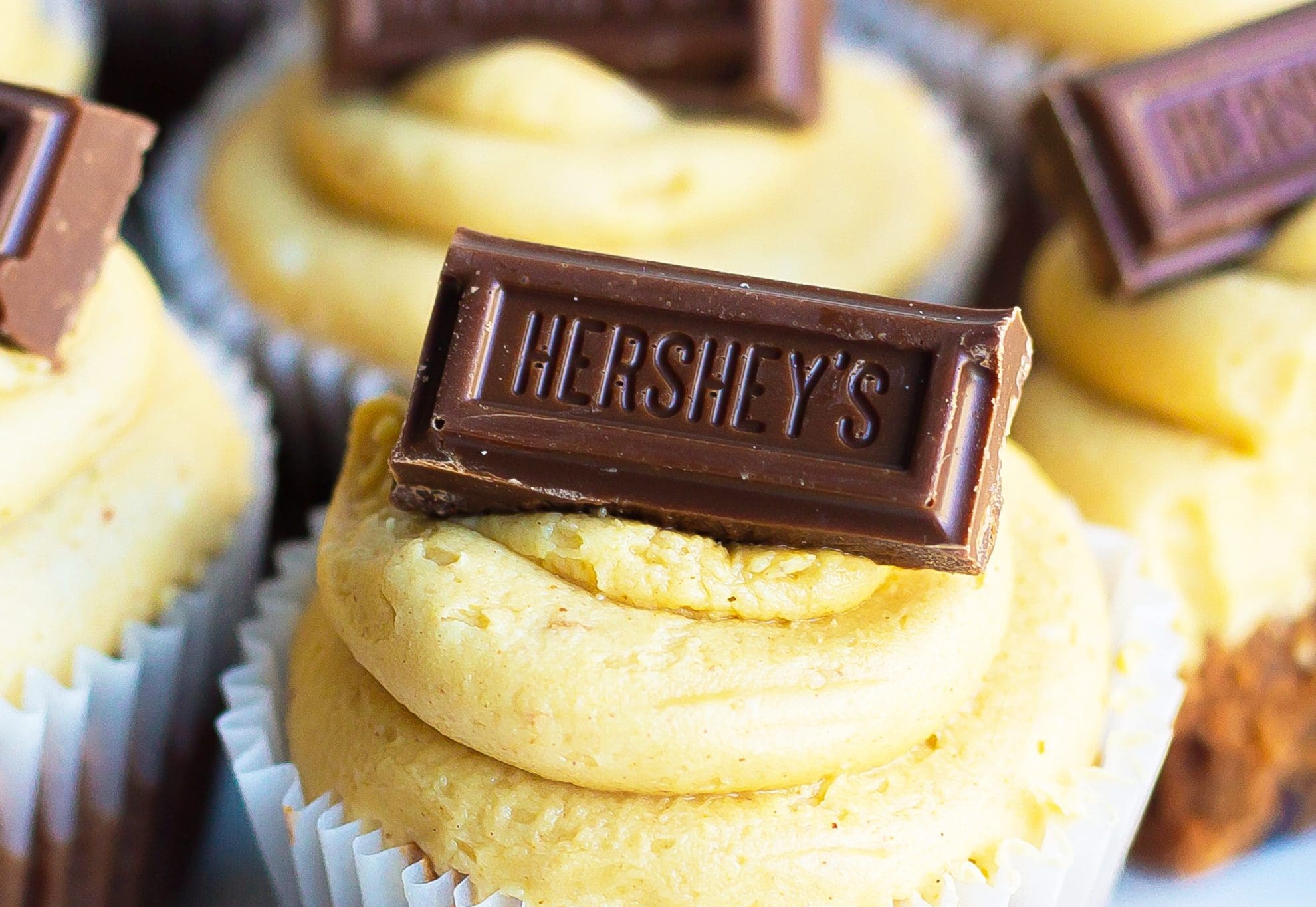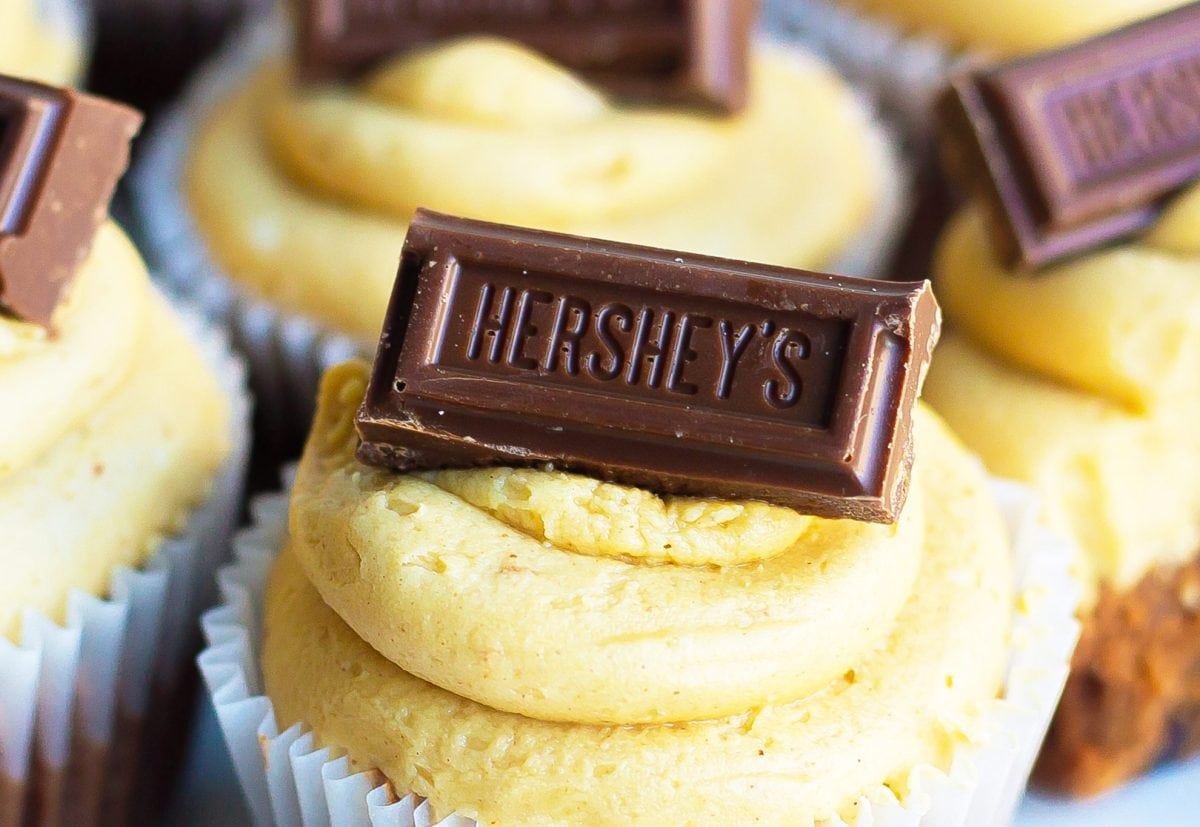 Storage & Freezing
This brownie cupcake recipe is best within 24 hours of baking, as are most baked goods. They start to dry out. Store in an airtight container or covered in plastic wrap at room temperature. This helps retain some of the moisture.
If you want to make-ahead and freeze, make the actual cupcakes and freeze those in an airtight plastic bag. Thaw at room temperature. Make the frosting when you are ready to serve.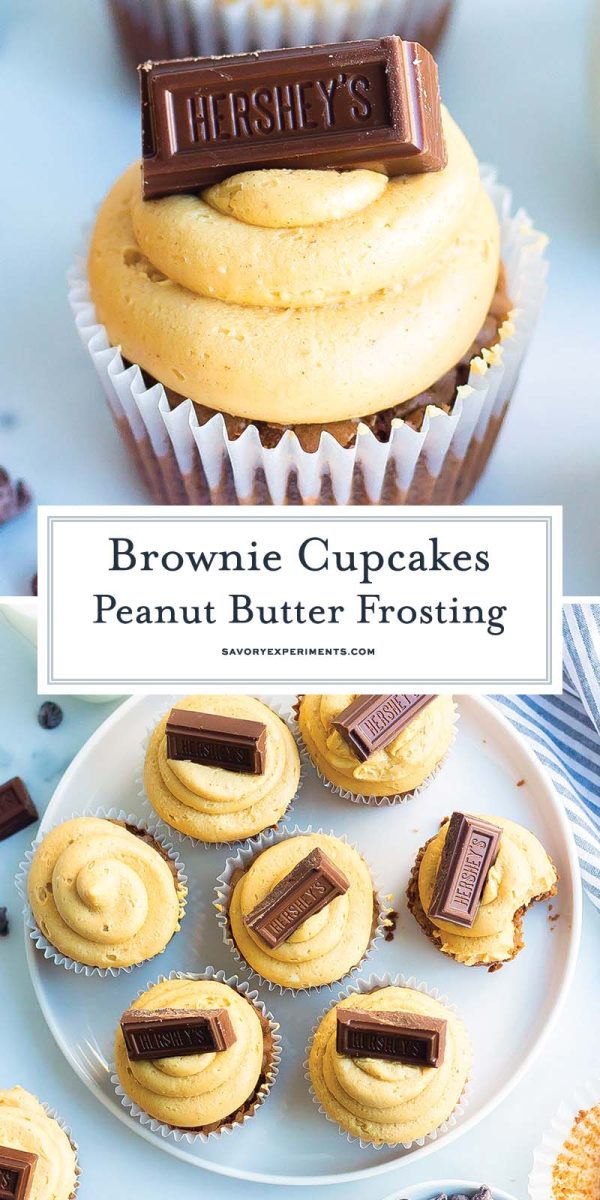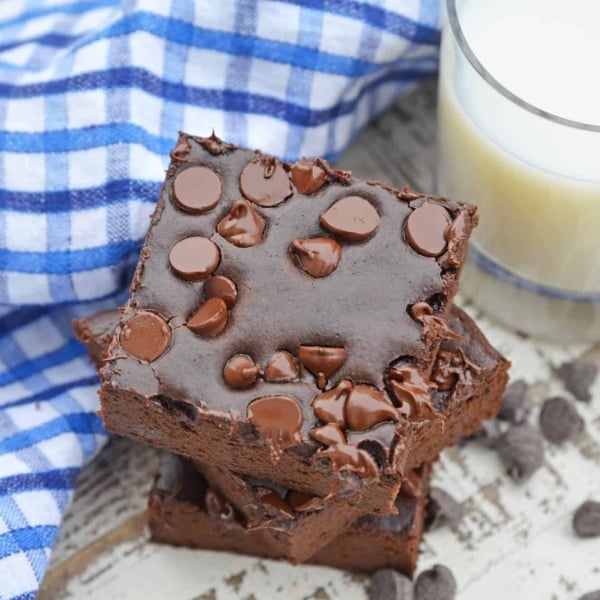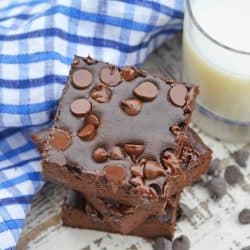 Flourless Black Bean Brownies
Black Bean Brownies are delicious, rich gluten free brownies. Since they're flourless brownies and the black beans are full of fiber, this is actually a healthy brownie recipe!
See The Recipe!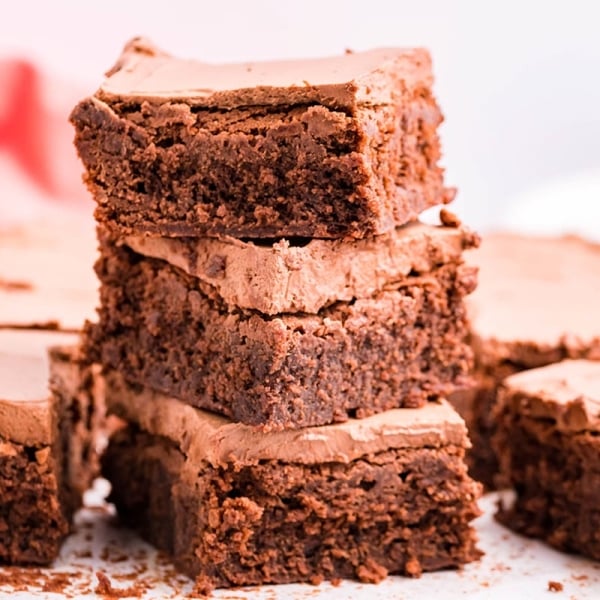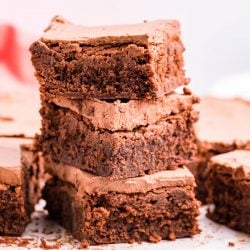 Frosted Brownies
Homemade brownies don't get much better than these fudgy Frosted Brownies! With a moist crumb and a light, airy frosting, they can't be beat!
See The Recipe!
Nutella Brownies
Homemade Nutella brownies are made in one bowl. With 7 simple ingredients and in less than 1 hour you can enjoy a piece of this delicious brownie recipe!
See The Recipe!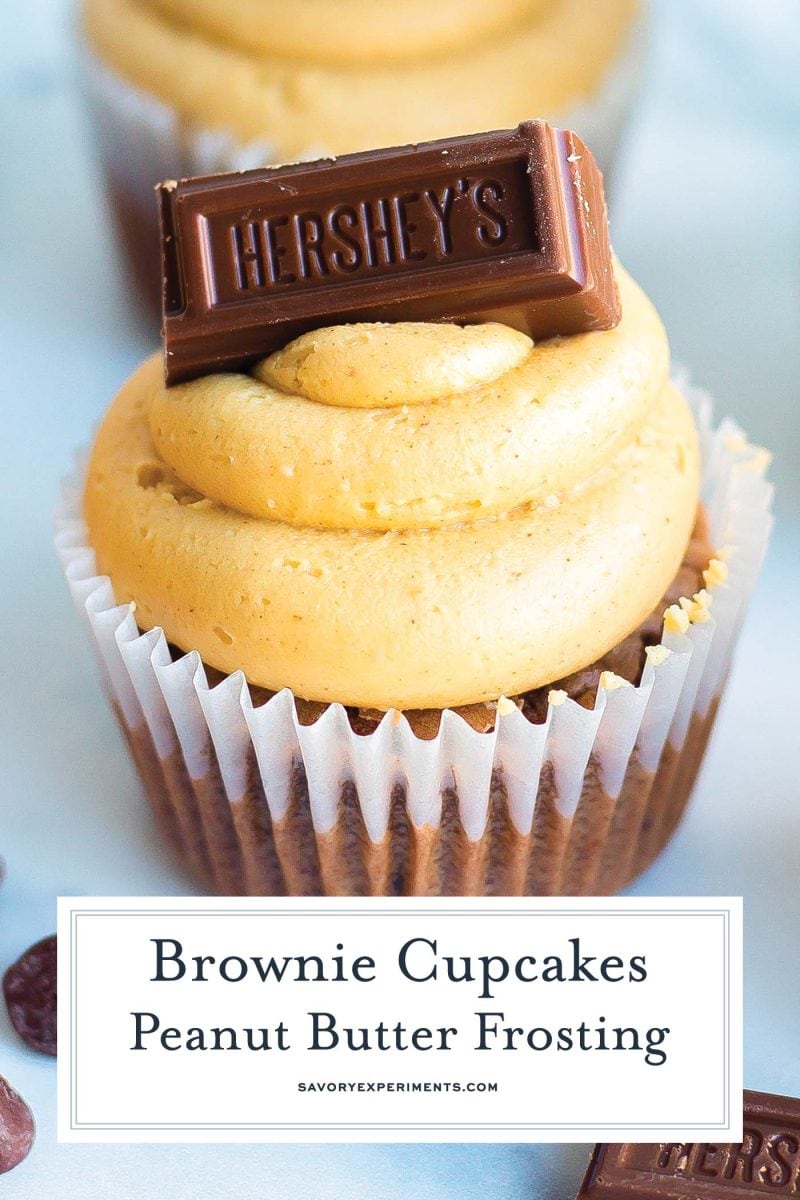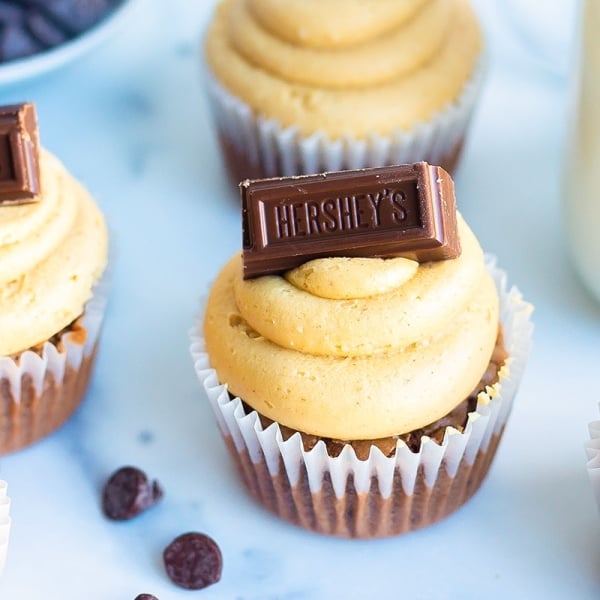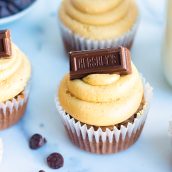 Brownie Cupcakes with Peanut Butter Frosting
Delicious Brownie Cupcakes topped with whipped peanut butter frosting because chocolate and peanut butter are a match made in heaven!
Ingredients
Whipped Peanut Butter Frosting:
Instructions
Brownie Cupcakes:
Preheat the oven to 325°F. Line 18 muffin tins with liners.

Sift together flour and salt. Set aside.

Melt 1/4 cup of the chocolate chips with the butter in the microwave, stir to mix. This should take 30-45 seconds, depending on the wattage of your microwave.

In a large mixing bowl, beat together the egg and sugar. Add the melted chocolate, butter and vanilla, then slowly incorporate the sifted flour until just mixed. Fold in remaining chocolate chips by hand.

Fill each muffin well 2/3 full. Bake for 20-25 minutes or until tops crack. Remove and cool.
Peanut Butter Frosting:
Meanwhile, in a medium mixing bowl using an electric beater beat together the powdered sugar, butter, peanut butter, and milk.

Pipe or spread onto the tops of cooled brownies. Decorate as desired.

If you tried this recipe, come back and let us know how it was in the comments or ratings.
Nutrition
Calories:
226
kcal
,
Carbohydrates:
22
g
,
Protein:
2
g
,
Fat:
14
g
,
Saturated Fat:
7
g
,
Cholesterol:
29
mg
,
Sodium:
234
mg
,
Potassium:
92
mg
,
Fiber:
1
g
,
Sugar:
19
g
,
Vitamin A:
255
IU
,
Calcium:
12
mg
,
Iron:
0.7
mg