A Chocolate Chip Cheese Ball is the appetizer/treat you didn't know you needed! A "cookie dough" covered in your favorite cookie toppings! Doesn't that sound delicious?
With soft flavored cream cheese, this Chocolate Chip Cheese Ball is so delicious, you'd think it was actual cookie dough!
Unlike other cookie dough flavored recipes, this one doesn't have flour! So there's no worries about eating raw flour and it's actually gluten free.
Serve your easy Chocolate Chip Cheese Ball as a fun snack to your guests and watch their jaws drop. This impressive cheese ball recipe is one they won't soon forget!
You don't need a big party or holiday to show it off. A movie night with a chocolate chip cheese ball recipe is great too! It's a fancier way to enjoy the simple life and stay indoors.
Fun Fact: Cheese Balls can be rolled in Pecans, Walnuts, Peanuts, or even cookie crumbs. The possibilities are endless.
What to serve with a Dessert Cheese Ball?
This dessert cheese ball would be great with cookies and graham crackers! There are many different graham cracker varieties to try too! Chocolate, cinnamon sugar, honey, and vanilla, can you imagine?
Even serving this chocolate chip cheese ball with granny smith apples gives a great sweet and tangy flavor! It might make this dish feel slightly healthier too.
While you could use salty crackers for a sweet and salty flavor, the choice is yours. There are endless possibilities for serving this dessert cheese ball!
Can you freeze a Chocolate Chip Cheese Ball?
Yes, you can. To freeze the cheese ball, I recommend keeping it well wrapped in plastic and stored inside an airtight container.
To thaw, simply place in the fridge a day before eating. Make sure to let it sit on the counter to be easier to use.
How to store a Cheese Ball
Store your cheeseball in an airtight container in the fridge for up to 1 week.
It will last longer in the freeze, but you'll want to keep it well wrapped. This should help prevent freezer burn.
How to form a Cheese Ball into a Ball
First, make the batter.
While your soft cheese is sitting on the wax paper, shape the sides with your hands. Grab the bottom of the wax paper and pull it up and around the cheese. This way you don't have to get your hands dirty.
Tightly secure the top, almost like a dumpling.
You can hold the wax paper in place with some plastic wrap and chill the dough to get it to hold shape.
How long do Cheese Balls Last?
Cheese balls last 1 week in the fridge but up to 3 months in the freezer. You may get yours to last longer and be fine, but fresh foods always taste best.
Can I make a Chocolate Chip Cheese Ball ahead of time?
Yes, absolutely! You can make your chocolate chip cheese balls up to a few days in advance and keep it stored in the fridge. Add the chocolate chips on the outside before storing or just before serving.
You can also make it even further in advance and keep it in the freezer. This is perfect for holidays and large family gatherings when you're already very busy in the kitchen.
If you want to coat the outside in nuts, I recommend not doing so until closer to serving time. This helps to keep the nuts from getting stale and chewy.
If you liked Chocolate Chip Cheese Ball you will also love: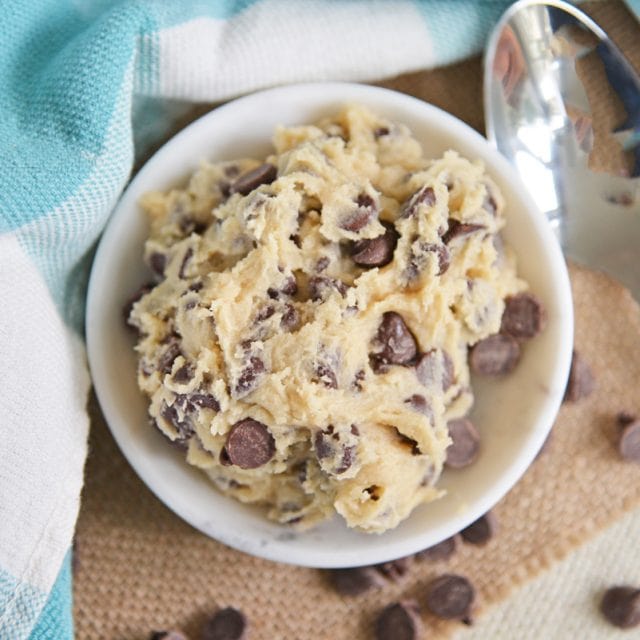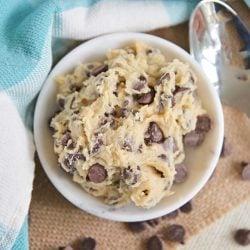 Edible Cookie Dough Recipe with Chocolate Chips
Edible Cookie Dough is the perfect single serving cookie dough to satisfy your cravings without using eggs.
View this recipe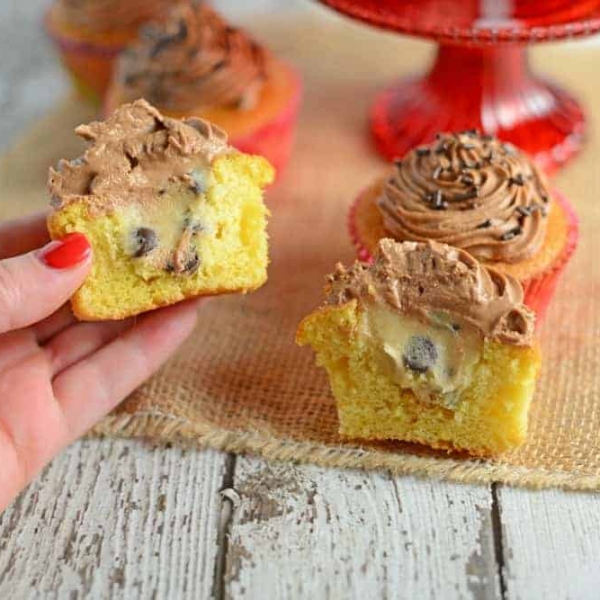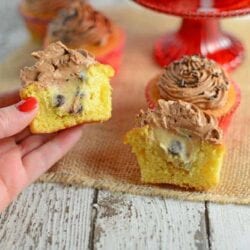 Cookie Dough Stuffed Cupcakes
Cookie Dough Stuffed Cupcakes are vanilla cupcakes stuffed with edible cookie dough and topped with whipped chocolate frosting. You won't beleive how easy these are to make!
View this recipe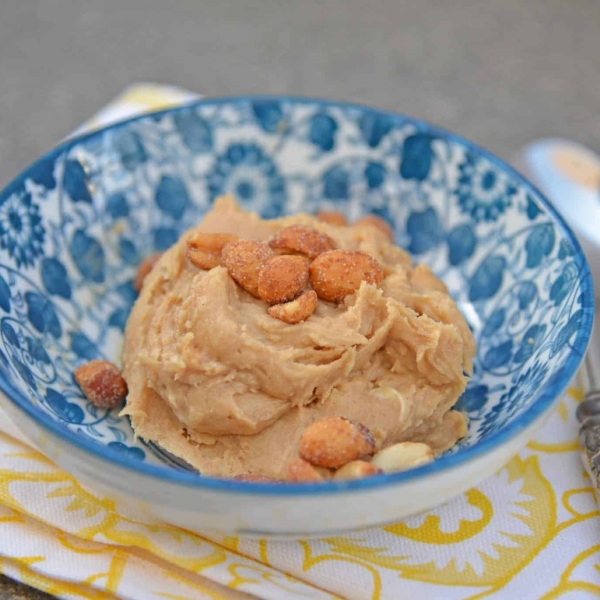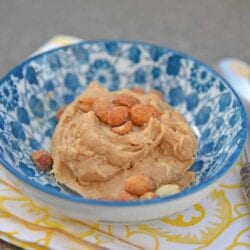 Single Serve Peanut Butter Cookie Dough Recipe
Indulge in small bowl of heaven: eggless single serve peanut butter cookie dough. You know you want some.
View this recipe
Chocolate Chip Cheese Ball
With soft flavored cream cheese, this Chocolate Chip Cheese Ball is so delicious, you'd think it was actual cookie dough!
Instructions
Hand stir in ½ cup of the mini chocolate chips.

Place the cream cheese mixture onto a piece of wax paper or plastic wrap

Form cheese ball into a ball, using your hands and then tightly wrap.

Allow the cheese ball to chill in the fridge for at least an hour.

Remove it from the fridge and remove the wax paper.

Using your hands, press mini chocolate chips around the outside of the cheese ball.

Serve immediately or store in the fridge in an airtight container for up to 1 week.

Before serving, allow it to sit on the counter for 10-15 minutes to soften. Serve with your favorite cookies. We used Nilla wafers.

If you've tried this recipe, come back and let us know how it was!
Nutrition
Calories:
313
kcal
,
Carbohydrates:
35
g
,
Protein:
3
g
,
Fat:
19
g
,
Saturated Fat:
11
g
,
Cholesterol:
39
mg
,
Sodium:
128
mg
,
Potassium:
34
mg
,
Fiber:
1
g
,
Sugar:
33
g
,
Vitamin A:
479
IU
,
Vitamin C:
1
mg
,
Calcium:
60
mg
,
Iron:
1
mg